5 Best Taco Bell Menu Hacks
If Taco Bell's regular menu can't satisfy your cravings, consider one of these creative customizations.
There are many ways to describe the Taco Bell menu, but "minimal" isn't one of them. Customers who stop by one of the fast-food chain's restaurants can choose from a massive lineup of tacos, burritos, breakfast items, quesadillas, desserts, and drinks. Just last month, the Taco Bell menu got even lengthier with the addition of a handful of brand-new and returning menu items, including the California Breakfast Crunchwrap, Grilled Cheese Burritos, and Yellowbird Nacho Fries.
But if this plethora of options still isn't enough to satisfy your cravings for Mexican-inspired fare, the beauty of the chain's menu is that it's extremely customizable, so customers can add things in and take out elements as they please for a top-tier Taco Bell experience.
Dedicated customers frequently think up creative ways to hack the menu and have Taco Bell prepare something extra unique. And when these customers are kind enough to share their creations with the rest of the world on social media, those hacks sometimes end up getting so much traction that they go viral.
From a nifty trick to recreate a recently-discontinued menu item to the Mexican Pizza mashup you didn't know you needed, here are the five best Taco Bell menu hacks in 2023.
Taco Bell fans got a sad surprise when the chain announced that the beloved Quesarito would leave menus in mid-April. Even though the burrito-quesadilla mashup is long gone, fans who've been pining for the Quesarito can get Taco Bell to prepare them something very similar with some smart ordering.
According to Reddit, ask for the Beefy 5-Layer Burrito, which mimics the quesadilla aspect of the Quesarito with the signature layer of cheese between two flour tortillas. You'll also need to customize the burrito to remove the beans, add rice and Chipotle Sauce, and ask for the burrito grilled, if the option is available.
Some Redditors have been using this hack for years as a way to pay less for a near-identical version of the Quesarito while it was still an official menu item, but it's even more relevant now that the Quesarito is gone for good.
The Mexican Pizza + Cheesy Roll Up Mashup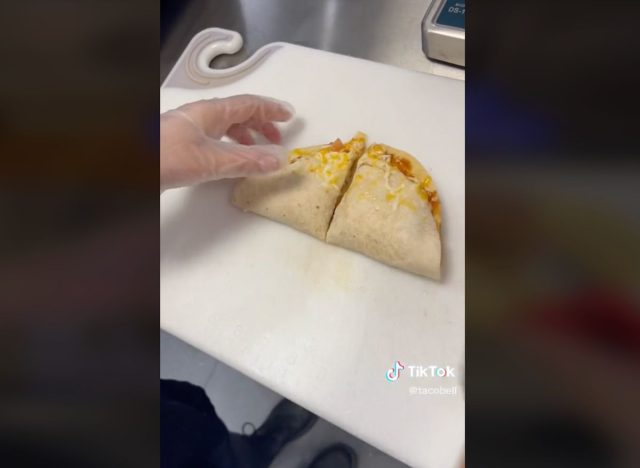 This next hack was endorsed by Taco Bell itself. The chain's official TikTok account shared a demonstration in March on how to give the popular Mexican Pizza the upgrade you didn't know it needed. Be warned—this method requires a little extra legwork for customers.
First, order a Mexican Pizza and a Cheesy Roll Up, then cut the Mexican Pizza in half and unroll the Cheesy Roll Up. Next, fold half of the Mexican Pizza into the unrolled Cheesy Roll Up, and enjoy your extra cheesy creation!
There might be some customers wondering why they'd want a Mexican Pizza wrapped in a Cheesy Roll Up. But there's an even more pressing question to consider here: Why wouldn't you want a Mexican Pizza wrapped in a Cheesy Roll Up?
Ditch the Packets for Red Sauce
This next hack might be controversial since Taco Bell's spicy sauce packets have gained quite a cult following. But according to one TikToker, those fiery little sauces are far from the best dipping option for your tacos and burritos at Taco Bell.6254a4d1642c605c54bf1cab17d50f1e
Taco Bell's Red Sauce is a tangy, enchilada-style sauce currently featured on the classic Bean Burrito, though customers may also the vibrant sauce from the retired Enchirito. TikToker @callmekristatorres revealed in a video with more than 238,000 views that you can actually buy cups of that Red Sauce on the side with your order, and encouraged fellow Taco Bell lovers to use the sauce to "amplify every single item on the menu."
The only downside to this hack is that the sauce packets are free, but customers may have to shell out around an extra fifty cents if they want to go the Red Sauce route. If you'd prefer to have the Red Sauce inside of your burrito rather than on the side, Taco Bell also offers the topping as an add-on for many menu items.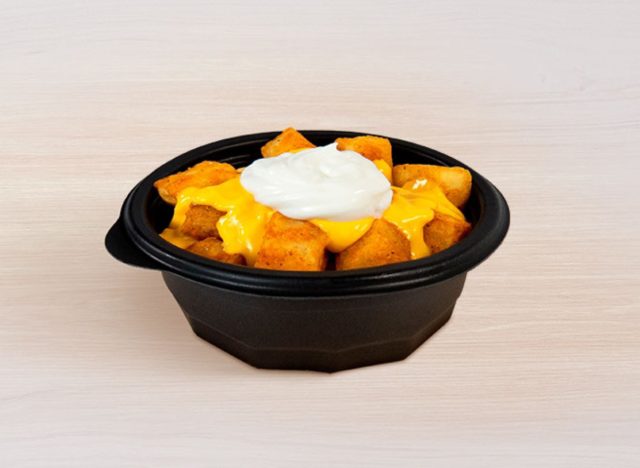 If you can't get enough of Taco Bell's fan-favorite Cheesy Fiesta Potatoes, this next hack may make your day. There's a simple trick that will let you add or swap in those small, seasoned spuds to practically any menu item.
For example, a customer could swap out the rice in a burrito for potatoes to create something more akin to a California-style burrito. Just ask the Taco Bell employee taking your order to make the switch, or customize the menu item in the app to remove rice and add in potatoes.
This trick also works outside the burrito section of the menu. In a November 2022 video that has attracted 419,000 views, TikToker and dietician @stephgrassodietician documented her success in ordering a Veggie Power Menu Bowl with potatoes instead of rice.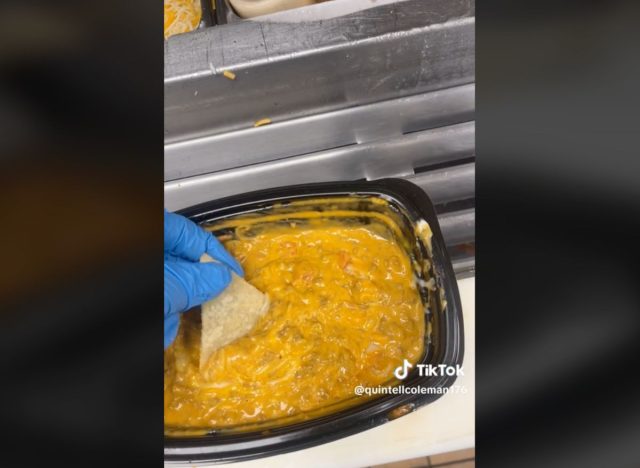 There's something so nostalgic about that easy yet satisfying dip made with a block of Velveeta, canned Rotel tomatoes, and beef. If you find yourself craving a taste of this rich snack but don't want to put in the effort of actually making it, TikTokers have discovered a genius way to have Taco Bell prepare something very similar for you.
The order is simple, but be prepared to see the Taco Bell employees making your order scratch their heads. According to TikToker and Taco Bell employee @quintellcoleman176, ask for the Nachos BellGrande with the chips on the side. This means that the beef, nacho cheese, sour cream, and tomatoes will come in their own container, giving you the freedom to mix all the ingredients together to create a dip for your still-crispy chips.
Zoe Strozewski
Zoe Strozewski is a News Writer for Eat This, Not That! A Chicago native who now lives in New Jersey, she graduated from Kean University in 2020 with a bachelor's degree in journalism.
Read more about Zoe