Best Thai Restaurant In Every State
These restaurants will give you all the best sweet and spicy flavors of Thai food.
Whether you're a local or visiting a new state, it's always good to know where you can find the best restaurants. Now, it's easy to opt for a familiar chain restaurant like Applebee's or Chili's, but why do that when there are tons of locally-owned places at your disposal that highlight local cuisines and boost the business of independent restaurant owners? The difficulty can be in sorting through the many options and finding the most authentic and delicious spots. When it comes to finding the best Thai restaurants in every state, we have you covered.
We've created a round-up of positively reviewed Thai-focused restaurants in every state that you'll want to visit at least once. Whether you're craving some authentic Tom Yum soup or traditional pad thai, these restaurants will give you the sweet and spicy flavors of Thai food that are beloved by many. Here's a list of the best Thai restaurants in every state.
ALABAMA: Surin of Thailand In Birmingham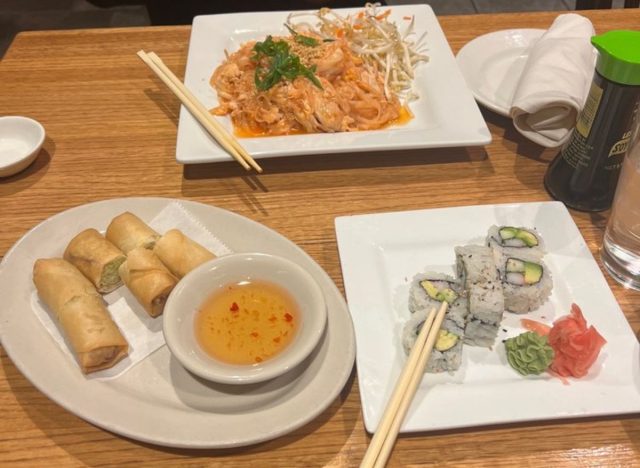 With a menu full of passed-down family recipes, customers rave about this restaurant with its professionally trained chefs, full martini menu, and freshly prepared Thai dishes. Choose from fresh stir-fried Thai to specialty entrees like Nom Tok Beef which pairs beef tenderloin with spices for a bite with a kick. One Yelp reviewer calls Surin of Thailand "a great local spot in Birmingham for authentic Thai cuisine."
ALASKA: Thai Kitchen In Anchorage
Start with some crispy tofu or shrimp rolls followed by a plate of Massaman curry. With a menu full of soups, fried rice, curry, and noodles, there's a Thai favorite for everyone. Patrons on Yelp like this restaurant for its generous portion sizes, excellent service, and mouth-watering flavors.
ARIZONA: Thai Basil Signature In Phoenix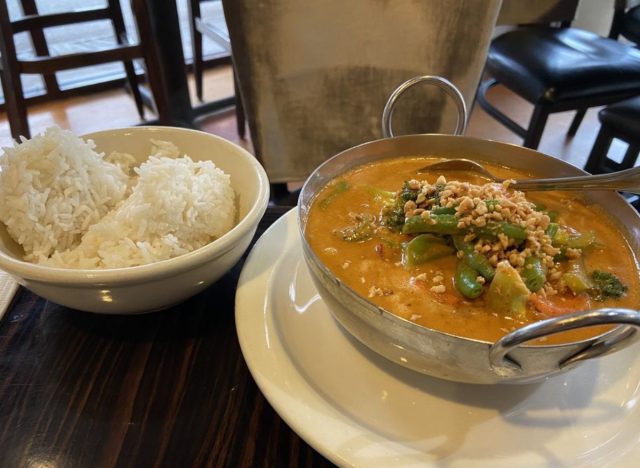 Right in the heart of Phoenix and Scottsdale rests this signature Thai restaurant that Yelp reviewers say is always packed. The menu is full of beloved Thai dishes like Pad Ma Kua (meat sauteed with onions, carrots, garlic, eggplant, etc.) and Siamese Chow Mein for customers to enjoy and there's the option to order most sauteed dishes with a gluten-free sauce. For dessert, top off the night with sweet sticky rice and coconut ice cream.
ARKANSAS: Zangna Thai Cuisine In Little Rock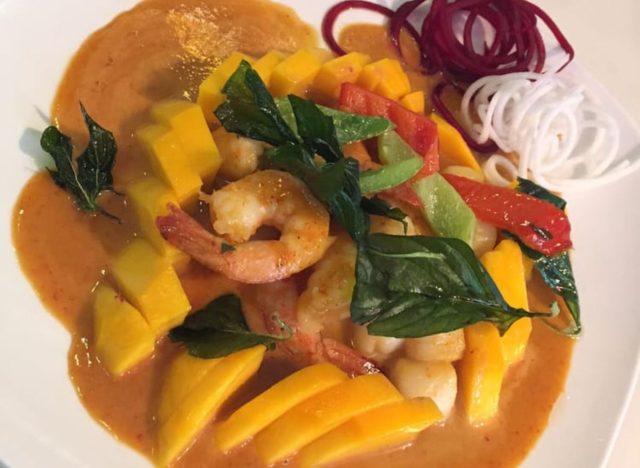 One Yelp reviewer says this Thai restaurant has some of the best vegan tofu curry around, "We were instantly hooked the first time we tried the tofu curry so much that I (who am not vegan) ordered my own helping!" The menu includes a variety of rolls, soups, salads, seafood, fried rice, curry, noodles, and stir fry to choose from. Plus, check out the Chef's Specials for limited offerings like Bangkok Mango and Pad Kra-Pow BBQ Duck.
CALIFORNIA: Jitlada In Los Angeles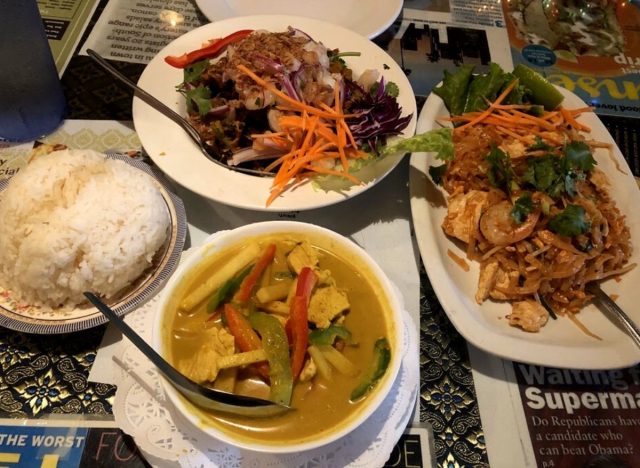 While there are generic Thai options, locals and tourists visit Jitlada for its specialty dishes like crisp catfish salad or sweet soft-shelled crabs. Think about Thai elevated to the next level—that's what you'll find at this establishment. With over 400 menu items, patrons are destined to find a meal they'll enjoy. One Yelp reviewer says her husband can't get enough of the Dynamite Curry and will "definitely be back for more."
COLORADO: Ros Siam In Denver
Not only is the food delicious, but the interior and exterior are beautifully decorated with pieces reminiscent of Thailand. From pineapple fried rice to panang curry, the menu is filled with sweet, savory, and spicy options for every palate. This Yelp reviewer says it's the best Thai they've had in Denver.
CONNECTICUT: Thai Spice In Norwalk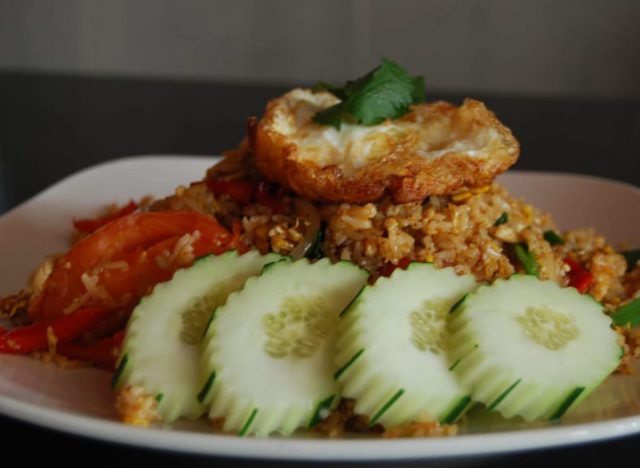 If you've never tried the Tom Yum shrimp soup, one Yelp reviewer swears by it with its "perfect sourness and three perfectly cooked shrimps." Similar to most Thai restaurants, this establishment works hard to capture the important four flavors in each meal: sweet, sour, savory, and bitter. The menu contains your standard noodles, curry, and fried rice, but also has a wide selection of meats and fish.
DELAWARE: Bangkok Thai Cuisine In Dover
This family-owned and operated restaurant brings authentic Thai cuisine straight to Delaware. Start off the meal with one of over 18 appetizers (golden tofu, Thai beef jerky, and spring rolls.) Then find entrees like Volcano Bamboo and Bangkok Rib alongside other soup and salad options. Reviewers on Yelp appreciate the generous portions of high-quality food at reasonable price points.
FLORIDA: EatThai In Delray Beach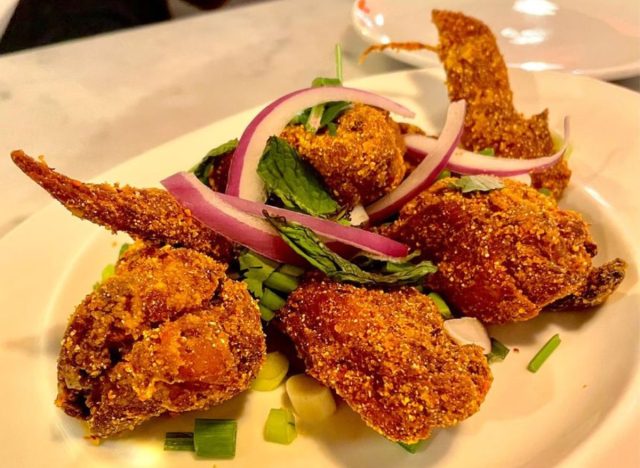 Tourists and locals alike can devour classic Thai cuisine in a chic, modern setting. Start off with Thai chicken wings or horse shoe and then dive into meals like the pad Thai or tempura papaya salad for your entree. Plus, there are tons of vegetarian options to choose from so if you have any dietary restrictions, you'll be able to find a menu item that works (and is delicious.) One Yelp reviewer says she dreams about these chicken wings, so they must be good.
GEORGIA: Nan Thai Fine Dining In Atlanta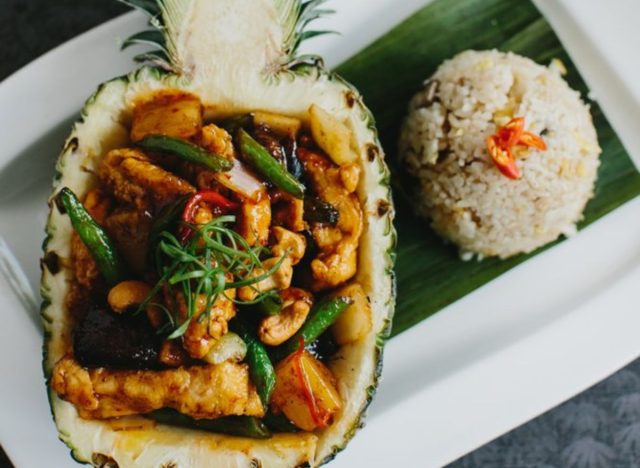 An award-winning establishment, known for its carefully crafted Thai food prepared by Chef Nan Niyomkul. From stuffed fried shrimp to kung pad Thai, the menu has tons of signature options for lovers of this flavorful cuisine. Pair your meal with one of Nan's specialty cocktails and sweet desserts. One Yelp reviewer says "The food: absolutely delicious. Classic Thai: flavorful, spiced, and fresh."
HAWAII: Noi Thai Cuisine In Honolulu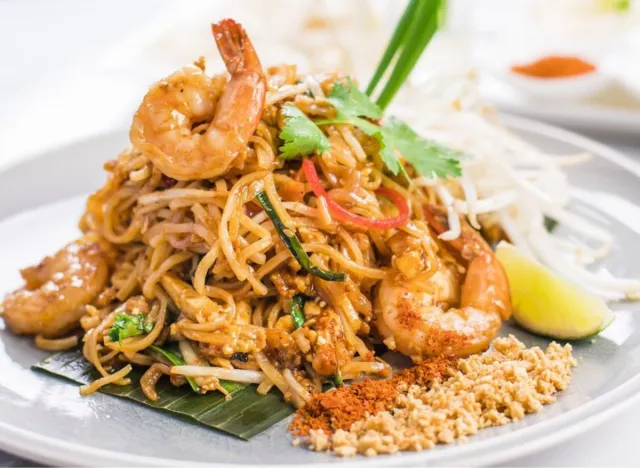 This vegetarian-friendly restaurant offers dishes prepared by chefs from Thailand that bring out the authentic and rich flavors of Thai cuisine. From classic Tom Yum soup to Siam spicy eggplant, there are a wide variety of options to indulge in.
One Yelp patron's rave review says it all: "Oh man this was one of the best meals I've ever had! The crispy garlic chicken was AMAZING. The turkey, one of the best chicken dishes I've ever had. I can't recommend this dish enough! And during happy hour the prices were so reasonable!"
IDAHO: Krung Thep In Idaho Falls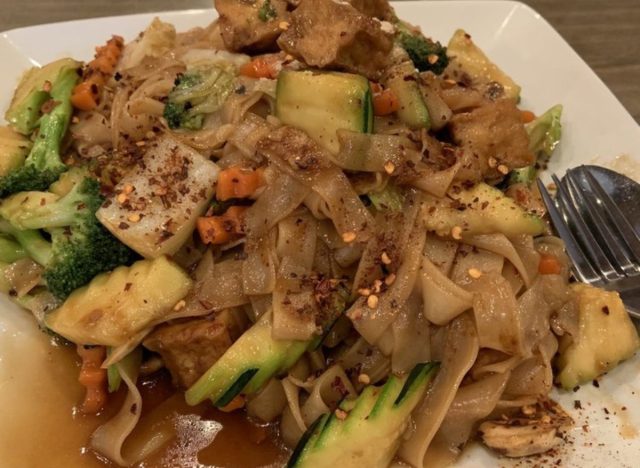 For Tom Kha chicken to duck noodles, head on over to this local Thai restaurant located just a few minutes away from the Museum of Idaho. With the food made to order, patrons are able to enjoy freshly prepared, high-quality cuisine with every visit. One Yelp reviewer said if you're looking for authentic Thai food, then this is the place to go.
ILLINOIS: Aroy Thai In Chicago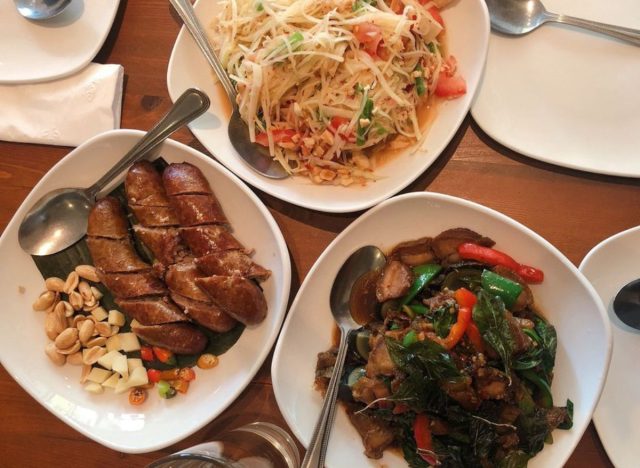 Not sure whether to take the trip to Aroy Thai? Well, one Yelp reviewer drove 80 minutes to get his hands on this food so that speaks volumes. Browse the menu filled with soups, salads, noodles, curry, rice, meats, and more. Note: this restaurant is a BYOB (bring your own bottle) so make sure to bring your favorite beer, wine, or beverage of choice with you.
INDIANA: Jasmine Thai In Indianapolis
For an irresistible lunch special, head over to Jasmine Thai on Monday-Friday to enjoy pad kee mao, pad ped, pad kra prow, and more served with a side of Tom Yum soup, house salad, and veggie spring rolls for $10.99. One Yelp reviewer had nothing but positive things to say about their experience at this local business: "Nice & clean decorated inside space, plenty of seating inside & outside parking, restrooms available, friendly staff."
IOWA: Thai Spice Noodle House In Iowa City
Known for its Pa Nang curry and curry fried rice, visitors can expect fresh food, exceptional service, and realistic prices. When taking a trip to this restaurant, one Yelp reviewer reminds guests to choose their spice by star: "Choose your spice by star, one thru five. I think the three is perfect, personally." Open seven days a week.
KANSAS: Lemongrass Thai Cuisine In Kansas City
A family-owned Thai restaurant in Kansas City for locals and tourists looking for authentic cuisine in a casual atmosphere. Find a menu filled with vegetarian and vegan options alongside other Thai favorites including yellow curry, vegetable stir-fry, pho, red curry duck, and more. One Yelp reviewer says it's the best Thai she's ever had, especially the Panang curry.
KENTUCKY: 3 Ladies Thai Cuisine In Florence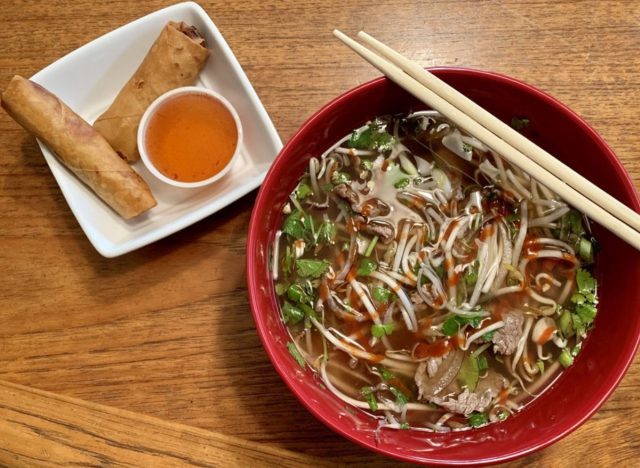 Looking for friendly service and exceptional food? Take a trip to 3 Ladies Thai for one of the best meals around. Skim through the menu featuring crab rangoons, spring rolls, lo mein, pad sew-eew, mee korb, and more. Stop by during lunch from 11-3pm for meals starting at $9.95. If you like spicy food, one Yelp reviewer says they nail it: "I've tried a few things from here. Dishes are always fresh and pack flavor. They understand what extra spicy means too!"
LOUISIANA: Sawasdee Thai Restaurant In Mandeville
Stop by Sawasdee to get some of the best curries, stir-fry and noodles in town. Plus, if you haven't tried mango sticky rice, then this is the place to do it. One Yelp reviewer raves about this Thai staple, "THEY HAVE PHENOMENAL MANGO STICKY RICE!!!!! So so yummy and it's so hard to find that dish at other places." Open six days a week – closed on Sunday.
MAINE: Ruby Thailand Cuisine In South Portland
Ruby Thailand prides itself on using the highest quality ingredients in its classic Thai food from noodles and curry to seafood and fusion dishes. Also, if you're a fan of tea, try the matcha boba and strawberry milk tea. One Yelp reviewer appreciates the friendly customer service and delicious food every time she visits: "They serve the best Pad Thai and Massaman Curry I have ever had. The Tom Kha soup is also outstanding! The employees are always extremely kind and appreciative whenever I go in. I would highly recommend Ruby!"
MARYLAND: Charm Thai Restaurant In Silver Spring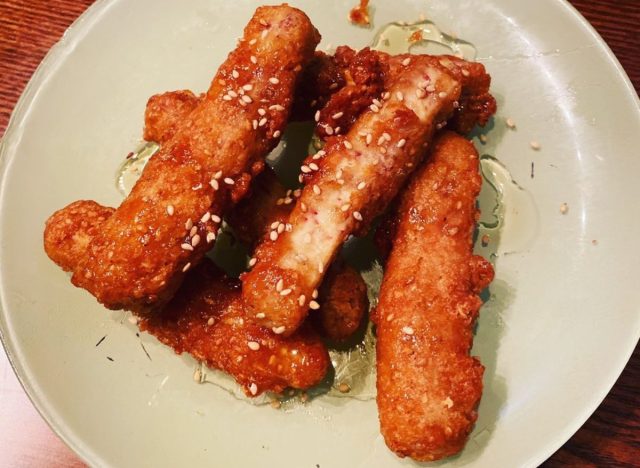 One Yelp reviewer calls Charm Thai the best Thai in Silver Spring. Now if that doesn't speak volumes, the menu is loaded with authentic Thai cuisine from the crispy rice salad and crispy duck rolls to noodle lover soup and crab meat fried rice. Finish off the meal with a Thai-style fried banana for dessert. Open seven days a week.
MASSACHUSETTS: Crying Thaiger Rustic Thai Kitchen In Malden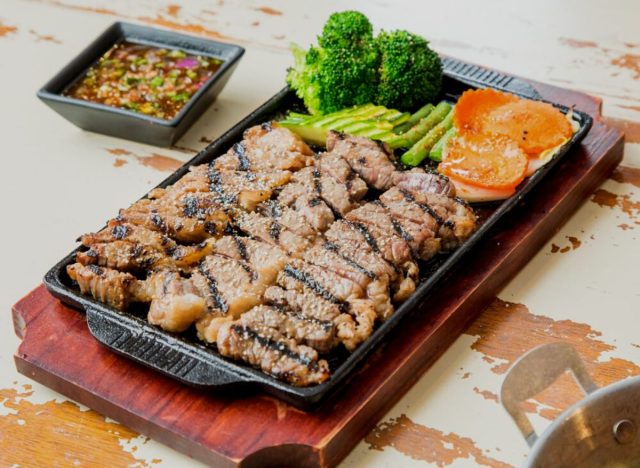 Recognized as one of the essential Thai restaurants to eat around Boston by Eater, Crying Thaiger boasts a bountiful menu filled with salads, curries, clay pots, and more. Patrons can also opt for one of the Crying Signatures such as the popular Crying Rib Eye and Crying Tiger. One Yelp reviewer raves about the desserts: "They also have some Thai desserts that are not seen elsewhere – all tasty and I loved them."
MICHIGAN: Lue Thai Cafe In Dearborn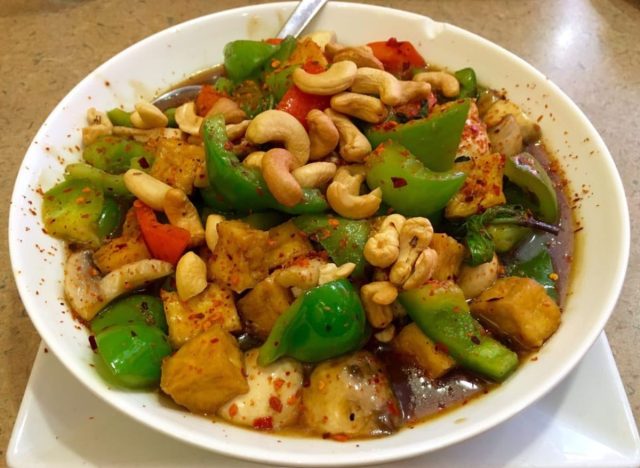 Dine at this family-owned Thai restaurant known for its picturesque ambiance and delicious food. From Pattani to Pad Tak, choose from a menu with over 50+ options. One Yelp reviewer says they'd give Lue Thai Cafe six stars if they could after having a superb pho beef meal.
MINNESOTA: Khao Hom Thai Restaurant In Minneapolis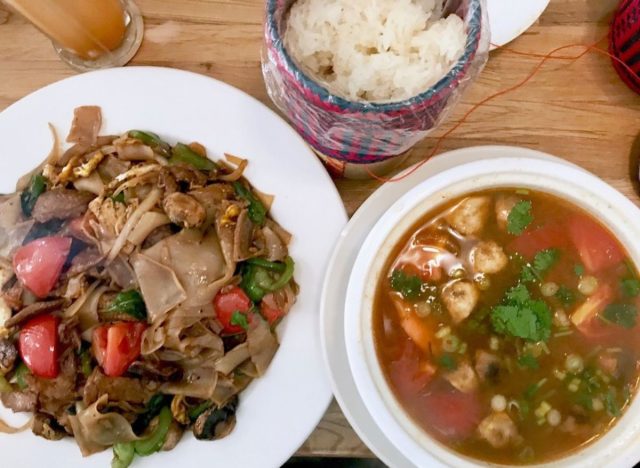 Just 10 minutes away from the University of Michigan, Khao Hom Thai is a local hotspot for college students. With noodles, soups, salads, curries, and wings, patrons are destined to find a meal they'll love. One Yelp reviewer recommends trying the Drunken Noodles if you can't decide on what you want. Plus, there are gluten-free and vegetarian options available (oh, and it's pet-friendly.)
MISSISSIPPI: Thai Garden In Tupelo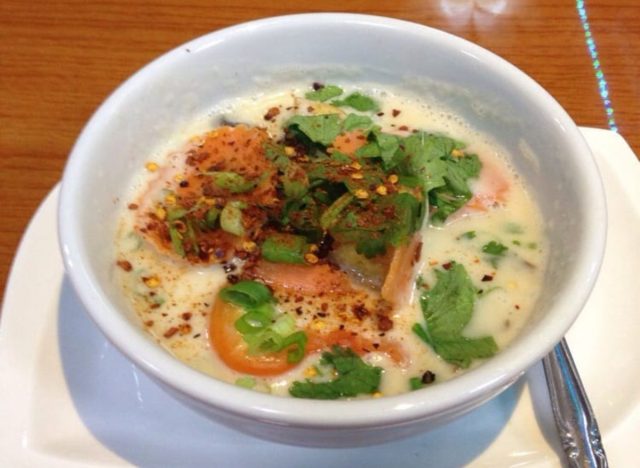 Recognized as Tupelo's best Thai restaurant, Thai Garden is consistently good across the board according to this Yelp reviewer. Start off your meal with some cream cheese wontons and work your way into a main course of volcano chicken, panang curry, etc. Last but not least, finish off the night with some fried banana or sweet sticky rice with fresh mango.
MISSOURI: Thailand Restaurant In Blue Springs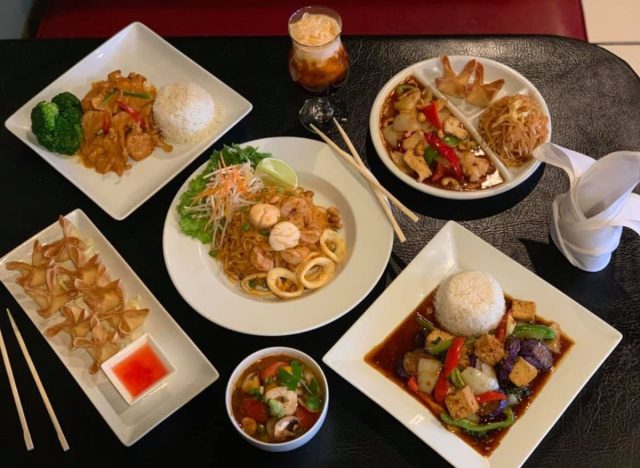 Thailand Restaurant provides a welcoming atmosphere for families and large parties with its spacious interior and friendly staff. Try the chef's recommended Thailand chicken or Bangkok Paradise next time you stop in for a meal you won't forget. One Yelp reviewer appreciates how the restaurant is able to accommodate her dietary restrictions: "I order pretty often and they always do great. I am vegan and gluten-free, but they are able to accommodate me."
MONTANA: Rice Fine Thai Cuisine In Bozeman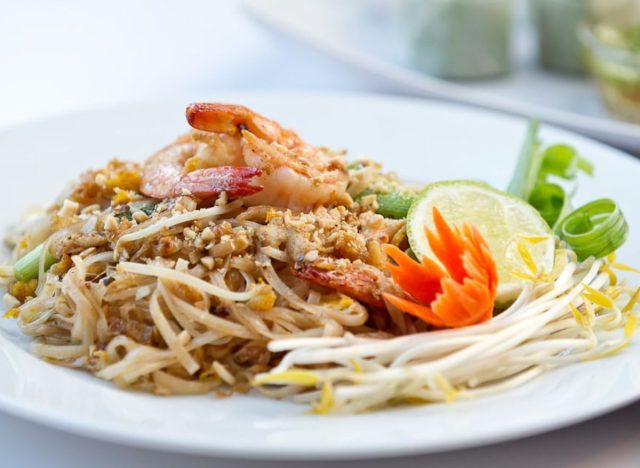 Take a step into this native-owned dining establishment that one Yelp reviewer deems as "clean, affordable, and consistent." From classic pad Thai to Tom Yum soup, patrons are able to enjoy the sweet and savory flavors of Thai cuisine right from their backyard. Open seven days a week.
NEBRASKA: Asian Taste Thai Restaurant In Lincoln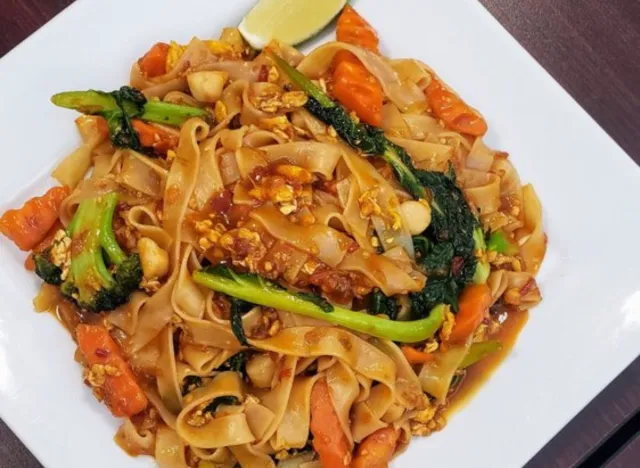 One Yelp reviewer says Asian Taste Thai is home to his favorite pad Thai in all of the midwest. This restaurant is one of the few in town to boast authentic and affordable Thai cuisine. From Pad Kra Pow to Tom Yum soup, there is something on the menu for every palate. Plus, there's even a plethora of sushi rolls to choose from if that's more your speed.
NEVADA: Lotus Of Siam In Las Vegas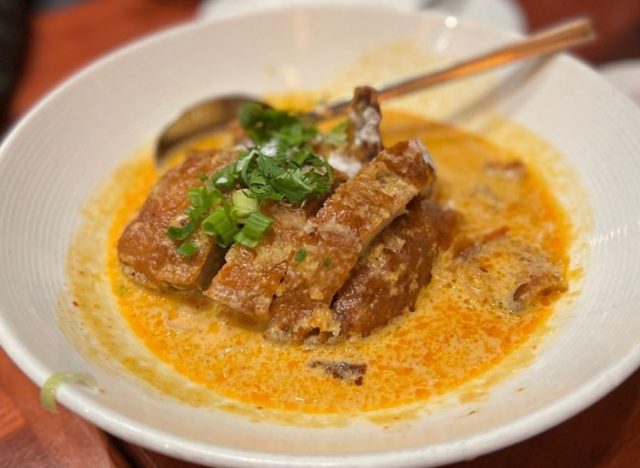 Owned by Chef Saipin Chutima, customers can walk into Lotus of Siam and enjoy authentic Thai food passed down from generation to generation. Filled with herbs and spices, pick from an assortment of soups, salads, noodles, curries, etc. If this Yelp review doesn't say it all, then what will: "I'd literally move to Vegas to live on this menu."
NEW HAMPSHIRE: Daw Kun Thai In Manchester
Just a few minutes away from Manchester airport, patrons will find this restaurant known for its authentic Thai food. Start off your meal with some fried tofu and then choose from a selection of salads, soups, fried rice, and pan-fried noodles. When it comes to Tom Yum soup, Daw Kun Thai is where it's at according to this Yelp reviewer: "If you're looking for some "real" tom yum, this is the place to go. I've been searching everywhere and none of the places in Manchester can make it spicy and sour the way tom yum is supposed to be."
NEW JERSEY: Lotus Thai Cuisine In Guttenberg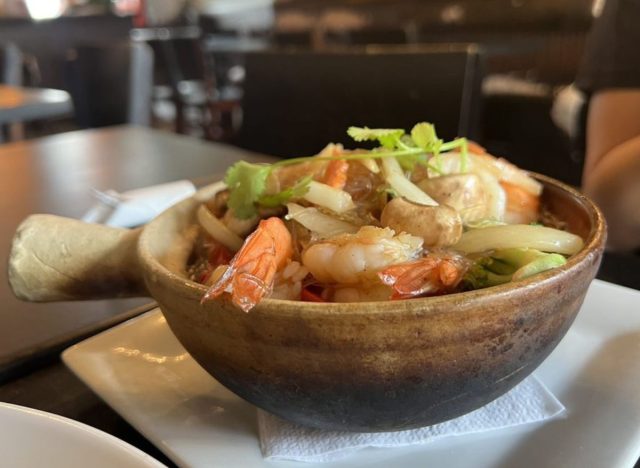 With spices sourced from Thailand, take a trip to Lotus Thai for some food made from the freshest and finest ingredients. Head Chef Buakaew Nartpranin combines her love for cooking with her passion for providing high-quality food to create the dishes at this establishment. From fried rice and noodles to curries and soups, there are options for everyone.
NEW MEXICO: Thai Spice In Albuquerque
Find a menu filled with traditional recipes from Thailand made from fresh, high-quality ingredients. From Panang curry to pineapple fried rice, choose from a plethora of chef-crafted dishes your whole party will enjoy. Also, for those with dietary restrictions, there are vegetarian menu options available. One Yelp reviewer said he enjoyed the friendly wait staff and nicely decorated interior.
NEW YORK: Ugly Baby In Brooklyn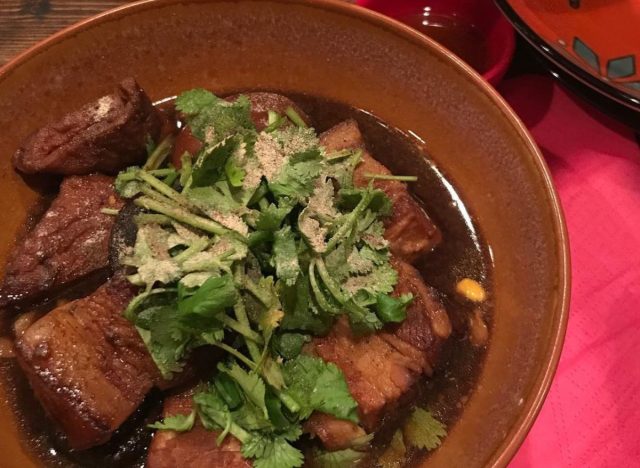 For those looking for ultra-spicy Thai food, Ugly Baby will be your new favorite restaurant. Choose from the establishment's most popular dishes like Tue Ka Ko to Khao Soi Nuer and let your taste buds do the work. While the food is incredibly spicy, most Yelp reviewers tend to agree that it brings out the flavors more than detracts: "But it's not numb your mouth spicy, or drown out the flavors spicy—it enhances the meal, bring out the flavors, compliment the ingredients spicy: it's incredible."
NORTH CAROLINA: Thai Star In Durham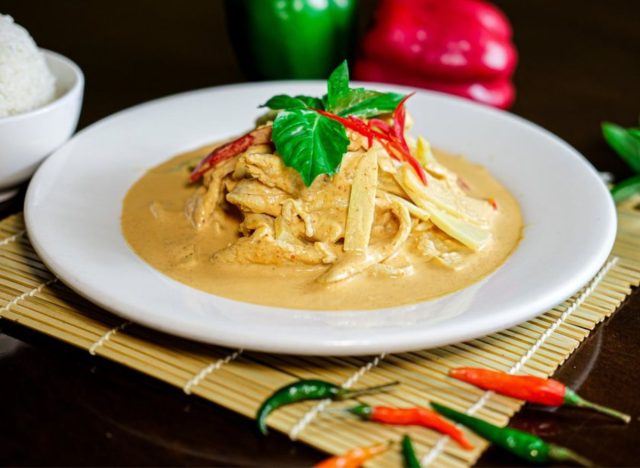 Support family-owned businesses like this one home to some of the best Thai cuisine in the state. Stop in for lunch to find $10.95 lunch specials like pad Thai shrimp and chicken massaman. One Yelp reviewer raves about the Masaman curry: "Masaman curry dish has always been my favorite but these guys take it up a notch. The curry dish is so delicious here I didn't need anything else…"
NORTH DAKOTA: Eat Thai Cafe In Bismarck
After the success of a Thai food truck, that's when Ben decided to open up a cafe in Bismarck. Find classics on the menu like Drunken Noodles and pineapple fried rice alongside milk tea and sticky rice. One happy customer on Yelp says it's one of the best places to eat in town and is well worth the money.
OHIO: Banana Blossom Thai Cuisine In Cleveland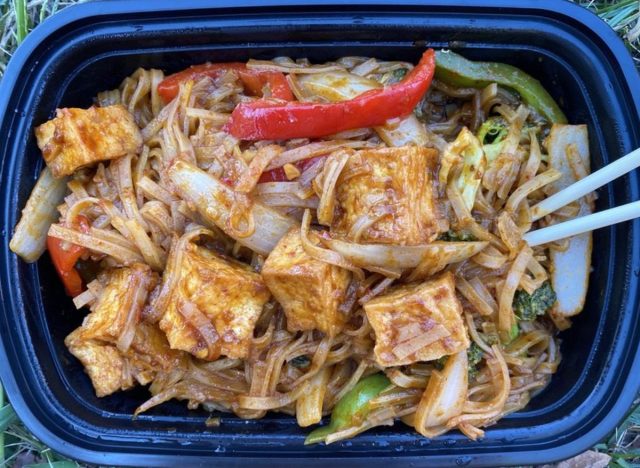 One Yelp reviewer calls Banana Blossom "hands down the best Thai restaurant in all of Cleveland." Find lunch and dinner menus boasting authentic Thai dishes from hot duck to pad see ew. If you have dietary restrictions, vegan and gluten-free alterations are available upon request. To indicate spice, customers will find pepper emojis on the menu ranging from 1-5 for little to fire spice.
OKLAHOMA: Tana Thai Bistro In Oklahoma City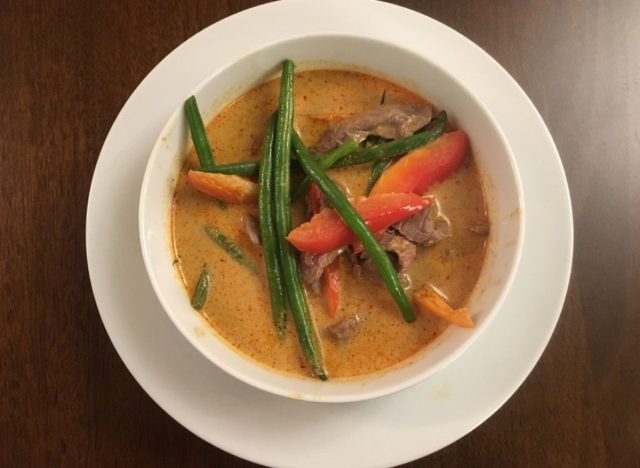 Home to unique and authentic Thai dishes, Tana Thai is a go-to restaurant destination for locals and tourists alike. Made from fresh ingredients and house-made sauces, customers can find dishes from basil fried rice to Panang curry that explodes with flavor. One Yelp reviewer says this is the only Thai restaurant she can recommend right now so that speaks volumes.
OREGON: Kinara Thai In Portland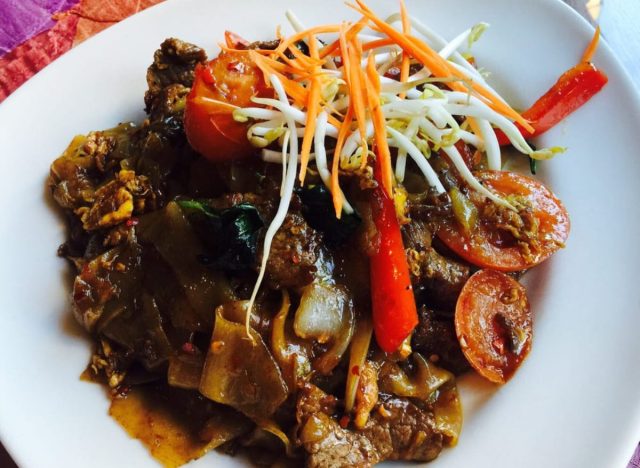 Open six days a week, get your hands on authentic Thai cuisine in the heart of the state. Find a menu filled with seasonal dishes alongside classic favorites like Drunken Noodles and basil fried rice. Note: vegan and gluten-free options are available upon request. One Yelp reviewer praises the restaurant for its hospitality and service: "I've gone twice and both times was so impressed at how fast they prepare your food. The service in general has been very prompt and it's clear they pay attention to detail."
PENNSLYVANIA: Thai Kuu In Philadelphia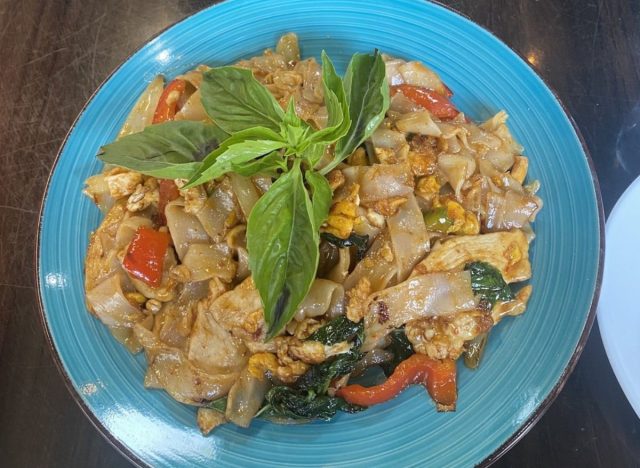 Stop into this Thai restaurant, open seven days a week, in the heart of Philadelphia. Find a menu filled with soups, salads, curries, and noodles alongside some sweet dessert options. Customers appreciate the modern decor and attentive, friendly wait staff. One Yelp reviewer says, "The new decor really makes an excellent setting, both welcoming and really giving a feel of Thailand. Staff are truly amazing and so accommodating, love it."6254a4d1642c605c54bf1cab17d50f1e
RHODE ISLAND: Thailand In Providence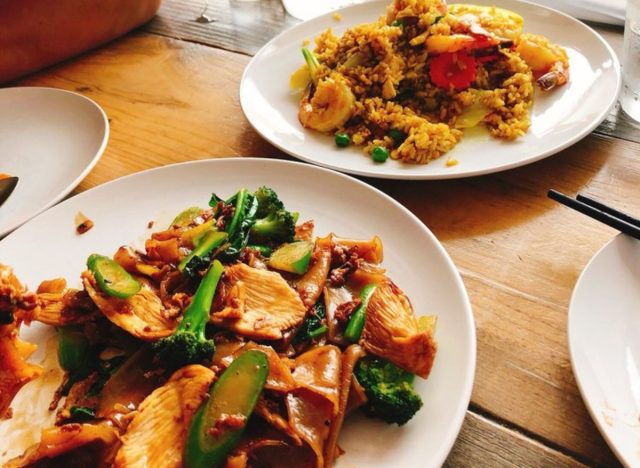 This Thai eatery strives to provide a menu that's vegan-friendly, organic, locally sourced, and eco-friendly. Find soups, salads, curries, and noodles on the menu alongside traditional desserts like mango sticky rice and fried banana. One Yelp reviewer says this is "the best Thai food she's ever eaten in her life."
SOUTH CAROLINA: Thai Cuisine Restaurant In Simpsonville
This restaurant is arguably one of the most popular Thai places in South Carolina and it's for a good reason: the food is exquisite. Browse the menu full of chef specials and classic dishes (noodles, curries, stir fry, etc.) to find something you'll enjoy. One happy Yelp reviewer says he eats at this restaurant at least once a week and has never had any negative experiences.
SOUTH DAKOTA: Thai Thai In Rapid City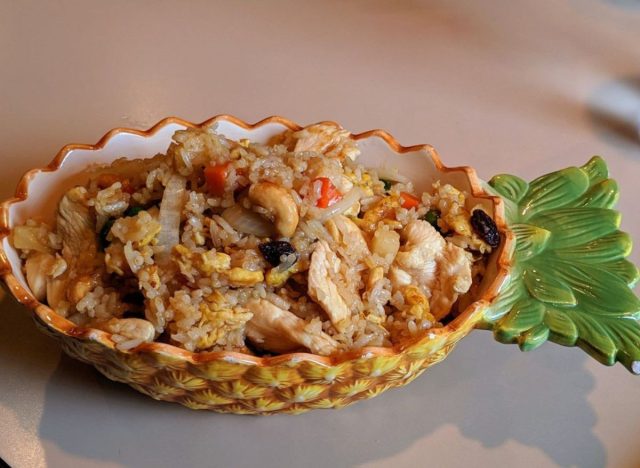 Start off your meal with a plate of Thai-style chicken wings and then select an entree from a menu filled with salads, soups, noodles, etc. End the night with some mochi ice cream (mango, strawberry, green tea) or sweet mango rice. One Yelp reviewer describes each dish as being "made to perfection."
TENNESSEE: Thai Esane In Nashville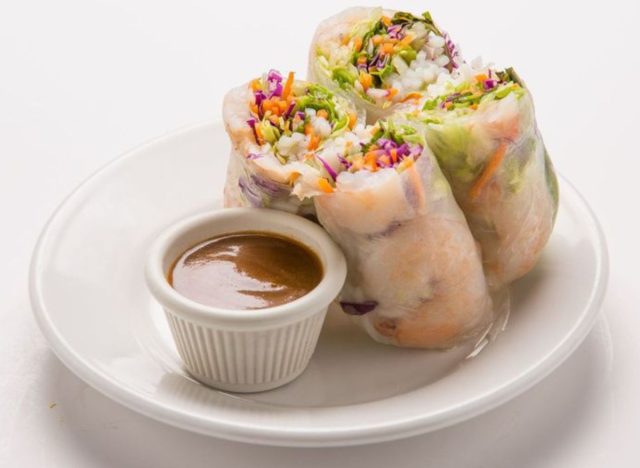 Chef Nina Singto is the mastermind behind this popular Thai restaurant known for its flavorful and authentic cuisine. From basil eggplant to Pad Kra Pao, there are traditional dishes for every palate made with the freshest ingredients. Yelp reviewers rave about the intricately decorated interior that takes this restaurant to the next level: "It's modern and beautiful and makes you feel like we're tourists in our own city. Open, bright, tall ceilings, and that giant Buddha statue!"
TEXAS: Oceanic Thai Kitchen In Plano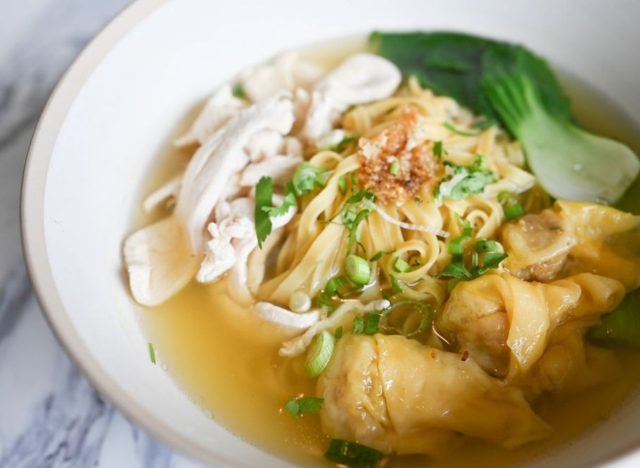 This spot is very popular among locals for dishes that are custom-made per order from scratch (sauces, appetizers, entrees – all of it.) Browse through the menu filled with fried rice, curry, noodles, and other traditional favorites. This Yelp review says it all: "Y'all this may be the best Thai food I've had in all of Texas!"
UTAH: Kao Thai In Salt Lake City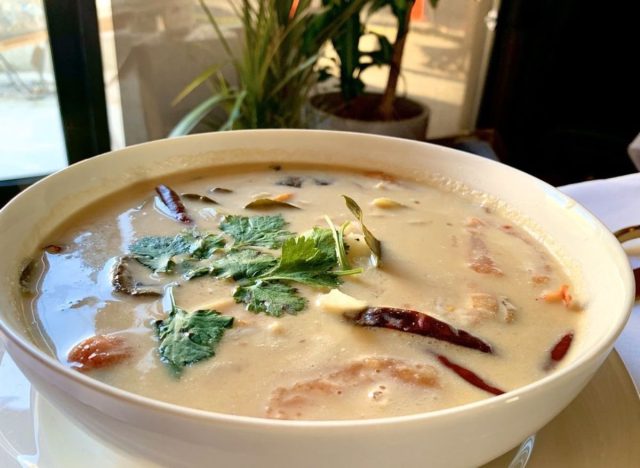 Bask in the unique flavors of Thai cuisine at this restaurant where customers are treated like family. Find a bountiful menu filled with appetizers, entrees, and desserts that'll make it hard to choose just one. From soups and salads to curries and fried rice, find classic Thai favorites with the spice that many know and love.
VERMONT: Maliwan Thai Restaurant In Essex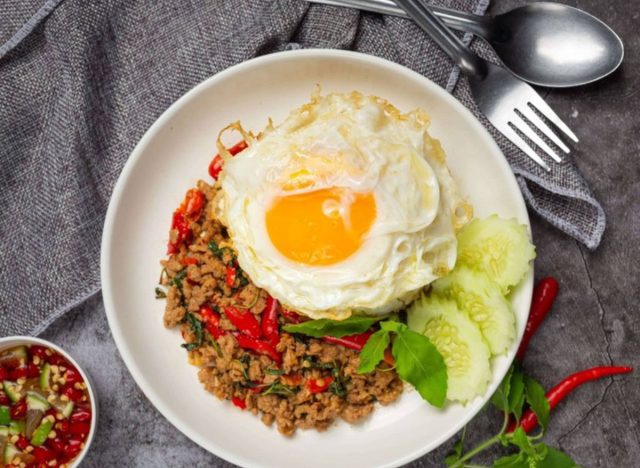 This restaurant offers a healthy take on traditional Thai food that's both flavorful and delicious. From classic Tom Yum soup to Ka Prow chicken, you can't go wrong with anything from this menu. Yelp reviewers praise the restaurant for its friendly wait staff and attentive service: "Very prompt service. The waitress was new (two days on the job), she was pleasant, courteous, and efficient."
VIRGINIA: Duangrat's Thai Restaurant In Falls Church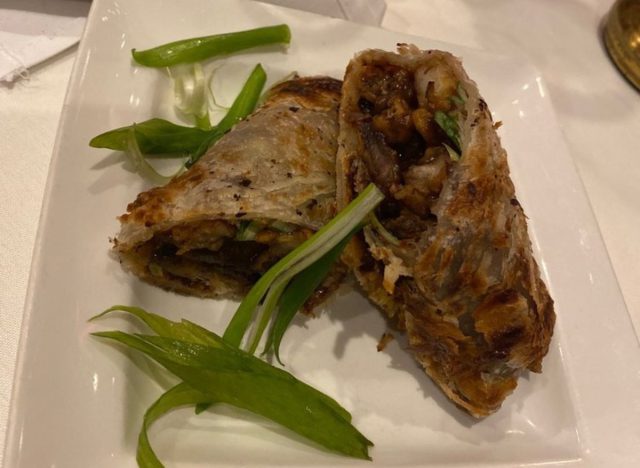 Dungrat's is the longest-serving Thai restaurant in the DC Metro area. The menu is filled with customer favorites like the sticky wings and roti duck roll in addition to soups, salads, curries, seafood, noodles, and more. One Yelp reviewer says, "Best papaya salad and duck rolls I've ever had. My favorite spot for Thai in nova. Also great curry and noodles. I can't say enough nice things. I came here 2 days in a row lol. It's also gorgeous inside."
WASHINGTON: May Kitchen And Bar In Vashon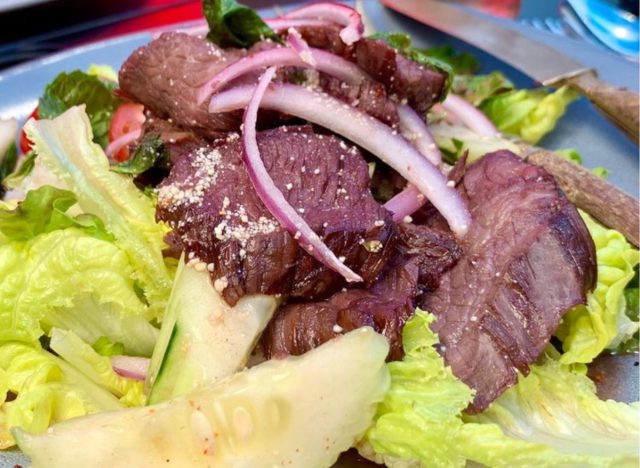 Try May Kitchen's famous signature pad Thai made with rice noodles in a tamarind sauce with turnips, egg, etc. In addition, patrons will find a wide variety of spicy options on the menu when in need of a kick. One Yelp reviewer says, "The best food and the nicest people! It's part of our weekly rotation to order from May Thai. If you're coming for a day trip, this (or Ruby Brink) are the two best dinners on the island in my humble opinion."
WEST VIRGINIA: Thai Valley Kitchen In Hurricane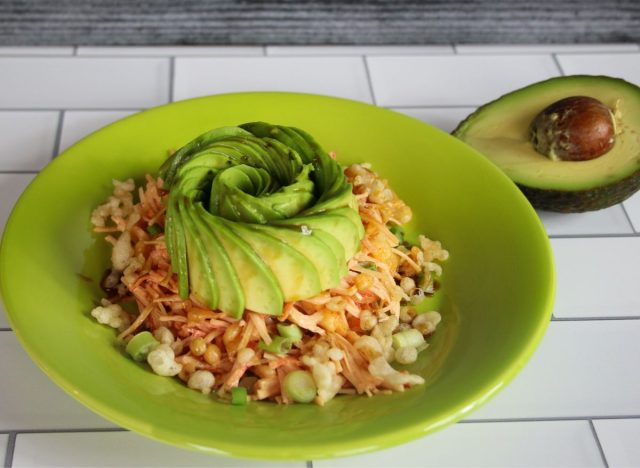 Simple, delicious, and affordable Thai food is what patrons can expect when they visit Thai Valley Kitchen. With a menu full of curries, soups, salads, noodles, etc., there is something for everyone. One Yelp reviewer says "The wonton soup is one of the best I have had from any place serving Asian food."
WISCONSIN: Singha Thai Restaurant In Milwaukee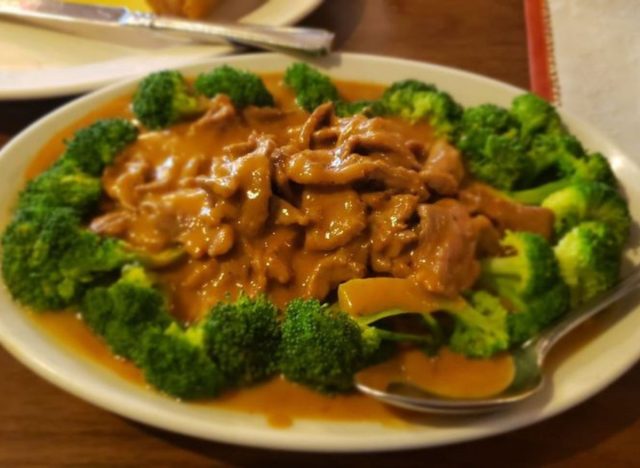 One Yelp reviewer said that after the first bite, he knew he was going to be back. If that doesn't speak volumes, then you'll have to taste the food for yourself. Find a menu filled with salads, fried rice, noodles, soups, and other Thai classics. Finish off the meal with a sweet wonton or Thai custard.
WYOMING: Thai Kitchen Restaurant In Casper
Stop by this family-owned Thai Kitchen next time you're in Wyoming for a meal you won't forget. You really can't go wrong with anything on the menu according to this Yelp reviewer: "This is better than any Thai restaurant I have been to. If you like spicy food, their drunken noodles are amazing, all of their chicken dishes are amazing and all of their curries are amazing."
Casey Clark
Casey Clark is a current journalism student at Hofstra University with a passion for food, beauty, and entertainment.
Read more about Casey