The Best Tortillas for Belly Fat—Ranked!
Love quesadillas but worried about your waistline? We've got you covered!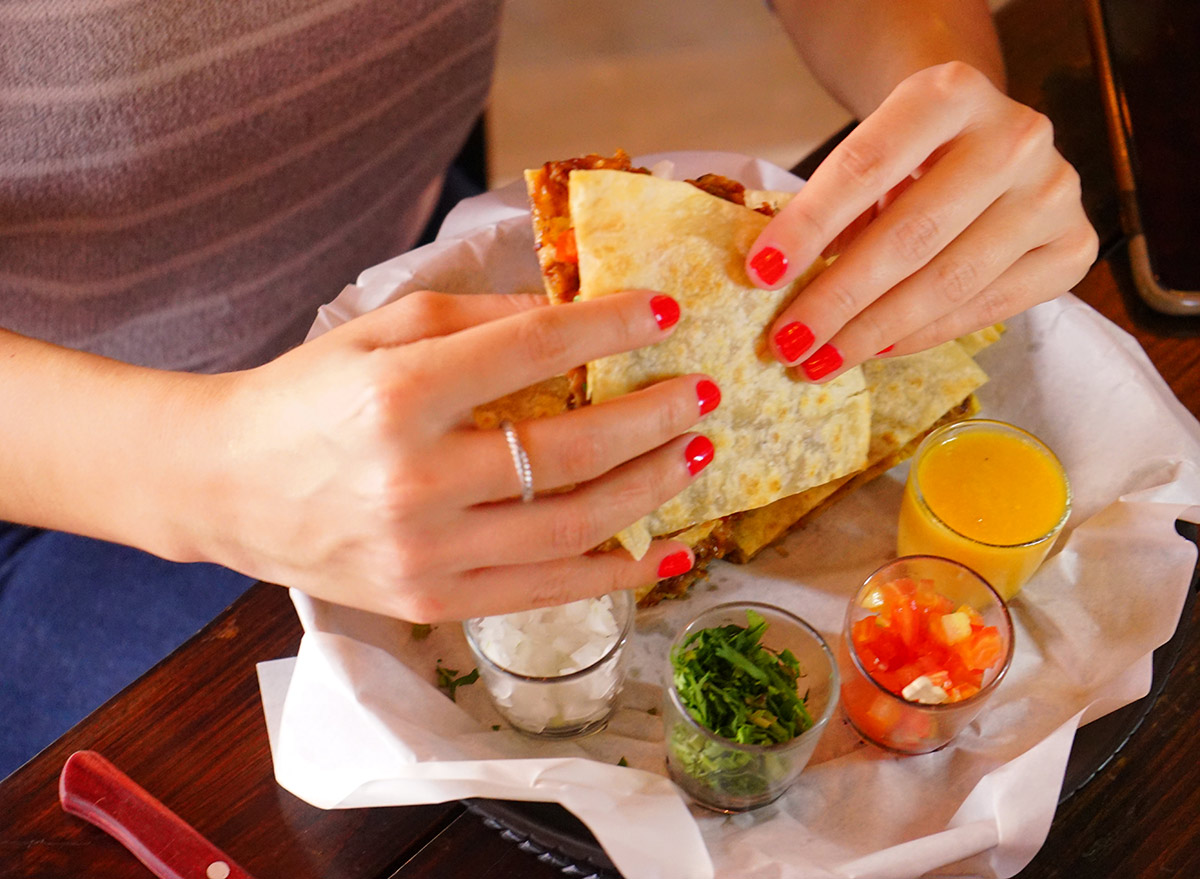 Tortillas come in all shapes, sizes, and nutrient densities these days. When seeking out a weight loss-friendly tortilla, you want to focus on a few key nutrients. These nutrients are powerful for increasing the "staying power" of the meal—keeping you full longer and thus potentially reducing your calories later in the day.
Fiber: This powerful nutrient promotes fullness by reducing how quickly the meal leaves our stomach. Whether you are buying tortillas that are high in fiber or adding your own high fiber fillings like vegetables, beans, and corn, this is a must.
Whole grains: When compared to their more refined counterparts, whole grains induce better satiety. This means you'll feel more full and satisfied naturally, and not need to power through smaller portion sizes with willpower alone.
Protein: Perhaps the most important nutrient for weight loss, protein keeps us full the longest between meals, increases calorie burn during digestion, and offers the most "staying power" of all the nutrients.
We've done the heavy lifting for you by choosing some of the most balanced tortillas on the market! After, for even more grocery shopping tips, These Are Costco's Most Popular Items Right Now.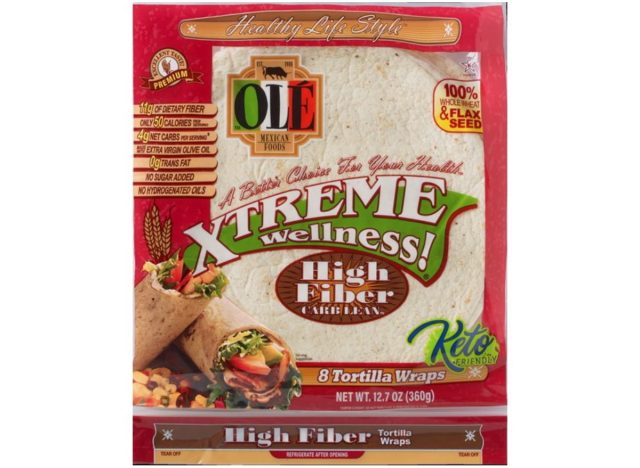 Per 1 tortilla
: 50 calories, 1.5 g fat (0 g saturated fat), 280 mg sodium, 15 g carbs (11 g fiber, 0 g sugar), 5 g protein
These low-carb, low-calorie tortillas might be just what you're looking for to create a satisfying meal while working on weight loss. With only 50 calories per tortilla, 11 grams of fiber, and 5 grams of protein, this option might be the most well-rounded choice on the market.
L'oven Fresh Plain Protein Wrap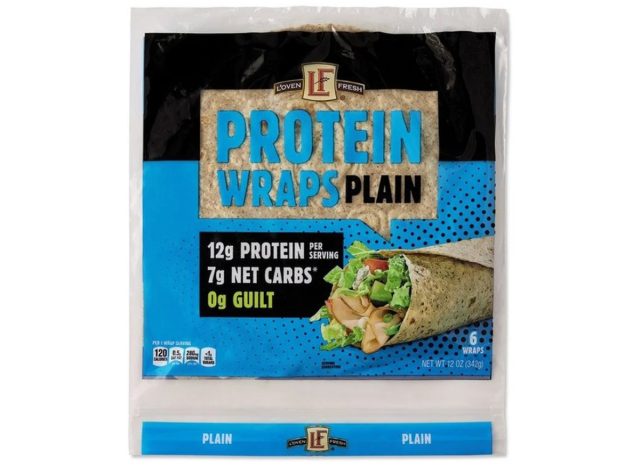 Per 1 wrap
: 120 calories, 3 g fat (0.5 g saturated fat), 280 mg sodium, 17 g carbs (10 g fiber, 0.5 g sugar), 12 g protein
These high-protein, high-fiber wraps will give any meal a boost with 12 grams of protein and 10 grams of fiber per serving! The fiber in these wraps comes from beans, oats, and wheat—real food sources that won't upset your stomach the way the added fiber supplements might.
Serve these warmed on the side of a Mediterranean Bowl for a super filling and low-calorie meal.
Siete Grain Free Almond Flour Tortillas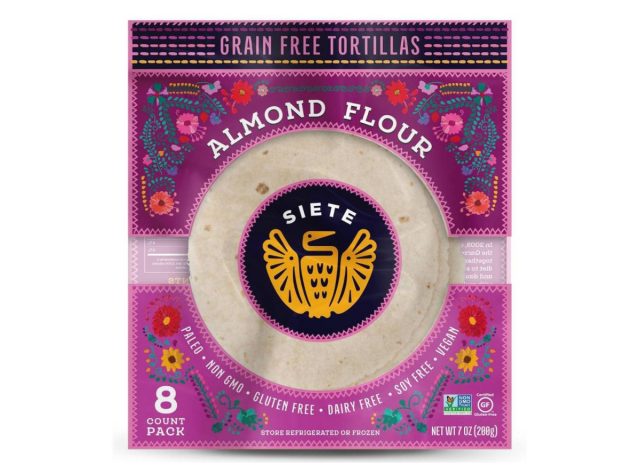 6254a4d1642c605c54bf1cab17d50f1e
Per 2 tortillas
: 190 calories, 11 g fat (1 g saturated fat), 220 mg sodium, 20 g carbs (3 g fiber, 1 g sugar), 6 g protein
These almond flour-based tortillas are flying off the shelves and often selling out because they are so good. With just 17 grams of net carbs per two tortillas, you'll be hard pressed to find a lower carb option here. Bonus: this choice is gluten-free!
We love these served up as a breakfast burrito with eggs, veggies, and a sprinkle of cheese.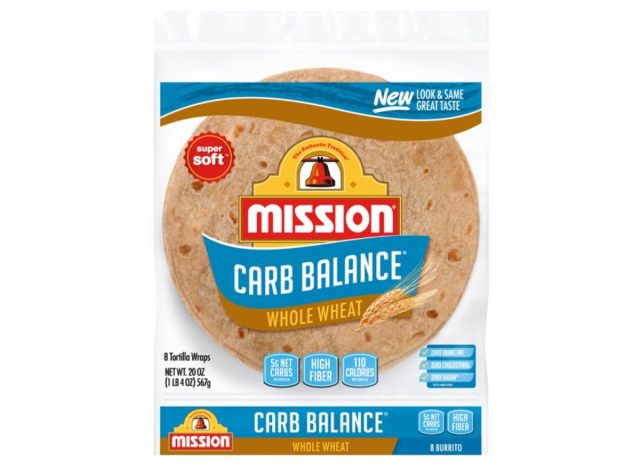 Per 1 tortilla
: 110 calories, 6 g fat (2 g saturated fat), 500 mg sodium, 30 g carbs (25 g fiber, 0 g sugar), 9 g protein
Mission, a classic tortilla brand, now makes a high-fiber, whole wheat option.
With 30 grams of total carbohydrate and a whopping 25 grams of fiber, these wraps turn out netting only 5 grams of carbs. That's a whole lot of nutrition in one serving!
Eat these hot or cold for lunch wrapped as a turkey BLT option.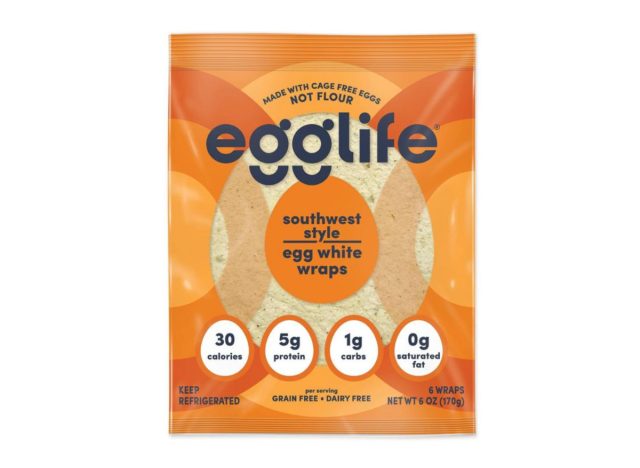 Per 1 wrap
: 30 calories, 0 g fat (0 g saturated fat), 170 mg sodium, 1 g carbs (<1 g fiber, 0 g sugar), 5 g protein
These wraps are made from egg whites, and provide a low-carb, high-protein option! Surprisingly, these do really well turned into personal pizzas. Top them off with tons of veggies, low-fat mozzarella, and some chicken sausage for a high-protein option that still feels like a cozy meal.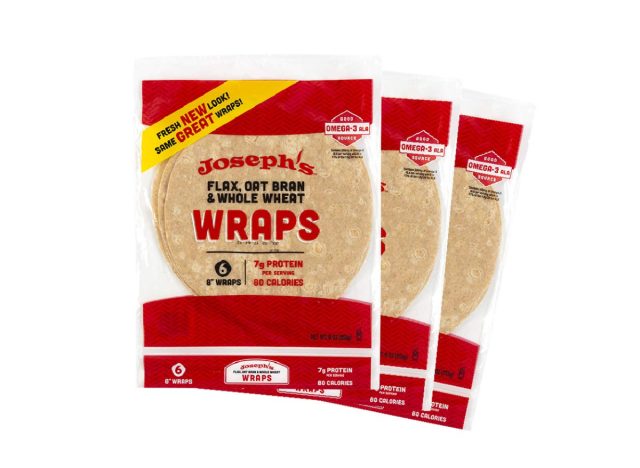 Per 1 wrap
: 80 calories, 2.5 g fat (0 g saturated fat), 280 mg sodium, 12 g carbs (4 g fiber, 1 g sugar), 7 g  protein
Made with flax and oat bran, these wraps deliver a hearty carb option that packs a punch. With only 80 calories per wrap, 4 grams of fiber, and 7 grams of protein, you can make a meal that will leave you feeling full and satisfied.
We like these as a sweeter snack with a little ricotta cheese spread inside, peanut butter, and fruit!
Caroline Thomason, RDN
Caroline is a women's health Registered Dietitian and diabetes educator based in Northern Virginia.
Read more about Caroline