8 Best Salad Dressings at Trader Joe's, According to Customers
Say goodbye to boring salads with these popular picks from your favorite specialty grocer.
The product recommendations in this post are recommendations by the writer and/or expert(s) interviewed and do not contain affiliate links. Meaning: If you use these links to buy something, we will not earn a commission.
A flavorful dressing can make even the most uninspiring salads absolutely delicious. Plus, there are so many options you can pour over your leafy greens, not to mention countless other dishes. Sweet, savory, zesty, acidic—you name an adjective and there's likely a salad dressing embodying it.
Although there's always the option to whip up something yourself, sometimes it's just easier to opt for a store-bought bottle of dressing. While you can find the staple item at any supermarket, neighborhood grocery chain Trader Joe's has some notable choices that shoppers have raved about on social media.
Whether you prefer something light and tangy or creamy and herbaceous, TJ's carries a dressing that can help you transform a lackluster meal into something more exciting. Here are eight of the best salad dressings at Trader Joe's, according to customers.
Green Goddess Salad Dressing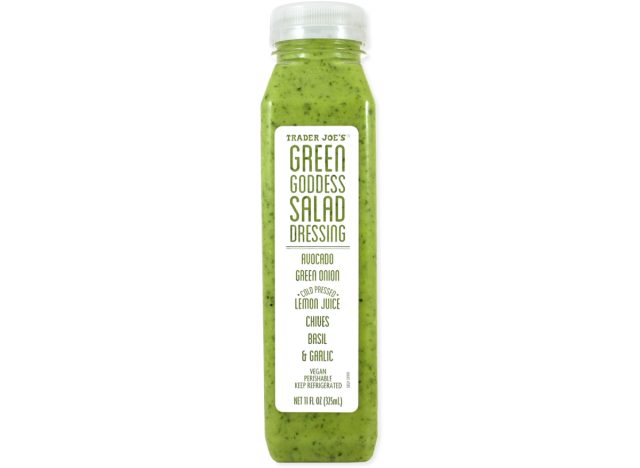 PER SERVING (2 TBSP)
: 20 calories, 0 g fat, 95 mg sodium, 1 g carbs (0 g fiber, 0 g sugar), 0 g protein
This vibrant green dressing packs a flavorful punch with its combination of avocado, green onion, lemon juice, chives, basil, and garlic. Available for $3.99, the bright and herbaceous dressing is a popular item among Trader Joe's customers and has been named a favorite by multiple shoppers.
"It's got that crisp fresh taste to it," one Reddit user noted. "I've been obsessed with it for years!" someone else shared in the comments section of an Instagram post.
RELATED: 9 Popular Fall Items That Have Already Landed at Trader Joe's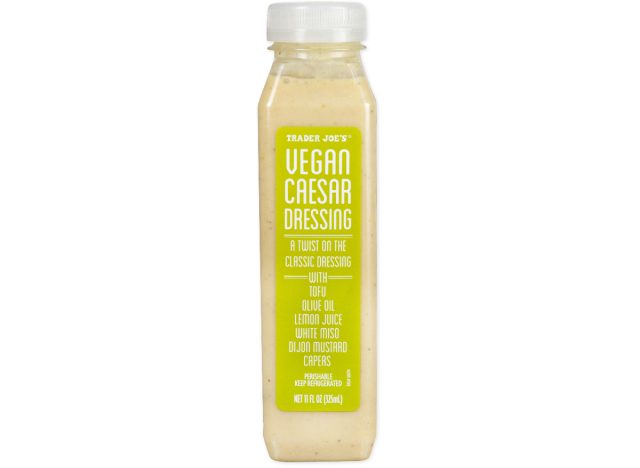 PER SERVING (2 TBSP)
: 70 calories, 1 g fat (0 g saturated fat), 260 mg sodium, 2 g carbs (0 g fiber, <1 g sugar), <1 g protein
Caesar dressing is a salad staple, but it's not traditionally vegetarian or vegan-friendly. TJ's puts a spin on the classic item by making it entirely plant-based, blending together tofu, olive oil, lemon juice, white miso, dijon mustard, and capers. Each bottle is $3.99 and offers a "deliciously savory, enticingly peppery, and satisfyingly creamy Caesar dressing," according to Trader Joe's.
"Vegan or not, this is the best bottled caesar dressing I've had – I was pleasantly surprised by it!" one Reddit user wrote. A TikTok user even called it "the most delicious salad dressing to ever exist."
Vegan Creamy Dill Dressing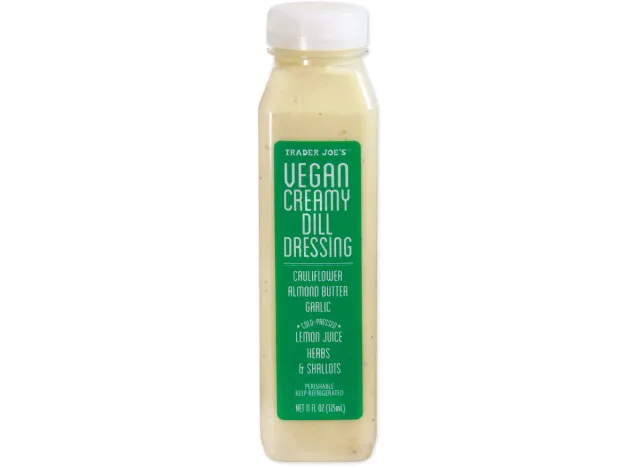 PER SERVING (2 TBSP)
: 60 calories, 6 g fat (0 g saturated fat), 120 mg sodium, 1 g carbs (<1 g fiber, 0 g sugar), <1 g protein
Another shopper-approved, plant-based option is the Vegan Creamy Dill Dressing. The item is priced at $3.99 and starts with a base of cauliflower, almond butter, and vinegar, which is mixed with garlic, shallots, parsley, dill, and chives.
In addition to pouring the dressing on top of greens, shoppers have recommended adding it to pasta salad or using it as a chicken marinade.
Buttermilk Ranch Dressing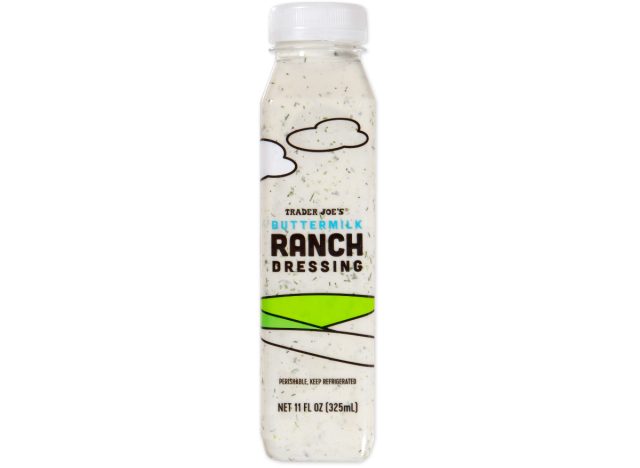 PER SERVING (2 TBSP)
: 70 calories, 7 g fat (1.5 g saturated fat), 150 mg sodium, 1 g carbs (0 g fiber, <1 g sugar), <1 g protein
This past spring, Trader Joe's released its new Buttermilk Ranch Dressing, which is made with cultured buttermilk, sour cream, and mayonnaise, along with herbs and seasonings. Priced at $3.99 per bottle, the dressing has generated plenty of buzz on social media, with several users noting the item's superiority to TJ's previous shelf-stable ranch dressing.
"The freshest ranch ever. So good," one commenter wrote on Instagram. "I love this ranch. I think it has a great flavor and I like how thin it is. It's perfect on salads or to dip fresh veggies in," another one commented on a different Instagram post.
Meanwhile, several others noted the prominence of the dill flavor, so this might not be the best option for the dill-averse.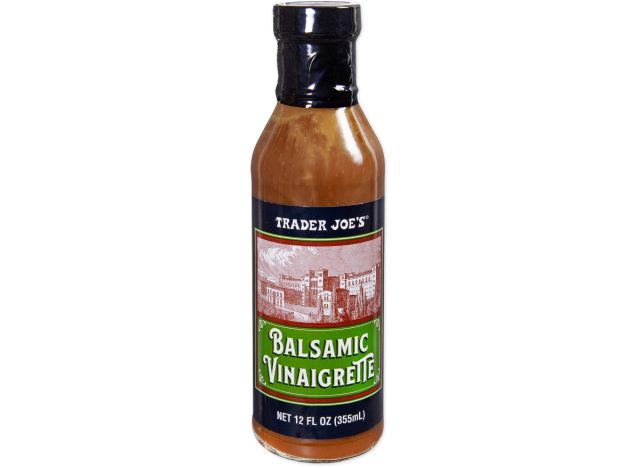 PER SERVING (2 TBSP): 90 calories, 6 g fat (0 g saturated fat), 60 mg sodium, 7 g carbs (0 g fiber, 6 g sugar), 0 g protein
Tart, tangy, and slightly sweet, balsamic vinaigrette is a go-to salad dressing for many. In 2022, Trader Joe's rolled out a new version of this item, which features a "full-bodied flavor and aroma" thanks to the balsamic vinegar imported from Modena, Italy, according to TJ's.  The dressing is priced at $2.79.
One reviewer on Reddit raved, "It's super sweet and tangy, making my taste buds very happy," sharing that they've added the product to salads, rice, and salmon. Another called it their "new go-to salad dressing."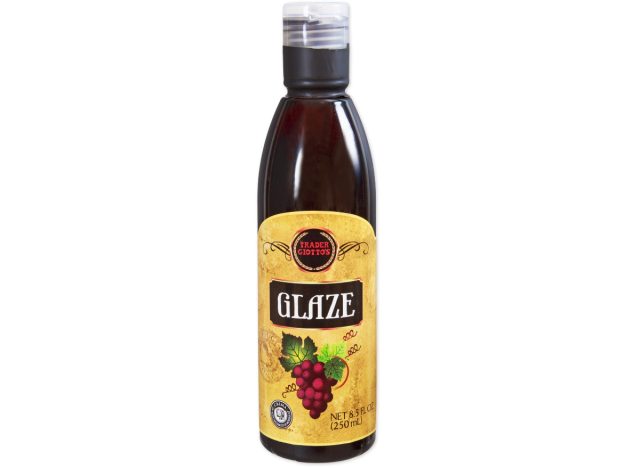 PER SERVING (1 TBSP)
: 40 calories, 0 g fat, 5 mg sodium, 10 g carbs (0 g fiber, 6 g sugar), 0 g protein
When you cook balsamic vinegar down, you get a sweeter product with a syrupy consistency: balsamic glaze. Trader Joe's sells this item for $2.99—and it's a hit among shoppers. One fan recently called it a "miracle condiment," highlighting the product's affordability and versatility.
Other customers have shared the ways they use the glaze, which included drizzling it over roasted vegetables, caprese salad, bruschetta, avocado toast, and watermelon salad, to name a few.
Organic Toasted Sesame Dressing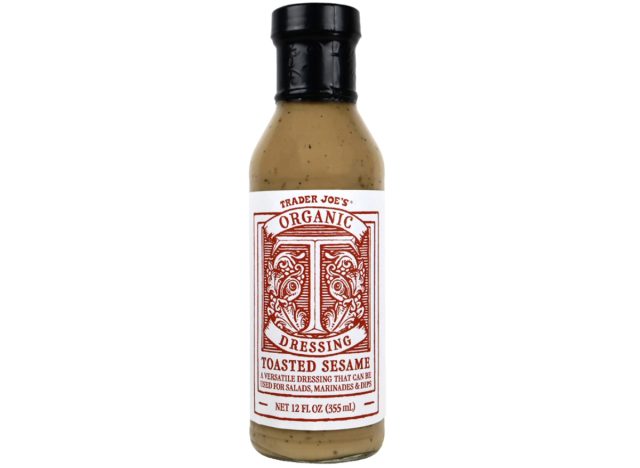 PER SERVING (2 TBSP)
: 130 calories, 13 g fat (1.5 g saturated fat), 200 mg sodium, 4 g carbs (0 g fiber, 3 g sugar), <1 g protein
If you prefer a slightly sweeter dressing, you might want to add Trader Joe's Organic Toasted Sesame Dressing to your shopping list. The Asian-inspired item, which costs $3.99, is made with organic ingredients, including sunflower oil, toasted sesame oil, brown sugar, soy sauce, and white vinegar.6254a4d1642c605c54bf1cab17d50f1e
Beyond salads, both the grocery chain and shoppers recommend adding this dressing to other dishes, such as slaws, sandwiches, rice bowls, and noodles. "MVP all around," one Reddit user wrote.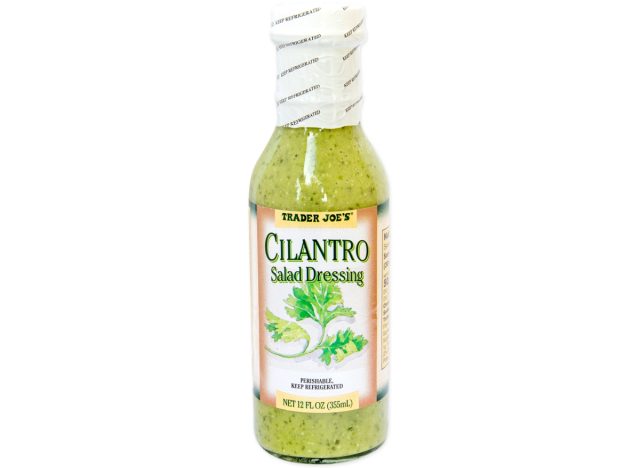 PER SERVING (2 TBSP)
: 45 calories, 3.5 g fat (0 g saturated fat), 115 mg sodium, 2 g carbs (0 g fiber, <1 g sugar), 1 g protein
Cilantro can be a polarizing ingredient, but if you're a fan of the herb, Trader Joe's has a dressing where it's the star of the recipe. The creamy dressing features a mayonnaise base, along with red wine vinegar, cilantro, Anaheim chili peppers, garlic, Cotija cheese, and pumpkin seeds.
Thanks to the item's versatility, shoppers have not only used this dressing on salad, but also as a chicken marinade and a taco sauce. One fan recommended tossing shredded cabbage with the dressing to make a slaw for fish tacos, while another shared a recipe for cilantro chicken burritos.
Brianna Ruback
Brianna is a staff writer at Eat This, Not That! She attended Ithaca College, where she graduated with a degree in Journalism and a minor in Communication Studies.
Read more about Brianna