9 Popular Fall Items That Have Already Landed at Trader Joe's
The change in seasons always brings a fresh assortment of tantalizing foods at the beloved grocery store.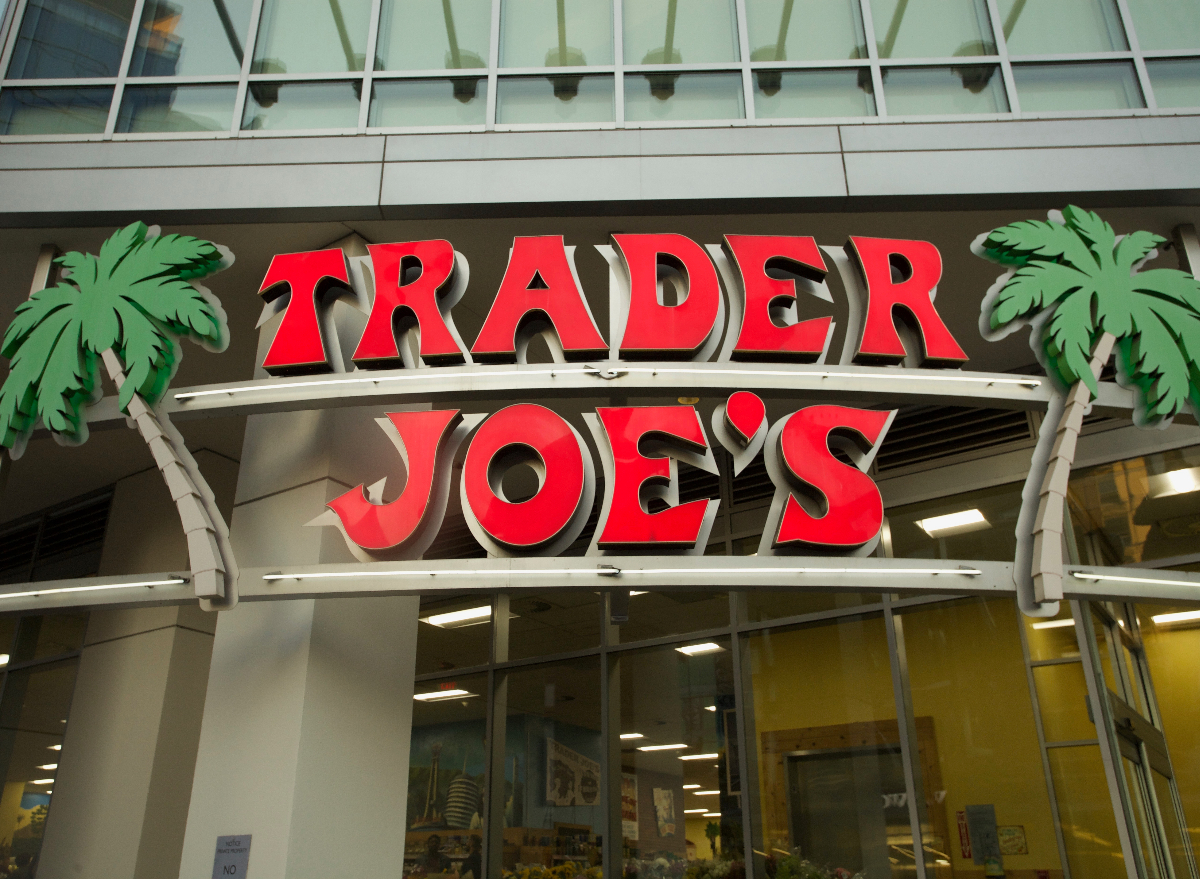 The product recommendations in this post are recommendations by the writer and/or expert(s) interviewed and do not contain affiliate links. Meaning: If you use these links to buy something, we will not earn a commission.
Trader Joe's is known for drawing in fans with its array of globally inspired dishes, creative concoctions, and holiday-themed snacks, so it's no wonder why some shoppers are eagerly awaiting the start of fall. For some, "pumpkin season" is the best time of the year, especially lovers of this beloved neighborhood grocer.
Here are nine of the TJ's goodies ushering in the start of apple picking, pumpkin patches, and leaf piles. Most of these are seasonal releases, which means that you have a limited time to scoop them up.
Make your list now, and get ready for many more in the weeks to come!
Apple & Pumpkin Hand Pies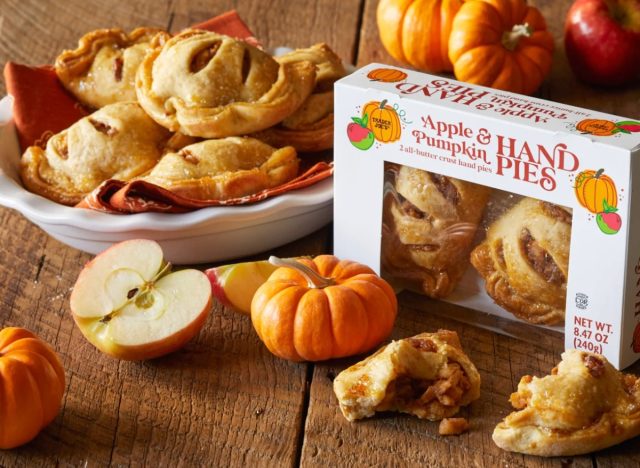 Per Serving (1 pie)
: 360 calories, 18 g fat (11 g saturated fat), 480 mg sodium, 45 g carbs (2 g fiber, 17 g sugar), 5 g protein
Looking at these handheld desserts, you probably can't help but think of the McDonald's personal pie-in-a-box that every kid loved having all to themselves. Let the nostalgia wash over you while trying this dumpling shaped pie, featuring a thick, flaky crust and an apple and pumpkin purée filling. If you have a sweet tooth, along with a hankering for the star spice of the season, you'll want to buy these boxes before they're all gone, according to Instagram fan account @traderjoesobsessed's post. One commenter wrote, "I tried the pumpkin apple yesterday and it was heavenly." A box of two pies costs $4.49.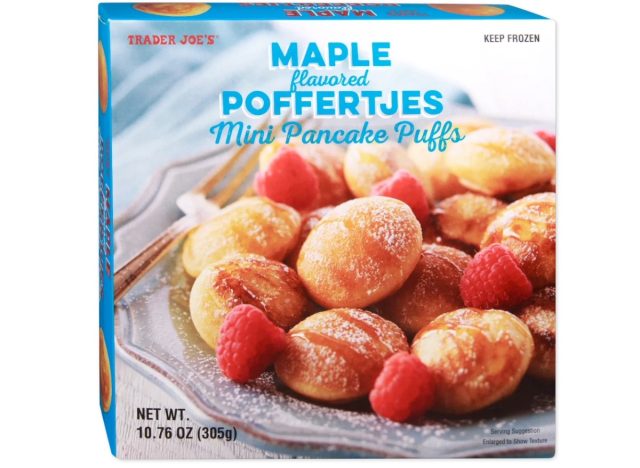 Per Serving (13 puffs)
: 420 calories, 22 g fat (2 g saturated fat), 390 mg sodium, 48 g carbs (1 g fiber, 24 g sugar), 6 g protein
These fluffy, spherical dough balls made their regular seasonal debut at the end of August, much to the excitement of fans of the maple-flavored Dutch pancakes. When the eagerly awaited item had a reappearance last spring, it earned a near-perfect rating from @traderjoesreviews for its soft and delicious texture, with many commenters agreeing that this was a household favorite. See what everyone is raving about for $3.49 a box—while you still can!
Fall Leaf Corn Tortilla Chips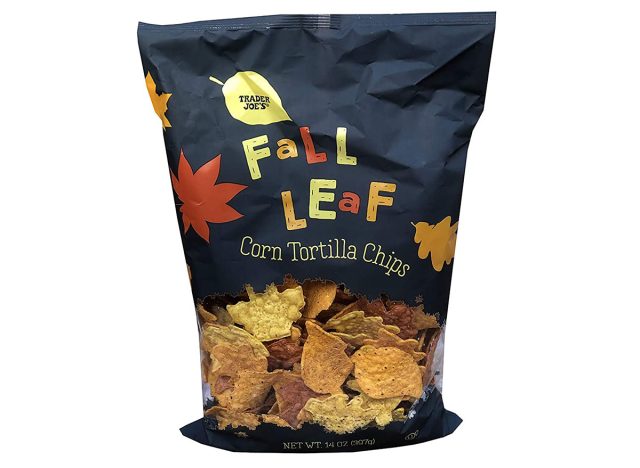 Per Serving (16 chips)
: 130 calories, 7 g fat (0.5 g saturated fat), 65 mg sodium, 17 g carbs (2 g fiber, >1 g sugar), 2 g protein
Trader Joe's dropped this crowd-pleaser early in August, and if you can find it in your store, you're in for a treat. These red, orange, and yellow tortilla chips are leaf-shaped, so you can feel like you're munching a cute, little mound of leaves with your favorite dip. Not only do they have a novel look to them, but many eaters claim that they're tastier than your average tortilla chip. Those who are lucky enough to spot a bag can buy it for around $2.99.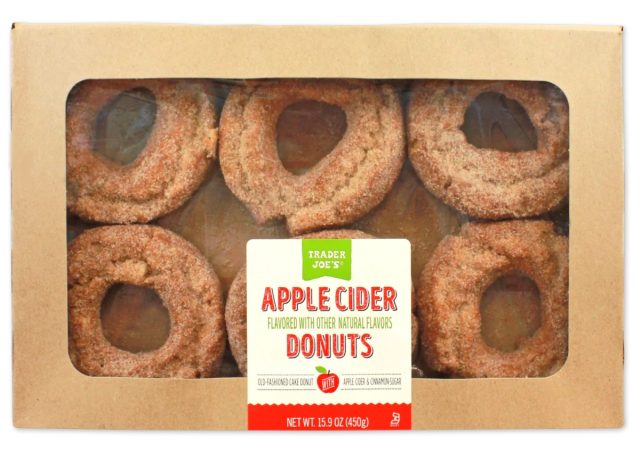 Per Serving (1 donut)
: 320 calories, 16 g fat (7 g saturated fat), 310 mg sodium, 41 g carbs (1 g fiber, 21 g sugar), 4 g protein
You know it's almost time to bundle up when the Apple Cider Donuts come out. Forget taking a trip to the autumn festival—these desserts are already on the shelf at a store near you. Taste them as is, or wait until the weather cools down and pair it with a warm drink for the ultimate cozy treat. And, if you want to see behind the scenes, Trader Joe's even created a video to divulge its doughnut-making trade secrets. They come in a highly shareable box of six for $4.49.
Fresh & Freeze Dried Figs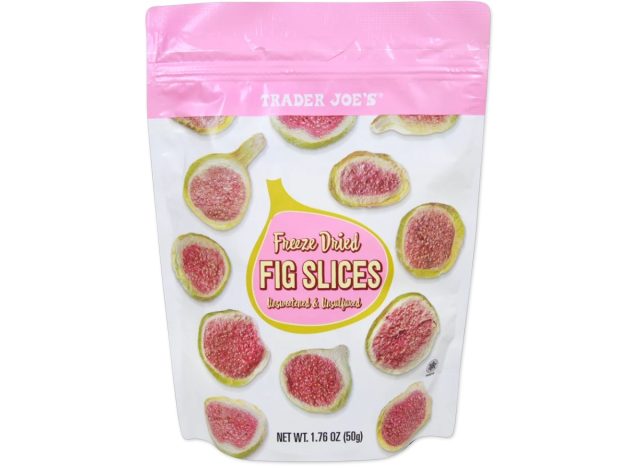 Per Serving (1 bag)
: 180 calories, 0 g fat (0 g saturated fat), 0 mg sodium, 44 g carbs (5 g fiber, 35 g sugar), 3 g protein
The main harvest for this nutrient-dense fruit rolls around in late August, so it's the perfect time to find them at Trader Joe's. The specialty grocer carries both a 16-ounce box of fresh figs (limited availability) for $3.99 or a bag of Freeze Dried Fig Slices (year-round) for $3.69. Want to elevate your kitchen with figs but need some inspiration? @traderjoesobsessed uses them to brighten up an elaborate charcuterie board of cheeses, meats, chocolate, and grapes.6254a4d1642c605c54bf1cab17d50f1e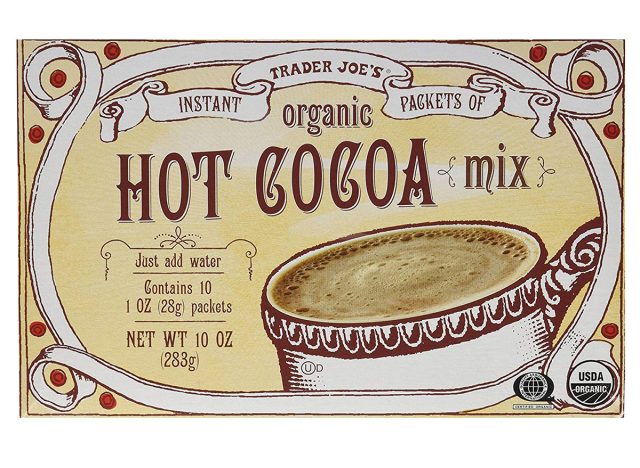 Per Serving (1 envelope)
: 100 calories, 0.5 g fat (0 g saturated fat), 140 mg sodium, 22 g carbs (2 g fiber, 19 g sugar), 3 g protein
Move over, Swiss Miss. Trader Joe's is bringing an all-organic hot chocolate to rival the leading instant cocoa mix brand. With only a handful of ingredients—mainly cane sugar, nonfat dry milk, cocoa powder—and a relatively low sugar content, health-conscious chocolate lovers will probably opt for this one over its counterpart. Keep it stocked in your pantry for when the cold starts to hit, while you still can. A box of 10 servings is $3.99. Marshmallows are sold separately.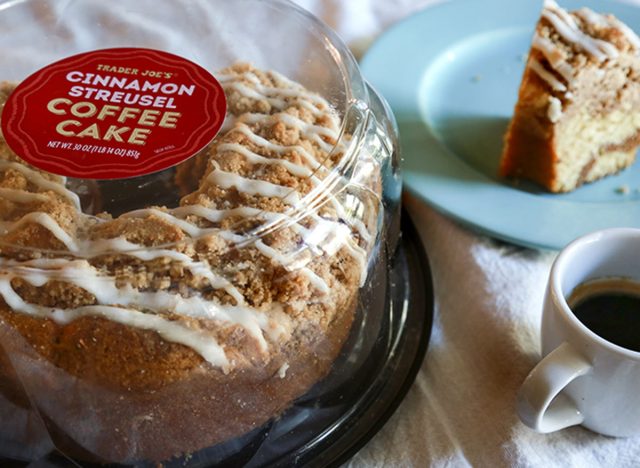 Per Serving (2 ounces)
: 240 calories, 12 g fat (2 g saturated fat), 270 mg sodium, 31 g carbs (>1 g fiber, 19 g sugar), 2 g protein
Does the smell of cinnamon in the air make you want to curl up on the couch with a warm blanket? This Cinnamon Coffee Cake may be around all year, but it's particularly tantalizing at the start of fall, alongside a cup of tea or coffee. This cake is moist from the sour cream, sweet from the brown sugar, and crunchy from the cinnamon crumble topping. The $5.99 package says it's big enough for eight, so do with that information what you will.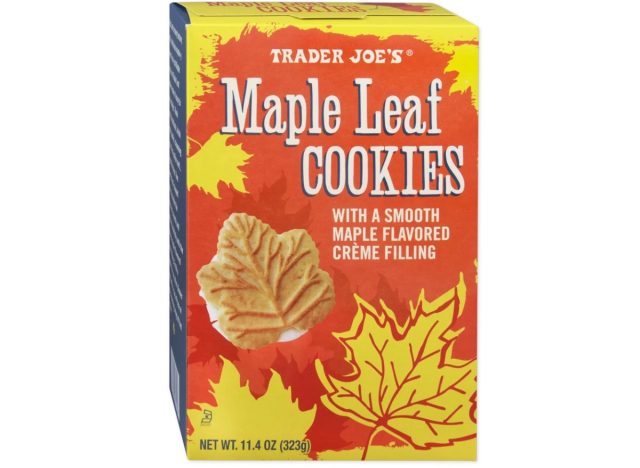 Per Serving (1 cookie)
: 110 calories, 5 g fat (2.5 g saturated fat), 40 mg sodium, 17 g carbs (0 g fiber, 9 g sugar), >1 g protein
There's nothing that captures the essence of fall better than maple-leaf-shaped cookies, even if these cream-filled dessert sandwiches are available year-round. They aren't overly sweet, and fans love them because they taste buttery and creamy. If you can stick to only having one, each cookie runs you less than 10 grams of sugar for a nice mini indulgence. The box of 14 costs $3.99.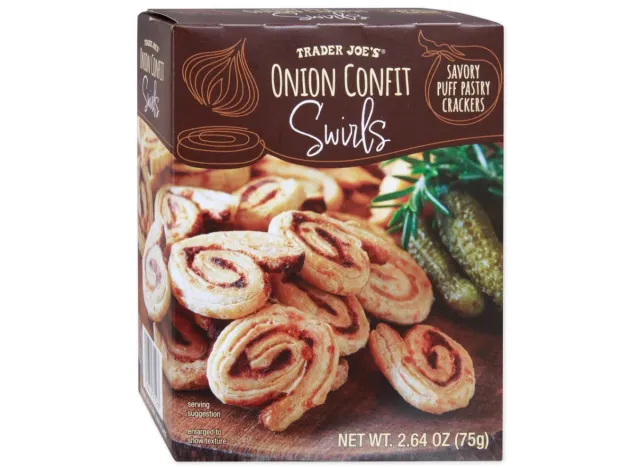 Per Serving (16 pieces)
: 150 calories, 8 g fat (5 g saturated fat), 360 mg sodium, 17 g carbs (>1 g fiber, >1 g sugar), 3 g protein
This brand-new baked invention is what TJ's describes as French onion soup in a pastry: a flaky, crunchy puff pastry with onion confit, balsamic vinegar, seasonings, and Emmental cheese. Even though it's not a fall-only item, it came at the right time. You might try this elevated finger food on a cheese board, like @traderjoesobsessed did, or sprinkled on top of a warm, rich soup. A box of the snacking crackers is $2.49.
Sarah Wong
Sarah studied at Northwestern University, where she received a bachelor's degree in computer science and experimented with mixing tech and journalism.
Read more about Sarah