15 Healthiest Vegetarian Fast Food Orders, According to Dietitians
These vegetarian fast food orders are healthy, tasty, and actually satisfying.
Whether you're a die-hard vegetarian or just trying to eat more meatless meals, it's not always easy to find a nutritious vegetarian fast food meal at popular chain restaurants. While more and more restaurants are offering vegetarian fast food options, others are still stuck in the meaty past.
The next time you're looking for vegetarian options at a fast food joint, check out the list below for the healthiest orders.
What is considered vegetarian?
A vegetarian diet is based on plant foods including fruits, vegetables, legumes, nuts and seeds, and grains. Some vegetarians add milk and dairy products, eggs, or fish, while vegans strictly eat plants only. According to a 2016 nationwide poll, only about 3.3 percent of American adults are vegetarian or vegan and about 46 percent of vegetarians are vegan.
Research shows that those following a vegetarian or vegan diet have health benefits including a reduced risk of heart disease, type 2 diabetes, hypertension, and certain types of cancers.
Nutritionist tips for eating vegetarian when dining out.
When eating fast food, it's not always easy to find the healthiest vegetarian menus. Here are several tips for finding the best vegetarian fast food option for you:
Look at the salads first. Many salads do contain chicken, bacon, or other meats, but oftentimes restaurants will offer options to go meatless.
Check the sides. Some fast-food joints add random vegetarian fare in their side section of the menu, such as a baked potato, parfait or applesauce.
Search for plant-based options. More establishments are offering vegetable sandwiches or meatless burgers. Sometimes they can be hidden in the burger or sandwich section and usually are listed last on the website.
Don't forget the kids' menu. Sometimes the kids' menu has the only vegetarian option around. Don't forget to take a look at those options.
Remember cross-contamination. Even though you're ordering a vegetarian option, the equipment and area your food is prepared usually come in contact with other animal foods. For example, the frying oil that fries French fries (which are vegetarian) may also be used to cook shrimp. The same goes for broilers, microwaves, woks, and other equipment.
Ask for modifications. Many restaurants will make modifications for you and remove the chicken or meat. Just remember, what you're left with should be nutritious and filling.
What are the best vegetarian fast-food orders?
Some establishments have plenty of options to choose from, while you may struggle to find enough choices at other places. Below are the best vegetarian options at 15 fast-food joints around the country.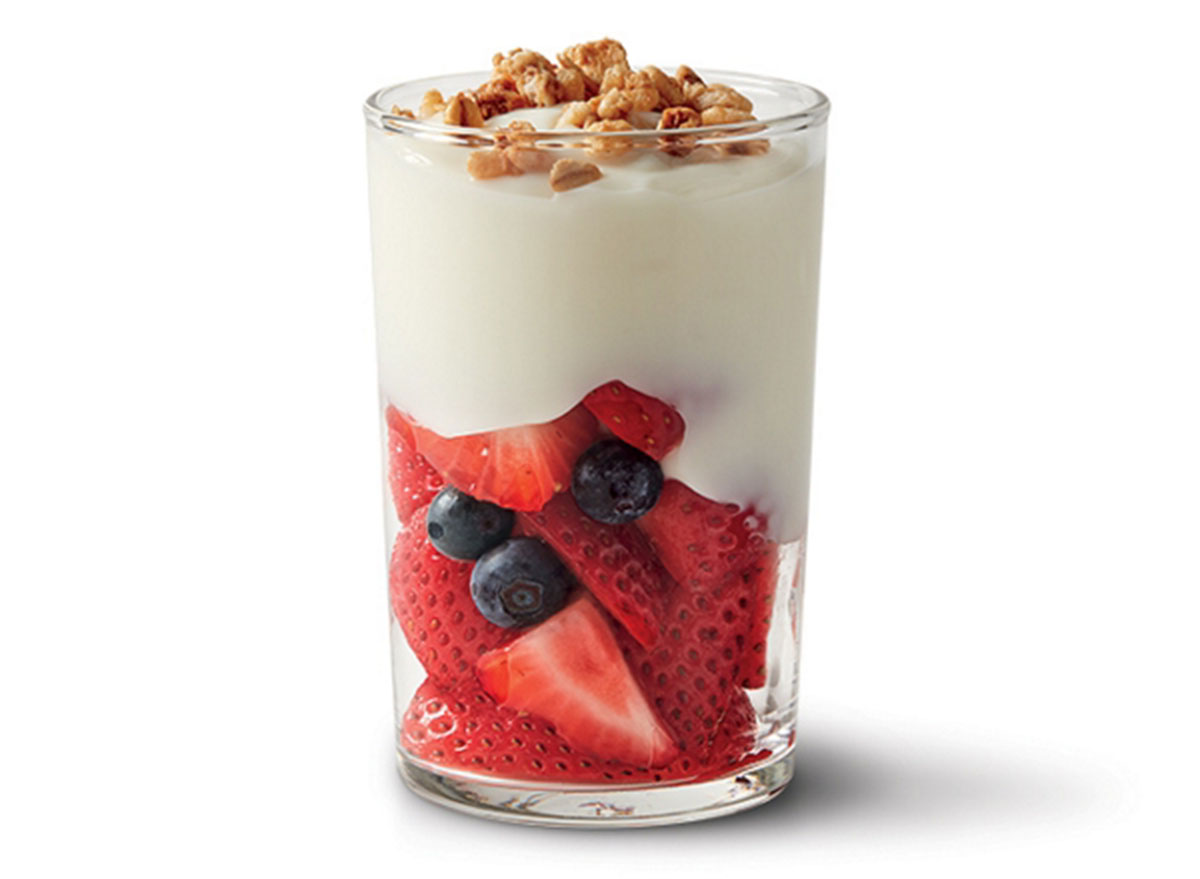 Per parfait
: 210 calories, 3 g fat (1.5 g saturated fat), 75 mg sodium, 40 g carbs (1 g fiber, 28 g sugar), 6 g protein
It's slim pickings at McDonald's if you're a vegetarian and want to eat a balanced, healthy meal. Most of the burgers and sandwiches are made from beef or chicken, except the fried fish which is a rather unhealthy choice. The salads are made with bacon or chicken and removing either will leave you with anything but a filling meal. Your best bet is to grab the parfait made with low-fat yogurt, crunchy granola, strawberries, and blueberries. You'll be getting three food groups and a healthy amount of nutrients to keep you feeling satisfied.
Per potato
: 320 calories, 2.5 g fat (1.5 g saturated fat), 35 mg sodium, 63 g carbs (7 g fiber, g sugar), 8 g protein
This vegetarian delight is hidden under the "fries & sides" portion of the menu. Potatoes provide an array of nutrients and are an excellent source of vitamin C as well as a good source of both potassium and vitamin B6. They also provide complex carbs and are fat-, sodium-, and cholesterol-free. Don't forget to eat the skin, which contains half of the fiber!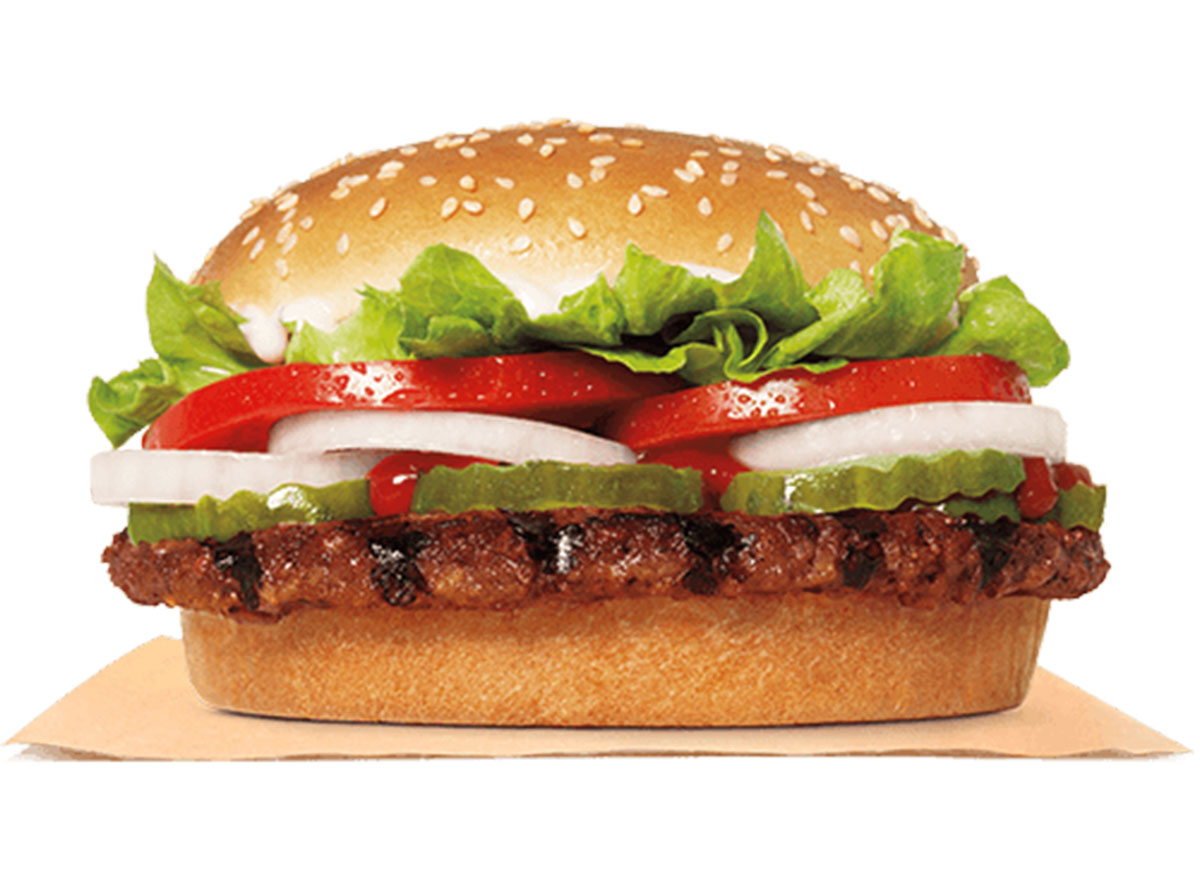 Per burger
: 630 calories, 34 g fat (11 g saturated fat), 1,080 mg sodium, 58 g carbs (4 g fiber, 12 g sugar), 25 g protein
"Whenever I'm searching for vegetarian fast food, I look for a Burger King," says Stephanie McKercher, MS, RDN, dietitian and plant-based food blogger at Grateful Grazer. "Their soy-based Impossible Whopper has 25 grams of satisfying protein, comes topped with fresh veggies and crunchy pickles, and tastes just as good as the classic beef-based burger they're known for." McKercher enjoys her Impossible Whopper with a small order of fries, but also recommends swapping in a side salad to get in some extra greens. But the best tip of all from McKercher? "Ask for the non-broiler method of preparation to keep it totally meat-free."
Per salad
: 350 calories, 17 g fat (4.5 g saturated fat), 210 mg sodium, 37 g carbs (8 g fiber, 8 g sugar), 14 g protein
Chick-Fil-A offers several salads without chicken, making it a vegetarian fast food hero. This salad starts with a fresh bed of greens, topped with grape tomatoes, a blend of Monterey Jack and Cheddar cheeses, a mixture of poblano chiles, red bell peppers, roasted corn, and black beans. It is served with seasoned tortilla strips, Chili Lime Pepitas, and creamy salad dressing or 2 packets of Jalapeno salsa. This salad provides four food groups including vegetables, dairy, carbs, and protein (from the beans) which makes it a well-balanced meal.
Per full order
: 550 calories, 44 g fat (8 g saturated fat), 820 mg sodium, 30 g carbs (7 g fiber, 5 g sugar), 12 g protein
"I like how they updated the classic Greek salad to incorporate quinoa, which has some protein and fiber," says NYC-based registered dietitian Natalie Rizzo, MS, RD. The calories and protein are pretty decent for a vegetarian main and it will keep you full for hours. "The only thing to watch out for is this salad has 830 milligrams of sodium, which is quite high. To cut back on the salt while eating fast food, ask them to omit the feta cheese."
Per bowl
: 430 calories, 18 g fat (5 g saturated fat), 850 mg sodium, 57 g carbs (10 g fiber, 2 g sugar), 12 g protein
Taco Bell is a great place for vegetarians because you can customize any order to have it as you like it. For example, "the Power Bowl usually comes with chicken, but you can ask them to leave it off and have the black beans as a plant-based protein source," says Rizzo. "Make this a well-balanced meal with rice, black beans, lettuce, salsa, and guacamole. You will get a combination of protein, carbohydrates, and healthy fats, all of which will help keep you full."
Per 6-inch sub
: 200 calories, 2 g fat (0 g saturated fat), 280 mg sodium, 39 g carbs (5 g fiber, 5 g sugar), 9 g protein
This sandwich has been on Subway's menu for quite some time. Choose the veggies you want to pile on, and add some cheese for protein and calcium. To get more fiber, opt for the 9-grain bread.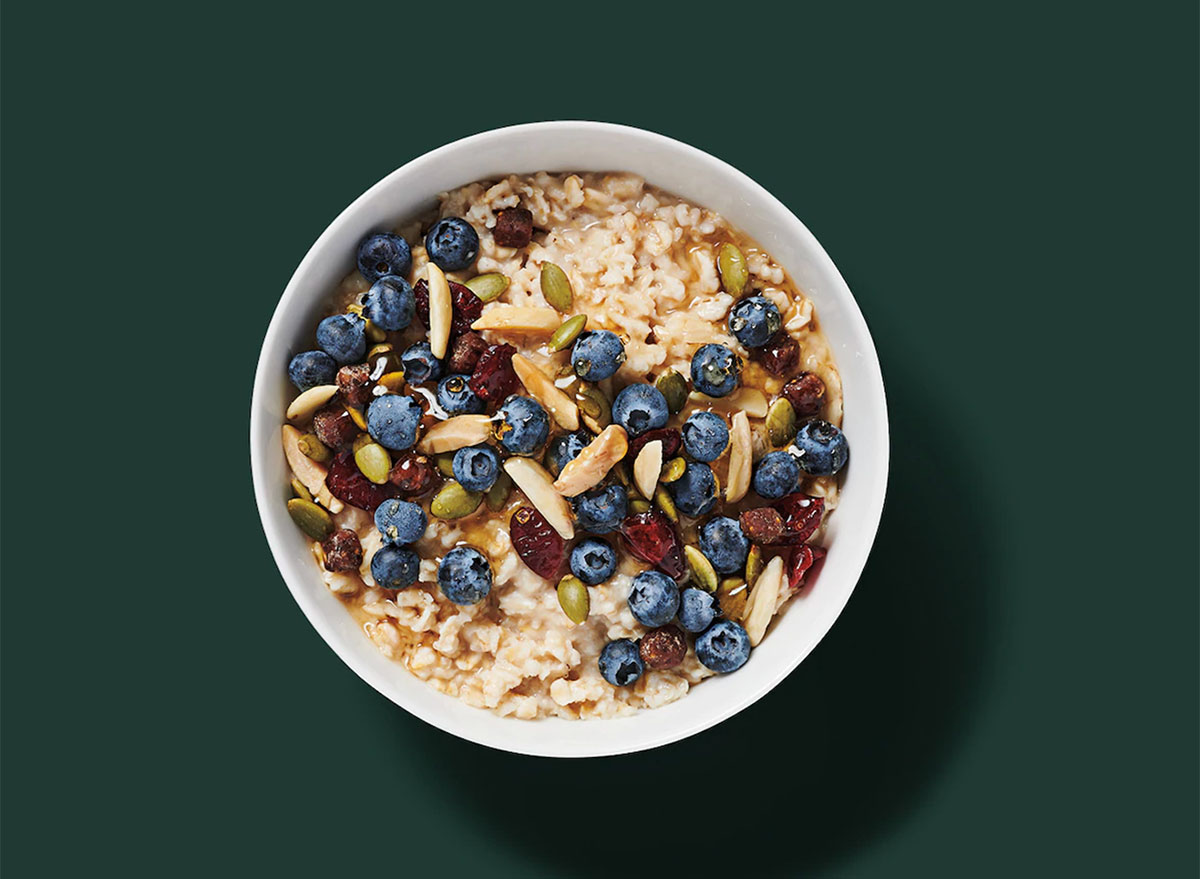 Per oatmeal cup (90 g)
: 220 calories, 2.5 g fat (0.5 g saturated fat), 125 mg sodium, 43 g carbs (5 g fiber, 13 g sugar), 5 g protein
Starbucks serves all-day breakfast, so you can have this for breakfast or a snack. It's made from whole-grain oats, blueberries, and a fruit-nut-and-seed medley that contains dried figs, pepitas, dried cranberries, and almonds. "For 220 calories, you get a good source of both protein (5 grams) and fiber (5 grams), which help keep you satiated," says Amy Gorin, MS, RDN, a registered dietitian nutritionist in the New York City area. "I recommend ordering it without the agave syrup to cut back on added sugar. Instead, add a dash of nutmeg or cinnamon for a subtle sweetness." Gorin also recommends pairing the oatmeal bowl with a healthy Starbucks order, like a tall unsweetened soy latte, for additional plant-based protein.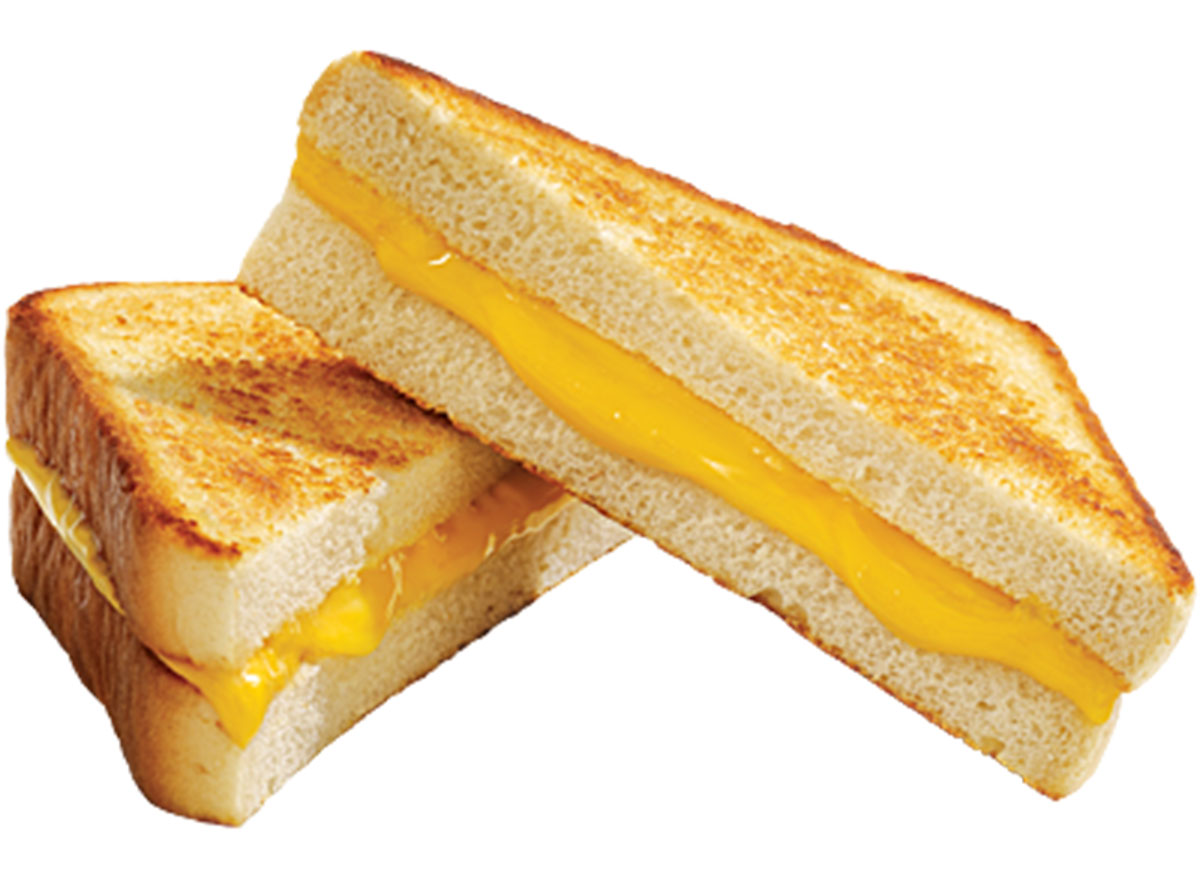 Per sandwich
: 430 calories, 19 g fat (7 g saturated fat), 1,090 mg sodium, 51 g carbs (2 g fiber, 7 g sugar), 14 g protein
There really nothing vegetarian to choose from on this menu, except the mainly fried snacks and sides. Take a peek at the kid's menu, and you'll find a standard grilled cheese sandwich. Pair it with a small fries and 100% apple juice or 1% milk and you've got a meal.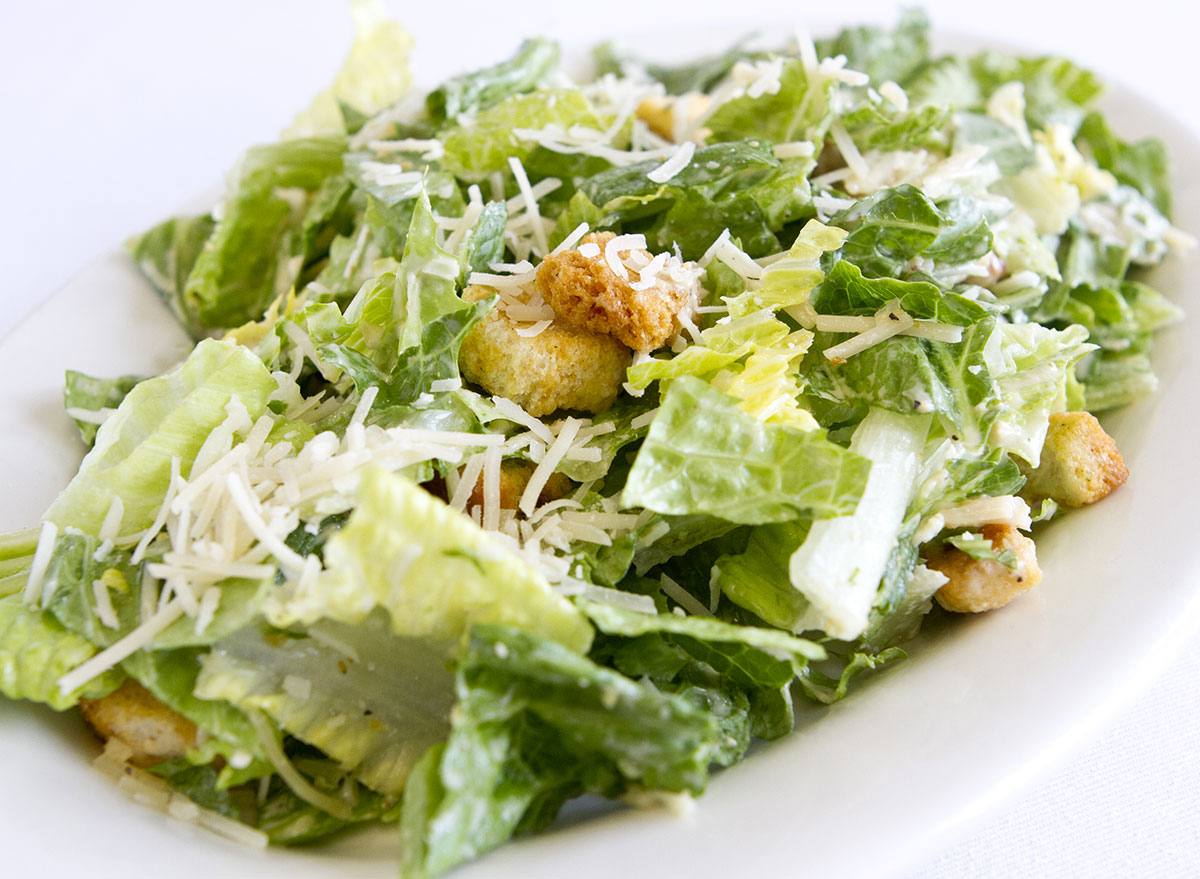 Per salad (without dressing and croutons)
: 40 calories, 2 g fat (1 g saturated fat), 90 mg sodium, 2 g carbs (1 g fiber, 1 g sugar), 3 g protein
This side salad is made with lettuce and shaved Parmesan cheese. Add fat-free ranch dressing for an extra 35 calories and Parmesan garlic croutons for 60 calories more. Supplement the salad with another individual side order of BBQ Baked Beans, Corn on the Cob, Green Beans, Potato Wedges, or Sweet Kernel Corn. All of these options are fiber-rich and will add more vegetables to your meal.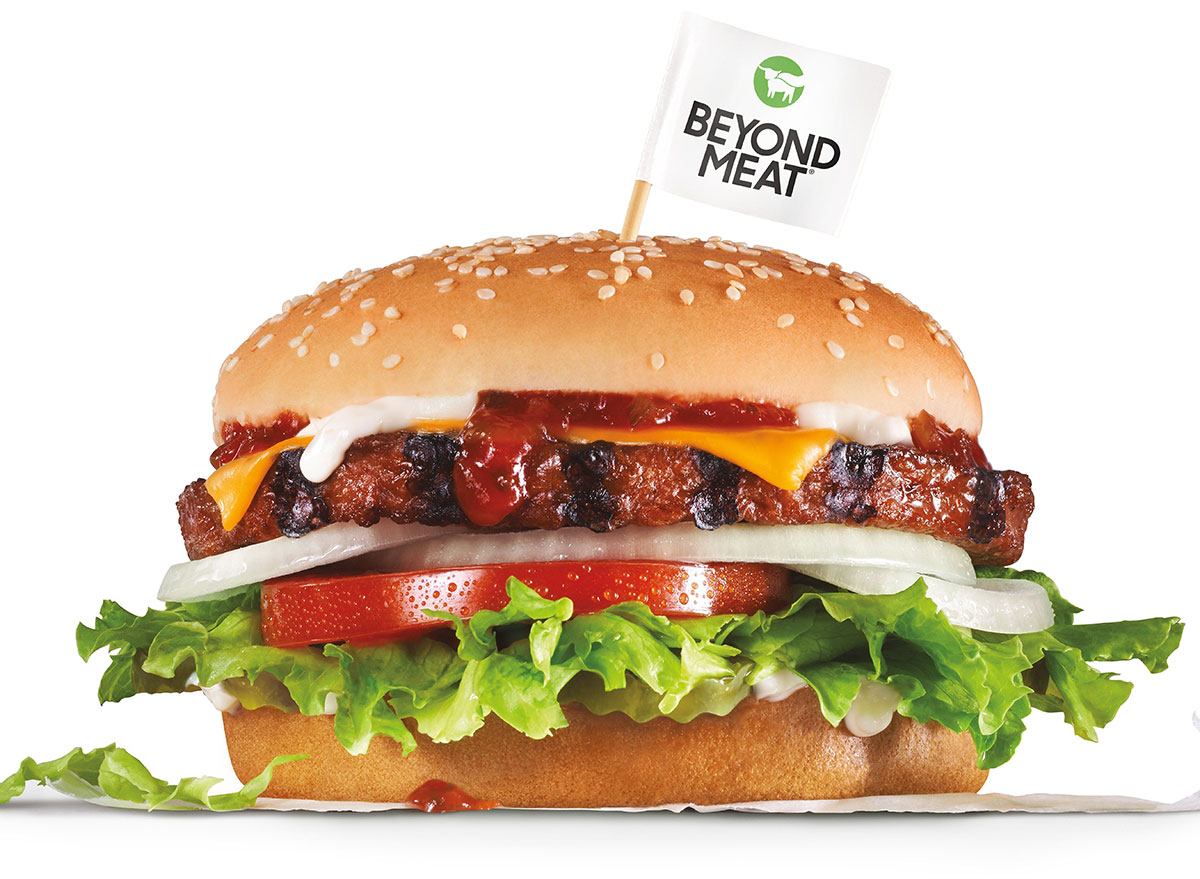 Per burger
: 710 calories, 40 g fat (0 g saturated fat), 1,550 mg sodium,61 g carbs (5 g fiber, 12 g sugar), 30 g protein
Carl's Jr's serves the plant-based Beyond Burger which comes with lettuce, tomato, pickle, onion, mayo and special sauce. To cut back on some calories and fat, ask for no mayo.
Per 7 oz serving
: 90 calories, 2.5 g fat (0 g saturated fat), 260 mg sodium, 10 g carbs (5 g fiber, 4 g sugar), 6 g protein
"It's not always easy to find a nutrient-packed plant-based side order, which is why I'm so happy that Panda Express offers its Super Greens side," says Gorin, a nutrition partner with Panda Express. "This combo of broccoli, kale, and cabbage is just like it sounds: It's a medley of green veggies that are super for you! In just 90 calories, you get an excellent amount of fiber (5 grams) and a good amount of protein (6 grams), both nutrients that help keep you fuller for longer." Gorin recommends pairing the Super Greens with a main dish like Eggplant Tofu—a mixture of tofu, eggplant, and red bell peppers. A 6.1-ounce portion has 340 calories, 7 grams of protein, and 3 grams of fiber. "Note that even though these dishes are plant-based, everything at Panda Express is cooked in shared woks and equipment," says Gorin.6254a4d1642c605c54bf1cab17d50f1e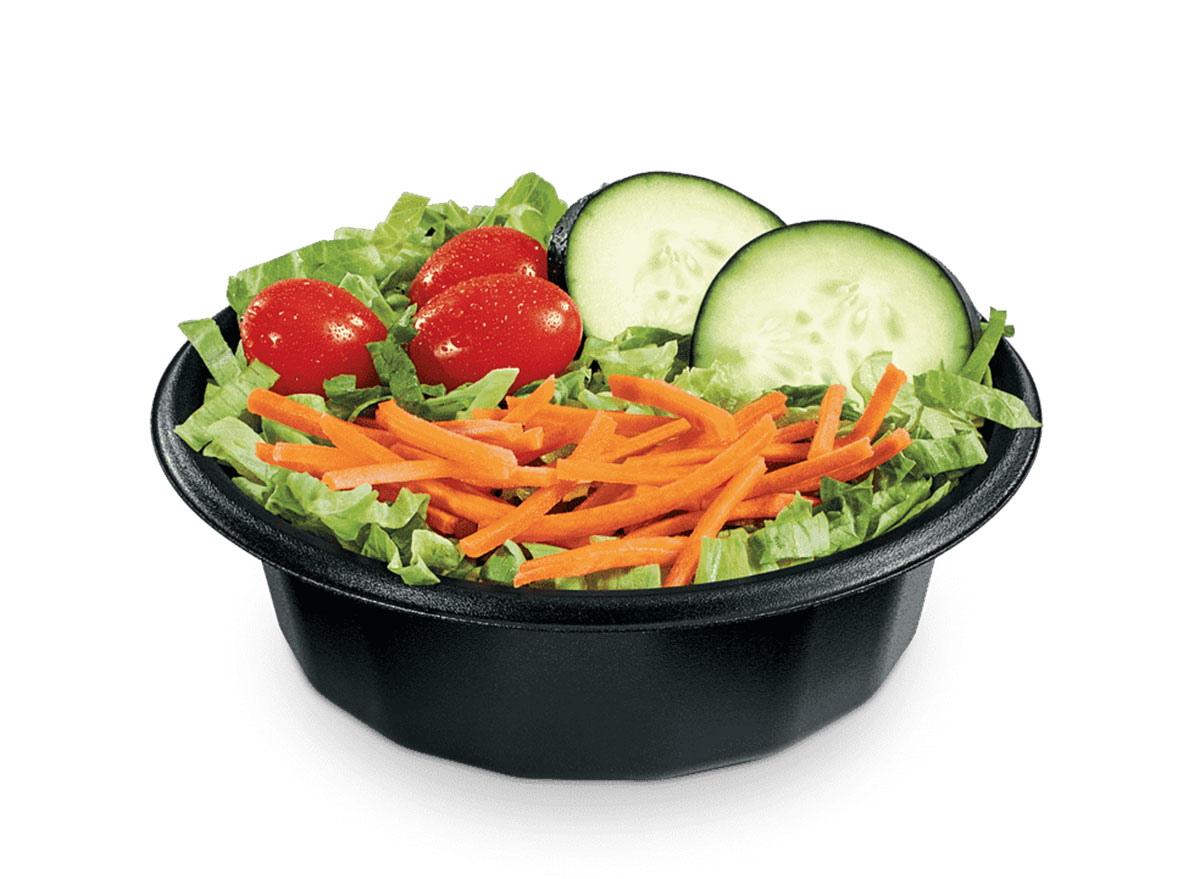 Per salad
: 113 calories, 5 g fat (1 g saturated fat), 536 mg sodium, 17 g carbs (2 g fiber, 5 g sugar), 2 g protein
There's not much to choose from at Jack in the Box when it comes to vegetarian fare. Your best bet is this side salad with dressing and croutons. However, you'll need a little more food to make it a meal. Add a small French fries or stuffed jalapenos together with a Tree Top Applesauce Pouch to round out your order.
Per ¼ lb serving
: 390 calories, 25 g fat (8 g saturated fat), 1,391 mg sodium, 8 g carbs (3 g fiber, 0 g sugar), 14 g protein
Not much vegetarian fare to select from at Popeye's. Your best bet is the fried Popcorn Shrimp, where the calories are reasonable. If you know you're eating at Popeye's later, make sure you eat plenty of fruits and vegetables for the rest of the day as you won't be getting many in this meal.
Per sandwich
: 290 calories, 13 g fat (5 g saturated fat), 550 mg sodium, 27 g carbs (5 g fiber, 4 g sugar), 17 g protein
This is my personal go-to sandwich whenever I am on the road by car or plane. The sandwich contains egg white, spinach, red and green bell peppers, and onions. It's available throughout the day and quickly warmed so you can grab-and-go.
Toby Amidor, MS, RD, CDN
Toby Amidor is an award winning dietitian and
Wall Street Journal
best-selling cookbook author who believes healthy and wholesome can also be appetizing and delicious.
Read more about Toby