We Tasted 7 Walmart Pies & This Is the Best
Find out which dessert should grace your holiday table.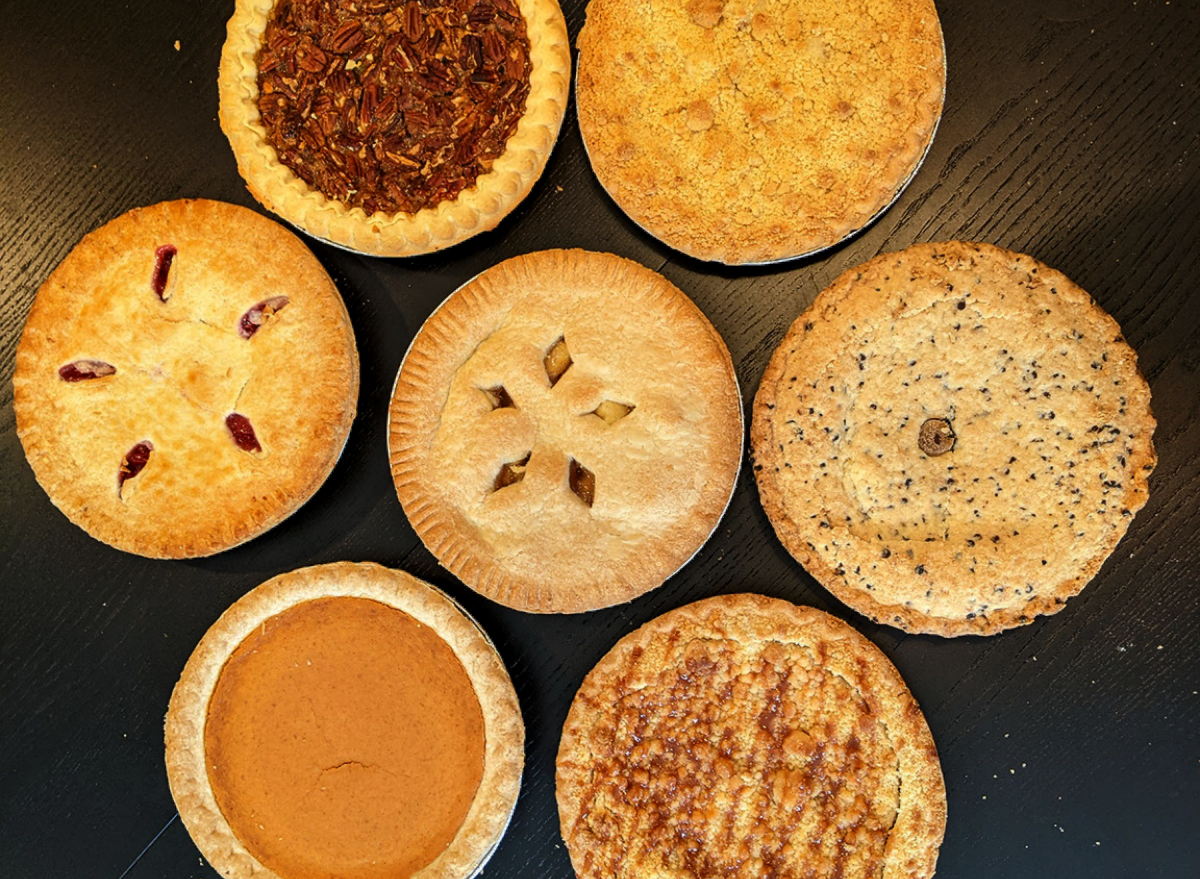 Pie is the quintessential Thanksgiving dessert. It's as expected and iconic as a golden-roasted turkey at the table. It's often the star of the dessert course, a celebration of the season's harvest and plenty, featuring delicious, golden buttery pastry stuffed to the max with the bounties of fall.
What makes them even more special is that their interpretations remain unique to each family's table. What's in them, how they're topped, even how many crusts they have, are personal expressions. They vary from whipped cream-garnished custard types like sweet potato or pumpkin, to streusel or granola crumbs, to lattice or shortbread-draped. And they can be glorious—stacked sky-high like The Blue Owl Bakery's sugar shortbread-crusted or baked in a paper bag like The Elegant Farmer's—and priced accordingly.
But is it worth it when you can go to your local Walmart and get seven pies for less than a single one of these famous specialty pies? Is there a tremendous difference in quality to justify that variation in price? And can you taste the loss of that butter in the crust, feel a noticeable change in pastry and fruit texture, tell the difference between the type of sugars in the filling?
To answer that question for bargain-hunters everywhere, we bought and tested all seven holiday pie varieties available at an Atlanta Walmart Supercenter to determine if they are, in fact, "Great Values." (Plus, don't miss: I Tasted 6 Chocolate Cake Mixes & This Is the Best.)
Pumpkin Pie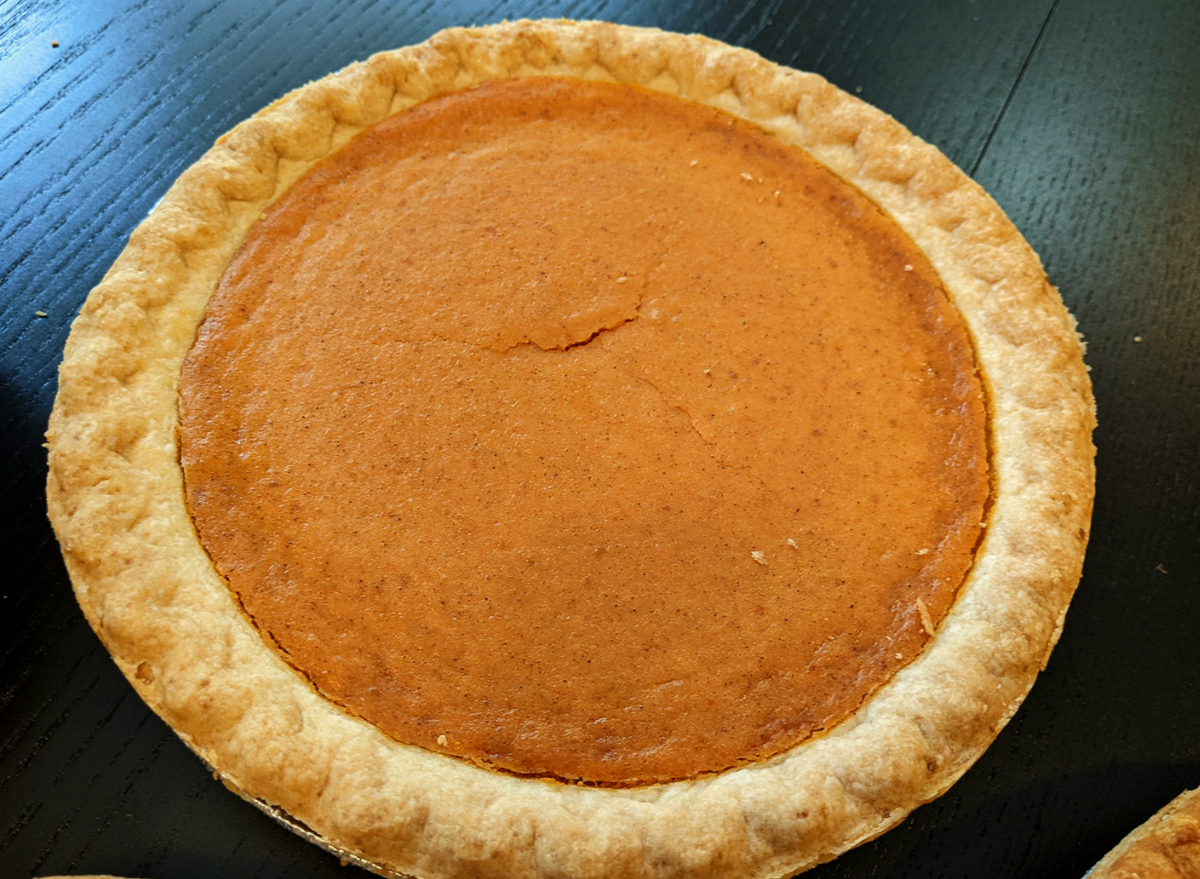 Pumpkin pie may be traditional, but it's a polarizing flavor. Walmart sells this variety in two versions: regular and no sugar added, which looks considerably paler and more beige than its much brighter orange counterpart. We tried the standard and were glad we did because we couldn't imagine how much worse it would be without sugar. This pie was borderline inedible, using a canned squash base that gave off an immediately artificial aroma that wafted to the roof of your mouth.
Biting into it felt firm but somehow spongey; there was a wobbly but semisolid texture that felt almost like thick hair product. "There's a strong possibility that if we melted this down, it would resolidify," one taster speculated, bemused. The absence of cinnamon was missed as well, providing no respite from the odd fake flavor and tasteless crust, creating a recipe for what was perhaps the most joyless pie we'd ever tried.
Cookie Pie
Chocolate chip cookies reimagined as other sweets are typically a treat. Brookies, ice cream sammies, pancakes, and the like. When we saw this pie, we thought that there was no way this could be bad. Sure, it looked a little dry, there was shortening instead of butter in the ingredients, the chips were tiny, and the filling was unspecified, but still! It was a chocolate chip cookie in pie form!6254a4d1642c605c54bf1cab17d50f1e
Except it wasn't. The crust was disappointingly not made of cookie dough, but rather the bland default formula Walmart uses for all of their pies, and the small chocolate dots studding it added nothing but an acrid burnt taste. This was unexpected, as the pastry was a light color, but it makes sense—the diminutive size of the chips meant faster cook-through and less moisture, resulting in chocolate pieces that overcooked, crumbled, then bafflingly disappeared in each bite.
The strangest thing, however, was the filling. The texture was gloopy and uncomfortable to look at, its appearance semi-translucent but slick and shiny like taffy. "This is cookie-flavored toothpaste," said one taster of the gelatinous, chocolate-spotted insides. Another taster commented, "There is nothing found in nature in this pie," noting the artificial tones of the Chips Ahoy-like flavors. For some, that familiarity isn't necessarily a bad thing, but to others, it felt like "if you described a chocolate chip cookie to a robot and this is what it came up with."
Pecan Pie
Due to a heated debate on whether the cookie pie was, in fact, a pie or if it was "an alternate dimension of existence," the pecan pie tied with the cookie for second-to-last billing. But this was after tasting because, at first glance, it appeared promising. While it looked to be on the drier side, with a thicker crust—likely a cost-saving move since pecans are pricey—it also had a more fancy fluted crust than the other pies, and the toasted pecans were distributed generously across the top with few gaps.
However, with pecan pies, you certainly get what you pay for, and although this pie cost marginally more than the others, its still-low price point remained apparent. Beneath the lovely layer of crunchy, lightly salted pecans that were clearly roasted before they were baked was a thick, sticky layer of chunky goo whose proportion to nut and crust were problematic. This filling's texture was unsettling, broken up by thick globs that felt like oversized citrus vesicles in our mouths. The flavor was more familiar, an artificial brown butter, butter pecan taste, but tasters remarked that it had a general feel of "post-apocalyptic robot food, like it was squirted out of a machine." Its saving grace was the real, unbroken pecans, which we ate off the top while leaving the innards to the trash.
Cherry Pie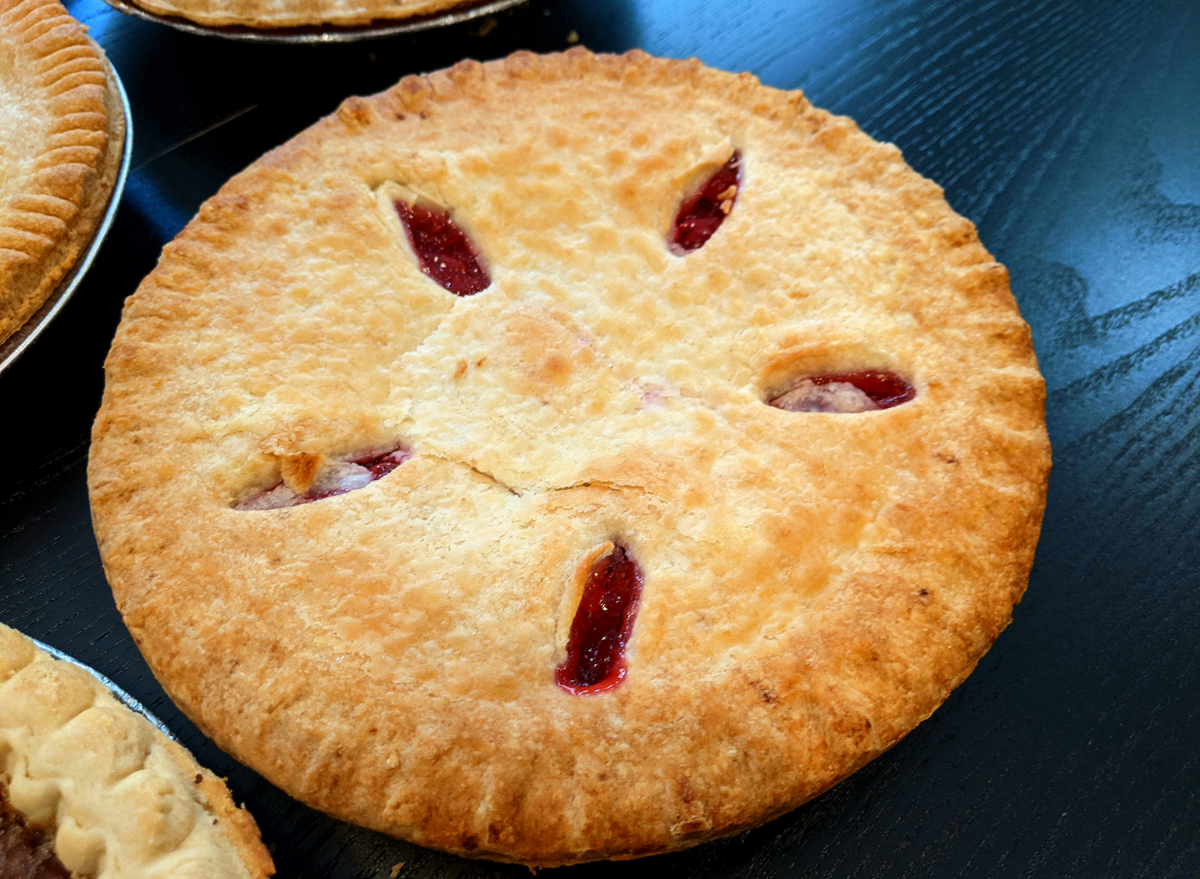 With cherry season long over by the time the holidays roll around, we expected this pie to be made of canned cherry filling, which it was. The make-or-break question, then, was "will it be good canned cherry filling?"
We broke through the already-cracked topped crust—which was much more lightly fluted and less sealed than the other double-crusted pies—to find that whatever the quality was, there was at least a lot of it. This pie was stuffed generously with skin-on whole cherries. The cherries themselves were more on the tart side and tasted a little like prunes. They were mushy and slightly grainy, suspended in a puree that resembled the dulled down color of strawberry-rhubarb pie filling. All of this could have been saved by a well-made crust, particularly since they were dry enough to avoid the trap of getting oversaturated and falling apart. But sadly, we found that two mediocre crusts do not equate to one good one.
Apple Pie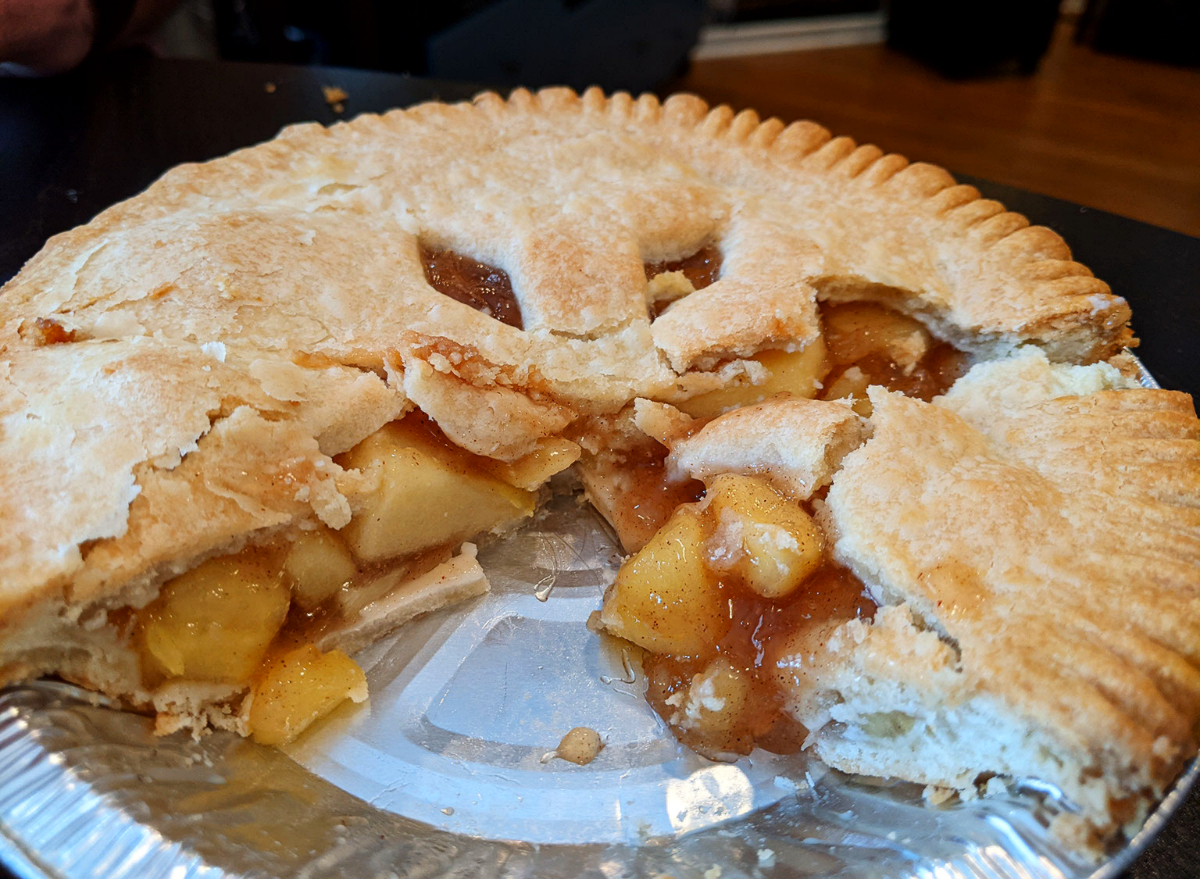 Like the pumpkin pie, the classic double-crusted apple pie was available in regular or without added sugar. Again, we opted for the more traditional recipe. The crust for this was the same as the others: thick and flavorless, needing salt, and heavy and dense rather than flaky. That said, though, this pie was entirely inoffensive.
We appreciated the fork-tine crimping on the edge, which felt less machine-made despite the fact that it definitely was machine-pressed (the regular intervals were a giveaway). The filling was "exactly what I'd think a Walmart apple pie would taste like," as one taster remarked. It had a classic, mild canned apple pie-filling flavor that recalled jelly beans given the same name. The flesh of the apples was firm and cool, amid a very sweet gel that could use some acidity and cinnamon to give it some personality.
Dutch Apple Crumb Pie
Personally, I prefer a bonus pastry crust atop my apple pies over latticed strips or streusel toppings, but in this case, the crumb won. The small granules didn't look like much and like they might be soggy or undercooked, but actually, they remained tight and dry as they maintained their structure. This crumb was very light-colored, like bread crumbs. They presented as if they were cooked first and minimally baked after being added to the assembled pie—a practice we suspect was employed for this and the pecan pie. The pieces were very sweet and added a hint of richness and suggestion of butter, adding to the flavor we were missing in the other apple pie.
The downside was that there wasn't very much actual filling in this pie compared to the double-crusted version, and the spread of filling quickly led to an uneven distribution of the crumb topping.
Caramel Apple Pie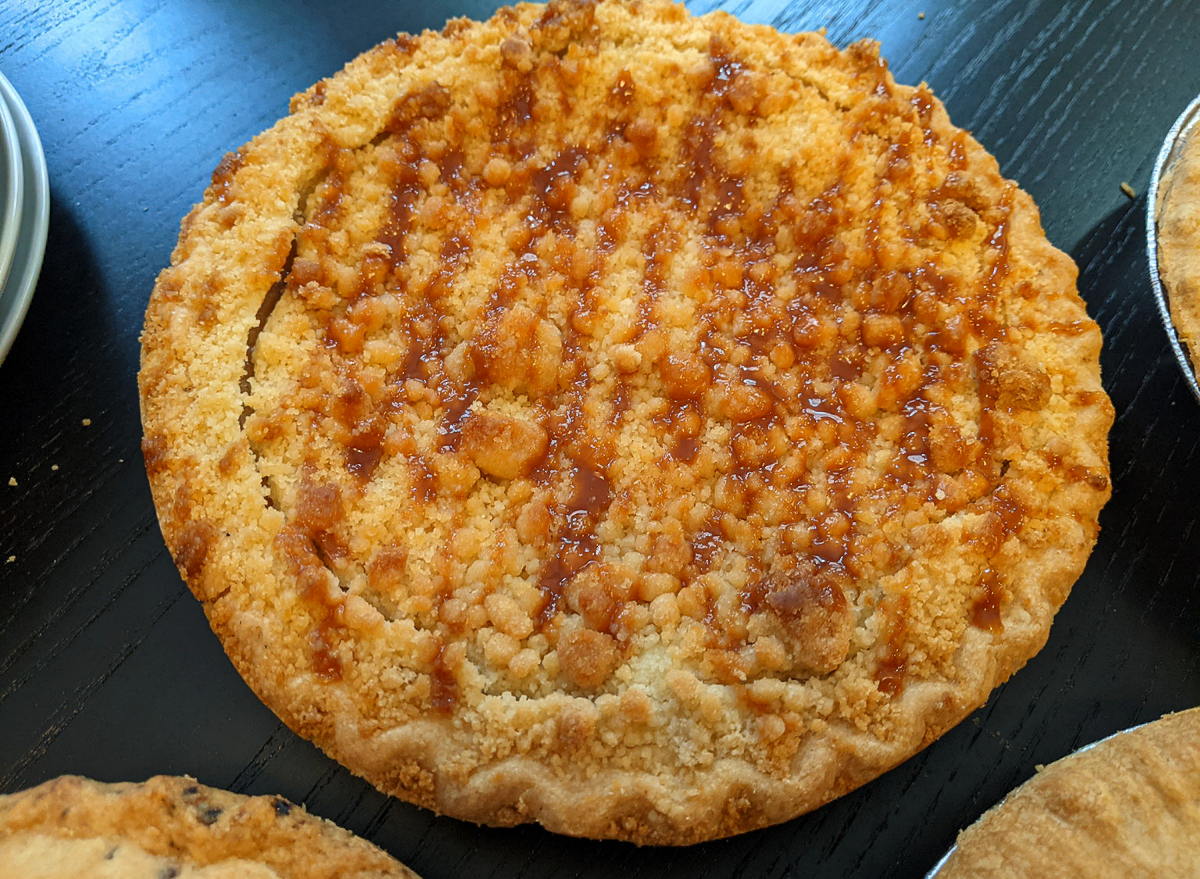 Topping the list is the version with the most toppings. Here we have both caramel and crumb, which sounds like it might be too sweet, but in this case, wasn't. Cost-cutting worked in our favor with this pie, as a restrained drizzle of sundae-type caramel kept it from becoming overwhelming. As much as it was the most flavorful part of the pie, it didn't overwhelm the apple slices nor the fine crumbs, which had their own sugary notes.
This pie was noticeably softer than the others, with a bottom crust that was definitely underbaked despite a lightly browned bottom and soggy despite the most meager amount of filling of all the fruit pies. However, the variation of flavors, textures, and pinch more of effort made it at least the most interesting pie of the bunch without straying into foreign territory.
The Takeaway
What we found was that while it's tempting to opt for the convenience and affordability of a Walmart pie, this move may not be a satisfier. The cheaper ingredients, skimpier fillings, and overall more mass-produced feel actually are noticeable. You may spend $20 at a small or local bakery—the equivalent of four or five Walmart pies—but unlike the budget buy, you also won't have any leftovers to deal with. And although famous-brand pies may be costlier, the taste experience is of a remarkably higher caliber, since the price point is often indicative of higher-end ingredients. On the other hand, if you're looking for a dessert that will help to deliver you from temptation, these pies might be a blessing in disguise, giving you just enough of a taste of pie to end the night without waking up the sugar monster.
Get more Thanksgiving dessert tips:
Su-Jit Lin
Su-Jit Lin is a food and lifestyle writer whose work has been featured in Real Simple, HuffPost, and more.
Read more about Su-Jit