We Tried 6 Store-Bought Rotisserie Chickens & This Is the Best
Are the premium-priced chickens really worth twice as much as the value brands? The answer will surprise you.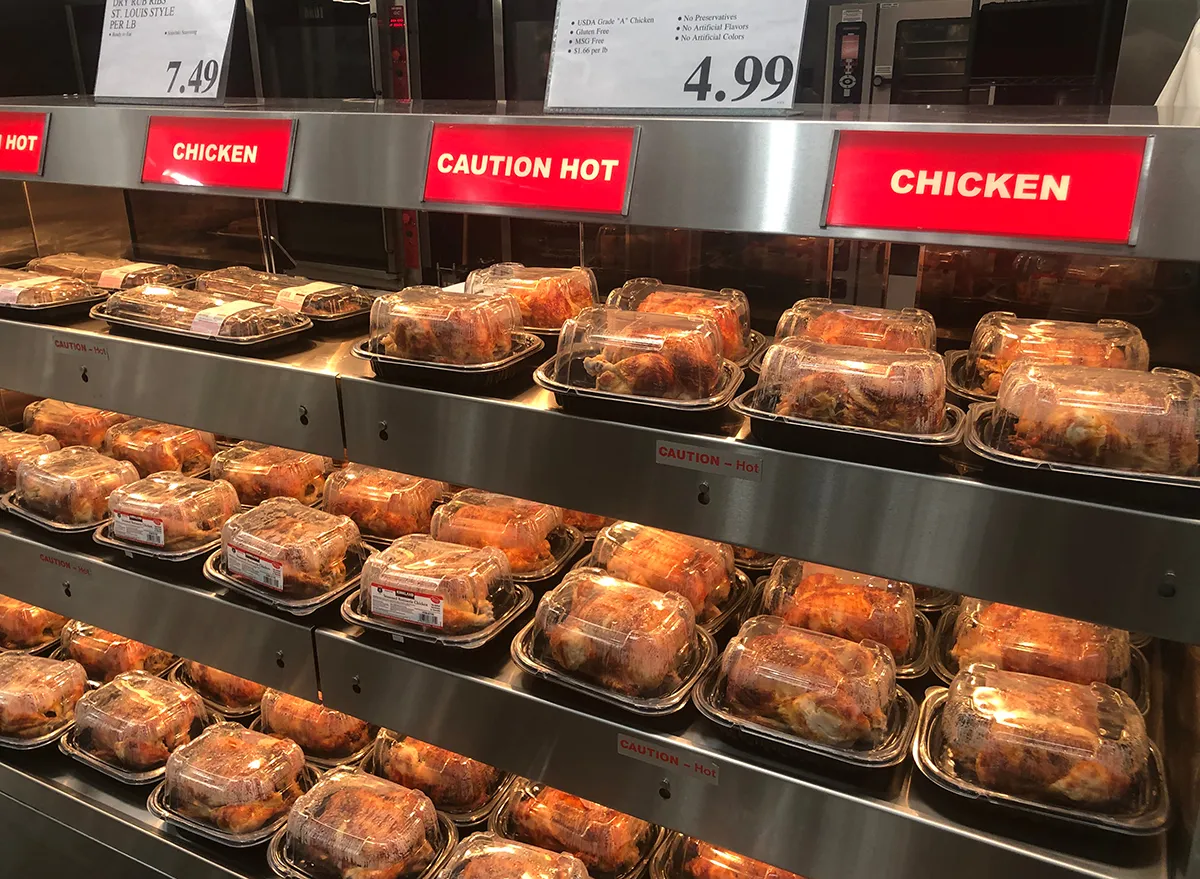 It sounds counterintuitive to go into a supermarket to buy ingredients to cook with, only to emerge with a ready-cooked entree. But you know what? We're tired. When you can have dinner hot and ready on the table before the groceries are even put away—and for just a few bucks—a rotisserie chicken is a no-brainer.
Plus, who can resist the golden-brown skin and tantalizing aroma of the deli's rotisserie chicken. Slowly spit-roasted to perfection, these juicy birds are a boon to everyone who has ever been hungry and tired. They're convenient and affordable, relatively healthy (skin and sodium notwithstanding), and incredibly versatile. Even if you're not eating it off the bone, there are incredibly fast, weeknight-worthy recipes out there that call for a fresh rotisserie chicken, like chicken soups, chicken salad, fajitas, pulled sandwiches, and more.
But are they all created equal? Is one just as good as another? And are the premium-priced chickens really worth twice as much as the value brands? We visited two major supermarket chains, two "healthy" markets, and two budget-friendly stores to find out. We rated each chicken on visual appeal, taste, and price to find the best option. Read on to find out which rotisserie chicken is truly the best tasting, starting with our least favorite. The answer will surprise you! And for more, check out the One Major Side Effect of Eating Rotisserie Chicken, Says Science.
Worst: Whole Foods Organic Rotisserie Chicken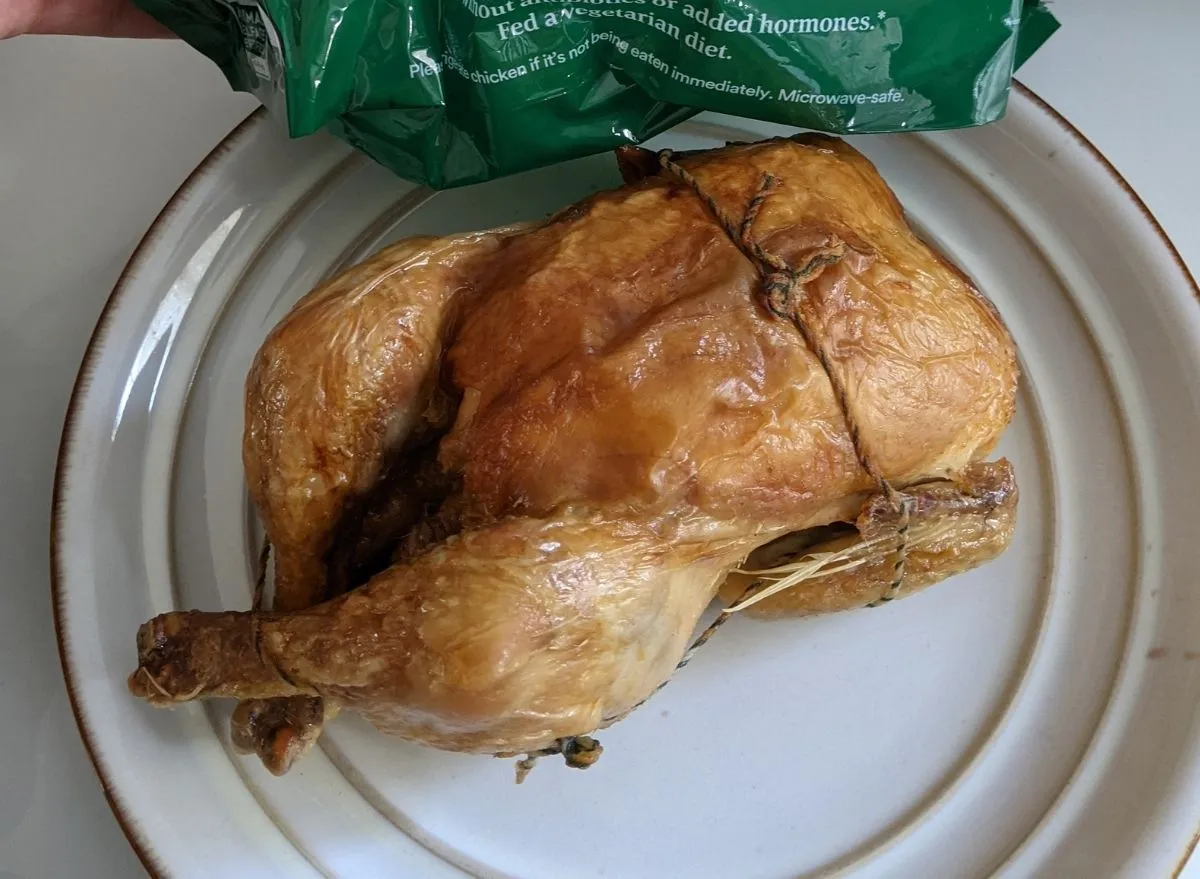 Whole Foods' rotisserie chicken was tidily trussed and packaged in a plastic bag. It was the smallest of the bunch, weighing in at 1 pound, 12 ounces. It was also the least seasoned—barely even salted. Although it had crispy skin on the outside and juices pooled in the cavity, the white meat was very dry, chewy, and tacky, while the dark meat was tender and noticeably gamier than the breast.
This was one of the worst rotisserie chickens I have ever brought back from a store and would be best repurposed into another recipe as opposed to being eaten on its own. At the highest price point, I expected excellence. However, this chicken fell short in every possible way, from visual appeal to taste to value.
Kroger Home Fresh Savory Fresh Roasted Chicken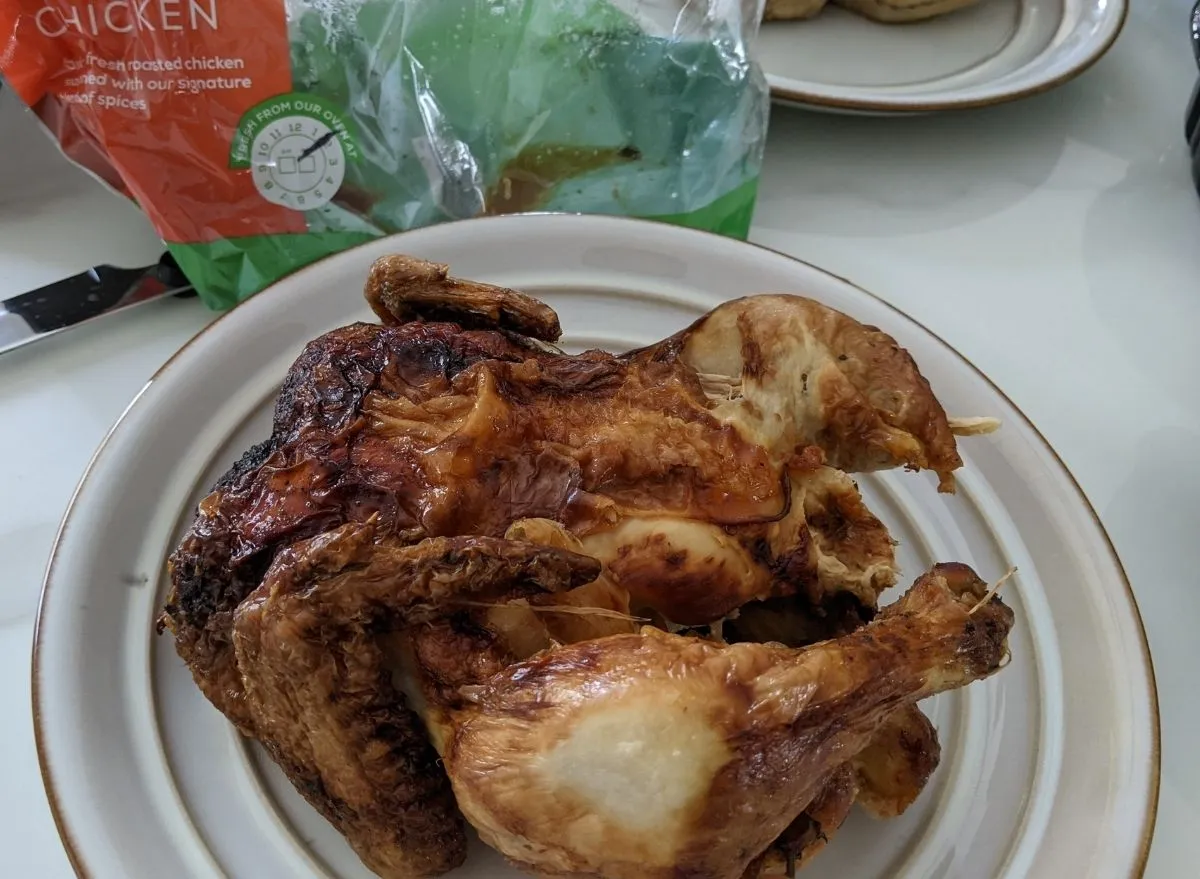 At the time of tasting, my Kroger store was out of their standard deli rotisserie chicken and only had this upgrade, which comes in a plastic bag instead of a tray. While the plastic bag is more eco-friendly than the bulky tray, rotisserie chickens don't do well in them. Condensation built up in the bag and made the skin soggy and spongy.
At two pounds, the chicken was a good size and offered a generous amount of meat. Getting the meat off was a little messy, as it wasn't tied together, and the skin had softened, but it yielded bites that were mild and innocuous.
The ingredients listed aromatics like onion, garlic powder, and yeast extracts. I could detect notes of celery and salt, which were likely part of the "natural flavors" on the ingredient list. The breast meat was on the drier side and the thighs were stringy, while both the light and dark meat were chewy. As I chewed, each bite had a distinctly powdery feel and a sense of stickiness as it gripped onto my molars.
Costco Seasoned Rotisserie Chicken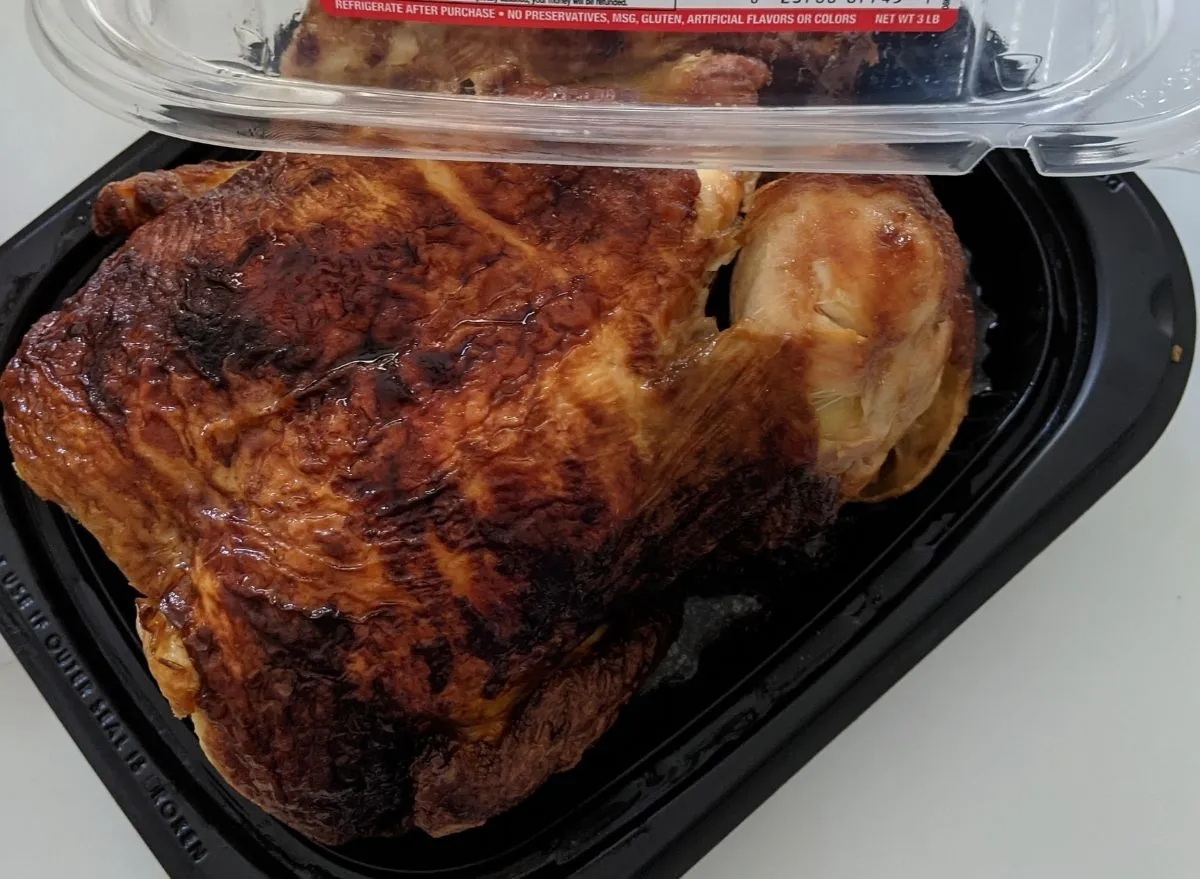 This three-pound behemoth chicken is known as one of America's best values. It is an infamous loss leader for Costco, earning it a cult following as the default rotisserie chicken to buy. In the past, I've found it less than dependable for quality, even if the flavor is reliably fantastic. It's a crapshoot whether the chicken you choose has weird spongey injections in between the big muscle groups, resulting in gloopy, wet, and mealy meat.
I was lucky this day, and the one I got was mostly free of this phenomenon. It was, however, messy to take apart since the bones are thicker and harder to break through than smaller chickens. The skin was crisp and beautifully seasoned with a bunch of potato-based ingredients, thickeners, and sugars, but no preservatives or gluten. The white meat felt substantial to the bite, with thicker, denser flesh that was juicy even though it wasn't necessarily tender. Like the Kroger chicken, the meat had a tendency to string off, creating that same sticky, tacky feeling to the teeth as I ate. The dark meat was a little tougher texturally.
Walmart Traditional Fully-Cooked Rotisserie Chicken
Did you know you can get a whole cooked chicken for even less than the Costco $5 option? I sure didn't, but that was only the first of the many pleasant surprises from my Walmart Supercenter's deli. This 1-pound, 13-ounce chicken comes with a "Freshness Guarantee" and having scored mine just an hour out of the rotisserie, it definitely delivered.
I could tell from the minute I inserted my carving knife that it was moist and juicy, and it cut cleanly. The seasoning blend had a much more pronounced herbaceousness than the others, thanks to the use of dried chicken broth, rosemary, parsley, lemon peel, and citric acid. The nicely browned skin opened up to surprisingly bright white meat—noticeably paler than its competition.
In turn, the flavor opened up as I ate it, too, with a long sweet finish to extremely tender white meat. The seasoning that's so good on the skin translates differently in the flesh, though. It only permeated halfway through the chicken (which is considerably deeper than all but my top pick), but became kind of artificial tasting towards the middle. This caused the dark meat to have a distinctly gamey, almost Thanksgiving turkey flavor to it, with a funky undertone.
Publix Original Oven-Roasted Chicken
A classic case of not judging a book by its cover, this deceptively plain-looking chicken from Publix—thrown in a windowed paper bag—wowed from the first bite. Its weight was unspecified and its seasonings—mainly chicken broth, onion powder, spice extractives, sugar, and a bunch of thickening gums to add to the skin's texture—sounded nondescript. But breaking it open yielded an exceptionally meaty chicken for its smaller size with a juiciness I could feel through the knife.6254a4d1642c605c54bf1cab17d50f1e
Its golden skin, which stayed relatively crisp, had a balanced flavor, and the meat beneath it was wholesome, rich, and balanced. It was more like a well-roasted chicken, basted in its own rendered fat, than spit-cooked. No bite was too salty, nor any bite bland. The white portions were robust and juicy, with a slight sweetness to the traces that lingered in my mouth, and the dark meat tasted only a little richer and fattier than the white, but not significantly different. Overall, this was a perfect example of simple done right, and a really great chicken reaching its most chicken-est potential.
Best Overall: Sprouts Herb-Seasoned Roasted Chicken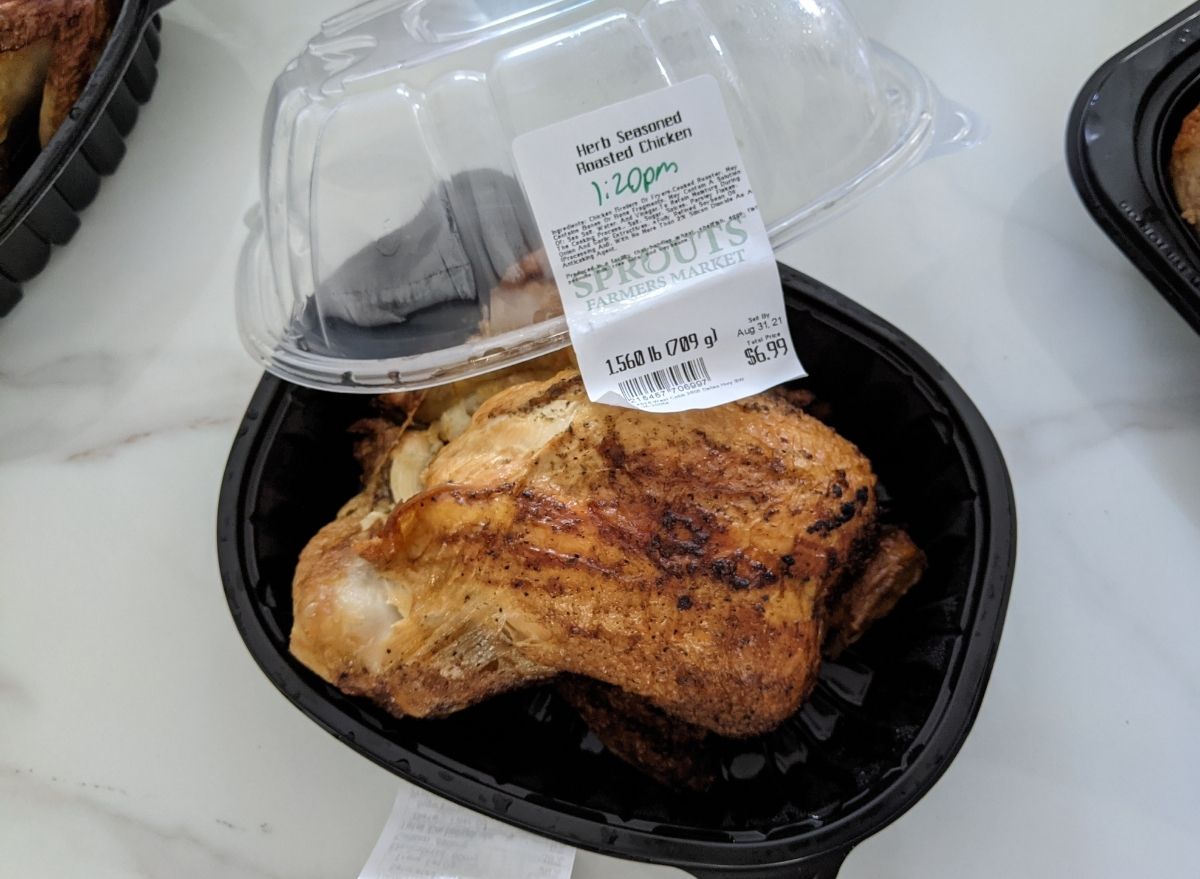 I didn't expect much from this pale, unglamorously packaged chicken from Sprouts, but it emerged triumphant as the clear winner from the first bite. It's labeled as a roasted chicken, but the rotating rotisserie at the deli begs to differ. It all becomes a matter of irrelevant semantics as the 1 1/2-pound chicken I picked up had a distinctly flame-kissed, charred earthy flavor that rocketed it to a solid first place.
Unlike the others—which smelled like browned chicken skin or herbs—I could smell that fiery, wood-smoke element as soon as I opened the plastic tray. It had a drier quality versus the steam-diluted aroma of the others, and the smokiness permeated all the way through the meat down to the bones, which pull right off. The ingredient list included vinegar, parsley, onion and garlic extractives, and sugar; perhaps the penetrating flavor is due to a brine? Regardless of how it came to be, the flavor was fantastic—salted to perfection and deep with a lingering richness and a final whisper of smoke and ash.
The breast meat was meaty and tender, and the tenderloin held onto its distinctive sweeter flavor. Every bite was juicy, not gummy or stringy, including dark meat. The thigh and leg were also rich and flavorful, and again, more smoky than gamey. This was a quality chicken through and through, with obvious care taken to its recipe development, spice blend, and preparation. If I could eat only one rotisserie chicken ever again, this would hands down be it.
Read more: 
Su-Jit Lin
Su-Jit Lin is a food and lifestyle writer whose work has been featured in Real Simple, HuffPost, and more.
Read more about Su-Jit