The Best and Worst Frozen Fast Food Desserts
Sticking to small or kid-sized treats will cut down on the fat, sugar, and calories.
From shakes to a perfectly swirled soft serve, frozen fast food desserts tend to be friendly on the wallet—but the waistline? Not so much. While there are no illusions that frozen fast food desserts are healthy, they vary wildly when it comes to just how much of an indulgence they are. For example, a fresh banana shake from Sonic might seem harmless, but it isn't actually healthy. At 37 grams of sugar, it has more sugar than six Oreo cookies.
Of course, if you want a treat without messing with your flat belly progress, there are some ways to help keep the calories and sugar in check. Choose the smallest option available—a mini or kid-size is often plenty, and will be half the fat as a large. Keeping toppings and mix-ins to a minimum will also help improve the nutritional profile of the treat, so skip the chocolate syrup, caramel, whipped cream, candied nuts, and cookie dough chunks. Keep in mind that the "healthier" options are also packed with artificial ingredients and additives like cellulose gum and carrageenan.
To help you make better decisions the next time you're at the drive-thru, we ranked 11 of the best and worst frozen fast food desserts. Based on calories, fat content, and sugar, we determined which frozen sweet are just that—treats—and which are downright devilish.
The Best Frozen Fast Food Desserts
Chick-Fil-A Icedream Cone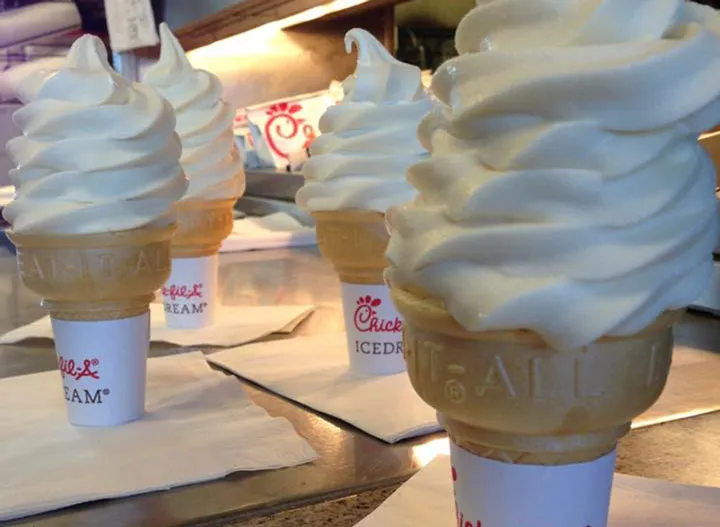 Per small cone
: 170 calories, 3.5 g fat (2.5 g saturated fat, 0 g trans fat), 100 mg sodium, 30 g carbs (2 g fiber, 17 g sugar), 4 g protein
Like so many things at Chick-Fil-A, their creamy, low-cal "Icedream" has a bit of a cult following. The frozen dairy dessert can't be called ice cream because it doesn't have enough milk fat, which makes it a delicious boon for anyone watching their weight. A cone will only set you back 170 calories and has significantly less sugar than the other frozen treats on the list.
6254a4d1642c605c54bf1cab17d50f1e
Per junior size
: 190 calories, 5 g fat (3 g saturated fat, 0 g trans fat), 90 mg sodium, 32 g carbs (0 g fiber, 27 g sugar), 5 g protein
Wendy's Frostys are known for being a relatively good choice when it comes to frozen fast food desserts. So if you want to get the biggest bang for your nutritional buck, order a junior size vanilla frosty (a chocolate one will only set you back a few extra calories so don't feel guilty if you want to indulge your chocolate cravings or—even better—make it a swirl).
Steak 'n Shake Root Beer Float
Per regular size
: 280 calories, 9 g fat (6 g saturated fat, 0 g trans fat), 75 mg sodium, 51 g carbs (0 g fiber, 47 g sugar), 3 g protein
Craving something frothy and creamy? Grab a straw and a spoon to dig into the root beer float at Steak 'n Shake. While the root beer and ice cream combo make this treat a sugar bomb, it's much lower in fat and calories than many other options.
Dairy Queen Hot Fudge Sundae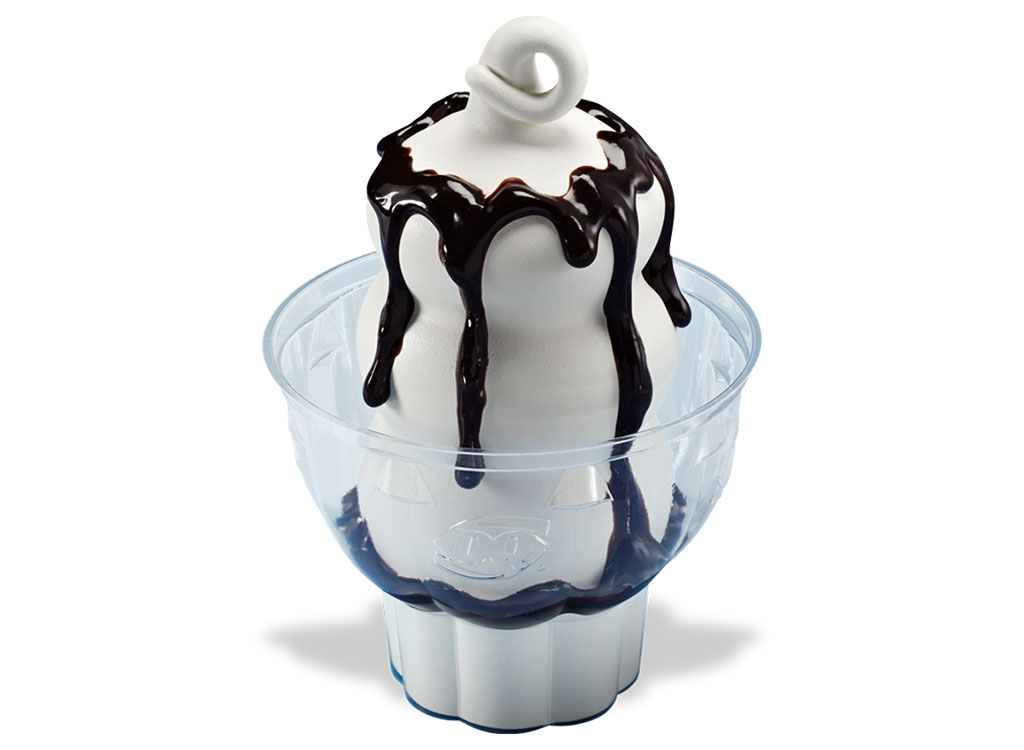 Per small
: 300 calories, 10 g fat (8 g saturated fat, 0 g trans fat), 125 mg sodium, 46 g carbs (0 g fiber, 36 g sugar), 6 g protein
DQ is best known for their Blizzards, but it actually has a host of other frozen dessert offerings (that's kind of their thing). Their small hot fudge sundae won't do too much damage at only 300 calories even with the decadent chocolate topping.
Burger King Hershey's Sundae Pie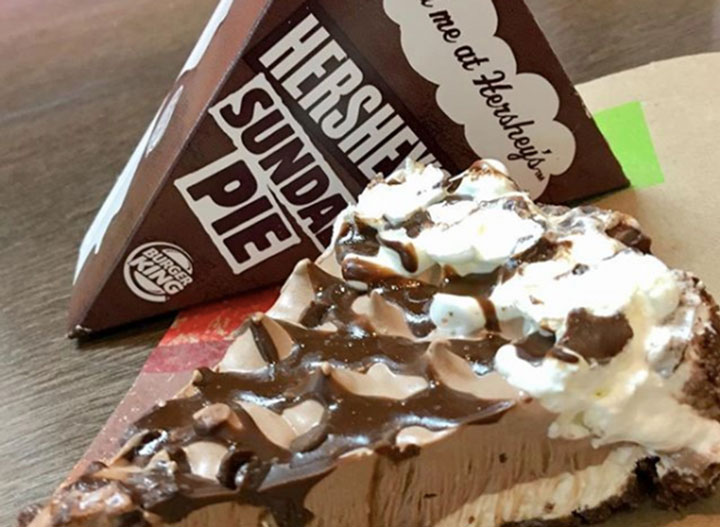 Per slice
: 310 calories, 19 g fat (12 g saturated fat, o g trans fat), 220 mg sodium, 32 g carbs (1 g fiber, 22 g sugar), 3 g protein
With a crunchy chocolate crust, a frozen "crème" filling, and a chocolate syrup topping, Burger King's Hershey's Sundae Pie is a brownie sundae in pie form. And as decadent as it sounds (and tastes!), it's actually a pretty moderate option compared to other frozen dessert options.
McDonald's McFlurry with Oreo Cookies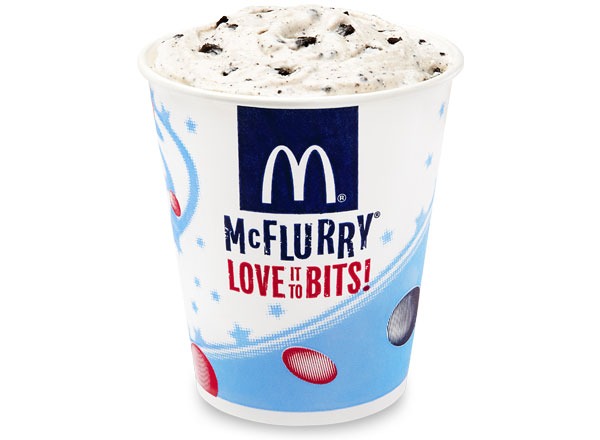 Per snack size
: 340 calories, 11 g fat (6 g saturated fat, 0 g trans fat), 170 mg sodium, 53 g carbs (0 g fiber, 42 g sugar), 8 g protein
The classic McDonald's McFlurry is high in calories, but with a little ordering info, you can cut some of the bad stuff (aka fat and sugar) while still enjoying a delicious indulgence. Oreo cookies are a less fatty mix-in than M&Ms, and ordering the snack size instead of the regular will further reduce calories, sugar, etc.
The Worst Frozen Fast Food Desserts
Wendy's Chocolate Frosty Cookie Sundae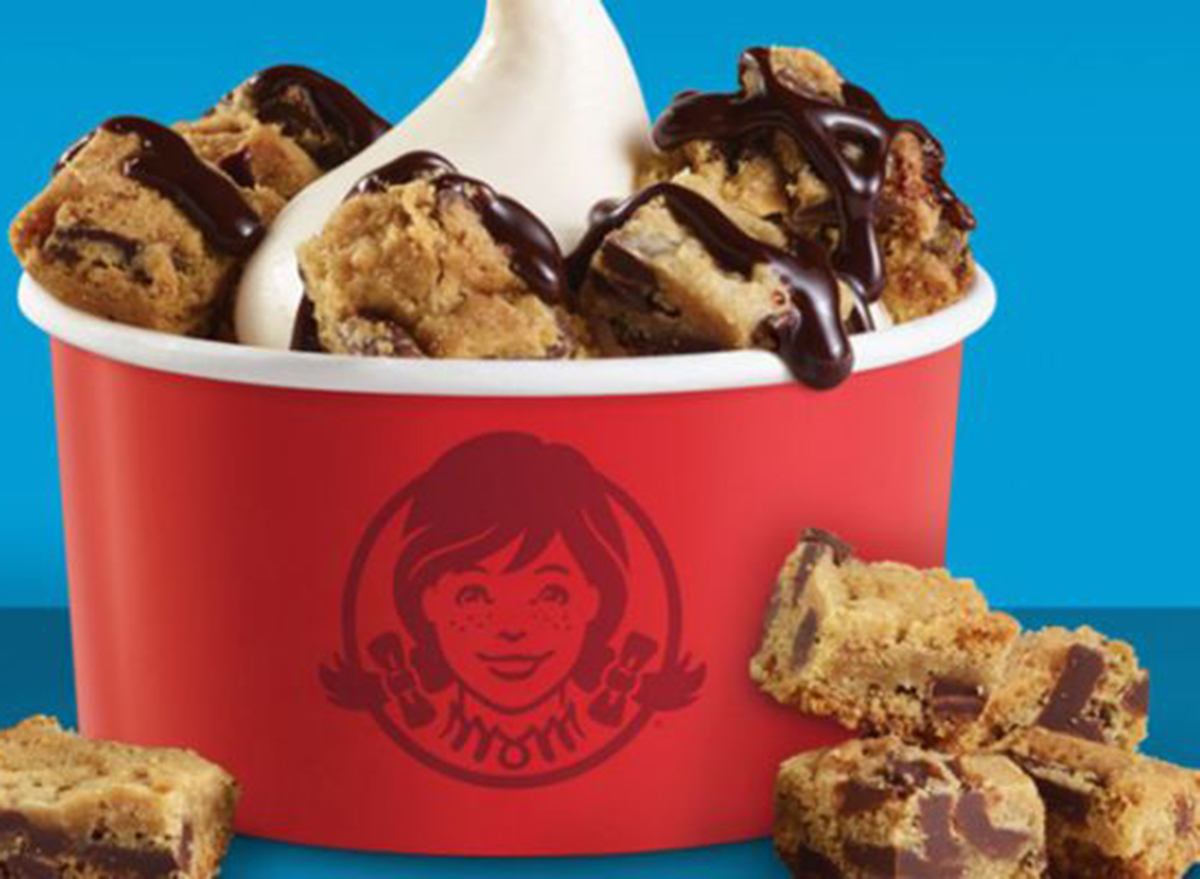 Per each size
: 410 calories, 15 g fat (8 g saturated fat, o g trans fat), 200 mg sodium, 63 g carbs (1 g fiber, 49 g sugar), 8 g protein
Debuting just this year is Wendy's Frosty Cookie Sundae, which marries the fast-food restaurant's iconic ice cream treat with chunks of chocolate chip cookie and is drizzled in Ghirardelli chocolate sauce. It's no wonder why this small container packs nearly 50 grams of sugar. Stick to the junior size Frosty, instead.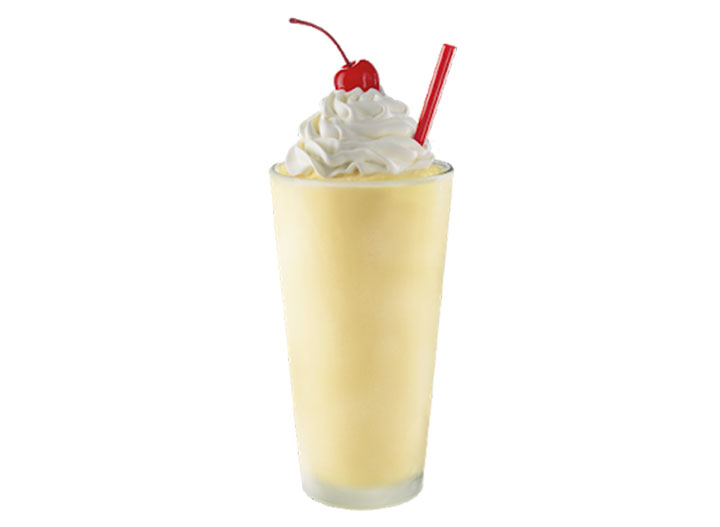 Per mini size
: 430 calories, 22 g fat (15 g saturated fat, 0.5 g trans fat), 180 mg sodium, 54 g carbs (2 g fiber, 37 g sugar), 6 g protein
If you're looking for a healthy dessert option, a fresh banana shake may sound like a good bet. But don't be fooled by the fact that there's real fruit in here (though of course bananas have their health benefits). When something is called a shake instead of a smoothie you know it's likely going to have ice cream in it, and despite how much fruit is in it, it doesn't undo the other bad things in it. At 430 calories and 37 grams of sugar for a mini, this is a treat you definitely want to skip.
Five Guys Bacon Milkshake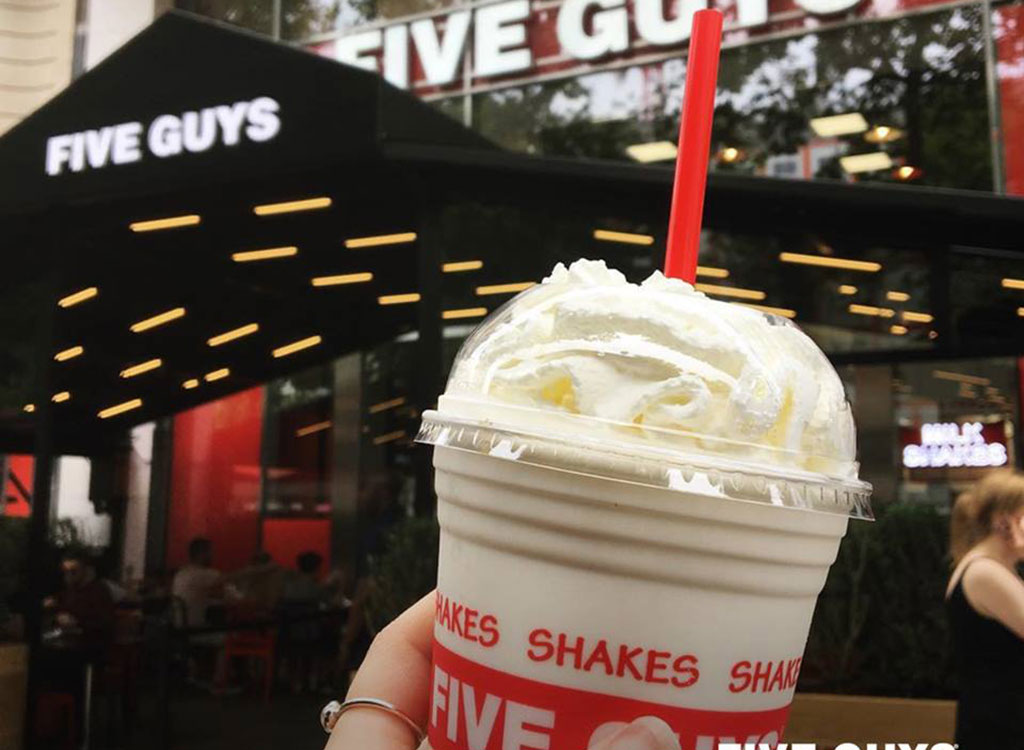 Per regular (396 g) size
: 750 calories, 39 g fat (24 g saturated fat, 1 g trans fat), 620 mg sodium, 84 g carbs (0 g fiber, 82 g sugar), 17 g protein
With bacon and milkshake in the name, you already know what you're getting yourself into. This over-the-top Five Guys option is not only packed with calories, saturated fat, and sugar but—because of the bacon—it's also higher in sodium. The other flavors—banana, chocolate, cherry, and Oreo creme—aren't much healthier either. So if you must indulge, we recommend enjoying only half or sharing.
Arby's Ultimate Chocolate Shake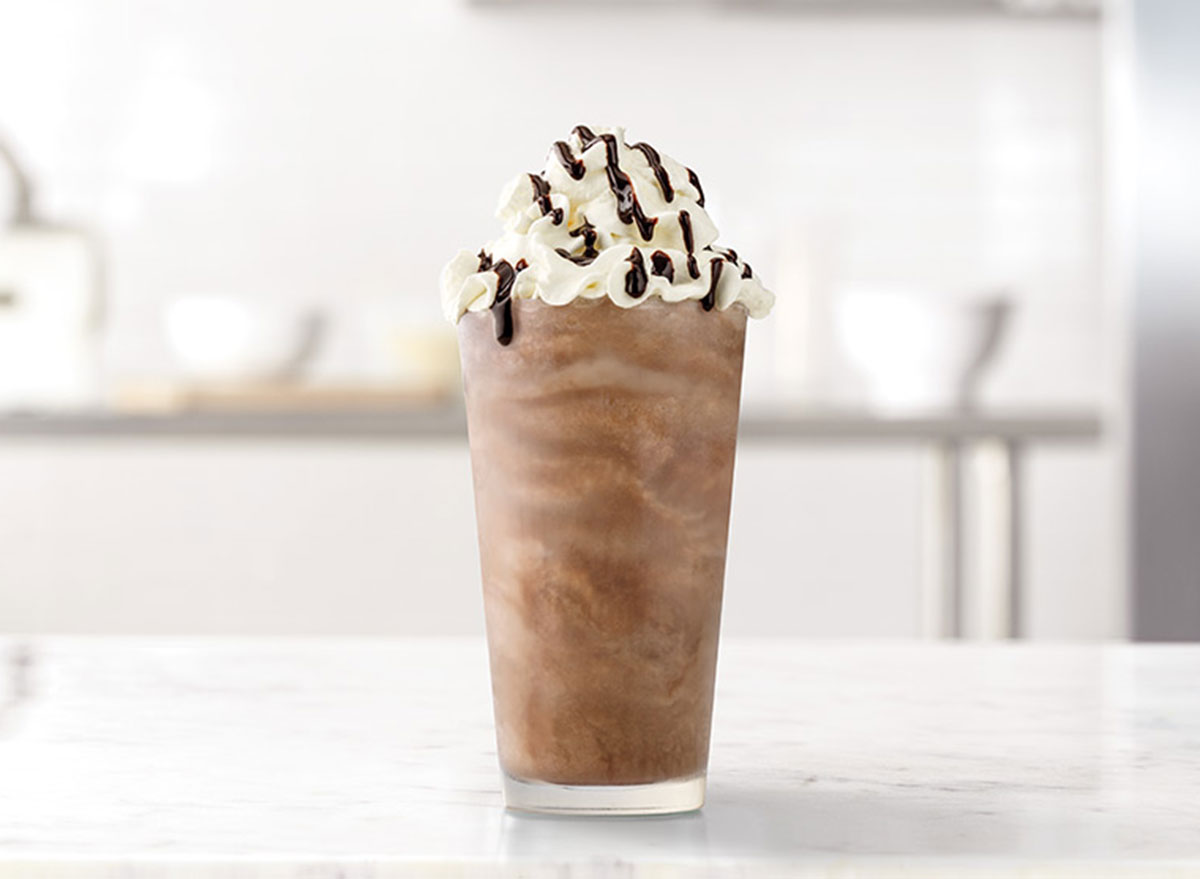 Per Large size
: 970 calories, 31 g fat (20 g saturated fat, 0.5 g trans fat), 700 mg sodium, 158 g carbs (2 g fiber, 140 g sugar), 24 g protein
Arby's may be known for its roast beef sandwiches and curly fries, however, the quick-service restaurant's milkshakes are equally as mouthwatering. However, if you order a large one of these shakes you nearly wipe out half your day's worth of calories, if you're abiding by a 2,000-calories-a-day diet that is. You also consume 140 grams of sugar in the process, almost all of which is added sugar.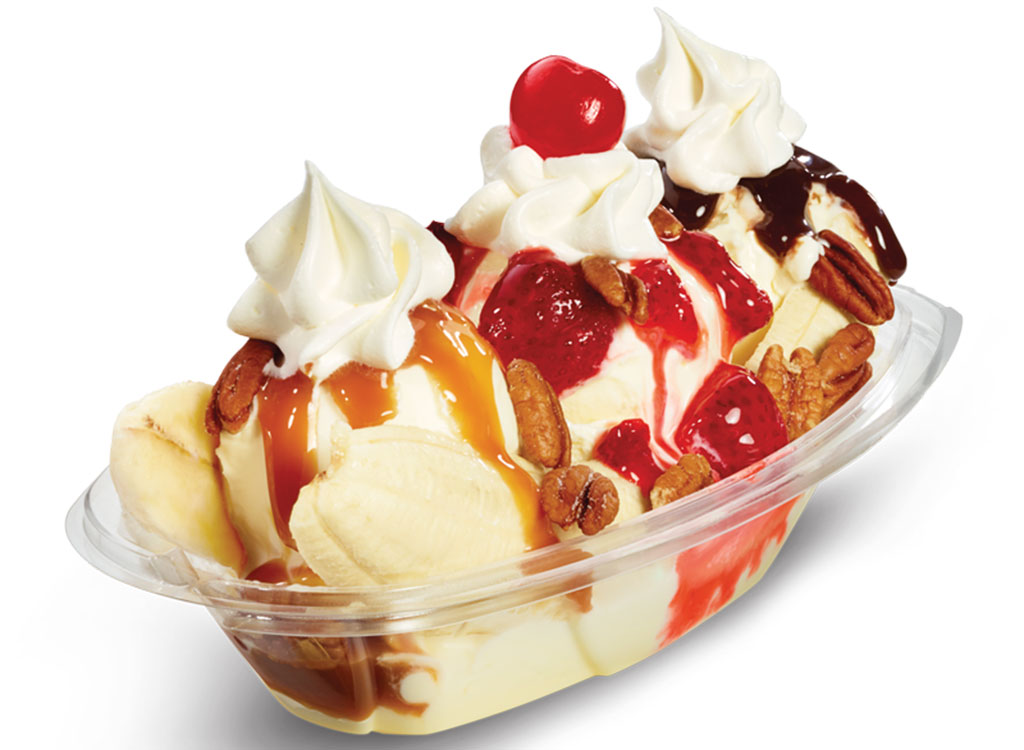 Per 2-scoop serving
: 1,090 calories, 61 g fat (27.9 g saturated fat, 1 g trans fat), 365 mg sodium, 122 g carbs (8 g fiber, 92 g sugar), 15 g protein
Known for their mouthwatering variety of ice creams, Culver's is a popular chain in the Midwest. You may think that a banana split is a healthier option than, say, a milkshake, but this definitely proves that wrong. With a whopping 1,090 calories and 61 grams of fat, this is definitely not a dessert that should be consumed solo.
Katherine Martinelli
Katherine Martinelli is a recipe developer and award-winning journalist who spends her days dreaming and writing about food.
Read more about Katherine