8 Once-Largest Grocery Chains That Have All Disappeared
These stores have officially checked out of the grocery business.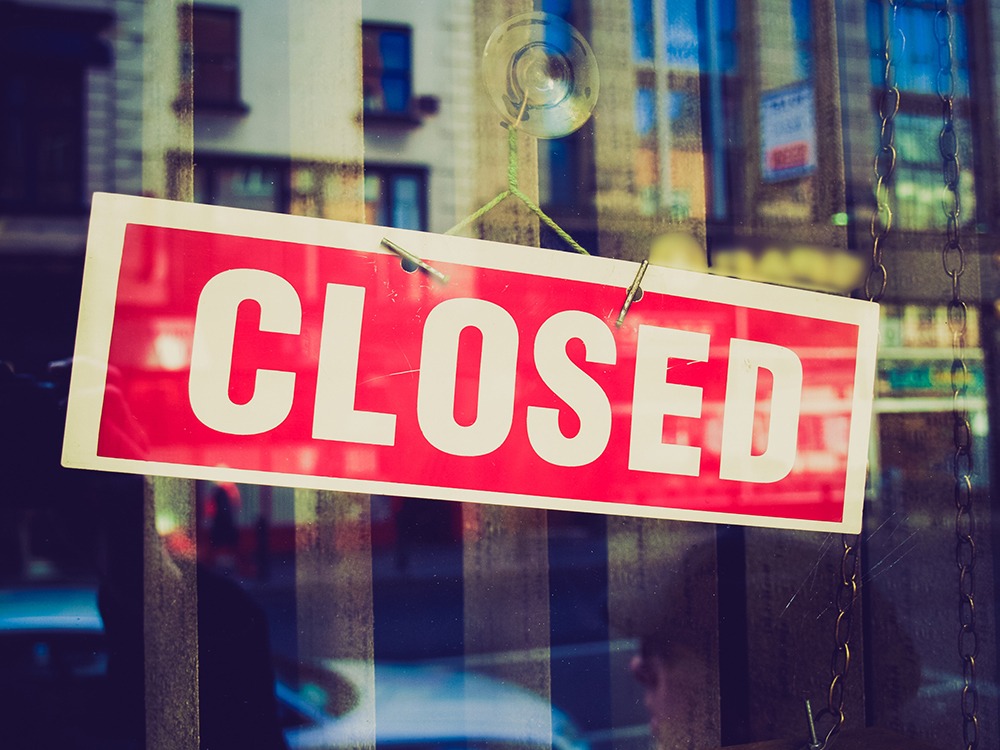 We're all familiar with the grocery store chains which reign supreme in our modern era. But, before Walmart dominated every corner and Kroger amassed its conglomeration of close to 3,000 stores under 28 different brand names, other large players enjoyed their own glory days and made their mark on the industry.
Unfortunately, many have since fizzled out—falling victim to the ever-changing grocery landscape. Grab your grocery cart and take a trip down memory lane to remember a few of the once hustling and bustling grocery stores which have since shut their doors, never to be opened again.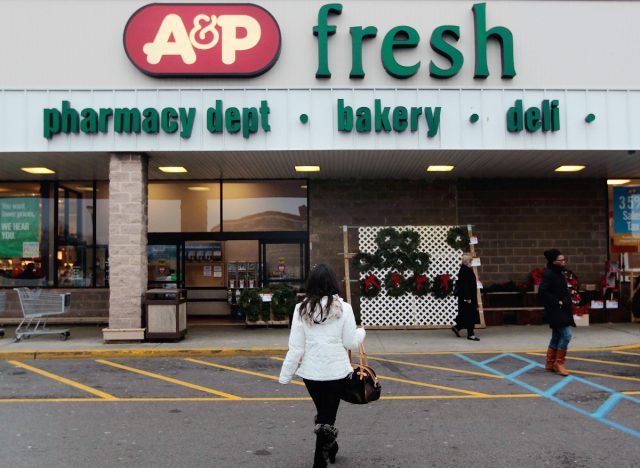 We can't dive into America's grocery archives without discussing the once all-powerful Great Atlantic & Pacific Tea Company—more popularly known as A&P. The company started out as a tea business in the 1800's, but pivoted when it opened its first grocery store in 1912. With its revolutionary business model, offering customers a wide variety of food products at lower costs, it quickly became the hottest and largest grocery store chain in the United States. In its heyday, A&P operated nearly 16,000 locations and was certainly a household name–commonly compared in popularity to what Google or McDonald's are today.
The company eventually imploded, and following the 2008 recession, continued closing and selling off its stores in chunks before filing for bankruptcy twice. The 156-year old company officially shuttered all its operations in 2015—truly the end of an era.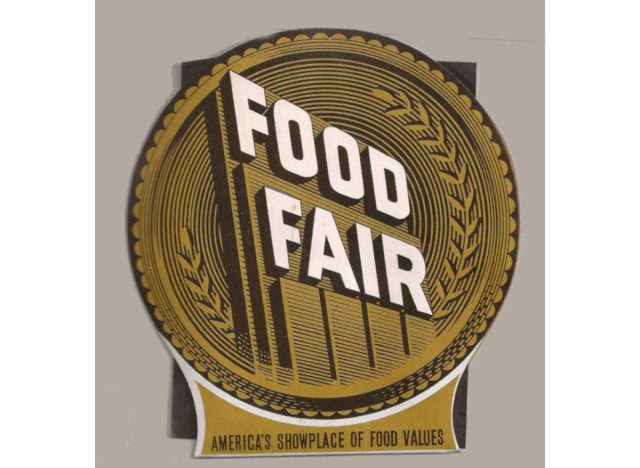 "America's Showplace of Good Values," known by its store name Food Fair, once ruled the Mid-Atlantic and Northeast regions of the country. The name first hit headlines in the 1940s and really took off as the company steamrolled and acquired other chains. Food Fair ate up Florida chain Setzer's Supermarkets, then teamed up with the department store J.M. Fields to offer both businesses within the same shopping center—an exciting new all-in-one shopping experience.
Later, with the purchase of the chain Best Markets, the alliterative brand name Pantry Pride was born. Under this new identity, the chain grew to be over 500 locations strong and took a spot as one of America's top 5 grocery retailers. Shoppers as far west as California and as far east as Florida were feeling the Pride by the 1960's to 1970's before the chain dissolved in the 1990s.
The first self-serve Jitney Jungle opened up in Jackson, Mississippi in 1919, and some may remember the store's iconic slogan "Save a Nickel on a Quarter". Throughout the 1900's, Jitney Jungle locations popped up in more southern states including Alabama, Arkansas, Florida, Louisiana, and Tennessee. By the early 1990s, the Jitney Jungle name was plastered on over 100 storefronts.6254a4d1642c605c54bf1cab17d50f1e
Just a few years later, however, debt began to cripple the company, and all Jitney Jungle locations—plus recently acquired Delchamps stores—were taken over by competitor Winn-Dixie in 2000. Gone but not forgotten—because who could forget a name like Jitney Jungle!
National Tea and National Supermarkets
For this one, we must travel even further back in time to Chicago circa 1899. This is where National Tea Company (or NATCO) was born, and where it sold much more than just tea despite its misleading name. The "National" part of the store's title did end up ringing true however, as the chain grew to 1,000 stores across the country by 1920, in addition to the 600 which still existed in the Chicago area.
After losing some footing during the Great Depression, the brand came back stronger in the 1950s by purchasing 500 new stores from smaller chains, under new ownership. National Tea was eventually rebranded as National Supermarkets—a title which was much more fitting but was also accompanied by a reduction in the chain's footprint. After an acquisition by Schnucks Markets in 1995—then later by A&P—the brand name sputtered out and is now but a distant memory.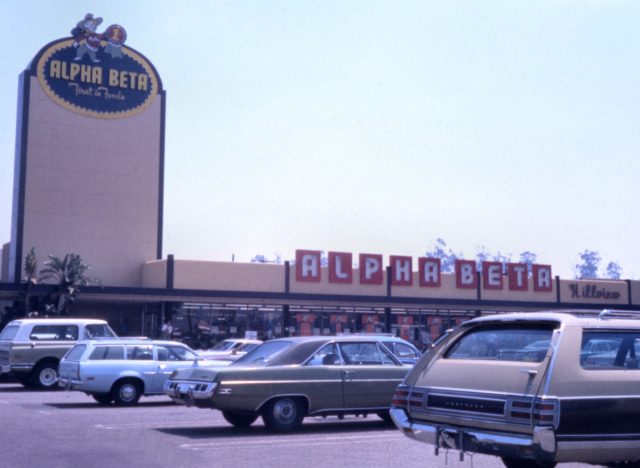 The chain Alpha-Beta got its name from the way groceries were organized in its stores: alphabetically. This is certainly a hard concept to grasp in today's world—imagine the bananas nestled right in between the baking powder and BBQ sauce! Despite this interesting organizational method, the Alpha Beta company had a shelf life of 78 years, operating mostly in California and across the southwest. It went through more ownership changes than one can count within that time frame, with American Stores, Skaggs Drug Centers, Yucaipa Companies, Lucky Stores, and ABCO Foods all owning a piece of the Alpha-Beta pie at one time or another—a dessert which included over 200 supermarkets as well as 50 drug stores and coffee shops by its peak in 1973.
In the 1990s, many Alpha-Beta stores began to be rebranded by their new owners. And, in 1995, Alpha Beta ceased to exist after the remaining stores carrying on the name were turned into Ralphs or Food 4 Less locations.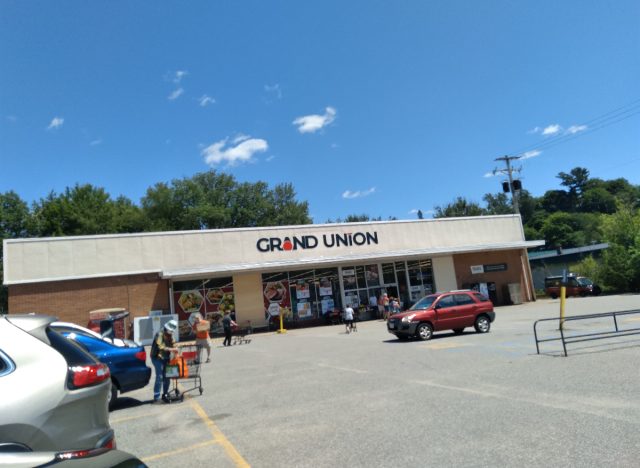 Grand Union was founded in the "Electric City" of Scranton, Pennsylvania (any fans of "The Office" out there?) And, for a time, its growth really was electric. The company's famous Red Dot Savings made their way across the northeast in the 1900's–at one time amassing over 850 stores thanks to acquisitions of Colonial Stores and Big Star Foods. Grand Union attempted to compete with chains like Aldi with its Hot Dot stores and went more high-end with its introduction of Grand Union Fresh Markets. These ventures were less than grand, and after C&S Whole Grocers took over, the Grand Union name was phased out by 2013.
After more recent company changes in 2021, a handful of Grand Union stores have been shocked back to life in areas of New York and Vermont. Although just a shell of its former glory, fans of the brand will be happy to know the name lives on for now.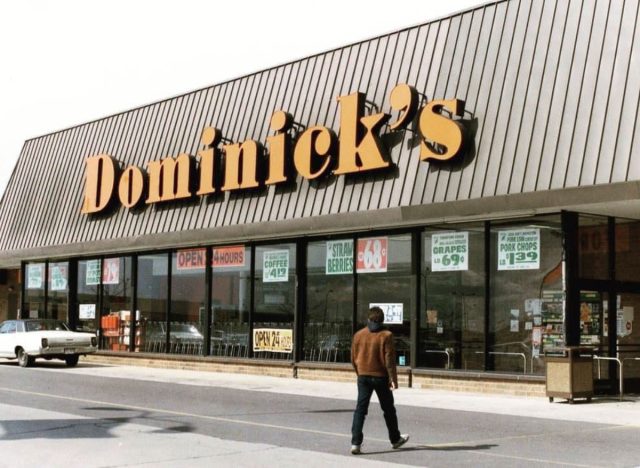 If you're a longtime Chicago native the name Dominick's might drag up memories you didn't know you had of a bold red and green Italian-esque storefront. The Domick's chain was originally founded in 1918 by Sicilian Dominick di Matteo, and opened its first supermarket–standing at 14,000 square feet–in 1950.
Later, the 1980's were a glorious time of innovation for Dominick's. Shoppers may remember distinctive and (at the time) state-of-the-art details including exposed piping and ducts on the store's ceilings, bulk groceries, specialty bakeries, and upscale meat and produce departments. Closer to the turn of the century, the company's well of fresh ideas began to run dry though, and Dominick's struggled to keep up with new competitors. The chain's 116 stores were purchased by Safeway in 1998, and by 2013 the winds of change blew the Dominick's name out of the Windy City for good.
Fresh & Easy Neighborhood Market
Fresh & Easy stores promoted quick in-and-out shopping trips—a concept which oddly mirrors the chain's time in the grocery market. Shoppers in California, Arizona, or Nevada likely remember the small-format, green-splashed stores which began multiplying quickly in 2007, under parent company Tesco–one of the world's largest retailers based in the U.K. After just five short years, over 200 Fresh & Easy Neighborhood Market stores had opened in the west.
But the chain's layout, which was more conducive to daily shopping with ready-to-eat meals and more private-label options, didn't pique the interest of American consumers, according to insights from CNBC. Instead of growing its American endeavor to 1,000 stores like Tesco had hoped, the Fresh & Easy name was sold and eventually retired in 2015.