7 Burger Chains That Serve High-Quality Angus Beef
If you're a diehard burger aficionado, then it's worth seeking out places using Angus beef.
Restaurant customers have grown more and more discerning in recent years, and the increase in demand for quality very much extends into the realm of fast food. In decades past, most fast-food diners didn't much care about the provenance of their burgers, as long as they were cheap and served fast, but today people have gotten used to paying a bit more but expecting much better ingredients.
One of the ways fast-food chains are meeting those expectations is with meat—namely Angus beef. But what is Angus beef, exactly? It's a pretty simple answer: Angus beef is meat that comes from the Aberdeen Angus breed of cow. Originally bred in Scotland and well-suited to colder weather, Angus cows carry fat throughout their bodies as opposed to in layers closer to the surface. Also called "marbling," this even distribution of fat through the musculature of the cattle leads to beef that's more tender and flavorful than that of most other breeds.
Angus beef is prized for its taste and texture, but because Angus cattle don't do as well as more heat-tolerant breeds, they can be harder to raise in many traditional cattle-producing parts of America. And that, of course, means Angus beef tends to cost more than, say, Texas Longhorn meat.
If you're a diehard burger aficionado, though, it's worth seeking Angus beef out, and thankfully you can find it at these fast-food restaurants.
Mooyah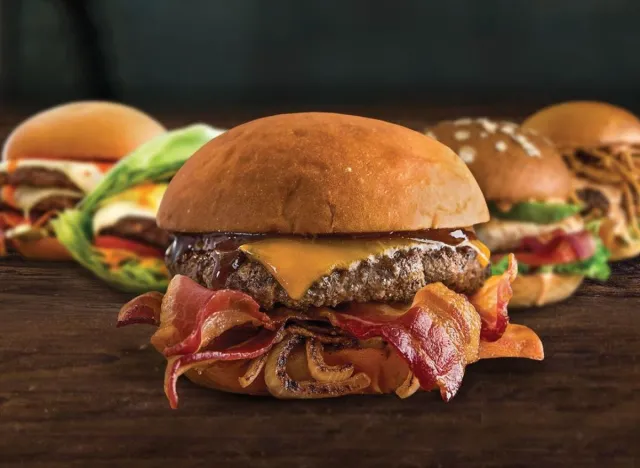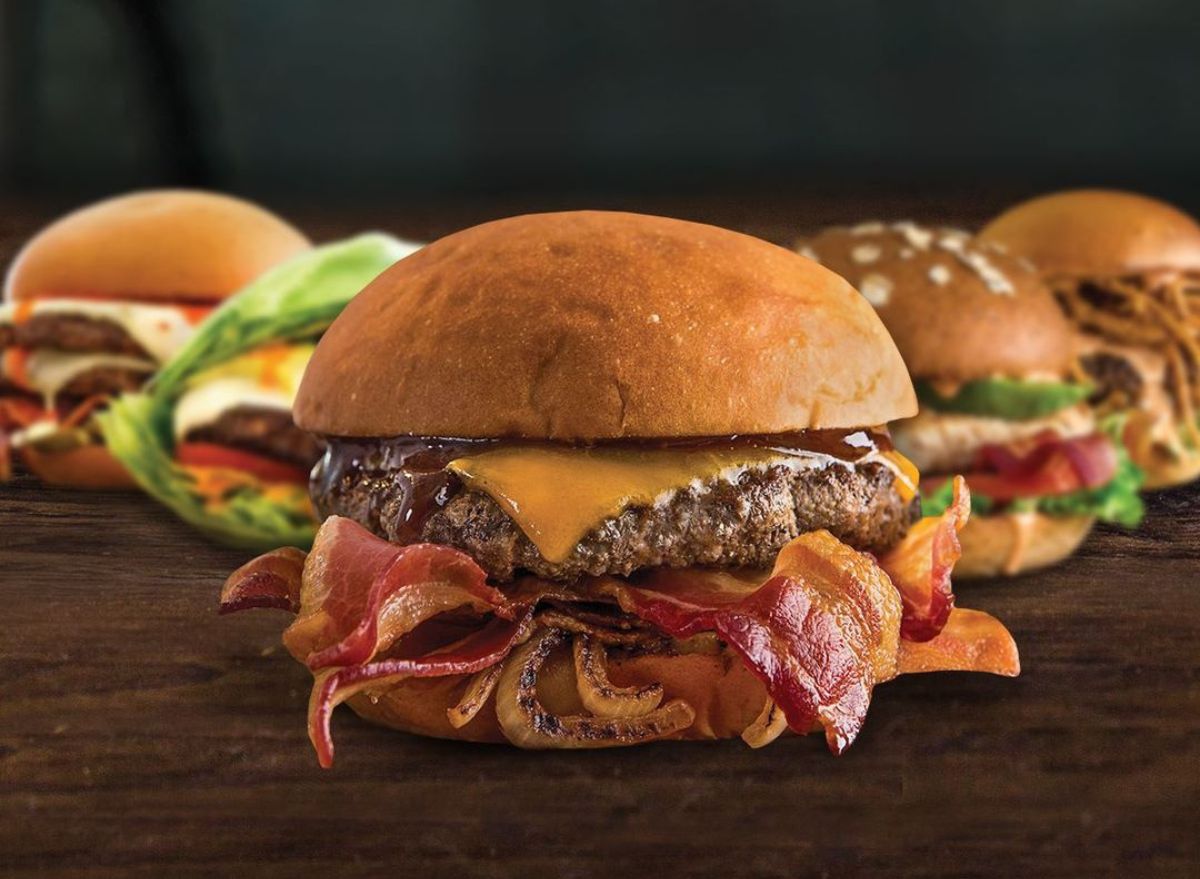 Mooyah is a relative newcomer to the fast-food scene, founded in 2007 in Plano, Texas.  When you get a burger from Mooyah, you can count on the fact that your patty is made from Certified Angus Beef, per the chain's ingredients page.  The chain also likes to boast that its burgers are of higher quality than most steaks. Plus, that beef will never have been frozen. The chain is very serious about freshness even beyond the beef, baking buns at each location daily, hand-cutting Idaho potatoes for french fries, and making milkshakes from 100% real ice cream. 
Hardee's
6254a4d1642c605c54bf1cab17d50f1e
To be clear, not every burger sold at one of Hardee's more than 1,800 locations is made with Angus beef. But many of the chain's burgers are made with that celebrated meat, and clearly, Hardee's knows there's a value to promoting that based on some of the names of its menu items. Take the Original Angus Burger, which is made with "100% Angus Beef." Or the Bacon & Cheese Angus Burger. Same deal. Now, the small hamburger? Not so much. 
Smashburger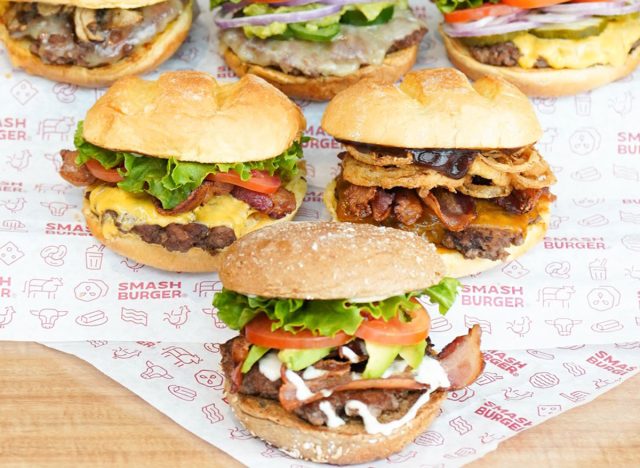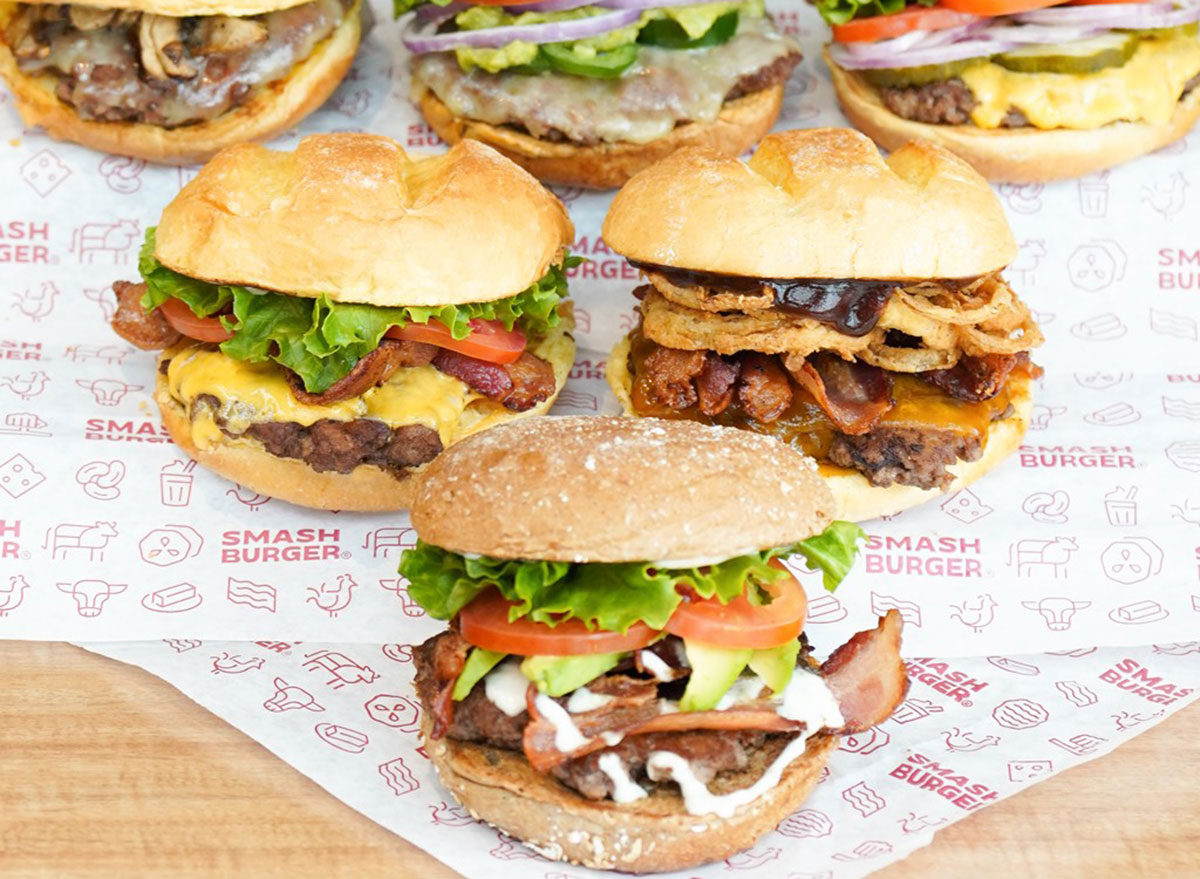 Smashburger is pretty serious about quality ingredients, like aged cheddar cheeses, applewood smoked bacon, and of course, only the finest Certified Angus Beef, which you'll find used for every patty the cooks over there smash and sizzle. The chain makes very sure you know that, stating at the top of its "Signature Burgers" page: "Our signature burgers are always freshly made, hand-smashed to order with 100% Certified Angus Beef that is pasture-fed, corn-finished and supports local farms."
Shake Shack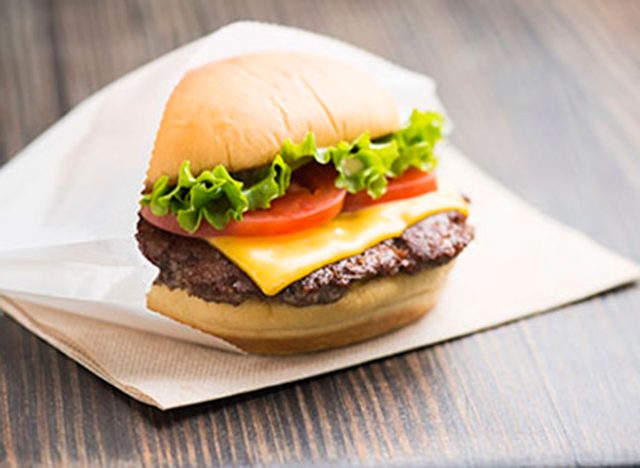 Shake Shack's burgers tend to cost a buck or two more than what you'd pay for a comparable burger from another chain, but what you're paying for is quality beef. Per Shake Shack's site, its burgers are made from: "Our custom 100% Angus beef blend, never frozen, no hormones or antibiotics ever, humanely raised and grazed in the USA." Now, if you prefer chicken sandwiches, veggie burgers, or mushroom burgers, they have those too, and they're also made with high-quality ingredients. 
BurgerFi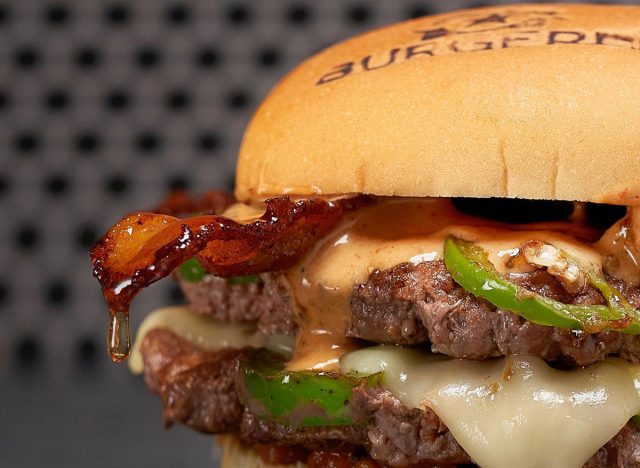 If you're looking for a chain that's serious about beef quality, then how about one that states "Ridiculously high standards. No regrets" on its homepage? BurgerFi also says on its homepage that its burgers are made from "all-natural Angus Beef free of steroids, additives, and hormones." As of now, there are only a few more than a hundred BurgerFi locations, and almost all of them are on the East Coast, so you may have a bit of a search ahead of you if you want to see what the high standards are all about.
P. Terry's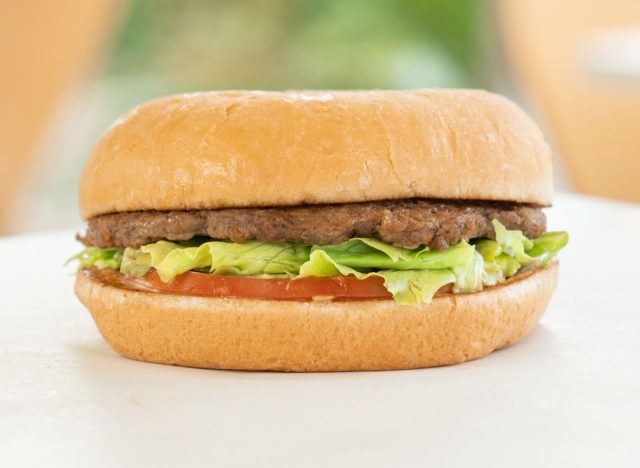 If you're in Texas, and more specifically in San Antonio or Austin, Texas being a pretty big place, then stop by one of the few dozen locations of the burger chain P. Terry's for a genuine Angus burger. This chain has only been around since 2005, making it pretty new, but it's growing fast thanks to the quality of its "all-natural 100% Black Angus beef burgers," not to mention other quality offerings, like fresh-squeezed orange juice, fresh-cut fries, and classic milkshakes.  
M-Burger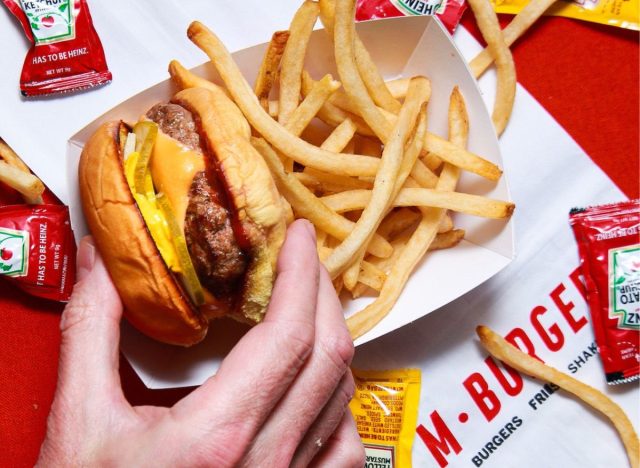 A very small but sure-to-grow chain, at the time of this writing, M-Burger has only a handful of locations, and they are all in the Chicago area. But once you try one of these burgers, which are, per the company's site, made "with fresh-ground, all-natural, black Angus Midwestern beef, topped with ketchup, mustard, local pickles, and grilled onions," you're going to want M-Burger to come to a town near you. For now, if you're in the Windy City, find a location and try the Chicago Double.
Steven John
Steven John is a freelancer writer for
Eat This, Not That!
based just outside New York City.
Read more about Steven