23 Genius Uses for Leftover Candy Canes
There's basically nothing you can't do with these sweet red and white sticks.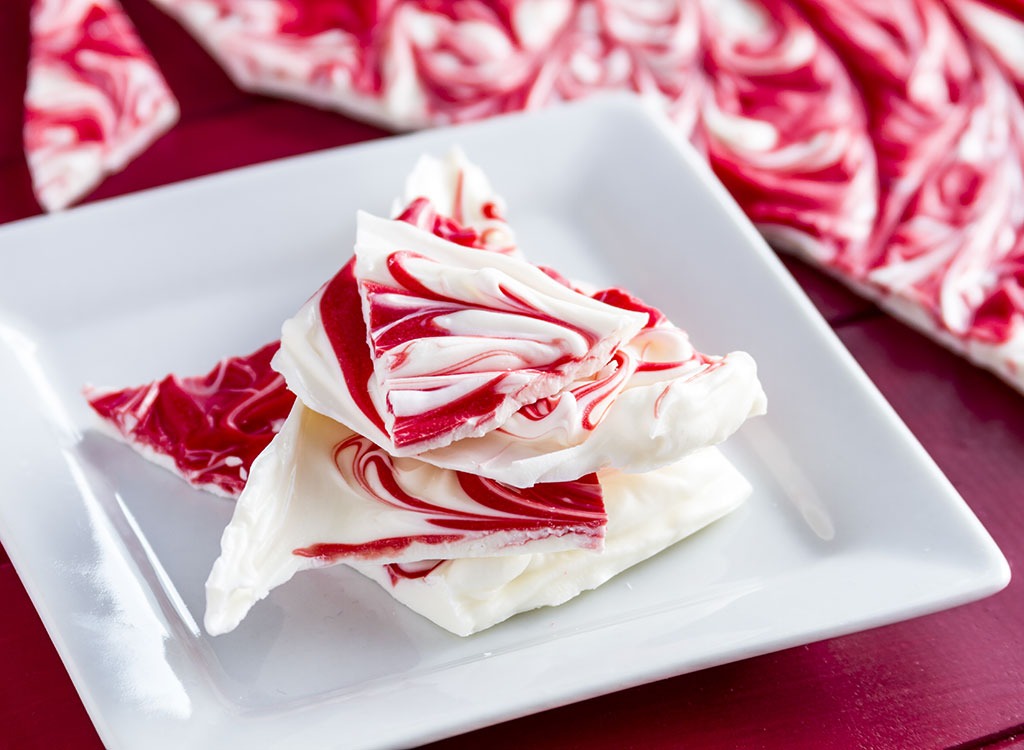 Twinkling lights, the smell of Christmas trees, and holiday-themed cocktails are among the most welcomed delights of the season, no doubt! Oh, and let's not forget candy canes—we love, love, love those! Which is why we stock up on the stuff the one time each year every store seems to carry them. But buying 10+ boxes of the minty, sweet treat has a downside: the leftovers. There are often buckets worth—even after they've been hung on the tree, stuffed in everyone's stocking, and fastened to all of your holiday cards. Sound like your yearly struggle? Rest easy; we've got you covered with some great candy cane crafts and recipes. Check out the below to find out how you can use our favorite Christmas candy in creative ways.
Spike Your Whipped Cream With It
Whether you're dolloping it over fruit, a bowl of ice cream, or into your latte, whipped cream can benefit from a minty makeover. Whip your own cream and sprinkle the swirled candy bits at the end before using it as a creamy topping.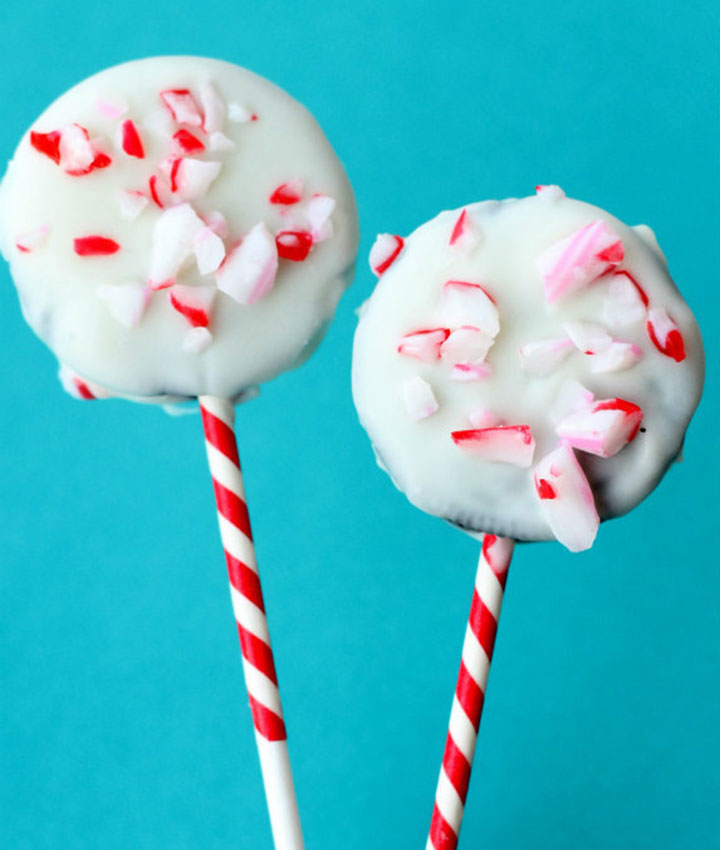 Insert decorative sticks into Oreo creme, dip the Oreo into melted white chocolate, and then coat with crushed candy canes for the perfect holiday treat you haven't thought of making yet. The subtle vanilla flavor of the cookie met with the refreshing zing of peppermint will make a sweet snack the whole gang will love.
Get the recipe from Lil' Luna. 
Make No-Bake Chocolate Candy Cane Truffles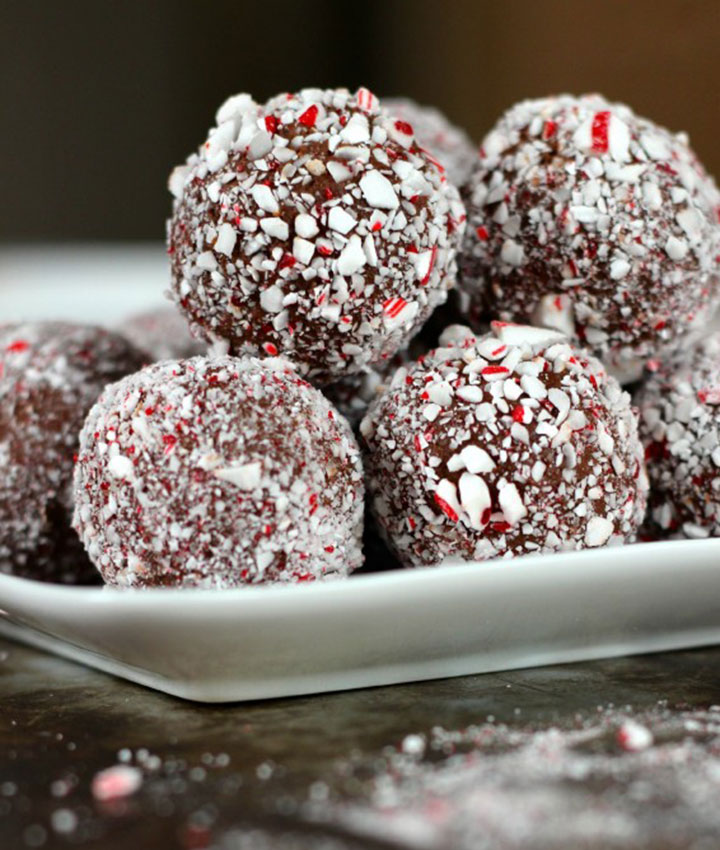 Use up leftover candy canes by crafting decadent truffles dusted with the wintry sweet. This recipe starts with a cream cheese, peppermint extract, and chocolate base before it's refrigerated until set and then rolled in the crushed candies for added color and flavor. You can even wrap these cute little treats in cellophane and gift to your best pals.
Get the recipe from Your Cup of Cake.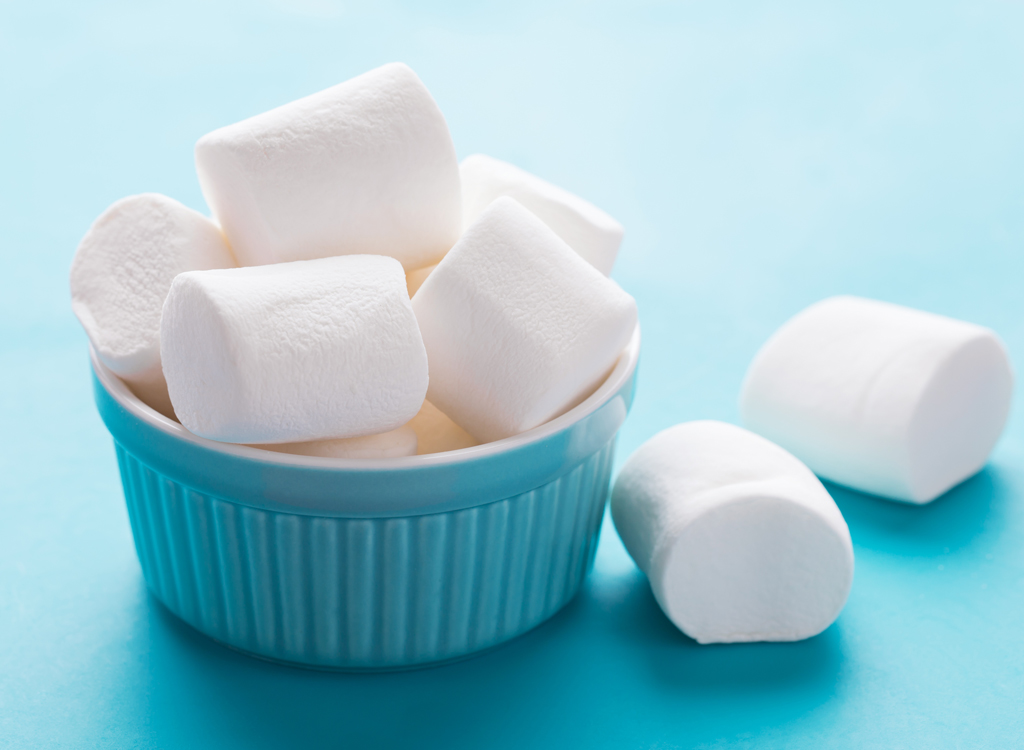 You'll need to top off your hot cocoa with a giant marshmallow, but why settle for store-bought when you can easily make your own? Start with food genius Alton Brown's marshmallow recipe on Food Network, and then dust the crushed candy canes on top of the 'mallows before cutting them into perfect squares. You can even gift leftovers to friends and family.
Use Them as Napkin Holders
Rather than opting for your usual holiday napkin rings, use twisted candy canes instead. If you have any leftover candies that are still intact, try hooking the arch over the middle of a rolled-up napkin before placing on your holiday table for some festive flair.
Bake Chocolate Candy Cane Cupcakes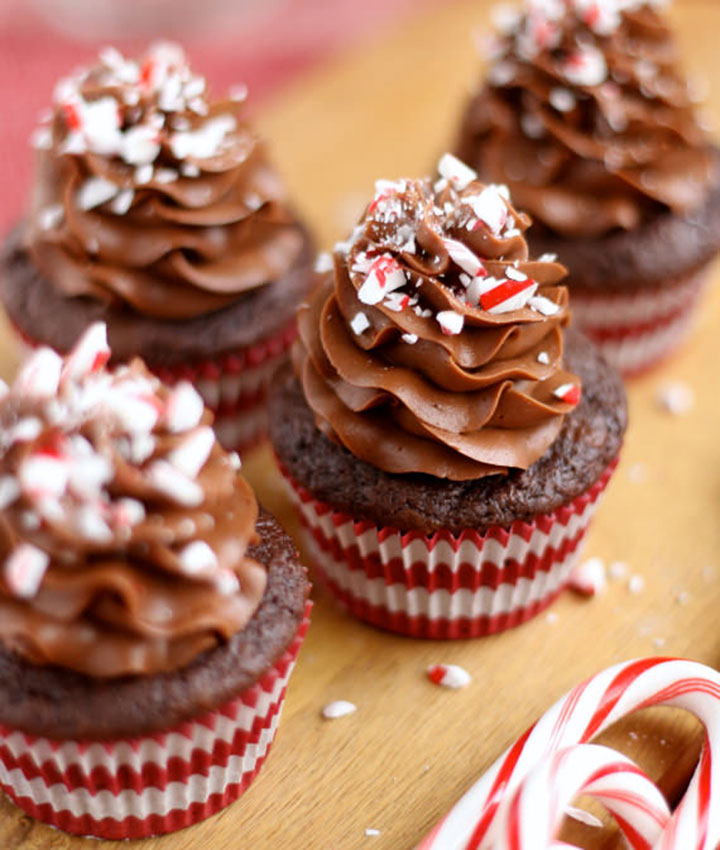 All you need is a quick devil's food cake mix and a few other pantry staples to create a rich chocolate cupcake that serves as a perfect base to peppermint frosting. Psst: the frosting is 100 percent homemade, so you know it'll be just as delicious on its own as over the cupcake. This recipe calls for adorning the frosting with crushed candy canes for a delectable and decorative twist.
Get the recipe from Your Cup of Cake.
Create Chocolate Snowflake Candy Canes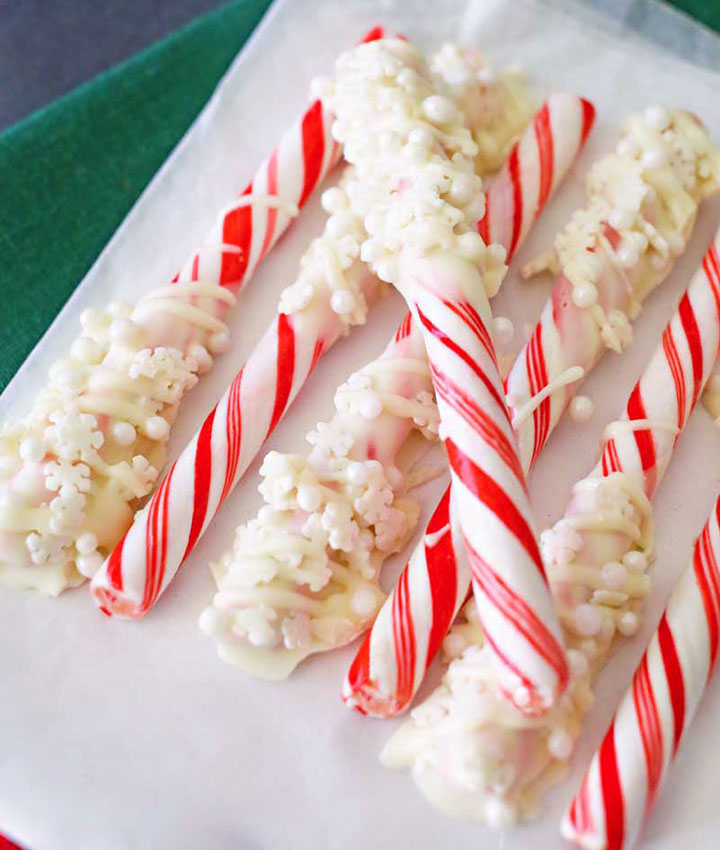 Got some extra candy canes that aren't broken? Continue ringing in Christmas spirit by whipping up these white chocolate snowflake candy canes. All you have to do is dip half of the candy cane stick into a mixture of white chocolate chips and shortening before sprinkling over some white pearl and snowflake sprinkles and allowing them to cool and harden. Yum!
Get the recipe from Lil' Luna. 
Craft Candy Cane Oreo Pudding Cups
These cute little pudding cups are perfect for entertaining or a cozy night in. All you need is a white chocolate pudding mix, candy cane Oreos, candy cane bits, and Cool Whip. Then, you layer all of your ingredients into mini cups and voila!
Get the recipe from Lil' Luna.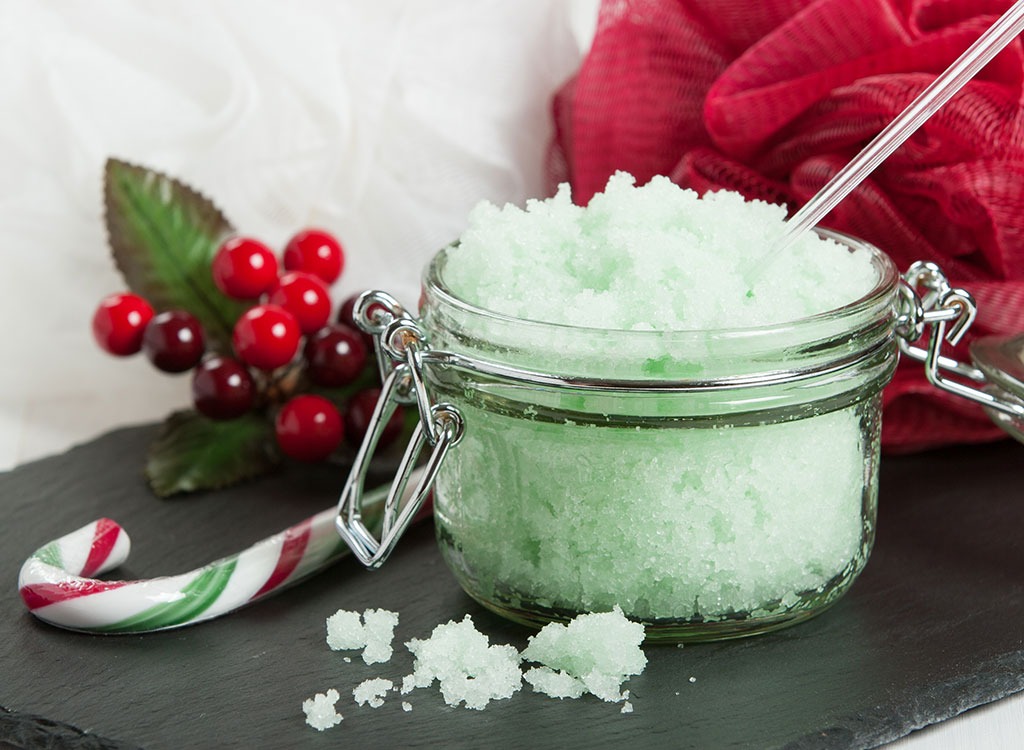 Instead of eating your leftovers, use them to make a candy cane-infused scrub. To make a batch, pour four cups of white sugar, one cup of olive oil (or another non-comedogenic oil with a similar consistency), a few drops of peppermint essential oil, and a quarter cup of finely ground candy canes into a mixing bowl. Then stir it up! Grab this concoction before you hop into the shower, and scrub your way to silky smooth skin.
Bake Peppermint Sugar Cookies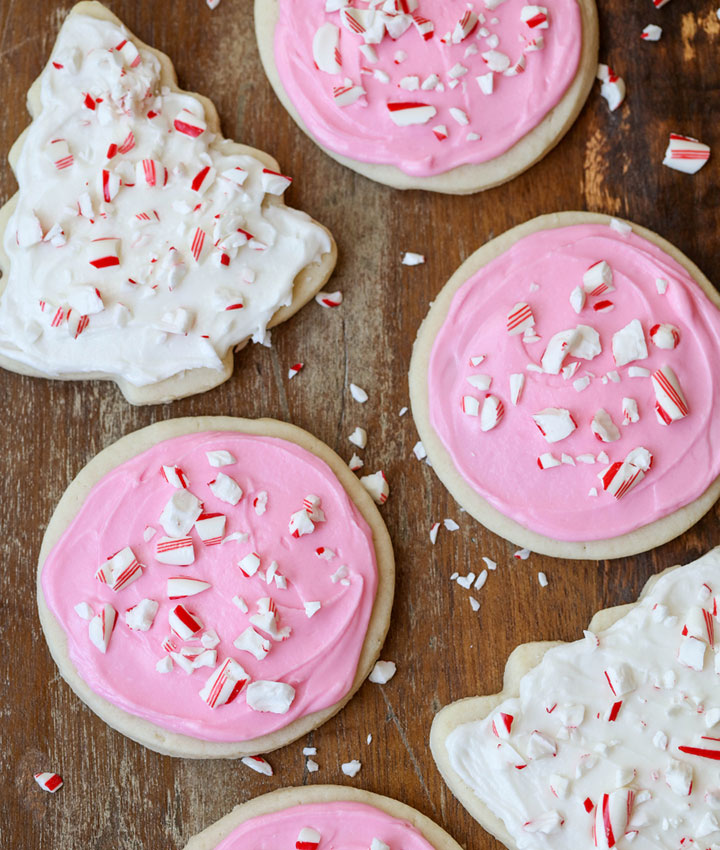 Sugar cookies are great on their own, but any tried-and-true classic can use a little makeover from time to time. These sugar cookies benefit from a thick vanilla frosting that's bejeweled with candy cane pieces.
Get the recipe from Lil' Luna.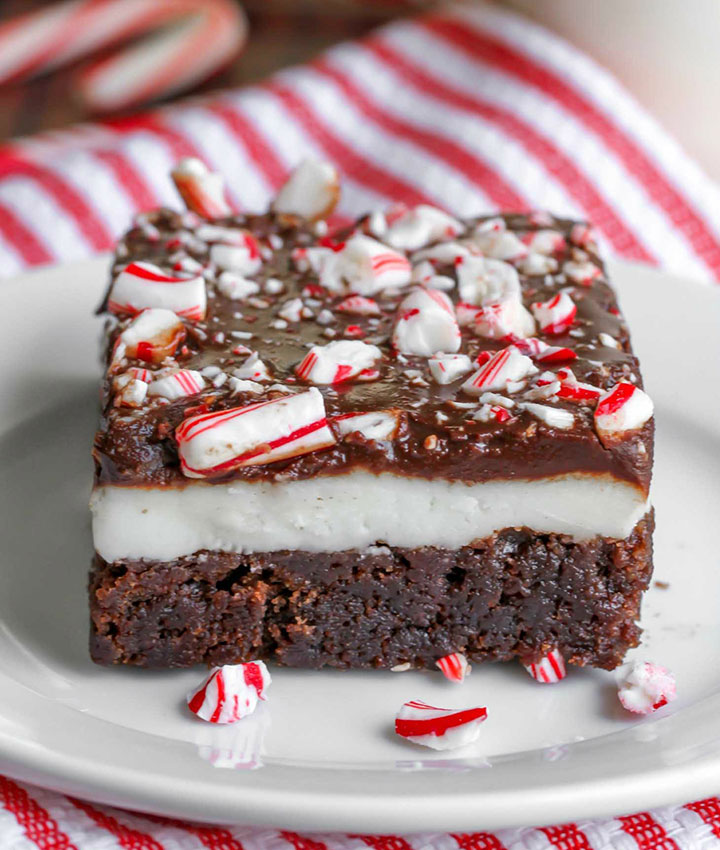 Everyone (well, almost) loves the combo of mint and chocolate, and these peppermint brownies embrace the duo to the fullest extent. Warm, fudgy brownies are met with an invigorating crushed candy topping that adds crunch and texture. Count us in!
Get the recipe from Lil' Luna. 
Use Them To Create Reindeer Ears on Cookies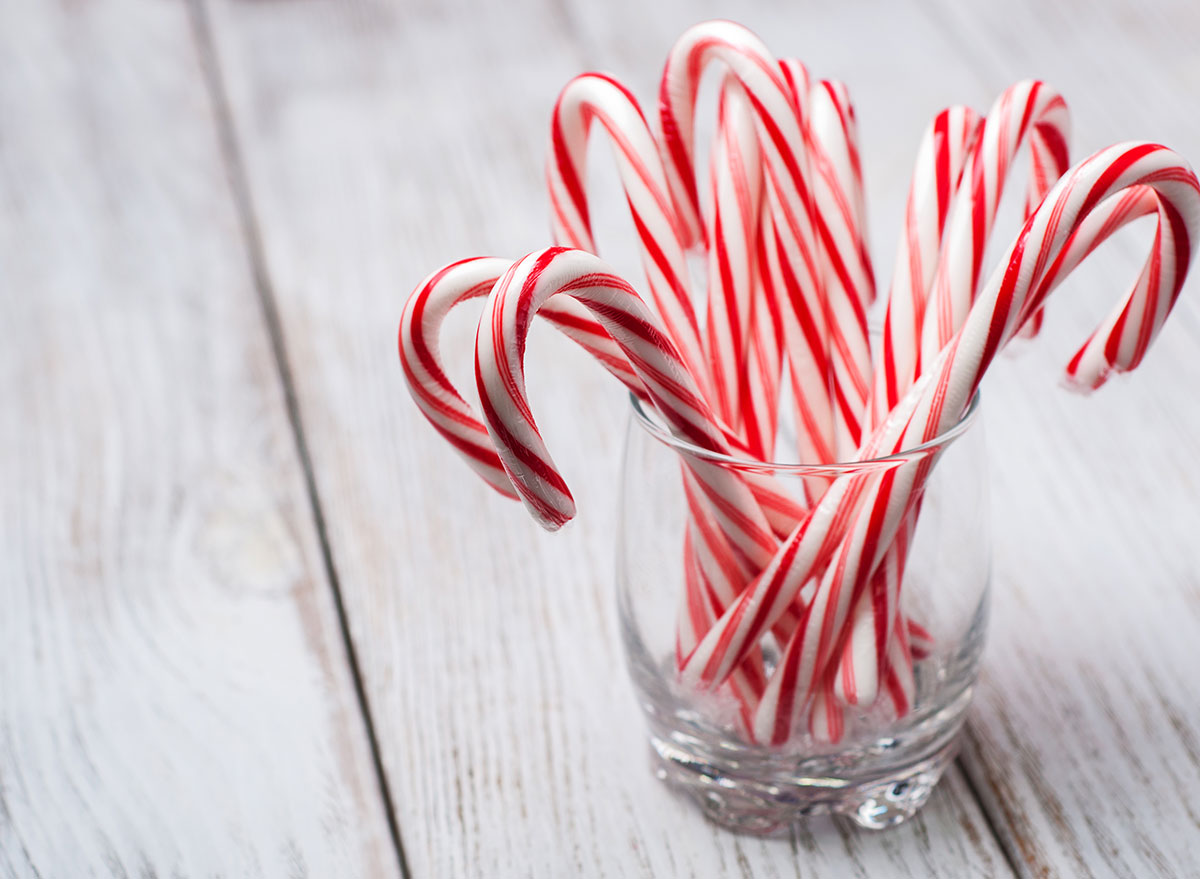 Nothing marks the beginning of the holiday season better than the grocery store invasion of peppermint-themed treats. That's why we're loving the idea of decorating homemade holiday desserts with the candy. Get creative and use two candy cane arches to create reindeer ears on a cookie for a last-minute holiday dessert that's bound to get everyone in the spirit.
In the mood to channel your inner Martha Stewart? Whip up some homemade candy cane soap! (It's easy to make—promise!) Start by melting a block of clear glycerin and a block of white glycerin in separate bowls. Then, mix in red food dye and peppermint essential oil into the clear glycerin. (A few drops of each work.) After that, pour a thin layer of the melted white glycerin into a cake mold or small pan and let it sit for about two to three minutes. After it's somewhat solid, pour a layer of the red glycerin on top and then continue alternating with the red and white glycerin every few minutes until the mold or pan is filled. Then top off your soap with a generous coating of crushed candy cane, which is a great exfoliant.
Throw Back a Candy Cane Cocktail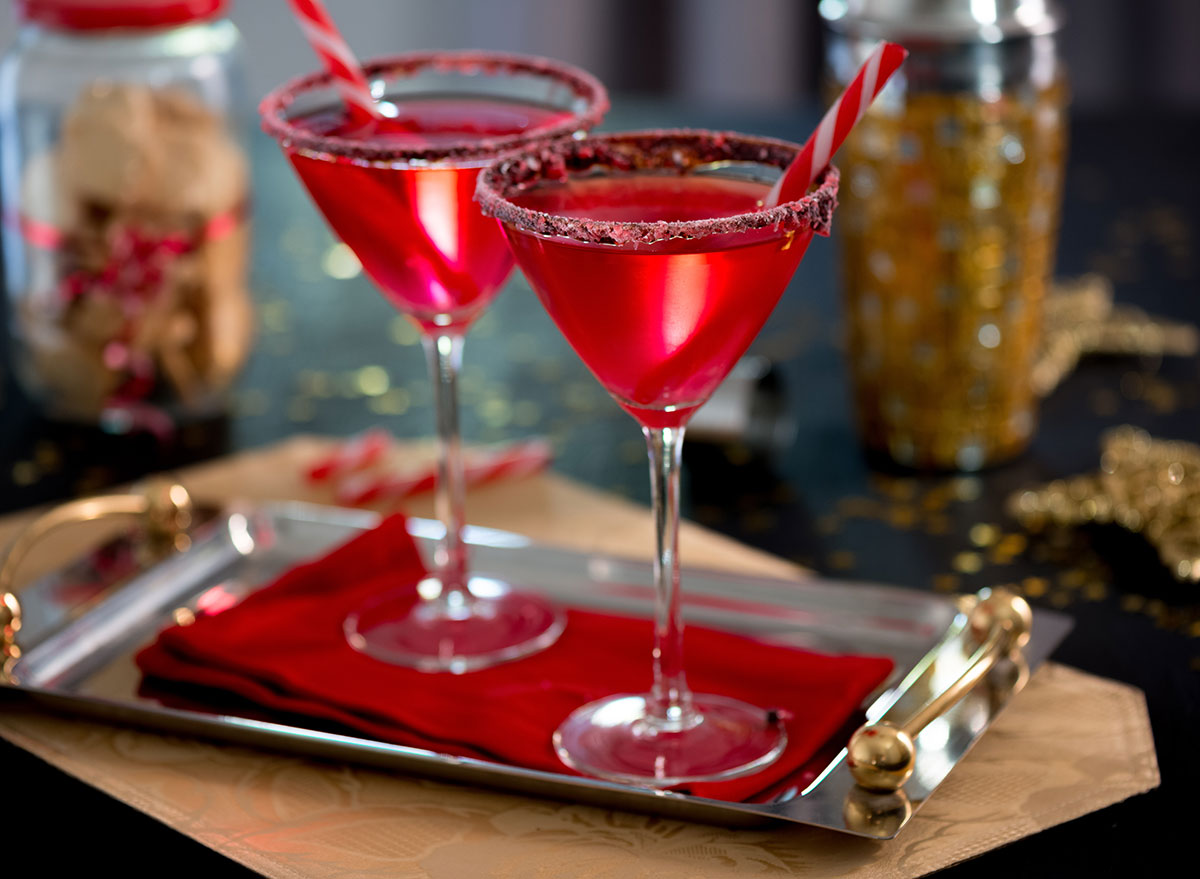 If you're looking to up your bartending game, forgo serving up basic drinks like spiked eggnog and opt for surprising your guests with a round of candy cane vodka shots. Luckily, you only need three things to prepare this festive elixir: candy canes, a small bottle of vodka (about 25 ounces), and a coffee grinder or food processor. Here's what you need to do: grind 12 candy canes until they're eroded into superfine crystals. Then, pour the candy powder into the bottle of vodka, make sure the cap is tightly screwed, and shake away! (You can even save some of the crushed candy to rim the glasses with later on!) Then, let the vodka sit for a half hour, shaking every now and then. Once the liquid is candy-cane-red, serve it up in shot glasses or a sleek martini glass. Cheers!
Cozy Up To Peppermint Hot Cocoa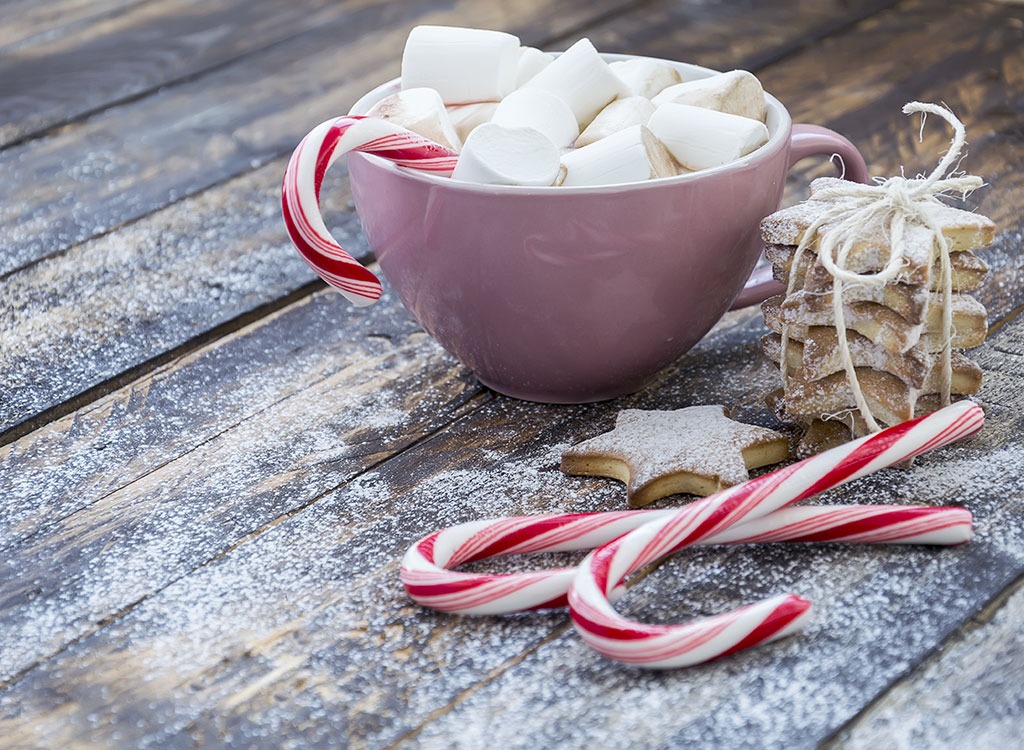 This winter, spruce up your favorite hot beverage with some minty goodness! To make a mug of decadent hot cocoa, add one cup of your milk of choice into a saucepan with two ounces bittersweet chocolate, and simmer over low heat. Once the chocolate is melted, add one tablespoon sugar and a ½ teaspoon peppermint extract to the pot and stir. Once it's all dissolved, pour it into your fave mug, swirl on some whipped cream, and then garnish the top with crushed candy canes. If you prefer taking the easier route with premade hot cocoa mix, choose our best hot cocoa.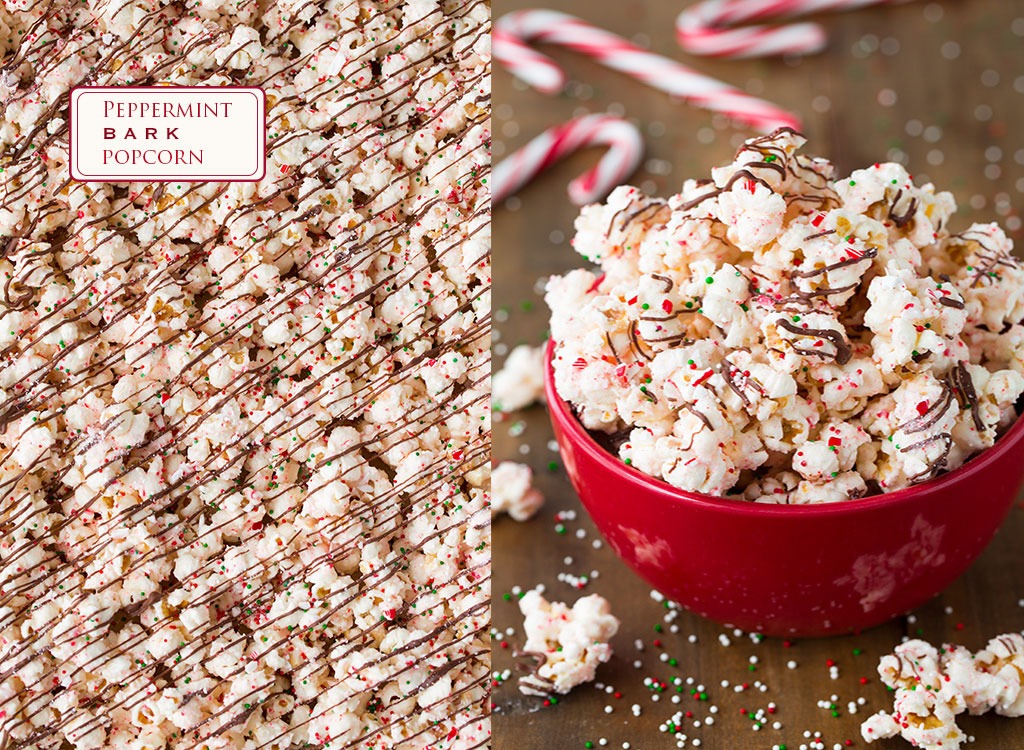 What's better than binge-watching all of the Home Alone movies in one sitting? The answer: having a big bowl of peppermint popcorn beside you! Spike your popped kernels with a layer of melted white chocolate and some candy cane crumbles. Oh, and you might want to whip up an extra batch because you're totally not going to want to share this!
Get the recipe from Cooking Classy. 
Crack Fudge Peppermint Bark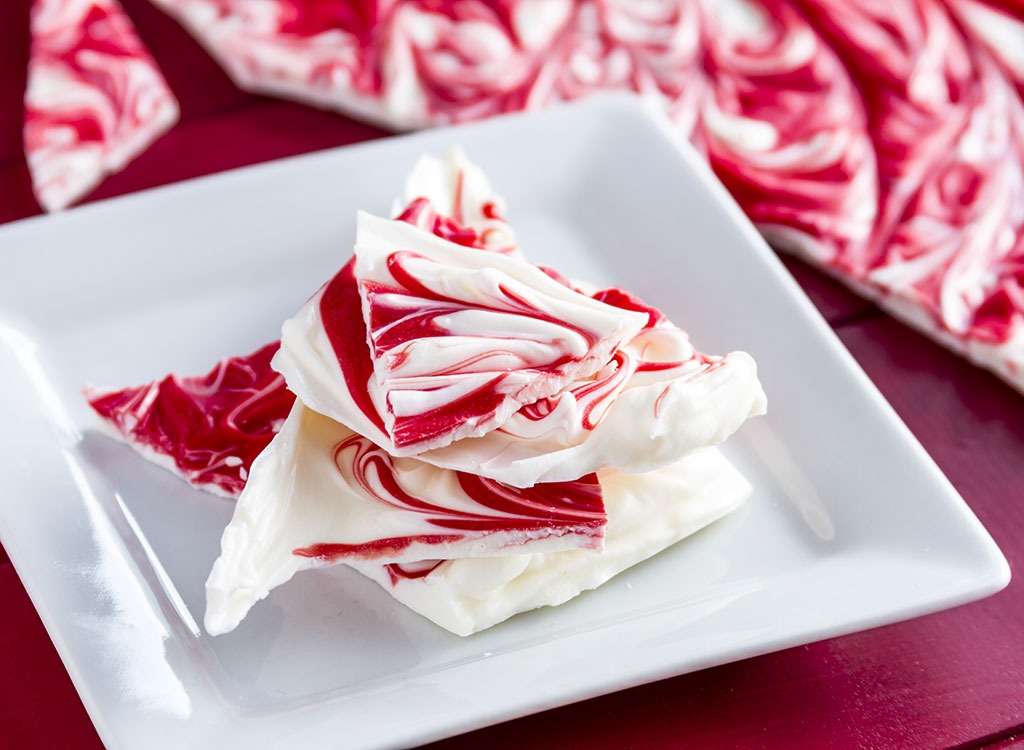 Give your gingerbread cookie and peanut butter blossom recipes a break, and concoct a batch of crunchy peppermint bark instead. The best part—aside from the taste? It's beyond easy to make. All you have to do is melt dark chocolate, slather it onto a sheet of parchment paper, and let it solidify in the fridge. Once it's hardened, drizzle on a layer of melted white chocolate and then drop a handful or two (or three… no one's looking!) of candy cane chunks for fresh flavor and a festive pop of color. Easy peasy!
Try Pink Peppermint Bark Macarons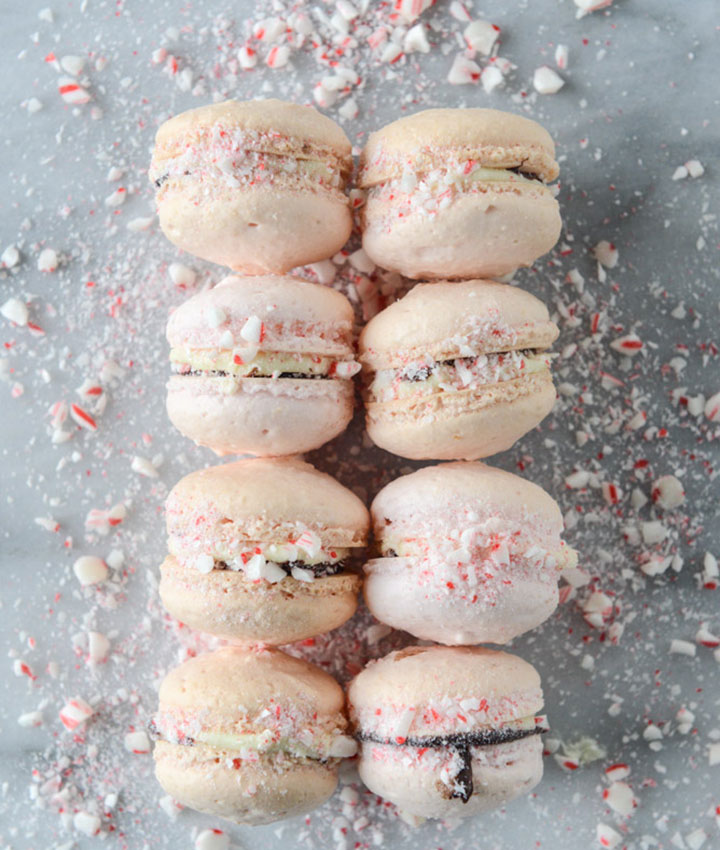 Besides croissants, macarons are the next best thing the French bestowed on us. Give your favorite fancy dessert a wintry twist by adding crushed candy canes into the creamy ganache.
Get the recipe from How Sweet Eats.
Rim Glasses With Candy Canes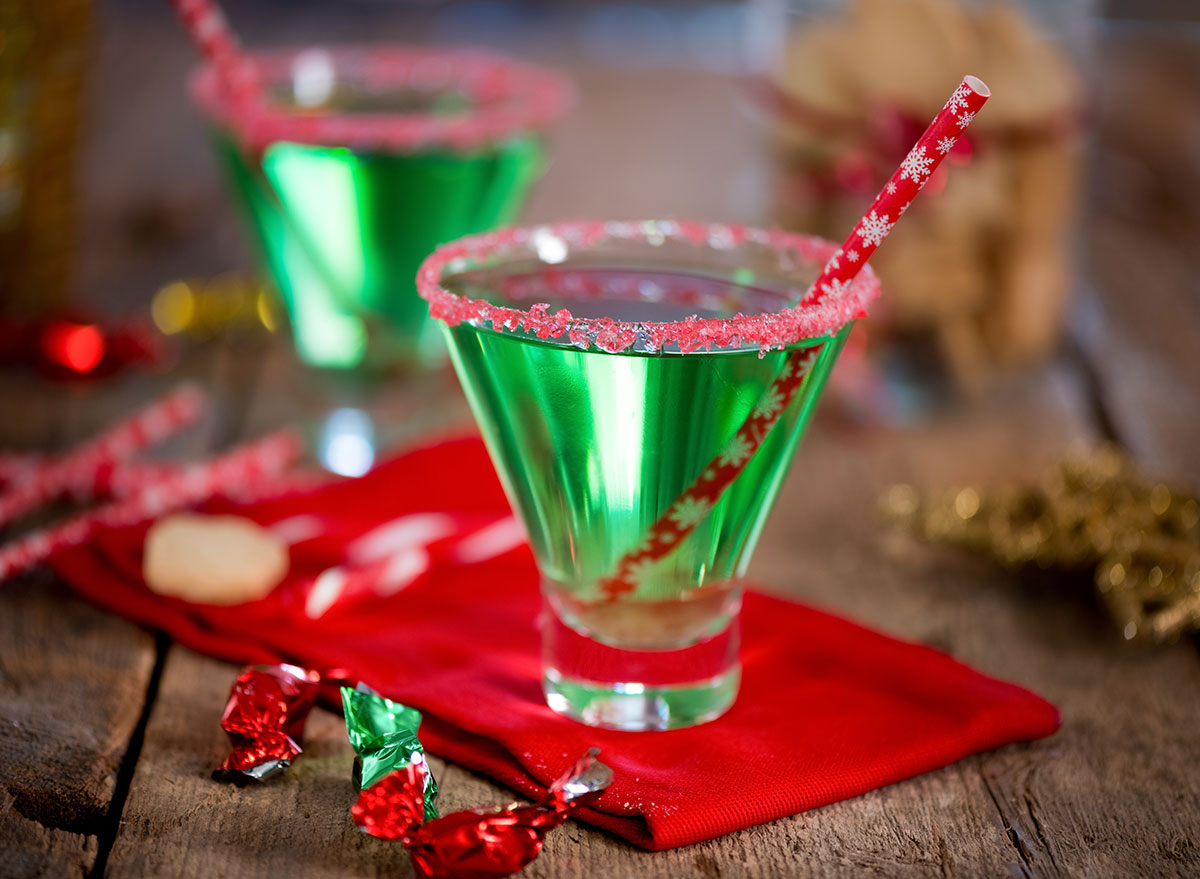 Remember that martini we suggested shaking up and that hot cocoa recipe you jotted on your list? Well, if these two beverages have anything in common, it's that you can easily jazz them up by rimming the glass or mug with crushed candy canes. Just pulverize the candies in the blender, use your finger to coat the rim with a syrup (like maple syrup) and dip into the crushed candy.
Scoop Into Homemade Nice Cream
Adapt your favorite nice cream recipe into a delicious, holiday-approved dessert by sprinkling crushed candy canes into the blender. Whether you choose to go with banana and cocoa mix or a traditional vanilla bean dessert, you'll want to scoop it into a cone and toss some candy canes on top for a refreshing twist on rainbow sprinkles.
Bake Chocolate Peppermint Cookies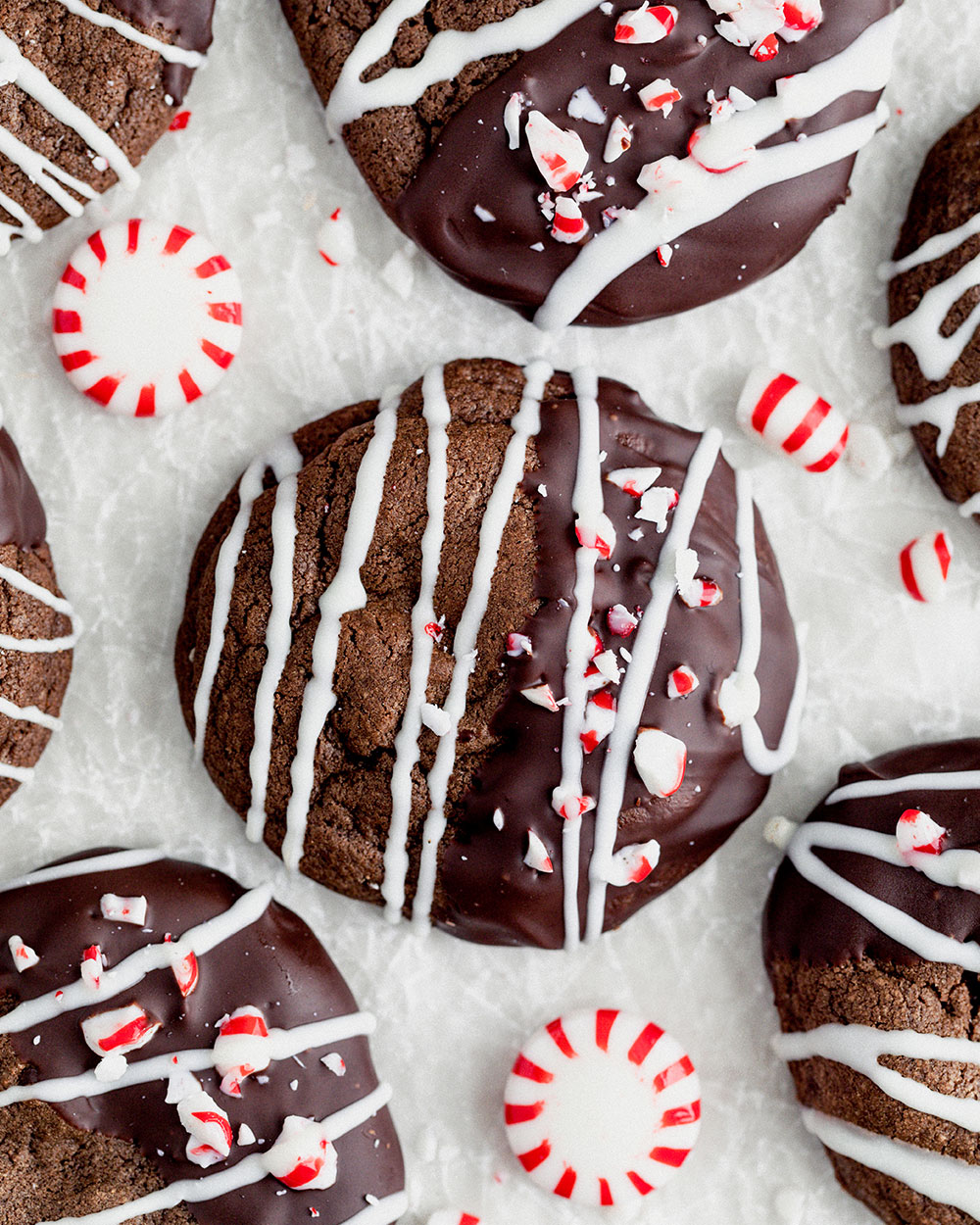 6254a4d1642c605c54bf1cab17d50f1e
If you love devil's food cake, you're gonna love this recipe idea. All you have to do is bake up a decadent chocolate cookie, dip it in dark chocolate, sprinkle it with some crushed peppermint candies, and drizzle with white chocolate. The minty peppermint will help cut the richness of the dark chocolate.
Get the recipe from Ambitious Kitchen.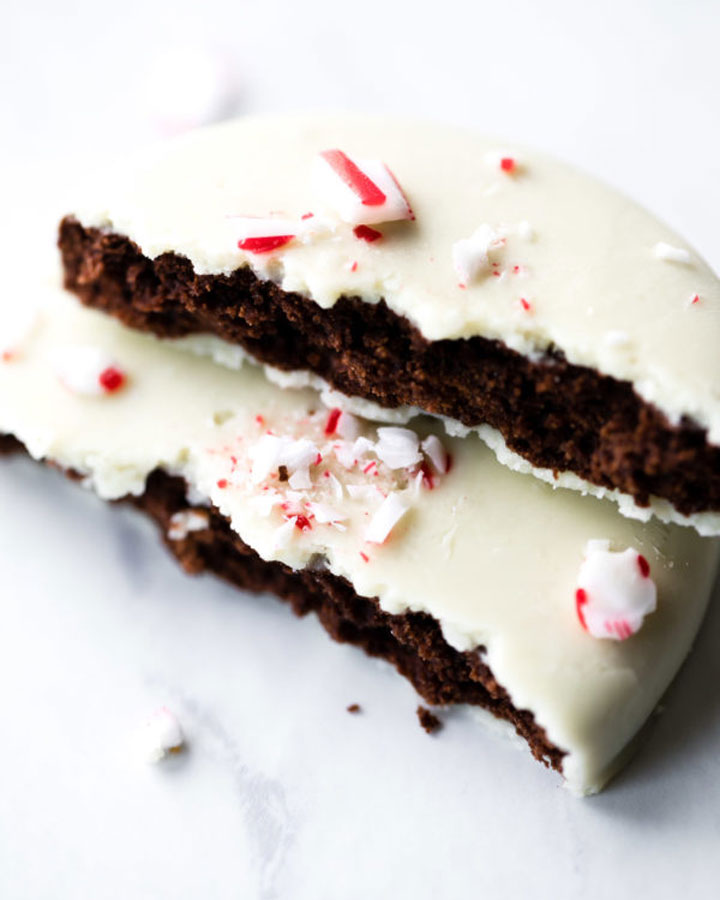 Instead of unwrapping a thin mint, try DIYing your own this holiday season. The chocolate sugar cookies are super easy to make, and they come out of the oven extra thick while the white chocolate coating gets a double dose of peppermint from the extract and crushed candies.
Get the recipe from Sally's Baking Addiction.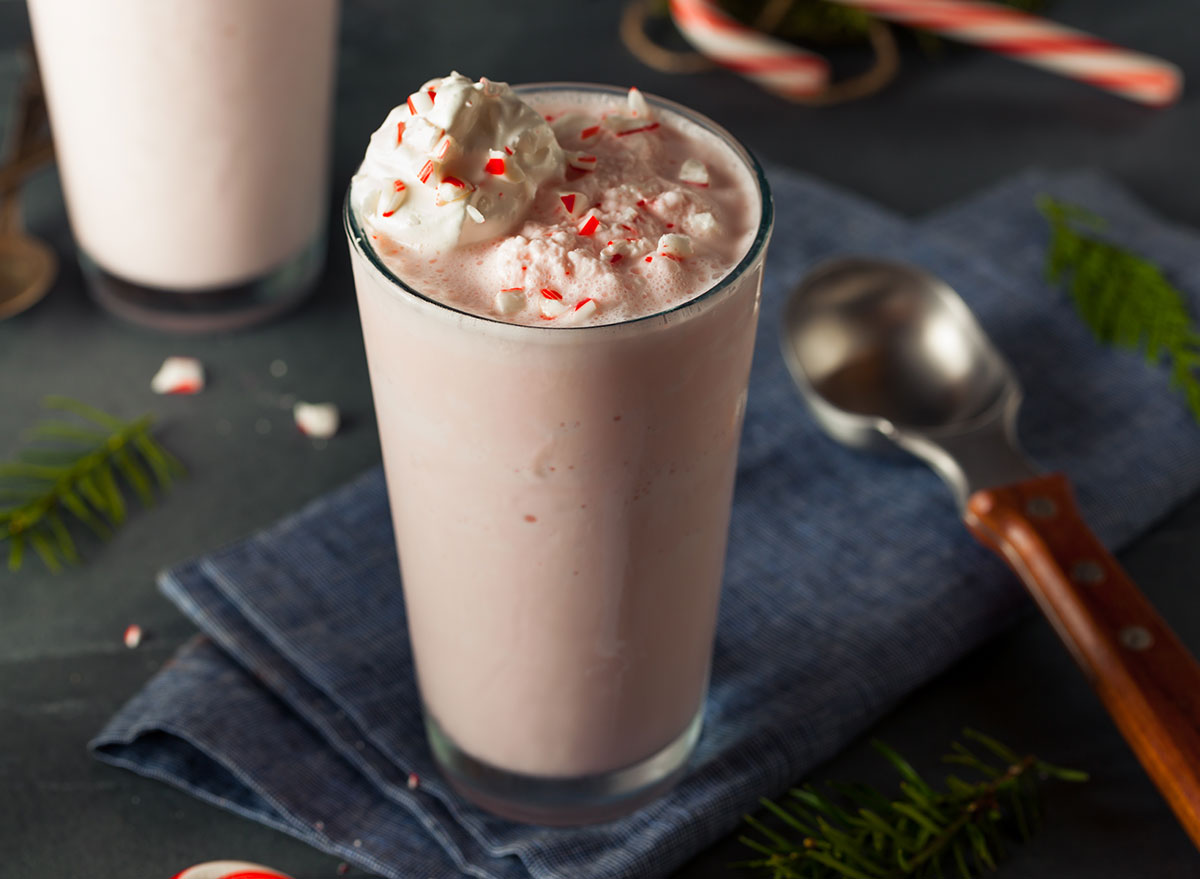 Got a tub of vanilla ice cream, milk, and leftover candy canes? Blend the three ingredients into the best milkshake ever. You can even add some unsweetened cocoa powder for a chocolatey boost and garnish the cup with a mint leaf. Mmm!
April Benshosan
April is a born-and-raised Brooklynite who has a passion for all things health, wellness, and tastebud-related.
Read more about April