11 Burger Chains with the Highest Quality Meat in America
When it comes to sourcing the highest quality ingredients, it's all about the beef.
Much like steakhouses or seafood restaurants, burger chains live and die by the quality of their ingredients—or lack thereof. Unlike ritzier full-service chains, though, it's especially pivotal for burger brands to distinguish themselves through diligent ingredients, as there isn't the pomp and circumstance to distract from potentially inferior products. Because, let's be honest, even at an inferior steakhouse, it's still a pretty special experience. Burger joints, on the other hand? They're not exactly posh.  
So when it comes to sourcing the highest quality ingredients, it's all about the beef. Yes, there are other menu elements in play here, from condiments and fries to buns and bacon (to say nothing of the plant-based burger boom), but at the end of the day, beef is still king. Just ask a certain flame-grilled someone. 
Thus, the quality of said beef can make or break a restaurant. In addition to sourcing top-tier cuts of beef, opting to never freeze its product, and hand-forming patties, a central issue here comes down to shunning antibiotics in meat. A longstanding issue for the beef industry, antibiotics have become such a problem that the WHO prioritizes antibiotic resistance as one of the most dangerous threats to global health, food security, and development today. Oof. 
Beyond just avoiding antibiotics, though, burger chains need to ensure that quality control is a unanimous tenet that touches all aspects of the business, from the earliest sourcing process to the moment the grilled-to-order patty hits the bun. 
"A great burger starts with quality ingredients," summarizes Marco Arreguin, brand chef for New York City's Tastemade Me Tacos and Hecho Libre. "The best burgers are made with fresh, locally sourced ground beef that has been grass-fed and is hormone-free. The beef should also have a good fat-to-meat ratio, ideally between 15-20%, to give the burger the perfect juicy texture." Finally, he adds that "the meat should be well seasoned and pressed into patties on the grill, adding a layer of flavor and a crispy char." With all this in mind, these are the 11 burger chains doing it right. 
Shake Shack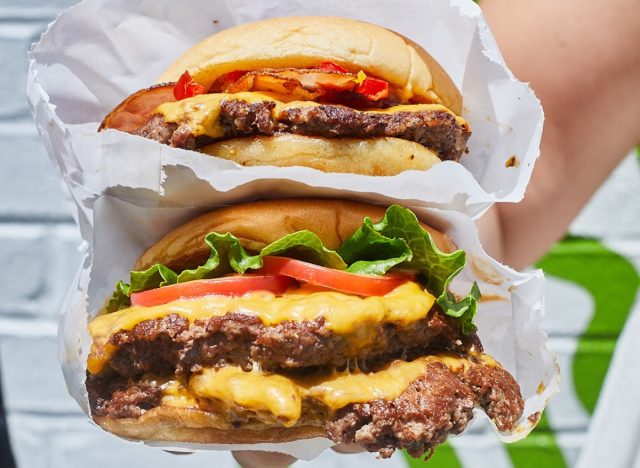 For one of the fastest-growing burger chains in the country, a key to success is transparency. The chef-approved company endears itself to passionate customers via detailed reports and philosophies on its website, including a section on its rigorous animal welfare policy and a whole report on its commitment to environmental responsibility.
It's a passion for quality that's long been a core philosophy for the always-innovating brand, which started as a frills-free New York City hot dog cart operating under the ethos "Stand For Something Good." It's a sentiment that applies to each and every facet of the business, from LGBTQIA+ inclusivity to charitable donations and chef partnerships across the country. It also applies to its meat, a 100% Angus beef blend free of hormones and antibiotics, humanely raised and grazed in the U.S.
"As we grew into a global business, our mission to Stand For Something Good expanded to include taking care of our team, sourcing premium ingredients from partners with the same dedication to quality, designing our Shacks responsibly, supporting our communities through donations, events, and volunteering," explains the company website. "From quality sourcing of ingredients in strict accordance with our industry-leading animal welfare practices to making our Shacks beautiful community gathering spaces built with sustainable materials, our goal is always the same: do the right thing."
Culver's
Any burger chain that donates $3.5 million to agricultural education is clearly one that's passionate about its product. Culver's is so serious about farm-fresh sourcing that the company established the Thank You Farmers Project in 2013 to support agricultural education and celebrate the farmers who work to ensure their animals are healthy, happy, and of the utmost quality. In addition to being one of the highest-quality regional chains, Culver's is easily also one of the highest-quality burger brands on an even larger scale. 6254a4d1642c605c54bf1cab17d50f1e
"We're passionate about sharing our appreciation for farmers with guests so they feel connected, investing in agricultural education to ensure the next generation of agricultural leaders is engaged and capable, and supporting climate-smart agricultural efforts that produce nutritious food for a sustainably vibrant food supply," the company says on its website.
This care and commitment results in a better Butter Burger for the Wisconsin-based chain, which uses a special blend of sirloin, chuck, and plate to achieve a never-frozen patty that's well-marbled and rich, without using any antibiotics or fillers. It's no wonder it was rated as one of the top regional fast-food chains in 2022.
Good Times Burgers & Frozen Custard
While booming brands like Shake Shack take a lot of the national spotlight, smaller regional outlets deserve equal touting for their same commitment to quality. One such chain is Good Times, a happy-sounding concept with locations scattered around Colorado and Wyoming. And according to Dan Snowden, Culinary Director of Land and Sea Dept. in Chicago, they're well worth the detour, no matter where you live. "They use all-natural, Angus beef from Meyer Ranch in Loveland, Colorado," he explains. "It's one of my favorite fast-food burgers of all time!"
Ever since originating in Boulder in 1987, the company has maintained its drive for quality. "Our goal then, and now, was to make better fast food in every way possible," notes the company. "Using notably better ingredients. And always crave-worthy and delicious."
Good Times adds that the chain serves only all-natural beef and chicken that's antibiotic-free with no added hormones, along with small-batch frozen custards and Hatch green chile breakfast burritos. For more details and transparency, the company has a section of its website explaining where they source their chicken (Springer Mountain Farms, the first chicken farm to be American Humane Certified) and beef (vegetarian-fed and antibiotic-free, from Meyer Ranch, per Snowden), further proving that "good times" are all about good ingredients. 
Hugh Baby's BBQ & Burger Shop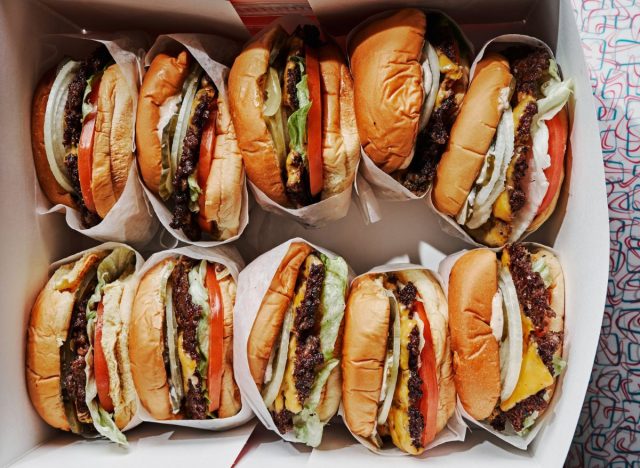 It's all about the "scratch-made goodness" at Hugh Baby's BBQ & Burger Shop, a Nashville-born mini-chain with locations in Tennessee and South Carolina. Founded by Pat Martin, the author of Life of Fire and the brains behind Martin's Bar-B-Que Joint, the company is in good hands under the guidance of a chef who knows a thing or two about quality beef. His guiding light is a dedication to "simple, delicious food and warm Southern hospitality," says the brand. "The menu covers all of the classics with burgers, Memphis-style pulled pork, hot dogs, fries, and hand-spun shakes at its heart. Hugh Baby's vibrant, modern design and all-are-welcome-here mindset come to life via a counter-service experience that draws inspiration from the small town barbecue spots of days gone by."
After sourcing ingredients from local, reputable purveyors and farms, Hugh Baby's takes care to prepare items from scratch, cook everything to order, and pay homage to Americana comfort foods of yore, when preservatives and antibiotics were yet unknown. The burgers are made from a proprietary blend of premium beef ground fresh daily. Customers can order them adorned simply with American cheese, lettuce, tomato, pickles, and onion on a toasted potato bun, or beef it up even further with the BBQ Burger, which adds pulled pork to the party (smoked in-house daily, naturally). 
Mooyah
Any place with a diligent commitment to fresh-cut fries and never-frozen beef is a surefire sign of quality. After starting in Plano, Texas in 2007, Mooyah is one such chain that talks the talk and walks the walk. The chain now boasts dozens of branches across the country, serving up burgers that are never frozen and 100% Certified Angus Beef. They tout their burgers as higher grade than most steaks, and "ridiculous quality." In fact, in one study, Mooyah's customers reported higher satisfaction than Five Guys and Smashburger.
Mooyah's burgers are fully customizable and include options for multiple patties—of beef, turkey, or veggie—Applewood smoked bacon, different cheeses, sauteed and fresh veggies, and even all-beef hotdogs. Bun choices include gluten-free rolls and even lettuce for the low-carbers. It also has great, hand-cut fries and shakes.
After launching a "Mouthful of Awesome" campaign last year, the company is more committed than ever to preaching the gospel of quality beef. "Our loyal fans know we have the best burgers around—we have for a long time," says Mooyah Vice President of Marketing Sarah Beddoe. "We use premium 100% Certified Angus Beef, bake our buns in-house daily, and we scratch-make our toppings every morning and afternoon."
Epic Burger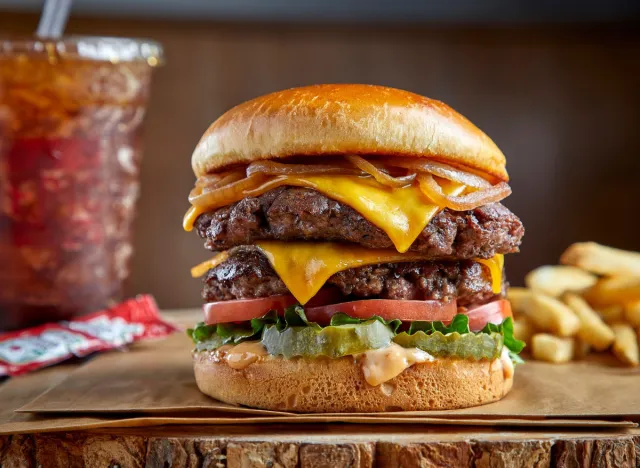 After launching in 2008, and being named one of America's hottest startup fast casuals, Epic Burger has emerged as a community cornerstone with several locations throughout Chicago—beloved not only for its warm ambiance and comfort food, but for the extra comforting fact that its ingredients are the cream of the crop.
Billing itself as "locally born and grazed," the quick-service mini-chain was pioneering the use of non-GMO ingredients, Halal-certified preparations, and expansive vegetarian options long before they became widespread. As a fast-casual restaurant that genuinely cares about its customers, its purveyors, and animal welfare, it's all about serving mindful food with a modern approach, while remaining steadfast with its quality meats.
"Our beef is certified Halal, which means the cows are raised, fed, bred, and processed in a way that is clean, efficient, and without any suffering," explains Epic Burger CEO David M. Grossman. "That equates to better tasting and better quality beef. There's no antibiotics, no hormones, and no nitrates. It's the EPIC way and is inline with our tagline—a more mindful burger."
In-N-Out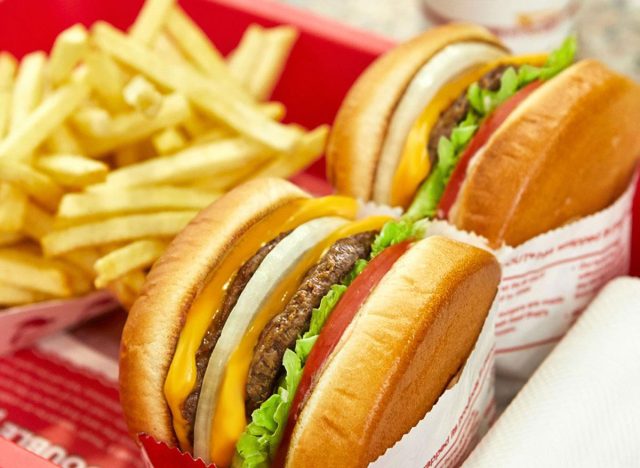 Sometimes, old-fashioned is best. That's the principle philosophy at In-N-Out, the wildly successful West Coast burger chain whose time-tested adage applies to every aspect of its business. From the Americana aesthetic to its cool "cookout trucks," there's plenty of old-fashioned charm to go around—and that certainly includes its cooking.
Since its founding in 1948, In-N-Out has upheld high standards regarding the quality of its meat. "Our commitment to quality starts with our hamburgers. And our burgers begin with our patties," explains the company website. "Each patty is made using only fresh, individually inspected, whole chucks from premium cattle selected especially for In-N-Out Burger. Our team of associates removes the bones, grinds the meat and then makes each patty."
It's a hands-on and proactive approach to sourcing, using 100% USDA ground chuck that's free of additives and preservatives, which has long been part of the company's DNA. Never frozen (the company proudly states no stores even have microwaves or freezers), the meat comes in from In-N-Out patty-making facilities in California and Dallas, ensuring the chain has total control over the whole process.
Beloved by chefs, In-N-Out burgers are favored by the likes of Zac Lennox, corporate chef for Houston-based Palacios Murphy hospitality group. For the chef, whose resume includes brands like Popi Burger, the chain is the antithesis of typical fast-food, in that they serve essentially the same things—albeit the quality is exponentially better. Compared to places like Mcdonald's, Lennox explains that In-N-Out zigged where larger companies zagged, saying "they curated their customer experience and worked on consistency the other way. In my mind, In-N-Out got it right." According to the chef, this means keeping freshness first and foremost, employing a friendly staff, maintaining a clean environment, keeping their menus small, sourcing ingredients from farms, blending milkshakes with real ice cream and milk, and cutting fries fresh to order.
B.GOOD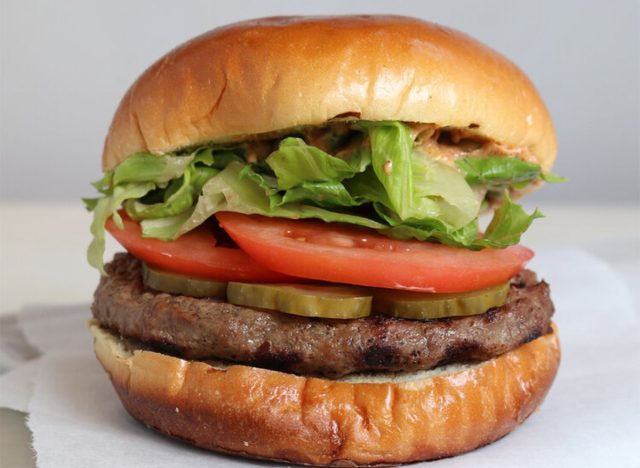 It's pretty bold business to bill your burgers as "real" burgers, but Massachusetts-based B.GOOD has the cred to back it up. The Boston-born fast-casual, which now boasts numerous locations throughout the Northeast, was founded by two friends who grew up eating wholesome, comforting food in their family kitchens; the kind of food that scratches that craveable itch without leaving you feeling like you need a nap—and a treadmill.
Although there are now dozens of B.GOOD outposts, each and every one still serves a burger-centric menu that adheres to those wholesome, familial roots. "At B.GOOD, everything we do is driven by our food ethos, i.e. what we believe in when it comes to food," explains the company. "And our ethos is pretty simple: food should be good for you and good for the planet. Every single day we make decisions that prioritize the quality and taste of the food we serve while also protecting the environments within which it's grown and raised. It's better for our customers, our partners, our food system, and our planet."
Big on "real" ingredients, that also means their meat never has any antibiotics, hormones, preservatives, colors, or flavorings. Going the extra mile, B.GOOD has its own farm, Hannah Farm, where they employ regenerative agricultural practices for more sustainable farming, and uphold animal welfare through its Certified Humane standards, ensuring all animals lead happy, healthy, and enriched lives.
Fuddruckers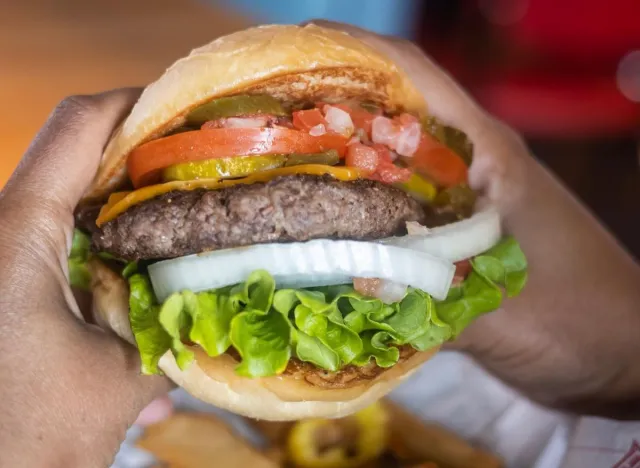 The slogan for Fuddruckers, "World's Greatest Hamburgers," is a lofty claim, especially for a chain that was near extinction until recently, but clearly, there's something to it. Known for its fresh-baked bread and scratch-made burger patties, this is a company that puts concerted efforts into quality. Even the most basic patties at this burger-centric restaurant are "flavorful, fatty, and well-seasoned," according to Serious Eats, but it's not just lip service for the brand.
The company "leveled up" by adding Prime-grade beef to its menus, and remains diligent about the quality of its product. Fuddruckers uses fresh, never-frozen 100% USDA premium-cut beef with zero fillers or additives, available in 1/3-, 1/2-, or 2/3-lb. patties that are grilled to order. According to its website, the company takes its beef very seriously, sourcing from U.S. ranches that adhere to Islamic compliance, meaning cows are raised, bred, and processed in ways that are healthy and free of pain for the animals.
Tucker's Onion Burgers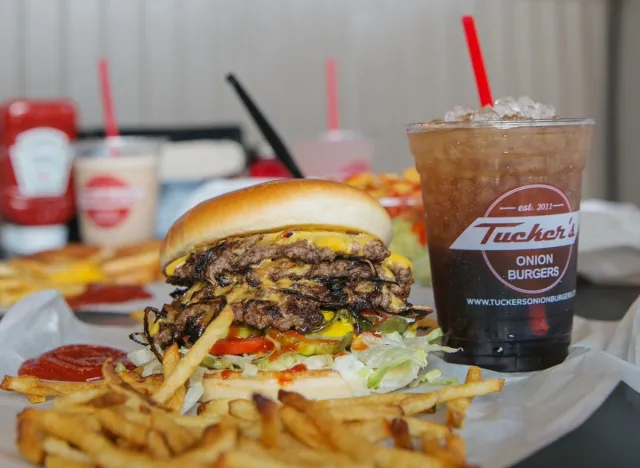 As one of the most unique regional mini-chains, with only four locations in the Oklahoma City area, Tucker's Onion Burgers still leaves a big impression. A fast-casual homage to a local Oklahoma favorite, the onion burger (wherein thin slivers of onion are pressed into the patties and griddled until nice and crispy), Tucker's has the same Americana charm as an In-N-Out and the same commitment to quality sourcing as any farm-loving chain.
The company exclusively sources its beef from Creekstone Farms in Kansas, which Tucker's believes is the best ground beef on the market. But it's about more than just finding quality products, it's about finding quality people whose views and standards align with yours. "We not only look for the best product, we look for a company with a stellar reputation and a long history of providing hospitality to their customers over several years," explains Keith Paul, CEO of Tucker's parent company, A Good Egg Dining Group. 
In addition to diligent sourcing, the cooking process is equally important—and impressive. According to Eater, the classic onion burgers are cooked to order, juicy, and perfectly smashed under a heap of grilled onions. 
Umami Burger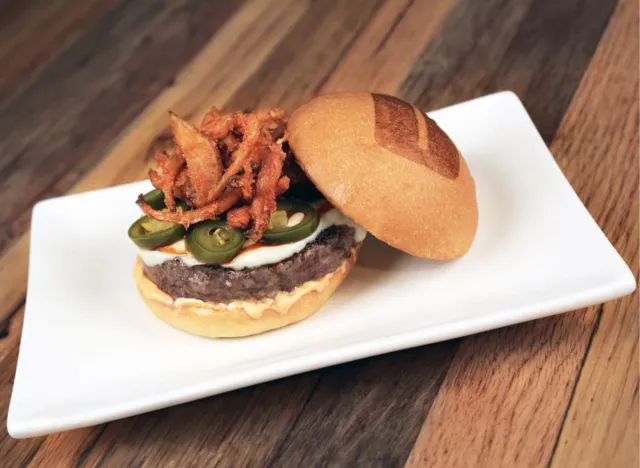 Although naming burgers after celebrities isn't necessarily a mark of quality, it's certainly a fun facet for one of the foremost high-quality burger chains in America. As evidenced by high-end toppings like truffle aiolo, tomato jam, pimento cheese, and miso mustard, it's clear that Umami Burger is a company that takes its ingredients seriously—and that all starts with the beef which is made mostly from American Wagyu beef and is coarsely ground in-house. With locations all over the world, the brand has found immense success through menu items that are as high quality as they are interesting and tasty. 
As a discerning burger connoisseur, Arreguin's pick for the best quality burger chain in the country is Umami. "When it comes to finding the best burger chains in America, there are some that stand out, but Umami Burger is known for its bold flavors," says the chef. "The perfect Umami Burger is all about the combination of flavors and textures. Start with a fresh, high-quality patty pressed on the grill to order. Top it off with a slice of cheese, a dollop of Umami Sauce, and a toasted brioche bun, and you have a delicious, mouth-watering burger." The chef notes that the company is known for its consistently fresh, quality ingredients—and it shows. The fact that, last year, the company brought on acclaimed chef Alvin Cailan to serve as the new face of Umami Burger speaks volumes about their commitment to craft and quality.
Matt Kirouac
Matt Kirouac is a travel and food writer and culinary school graduate, with a passion for national parks, all things Disney, and road trip restaurants.
Read more about Matt