The Best & Worst Menu Items at Checkers
Craving burgers, fries, and a milkshake? A registered dietitian picks out the menu items you should and shouldn't order.
Checkers is known for really good food—it's got a menu full of burgers, seasoned fries, milkshakes, and even a frozen beverage menu called The Chill Stop. When the drive-thru chain restaurant merged with Rally's in 1999, Checkers-Rally's became one of the largest double drive-thru chains in the United States. It's where Americans know they can go for standard American fare such as hot dogs, spicy chicken, and desserts.
However, if you're trying to be health-conscious, eating at Checkers might be difficult. We consulted nutrition expert Jacqueline Iannone, MS, RDN, CDN of The Rite Bite Nutrition Counseling, PLLC, who took a look at the Checkers menu and pulled out the best and worst items you can order.
Burgers and Sandwiches
280 calories, (11 g fat, 3 g saturated fat, 0 g trans fat), 590 mg sodium, 35 g carbs (1 g fiber, 6 g sugar), 11 g protein
If you're hankering for a burger at your next trip to Checkers, the B.L.T. is a more heart-healthy choice than some of the other slider options—Cheese Champ, Bacon Roadhouse, and the Fry Lover's Burger that's stuffed to the brim with french fries—on the menu.
"With only 1/4 of the calories compared to the Triple Baconzilla, this one is absolutely a smarter choice in terms of the calorie content, saturated fat, trans fat, and sodium," Iannone says. "That being said, although the nutrition parameters are better compared to the alternative, the saturated fat at 3 grams and sodium at 590 milligrams is still not desirable."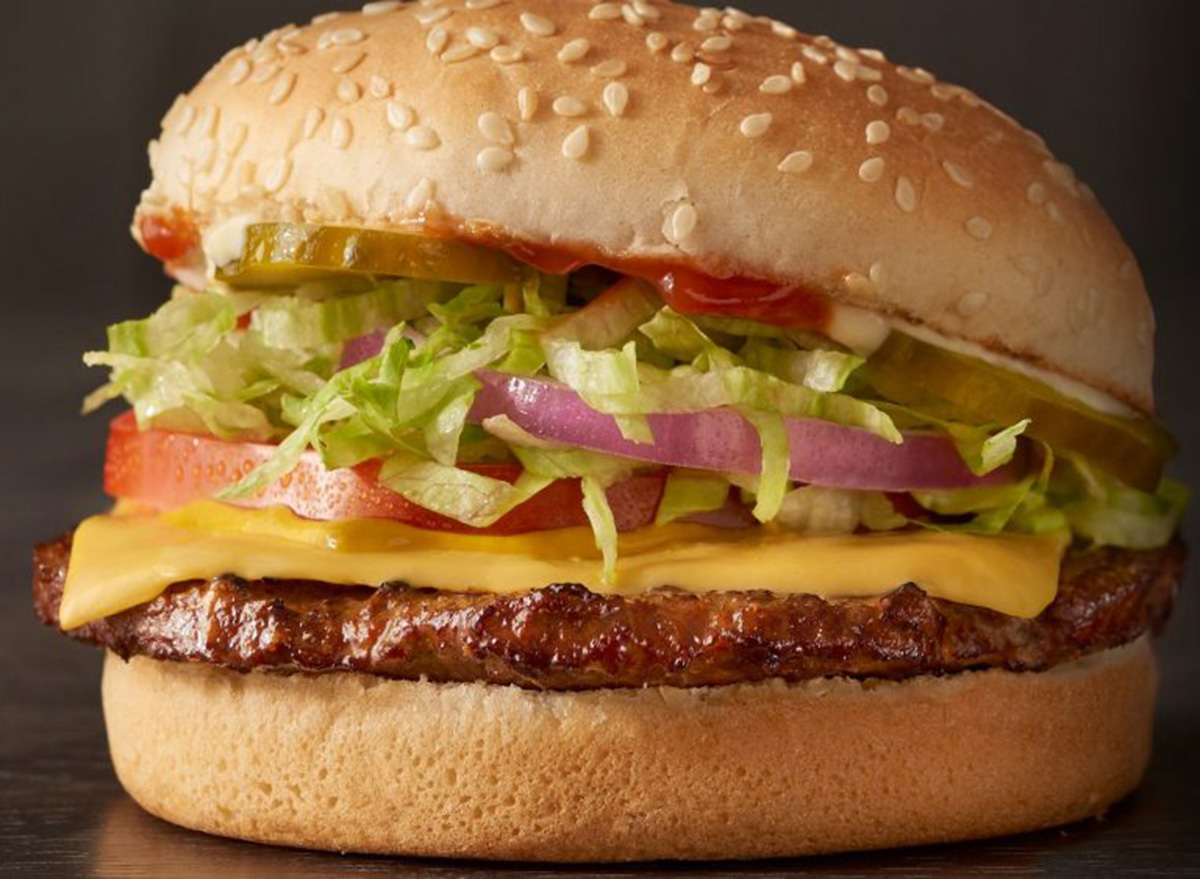 320 calories, (12 g fat, 4.5 g saturated fat, 1 g trans fat), 940 mg sodium, 39 g carbs (2 g fiber, 9 g sugar), 15 g protein
The Checkerburger is Checkers' "classic burger," which features a seasoned all-beef patty topped with lettuce, tomato, and pickle and onions on a sesame seed bun with mayo, ketchup, and mustard. But don't be fooled by those seemingly traditional burger ingredients—Iannone says it's the "better" option, but that doesn't mean it's all that good for you.
"With most of the Checker's menu, the trend of this is basically to choose the lesser of two evils in a sense," she explains. "A big focus for many when [people who] are trying to eat healthier is checking if the calories are lower. Although this thought process may help in a weight management sense, it's still not providing our bodies with good wholesome nutrition if the sodium, saturated fat, trans fat, and carbohydrates are high."
1,080 calories, (74 g fat, 31 g saturated fat, 4 g trans fat), 1,790 mg sodium, 42 g carbs (4 g fiber, 6 g sugar), 61 g protein
"This one's a doozy. With a whopping 1,080 calories, 31 grams of saturated fat, and 1,790 milligrams of sodium, surprisingly, this isn't the most concerning part of this menu item in my eyes," says Iannone.
What could be more alarming than the calories, saturated fat, and sodium in the Triple Baconzilla, you ask? According to Iannone, it's the trans fat that is most concerning of all.
"What's more concerning is the 4 grams of trans fat in this meal. Trans fats are considered the worst types of fat found in our diets above saturated fats," she explains. "Trans fats are studied to impact our cholesterol levels in two negative ways: by lowering our HDL or 'good' cholesterol and increasing our LDL or 'bad' cholesterol."
Did you know the World Health Organization has been urging all countries to ban the use of trans fat in the production of food since 2018? According to WHO, trans fat kills half a million people a year.
"What's more, is that most countries have banned trans fat in their production, and the FDA has now removed hydrogenated oils from their 'generally recognized as safe list,' with a movement to phase it out of our food production system within the next couple of years," Iannone says. "Bottom line: If you're sticking to a heart-healthy diet, this item should be a 'no-go' or a 'once-in-a-blue-moon' type of ordeal."
Knowing just how dangerous trans fat is, you may want to make the health-conscious decision to skip this one should you find yourself at Checkers.
Worst: Texas Bacon Big Buford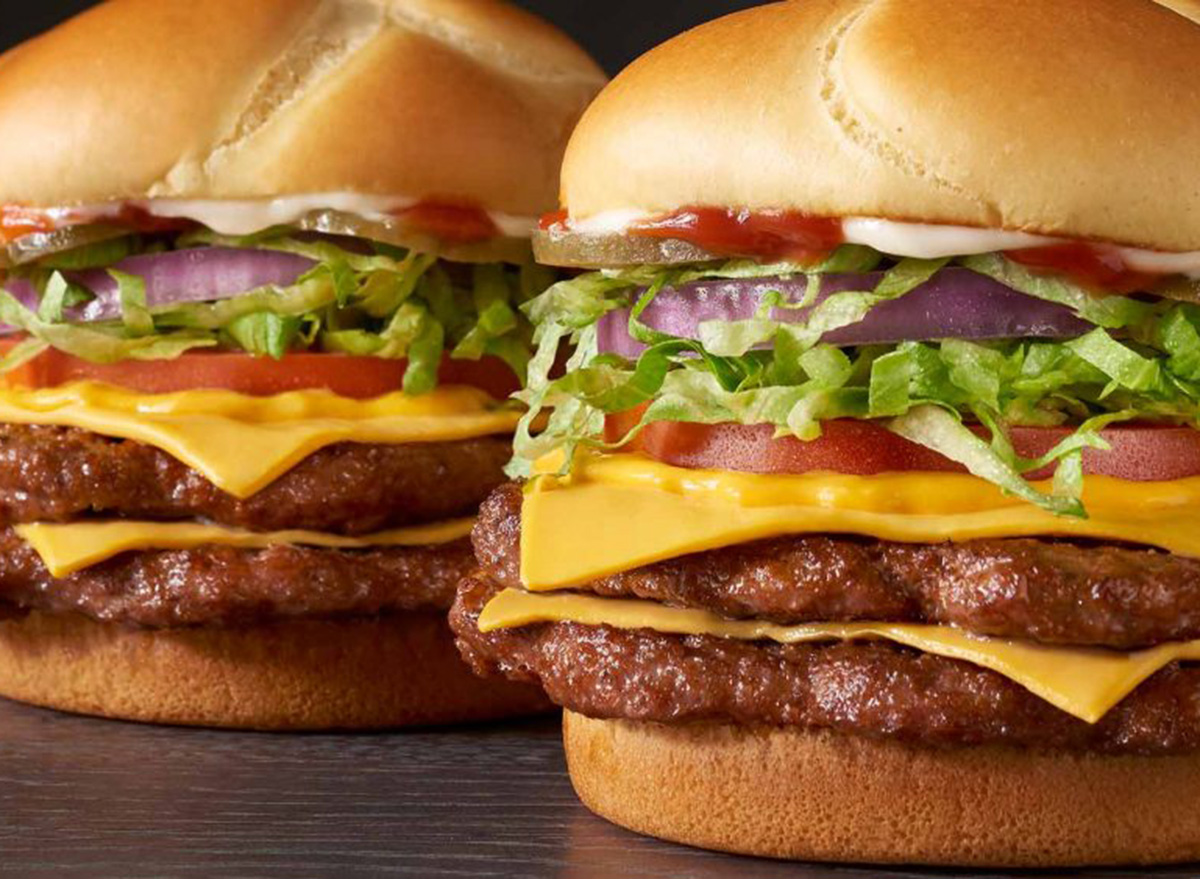 840 calories, (55 g fat, 22 g saturated fat, 2 g trans fat), 1,970 mg sodium, 41 g carbs (2 g fiber, 10 g sugar), 42 g protein
"I think many people could assume that anything with the words 'Texas,' 'Bacon,' and 'Big' in the title can't be the best for them nutrition-wise," says Iannone.
Nothing against Texas—but in this case, 1,970 milligrams of sodium and 840 calories—is just too big and too bacon-y.
"The unfortunate thing with items such as this is that it's 840 calories for one menu item," says Iannone. "Many individuals will probably pair this with a side of fries and a soda. If someone had the small fries and a 32 oz coca-cola with this burger, their total calories for the meal would be 1,490 calories. For just one meal!"
In short? Not worth it.
Chicken and Fish
Best: Spicy Chicken Sandwich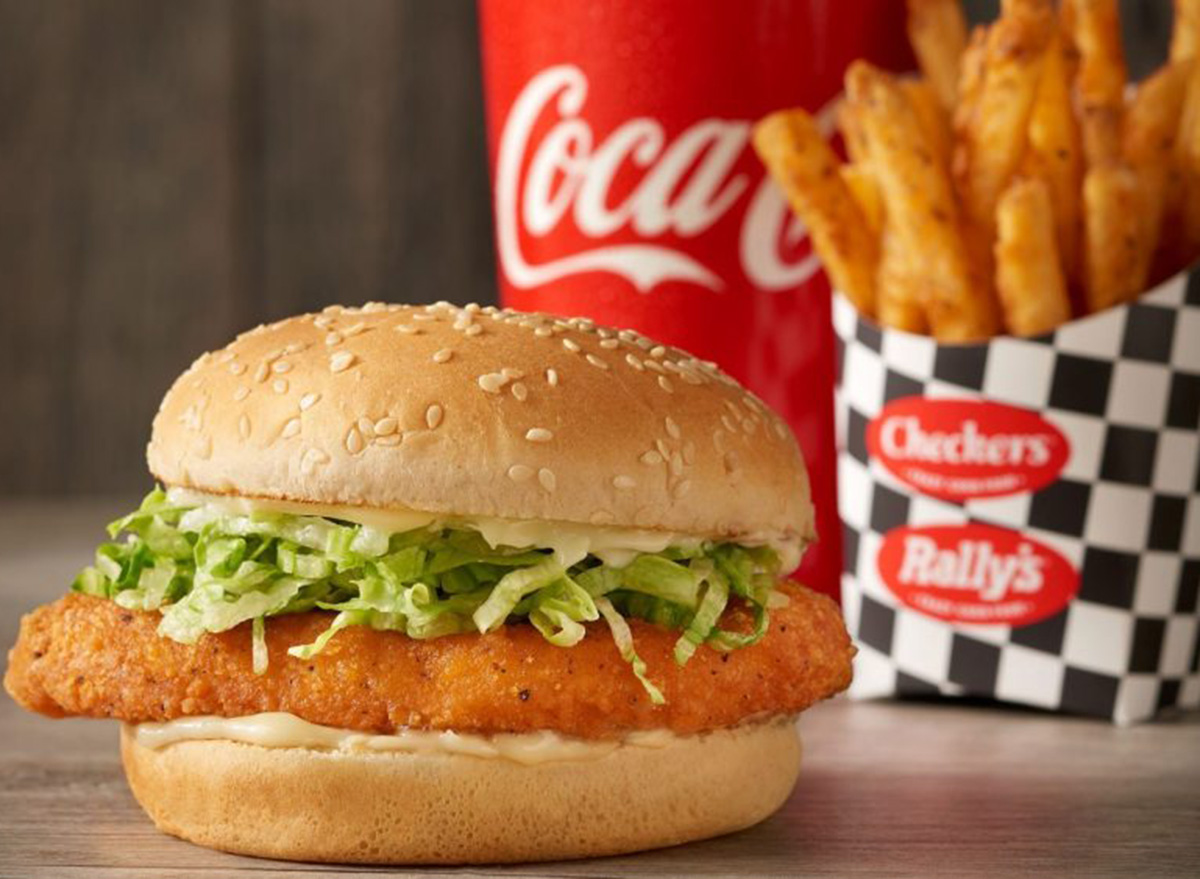 340 calories, (13 g fat, 4 g saturated fat, 0 g trans fat), 840 mg sodium, 40 g carbs (2 g fiber, 5 g sugar), 15 g protein
If you're looking for a chicken sandwich at Checkers, the Spicy Chicken is the perfect blend of sandwich fare and spice that will keep you full and satisfy your craving for something with a kick. Again, it's not an ideal meal featuring vegetables and high fiber, but it is one of the lesser of two evils on this menu.
"The calories, saturated fat, carbohydrates, and protein are all around passable numbers in the spicy chicken sandwich," says Iannone. "Nothing in the nutrition facts for this item is stellar, but it's definitely clear why the 'bests' are the 'bests' when you compare them to the 'worsts.'"
Best: Crispy Chicken Filet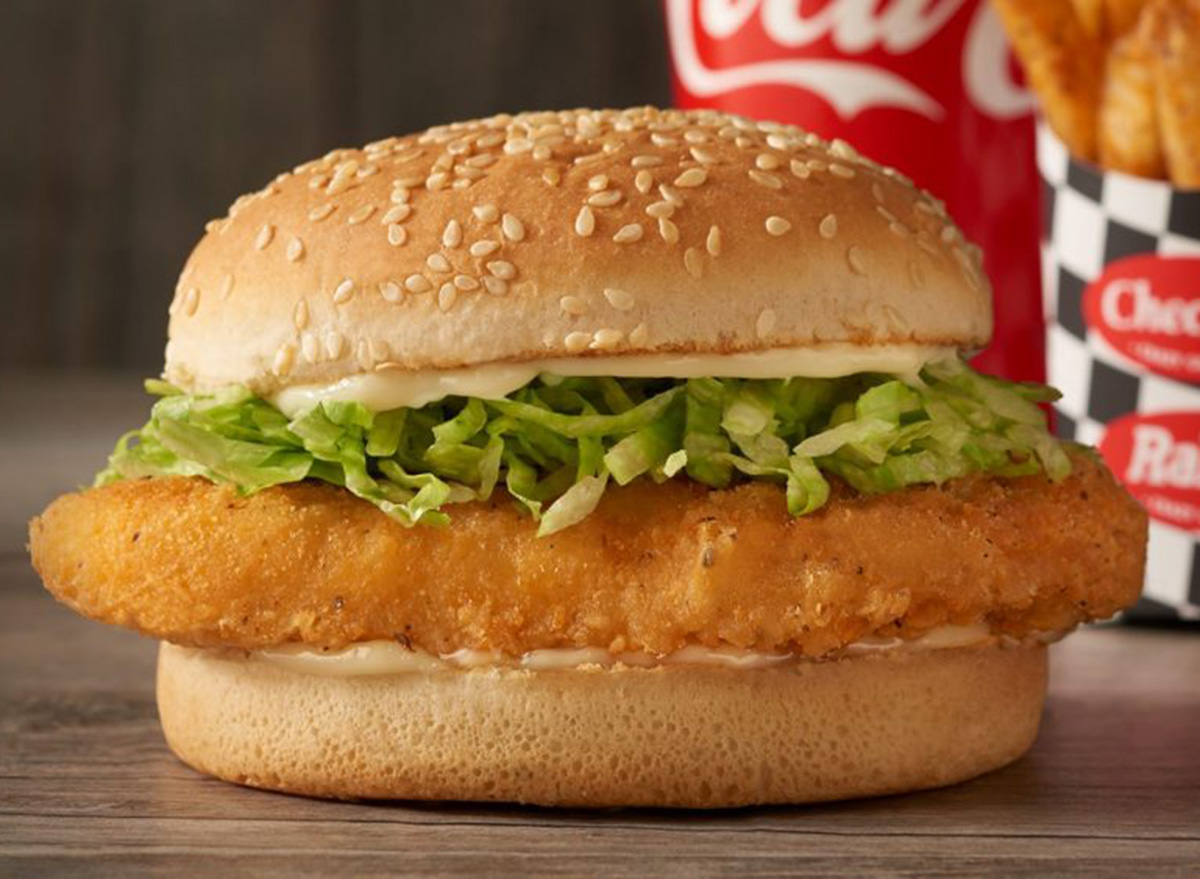 350 calories, (11 g fat, 3 g saturated fat, 0 g trans fat), 810 mg sodium, 42 g carbs (1 g fiber, 6 g sugar), 21 g protein
Craving crispy but don't want over 1,000 milligrams of sodium in one sandwich? We don't blame you. The Crispy Chicken Filet dish at Checkers is a much better option.
"With about 60 percent fewer calories than the triple crispy fish, this is a significantly better item in terms of calories," says Iannone. "It's also a good source of protein. Other than that, again this would be considered the better of the worse I suppose."
Worst: Triple Spicy Chicken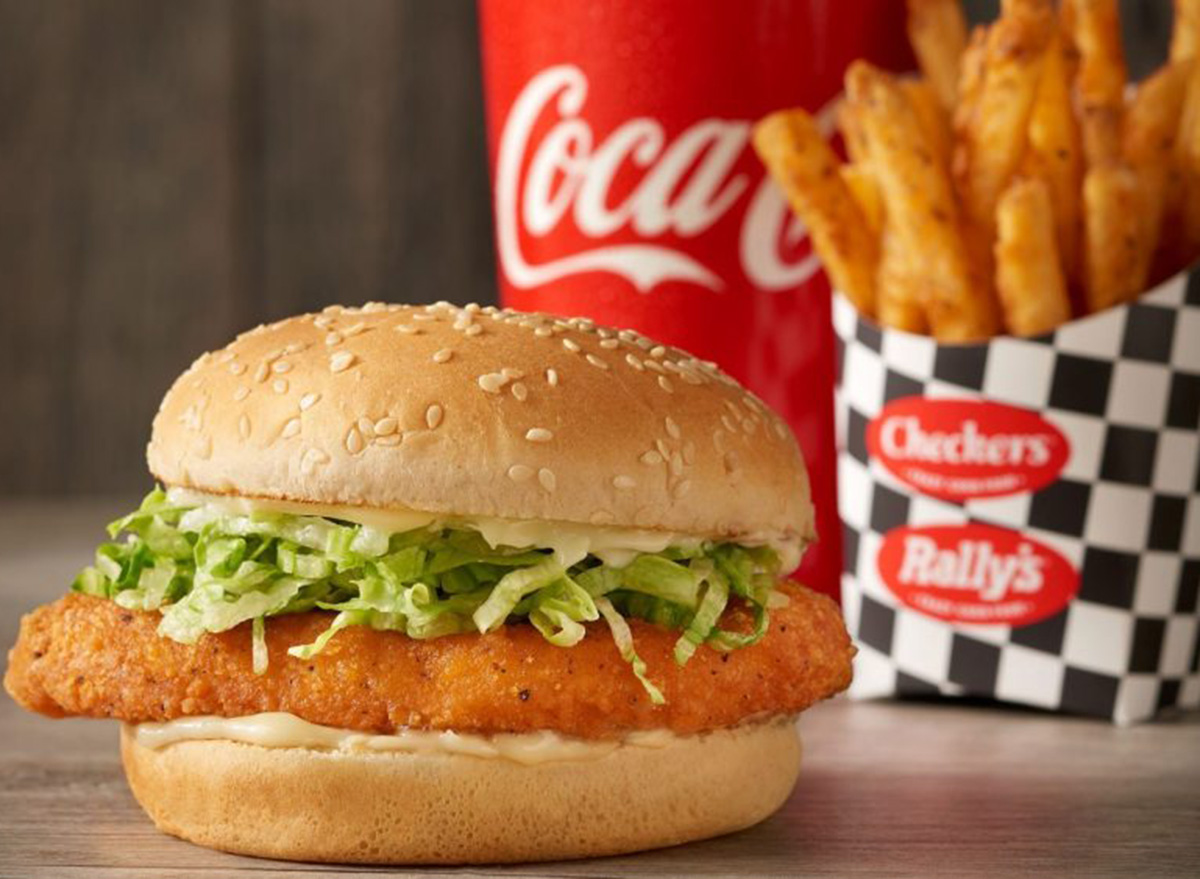 920 calories, (62 g fat, 19 g saturated fat, 1 g trans fat), 2,230 mg sodium, 54 g carbs (5 g fiber, 3 g sugar), 38 g protein
The saturated fat levels of the Triple Spicy Chicken dish are so much more than what's recommended.
"Based on a 2,000 calorie diet, we shouldn't exceed 7 percent of those calories from saturated fat, according to the American Heart Association due to its links with high cholesterol," Iannone says. "To translate that, if you're eating 2,000 calories per day that means you shouldn't exceed 15.5 grams of saturated fat per day. This item has 19 grams of saturated fat exceeding that limit (based off of 2,000 calories) in one menu item."
That's not all that is concerning about the Triple Spicy Chicken dish. It's also very high in sodium, another tell-tale sign that it's a dish you want to typically stay away from.
"The sodium is also extremely high at 2,230 milligrams of sodium, which exceeds the daily recommended maximum of sodium per day," Iannone says.
Worst: Triple Crispy Fish
890 calories, (52 g fat, 16 g saturated fat, 1.5 g trans fat), 1,140 mg sodium, 72 g carbs (4 g fiber, 7 g sugar), 33 g protein
The Triple Crispy Fish dish at Checkers might be one to skip. Sure, it's fish, but the "crispy" part of this dish is what, unfortunately, puts it on our worst list.
"Many may choose this item thinking they are making the better choice because it's fish. Unfortunately, we need to take into consideration how the menu item was prepared. Since this item was fried, the fact that we're choosing lean fish is pretty much negated in this case," Iannone says.
Fries & Sides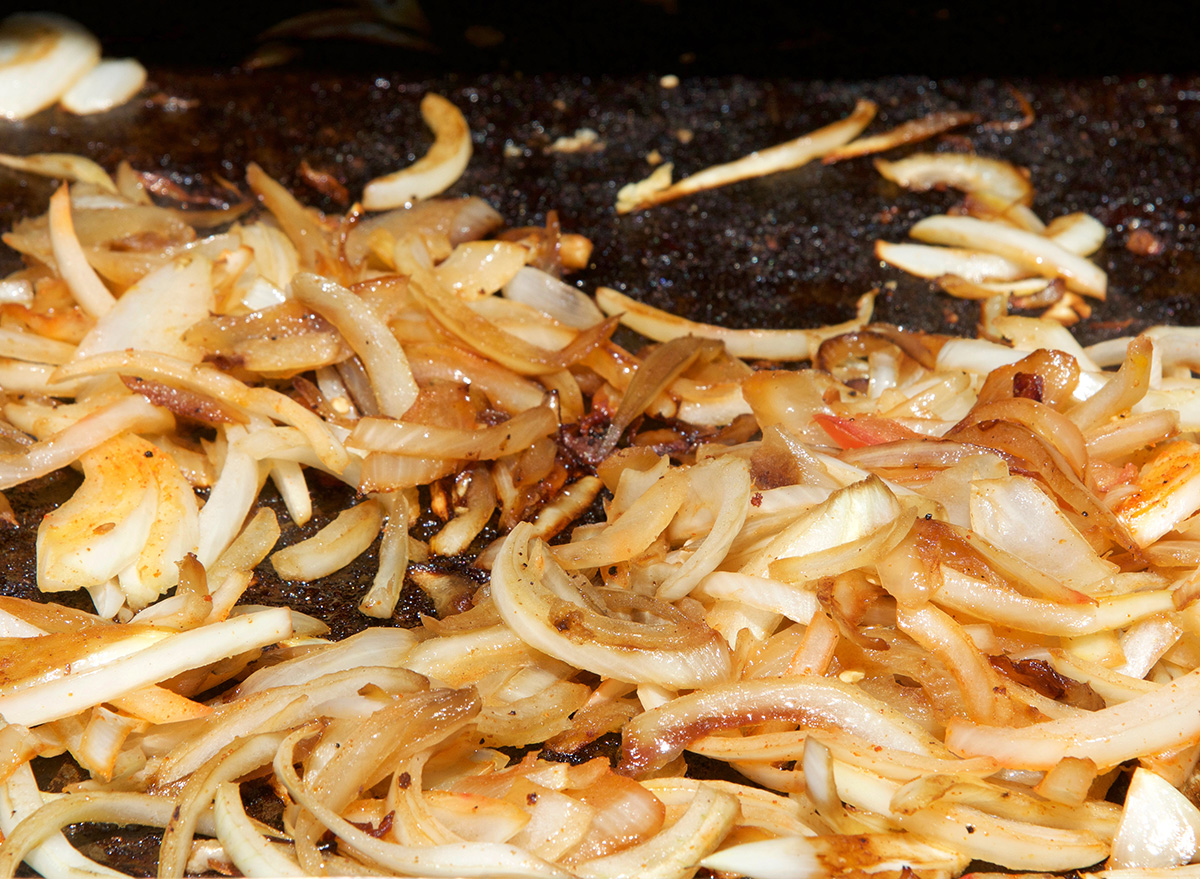 10 calories, (0 g total fat, 0 g saturated fat, 0 g trans fat), 25 mg sodium, 2 g carbs (1 g fiber, 1 g sugar), 0 g protein
No shocker here—a side of grilled onions seems to be the healthiest item on the Checkers menu. After all, it's the only "dish" that really includes a vegetable.
"Grilled onions are a great nutrient-dense way to pack on flavor and nutrients without a lot of calories," says Iannone. "Bonus is that onions are high in vitamin C, which helps with iron absorption, which is a win-win when pairing with a burger."
Worst: Garlic Parm Fries and Stix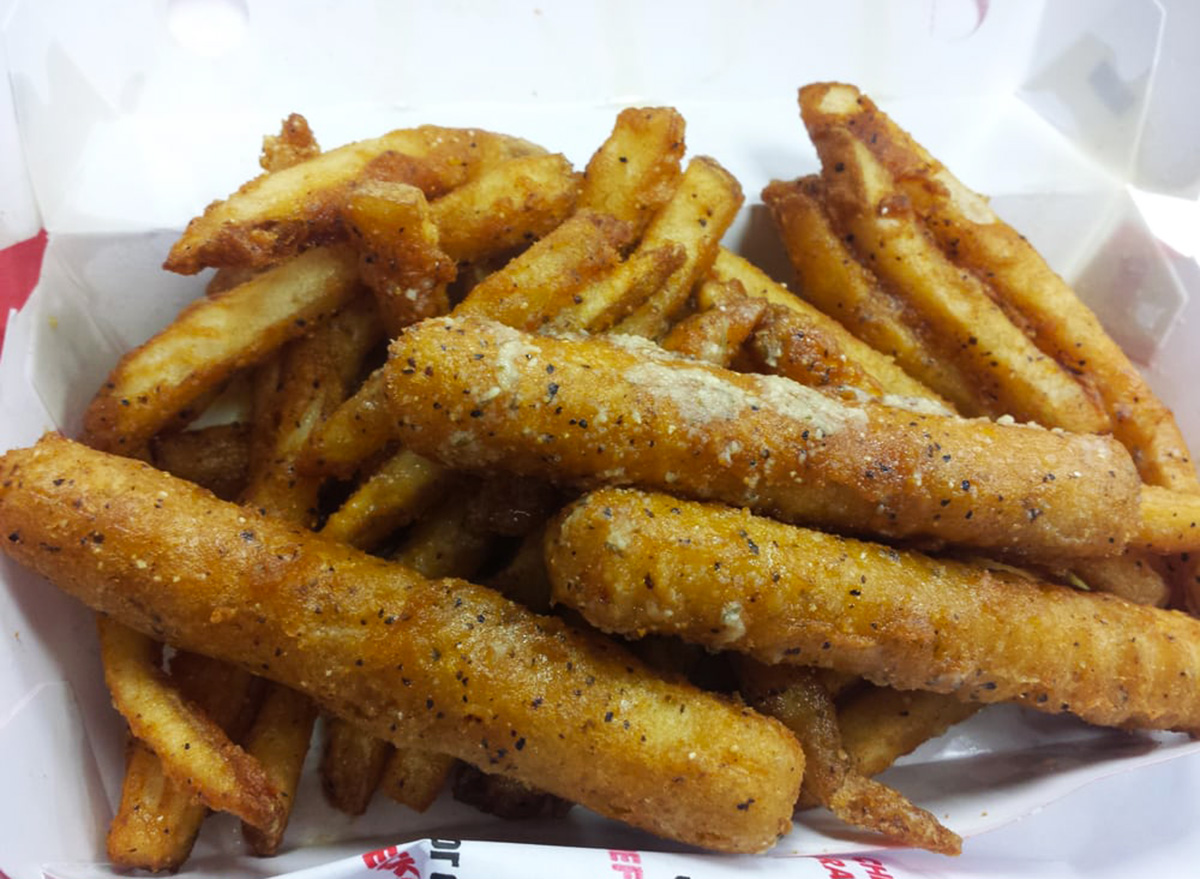 830 calories, (53 g fat, 21 g saturated fat, 2 g trans fat), 2,250 mg sodium, 70 g carbs (6g fiber, 3 g sugar), 18 g protein
Sometimes, we can't help it; even though we know better, we crave fries. They're delicious, they taste great with ketchup or hot sauce, and let's be honest, they taste even better with some seasoning.
The Garlic Parm Fries and Stix at Checkers are hot, crisp, and garlic and parmesan-seasoned to perfection. But they're also terrible for you.
"Aside from the obvious of the fat content because they're fries covered with cheese, the sodium at 2,250 milligrams exceeds our recommendation of 2,000 milligrams or less of sodium per day," Iannone says. "Assuming this isn't someone's only meal for the day, their total sodium for the day could easily total greater than 3,000, which is not good for anyone, but especially if an individual needs to watch their sodium intake for medical issues such as congestive heart failure, kidney disease, or hypertension."
Desserts and Shakes
20 calories, (0 g fat, 0 g saturated fat, 0 g trans fat), 35 mg sodium, 19 g carbs (0 g fiber, 5 g sugar), 1 g protein
We can't avoid dessert all the time, so it's totally OK to treat yourself once in a while.
"I always stress to my patients that desserts are OK to have on occasion if they're being smart about portion size," says Iannone. "With only five grams of sugar, this is a smart portion-controlled sweet treat compared to the loaded milkshake."
Worst: Loaded Milkshake—Caramel Cheesecake with Twix, 30 oz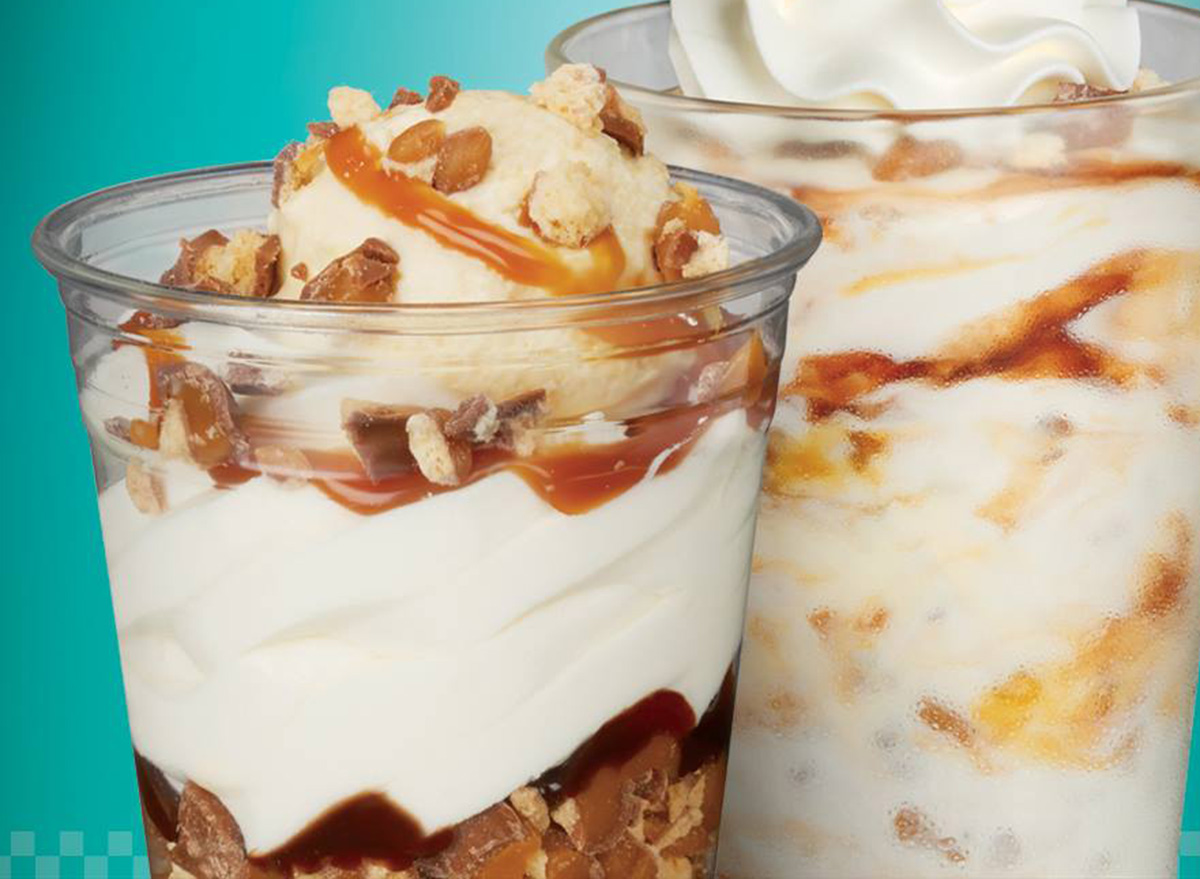 938 calories, 385 calories from fat (45 total fat, 32 saturated fat, 0g trans fat), 80 cholesterol, 580mg sodium, 128g carbs (2g fiber, 96g sugar), 13g protein
Ugh, milkshakes. They're delicious, but so not nutritious. After all, the ingredients are nearly all dairy.6254a4d1642c605c54bf1cab17d50f1e
"Besides its high-saturated fat content, this milkshake is certainly loaded….loaded with sugar that is! It has 96 grams of sugar, with the majority of that sugar being added sugar, as some comes naturally from the lactose in milk," Iannone says. "We recommend individuals don't exceed more than 6 teaspoons, or 25 grams of added sugars, per day to put that into perspective."
We all love a sugar high from time to time, but that fat content and added sugar is a buzzkill.
The Chill Stop
Best: Kool-Aid Slushie—Watermelon, 21 oz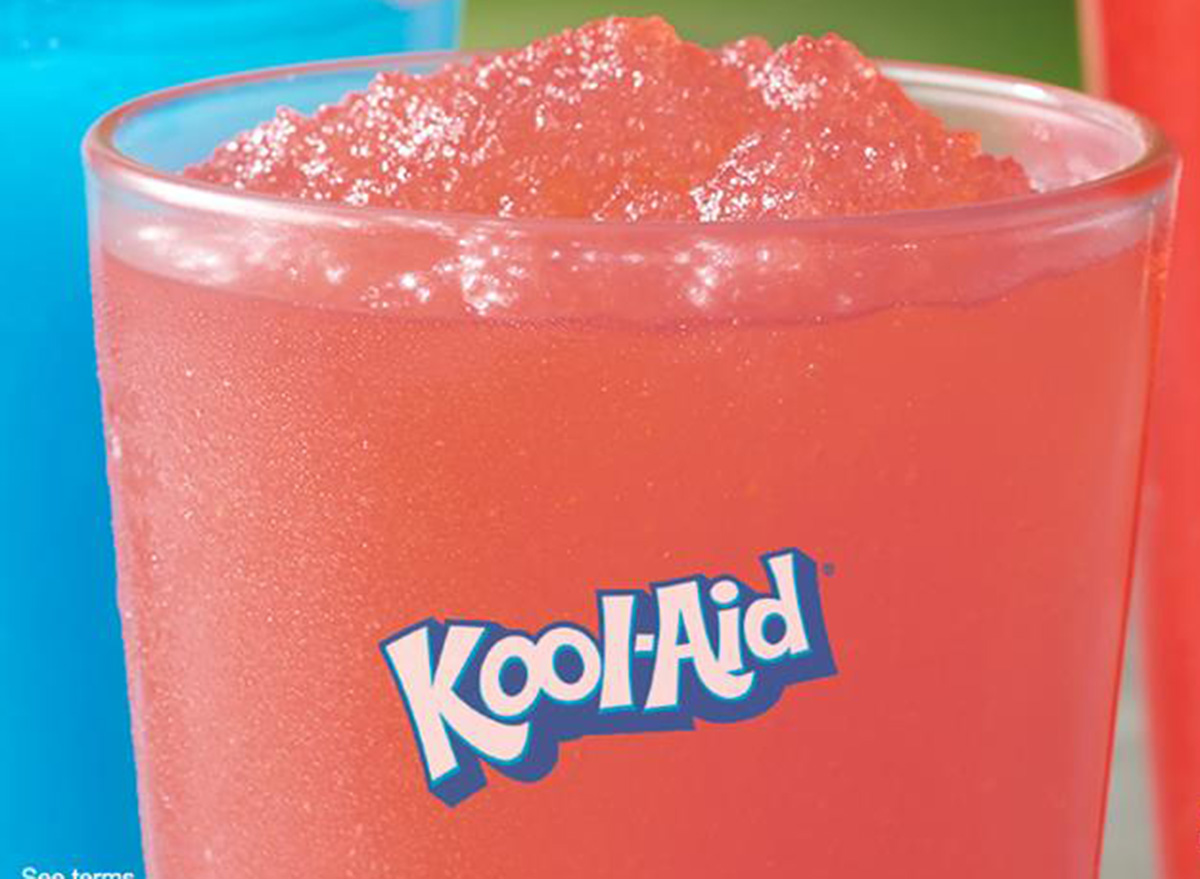 220 calories, (0 g fat, 0 saturated fat, 0g trans fat), 105 mg sodium, 55 g carbs (0 g fiber, 55 g sugar), 0 g protein
If you're craving something from The Chill Stop, don't worry. It doesn't have to be totally off-limits, as there are "better" options.
"Although this is better than the Caribbean colada, it still has 55 grams of sugar, which is still about 14 packets/teaspoons of sugar, exceeding the daily limit for added sugars,"  Iannone says.
Even though the Kool-Aid Slushie in Watermelon really is the lesser of two evils, you should be wary of how much added sugar is in this drink.
"Although they do taste yummy, sugary drinks are calorically dense and lack significant nutrition. Water is always the best choice when it comes to hydration, but if you must get your sweet fix from the Checkers drink menu, I'd recommend asking for half lemonade-half water for a slightly sweet drink to compromise and cut down half of the added sugar," Iannone adds.
Worst: Island Slushie—Caribbean Colada, 21 oz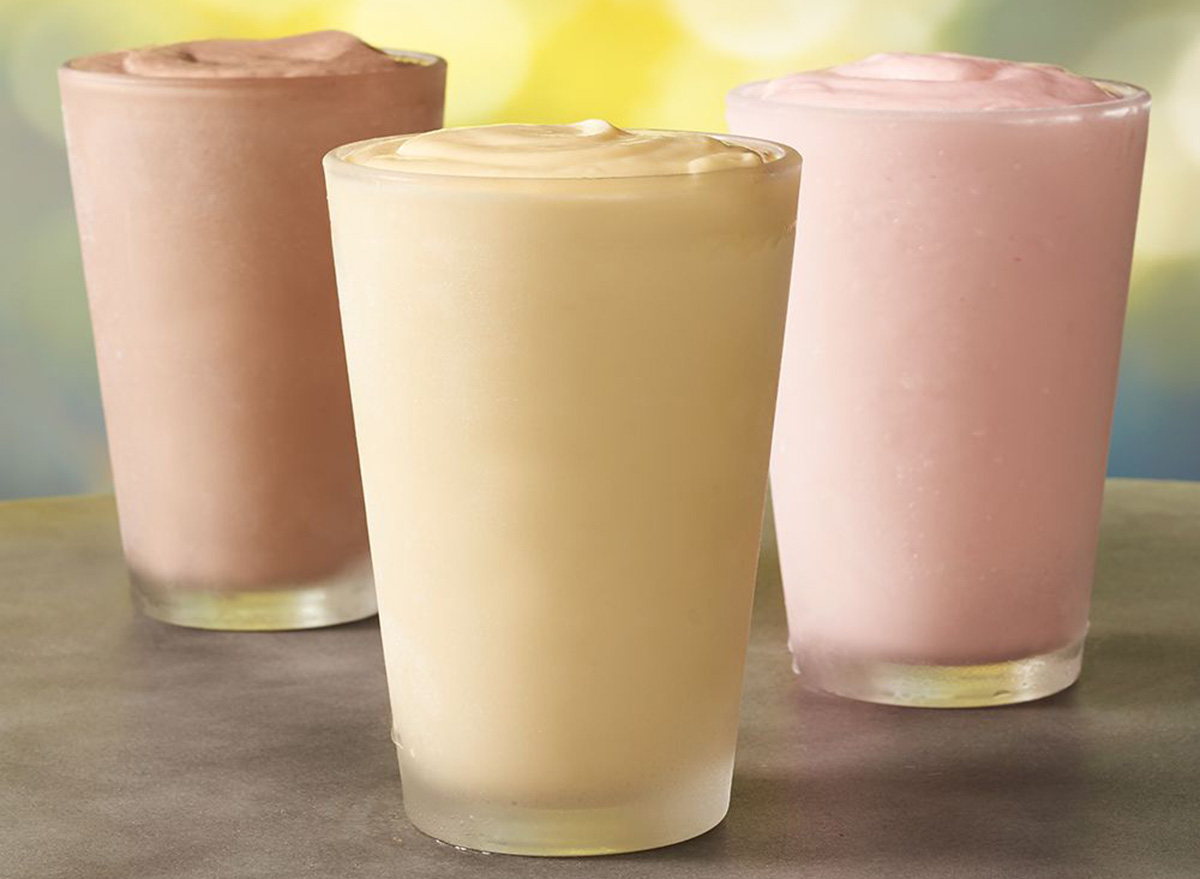 410 calories, (4.5 g fat, 13 g saturated fat, 0 g trans fat), 65 mg sodium, 99 g carbs (0g fiber, 95 g sugar), 0 g protein
One of the most unique aspects of Checkers' menu is The Chill Stop, a section for icy, slushy, creamy smoothies and other frozen drinks. While a lot of these menu items are delicious, they're also full of added sugar, so be wary.
"Shocker is that although this has roughly the same amount of sugar (95 grams) as the loaded cheesecake caramel cheesecake with Twix milkshake (96 grams sugar), this one would actually get the award for highest in added sugars, as there isn't any naturally occurring sugar (lactose) contributing to the total," Iannone says.
At least with the Loaded Milkshake, some of that sugar was naturally-occurring. Because there is no lactose in a Caribbean Colada Island Slushie, we can deduce that 100 percent of the sugar is added.
"Every 4 grams of sugar is the equivalent to 1 packet/teaspoon of sugar, which means that this drink has about 24 packets of sugar!" Iannone says.