17 Chefs Share Their Must-Have Thanksgiving Dishes
Can you guess which side was the most popular?
Thanksgiving is just around the corner, and while you might have classic dishes lined up, you might be looking for a little inspiration and who better to turn to for creative cooking than professional chefs? While they've honed their skills over the years—and many spend Thanksgiving making dinners for hungry restaurant-goers—they too have dishes near and dear to their hearts that continue to grace their Thanksgiving tables. Here are those dishes and their tips for making them. Plus, if you looking for an easy feast, we've got 30 Thanksgiving Recipes That Take 30 Minutes.
"I love a good biscuit with my Thanksgiving meal. It is the perfect way to make little sandwiches with the turkey, gravy, and stuffing and also to sop of all of the remains on my dish. My favorite tip is to brush a salted honey glaze on the top of the biscuit to give it a little salty and sweet flavor which works well with the savory dishes on my Thanksgiving plate."
Courtesy of Jason Santos, Chef/Owner of Buttermilk & Bourbon, Boston, MA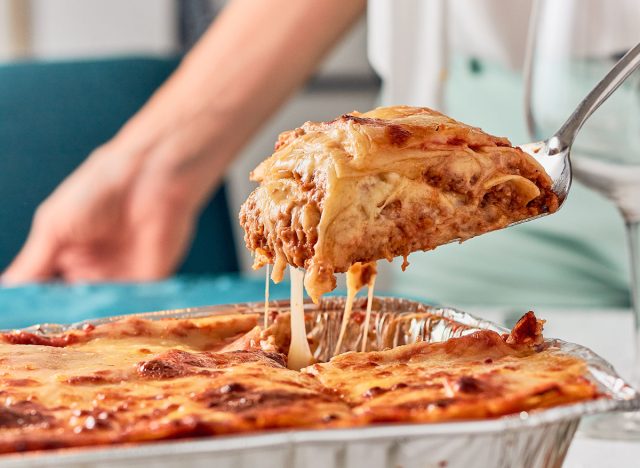 "Growing up my mom always made lasagna and it's always been my favorite dish during the holidays. I could never have a Thanksgiving without it. When I met my wife, her mom also always made lasagna. The two recipes are very close but I prefer my mom's (shhh). My mother-in-law does add small meatballs inside her lasagna, though, and I think that is a nice, unique touch inside the pasta."
Courtesy of Robert Sisca, Chef/Partner The Banks Fish House, Boston, MA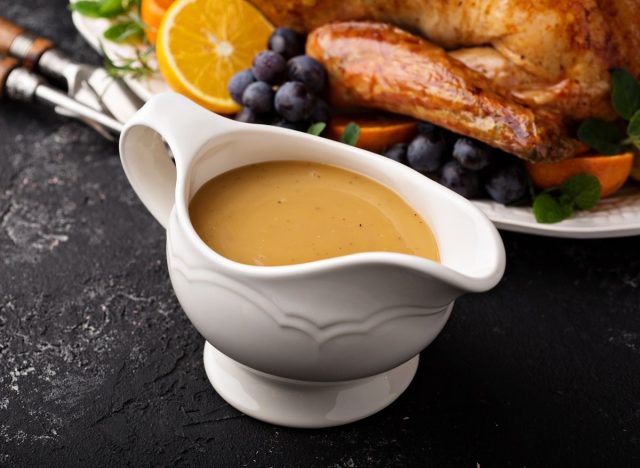 "I also love homemade gravy. When making the gravy, it's very important to use the drippings in addition to a fresh stock. You can buy fresh stock from the store but my preferred method is to make one following a whole chicken dinner earlier in the week that uses the leftover bones. This will make the gravy for the turkey much richer and more complex than buying the boxed stock. As a bonus, you can start the gravy a day in advance to save time making the other dishes."
Courtesy of Robert Sisca, Chef/Partner The Banks Fish House, Boston, MA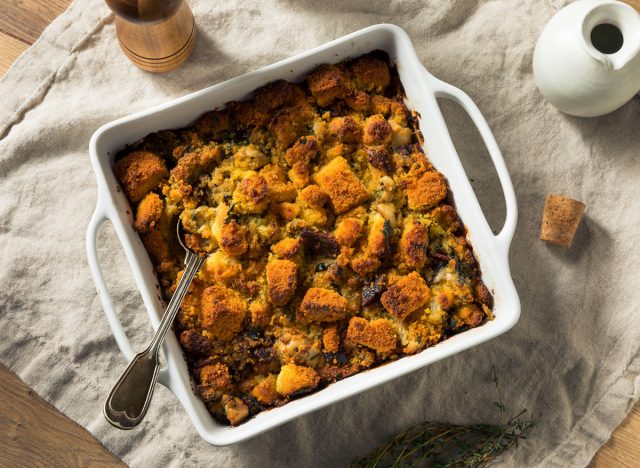 "You never really want to break tradition on Thanksgiving, but it's worth it to skip the Pepperidge Farm and Stove Top stuffing mixes. Get yourself a good sourdough and let it dry out. Add some high-quality chicken broth, a classic mirepoix with aromatics of sage and thyme, and really good sweet fennel sausage. You'll never go back! And cover that stuffing with as much gravy as you want. Thanksgiving is only once a year."
Courtesy of Valentine Howell, Executive Chef Krasi Meze + Wine, Boston, MA
Spicy, Smokey Mashed Potatoes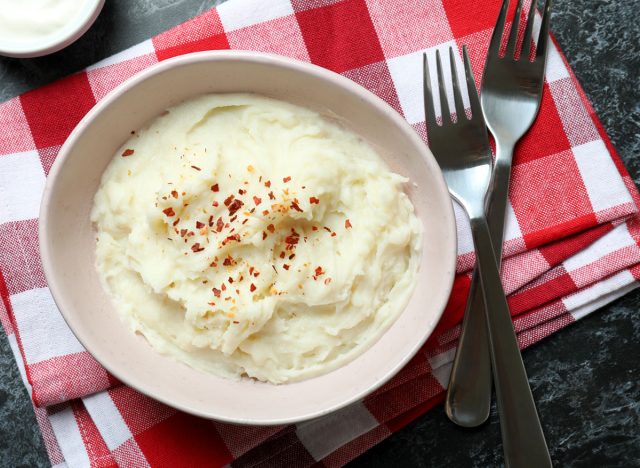 "Because I've been known to eat a Thanksgiving meal that consists almost entirely of mashed potatoes and gravy, I replace the cream and some of the butter in the recipe with an aromatic garlic- and chile-infused broth that I cook the potatoes in, resulting in lighter mashed potatoes that are BIG on flavor. Look for a smoky BBQ seasoning that does not contain sugar."
Courtesy of Jackie Alpers, author Taste of Tucson: Sonoran-Style Recipes Inspired by the Rich Culture of Southern Arizona, Tucson, AZ
Cornbread Green Apple Chestnut Stuffing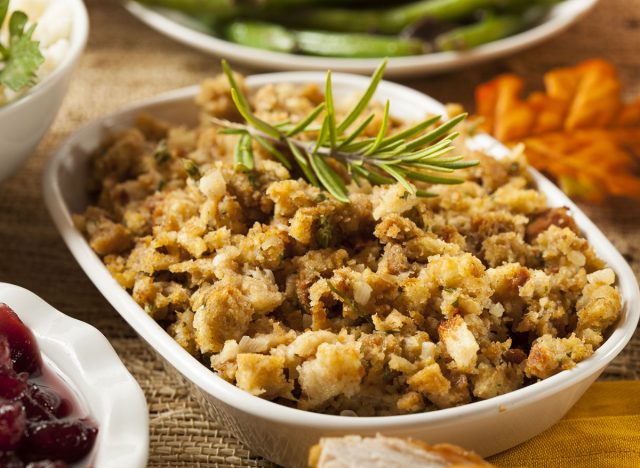 "Being raised on the East Coast, Thanksgiving is my favorite holiday by far! I loved helping my grandmother make her cornbread green apple chestnut stuffing. She had an apple tree in her backyard we would use those apples from her tree and on Thanksgiving morning we would make the stuffing it was to die for."
Courtesy of Michael Goodman, chef, Four Seasons Las Vegas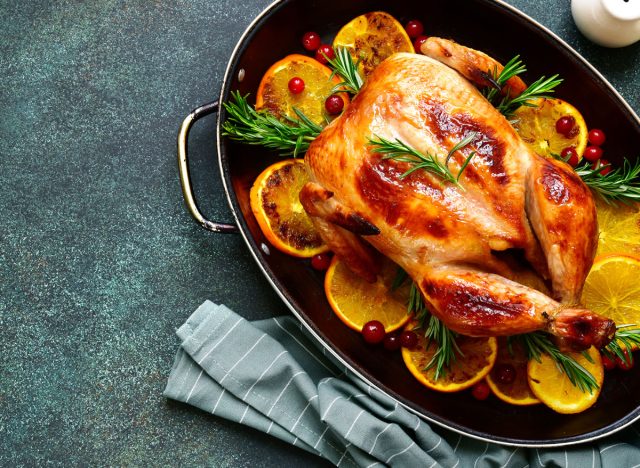 "I like serving chicken as an alternative to turkey for Thanksgiving. Especially this year, with many still considering smaller gatherings, a chicken is a great option. Plus, as a New Yorker, the ovens in New York aren't conventional to cook a turkey, and the bird can easily dry up at the wrong temperature. Chicken is also better because it's lighter. It won't leave you feeling heavy. Chicken unlike Turkey really retains all the flavors, and we can create a more exciting bite for our guests, like the guava glaze we do for our chicken at HOWM Cocina & Cocktails. Make sure you rest your chicken for at least 10 minutes, brining the chicken is very important to keep it juicy and flavorful, and cook the chicken slowly at 350F to achieve crispy skin."
Courtesy of Byron Penafiel, chef HOWM Cocina & Cocktails, NYC, NY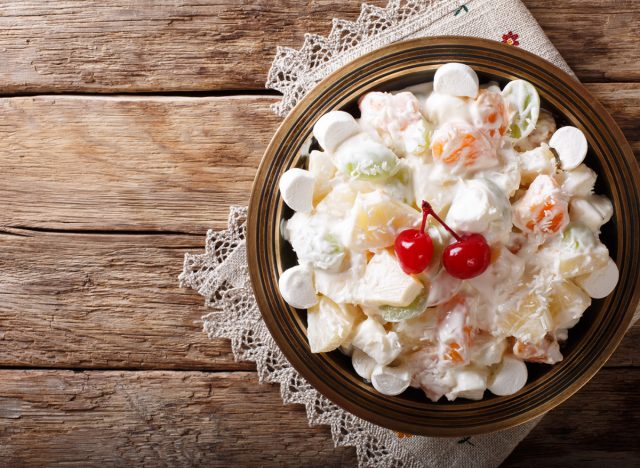 "Truth be told, my favorite thing to make at Thanksgiving is something called ambrosia. I am literally the only one in my family or circle of friends who likes it. It is essentially Jello, whipped cream, coconut, and canned fruit. Fight for it. Make the ambrosia a couple days in advance. Make extra for you, yourself, and you!"
Courtesy of Ron Silver, Chef/Owner Bubby's, NYC, NY
Green Bean Casserole with Lobster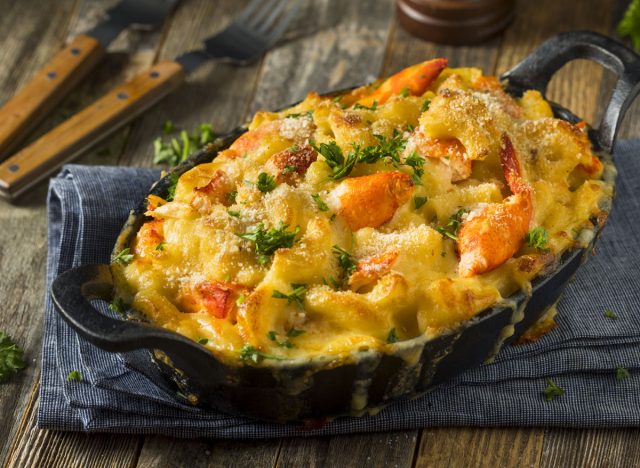 "My favorite Thanksgiving dish is a green bean casserole. It is a dish that isn't really made any other time of the year besides Thanksgiving but really should be. A way to make it my own and to make it authentically New England is to add lobster to it. This becomes a delicious, rich dish that is the star of the Thanksgiving plate."
Courtesy of Will Gilson, Chef/Owner of Puritan & Company, Cambridge, MA
"My favorite Thanksgiving dish is candied yams. This sweet and hearty meal is not a dessert, but it's still a table staple I like to indulge in. My pro tip is to boil your sweet potatoes before combining your ingredients to cut back on your baking time. Make sure to drain before mixing everything. If you follow this tip, don't cover your candied yams while baking, if you do you will end up with a lot of liquid."
Courtesy of Maxcel Hardy, chef COOP Detroit and JEDs Detroit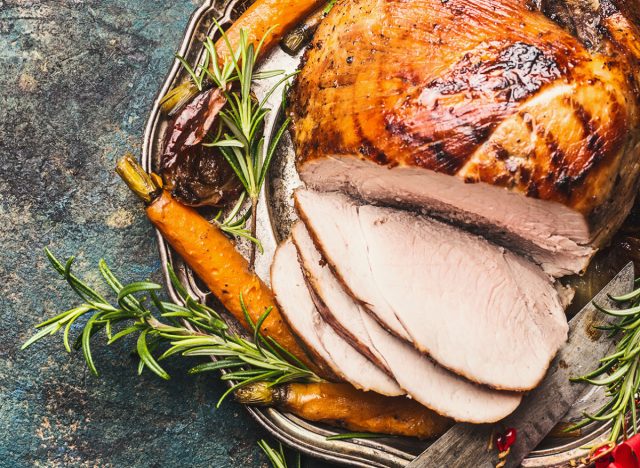 "The turkey is my favorite dish to cook, of course! After years of working on a recipe, I have perfected a turkey duet with a butter roasted breast, pan gravy, and confit leg and thigh with cranberry gastrique. The main reason why turkey breast is dry is due to the fact that when you roast the entire bird, by the time the legs are cooked completely the breast is overcooked. My solution is to separate the legs from the breast and cook separately. For the breast, I stuff herb butter under the skin and roast in a 475F oven to 'sear' the bird for the first 20 minutes or so. Then, I turn it down to 325F and slowly cook it to an internal temp of 160F…then let it carry over and rest for at least 30 minutes. The legs get a quick cure in warm spices, salt, and sugar, then confited in duck fat until almost falling off the bone…right before service the skin is crisped up to golden brown."
Courtesy of Robert Harris, chef Season to Taste, Cambridge, MA
"For Thanksgiving, I make my mother's 'Italian dressing' to go alongside the turkey. It's essentially a sausage dressing that combines fennel scented pork sausage, chopped beef, onions, garlic, celery, raisins, white wine, pecorino cheese, bread crumb, and the livers from the turkey. It's the perfect combination of sweet and savory with back notes of umami and earthiness from the cheese and livers. Plus the top gets super crunchy, which is the best part!"
Courtesy of Erin Miller, chef Urban Hearth, Cambridge, MA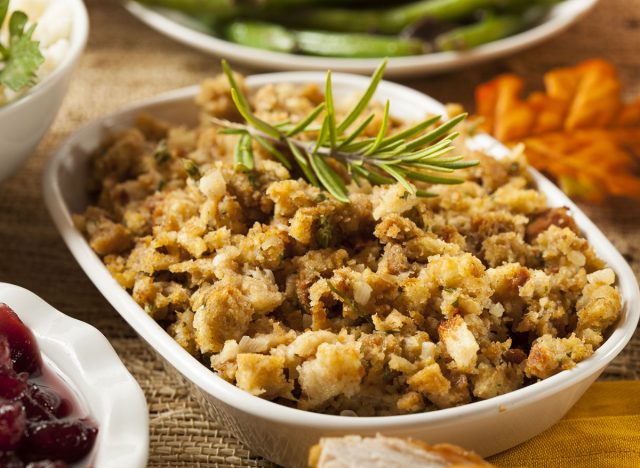 "Stuffing, hands down. My tip for great stuffing is the bread. I like to use a variety of fresh-baked breads. It's important to have a pain de mie (white loaf bread), sourdough, and a funky one like rye or a seeded bread. I make sure to let it get stale. Then I use a combination of EVOO and butter to toss the croutons. I use a fresh combination of herbs, parsley, thyme, and rosemary. Make sure to season with salt, pepper, and grated Parmesan. I toss everything together in a bowl and add some chicken stock and moisten up to soak up the bread but not turn it into mush. I then bake it in the oven covered for 20ish minutes until cooked through."6254a4d1642c605c54bf1cab17d50f1e
Courtesy of Eric LeBlanc, chef Red Heat Tavern, locations in MA, CT
Green Bean Casserole with Crispy Onions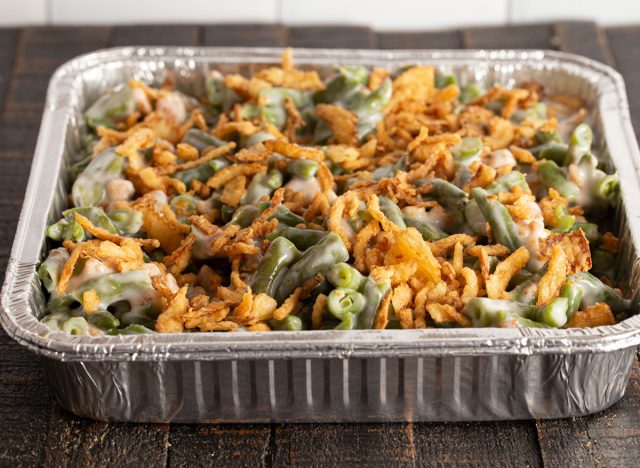 "My all-time favorite dish at Thanksgiving was always green bean casserole with crispy onions. My secret tip: Normally you make this dish with cream of mushroom soup as the base to bake it in, but this time of year is also matsutake season which is my favorite mushroom of all time. So I like to make a stock with matsutakes and then make a velouté with the reduced stock mounted with truffle oil and use that as my own fancy version of cream of mushroom. And if you want to really take it up a notch it is also white truffle season so finishing the dish with shaved white truffles really takes it over the top."
Courtesy of Ryan Skeen, chef, The Beehive, Boston, MA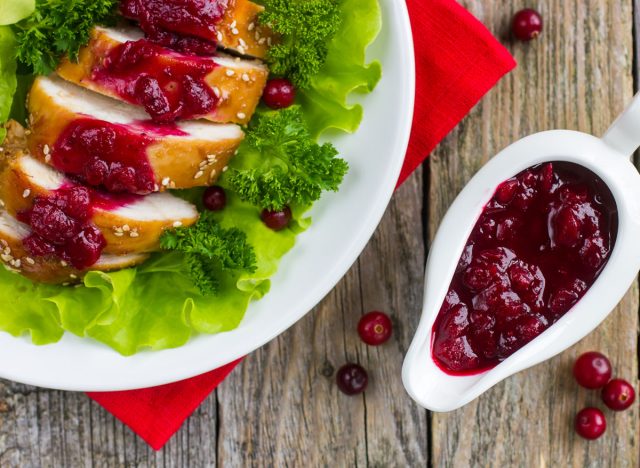 "I have to say Thanksgiving is my favorite holiday. The food is great, and the only real thing to worry about is not running out of booze. I'm a fan of cooking cranberry sauce. The tart cranberries are so acidic that they can cut through the fatty richness of the rest of the meal. Cranberries are native to Massachusetts for one, and a few years ago the main corporation that buys the majority of cranberries from the local farmers played hardball with them, so they were stuck with a ton of them. A few of the chefs in town agreed to take a bunch off of their hands. It was fun to find all of the ways to get rid of them. A food trick that I've been using for the last few years has been to put grated horseradish on the table. It satisfies the flavor junkies that crave spicy food, but it fits with the profile. And a wine tip—I've found some rosés that are rich enough to hold up with Thanksgiving food, and that can keep the red wine drinkers happy too. For beer: Stouts and Porters are the way to go."
Courtesy of Dave Becker, chef, Juniper and Sweet Basil, Wellesley, MA
Homemade Stuffing with Foie Gras
"I render foie gras scraps with the turkey hearts and livers, celery, onion, garlic, parsley, and chestnuts. Don't stuff the bird with the stuffing. Use aromatics like onion, garlic, celery, carrots, herbs, and citrus."
Courtesy of Dan Jacobs, co-head chef, EsterEv and DanDan, Milwaukee, WI
"It's not traditional, but my favorite Thanksgiving dish to make is marinated sweet potatoes glazed with fish sauce and bourbon barrel maple syrup. I slice the potatoes into 1/4-inch pieces and toss it with the glaze mixture, parsley, and chives. Then I pop them in the oven at 275F until they are slightly firm. Then, I finish them on a wood-fired grill until tender."
Courtesy of Dan Van Rite, co-head chef, EsterEv and DanDan, Milwaukee, WI
Get more essential Thanksgiving recipes and tips:
Tanya Edwards
Tanya Edwards is a seasoned food and health journalist, who has held roles at Yahoo Health as Managing Editor and at Food Network as Programming Director.
Read more about Tanya