30 Clever Cooking Secrets Only Chefs Know
Make your meals at home worthwhile by incorporating these tips from the pros.
Whether you're a bona fide chef or you're just cooking at home to save money, knowing how to whip up a few basic dishes in the kitchen is always a good skill to have. And if you're sick of takeout, this is the perfect opportunity to experiment with new recipes, switch up your tried-and-true favorites, and even host a dinner party with friends.
We talked to chefs to get their favorite cooking hacks to keep you happy and well-fed. They shared their expert tips for how to cook at home—and make it fun!
And for more, don't miss these 15 Classic American Desserts That Are No Longer Made.
Use sweet potatoes to make a snack.
"Sweet potatoes are always available at the store and can live in your cupboard for up to two weeks," says Oren Zroya, private celebrity chef and creator of Radical Pan.
Slice them into wedges with some olive oil, salt, and pepper, and stick them in the oven at 425 degrees Fahrenheit for 20 minutes. "You get a sweet, delicious snack or side dish out of one single potato," says Zroya.
Get creative with the foods you have.
Can't get to the grocery store? Get creative with what you already have! For example, grab that can of chickpeas that's sitting in the back of your cupboard. "It could be turned into a hummus dip, a delicious curry, or a nice added protein to your salad," says Zroya.
Make your own tomato sauce (and lots of it!).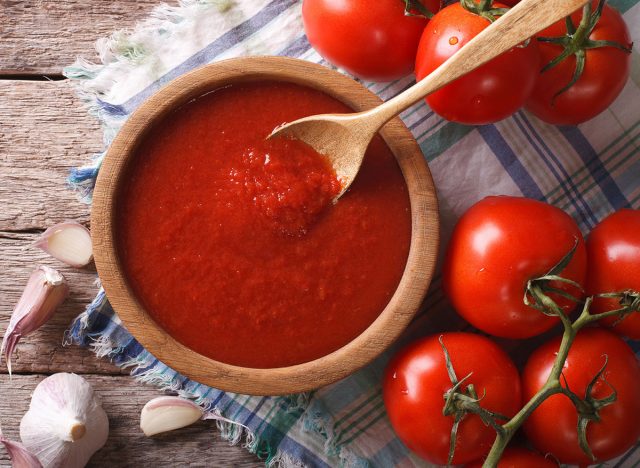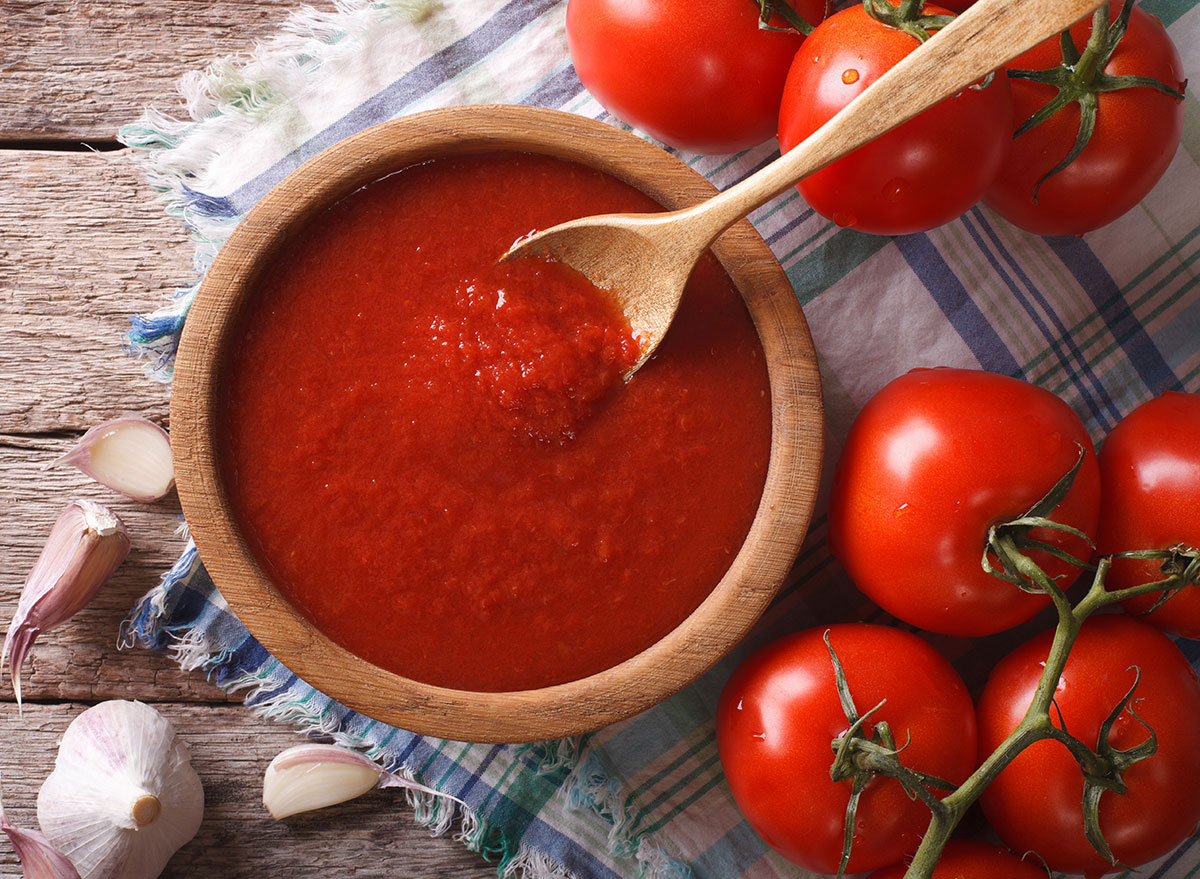 According to Zroya, making tomato sauce doesn't need to be complicated—so there's no time like the present to take a stab at it. Find a can of any tomatoes and add some garlic, fresh or dried basil, and a touch of olive oil. "The result is as good as—maybe better than—the [grocery store] jar," says Zroya.
Bryan Rhodes, chef at 619 Spirits Distillery & Tasting Room in San Diego, says an easy tip for the week is to make a large batch of sauce and then portion, freeze, and pull out the appropriate amount each day to make a meal. For example, he suggests making a big batch of marinara sauce and then making meatballs stewed in the sauce on Monday. On Tuesday, you can make flatbreads with sauce, cheese, and veggies. On Wednesday, toss it in with whatever dried pasta you have on hand.
"Finally, you can add some Worcestershire sauce and hot sauce and Vodka and make a Bloody Mary," Rhodes says. Sign us up!
Use up those canned beans.
Raise your hand if you have random cans of beans in the back of your cupboard. Well, now is the perfect time to put them to good use.
"Think about turning them into a delicious dip or even putting them over rice," says Zroya. It's common for cans to sit around when they could be turned into something delicious—and they easily add protein to any dish.
Discover the joy of repurposed leftovers.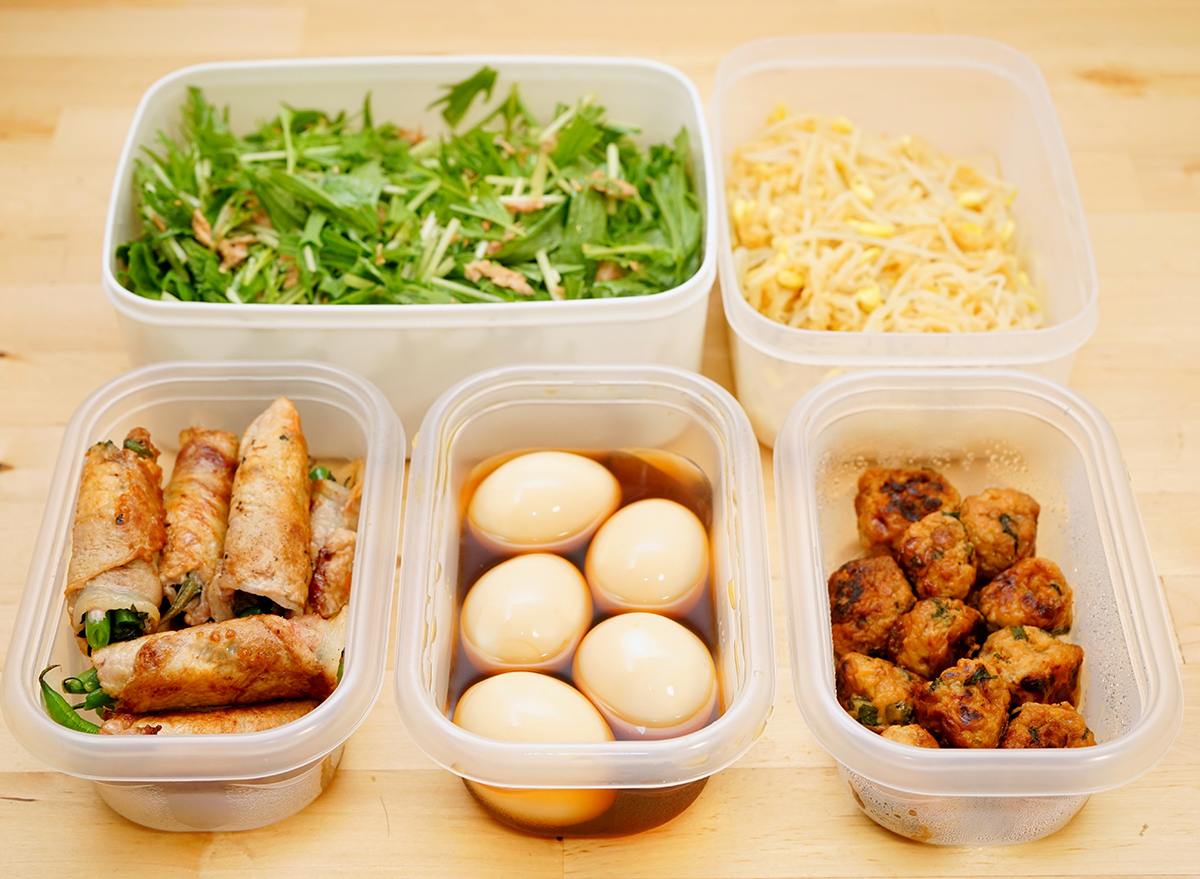 Dave Anderson, executive chef of Outstanding Foods, has three teenagers who avoid leftovers at all costs. So he found a way to make leftovers fun and tasty.
"One night we'll have a simple meal of black beans, brown basmati rice, and a few sautéed and roasted vegetables (sautéed black kale and roasted carrots, for instance). Simple, tasty, nutritious," says Anderson. "The next day we'll have burritos or tacos—the black beans are refried, the rice becomes Spanish rice, the veggies go in as they are, and we'll whip up some salsa and guacamole."
But that's not the only option—from the very same leftovers, you can also make homemade veggie burgers, a soup or stew, or a ranchero tofu scramble. "The fun is in challenging yourself to be creative with the leftovers because the possibilities are truly endless," says Anderson. "We'll purposely make large batches the first night so that there is plenty left over for a few more meals. It can be a real time-saver in the kitchen!"
Ian Rough, regional chef for Cameron Mitchell Restaurants, also recommends thinking long-term and making a few dishes to last. For example, something you can make and then use for days to come when you need a quick meal is a big pot of tomato soup. "Add a few grilled cheese sandwiches, and you have a meal in no time," he says.
Another favorite "long-term" dish in his household is veggie chili, which the family eats with corn chips and fresh avocado.
Mix up your favorite recipe.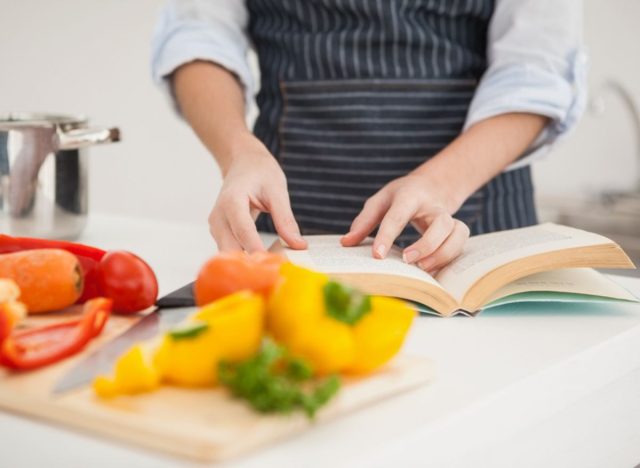 Chef Marcus Mooney of Sutton's Healthy Eating in Seattle recommends starting with one of your favorite recipes and simply swapping out one item to give it a new taste, make it healthier, or save some money.
"For example, if you have a favorite chili recipe, see how using ground turkey instead of ground beef makes your recipe healthier and less expensive," Mooney says.
Use a variety of spices.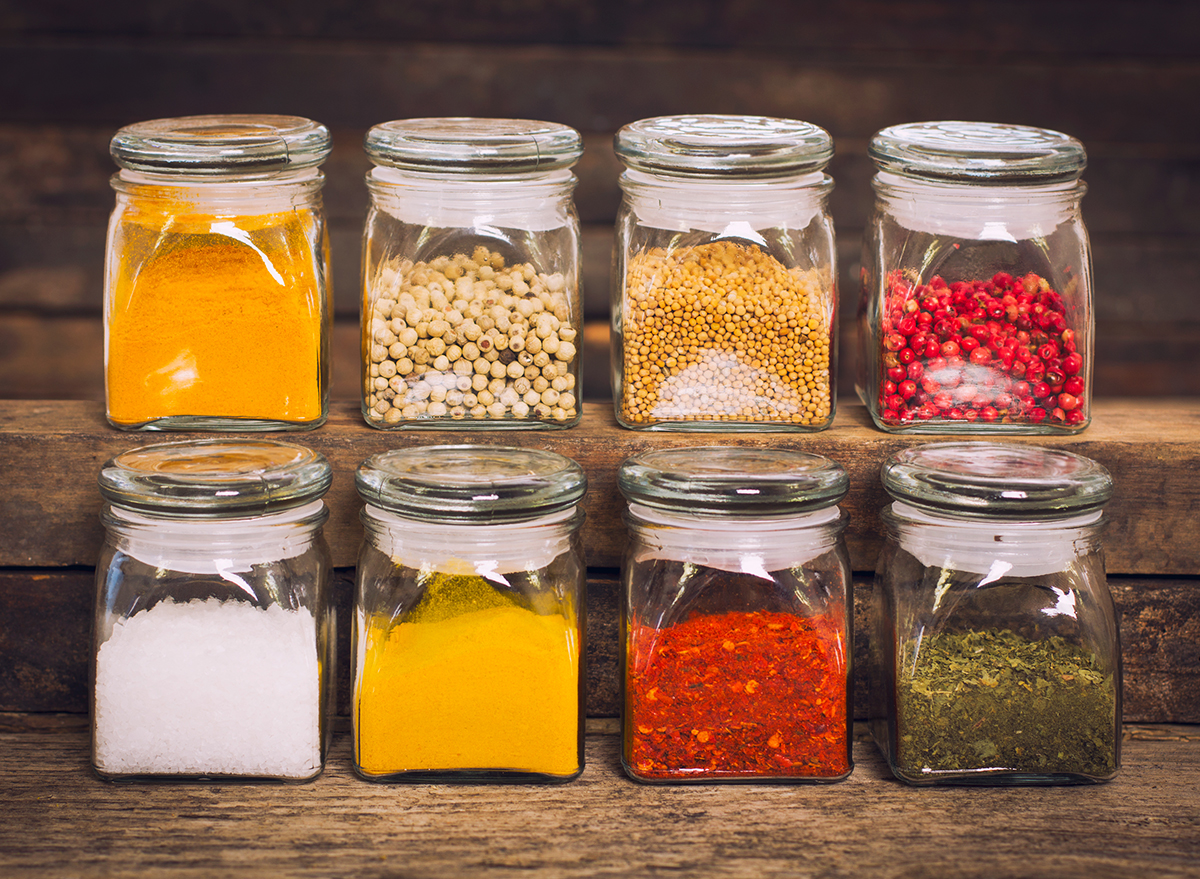 "A variety of spices is essential," says Collin Leaver, former chef at Pitfire Pizza in Los Angeles. "Herbs and spices are a crucial aspect to any pantry, and the shelf life for most will last a long time." Just a pinch of spice can add exceptional flavor and an element of surprise to your plate.
Elevate your snack game.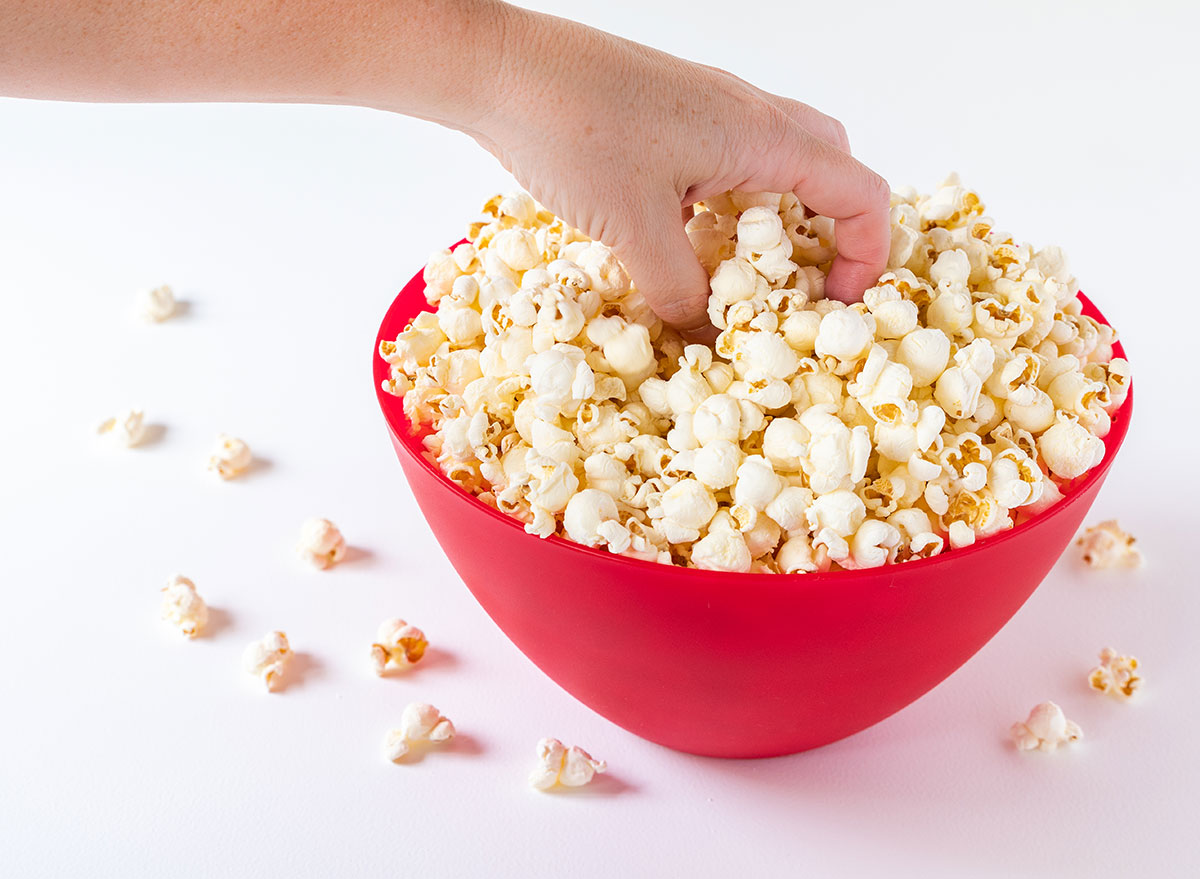 Being at home is the perfect time to elevate your snack game with a new, feel-good staple that pairs perfectly with a relaxing movie and refreshing cocktail. "I look forward to making my spicy truffle popcorn," says Lisa Dahl, executive chef, and owner of Dahl Restaurant Group.
Dahl provided us with her favorite recipe: First, cover the bottom of a deep saucepan with a tight-fitting lid with EVOO and kernels out of the package. When the kernels start to pop, do it the old-fashioned way and shake, shake, shake until they're all popped.
While the popcorn is still hot, put it in a large mixing bowl that's big enough for tossing and add in butter, light truffle salt, and an Ahi Amarillo spice to give it an exotic taste.
"Here's the fun part—you can add any spice you want to make it your own," says Dahl. "From chili pepper and thyme to cayenne pepper and coriander, you can really utilize those extra spices in your spice rack with this one and make it different each time."
Use the "first in, first out" rule.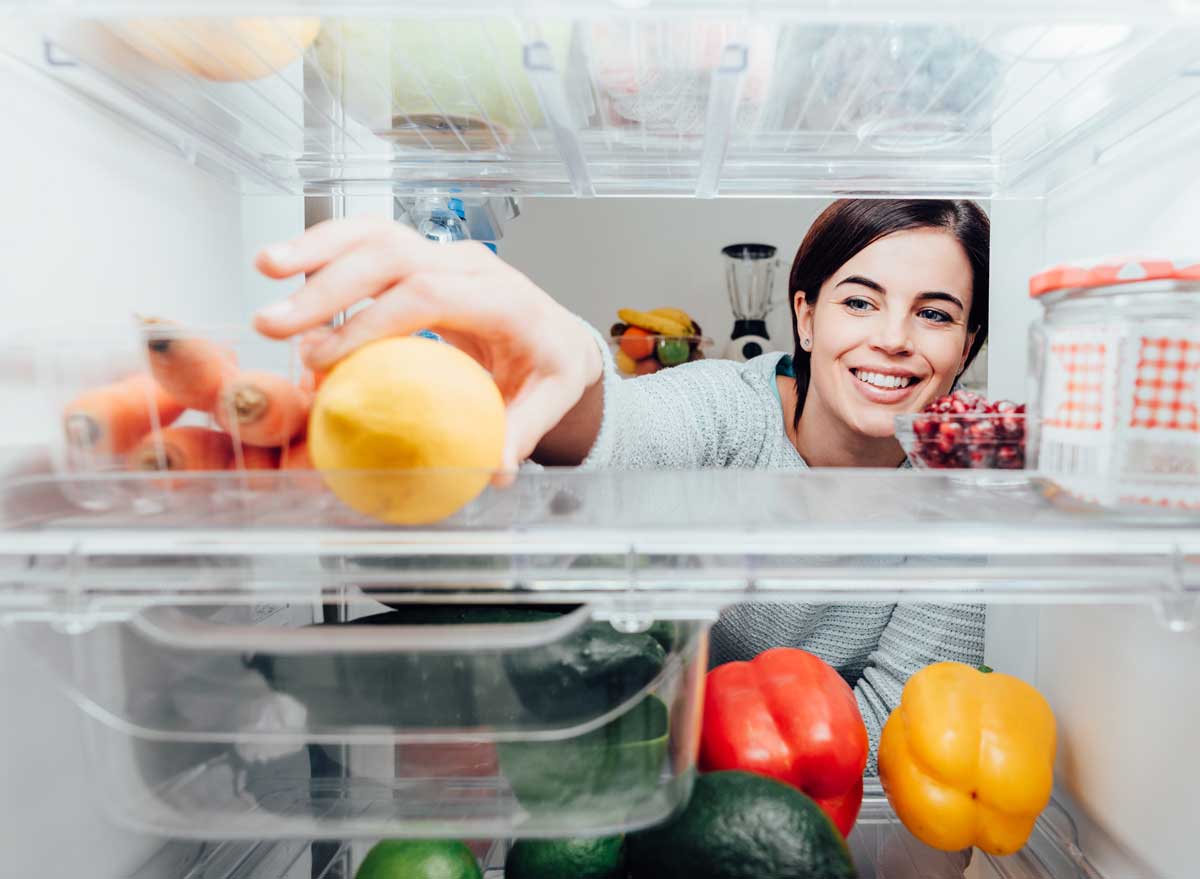 Michael Ollier, senior corporate chef at the Certified Angus Beef brand, shared that his very first rule of cooking is to always use the FIFO method: First In, First Out.
"Rotate your perishables and always use older items first in order to not waste any of your perishable items," Ollier says. "It's a good idea to do this with meats you currently have in the freezer, too."
Make more than one meal at a time.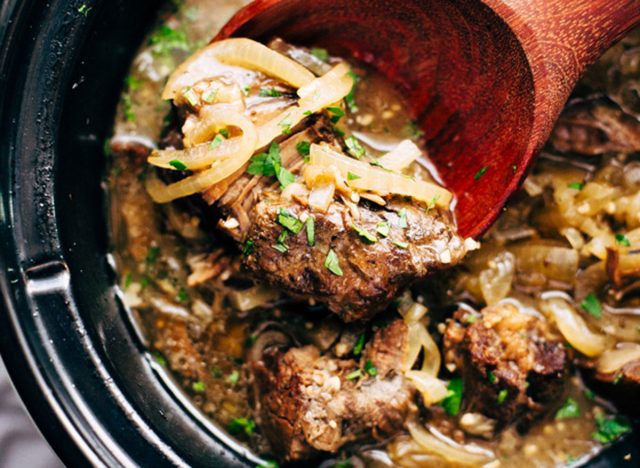 "Larger cuts, like roasts, are great for 'cook once, eat twice' meals," says Ollier. For example, you can make an easy pot roast using a chuck roast and can shred leftover beef and make sandwiches, tacos, or even omelets. Leftover steak can be sliced and used for a steak salad.
"If you purchased larger-sized packages of ground beef, you can use a portion to make meatballs, use some for dinner tonight, and freeze the remaining for dinner another night," says Ollier. If you prepare a lot of meatballs, freeze them in dinner-size portions so you can pull out what you need at a later date. Use the remaining ground beef for other dinner ideas that you can make now and freeze later, like stuffed poblano peppers or cabbage rolls.
Get out your grill and/or smoker.
It's always a good time to break out your grill or smoker. Ollier suggests making a brisket, like this Texas-style smoked brisket.
Use healthy substitutions.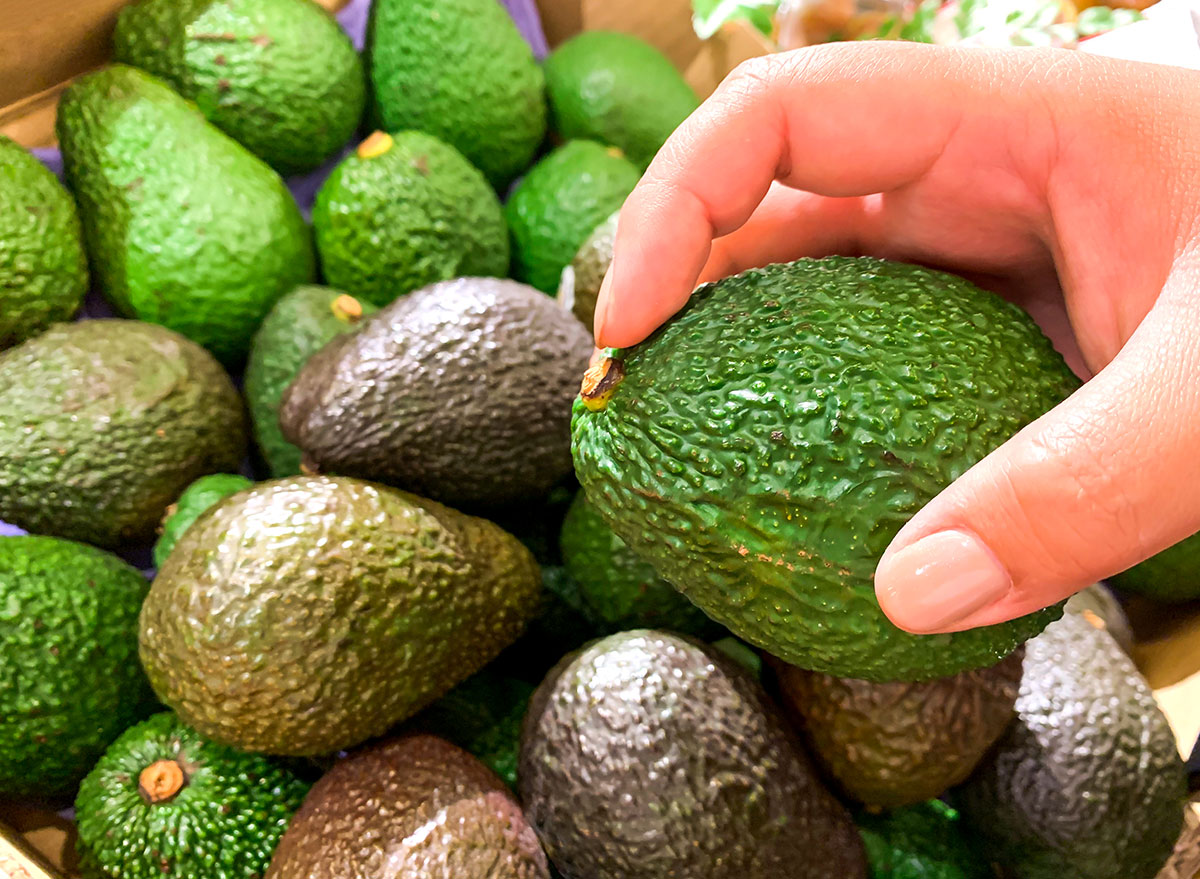 Michelin-starred chef and cookbook author Aliya LeeKong suggests swapping healthy substitutions for everyday ingredients to help maintain your goals while cooking at home. For example, LeeKong recommends using avocado instead of mayo; quinoa instead of oats; whole grains instead of bread or breadcrumbs; and maple sugar instead of refined sugar.
Bake bread and dough.
Christian Frangiadis, the James Beard-nominated chef at Spork restaurant in Pittsburgh, says that making bread actually isn't that difficult—it just takes time, and most of that time is spent waiting. Meanwhile, Soo Ahn, executive chef at Adalina in Chicago, recommends that home cooks try making their own pizza or empanada dough.
"The recipes are really easy, and you can find all the ingredients at a grocery store near you," says Ahn. "At the end of the week, you're usually left with an abundance of leftover food." Instead of throwing the food away or freezing it, Ahn suggests making some creative empanada fillings or fun pizza toppings.
"The other day, I made an empanada with leftover braised short rib and risotto. It was absolutely delicious," says Ahn. "Not to mention, this dough lasts up to five to seven days."
Use "carry-over" proteins.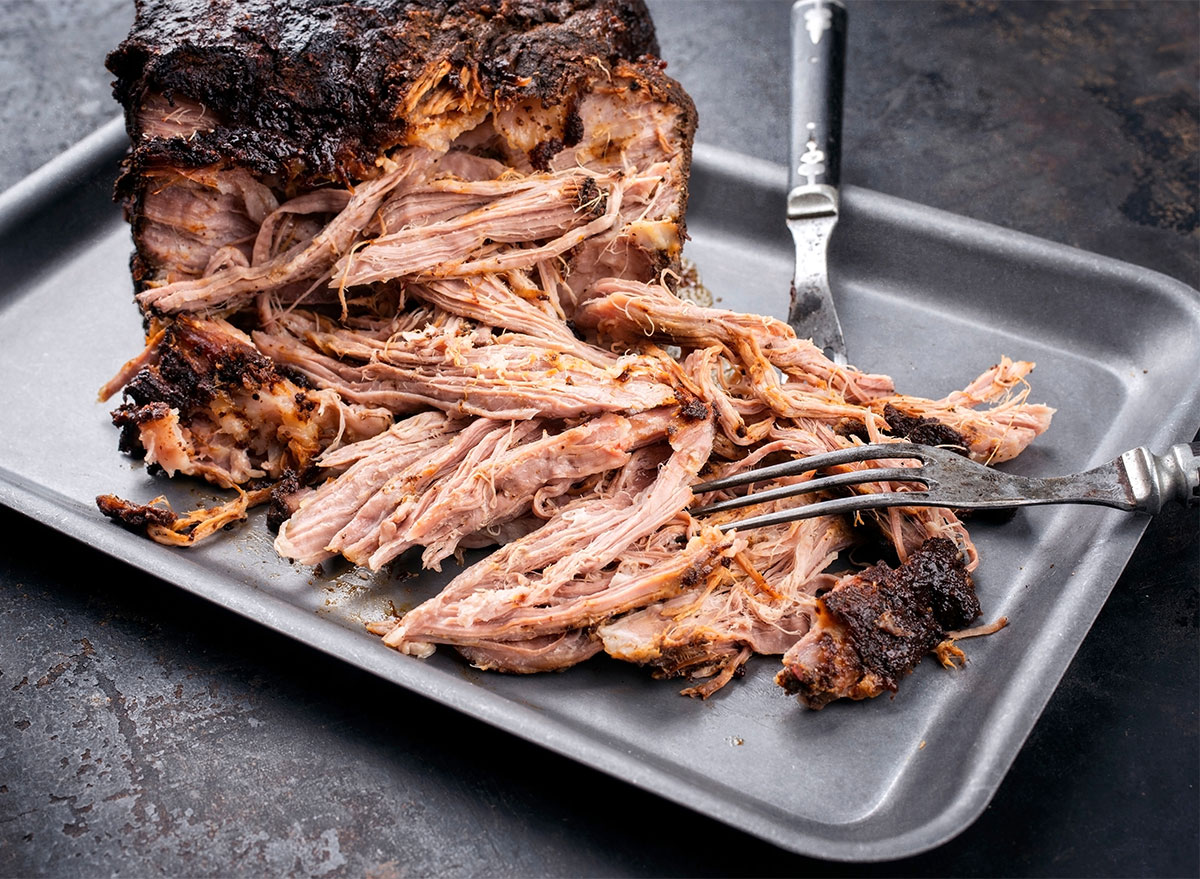 Chef David Santos of Um Segredo Supper Club and Good Stock in New York City recommends using carry-over proteins.
"For instance, sometimes I'll make a large pork butt, cooking it simply with universal seasonings like salt, pepper, and herbs," says Santos. From there, you can make several different meals by adding various ingredients. For example, add your favorite BBQ sauce to some of the meat and make pulled pork sandwiches. The next day, add taco seasonings to make tacos and quesadillas.
"If you still have meat left over, you can do an amazing hash and eggs for breakfast," says Santos. "Doing it this way has the benefit of making different meals instead of eating the same thing for days."
Incorporate flavors from other cultures.
"When I'm running out of ideas for homemade meals, I think about how to incorporate different countries," says Derek Dupree, recent executive chef at Bernie's Chicago. For example, one night he'll make a Mexican recipe, and the next he'll cook up something Italian or Chinese.
"You can also use this idea to mix cuisines," Dupree says. "For example, you can mix Italian with American and make a great BBQ chicken pizza. This really allows you the opportunity to get creative."
Spice up pasta and rice dishes.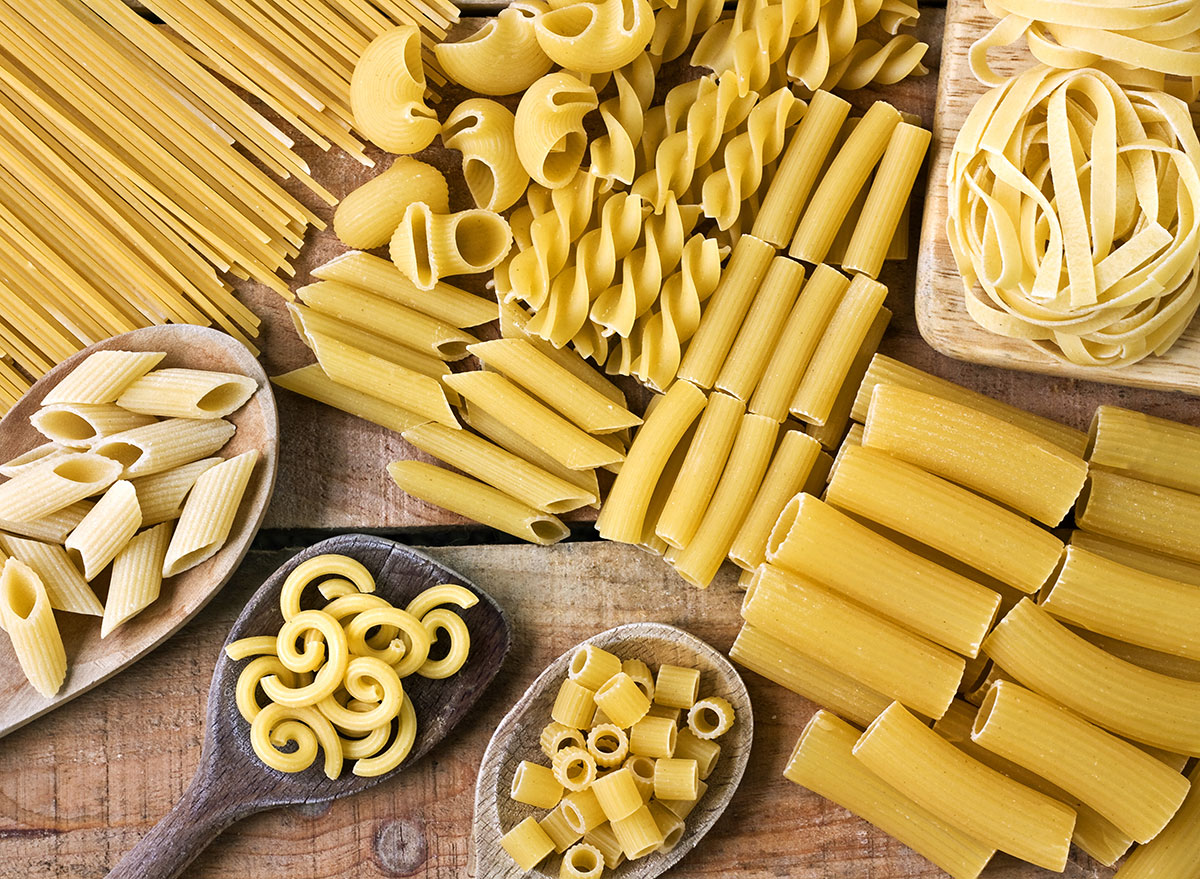 Vincent Savignano, former executive chef at the Estancia La Jolla Resort & Spa in La Jolla, California, says his biggest tip is to get creative with basics like pasta and rice dishes by turning to what's already in your pantry.
"Ingredients like tuna, chicken, and legumes will sustain you and give you protein. Plus, they all work well with rice or pasta," says Savignano. He also recommends using olives, peas, carrots, beets, and corn for much-needed vital vitamins.
Some of Savignano's favorite pastas are the simplest ones that just have peas and some mint with olive oil, pepper, and Parmesan. "In terms of leftovers, both noodles and rice are versatile, so I like to have fun by repurposing the dish into fried rice topped off with egg or a casserole. Just add extra sauce, cheese, and then bake," he says.
Use ham for both dinner and breakfast.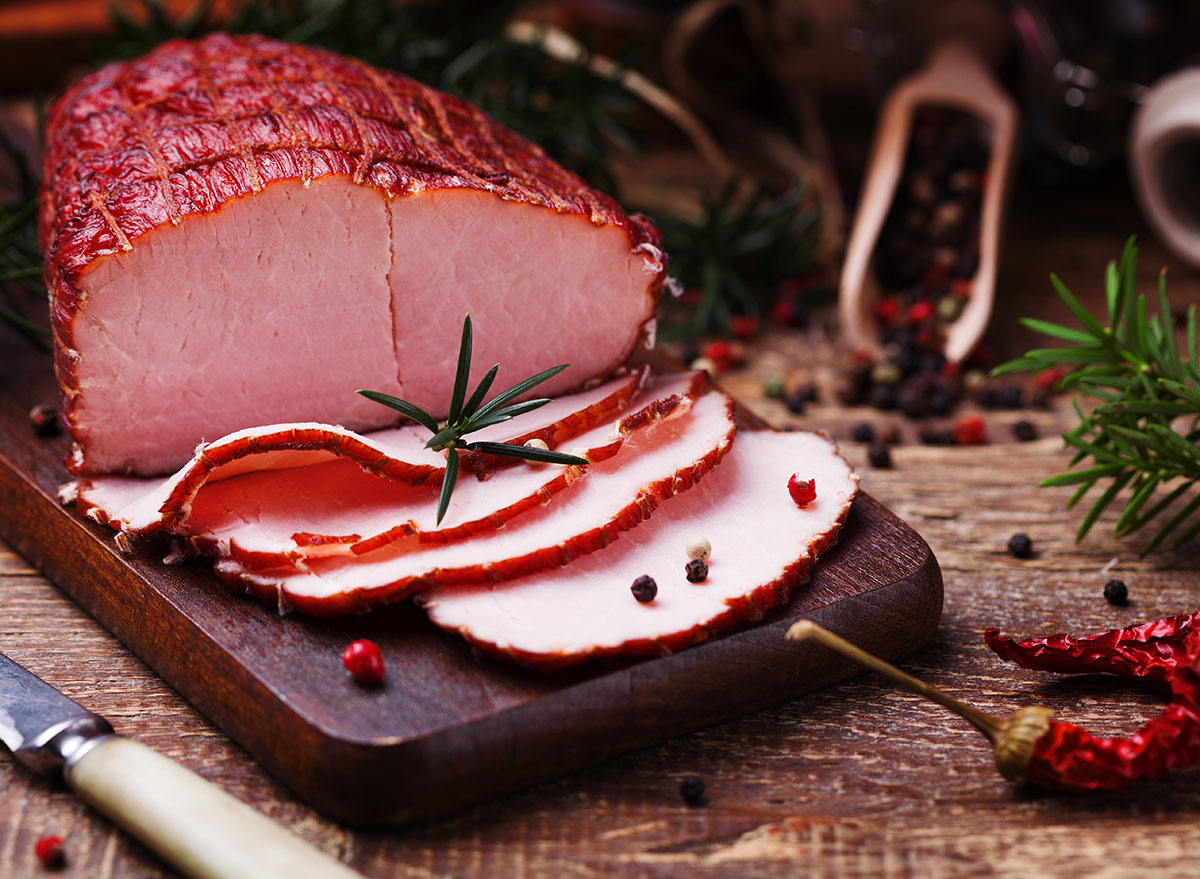 Tim Hollingsworth, the winner of Netflix's The Final Table and chef and owner of Otium in Los Angeles, suggests making a ham for dinner. In the morning, add the leftovers to French toast for breakfast. "This will add a savory twist to a sweet classic," says Hollingsworth.
Make loaded baked potatoes.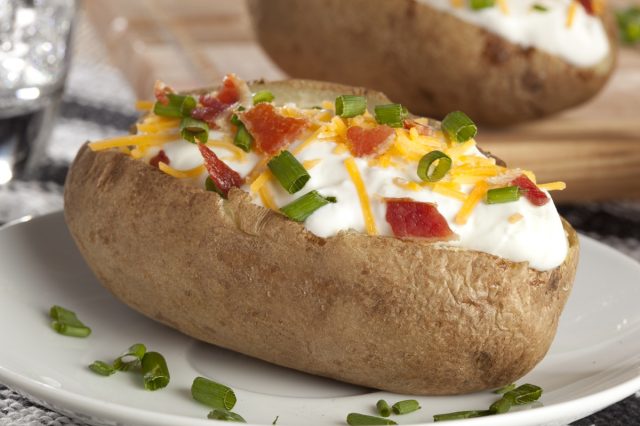 Rough says that the standard cheese, bacon, sour cream, and chives is merely the tip of the iceberg when it comes to loaded baked potatoes. Although it's certainly a glorious combination, he recommends making a baked potato the focal point of a whole meal—and in that case, the list of toppings can grow to new heights.
"In my house, both of my children are vegetarians," says Rough. "We're always trying to find ways to keep it interesting. We loaded our sea salt and olive oil baked potatoes with butter to start, because everything is better with butter, as we all know. Then, add a nice mix of shredded cheese (cheddar, fontina, Asiago), then tender broccoli, sautéed mushrooms, caramelized onions, and bacon for those non-vegetarians."
Rough adds that it was a fun activity to have his kids build their own potatoes just how they wanted them. "It's also a good way to layer in some tasty vegetables," he says. "Let your topping list evolve and try charred brussels sprouts, sautéed spinach, roasted corn, and more."
Experiment with eggs.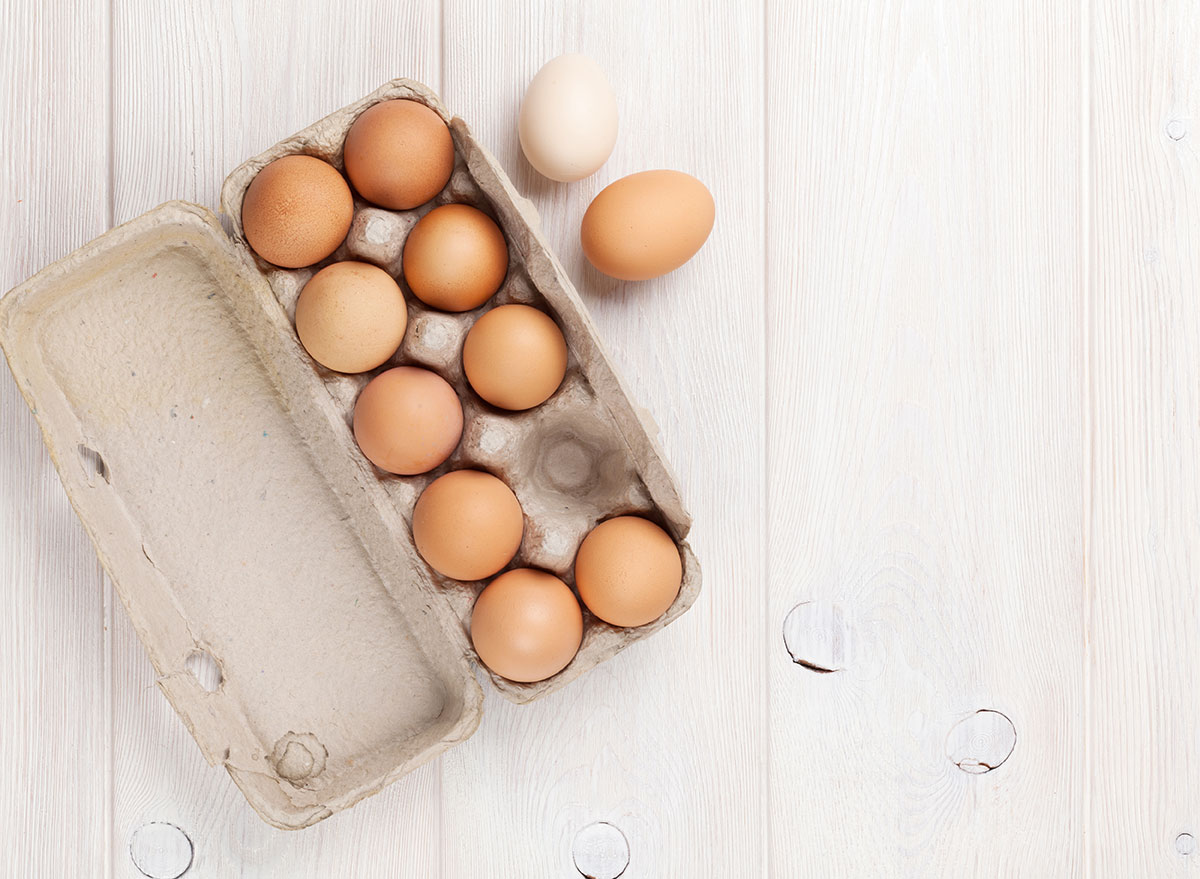 Jason Arbusto, chef and culinary director of Craddock Terry Hotel on the Bluff in Lynchburg, Virginia, notes that there are many things you can do with eggs. "It was once said that there are 99 folds in a chef's hat to represent the 99 ways a chef can cook an egg," he says.
Arbusto provided several examples that use basic provisions. "Make a Spanish tortilla or omelet," he says. "All you need is oil, potato, onion, and egg. You can make some in advance and eat them hot or, like in Spain, you can serve them at room temperature slightly jazzed up with a salad." They can also be a great lunch dish or a snack with wine before dinner.
Arbusto also recommends trying your hand at a quiche using eggs, leftover veggies, cheese, and bacon.
Try your hand at making crepes.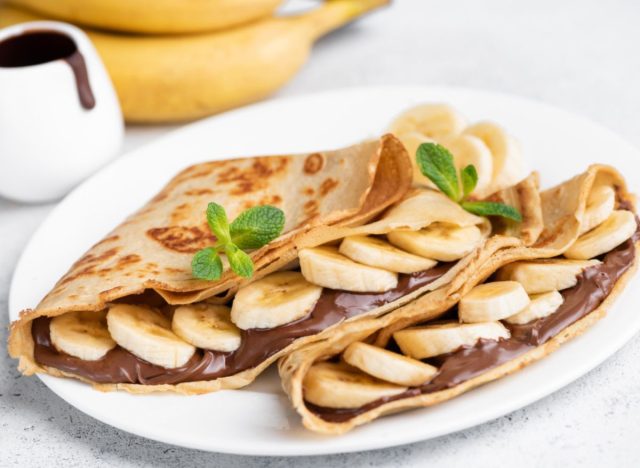 "[Crepes] are like a slightly exotic pancake," says Arbusto. "You can make them in advance and put them in plastic wrap for the next day."
Crepes can be made sweet or savory. For breakfast or a light dinner, add ham and cheese. If you have a sweet tooth, you can even layer your crepes with jam or Nutella and make a fun cake with them.
Use aquafaba to replace eggs.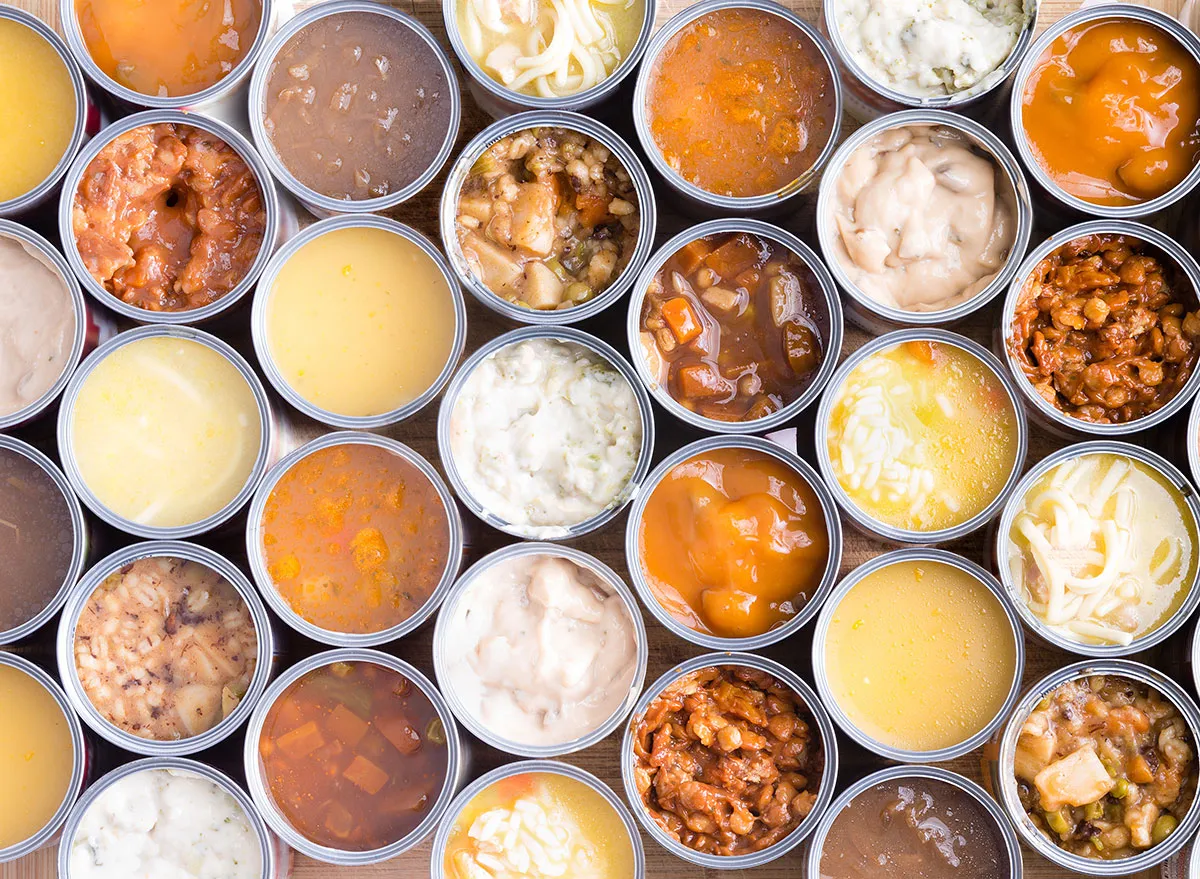 Chef Scarleth Aguilar of Siete Family Foods recommends using the liquid that canned legumes come in (also called aquafaba) as a replacement for eggs.
"The best one to use is from chickpeas," says Aguilar. "This can be used when baking, making meatloaf, or really any time you need an egg to bind your ingredients. It's a great way to make your eggs last a bit longer."
Mix up your freezer meals.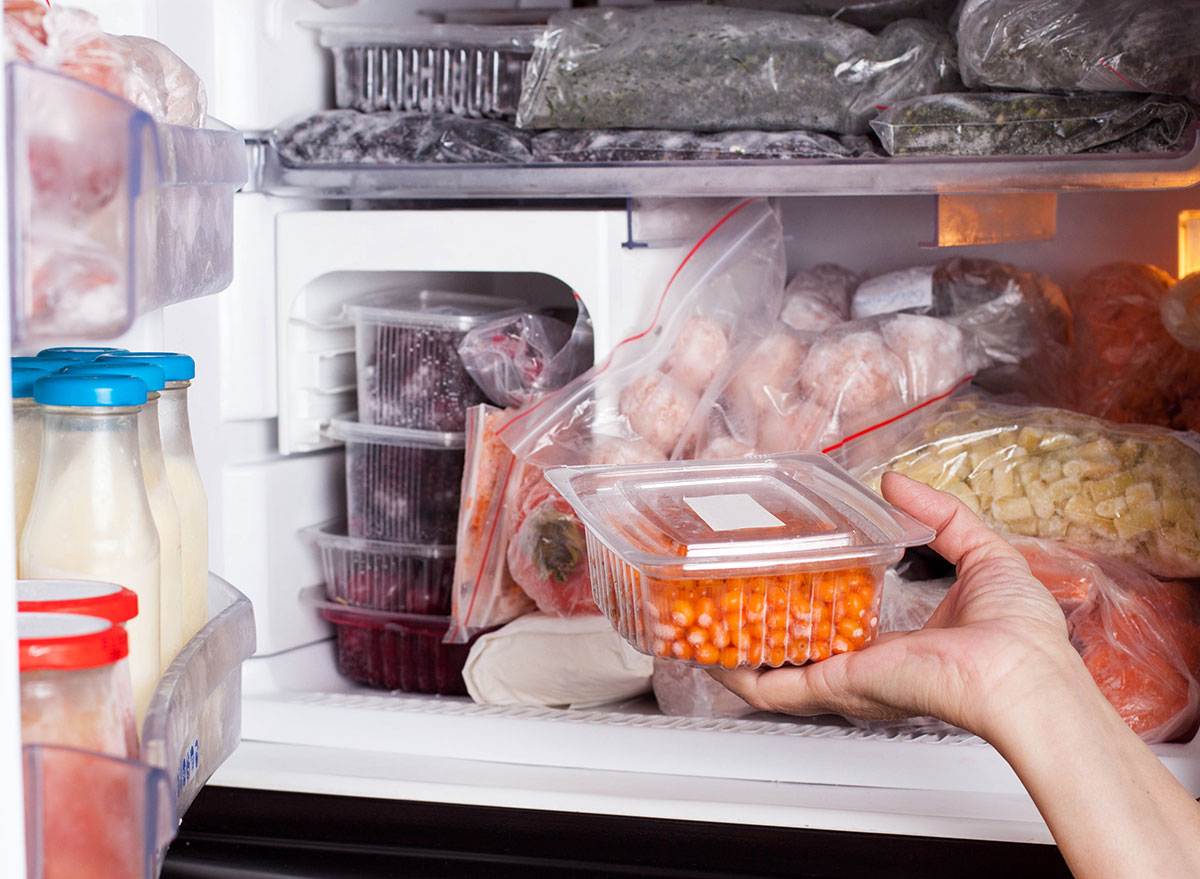 Paul Klaassen, chef and owner of HenDough in Hendersonville, North Carolina, suggests mixing up your freezer meals with some new ideas.
"Our family likes to make big batches of homemade meatballs, let them cool, and then freeze them in individual layers in freezer bags," says Klaassen. "You can thaw out a few at a time or make a big family-style meal when you're ready."
If you're looking for a way to make vegetables last longer right now, Klaassen says that root vegetables like sweet potatoes and carrots freeze surprisingly well and add a quick, healthy side dish to any meal.
Take stock and meal plan.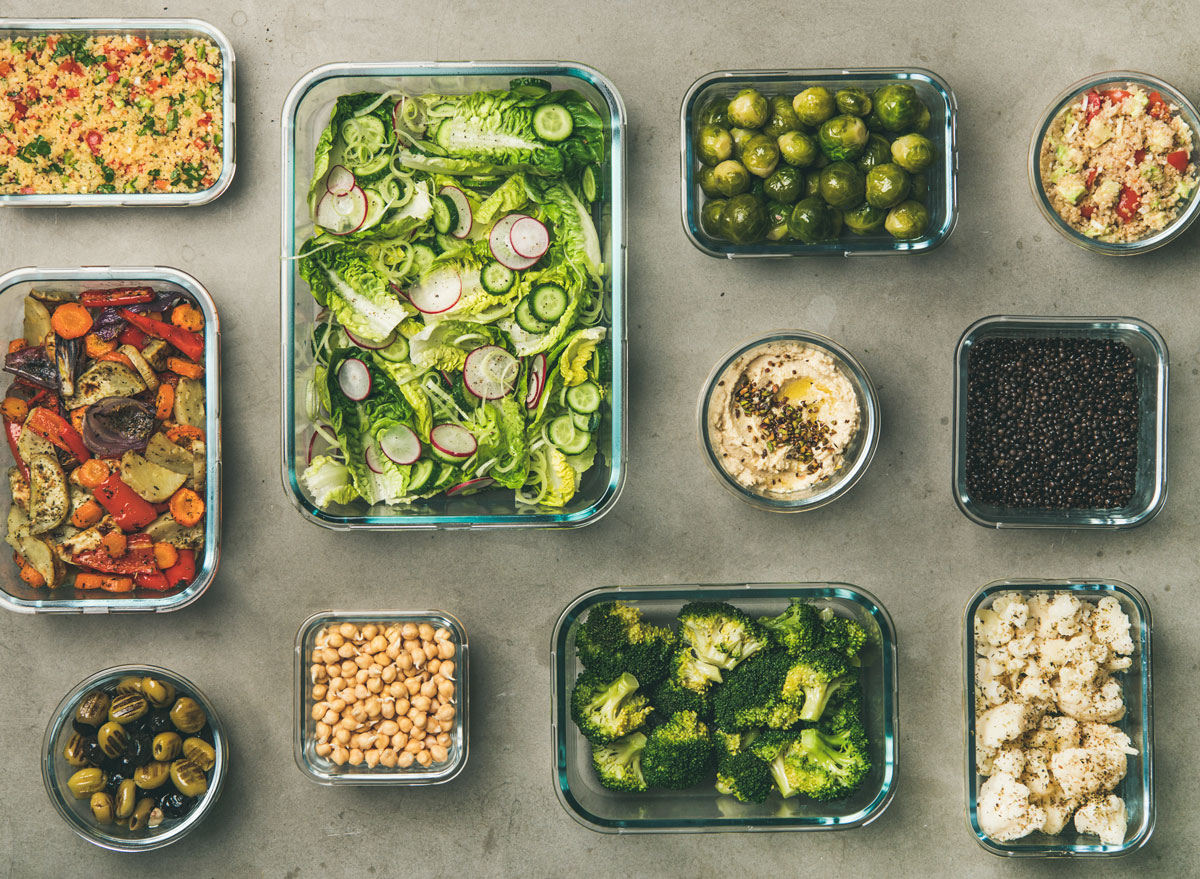 Karen Dar Woon, a personal chef in Vancouver, BC, recommends taking stock of your pantry staples—foods that are safe to store on a cupboard shelf, like tinned or dried beans and lentils, tinned tomatoes, olives and artichokes, and starches like rice or pasta.
"Make sure that the foods you stock up on are things you'll actually eat," says Dar Woon. "Then make a meal plan which includes some of those items each week. Rotate your stock, and avoid replenishing your less-than-favorite items."
Try a campfire cookout.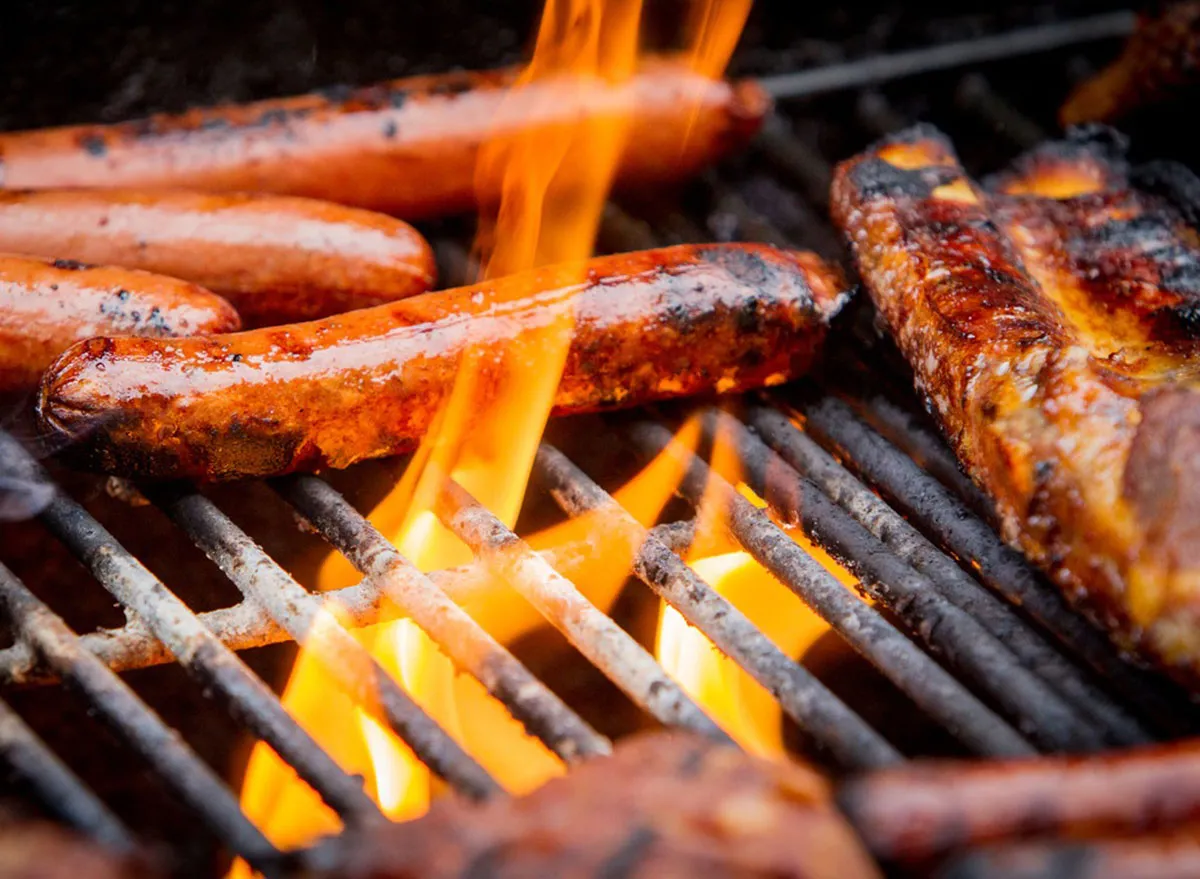 Have a campfire cookout in your backyard when the weather permits. Rough says anything can be on the menu, but some of his personal recommendations are veggie hotdogs, grilled zucchini, and charred peppers for vegetarians.
"For the meat-eaters, try an ember-roasted pork chop," he says. "I like to make a nice rub from whatever spices I can gather up. Coat the pork chop well after it marinates for a bit and then wrap it in foil." When the fire has built up a nice base of glowing embers, put the pork chop down in them and let it cook for a bit. It will form a nice crust without losing any of its juiciness and it'll only take a few minutes to get a nice sear on all sides. Finally, move the pork chop up onto the grate above to finish it.
"Complete the backyard campfire experience with s'mores," Rough says. "We like to have a contest on who can make a perfectly roasted marshmallow."
Embrace "mise en place."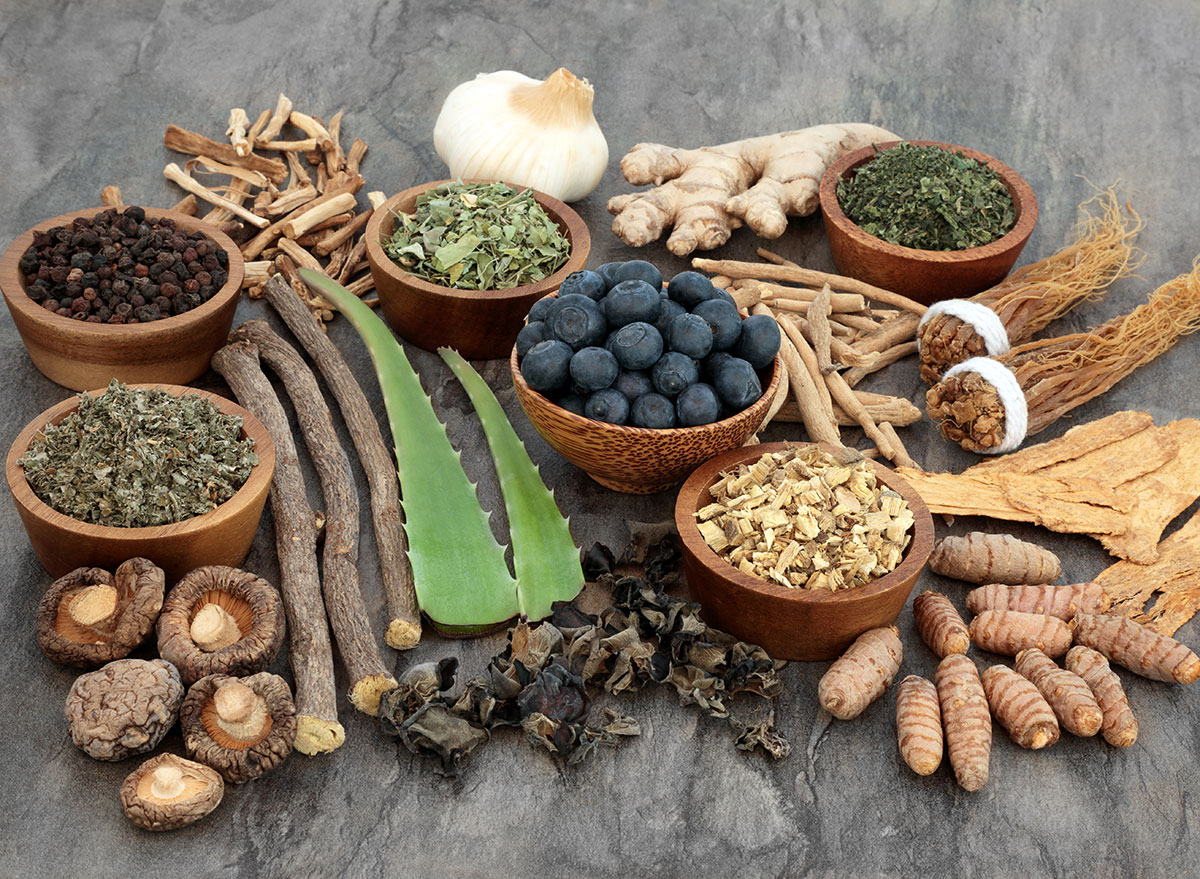 Cory Harwell, chef and owner of Carson Kitchen in Las Vegas, says his best tip for home cooks is "mise en place," a French term meaning "everything in its place."
"This refers to being prepared with all items prior to starting to cook something," says Harwell. "One of the biggest mistakes home cooks make is to start a recipe without having prepared for it. Then they get into the middle of it and have to stop what they're doing to prep another ingredient, and they end up burning or overcooking what they already started."
In other words, read the entire recipe, gather all of your ingredients, prep and wash everything, and have it all set and ready to go. Then you won't run into any unpleasant surprises while you're cooking.
Have an at-home cookoff.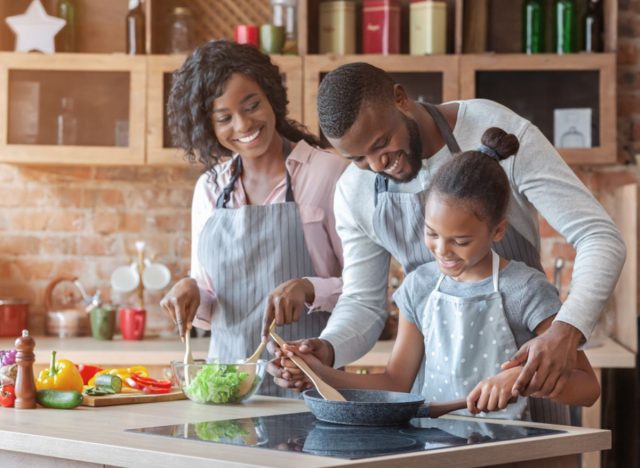 Thomas Carrig, chef at Hilton Head Health, suggests having an at-home cookoff. "Preparing all your meals day-in and day-out while being stuck indoors can quickly take the joy out of cooking," says Carrig. "Sprinkle some fun back into cooking by organizing your own cooking challenge, much like those seen on TV."6254a4d1642c605c54bf1cab17d50f1e
Carrig recommends adding a healthy spin. For example, select three or four ingredients readily available in your pantry and fridge and challenge someone in your house to a cook-off. Whoever prepares the best recipe using the ingredients in the healthiest way is the winner. "Trick your kids into eating healthy by making them be the judges," he says.
Turn mealtime into your own personal cooking game show.
"Look at the ingredients in your fridge and pantry and pretend that you have been challenged to make something up," says Amanda Frederickson, professional cook, recipe developer, and author of Simple Beautiful Food.
Get creative and even consider having different members of your family take on a different meal to see what everyone comes up with. "We need to not only eat what we have, but also have some fun," says Frederickson.
Have theme nights.
Jackie Newgent, chef, nutritionist, and author of The Clean & Simple Diabetes Cookbook, suggests having theme nights. "Pick a theme, any theme," she says. "Meatless Mondays, Taco Tuesdays, and Pizza Fridays are always awesome."
Newgent recommends getting creative and going for offbeat themes, too. For example, have a "Go Fish" dinner accompanied by the card game; Thanksgiving in April (perhaps with a roast chicken or even tofurkey instead of an oversized turkey); or a retro '70s supper, complete with '70s-style attire and music.
"Not only does this make meals fun, it helps you wisely plan your grocery shopping," says Newgent.
Share a meal virtually.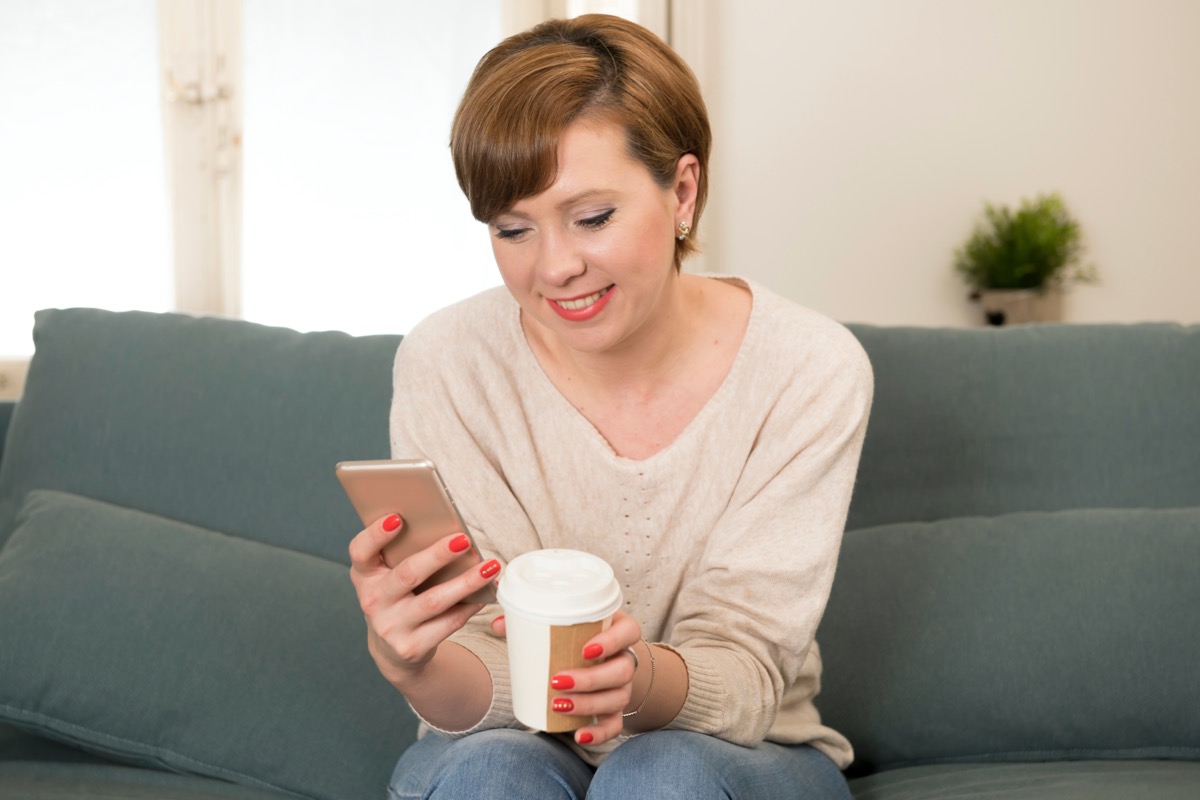 If you can't invite your friends and family over for dinner in-person, "use networking software to have a dinner date or cocktails with friends," suggests Julie Heins, chef at Secco Wine Bar in Richmond, Virginia.
Be patient with yourself.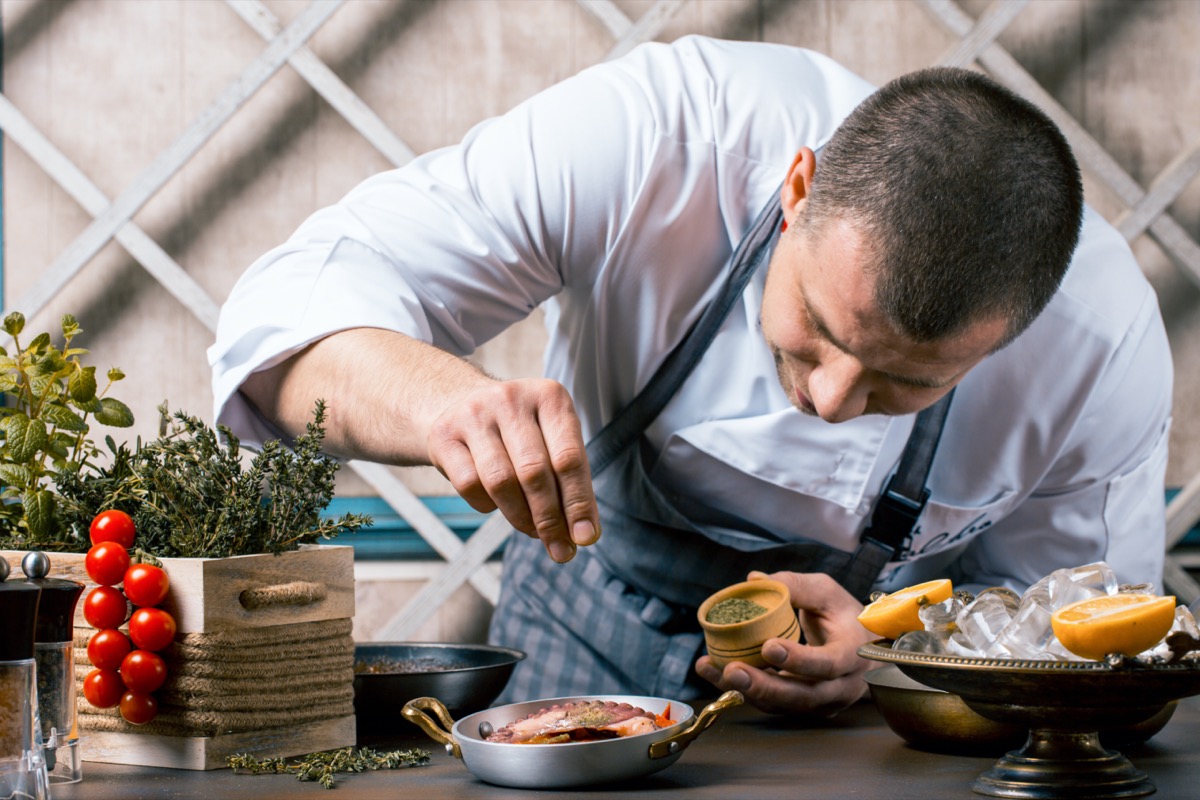 You might be tempted to try a big cooking project with lots of steps and details. "By all means, go for it, but be gentle with yourself if things don't go your way," says Jessica Rothacker, chef and co-owner of Heirloom Café in Athens, Georgia.
If things go awry, don't despair. Rothacker reminds us that there are still plenty of restaurants that have not recovered from the losses incurred during COVID. If your recipe doesn't turn out the way you hoped, you can support local businesses by getting takeout or dining at a restaurant—and you can always try again tomorrow.
Caitlin Flynn
Caitlin Flynn is an award-winning writer and reporter who experienced early age corporate burnout in 2015 and traded New York City for the misty air and superior coffee of Seattle.
Read more about Caitlin