30 Thanksgiving Recipes That Take 30 Minutes
Spend less time around your stove this Thanksgiving with these healthy dishes.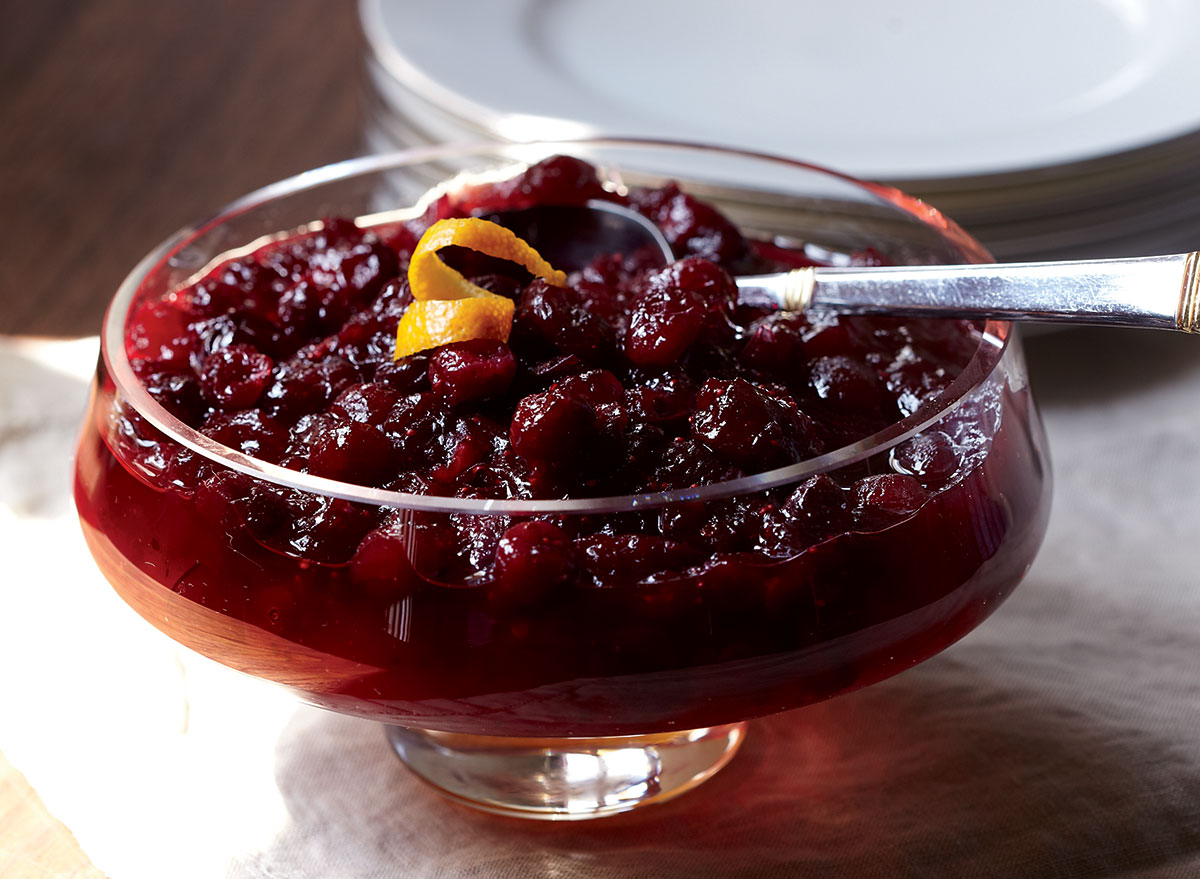 Thanksgiving kicks off that time of year where there seems to be an endless amount of delicious food around until New Year's. With those holiday events comes this underlying desire to impress with your cooking abilities. But sometimes you just don't have enough time to throw something together, which is why we've compiled some easy Thanksgiving recipes for you right here! And to top it off, they're all pretty healthy for you, too.
These easy Thanksgiving recipes can help to ensure that you're out of the kitchen and enjoying the holiday to its fullest in 30 minutes or less. They're flavorful, dynamic, and bound to make it seem like you're really a master chef. And while you're whipping these dishes up, be sure to try out these 21 Best Healthy Cooking Hacks of All Time.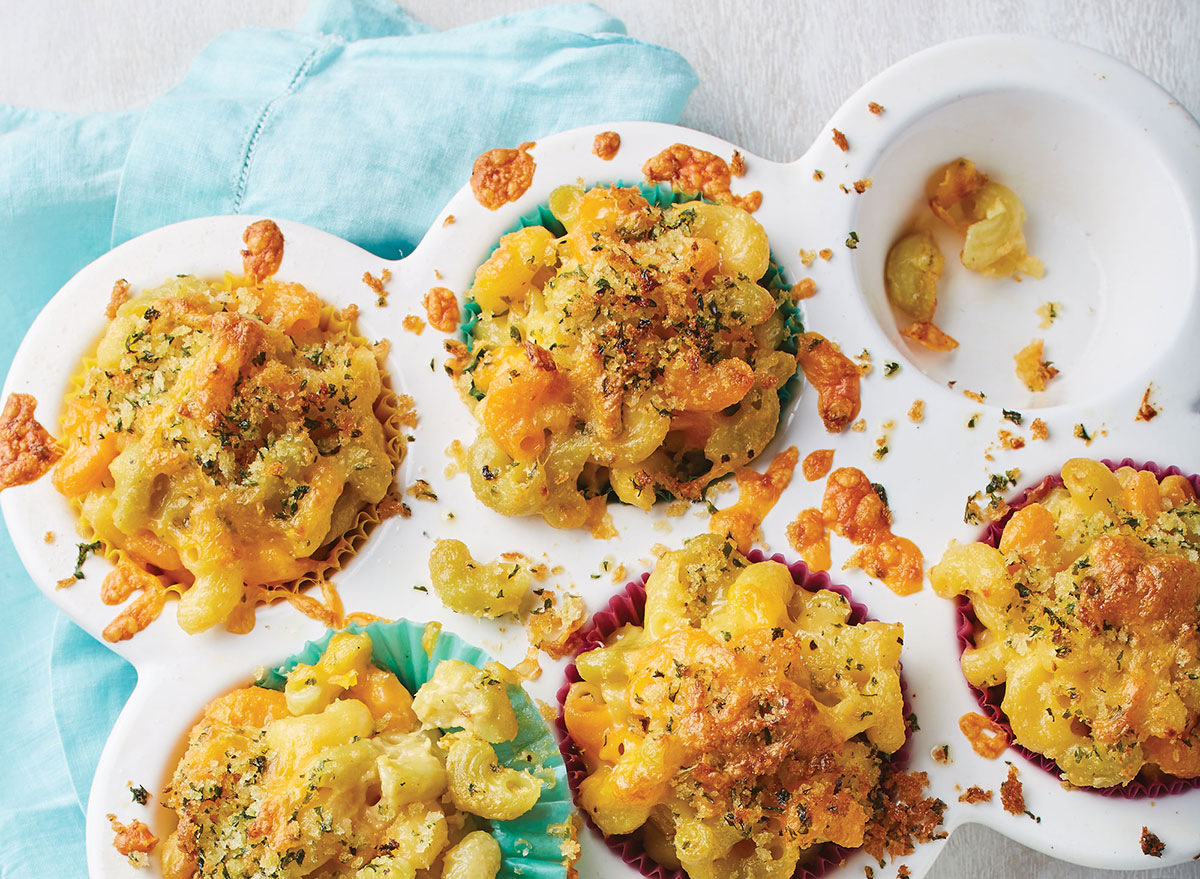 Sometimes when you're planning a huge meal like Thanksgiving, you're thinking so much about the main dish that the appetizers can get overlooked. These Mac & Cheese Cups are a super-easy way to make sure that doesn't happen. They're sure to hold your guests over while they await the main event. Plus, they can think of them as tasty, hearty mini bites before the big meal!
Get our recipe for Mac & Cheese Cups.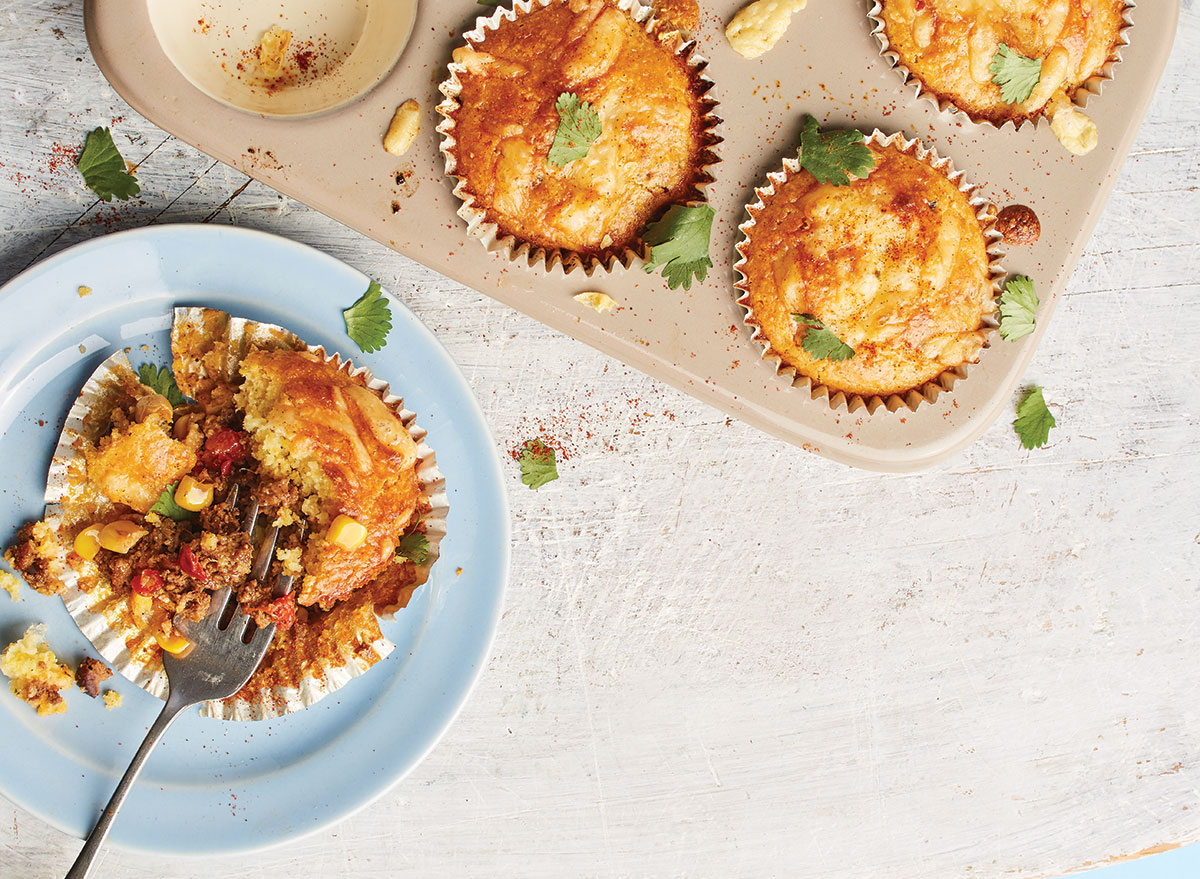 There's something so special about individual mini appetizers. They make your guests feel like you made each one just for them. These Tamale Pies look and taste just like a corn muffin on top, and they're filled with lean ground beef, corn, and bean salsa inside. Once your guests take a bite, they'll be asking for your recipe.
Get our recipe for Teeny Tiny Tamale Pies.
If you don't eat sweet potatoes in the fall, you're missing out. This recipe is a unique take on the typical sweet potato that truly elevates it to a new level. You can customize the toppings before your guests arrive or have them make their own. Either way, it's one of our easy Thanksgiving recipes that take no time to make and won't even take up space in your oven.
Get our recipe for Sweet Potato Toast.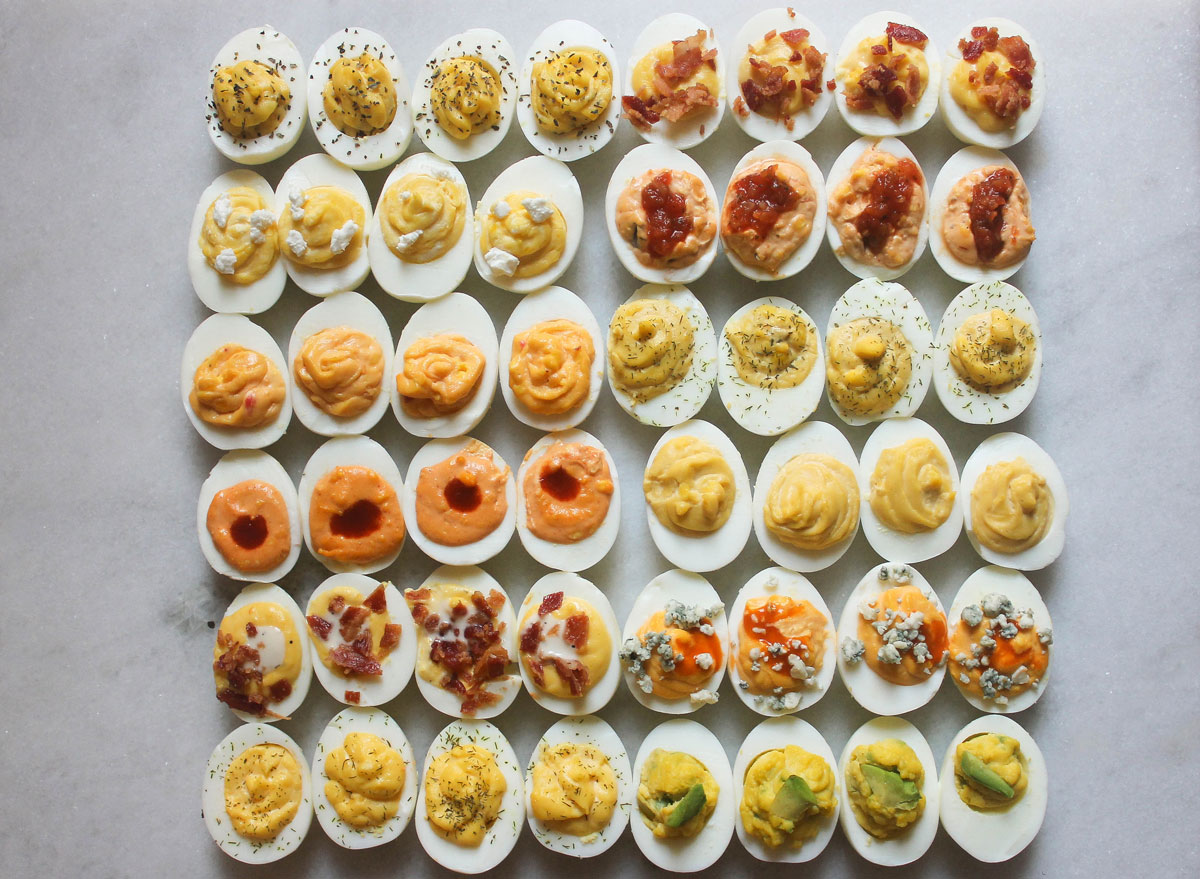 Sick of your usual deviled eggs recipe? Try one of these 12 unique combinations for Thanksgiving this year! You can choose to make just a few or a whole bunch. Either way, you can make them ahead of time in less than 30 minutes, so they'll be all set to go when your guests arrive. Each recipe includes one or two simple additions that will make your guests want to taste every one.
Here are 12 different ways you can make Deviled Eggs.
There's something about shrimp that really seem to make any dinner party classy, and these are no exception. This recipe will totally impress everyone when you pull out the apps this holiday. And did we mention you can get them set to go in under 30 minutes?
Get our recipe for Crispy Coconut Shrimp.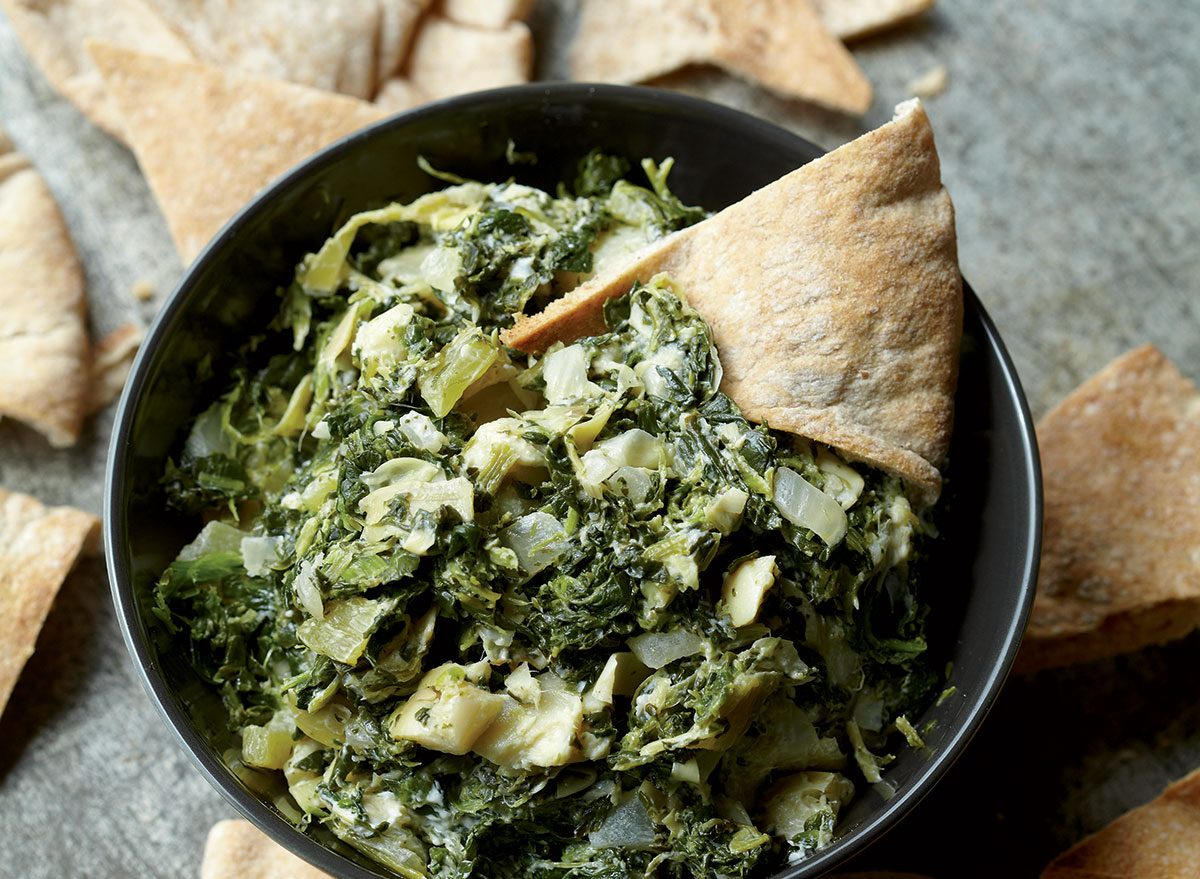 Dips are the easiest crowd-pleaser ever. You can make a whole bunch, pull together some veggies, chips, or bread to dip with, and as easy as that you have your appetizer. You'll want to carry the leftovers, if there are any, over to the table to top your turkey with for sure—it's just that good.
Get our recipe for Spinach-Artichoke Dip.
Pumpkin marinara flatbread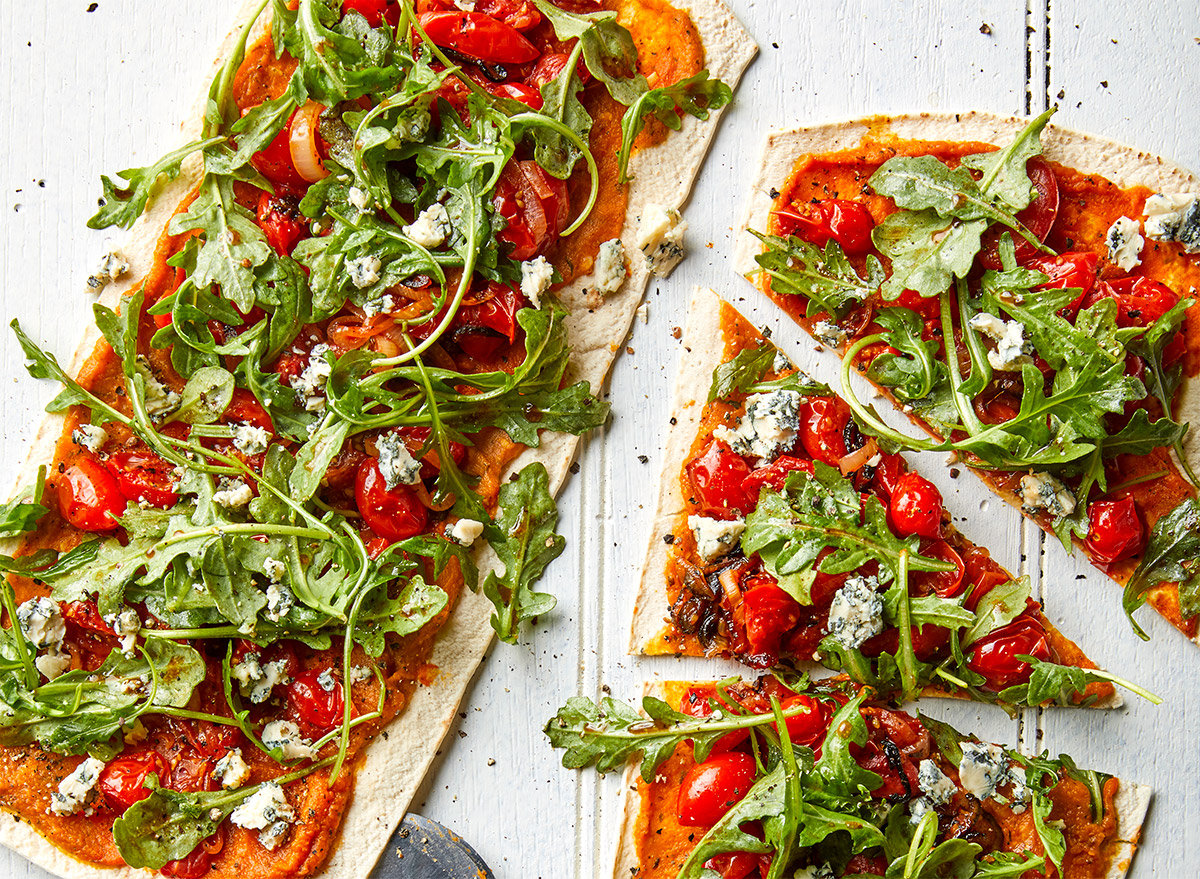 Who doesn't love flatbread pizza as a little warm-up to their turkey? This flatbread recipe brings in the flavors of fall with a pumpkin marinara sauce that tastes like fall. Using thin crust pizza dough ensures that your guests won't fill up before the turkey is ready, even if they have more than one slice.
Get our recipe for Pumpkin Marinara Flatbread.
Cranberry mustard mini tuna melt
If you're looking for a creative and easy Thanksgiving recipe to completely floor your guests, these tuna melts are for you. Not only are they beautiful and unique, but they incorporate such different flavors into a dish where they truly work.
Get our recipe for Cranberry Mustard Mini Tuna Melts.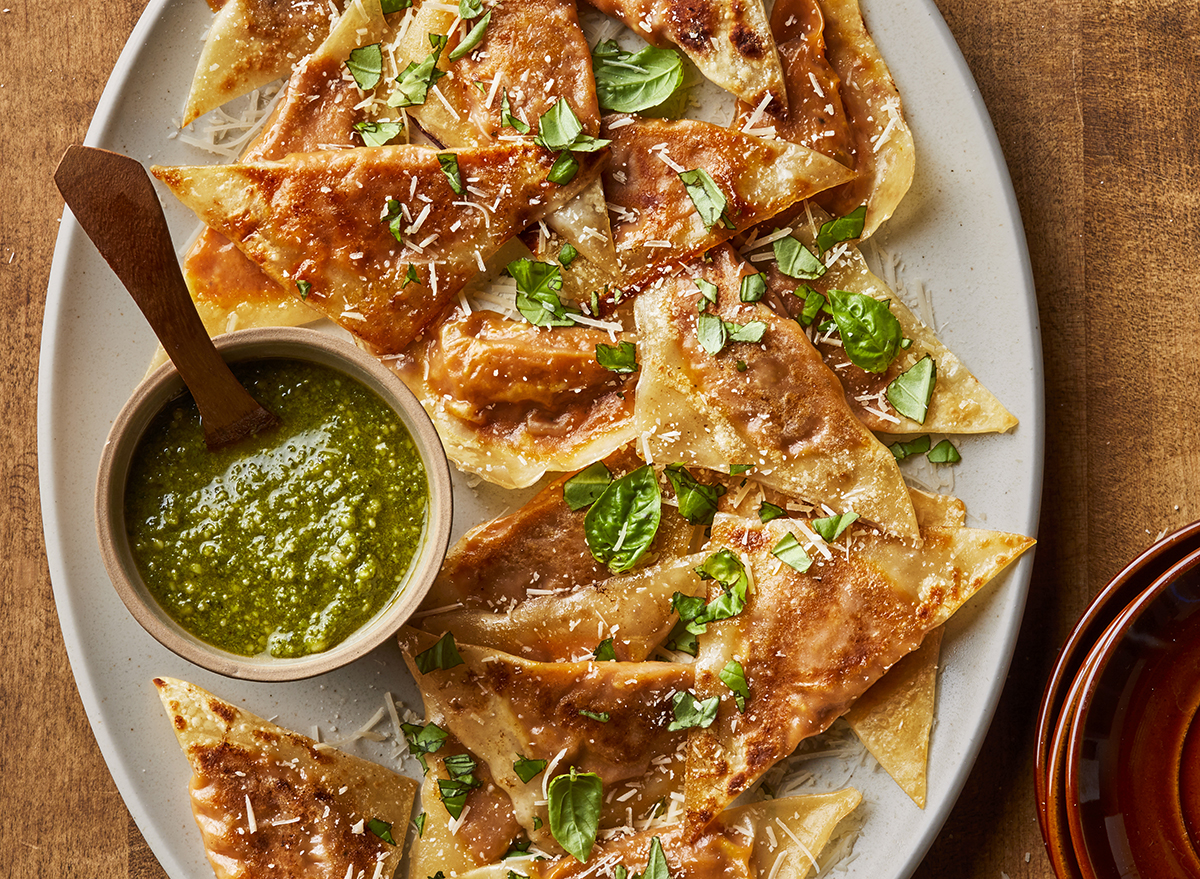 Sticking with the theme of Thanksgiving, these ravioli will be gone the minute you set them down on the counter. The creamy pumpkin center with the crispy wonton wrapper truly tastes like you're eating autumn, and is there anything better than that for Thanksgiving? Consider these a pumpkin prelude to the traditional pie that's for dessert.
Get our recipe for Pumpkin Ravioli.
Smoked salmon on cucumber slices
Cold appetizers are a host's best friend, and this is one of our favorite easy Thanksgiving recipes. You can make them in advance, leave them out before your guests arrive, and they can still be totally gourmet. These bites will make your guests feel like they just walked into a five-star restaurant, and you don't need a stove to make!
Get our recipe for Smoked Salmon on Cucumber Slices.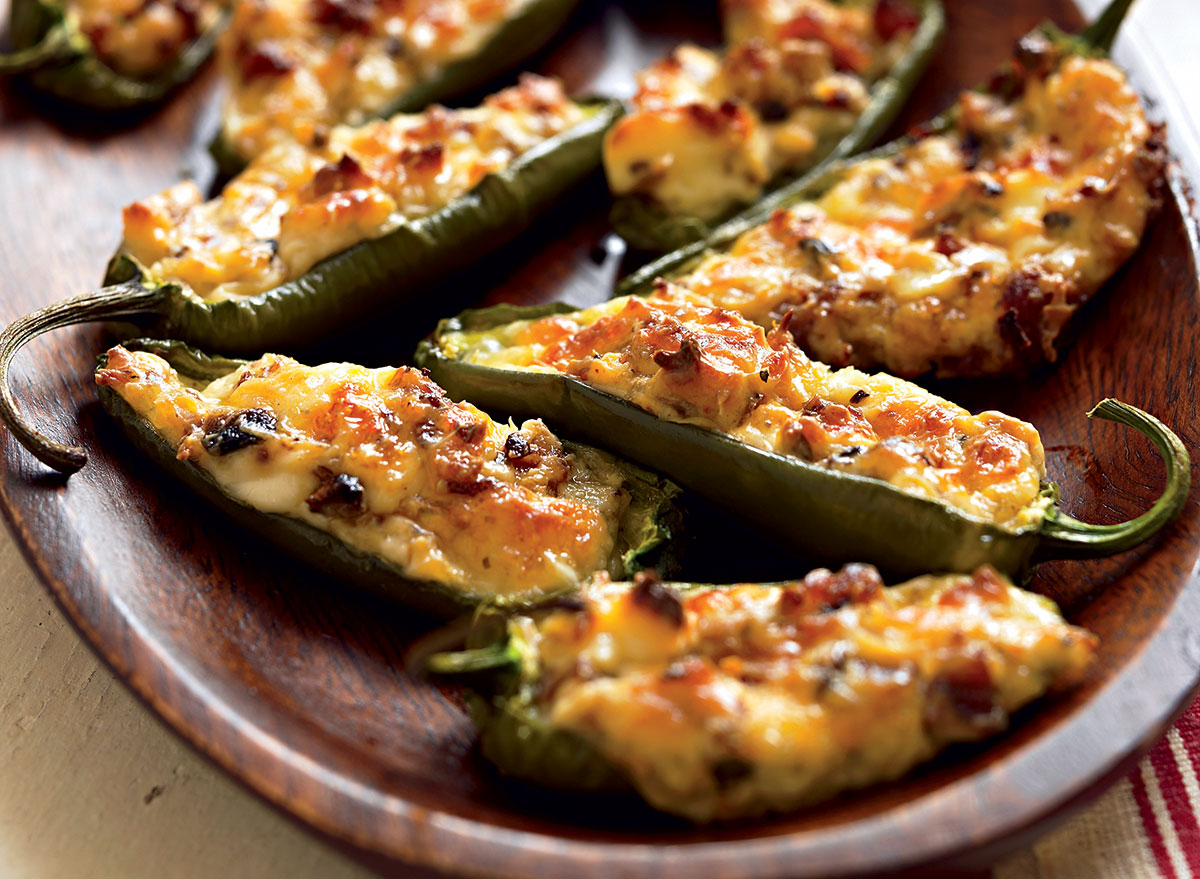 Stuffed with mushrooms, onions, cheese, and chorizo, these jalapeños are going to set the bar high this Thanksgiving. Pop these in the oven when your guests walk in the door, and 15 minutes later you'll have a delicious appetizer to start your night.
Get our recipe for Stuffed Jalapeños.
Roasted beet salad with barley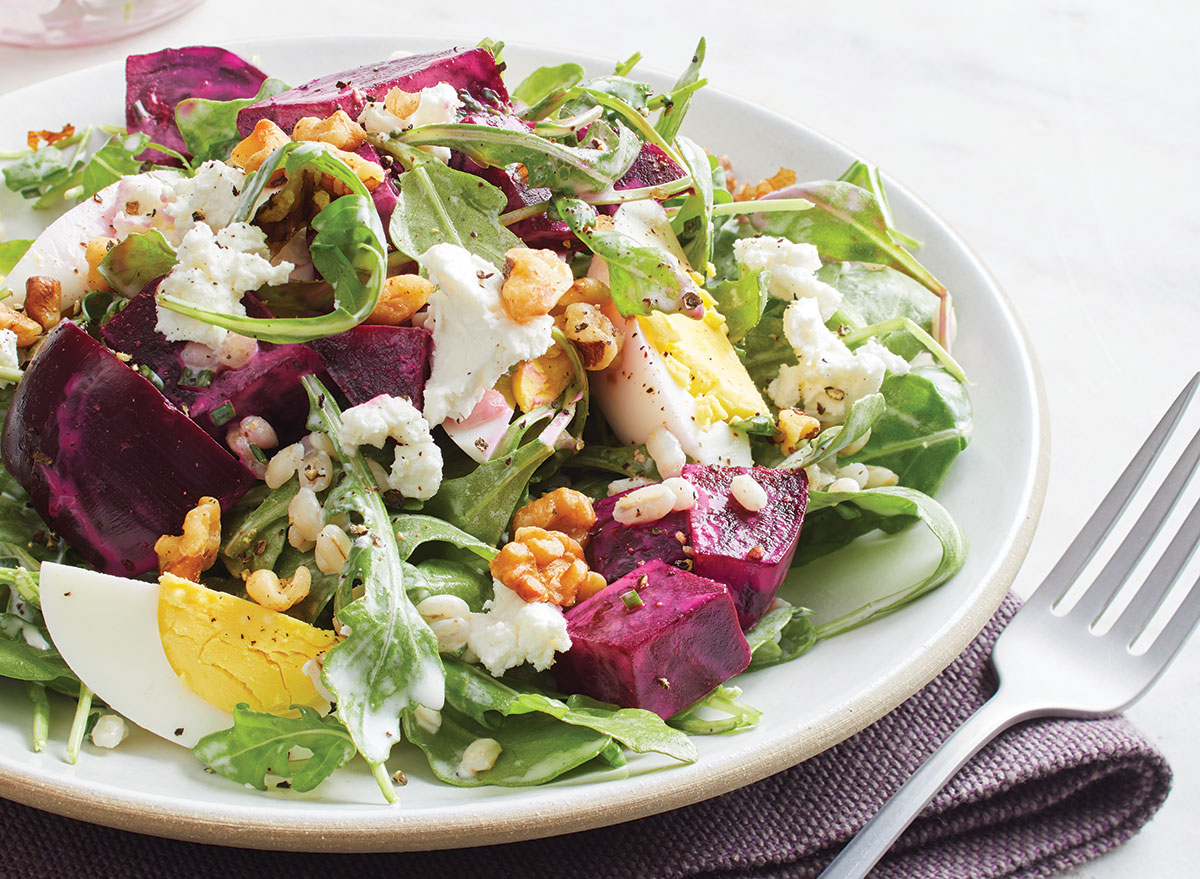 The sides are often a forgotten part of the Thanksgiving meal because nothing lives up to the turkey, but this salad will put that to the test. Every meal needs a side salad, but this Savory Roasted Beet Salad will take center stage on your table. The rich color of the beets on top will convince everyone to give it a try.
Get our recipe for Roasted Beet Salad With Barley.
Butternut squash pasta salad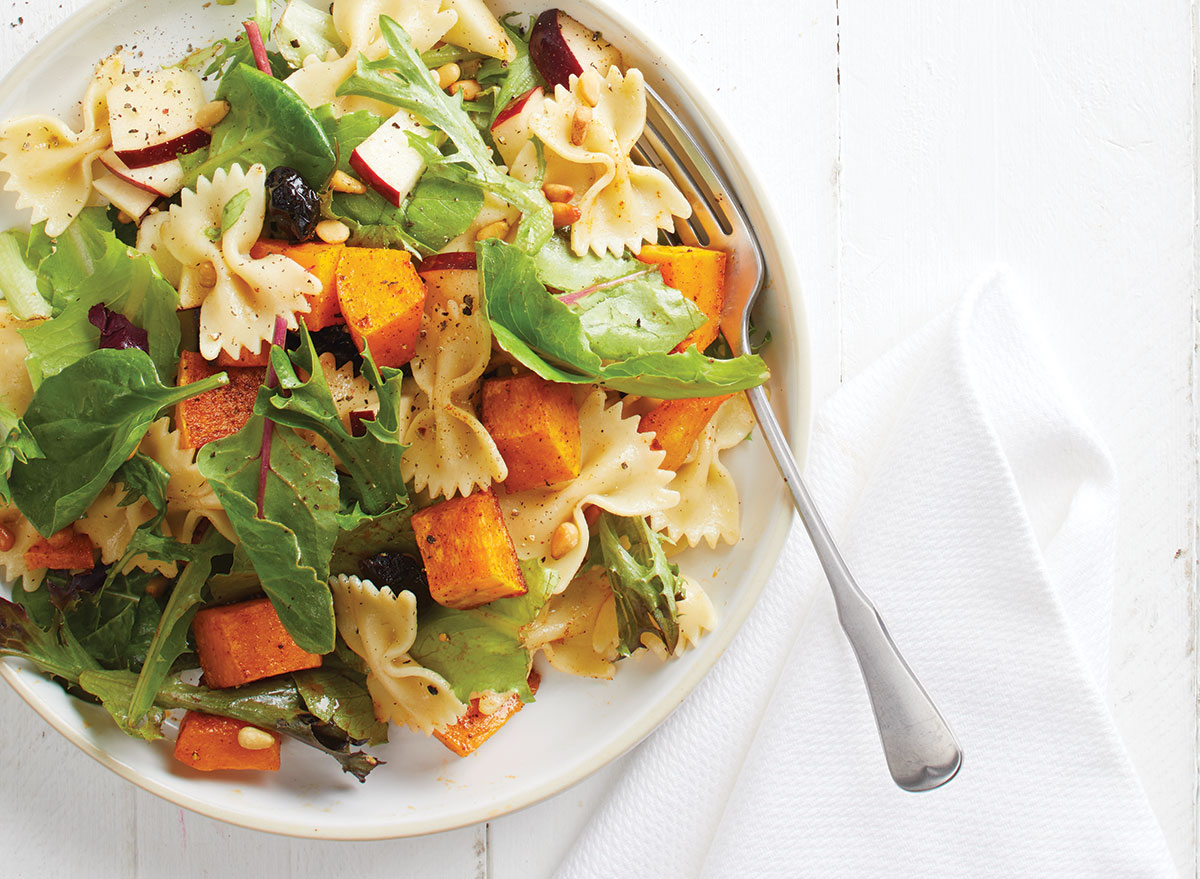 There are always going to be people who won't eat turkey, even on Thanksgiving, so this butternut squash pasta salad is a great dish for those people. It brings out those fall flavors and could be a full meal all on its own. So all your guests can be in the spirit with this salad, even if they're skipping out on the turkey this year. It's perfect for vegetarians, and it'll be a great fall meal any time this season, too!
Get our recipe for Butternut Squash Pasta Salad.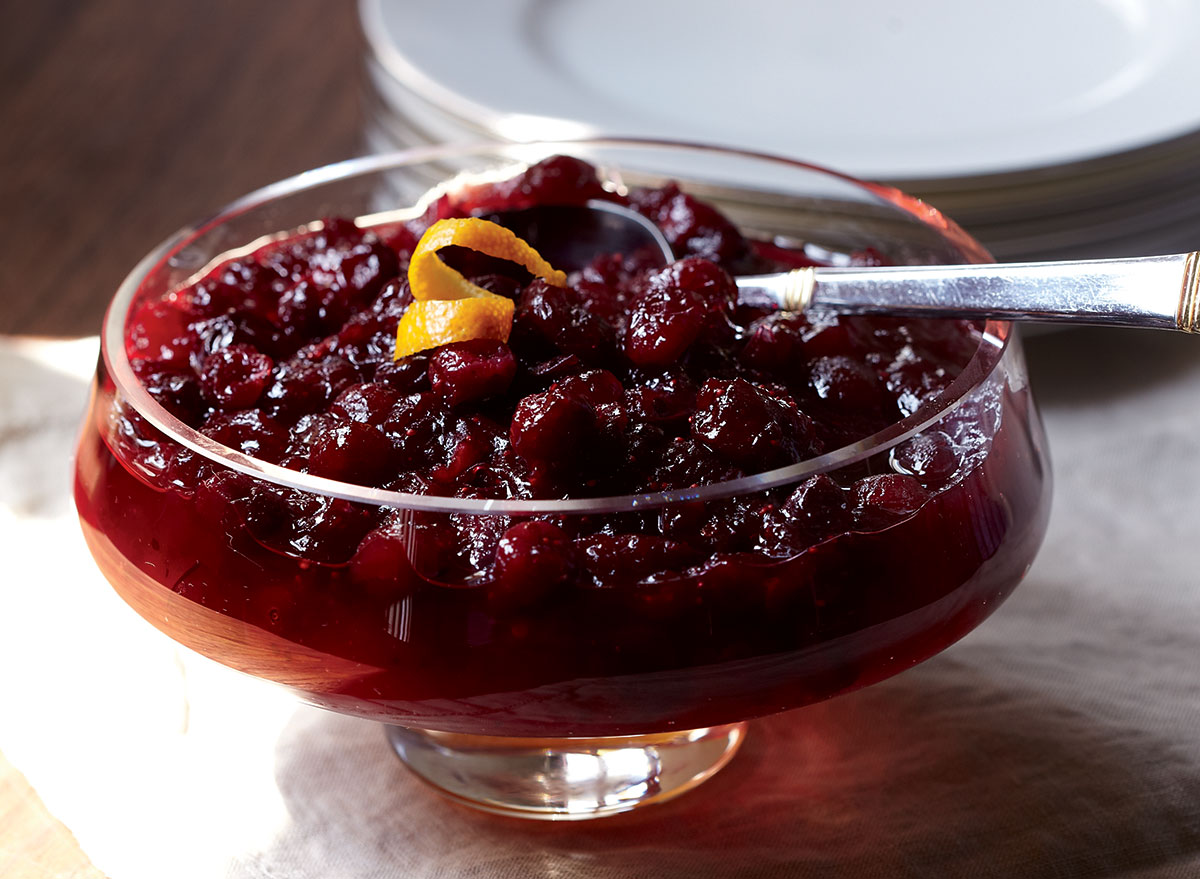 No Thanksgiving meal is complete without cranberry sauce, and with the addition of orange juice and zest, yours will be one to remember. Even if you're on a time crunch, there is absolutely no reason why cranberry sauce should come from a can, especially when you're armed with this recipe and can make it in under 30 minutes.
Get our recipe for Cranberry Orange Relish.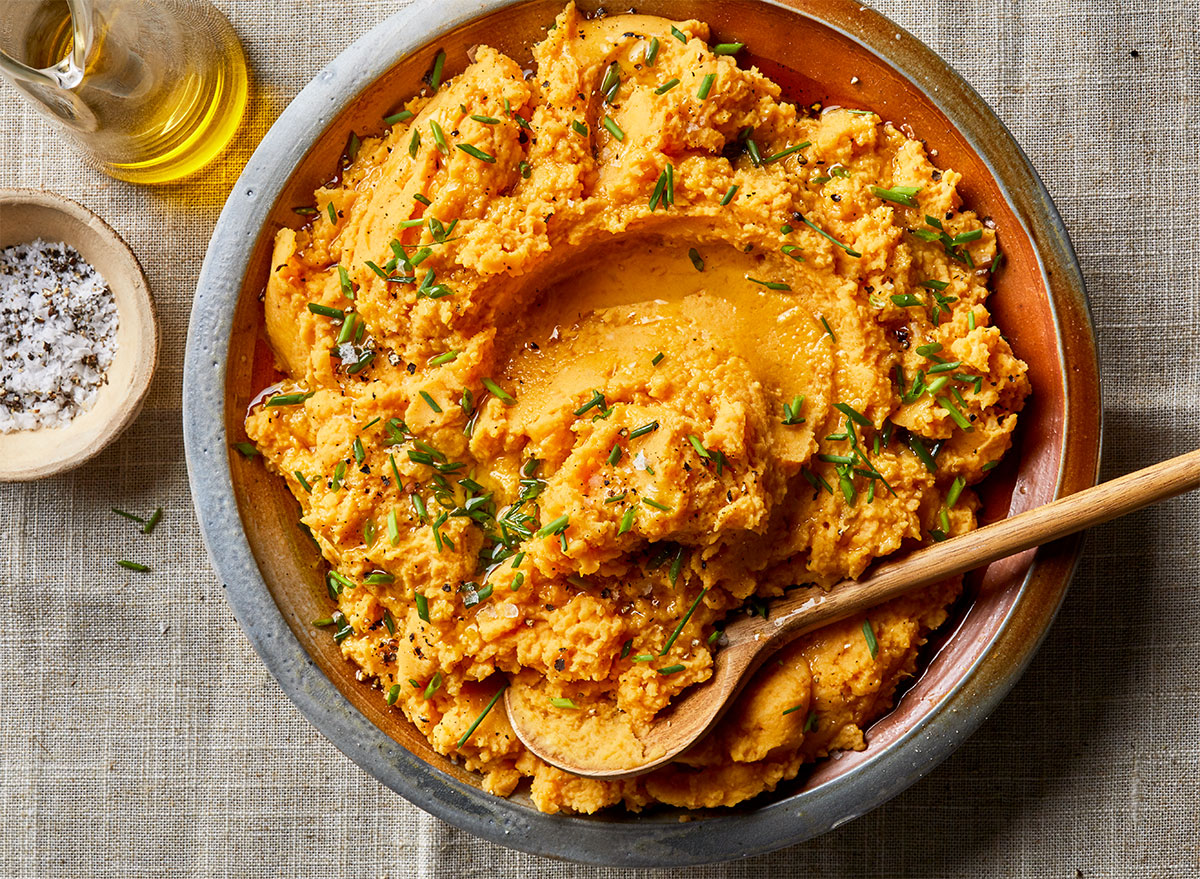 Another side that's an absolute staple at Thanksgiving is potatoes. Whether they're roasted or mashed, they always make their way onto the table. This mash puts an autumn spin on the classic mashed potatoes. Once you make them this way, you'll never make them normally again.
Get our recipe for Pumpkin-Potato Mash.6254a4d1642c605c54bf1cab17d50f1e
People like to eat their turkey different ways, but with these Southern-Style Biscuits on the table, how can you not throw it on a sandwich with some cranberry sauce? They're warm, flaky, and the perfect complement to the turkey.
Get our recipe for Southern-Style Biscuits.
Mixed greens salad with pumpkin vinaigrette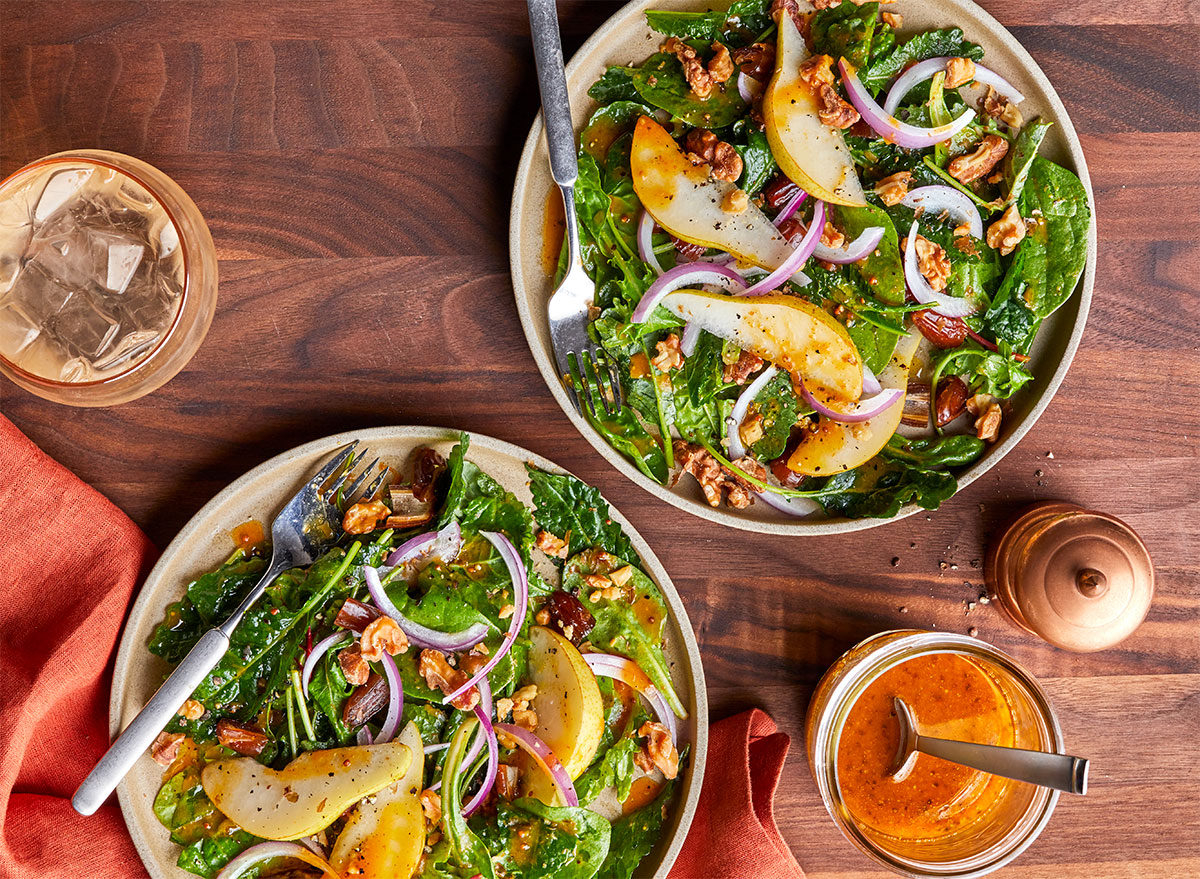 This salad is actually pretty simple, but it's the dressing that really makes it perfect for your Thanksgiving meal. We're the biggest advocate for pumpkin-flavored things—and this dressing does the perfect job of incorporating a pumpkin flavor without it being overpowering. With the walnuts, maple syrup, and cider vinegar, this salad will taste like home.
Get our recipe for Mixed Greens Salad with Pumpkin Vinaigrette.
The turkey shouldn't be the only thing you stuff this year. Even though they're not the main event by any means, the veggies should not be forgotten on Thanksgiving. With a two-minute prep time and a cook time of only 20 minutes, you'll be making these vegetarian stuffed tomatoes all the time. They're stuffed with cheese, garlic, and olive oil. Enough said.
Get our recipe for Stuffed Tomatoes.
Sweet roasted butternut squash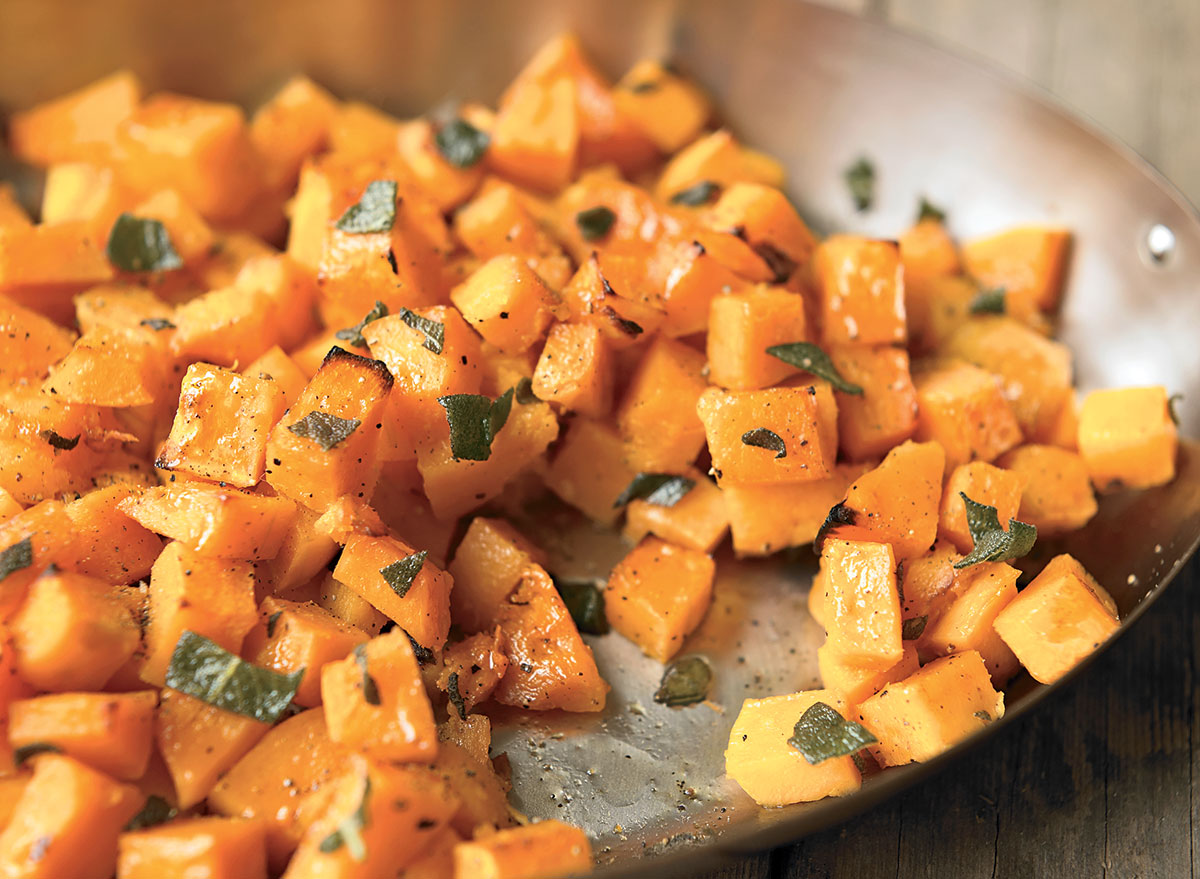 We've never been to a Thanksgiving dinner without a roasted butternut squash dish. This is a side that can sometimes be overthought, but it definitely doesn't have to be. With this recipe, we stuck to simple ingredients and quick steps to come out with a side that will leave all your guests wanting your secret.
Get our recipe for Sweet Roasted Butternut Squash. 
Grilled ratatouille salad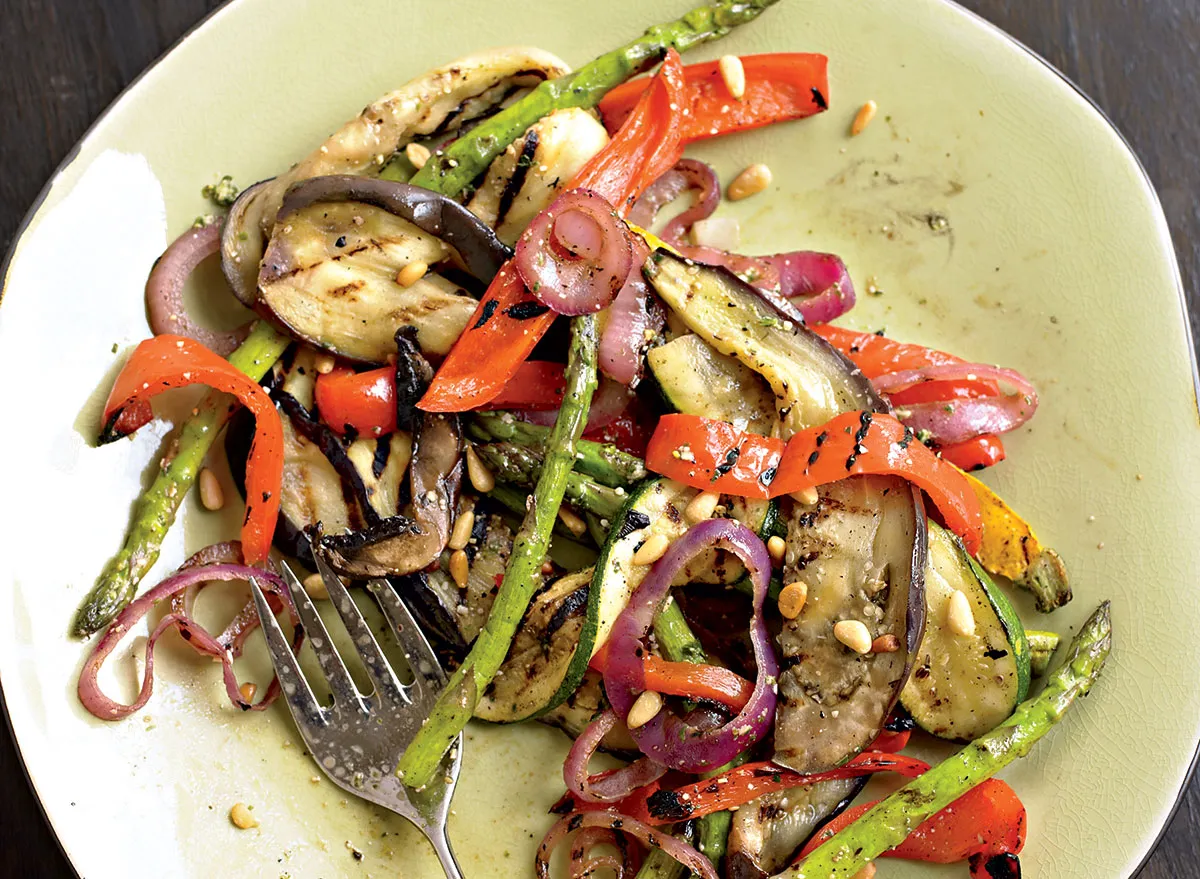 There are a lot of great aspects to this side dish. First, the recipe provides merely a suggestion of the vegetables to use. If you want to leave something out or throw something in, you definitely can, and it will still taste delicious. It's also incredibly easy to make, so even the most cooking-adverse can easily make it.
Get our recipe for Grilled Ratatouille Salad.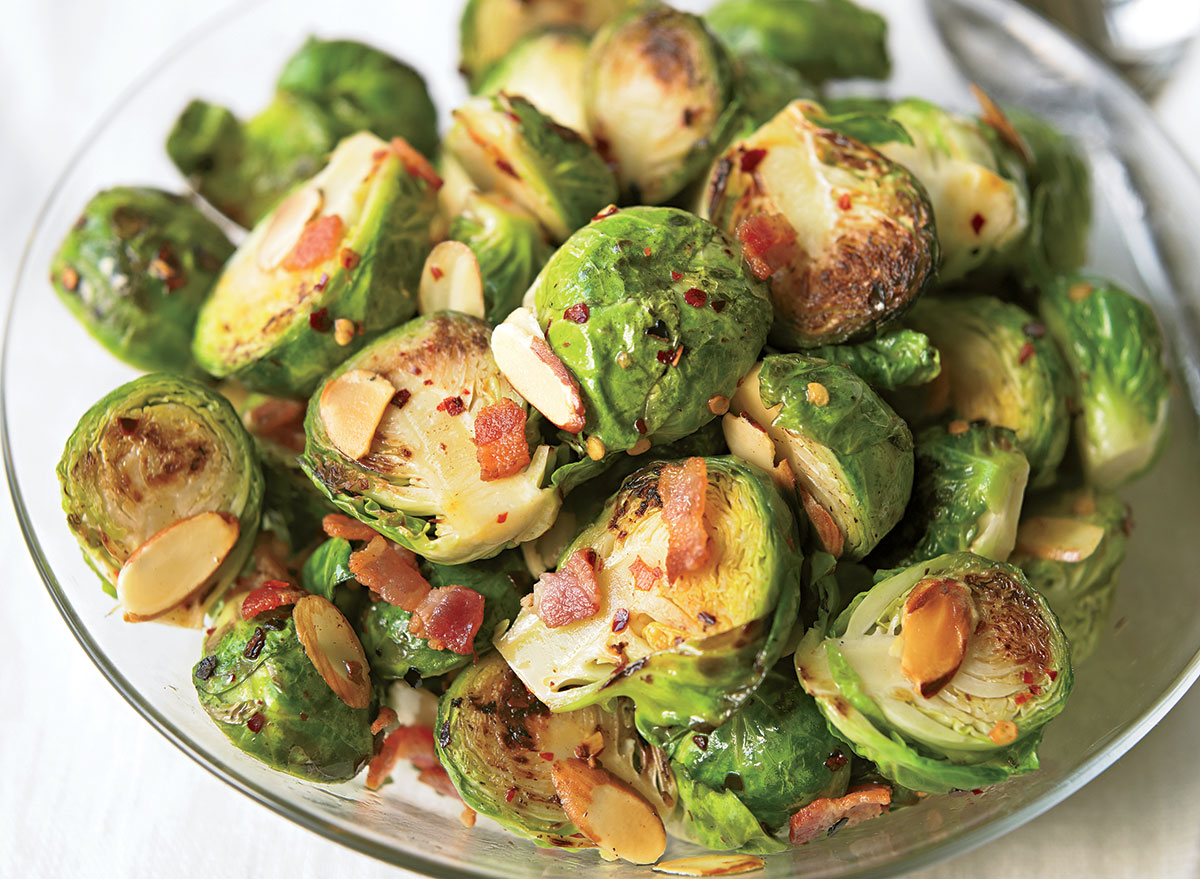 This Brussels sprout recipe is bound to turn any skeptic into a full-blown lover, adults and kids alike. A lot of times the reason that people can't get behind Brussels sprouts as a side is they're not cooked correctly. By adding bacon and almonds, this recipe adds a new dimension of flavor and a crunch that will have your guests piling their plates high.
Get our recipe for Brussels Sprouts Garnished with Bacon and Almonds.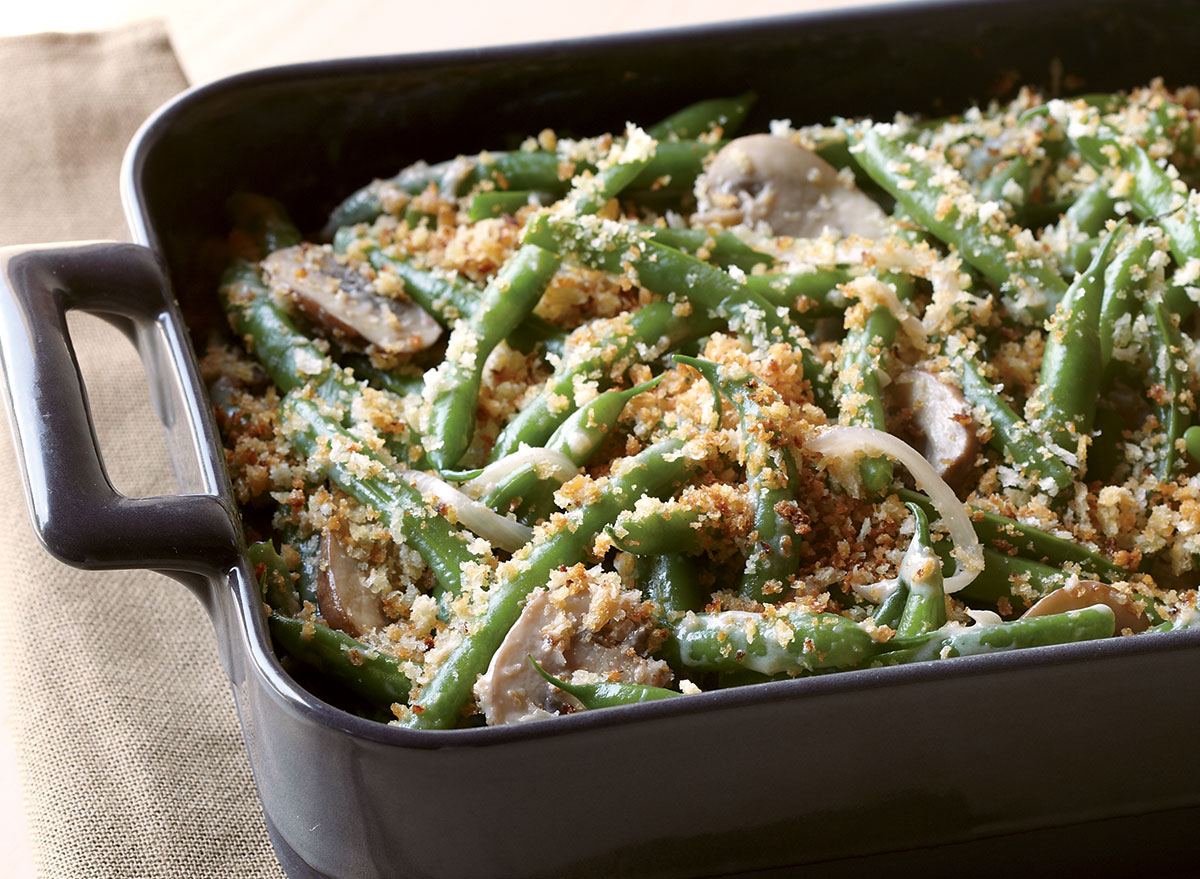 The green bean casserole is one of those classic Thanksgiving dishes that's been around for years, and ours is guaranteed to impress. By using fresh ingredients, this recipe has more flavor, color, and texture than the version on the soup label you're probably used to making. We think you'll be making this one more than just on Thanksgiving. Plus, because it's one of the easy Thanksgiving recipes to just throw together and put in the oven, you'll have more time to get ready!
Get our recipe for Green Bean Casserole.
Orecchiette with broccoli rabe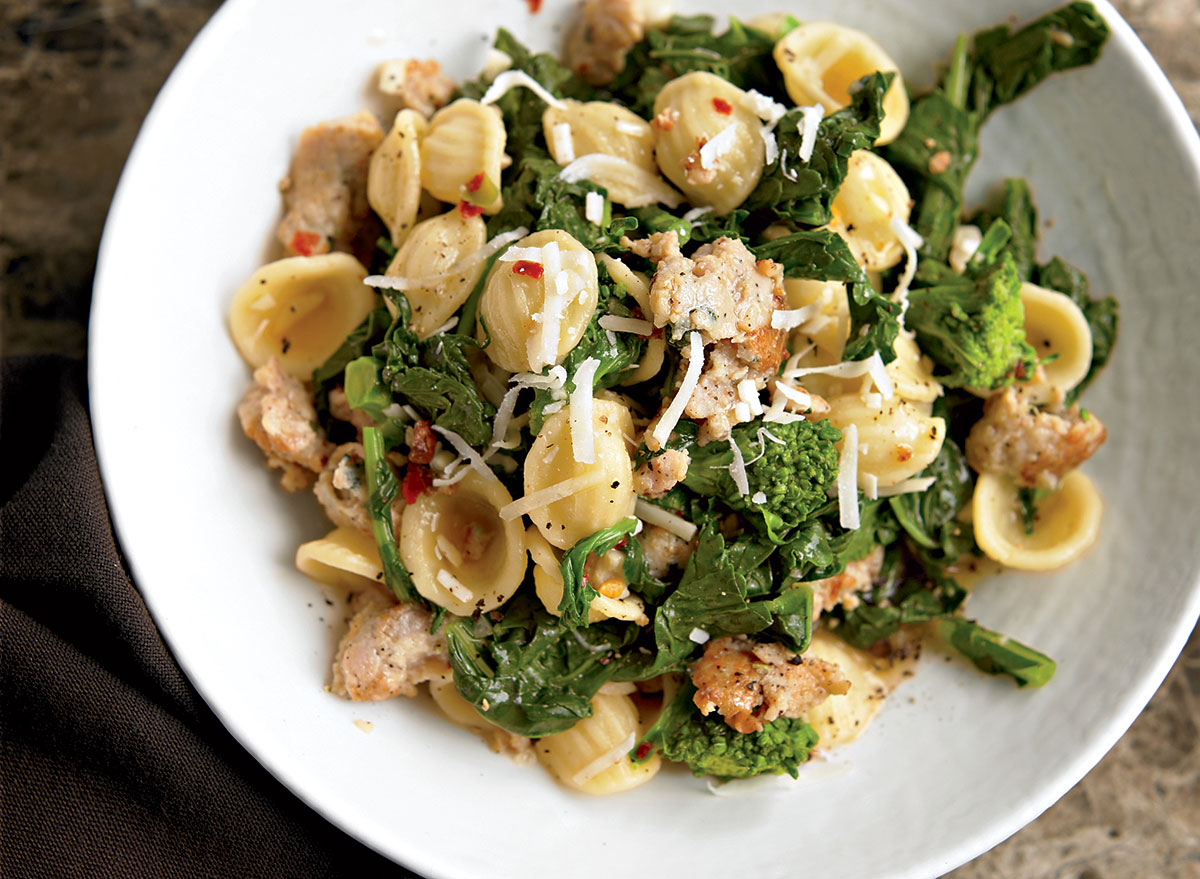 Who says you can't have pasta on Thanksgiving? This recipe is quick to prepare and even has some turkey sausage in it if you didn't get enough with the bird itself. And if you have any leftovers, it works perfectly as lunch the next day.
Get our recipe for Orecchiette with Broccoli Rabe.
Parmesan-roasted broccoli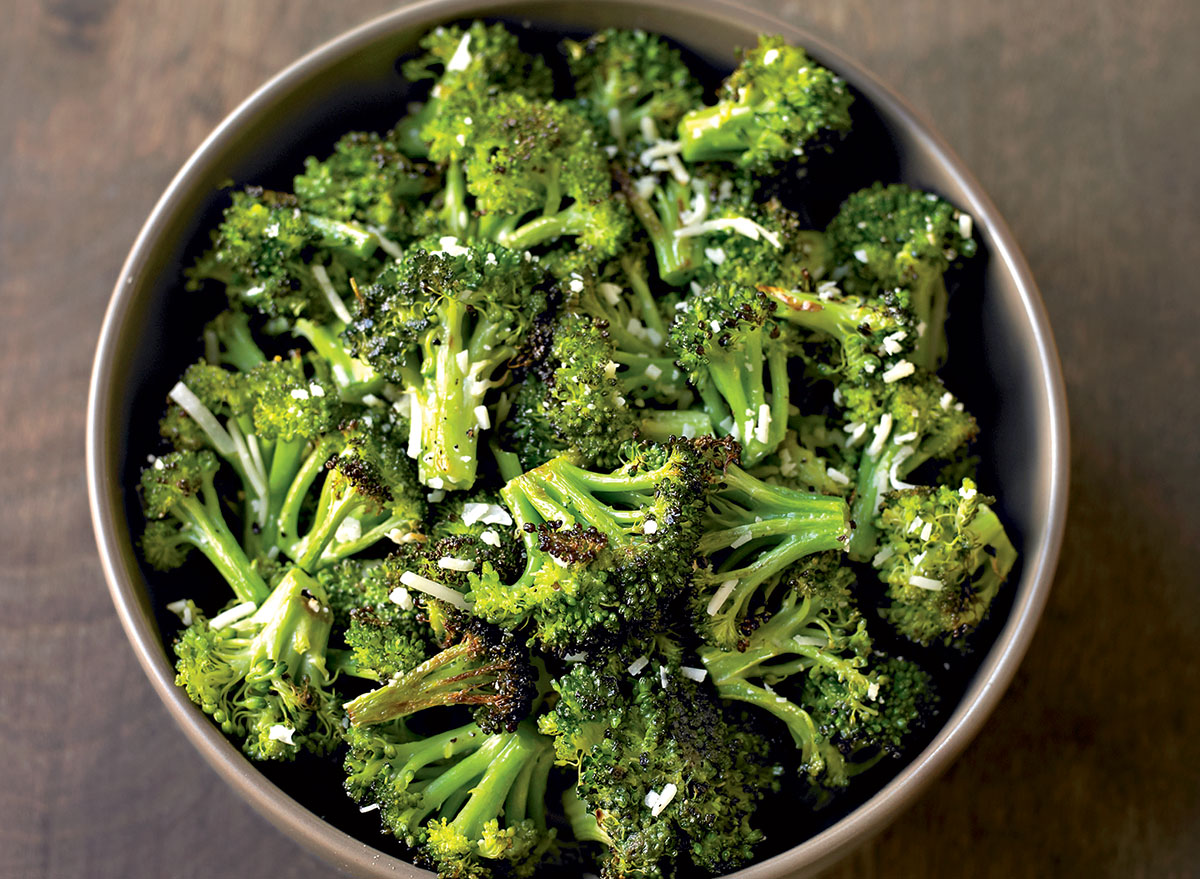 If you want to go the more traditional route with a Thanksgiving side, this broccoli recipe puts a special twist on an everyday classic side. We are definitely more likely to eat our veggies if they have cheese on top, and this recipe shows you the perfect way to make that happen.
Get our recipe for Parmesan-Roasted Broccoli.
Caprese tomato tower salad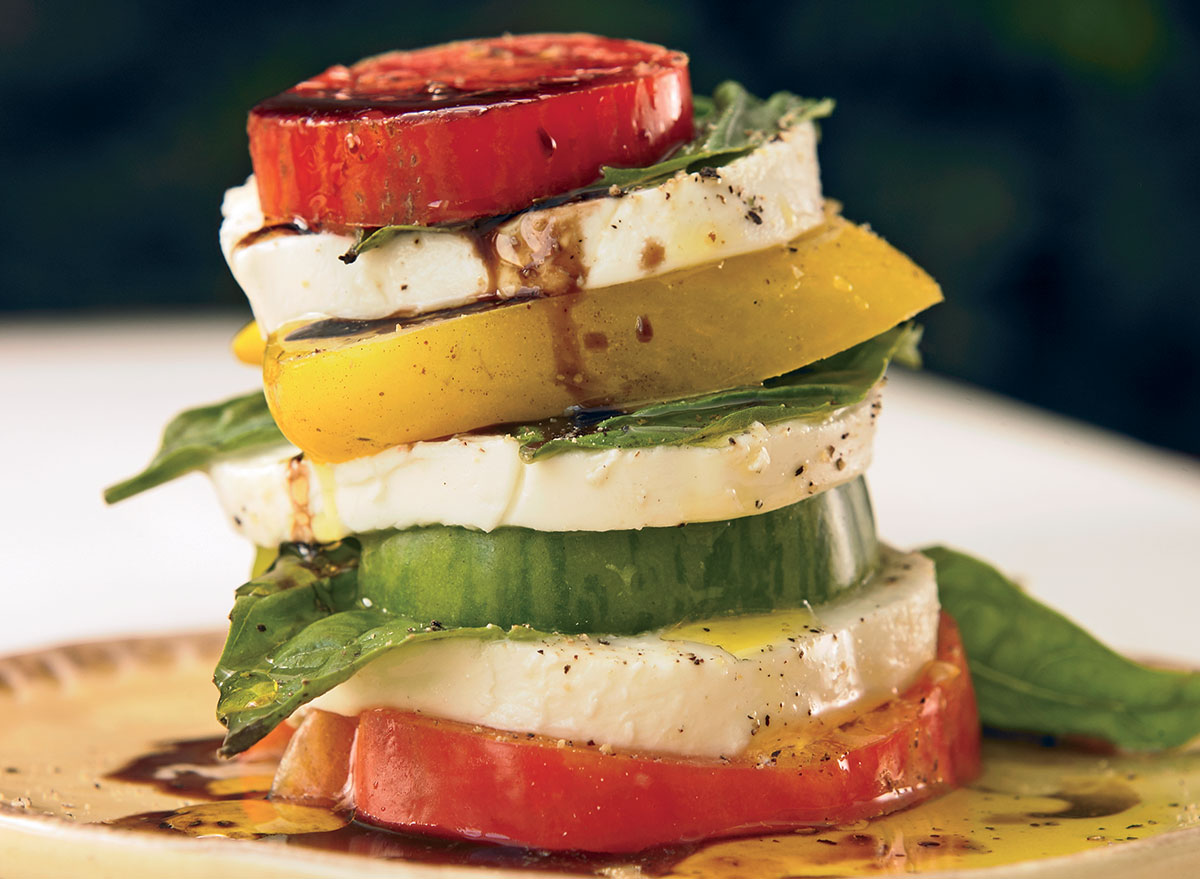 We know that Thanksgiving is supposed to be all about the turkey, but let's at least give this gorgeous Caprese Tomato Tower the credit it deserves. There's nothing like getting your own personal stack for your plate. Your guests will be all about this dish. It makes an easy appetizer, too!
Get our recipe for the Caprese Tomato Tower Salad.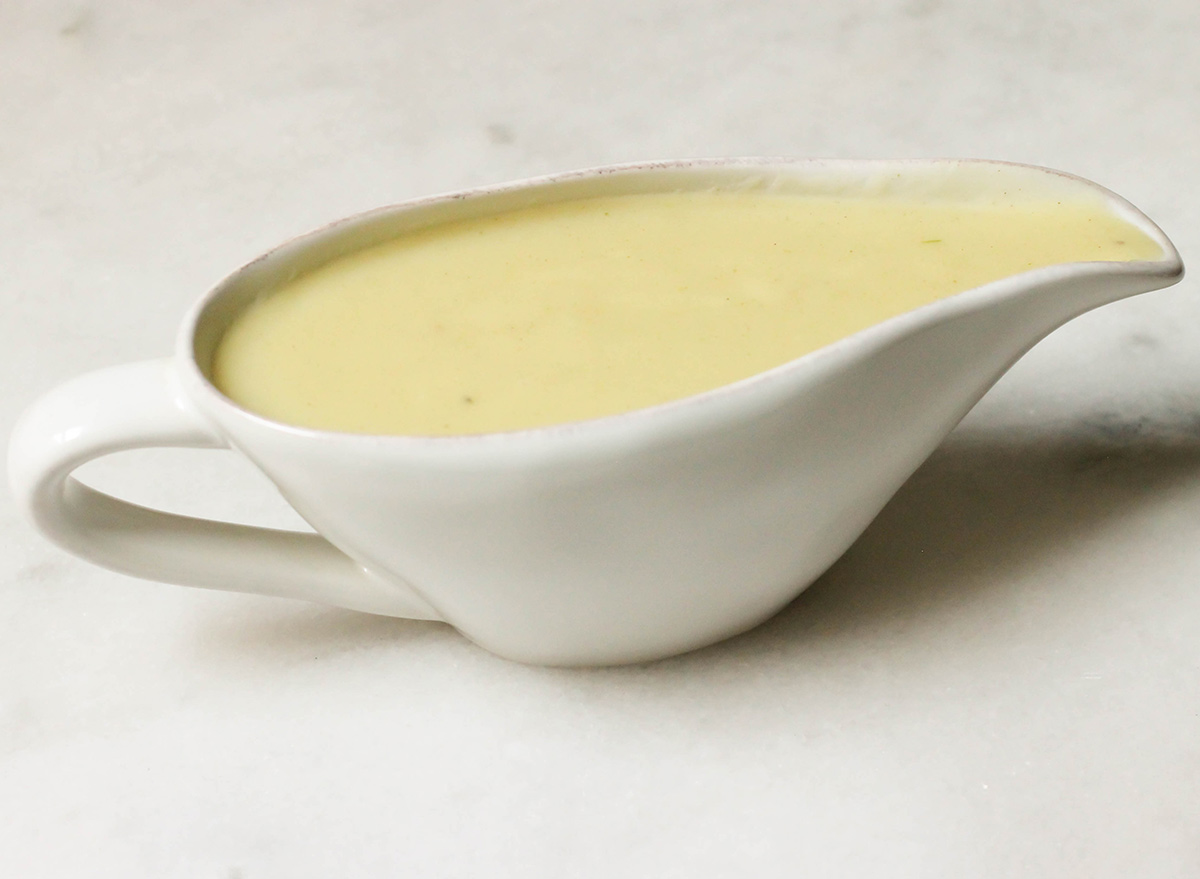 Gravy is, of course, a Thanksgiving necessity, almost even more so than the cranberry sauce. Well, we have a recipe that you can use to make it in under 30 minutes. If you're making the turkey, you might as well make the gravy to go along with it. It's just a few simple ingredients and spices that really take this gravy to a delicious new level.
Get our recipe for Homemade Gravy.
Fudgy pumpkin brownie bites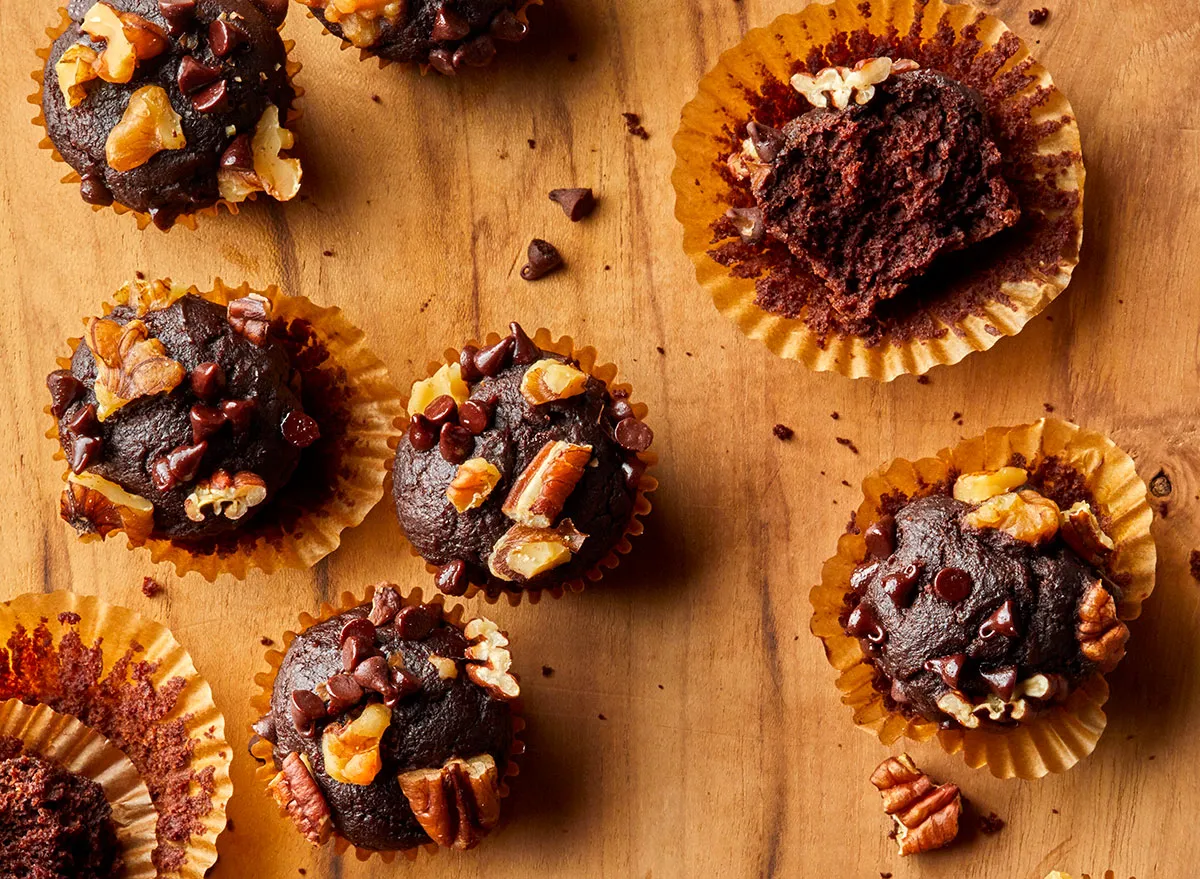 Thanksgiving dessert is a funny thing. You eat so much during the actual meal that you don't think it's possible to eat anything else. But somehow, someway, you're always able to fit something. These brownie bites are perfect for Thanksgiving because they're chocolatey and rich, but they're also bite-sized, so you won't feel like you're being put too much over the edge.
Get our recipe for Fudgy Pumpkin Brownie Bites.
What's not to love about a chocolate-chip blondie? It's pretty much the equivalent of a chocolate-chip cookie, but in cake form. Desserts that you can make in a baking dish are great because you can get large servings super easily—if you're still feeling hungry. So no matter the size of your Thanksgiving dinner, it's one of those easy Thanksgiving recipes that everyone will love.
Get our recipe for Chocolate Chip Blondies.
Fudgy raspberry brownie recipe
You wouldn't believe the difference when you make brownies from scratch instead of using a box, and why wouldn't you if they take less than 30 minutes to make. There are lots of flavors going on in this recipe that complement each other so perfectly. Odds some guests try to sneak some home in their bags are very high.
Get our recipe for Fudgy Raspberry Brownies.
Individual key lime cheesecakes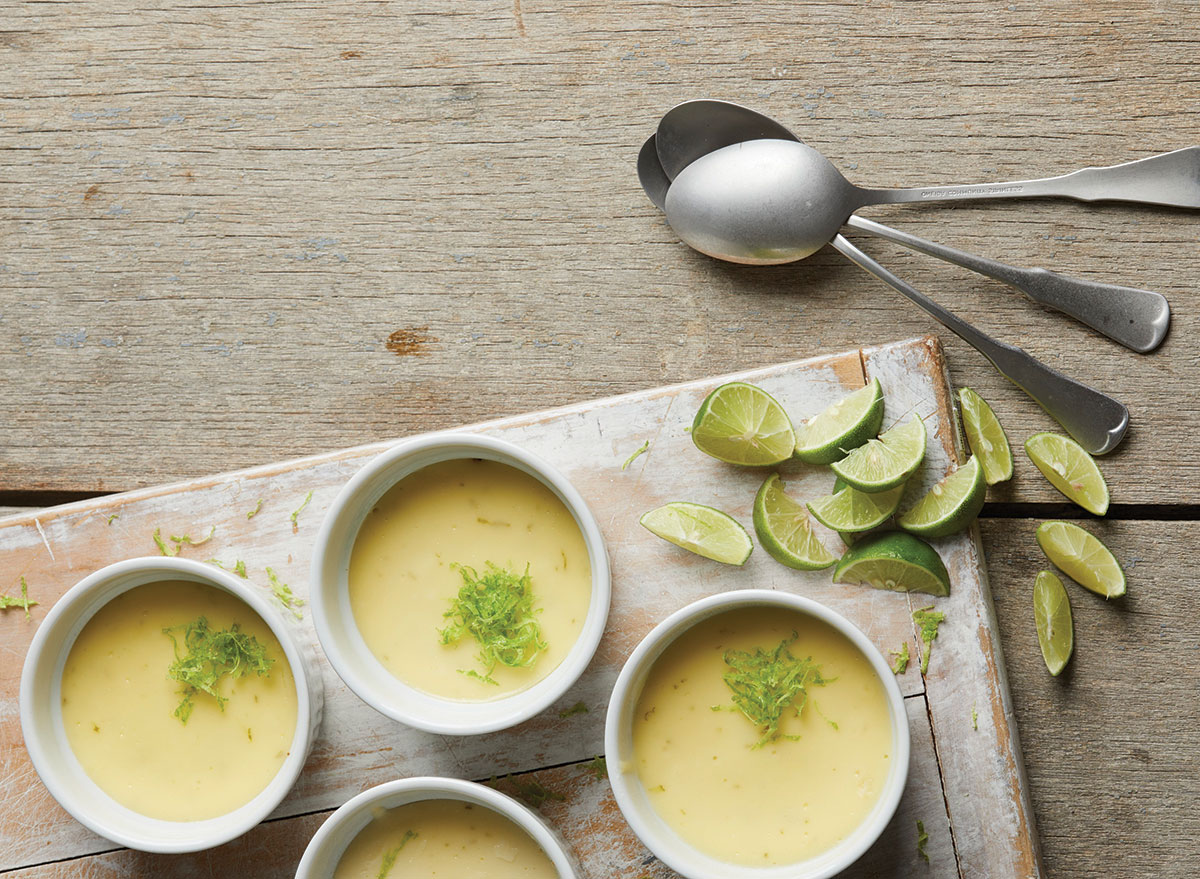 If you want to forego the classic pie route for Thanksgiving, these individual cheesecakes put a spin on that in a way your guests will never forget. There's a secret ingredient in these cheesecakes that truly make them special: rolled oats. Once your guests take a bite, they'll be asking you to make them for every holiday to come. Thanksgiving food has changed quite a bit over the years, so these would be great for starting a new tradition!
Get our recipe for Individual Key Lime Cheesecakes.
Rachel Linder
Rachel is an Associate Editor responsible for compiling the daily Eat This, Not That! newsletter, making TikTok and YouTube videos for the brand, writing articles for the site, creating original graphics and providing direct assistance to the editors when needed.
Read more about Rachel