15 Toast Recipe Ideas That Go Beyond Basic Avocado
Avocado toast sure is delicious, but these unique toast combinations are real game-changers.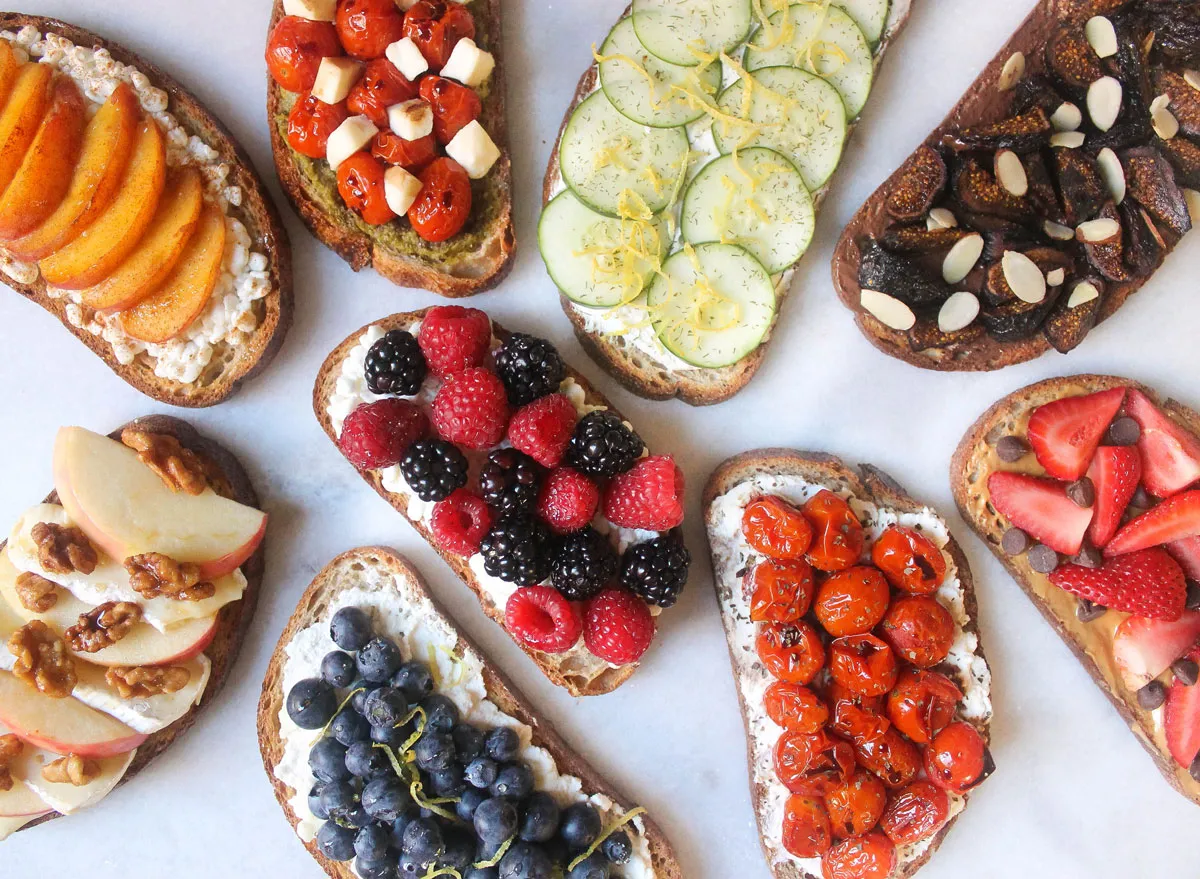 Before avocado toast revolutionized breakfast and brunch menus, toast was treated as an afterthought. Typically served on the side of a breakfast dish, or scarfed down as a snack with some peanut butter, toast wasn't typically considered a satisfying meal for one to enjoy. That was until smashing an avocado onto a piece of toasted bread became a popular breakfast and weekend brunch staple.
While avocado toast is delicious and absolutely worth the hype, it isn't the only food product that works well on a slice of toast. In fact, simply spreading (or smashing) one item onto a toast limits all of the creative combinations that one could enjoy instead.
We decided to look beyond a smashed avocado on toast and experimented with even tastier toast ideas. These 15 toast recipes are unique and delicious, and they're the perfect breakfast to make your Instagram followers drool.
Hazelnut spread, fig slices, and shaved almonds
To kick this off, we started with a classic toast spread for this combination: Hazelnut! While hazelnut spreads are typically paired with berries—like strawberries or raspberries—fig is actually known to pair well with hazelnut. Adding the shaved almonds gives the toast a satisfying crunch when you bite into it, plus a dose of protein.
Cream cheese, lemon zest, dill, and cucumber
6254a4d1642c605c54bf1cab17d50f1e
Think of this toast combination as a deconstructed tea sandwich. Inspired by foods typically seen at a tea party, this cucumber cream cheese toast tastes light and refreshing. We highly recommended serving it with a hot cup of tea, of course!
Ricotta, blueberries, honey, and lemon zest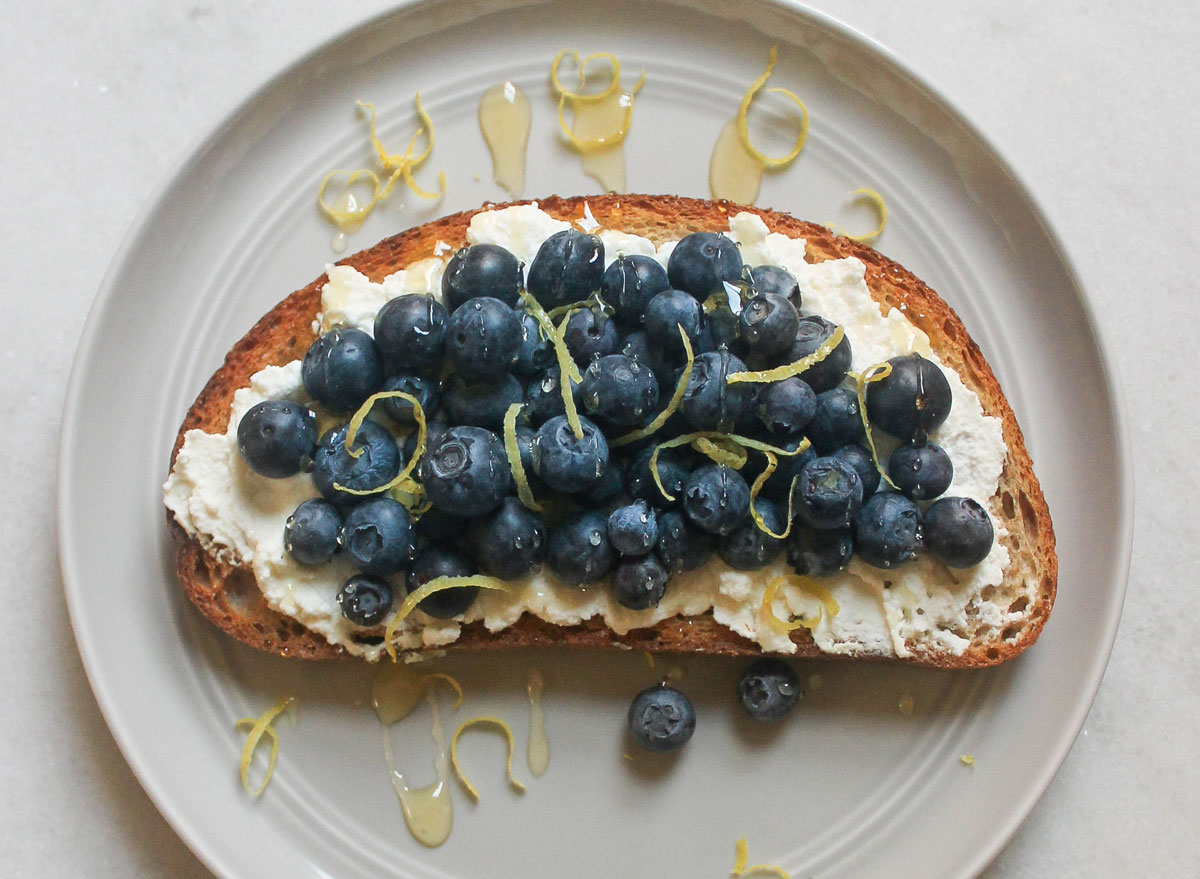 Because lemon, blueberry, and ricotta pancakes are a beloved breakfast item, why couldn't these flavors work as a toast idea as well? Inspired by our Healthy Lemon Blueberry Ricotta Pancakes, this toast combination channels all of those delicious flavors without having to spend more time in the kitchen.
Ricotta, roasted cherry tomatoes, basil, and balsamic vinegar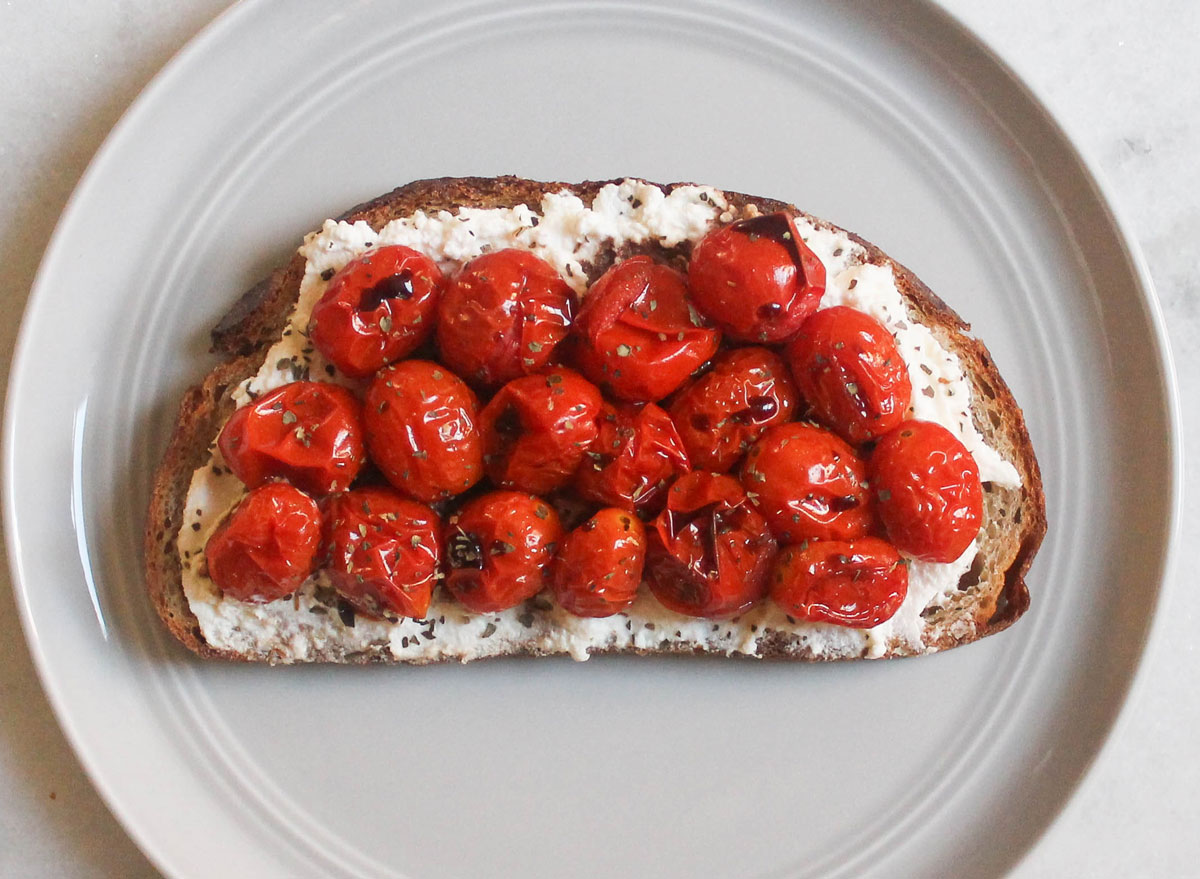 Ricotta is a versatile soft cheese that's great with sweet or savory dishes. If you already have a container of it in the fridge, why not try a savory version of ricotta toast and add some roasted tomatoes to it! Lightly coat the cherry tomatoes with olive oil and roast them at 400 degrees for 15 minutes. You can either sprinkle on some dried basil or use kitchen shears to chop up fresh basil into confetti-like shapes. Finish off with a drizzle of balsamic vinegar for an acidic punch.
Peanut butter, strawberries, and chocolate chips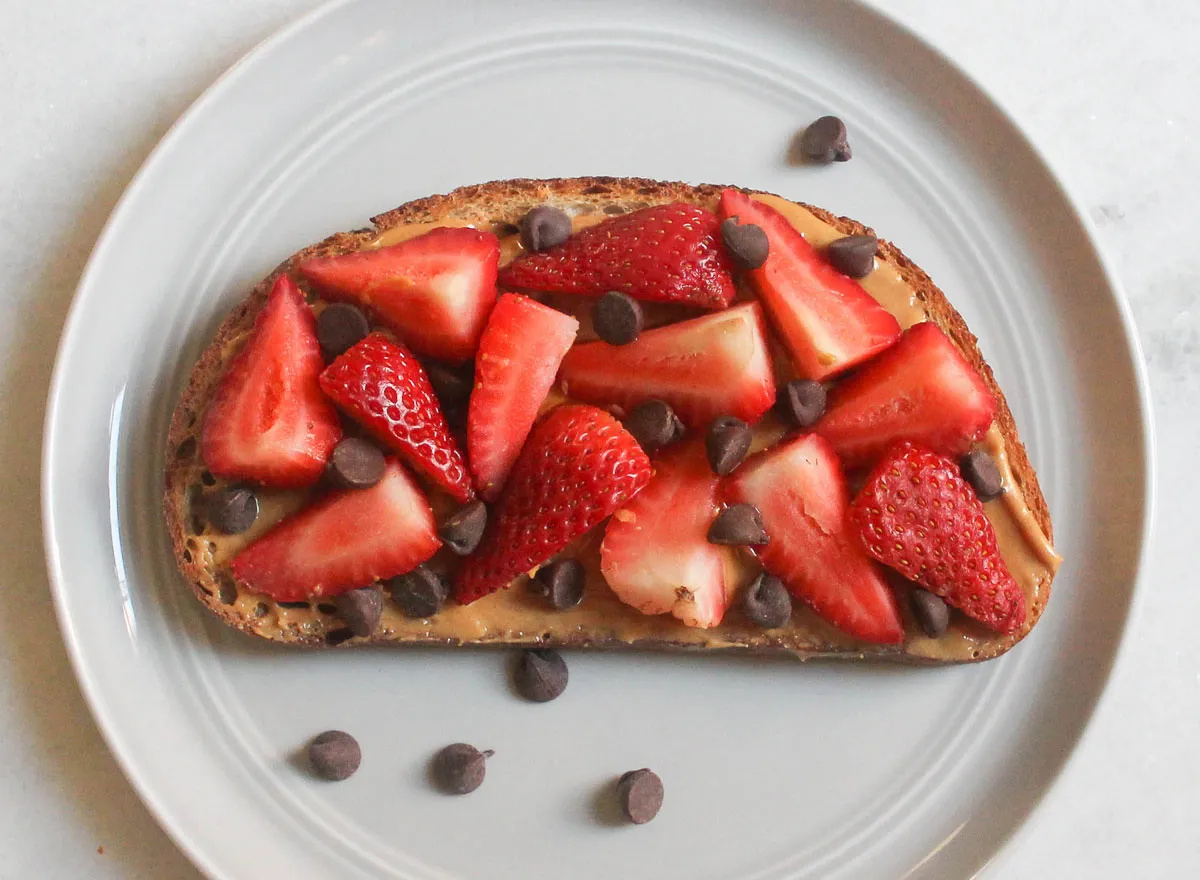 If peanut butter and strawberry jam work well on toast, why not throw some fresh strawberries on peanut butter toast instead? Topped with a few chocolate chips, this toast combination is a surefire way to get you out of bed in the morning.
Avocado, fried egg, and everything bagel seasoning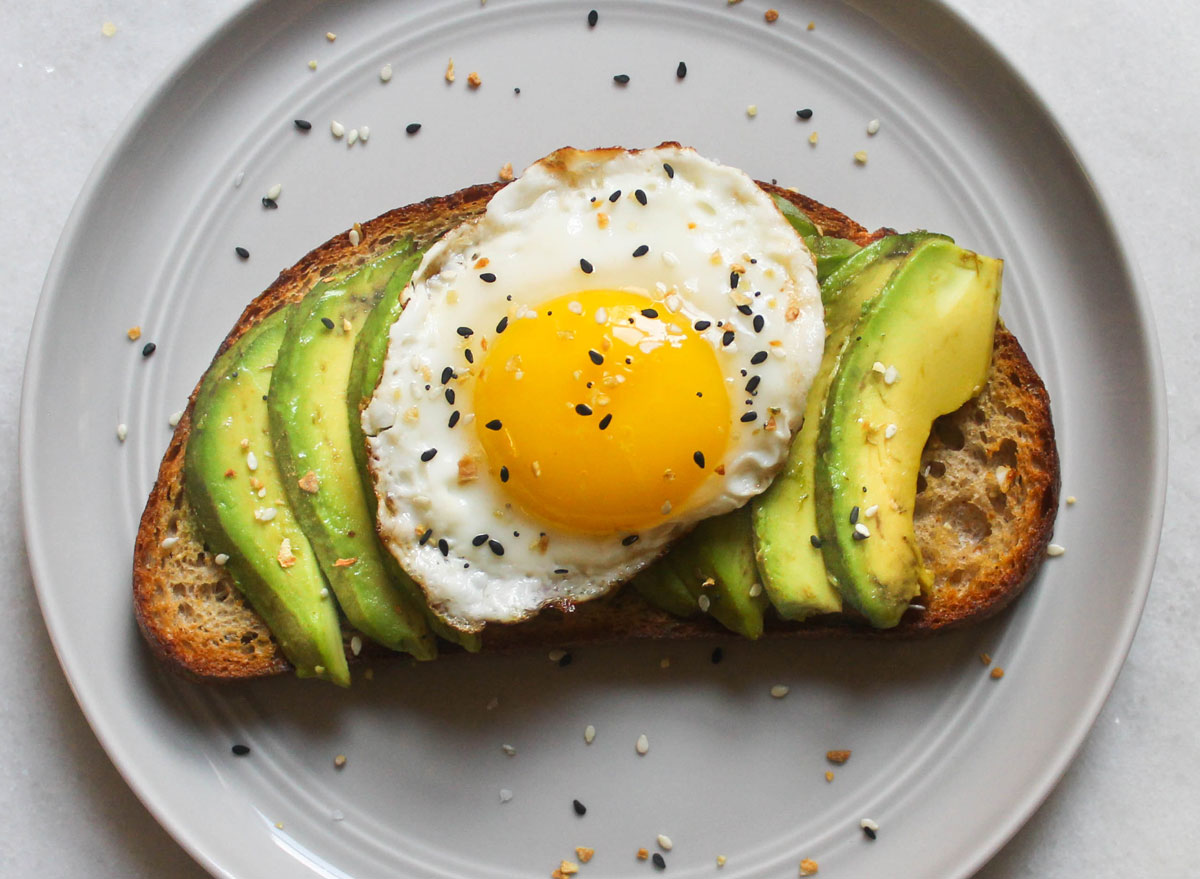 OK, we know, this is essentially avocado toast, but trust us on this one! Go beyond the usual smashed avocado on toast by adding a fried egg to it. Top it with some everything bagel seasoning (the most famous version is the Everything But The Bagel Seasoning at Trader Joe's), and your avocado toast has officially been upgraded.
Cottage cheese, peach, cinnamon, and honey
Cottage cheese may not be the most popular cheese spread out there, but it's certainly not one to skip over for toast. Cottage cheese is great to have with fruits, and most commonly paired with peaches. Drizzle on some honey and sprinkle on some cinnamon—one of the healthiest spices on the planet—for even more flavor.
Marinara, fried egg, and pesto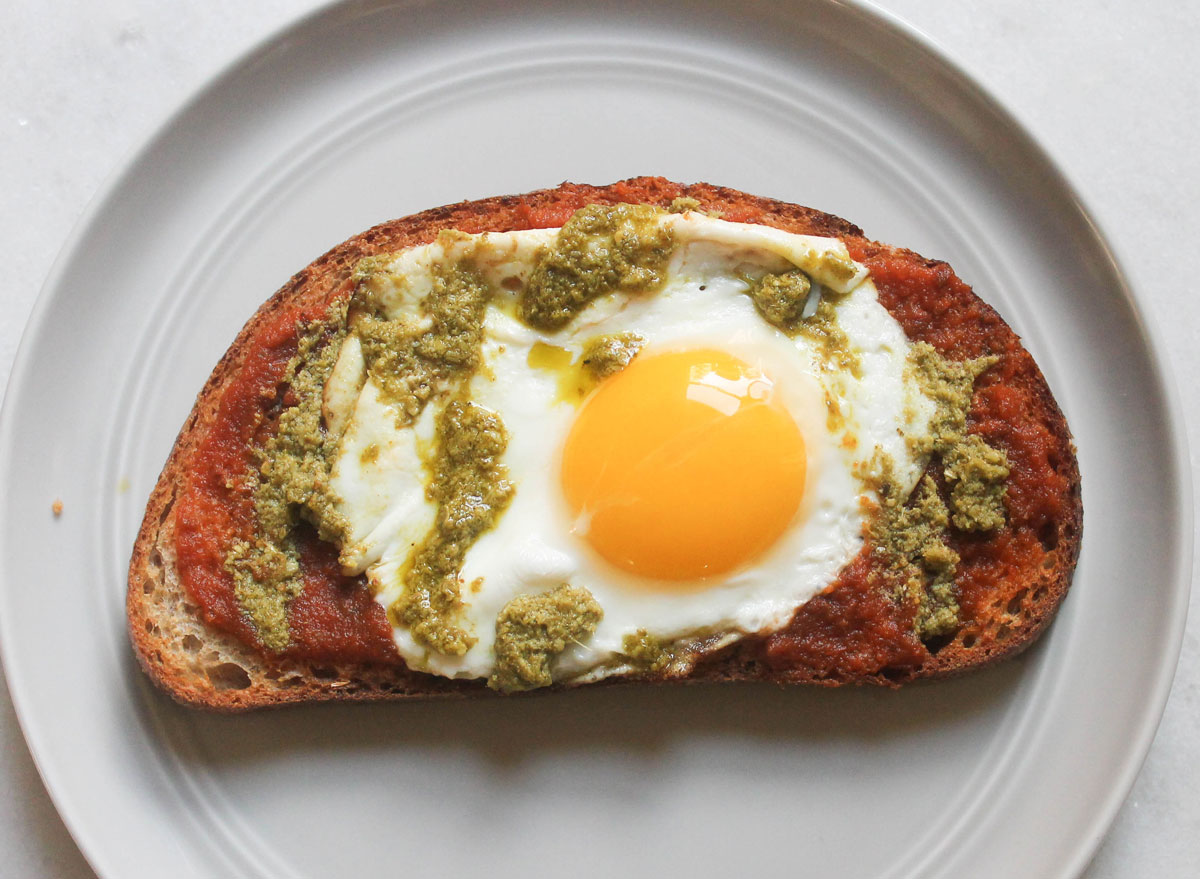 We could have made a classic pizza-style toast with marinara, but by using a fried egg, this toast now has a striking similarity to Shakshuka—a divine Middle-Eastern dish typically served in a skillet. Top with some dollops of pesto for some mini blasts of flavor.
Pesto, roasted tomatoes, fresh mozzarella, and balsamic vinegar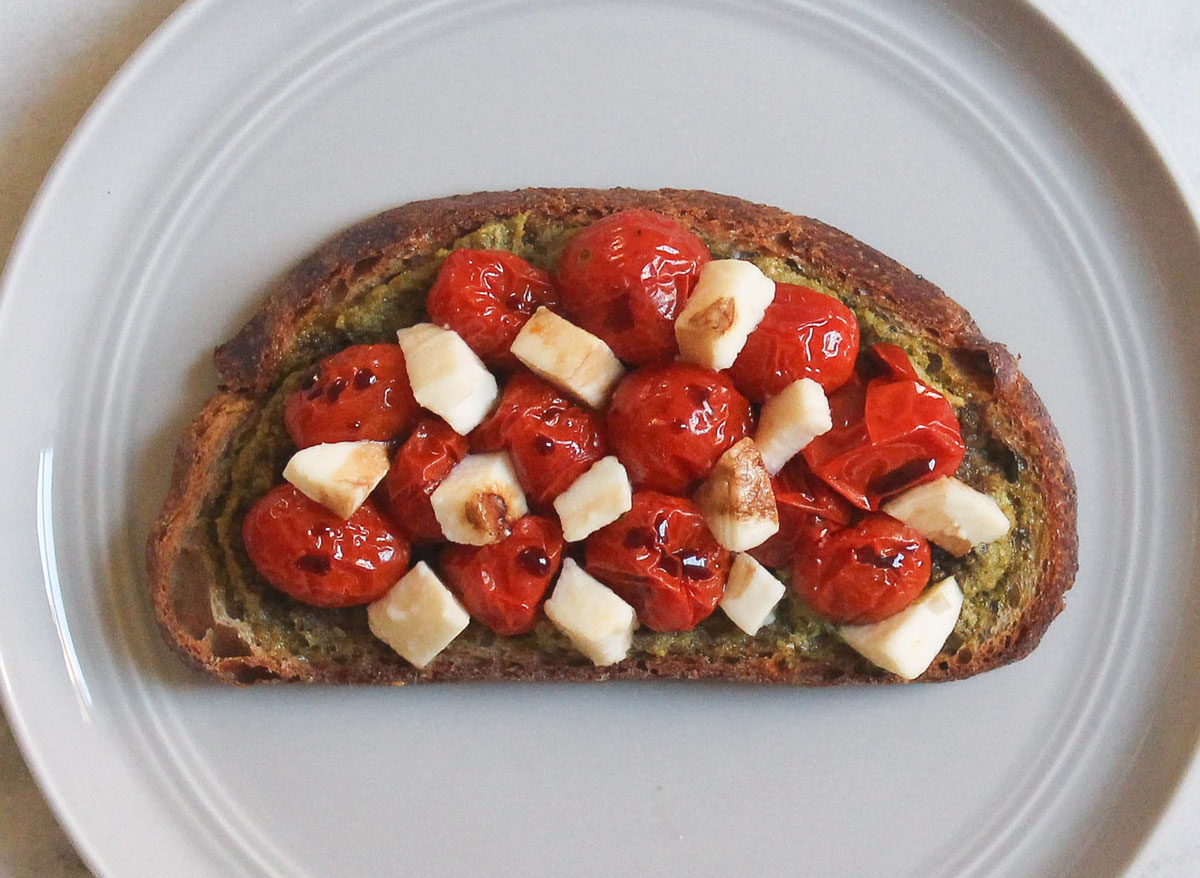 Now that you have pesto, why not use it as a spread for another toast? Using the leftover roasted tomatoes from the ricotta, roasted cherry tomatoes, basil, and balsamic vinegar recipe we already have, simply add some fresh mozzarella cheese, and this toast creates a clever twist on the classic caprese salad.
Brie, apple, candied walnuts, and maple syrup
There's nothing like a sweet apple with some creamy cheese, right? The combination may sound odd at first, but we promise, it is one that you will want to indulge in. Apple and cheese pair surprisingly well together! Using thin slices of Brie as the "spread" on the toast, add some thin slices of apple, candied walnuts, and a drizzle of maple syrup for a combination that's almost as good as an apple and bacon grilled cheese.
Cream cheese, hot pepper jam, and bacon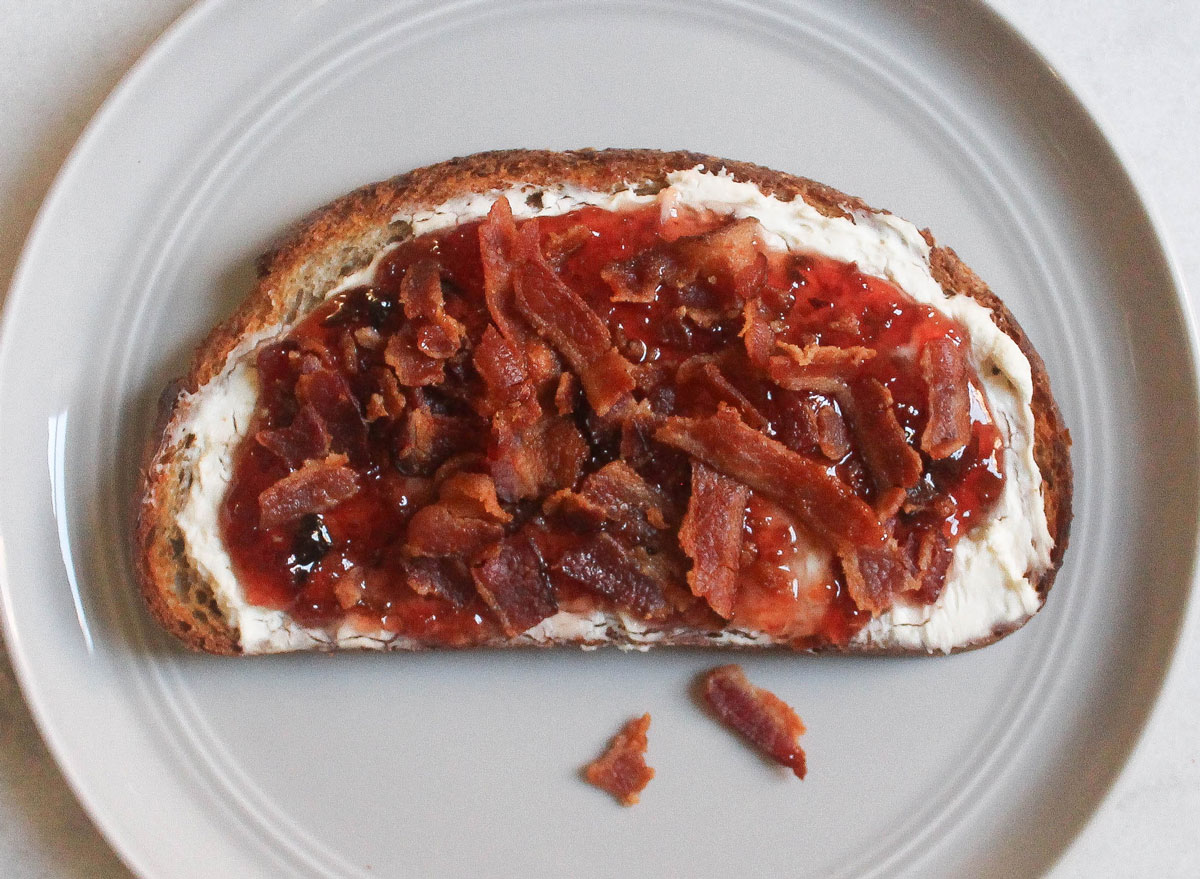 Cream cheese and hot pepper jam do in fact go well together—you'll most commonly find them spread on crackers at parties. But instead of enjoying it as an appetizer, we spread the cream cheese and jam on toast to make it a full meal. The bacon adds a salty crunch to the sweet and spicy combo of cheese and jam.
Peanut butter, apple, cinnamon, and honey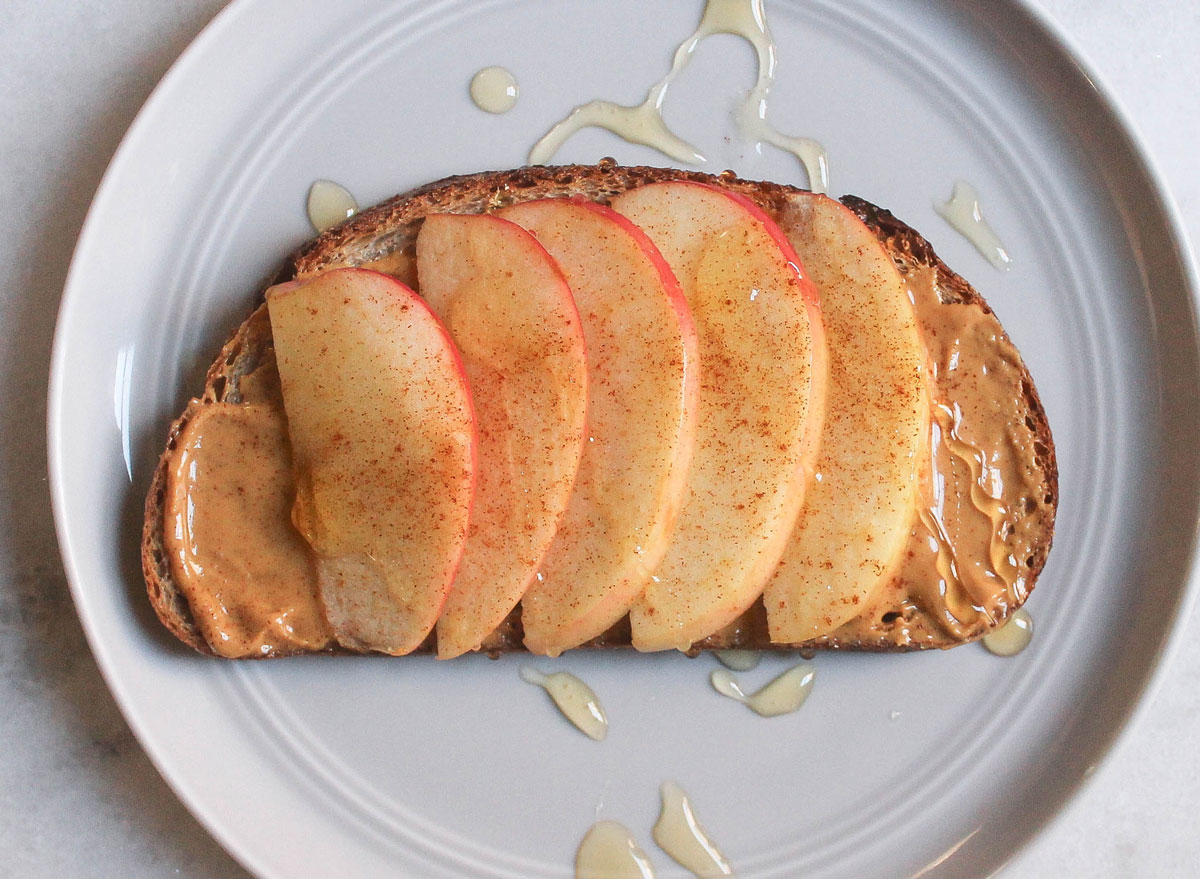 Back to the classic peanut butter, but this time we're adding another fruit that pairs well with nut butters: apples! If you're not a fan of peanut butter, you could also try this combination with some of our recommended nut butters.
Dried mango, goat cheese, and balsamic vinegar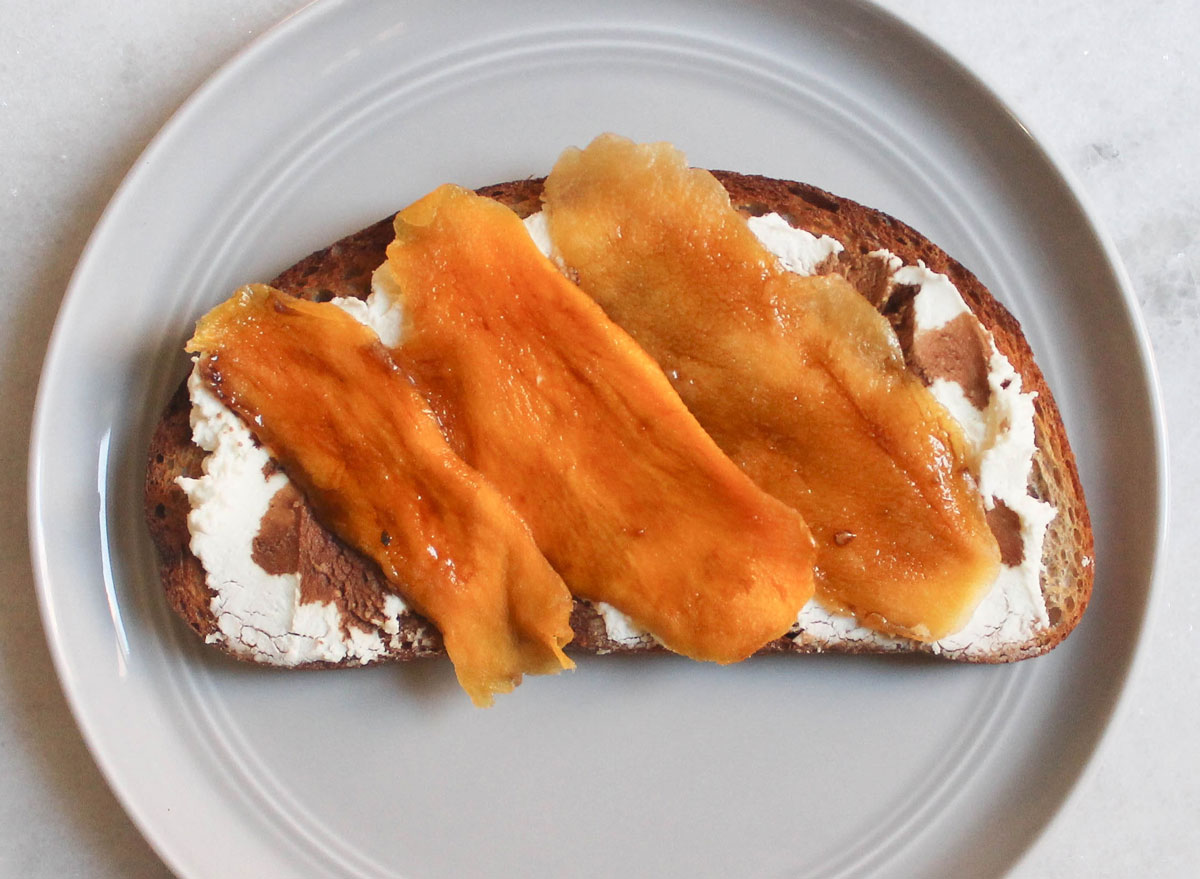 None of these items sound like they should go together, but after one bite of this unique toast combination, you'll be instantly convinced. The acidity coming from the balsamic vinegar works very well with sweet dried mango and the tangy goat cheese. If you're looking for something eccentric to impress a crowd, try this combination on smaller slices of toast and serve it as an appetizer.
Cottage cheese, honey, raspberries, and blackberries
Back to using the cottage cheese, but before spreading it on, try whipping it up with a squirt of honey first. This helps to break the lumps and spread the sweetness throughout the cheese. Spread on the toast and top with berries, which have a high percentage of fiber to keep you feeling full.
Hazelnut spread, bacon bits, and maple syrup
Have you ever tried chocolate-covered bacon? Hazelnut spread is slightly different than straight chocolate, but the combination for this toast will still have you buzzing. Nothing pairs better than sweet and salty! Don't knock it till you try it—trust us!