15 Best Classic Dishes Invented in America
Go on a virtual food tour of the country with these noteworthy creations.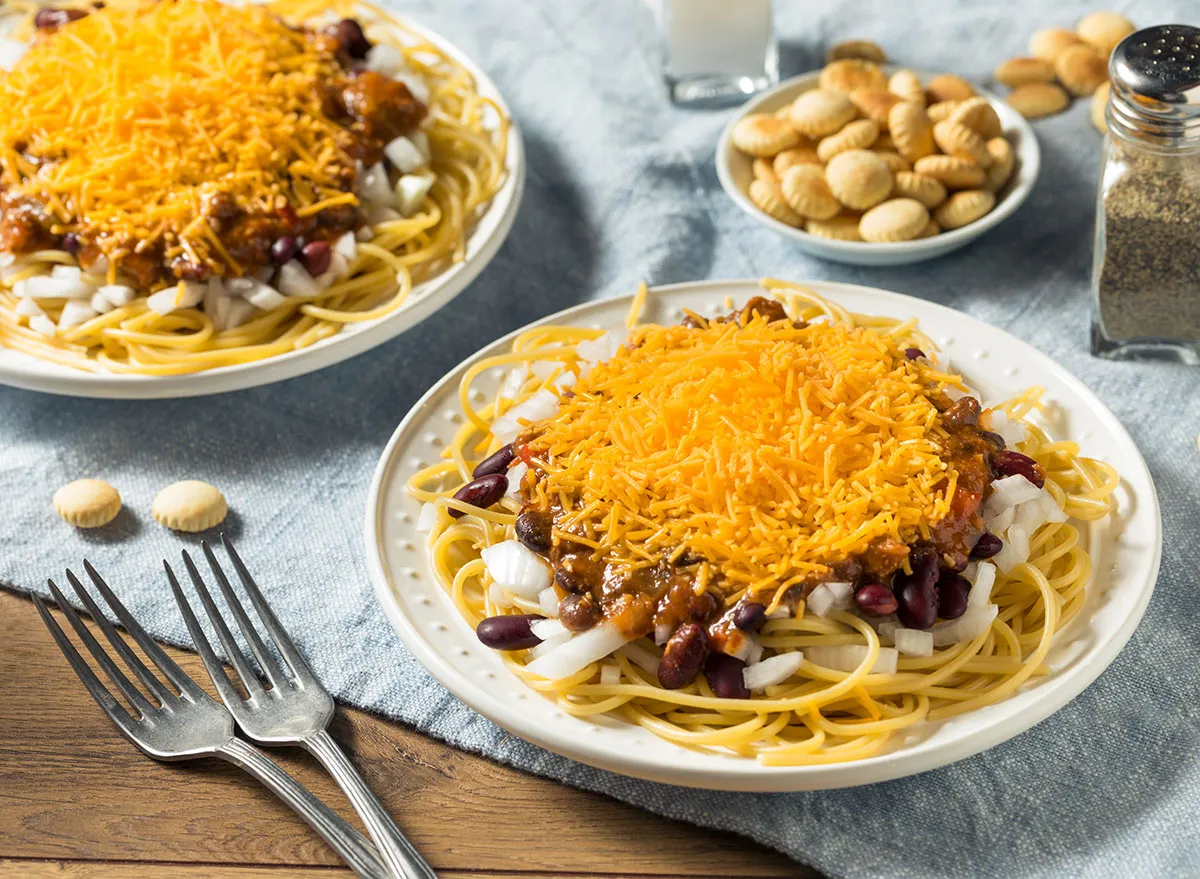 You've likely heard the phrase "as American as apple pie," but the first written recipe for the classic fall dessert came from England. These dishes, however, did first pop up in the United States, and helped shape American cuisine as we know it today.
Don't forget to sign up for our newsletter to get the latest food news delivered straight to your inbox.
Ambrosia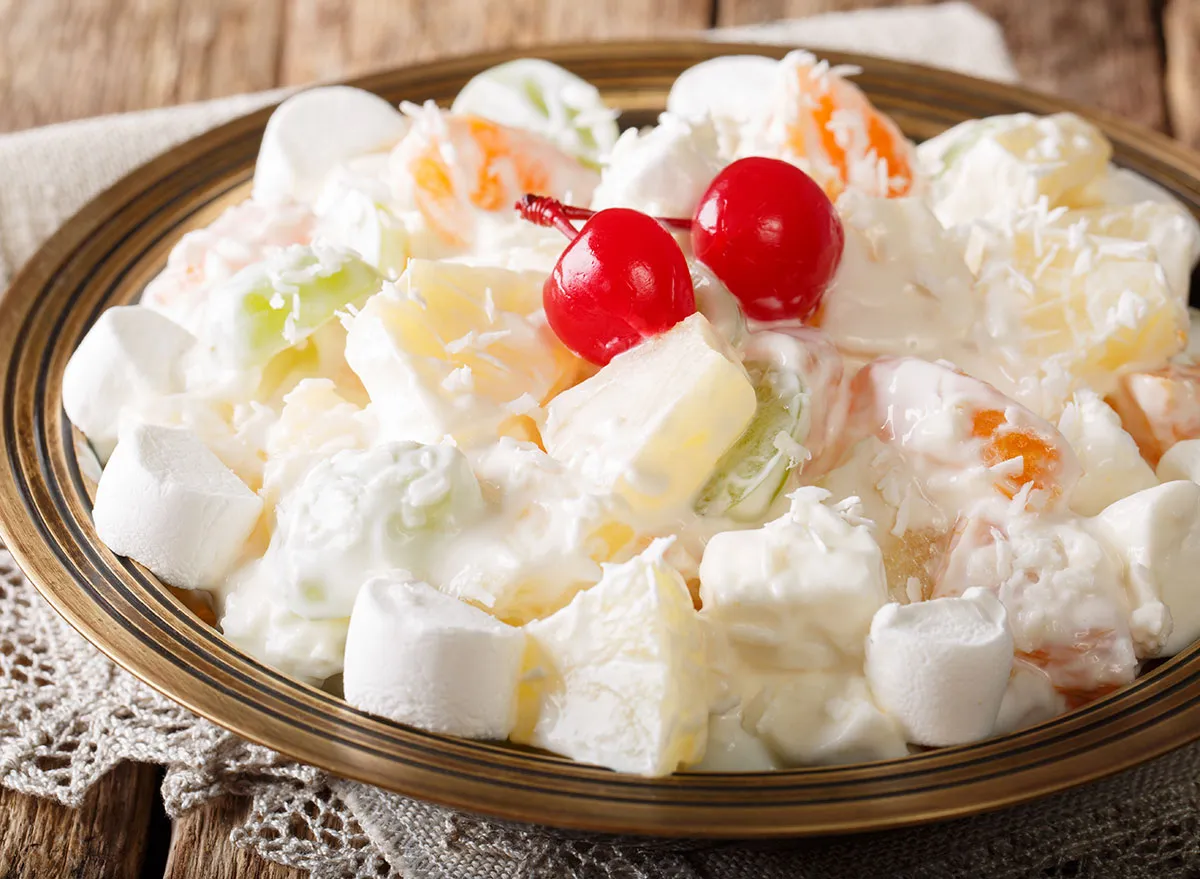 Anything with marshmallows is bound to be a grand old American time (case in point: s'mores, fluffernutters, Rocky Road ice cream), and ambrosia is no exception. The dish originated in the 1800s and was technically called a salad, but as it contains marshmallows, coconut, canned pineapple, mandarin oranges, and some type of dairy, it helps to think of it as dessert. Once you try it, you'll understand why ambrosia means "elixir of life" in Greek mythology. Check out these 15 Classic American Desserts That Deserve a Comeback.
Tuna Noodle Casserole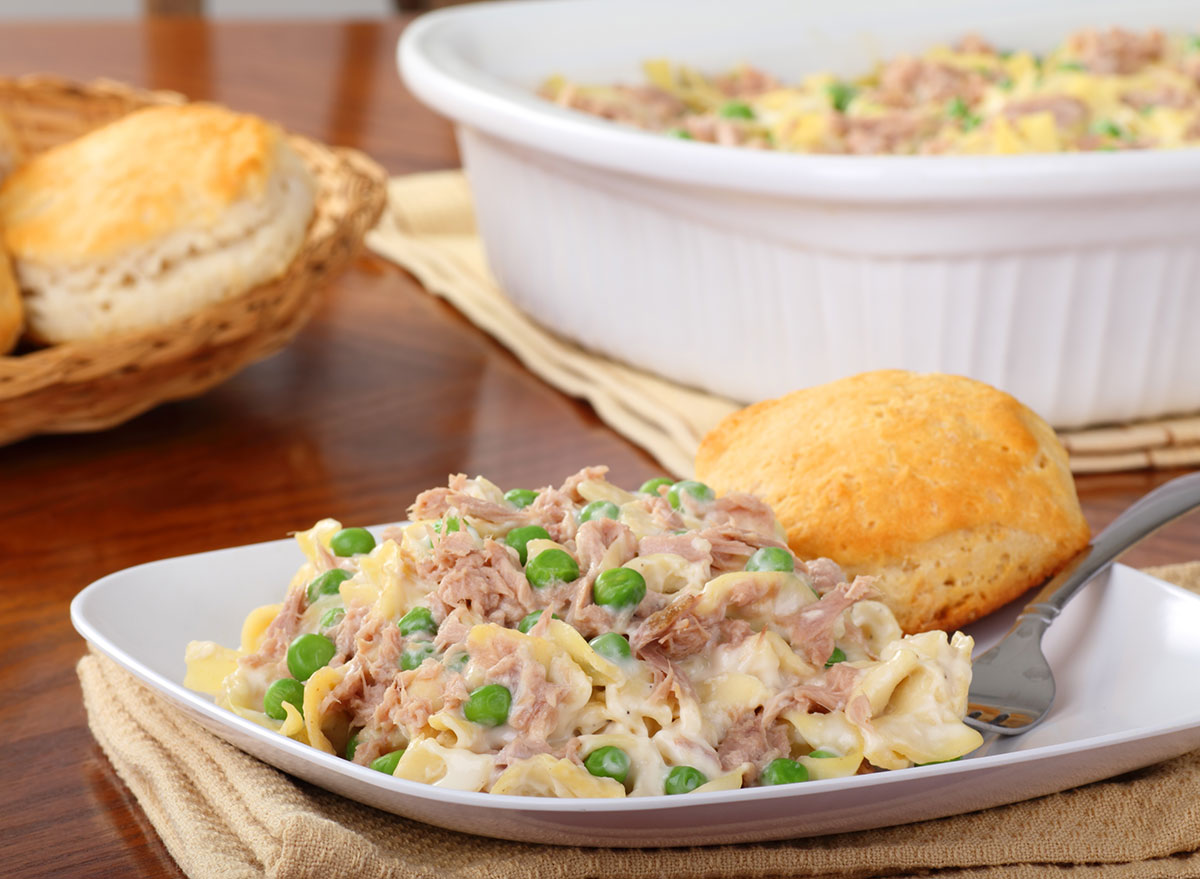 Our Declaration of Independence may well have made note of life, liberty, and the pursuit of casseroles. This particular casserole was on seemingly every dinner table in the 1950s, with its combination of tuna, mushroom soup, vegetables, and egg noodles can still be found in home cook's kitchens today. And for casserole you can make today, check out 45+ Best Healthy Casserole Recipes for Weight Loss.
Burgoo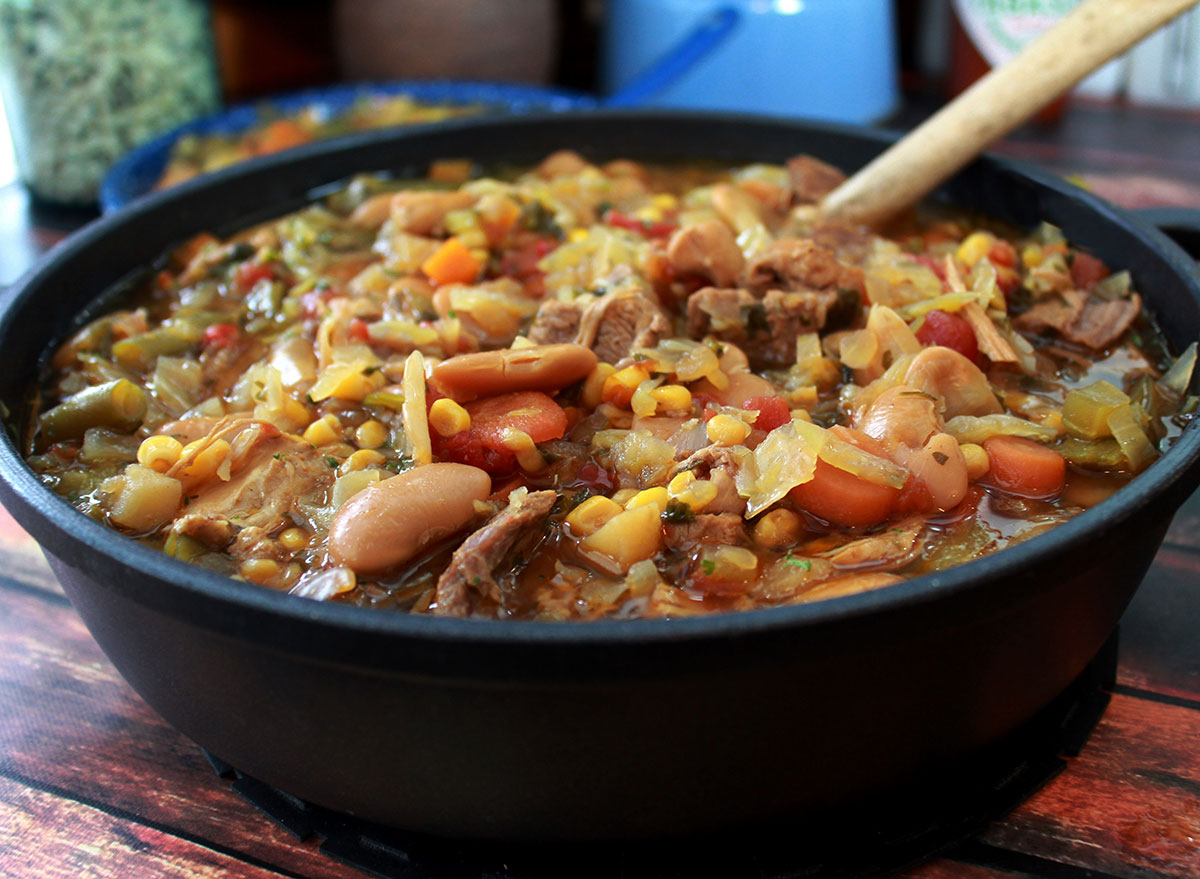 The best American dishes are found when you dive into regional specialties, such as this Kentucky stew. It's been traditional fare at the Kentucky Derby since the 1800s, and while the original version included unusual meat like squirrel and racoon, modern versions are more likely to use pork. Feeling the Kentucky Derby vibes? Make one of these 25 Deliciously Refreshing Summer Cocktails.
Gooey Butter Cake
It's refreshing when the name of a dish tells you everything you need to know, as is the case with this St. Louis–born dessert. Though there are various origin stories, it's likely the result of a happy culinary accident from the 1930s when one baker messed up the ingredient proportions while trying to make a coffee cake.6254a4d1642c605c54bf1cab17d50f1e
Sloppy Joes
Combine ground meat, onions, ketchup, and Worcestershire sauce, and you'll get this 1980s American staple. No one's quite sure where it came from, but it seems to have nothing to do with anyone named Joe. Despite the lack of namesake, it's still better than using the dish's other name of "loose meat sandwich." Here are the Most Popular Fast Food Chains in Every Decade.
Taylor Ham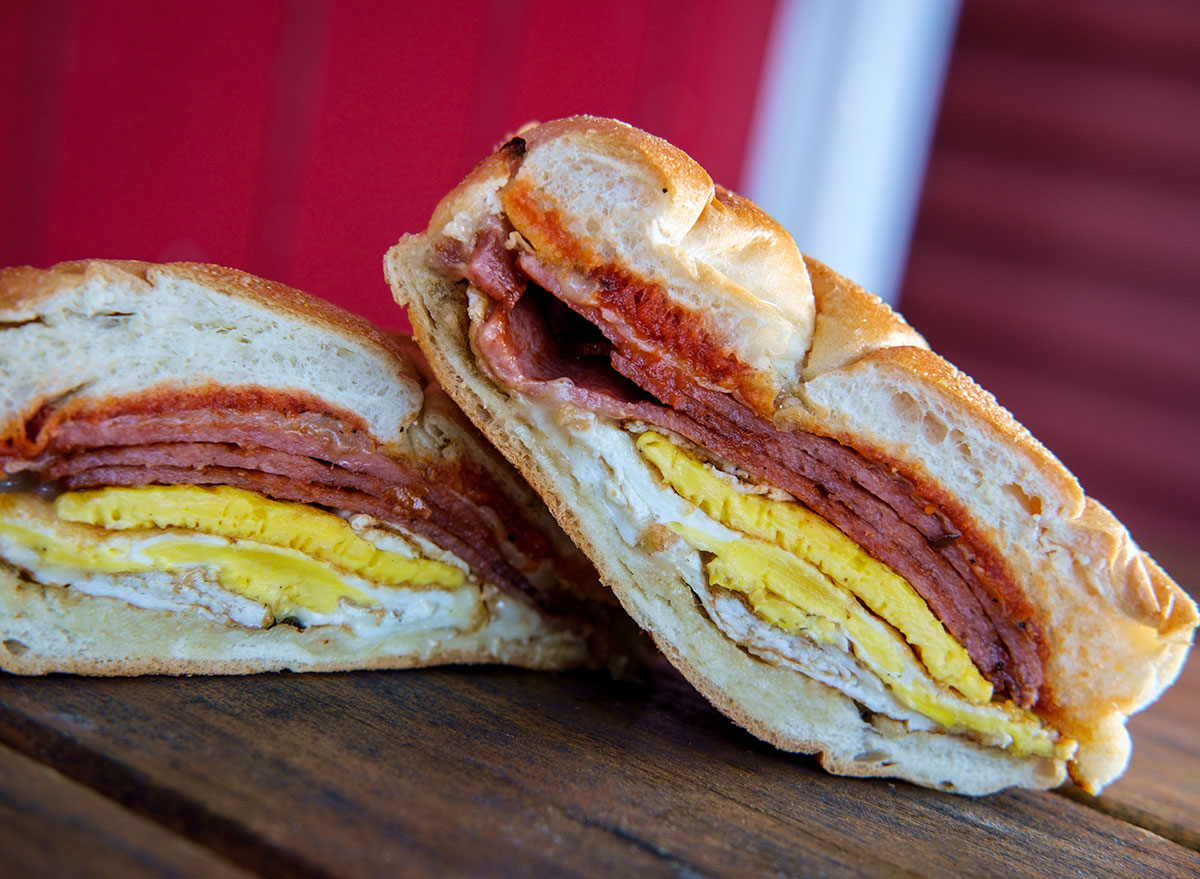 Taylor Ham—or pork roll, depending on who you ask—is a New Jersey-born mid-Atlantic processed meat staple. It's often prepared by pan-frying ham slices, like you would bacon, to use on a sandwich for breakfast or lunch.
Jambalaya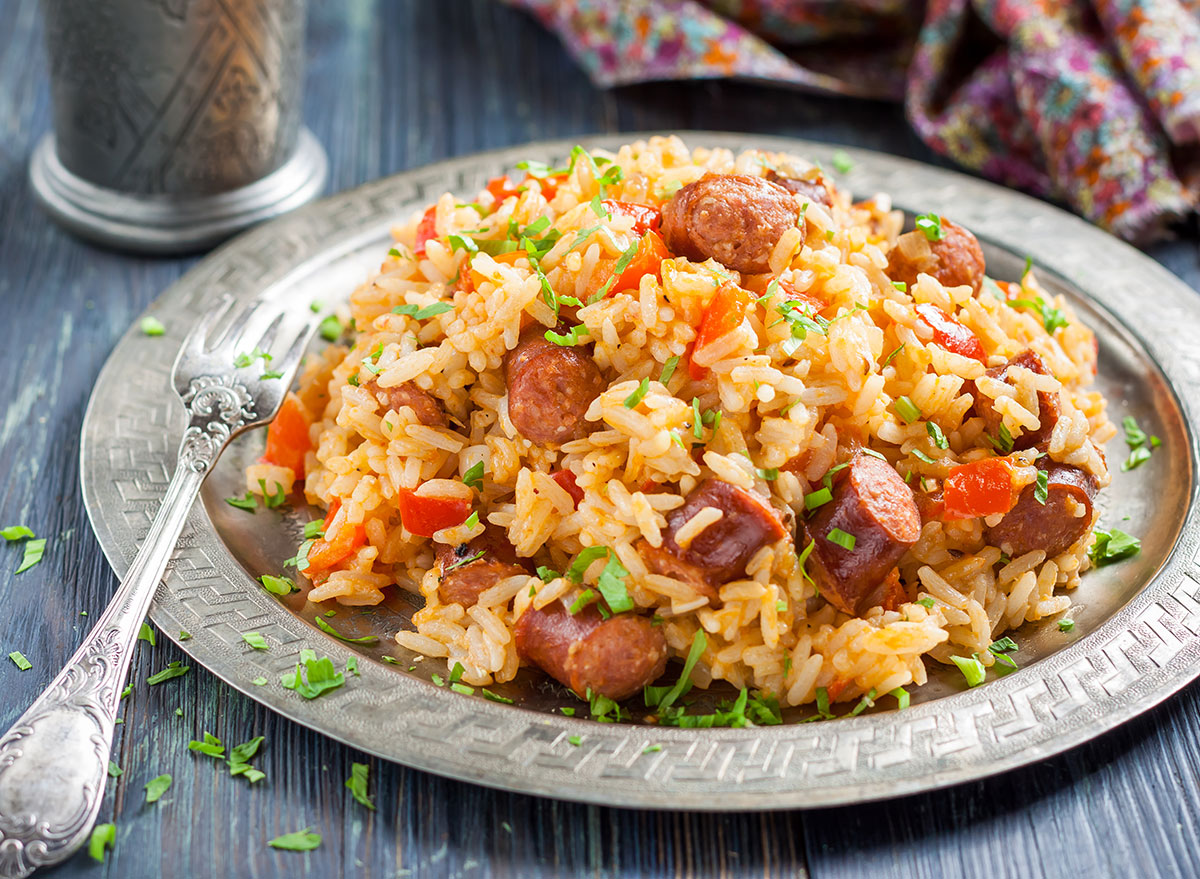 This Louisiana dish is one of infinite examples of the influence that early settlers from other areas had on the development of American cuisine. While specific recipes vary, jambalaya often includes meat (especially sausage), seafood (such as crawfish or shrimp), vegetables, and rice. The difference in ingredients and preparation style are largely based on whether it's prepared Creole style or Cajun style. Here are 50 Foods Americans Love Most.
Hoppin' John Rice
Southern cuisine is also particularly marked by the influence of West Africa, and people like culinary historian Michael Twitty are making strides in "tracing the African roots of southern food." Hoppin' John is one such dish, and features black-eyed peas, rice, onion, and bacon. It's often made on New Year's under the belief that black-eyed peas bring good luck for the year ahead—and here are 15 Healthy Recipes for Black-Eyed Peas.
Cincinnati Chili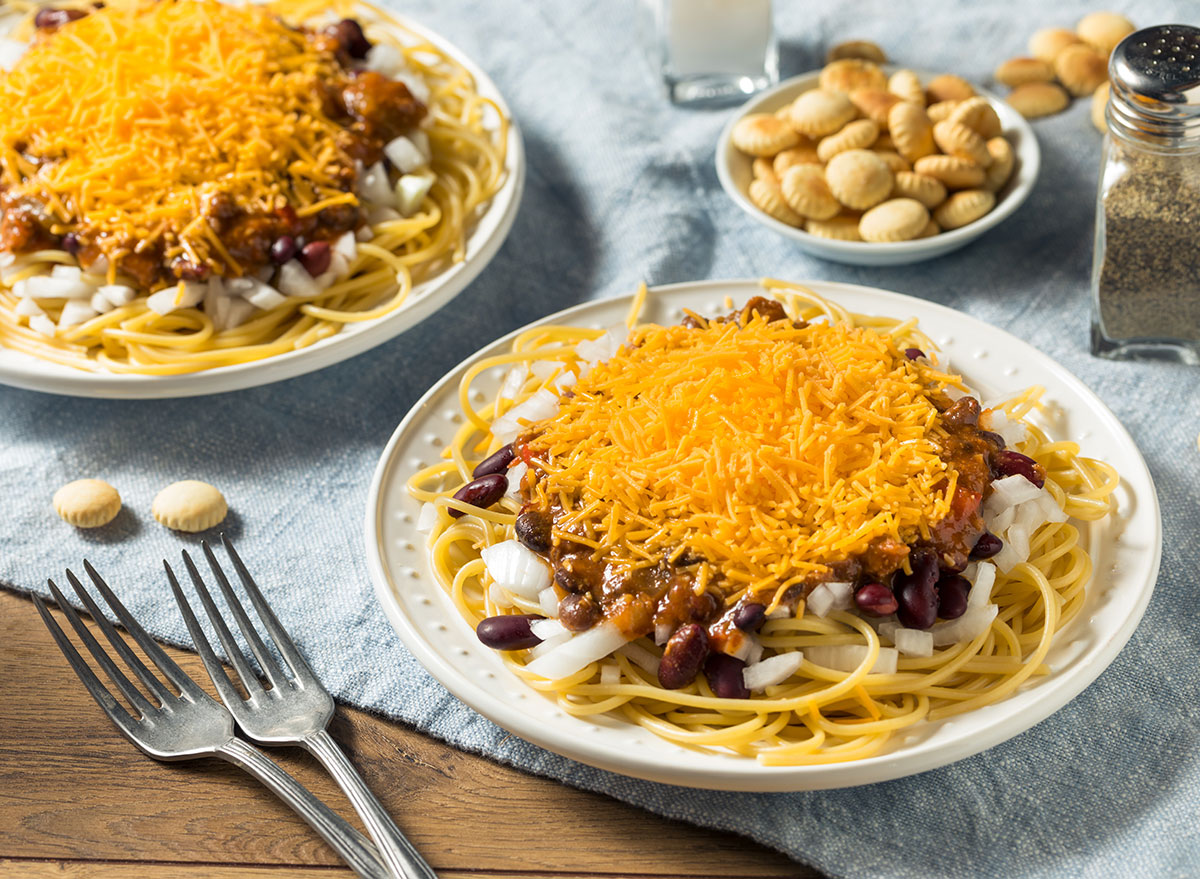 American cuisine is also heavily influenced by the culinary histories of people who immigrated to the country over the past hundreds of years. This Ohio speciality was created by Macedonian immigrants in the 1920s, consists of fragrant beef stew piled on top of spaghetti, and was called "the history of America on your plate" by Anthony Bourdain. Check out these 51 Anthony Bourdain Quotes and Life Lessons We'll Never Stop Loving.
General Tso's Chicken
This is another prime example of a dish that contains flavors introduced by immigrants that we then spun into dishes claimed as our own. While there was a General Tso, he didn't have anything to do with the chicken that while perhaps created in Taiwan, was an American creation once it reached its sweet, crispy, sauce-doused final form that's now found on restaurant menus around the country.
Hotdish
Casseroles are a crucial part of America's food history, but it doesn't get much better than one made with tater tots. For midwesterners, hotdish—with its canned creamy soup, frozen vegetables, meat, and potatoes—is dinner nostalgia to the bone.
Shoofly Pie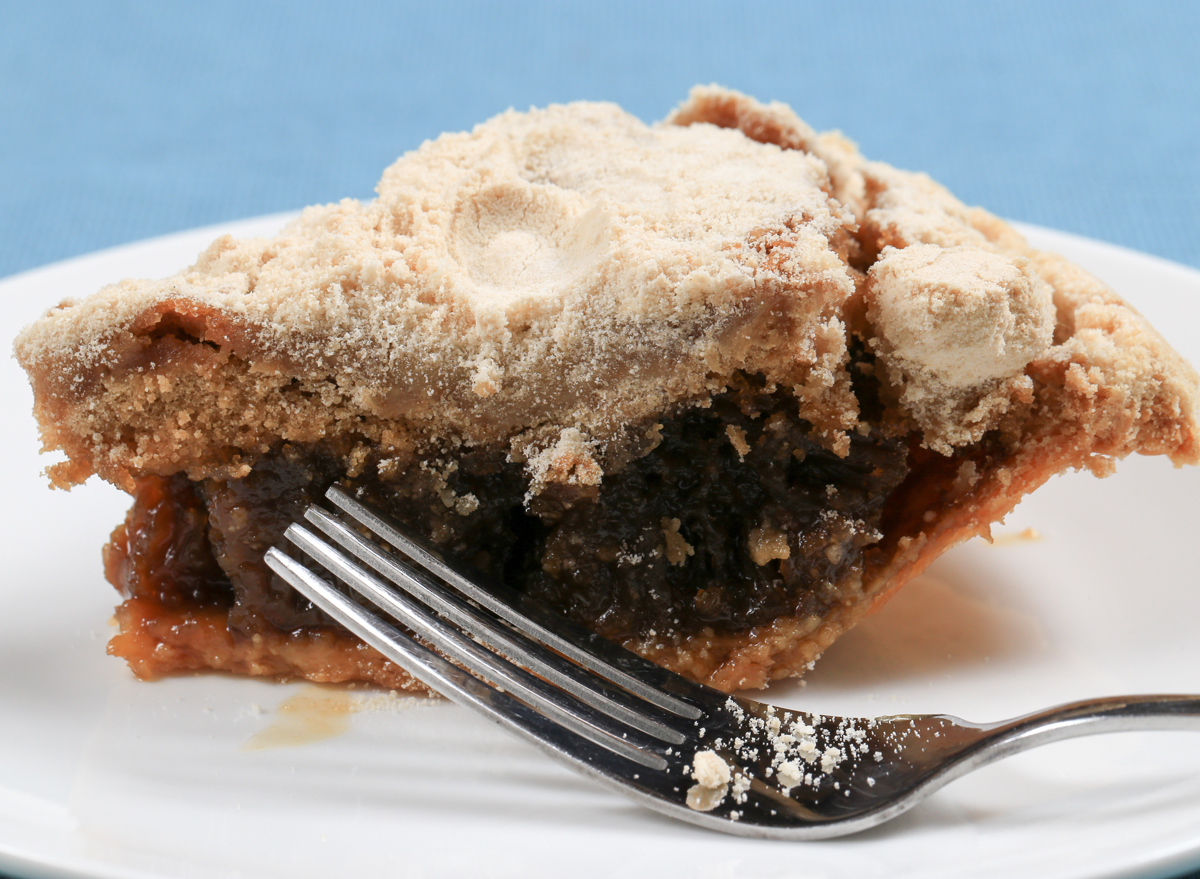 This dessert, whose proper name is Melassichriwwelkuche, is a molasses pie brought to us by the Pennsylvania Dutch. It dates back to the 1880s, after locals added a crust to a similar "Centennial Cake" dessert so that it could be picked up by hand and eaten at breakfast alongside a cup of coffee.
Green Bean Casserole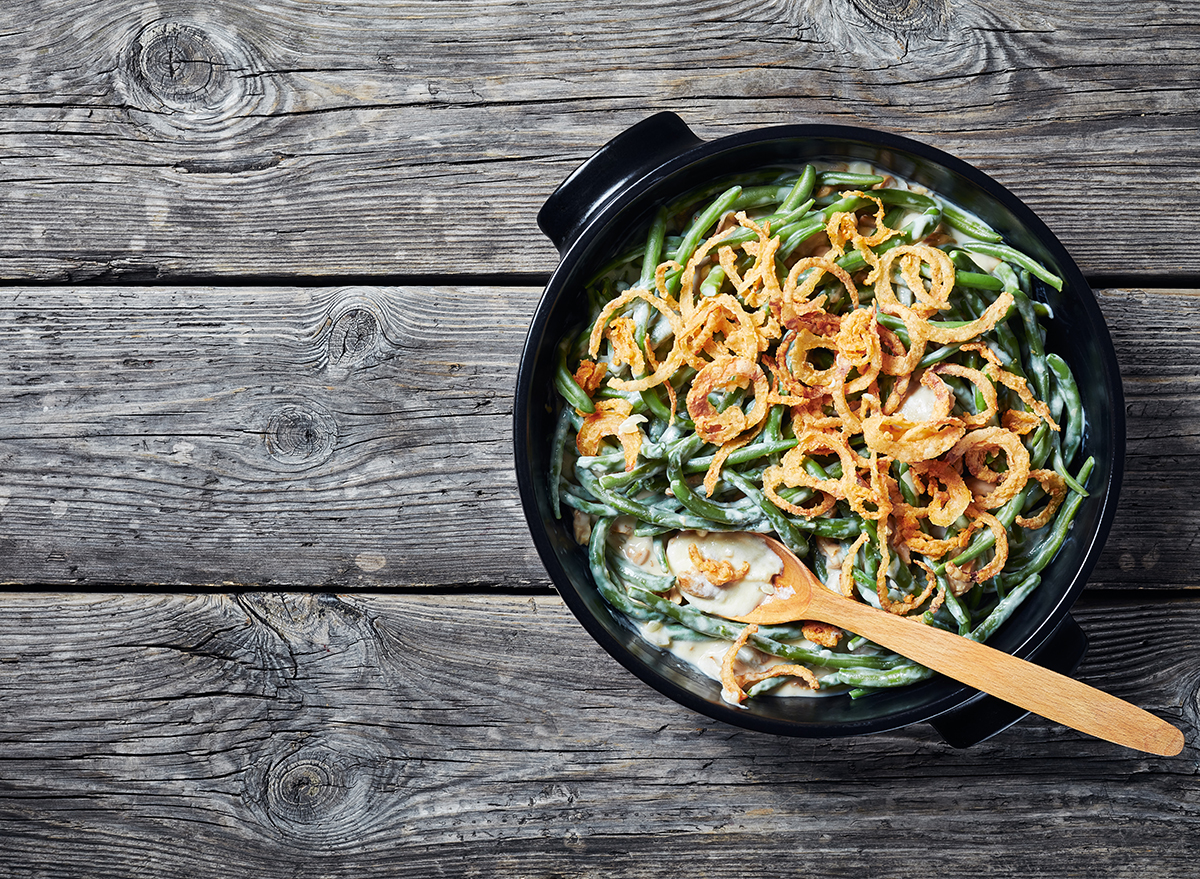 Dorcas Reilly invented this American classic in 1955 when she was working at the Campbell Soup Company, hence the inclusion of the company's iconic Cream of Mushroom Soup. Though she recently passed away, her legend lives on at Thanksgiving tables around the country.
Red Flannel Hash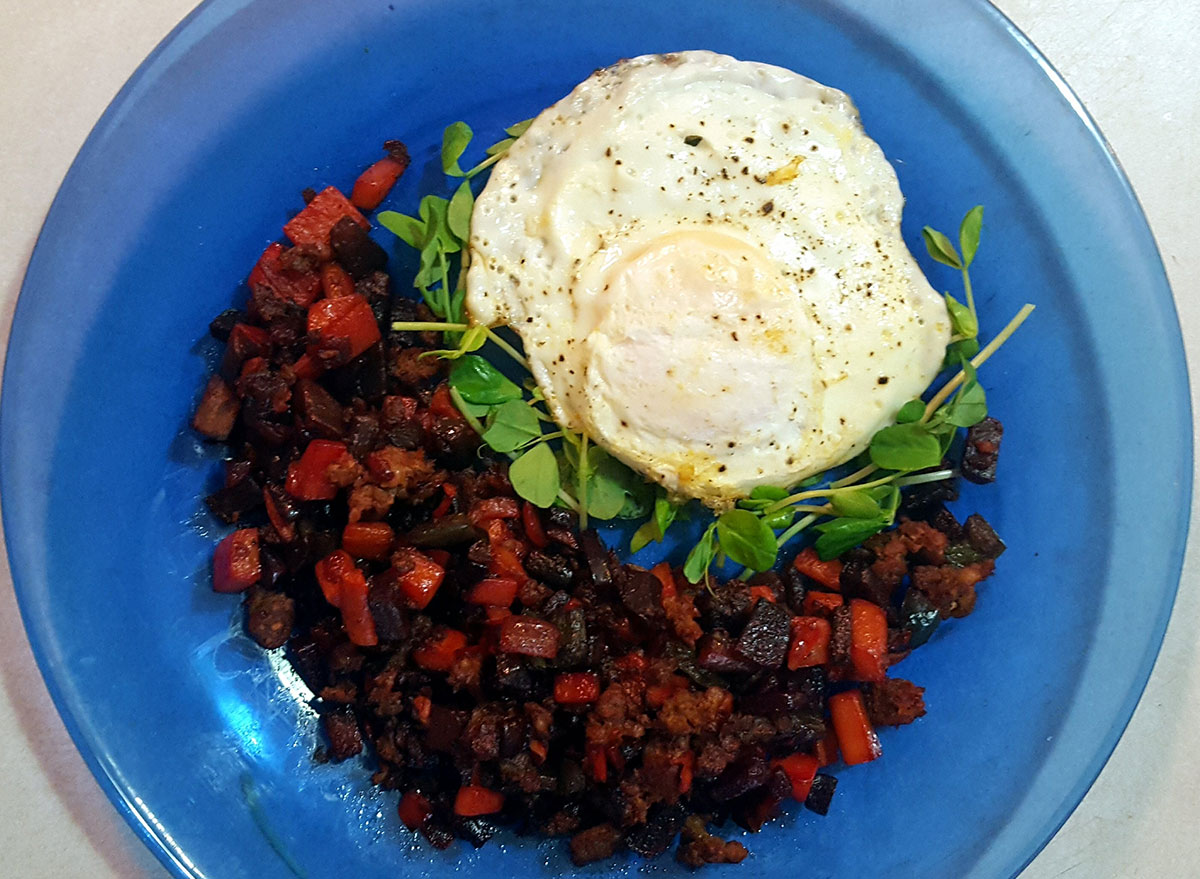 The name of this delicious dish sounds like a late November morning in New Hampshire. In fact, it's a spin on serving regionally famous New England boiled dinner leftovers for breakfast. The classic version is a hash made of corned beef and potatoes with beets thrown into the mix, leading to the "red" callout in the dish's name.
Juicy Lucy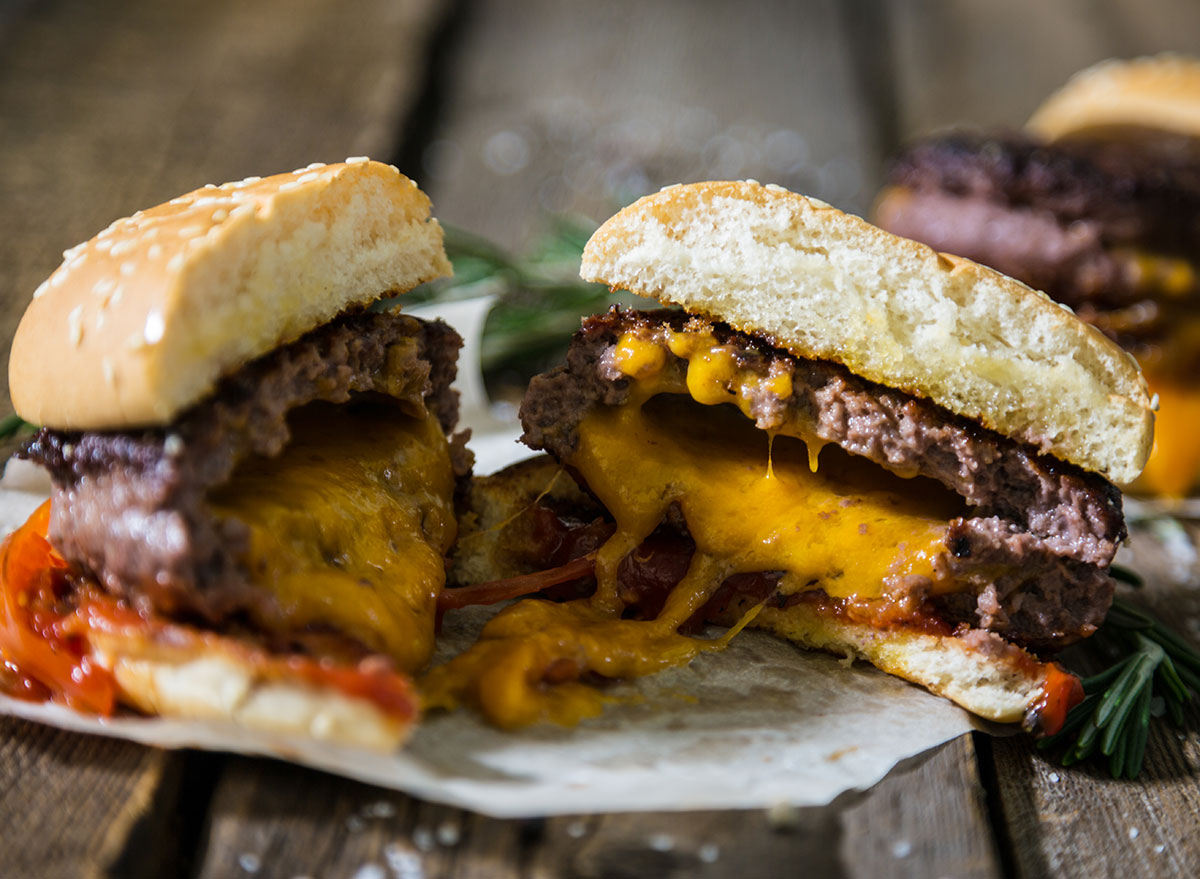 Hamburgers were likely the result of influence of German immigrants in the late 19th century, but people in Minneapolis made it their own in the 1950s by stuffing the patty with cheese. There's an ongoing debate as to the true creators of this burger (and its correct spelling), but it's delicious no matter who came up with it first.
Abby Reisner
Abby is a food writer, editor, cook, and digital strategist living in Brooklyn.
Read more about Abby