8 Classic Holiday Dishes That Should Never Make a Comeback
Some Thanksgiving dishes are better off left in the dust.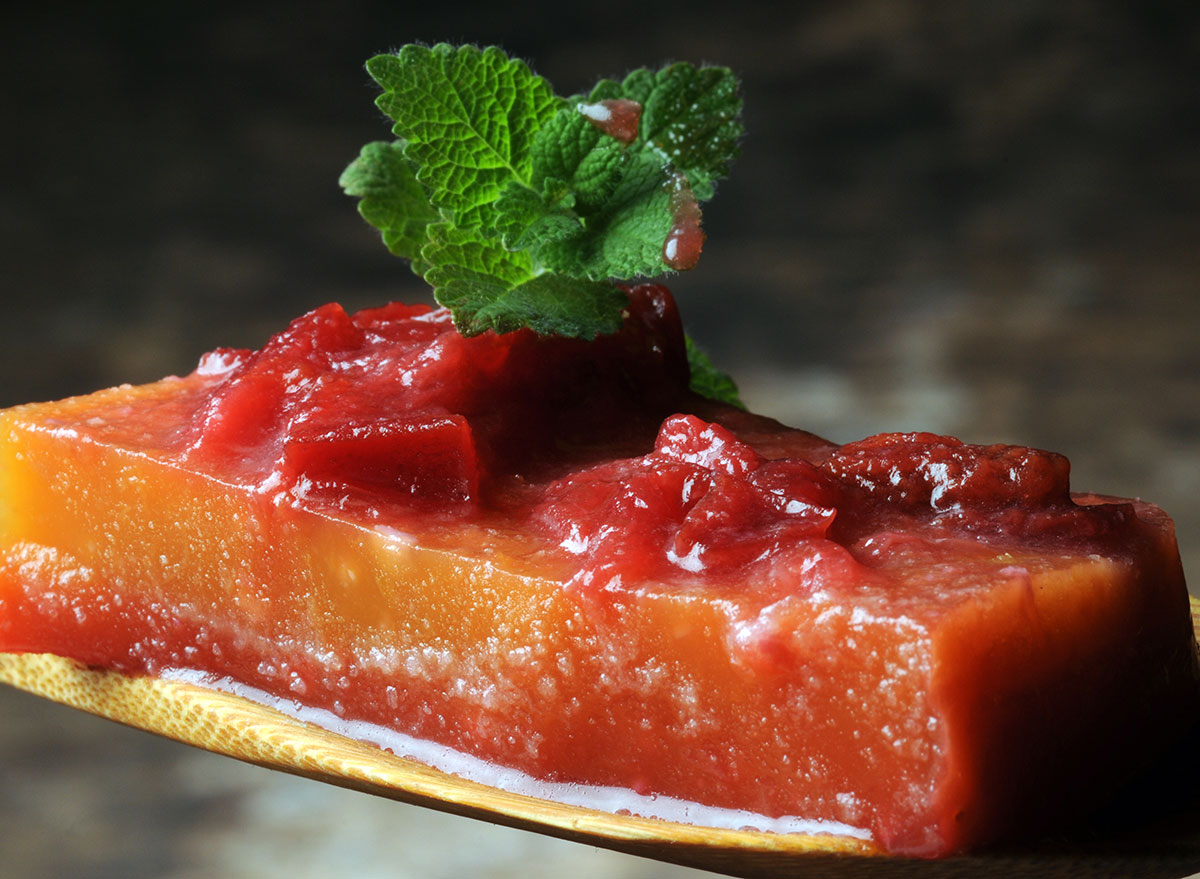 With the Thanksgiving holiday quickly approaching, everyone has begun planning their menus for the food-centric occasion. When you need to impress friends, family, and loved ones, pulling out time-tested recipes usually does the trick: Classic roast turkeys, bowls of mashed potatoes, and trays of stuffing are essential dishes to cook for your Thanksgiving spread. However, some folks feel inclined to look toward the recipes of the past when they want to spice up their menus.
Recently, nostalgic retro holiday flavors have experienced a renaissance, and a whole new generation of home cooks have rediscovered classic ways to prepare meals using the ingredients of yesteryear. While some classic holiday dishes clearly deserve a spot on your holiday menu, other foods are perhaps better off left in the dust.
Home cooks and culinary experts agree that some seasonal classics consistently fail to please most dinner guests and just don't taste right to the modern palette. Eat This, Not That! assembled the master list of some of the least popular holiday dishes out there that should never make a comeback to your Thanksgiving table. Steer clear of these choices if your aim is to impress your Thanksgiving dinner company—and also consider opting for 20 Last-Minute Thanksgiving Recipes Everyone Will Love.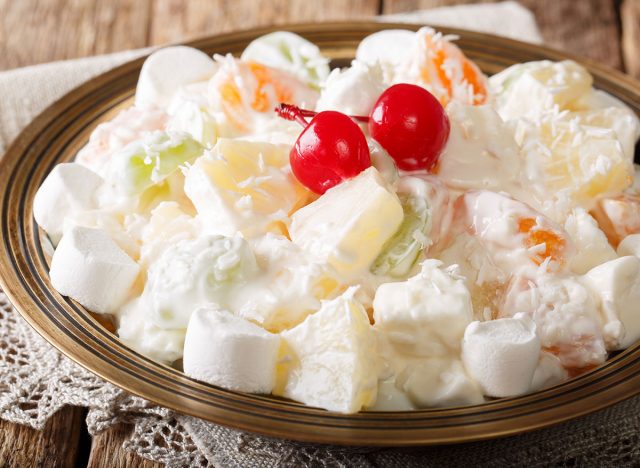 Anyone who has ever had to go to a community potluck or even seen the movie Edward Scissorhands understands what it's like to encounter a large bowl of ambrosia salad. While this holiday side dish's delightful name sounds heavenly, the recipe for ambrosia salad typically features an archaic mix of somewhat random ingredients: Cool Whip, yogurt, sour cream, marshmallows, pecans, maraschino cherries, canned mandarin slices, shredded coconut, canned pineapple, and even mayonnaise.
Ambrosia salad's outdated flavor combinations just can't strike a chord with most holiday revelers these days, and has easily found its fair share of enemies over the years. Even the Houston Press ranked ambrosia salad as one of the worst holiday dishes out there.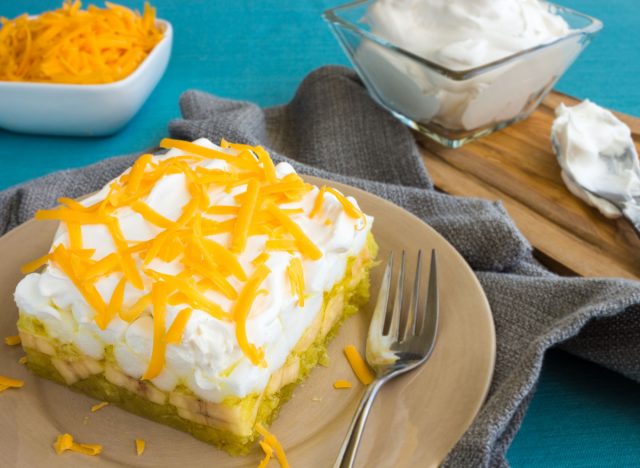 Nothing strikes terror in the hearts of polite houseguests who feel obligated to try everything quite like seeing a Jell-O salad amid a Thanksgiving spread. Some brave home cooks have tried countless ways to make this retro dish cool. But the sight of a platter of gelatin mixed with fruit, vegetables, and sometimes even meat utterly repulses most diners these days.
On paper, Jell-O with fruit might not sound too bad, but some versions sound like they came straight out of a culinary nightmare. Users across Reddit concur that vintage Jell-O salad recipes rank among the worst holiday foods out there.
"Lime jello salad with pineapple and shredded carrots that had mayonnaise on top," one Reddit user commented in a subreddit inquiring about which Thanksgiving dishes are considered the absolute worst.
"Green jello with olives, ricotta, pepperoni and yellow bell peppers trapped in the center of a meat pie," another user described in the same subreddit.
While some diners might make it through a helping of ambrosia salad or Jell-O salad, very few people want to deal with aspic during a holiday meal. This dish shines a light on gelatin made from cooked-down down meat for savory ways to present a jiggly concoction.
While you might not associate this dish with the Thanksgiving holiday, more than a few families serve up some form of aspic each year. Some folks still try to find new ways to keep this meaty gelatin fresh and exciting. Despite home cooks' best efforts, most houseguests want nothing to do with this dish.
One Redditor tried whipping up a Thanksgiving-themed aspic out of pulled pork, peas, and carrots—and commenters gawked in horror.
"I'm glad we're all really embracing the whole ruin thanksgiving on your own terms this year idea," one Reddit user commented, perfectly capturing the general sentiment shared among the group.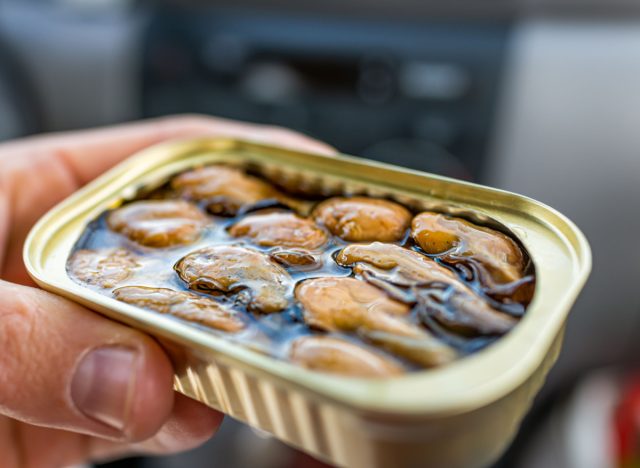 Lots of ingredients can go into casseroles, and this particular oyster-forward iteration has cultivated a fair share of fans over the years. But while casseroles generally prove to be incredibly versatile, not all casserole recipes can stand the test of time. Oyster casseroles combine flavors that just don't seem relevant anymore, often featuring a mix of crushed Saltine crackers, canned or jarred oysters, half and half, butter, Worcestershire sauce, and more.
The Cincinnati-based ABC-affliated news station WCPO 9 News ranked oyster casserole as the No. 1 worst holiday side dish back in 2015, even crediting this casserole with inspiring their roundup of the grossest holiday dishes that still somehow find a way back on Thanksgiving menus each year. While some claim that shellfish was likely included at the first Thanksgiving, know that this doesn't mean you should feel obliged to keep this oyster casserole tradition alive.
While many guests may not consistently see oyster casseroles at their own Thanksgiving, cranberry sauce is generally considered a tried-and-true Thanksgiving classic, and can be seen on many tables across the country during this holiday. While families and friends still seem to serve up the sauce, most people hate some form of this age-old side. According to a 2022 survey from The Vacationer, approximately 30% of the Americans polled claimed that cranberry sauce was the most disliked traditional Thanksgiving side dish, making it clear that most would rather not feel compelled to eat it.
While straightforward cranberry sauce might not suit your particular tastes, cranberries do offer a special holiday flavor that pairs well with other fruit. If you don't enjoy the traditional sauce but don't like the idea of scrapping cranberries entirely, try a Cranberry Orange Relish Recipe for a crowd-pleasing twist on a classic dish.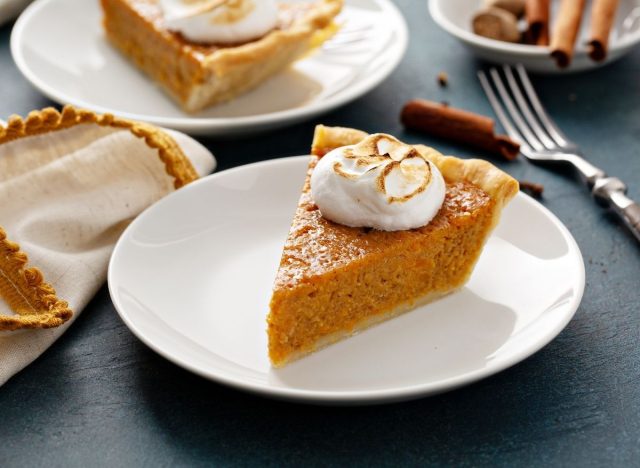 Compared to some other dated recipes, a sweet potato pie makes way more sense to include in your Thanksgiving spread. While fewer diners turn down dessert, this old-school classic just can't keep up with the times and modern flavors. Last year, Mashed conducted a poll on which Thanksgiving dessert people disliked most, and reportedly  about 27.5% of the 607 Americans who were surveyed agreed that sweet potato pie ranked as the worst Thanksgiving dessert out there.6254a4d1642c605c54bf1cab17d50f1e
If you're tasked with dessert duty this Thanksgiving and want to avoid bringing a sweet potato pie, try making one of these 7 Holiday Desserts You Can Enjoy if You Have High Blood Sugar instead.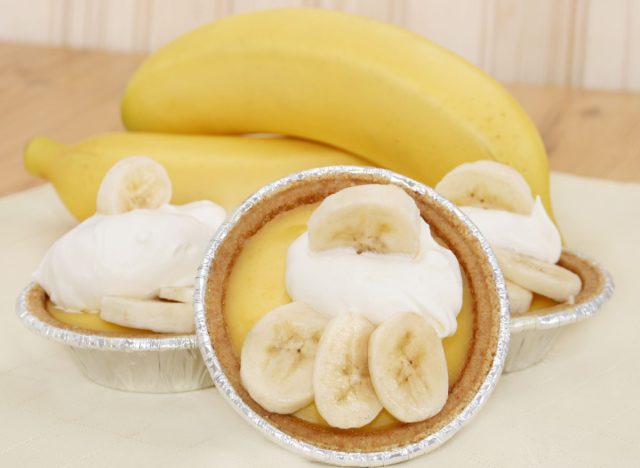 Sweet potato pie might rank as one of the least-enjoyable seasonal desserts out there, but it isn't alone. When you think of the holidays, a banana pudding pie may or may not spring immediately to mind, but it certainly does not conjure up images of the leaves changing or warm fireplaces. According to a 2020 survey of the best Thanksgiving pies conducted by YouGovAmerica, banana pudding pie came in last place with only a meager 3% of the poll's respondents claiming to enjoy it.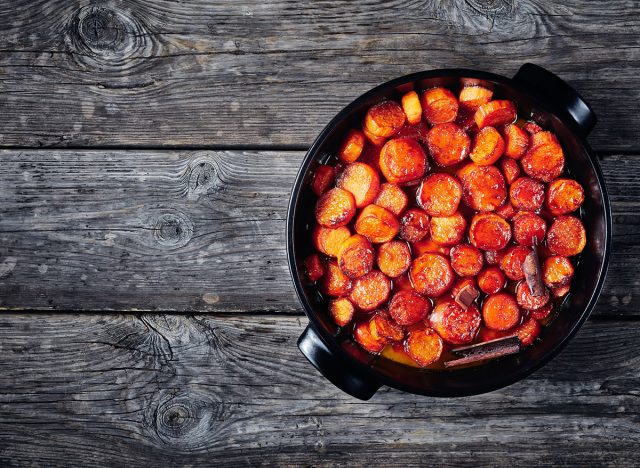 For years, candied yams defined holiday menus. Despite the name, the dish typically consists of sweet potato chunks that cook in a mix of butter, cinnamon, sugar, and other autumnal spices. While many recipes have tried to make sweet potatoes feel downright seasonal, a solid chunk of folks can't stand the dish.
According to an Instacart survey reportedly conducted online by the Harris Poll in 2021, 27% of the 2,000 respondents claimed that they wouldn't miss candied yams if they disappeared from holiday celebrations altogether. Although the study didn't delve into why folks particularly despise this side dish, it's evident that candied yams just can't compete with other holiday dishes these days.