There Are 50 CLIF Bars, and Nutritionists Only Recommend 5
Sorry to break it to you, but nutritionists say these bars are not as healthy as you thought — not even for athletes.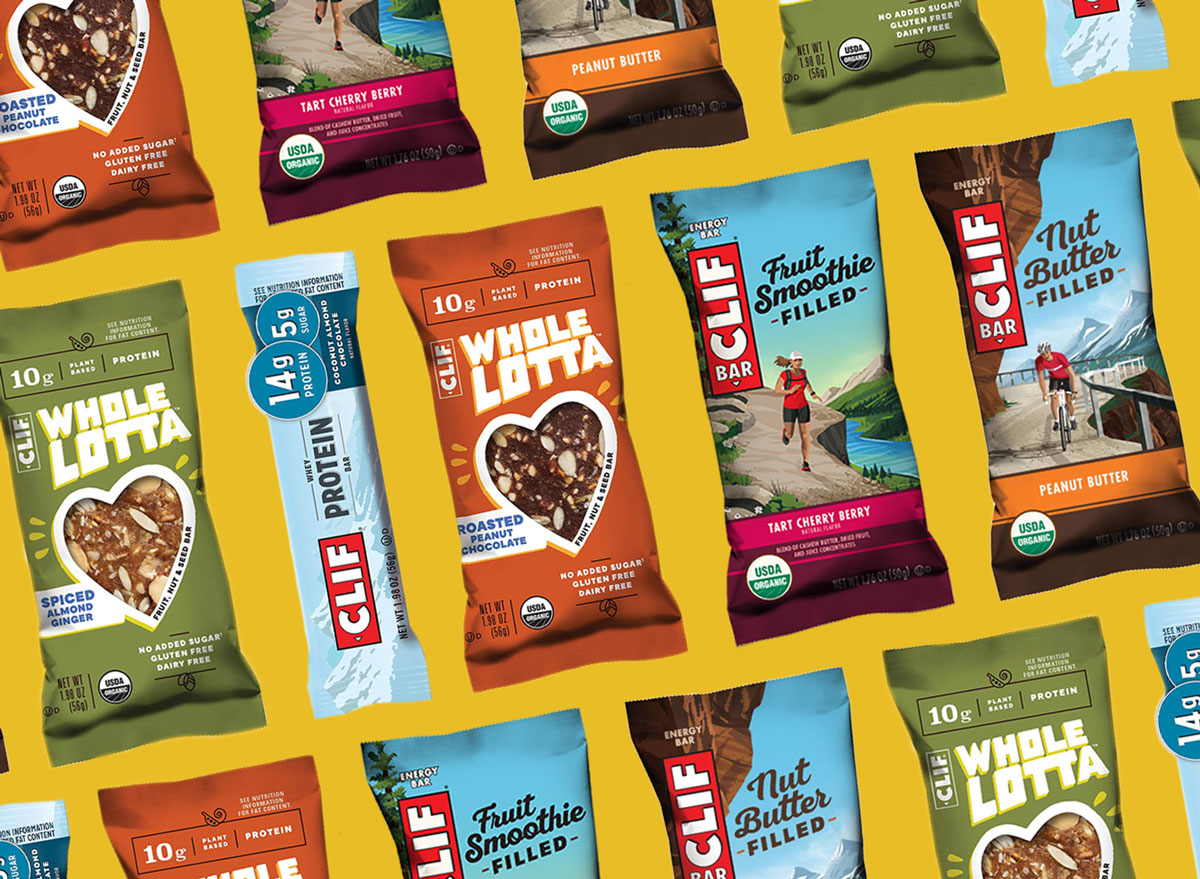 When you're looking for a quick, portable snack with yummy ingredients like peanuts, caramel, and chocolate, a CLIF bar is what satisfies all your needs. It sounds like a good snack, right? Instead of buying a candy bar, you opt for a dark chocolate almond CLIF bar with rolled oats, nine grams of protein, heart-healthy almonds, and other organic ingredients. Look at you, making healthy choices!
The only problem is that your beloved CLIF bar is, sadly, nowhere near as healthy as you think it is. In fact, nutritionists only recommend 5 CLIF bar flavors out of 50. We explain why.
Are CLIF bars healthy?
"I think of CLIF bars as dessert, because they're high in carbs and sugar," says Cynthia Thurlow, a nurse practitioner specializing in nutrition.
How high? Let's go back to that dark chocolate almond CLIF bar you took off the shelf. Turn it over for the nutrition info and you'll see the very first ingredient is organic brown rice syrup. Organic or not, that's sugar—plain and simple. It also lists cane syrup and cane sugar, sending the total amount of added sugar in this one bar skyrocketing up to 21 grams.
Meanwhile, carbs come in at a whopping 43 grams per bar, with the whole bar netting you 260 calories. (Those nine grams of protein aren't looking so great anymore are they?) That's kind of the problem with the whole CLIF line: there are good things inside that promising packaging, but too often the bad outweighs the good—sometimes by a landslide.
Are there any benefits to eating CLIF bars?
Want the cold hard truth? Not really. No, not even for athletes (we hear you shouting about your post-workout needs). While athletes do benefit from eating snacks high in protein, sugar, and calories, no one needs the amount of sugar found in most CLIF bars. And that especially true when there are better choices with whole food ingredients that can fuel your energy levels without sending you into a sugar coma.
"I would prefer athletes have a piece of low glycemic fruit like berries or a tart apple and a piece of beef jerky versus a bar like this," says Thurlow.
Barbie Boules, RDN, of Barbie Boules Longevity Nutrition, Inc., doubles down even harder on CLIF bars, calling them "Snickers with a health halo." (For reference, a Snickers bar has comparable nutrition information: four grams of protein, 27 grams of sugar, 250 calories, and 33 grams of carbs. That comes out to a little less protein than a dark chocolate almond CLIF bar and a little bit more sugar; however, it also contains fewer carbs and less calories.)
"The only difference between CLIF and candy is the added protein isolates, which have dubious benefits compared to whole food sources of protein [like beans or eggs]," says Boules.
What ingredients do you need to watch for in CLIF bars?
Protein isolates are essentially processed forms of protein (like whey protein powders) that are typically easy to digest and provide protein without as many calories. But there are some concerns over how beneficial they are. According to Harvard Health, their safety as a dietary supplement hasn't been extensively studied. Plus, some of these powders have the potential to contain toxins and contaminants, according to the Clean Label Project.
The point? It might actually be better for you to indulge in a candy bar once in a while, recognizing it as a treat, instead of noshing on CLIF bars every day while thinking you're making a healthy choice.
How to shop for CLIF bars
Still committed to CLIF? The bars may not be the best healthy snack option, but they could be a healthier dessert than a slice of cake. No matter how you plan to eat them, know that some CLIF bar flavors are significantly better for you than others.
Look at the added sugar. Boules says that CLIF bars contain an average of 25 grams per bar and in many varieties, the very first ingredient is sugar. She recommends picking bars with fewer than four grams of sugar. The problem? There aren't many bars that meet that standard.
Check for soy products. Whether it's listed as soy protein isolate, roasted soybeans, soy flour or seed oils, or soy lecithin, Thurlow says to avoid it. The health benefits (or dangers) of soy are constantly being studied and questioned. Soybean byproducts like protein isolates and lecithin are, per Thurlow, generally cheap and poor quality ingredients.
Remember your daily values. It's not just that 25 grams of sugar per bar is a lot, it's that 25 grams is basically all you should be eating in one day. "The recommended daily limit for women and kids is 24 grams of added sugar, according to the American Heart Association," says registered dietitian Lauren Harris-Pincus, founder of NutritionStarringYOU.com and author of The Protein-Packed Breakfast Club.
The 5 best CLIF bars
There are about 50 different varieties of CLIF bars, but nutritionists only recommend these five flavors. They're relatively low in sugar and feature cleaner ingredients. This way, the high protein count that is CLIF's signature selling point can actually benefit you (rather than being drowned out in a sea of brown rice syrup).
Per bar
: 240 calories, 13 g fat (2.5 g saturated fat), 270 mg sodium, 24 g carbs (4 g fiber, 17 g sugar), 10 g protein
The Whole Lotta line of CLIF bars gets the highest seal of approval from nutritionists out of all the CLIF varieties. The ingredients are almost 100 percent whole foods, so you can read the label and actually recognize the stuff you're eating. And though these are still high in sugar, it's not the kind of sugar you need to stress over (i.e. added or artificial).
"All the sugar [in the Whole Lotta bars] comes from fruit," says Harris-Pincus, adding that the roasted peanut chocolate bar also has four grams of fiber from nuts and seeds, plus 10 grams of plant-based protein.
Per bar
: 230 calories, 10 g fat (2.5 g saturated fat), 70 mg sodium, 29 g carbs (2 g fiber, 11 g sugar), 5 g protein
Should you drink a smoothie or eat a snack bar? With the fruit smoothie-filled CLIF bar, you don't have to choose. Although the ingredient list here is longer than the Whole Lotta bars, Thurlow says it doesn't contain soy and keeps its added sugars to a minimum (11 grams total, eight of them added). It also lists oat flour, a nut and seed butter blend, and rolled oats on the label before getting around to brown rice syrup, unlike many of its traditional CLIF bar counterparts.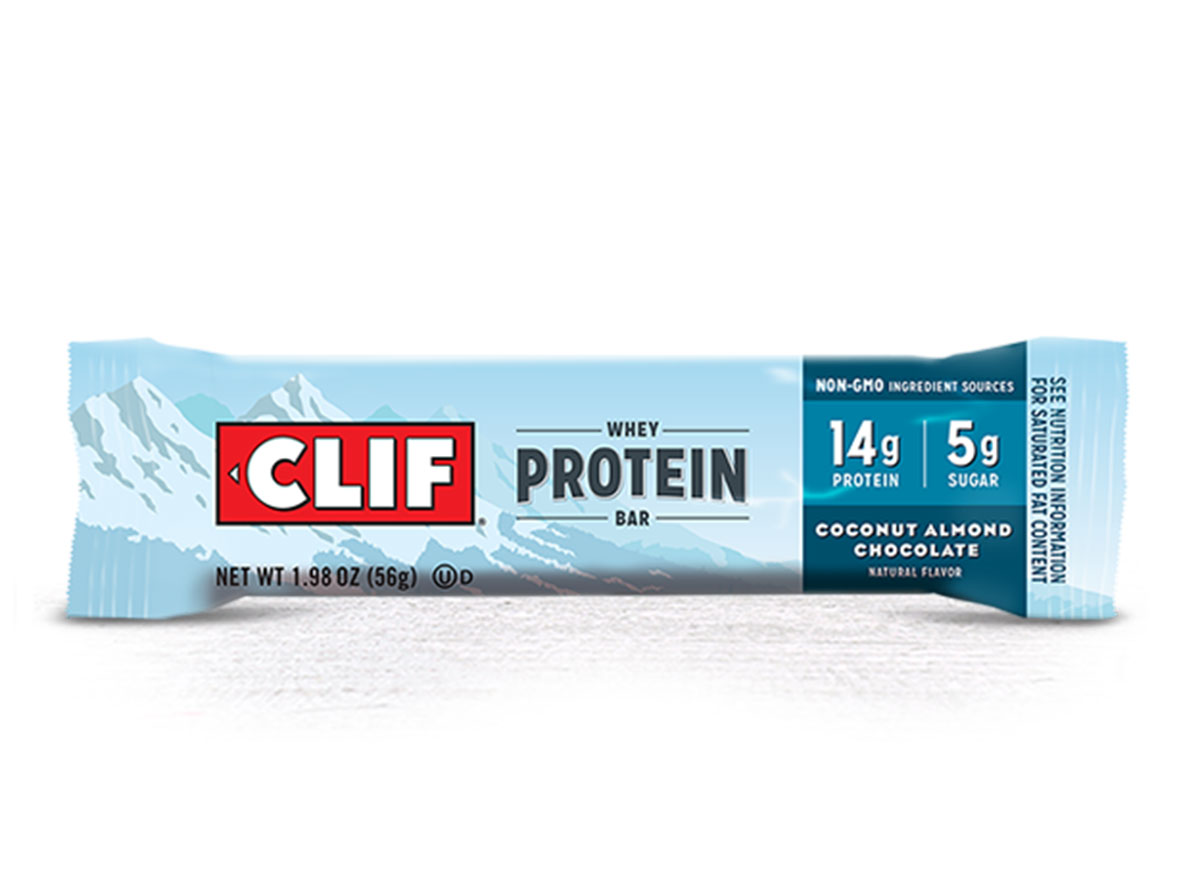 Per bar
: 260 calories, 13 g fat (6 g saturated fat), 160 mg sodium, 24 g carbs (5 g fiber, 5 g sugar), 14 g protein
"If you're looking for more of a protein bar, this is your best bet," says Harris-Pincus, who lays out its full nutritional benefits as including 14 grams of protein (the equivalent of more than two eggs), five grams of fiber, and only three grams of added sugar. It's a solid choice if you're an average snacker, but an even better one if you're an athlete needing to refuel.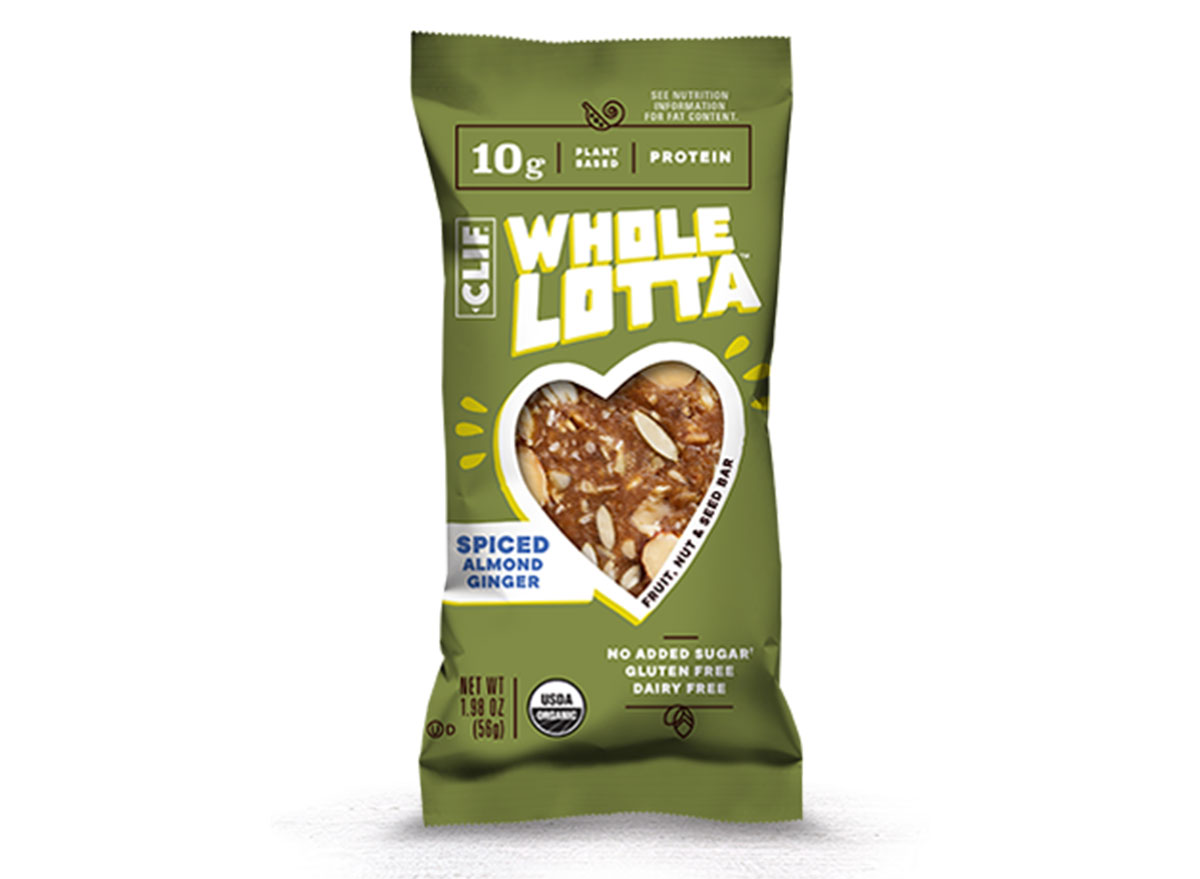 Per bar
: 240 calories, 14 g fat (3.5 g saturated fat), 230 mg sodium, 24 g carbs (4 g fiber, 17 g sugar), 10 g protein
If roasted peanuts and chocolate isn't your thing, the spiced almond ginger Whole Lotta bar is a solid alternative. It's packed with pumpkin and sesame seeds, cashew butter, coconut oil, and a punch of warm, yummy spices. Again, there are 17 grams of sugar, but it's all from the date paste, not any syrups.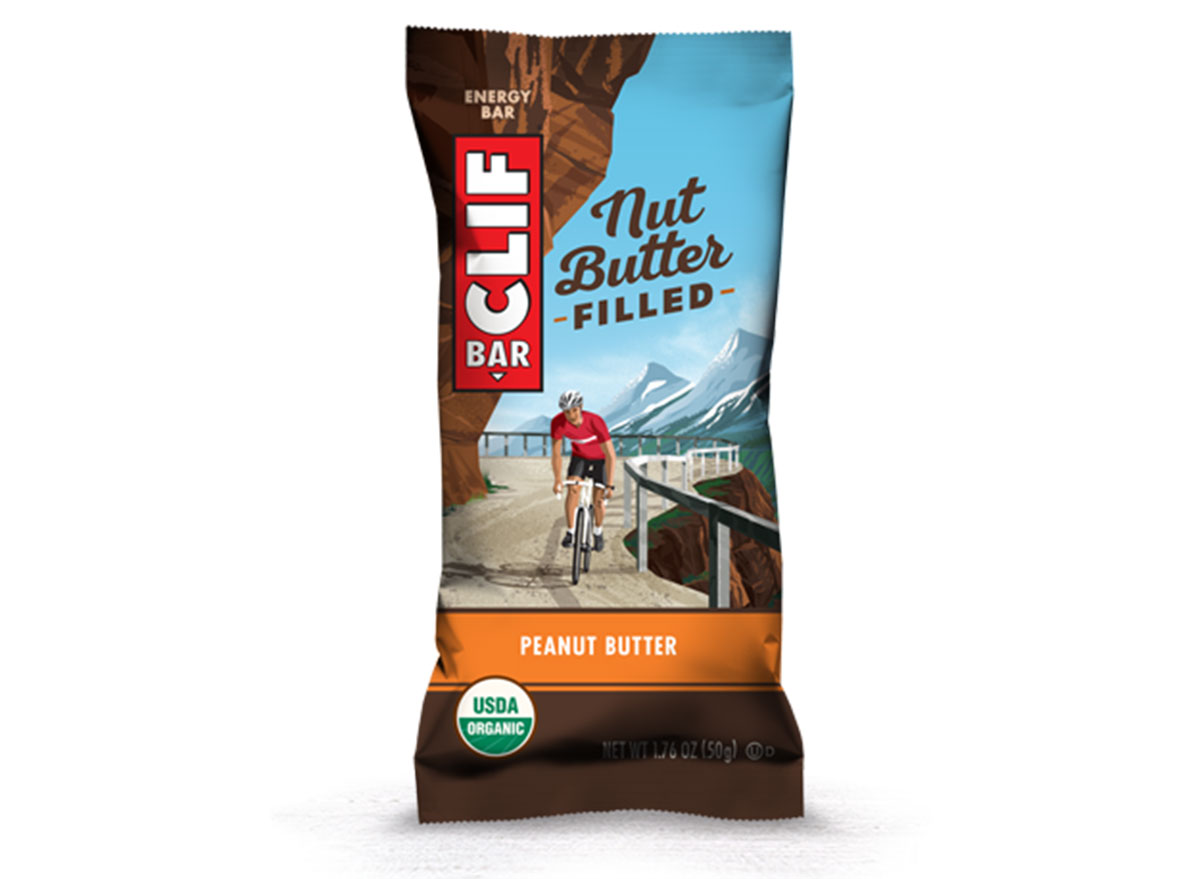 6254a4d1642c605c54bf1cab17d50f1e
Per bar
: 230 calories, 11 g fat (2.5 g saturated fat), 160 mg sodium, 27 g carbs (3 g fiber, 10 g sugar), 7 g protein
A peanut butter bar stuffed with—wait for it—more peanut butter? If you're wondering how this one made it onto the "best" list, flip it over and check out the ingredients. In addition to seven grams of protein, Thurlow points out that it has no soy. It is also lower in carbs and sugar. Even better—it boasts whole ingredients (peanut butter, oat flour, and rolled oats) as its first three ingredients.
The 3 worst CLIF bars
For a brand of snack bars generally not recommended by nutrition experts, it's surprising that any of them could really be called the worst. Somehow, though, nutritionists called out the following three options specifically.
"Each of these contains soy and too many carbs. They also have a high sugar content that is close to the daily recommendations," says Thurlow. "Steer clear of all, [and stick with] lower sugar, non-soy options."
Per bar
: 250 calories, 5 g fat (1.5 g saturated fat), 320 mg sodium, 45 g carbs (4 g fiber, 23 g sugar), 9 g protein
If it sounds like a $6 Starbucks coffee, you probably shouldn't be eating it as a healthy snack. Thurlow and Harris-Pincus both flagged this flavor as being way too high in sugar (22 added grams out of 23 grams total). You might be better off with a tall coffee, honestly.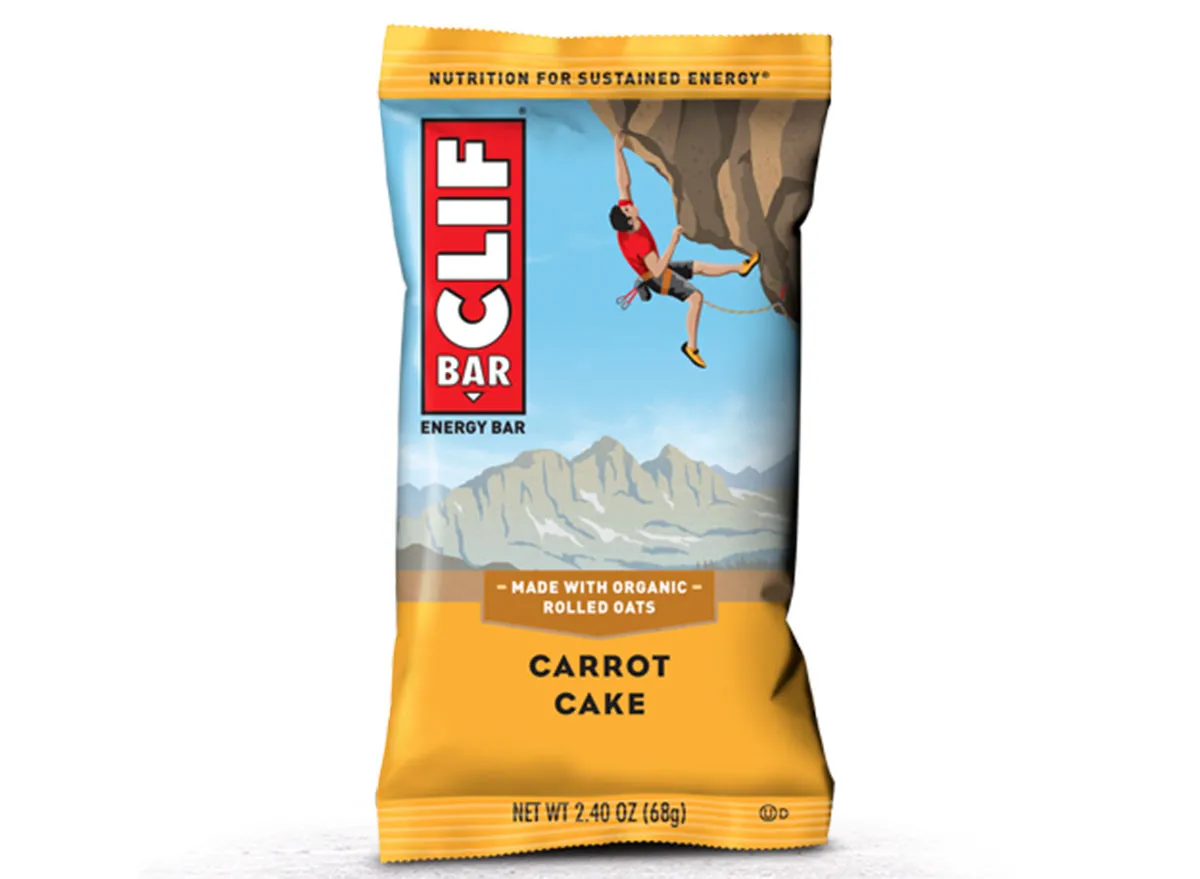 Per bar
: 250 calories, 4.5 g fat (1 g saturated fat), 130 mg sodium, 45 g carbs (4 g fiber, 25 g sugar), 9 g protein
If you grab this CLIF bar flavor off the shelf and think you're eating veggies, you're sadly mistaken.
"The Carrot Cake bar sounds healthy because it has a vegetable in its name, but it packs 20 grams of added sugar," says Harris-Pincus. It gets worse. The bar also contains red-flag ingredients like soy protein isolate, roasted soybeans, soy flour, and soy lecithin. (FYI, that's a lot of soy products.)
Per bar
: 250 calories, 4.5 g fat (1 g saturated fat), 170 mg sodium, 45 g carbs (4 g fiber, 23 g sugar), 9 g protein
Sorry, you're not better off satisfying your pumpkin pie craving with this bar. This CLIF bar contains three different kinds of added sugars (23 grams in total) and four different kinds of soy. The protein and fiber here just aren't worth all the other stuff. We're sure it tastes good, but that's about it.