10 Cocktail and Cheese Pairings You Have to Try
Wine isn't the only drink to pair with cheese, ya know!
Yeah, yeah, we get it. Wine and cheese always go well together. But have you ever tried cocktail and cheese pairings? While the combination of the two may be something you're not entirely used to, the complex flavors of cocktails paired with creamy cheese is a whole other culinary experience of its own.
In order to determine the best cocktail and cheese pairings, we spoke with Jeanette Hurt, award-winning author of Drink Like a Woman, Ken Monteleone, owner and head cheesemonger at cheese shop Fromagination, and Litty Mathew, co-founder of Greenbar Distillery. These cocktail and cheese experts determined the best pairings you can enjoy while shaking up a few cocktails this summer.
Here's what they recommend, and for even more classic pairing ideas, don't miss our list of 13 Wine and Cheese Pairings You Have to Try.
Mezcal Margarita + Pecorino Romano Cheese
"A higher ABV like that of Greenbar Distillery Silver Tequila can stand up to the pungency and salinity of Pecorino Romano cheese," says Mathew. "High alcohol content cleanses the palate from bold flavors, significantly better than wine or other lower-proof drinks. Pair the funky pecorino with a smoky and earthy Mezcal Margarita."
Related: Mezcal vs. Tequila—What Are the Differences?
Aperol Spritz + Brick Cheese
"We're seeing variations of the Aperol spritz pop up just about everywhere these days and there are so many fun options for pairing it," says Monteleone. "Mild with just a hint of nuttiness, a creamy brick cheese will complement this cocktail's bubbles and bittersweet flavors."
According to Monteleone, the Widmer's Brick Cheese is a nice pairing with your usual Aperol Spritz due its "mild and buttery sweet" taste.
If you love the Aperol Spritz, then you're also going to love these 25 Deliciously Refreshing Summer Cocktails.
"Rum is often paired with tropical flavors and we definitely have some tropical-flavored cheeses in the state of Wisconsin," says Hurt. "Umbrellas overhead on a sunny patio, or in our drinks, we'll take them all!"
Try the Carr Valley Reserve Gouda is one of the best tropical-flavored cheeses that Hurt recommends with a daiquiri—especially if you sprinkle a bit of lime zest on top!
"Create a bridge between the drink and the cheese by using accompaniments like lemon curd, orange marmalade, and lime zest," says Hurt. "Adding these to your bite of cheese will make a strong connection with the cocktail and make a beautiful pairing."
Get even more clever food tips straight to your inbox by signing up for our newsletter!
Sangria + Wine Soaked Cheese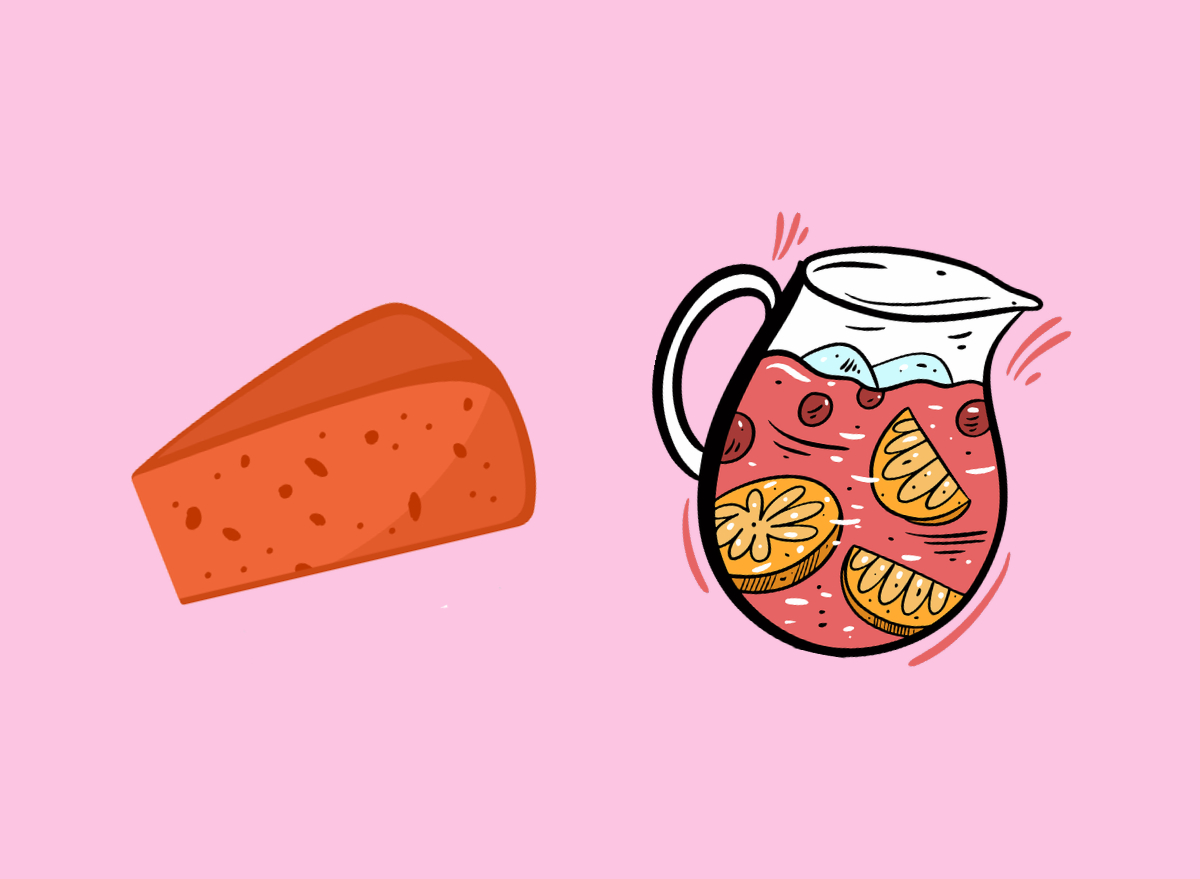 "Imagine sitting on the patio with a cold glass of sangria and a cheese board to match," says Monteleone. "There are tons of wine-soaked cheeses to discover that will exceed all expectations!"
If you're in need of good wine-soaked cheese, Monteleone says the Sartori Merlot BellaVitano® is a great option, especially with a fruit-forward Sangria—like this Blackberry Sangria!
Spiced Rum Daiquiri + Blue Cheese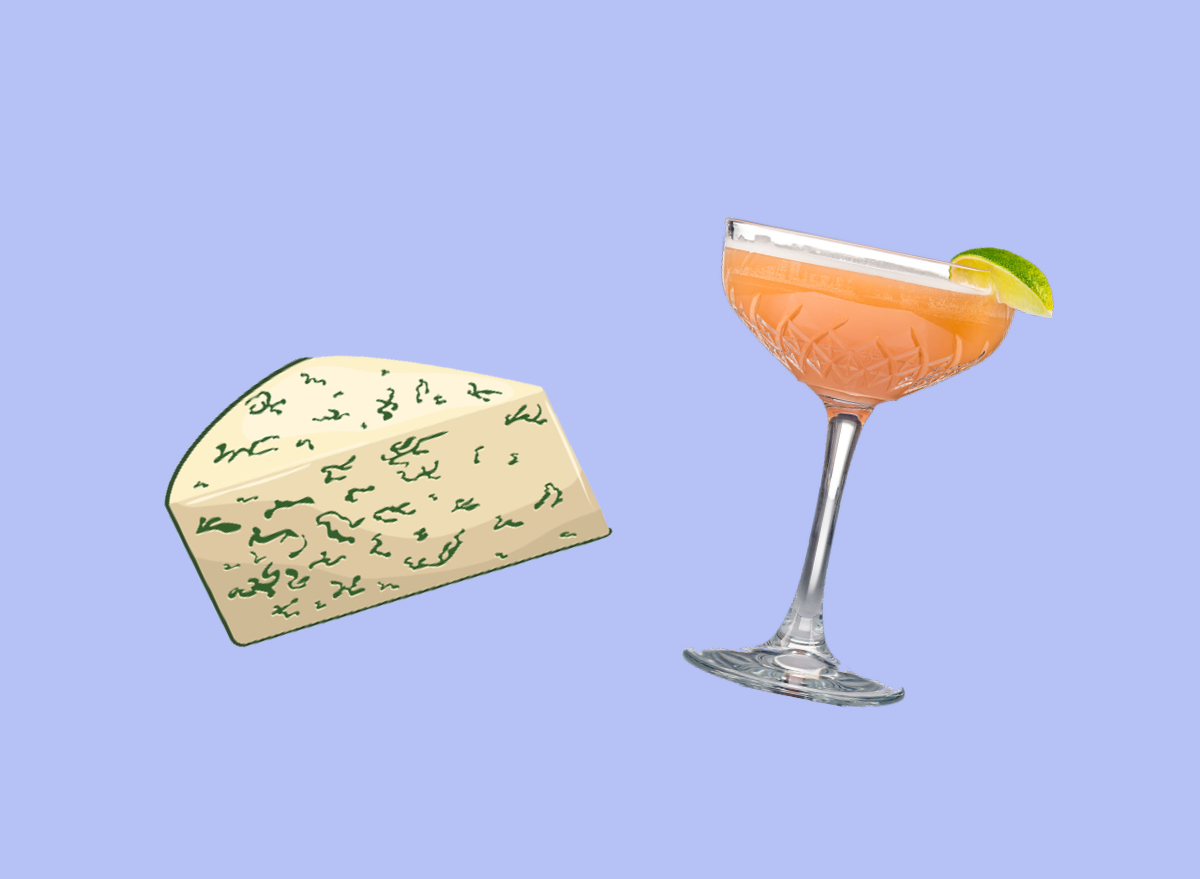 "This cheese carries a hint of caramel and vanilla, while the spiced rum has vanilla as an ingredient," says Mathew. "The bold cheese with hints of sweet milk and a peppery finish pairs perfectly with the notes of warm baking spices found in Greenbar's Spiced Rum. Perfectly pair the moldy cheese with a classic daiquiri."6254a4d1642c605c54bf1cab17d50f1e
Here's how to make a Spicy Rum Daiquiri at home!
Whiskey on the Rocks + Aged Gouda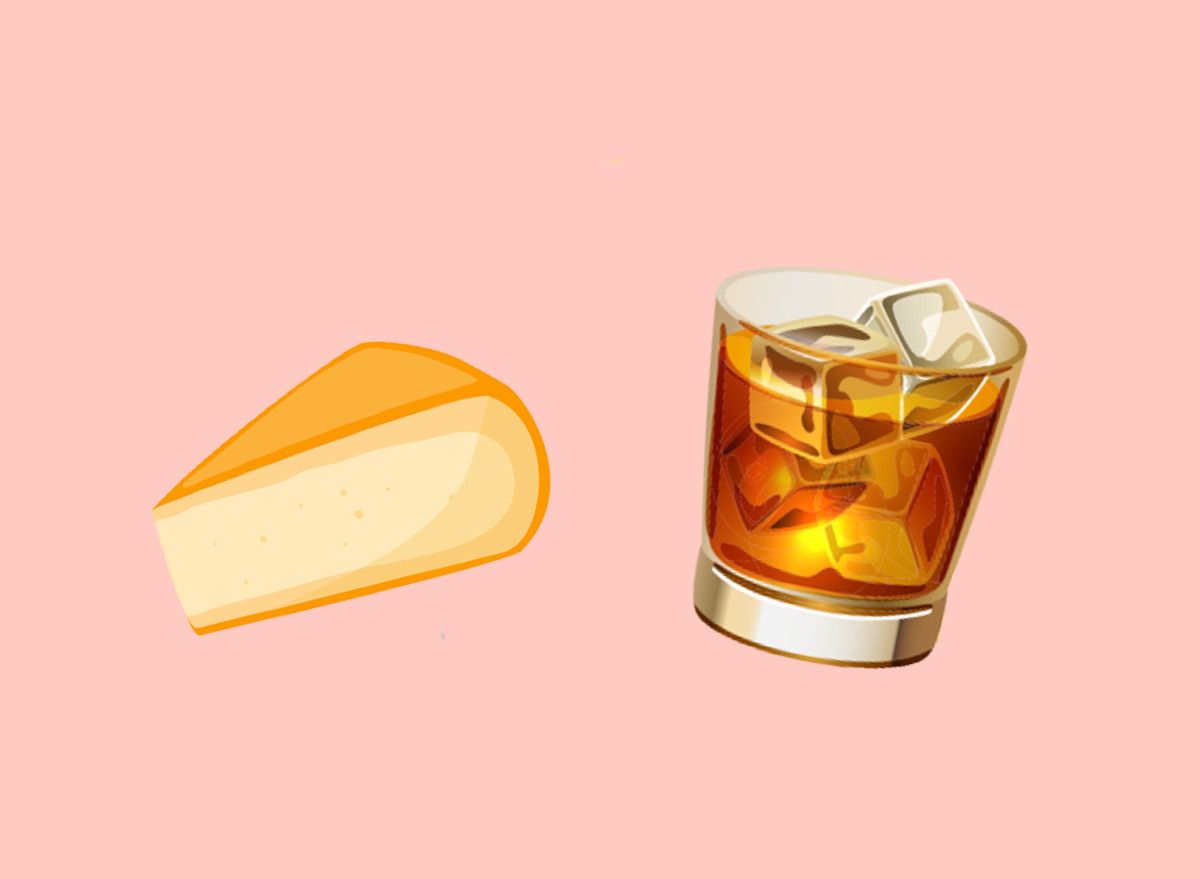 "The flavors of the aged cheese pair well with spirits that have dimension, like whiskey," says Mathew. "For example, the vanilla, spice, and caramel from the barrels used to make Greenbar Distillery SLOW HAND Single Malt Cask Whiskey pair well with the nutty flavors in the cheese. Pair the gouda with a generous pour of heady whiskey over ice."
Spicy Margarita + Spicy Cheddar
"Each sip of your favorite margarita helps bring out the sweet and salty complexity of a spicy cheddar while cleansing your palate with the acidity from the limes," says Hurt. "Get ready to turn up the heat on happy hour!"
Hurt specifically recommends the Deer Creek Rattlesnake, but her recommendation comes with a fair warning: "This pairing isn't for the faint of heart. This Wisconsin cheese packs a serious punch thanks to habanero peppers. The tasting experience is unlike any other."
Try pairing that spicy cheddar with this Refreshing Cucumber and Jalapeño Margarita!
Double Lemon Presse + Humboldt Fog Cheese
"Sour in nature, the tart, and tangy Humboldt Fog has a hint of lemon to it, making it a perfect compliment with a lemon vodka," says Mathew. "Greenbar Distillery TRU Lemon Vodka is one of the only lemon vodkas on the market that uses REAL lemons—not the lemon flavorings that leave you wondering if you've just downed some lemon Pledge cleaning solution. TRU Lemon Vodka elevates classics like Double Lemon Presse or simple Lemon Drops and pairs well with Humboldt Fog cheese, without overpowering it."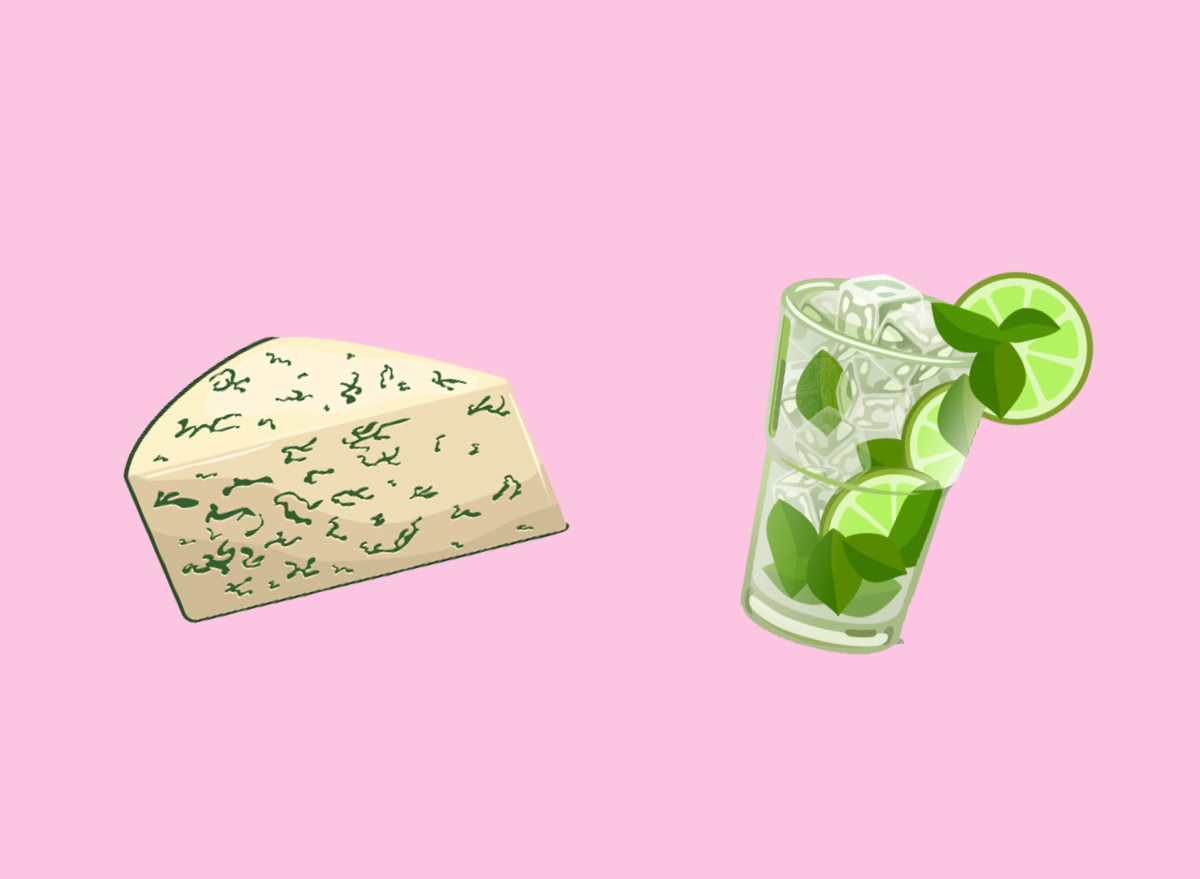 "A creamy, young blue will contrast beautifully with a botanical gin and the added tonic water adds just enough bitterness to wash away the finish, so every bite is as good as the first," says Hurt. "The acidity from the limes will also help cleanse your palate."
The Deer Creek The Blue Jay is Hurt's preferred pairing with a Gim Smash—or any other gin-based cocktail!
"It goes really well with any gin smash, gimlet, or a gin and tonic," says Hurt. "Just grate some lime zest on top of the cheese to help bridge the flavors in the cocktails and cheese pairings. I also think honey goes well with blue cheese so if you make you drink with honey simple syrup instead of a sugar simple syrup, it'll be even better."
Lavender Daiquiri + Cheddar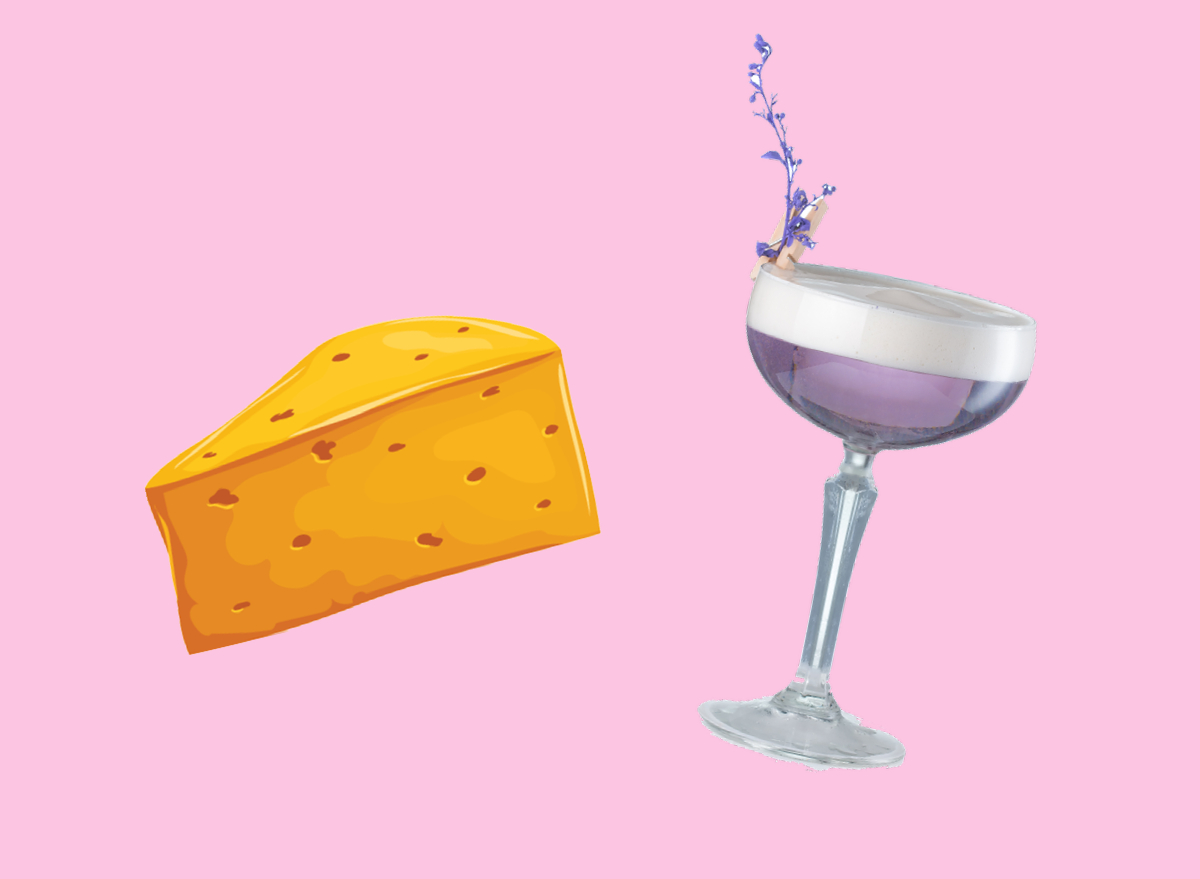 "Farmhouse cheddar has a hint of fresh-cut grass, which matches superbly with Greenbar's Silver Rum that was created to be similar to a grassy, funky Rhum Agricole with hints of bright and floral lavender," says Mathew. "Pair the flaky cheese with a fresh Lavender Daiquiri."