Costco Adding Pricey New Food Court Sandwich to More Locations, Despite Backlash
Costco faced scathing backlash about the sandwich's price earlier this year.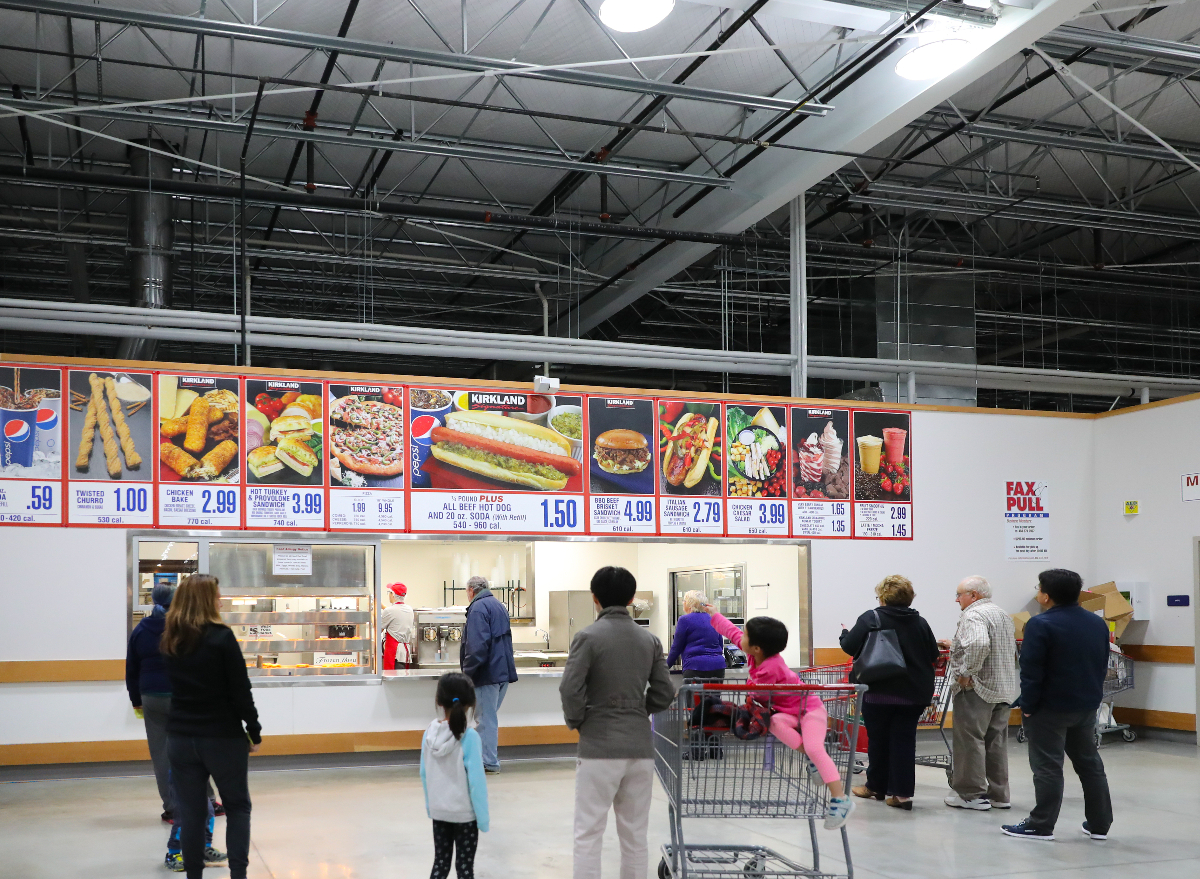 Costco faced scathing backlash from customers when it started testing a surprisingly pricey new food court sandwich earlier this year, but the retailer isn't giving up on the new lunch option just yet. In fact, Costco just added the sandwich to a handful of additional warehouses across the country—and shoppers are just as disapproving as ever.
The roast beef sandwich features sliced roast beef, onion relish, mayo and mustard blend, lettuce, roasted cherry tomatoes, and red onions on an artisan roll. When it was first spotted in February at a Costco in Lynnwood, Wash., customers were immediately taken aback by the $9.99 price tag.
In a Reddit post about that sandwich with more than 550 comments, many pointed out that $9.99 is shockingly high in comparison to more affordable food court options, like the $1.50 hotdog combo and $9.95 pizzas.
"$10 for a single-serve, individual item doesn't seem to fit in well with the rest of their lineup. I would expect this to be a poor seller and get scratched from the lineup quickly," a shopper commented.
Costco doesn't seem to be deterred by all the backlash, since the sandwich has been popping up at additional warehouses since.
A customer announced on Reddit this week that they spotted the sandwich at a new Costco warehouse in their area. While they didn't specify which warehouse, we confirmed with employees at two warehouses that just opened this month in Northeast Denver, Colo., and Buckeye, Ariz., that their food courts are currently offering the sandwich. Another Redditor said they spotted the sandwich at a brand-new warehouse in Georgetown, Texas, but our attempts to confirm this went unanswered.
Costco did not immediately respond to our queries for more details on where the sandwich is available right now and whether it plans to debut the sandwich nationwide. Regardless, shoppers still aren't sold on the idea of a $10 food court meal.
"I'm not spending $10 on a mediocre roast beef sandwich. $5 or $6 sure, not 10," a customer commented on Reddit.
"$10? The price of an entire Costco pizza, two rotisserie chickens, or nearly 7 hotdogs and 7 drinks? Pass," another wrote.
This isn't the only Costco food court item that has gotten major criticism from customers this year. Shoppers also slammed the mango smoothies that started rolling out at food courts across the United States earlier this summer.
Zoe Strozewski
Zoe Strozewski is a News Writer for Eat This, Not That! A Chicago native who now lives in New Jersey, she graduated from Kean University in 2020 with a bachelor's degree in journalism.
Read more about Zoe