Costco's Big Bagel Debate Is Dividing Customers
The answer may depend on your location.
Costco tends to generate a lot of fanfare for its fan-favorite bakery items, from the beloved chocolate chunk cookies to the seasonal Pumpkin Cheesecake that just returned last week. But when it comes to one staple Costco baked good, members are sharply divided.
Costco has long sold packs of Kirkland Signature bagels that are baked fresh in warehouses and sold in quantities of 12. When a member recently took to Reddit to poll fellow Costco fans on whether they think these Kirkland bagels are actually good, a fierce debate ensued as the post racked up more than 200 comments.
On the one hand, some Costco members were vehemently opposed to the Kirkland Signature version of the classic breakfast carb. These critics swore that the Kirkland bagels are a far cry from authentic bagels and said that they can find much better at their local bagel shops.
"They're hardly bagels, more like bagel-shaped bread," one shopper commented.
"As a New Yorker, nay. Not worth the calories when I can get real bagels around the corner." another wrote
On the other hand, plenty of members staunchly defended the Costco baked good. While many did concede that Costco's bagels aren't quite as tasty as bagels from a local shop, they stressed that they're some of the better grocery store bagels and come at a great price. Twelve Kirkland bagels are currently priced at $9.35 online near me in New Jersey, but prices may be lower in stores or vary by the warehouse.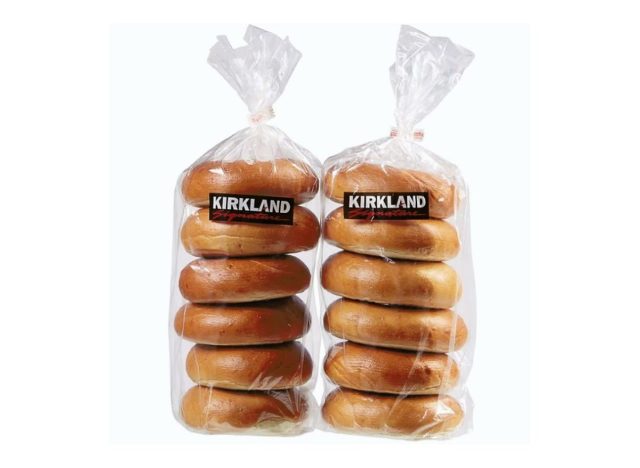 "I live in Ohio and I think they are the best supermarket bagel option we have and I love them. I stopped eating bagels until I joined Costco, now I make a special trip just for the bagels and croissants," a fan wrote6254a4d1642c605c54bf1cab17d50f1e
"Far better than the usual bagels you can buy at the grocery store. Not as good as an actual bagel place but a whole lot cheaper and more convenient. We get them occasionally. My kids love them. They are not gourmet but they serve their purpose very well [in my opinion]," another said.
Fans of the Kirkland bagels also pointed out that not everyone is lucky enough to live near a great local bagel bakery. So depending on the area, Costco's bagels may very well be the best available.
"Costco bagels are great for me because local bagel shops are pretty much nonexistent," a shopper wrote.
"The Costco ones are the closest I can get without a four-hour drive to a real bagel shop," another commented.
Considering all of the wildly different opinions on the Kirkland Signature bagels, any members who haven't tasted them before may have to give them a try in order to truly determine whether they're worth the money. Just be warned—shoppers often complain that the bagels grow mold mere days after taking them home. Shoppers recommended storing them in the freezer to extend their shelf life and pull out bagels to thaw as needed.
This isn't the only Costco item that has left shoppers intensely divided lately. When the retailer recently brought back its seasonal beef chili, many members were outraged that the item contains beans since some regional chili styles leave out the legumes. Last month, shoppers also debated whether the Kirkland Signature Chicken Pot Pie is "delicious" or completely "inedible."
Zoe Strozewski
Zoe Strozewski is a News Writer for Eat This, Not That! A Chicago native who now lives in New Jersey, she graduated from Kean University in 2020 with a bachelor's degree in journalism.
Read more about Zoe