Costco's New Sample Kiosk Is Garnering Major Customer Complaints
Costco has built quite a reputation around its free samples, but fans aren't sold on a new innovation.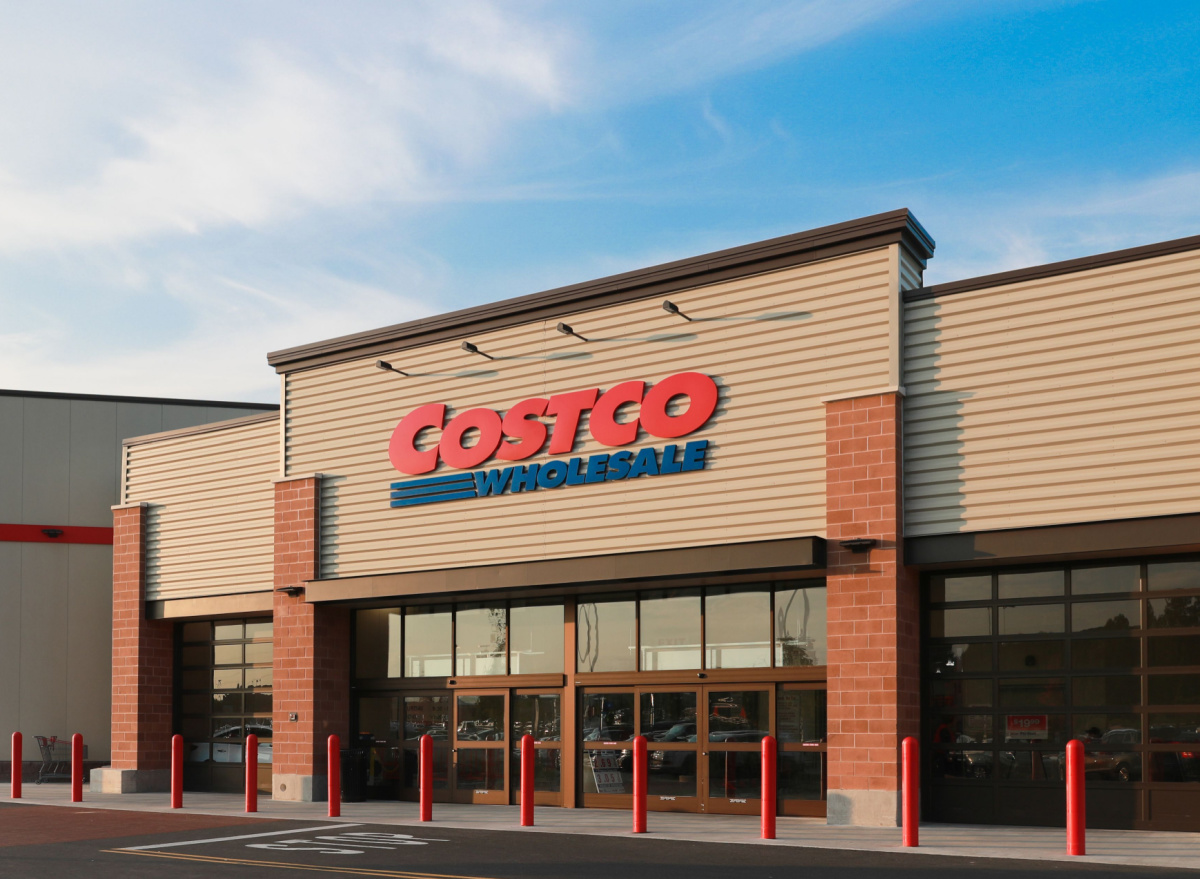 While Costco is far from the only grocery chain that offers free samples, it seems to have built the biggest reputation around its commitment to dishing out complimentary bites.
Naturally, many customers love a perk that allows them to discover new food items and make sure they actually like a product before buying it. Some shoppers are so passionate about Costco's free samples that they make a full meal out of the freebies during stops at their local warehouse.
But when shoppers recently spotted a new innovation in Costco's free sample services, their reaction was more skeptical than euphoric.
While Costco's free sample stands are typically manned by workers, a customer shared a picture on the Costco subreddit of a kiosk that gives members the freedom to grab their own free samples.
A sign on the kiosk instructs customers to only take one sample–in this case, prepackaged bags of fruit snacks. Still, Redditors weren't convinced that Costco can successfully rely on the honor system when it comes to its customers. Many commenters recalled the bowls of candy some houses leave outside for children on Halloween, just to have an inconsiderate trick-or-treater empty it all into their own bucket.
"The Costco version of the Halloween 'take one' bowl. Watch and prepare to lose faith in humanity," one shopper commented.
Because of this, some theorized that any samples Costco attempts to distribute through these kiosks will disappear in about five seconds due to potentially greedy customers, robbing most shoppers of the opportunity to try them.
"I love the idea, but people are the worst. So I don't think these are gonna last," a shopper commented.
"This type of thing always gets ruined by a small minority of people," another lamented.
Unluckily for Costco, major warehouse club rival Sam's Club seems to have already cracked the code on distributing free samples without help from workers. Several shoppers compared Costco's apparent attempt to run a self-serve free sample booth with Sam's Club's machines that distribute a single sample to members upon scanning their cards.6254a4d1642c605c54bf1cab17d50f1e
"I have both memberships and notice that Costco really seems to be behind in the digital transformation/automation area compared to Sam's," wrote one user who mentioned the machines.
At a time when the world is getting increasingly automated and some chains are relying less and less on human labor, shoppers also worried that launching these self-serve kiosks could result in employees losing work.
"As much as I couldn't care less about samples and the crowds they attract, at least when people are doing it, it means someone's getting paid," a shopper commented.
It was not immediately clear when and where Costco installed the free sample kiosk, and whether these will become fixtures at all Costco locations. Costco was contacted for more details and comment on the complaints but did not immediately respond.
Zoe Strozewski
Zoe Strozewski is a News Writer for Eat This, Not That! A Chicago native who now lives in New Jersey, she graduated from Kean University in 2020 with a bachelor's degree in journalism.
Read more about Zoe