The #1 Unhealthiest Meal at 9 Popular Chain Restaurants
When heading to your favorite chain restaurant, dietitians say you may want to skip these meals.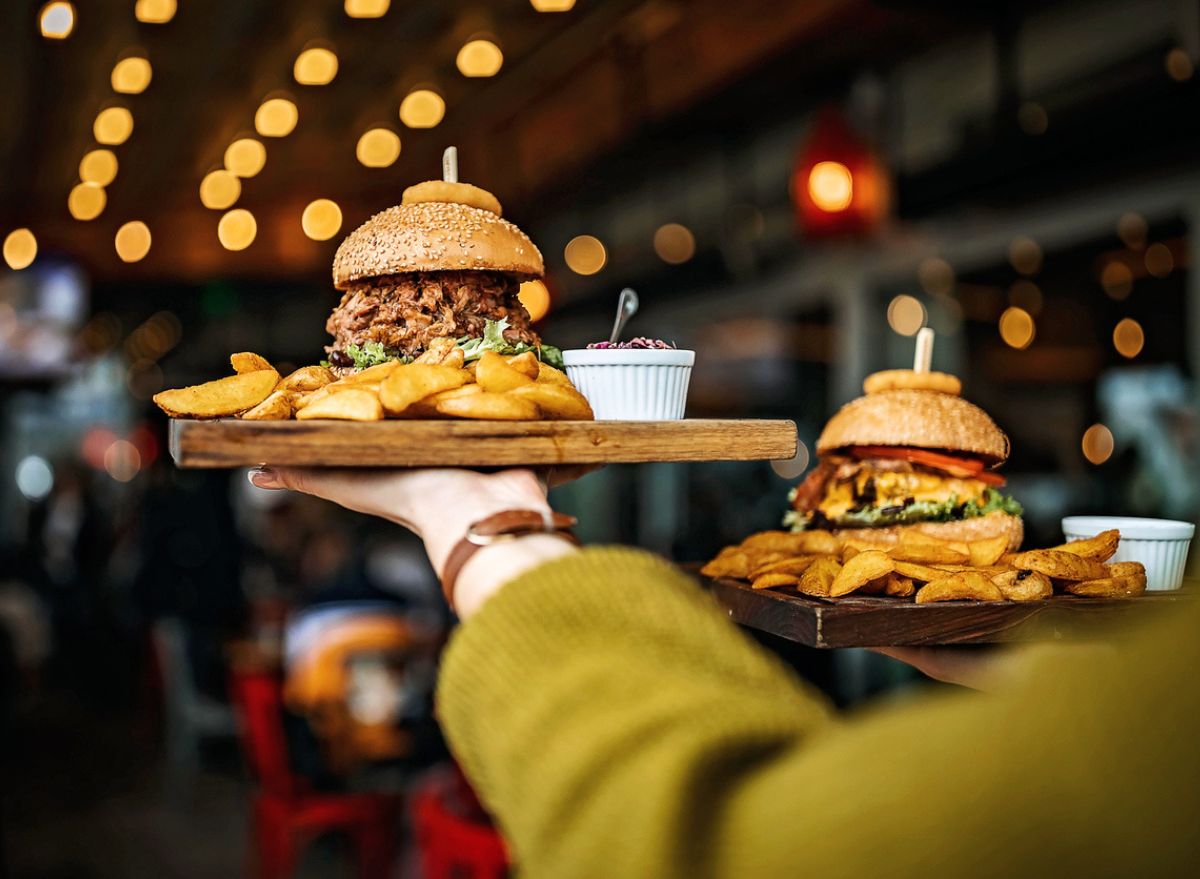 There's certainly something special about dining at a local restaurant and treating yourself to a unique specialty menu and food handcrafted by a talented chef. But the downside of independent dining is that sometimes these restaurants can be more expensive and have fewer options for the whole family. For outings when you need an affordable menu and a wider array of choices, sticking with your favorite chain restaurant can provide you with a better dining experience. However, even though chain restaurants often come with a lower price tag, their meals are more commonly on the unhealthy side.
This doesn't mean you need to avoid going to restaurants like Red Lobster, Olive Garden, TGI Fridays, or Applebee's, but it can be helpful for your peace of mind and personal health goals to know what you're getting into ahead of time. That's why we created this list of the unhealthiest meals at popular chain restaurants.
The meals on this list are all high in calories, total fat, saturated fat, sodium, and sometimes trans fat, and many of these dishes contain more than what is recommended for you to consume in an entire day.
Things to consider when choosing a meal at a chain restaurant
The unhealthiest meals to order at 9 popular chain restaurants
Uno's Chicago Classic Deep Dish Pizza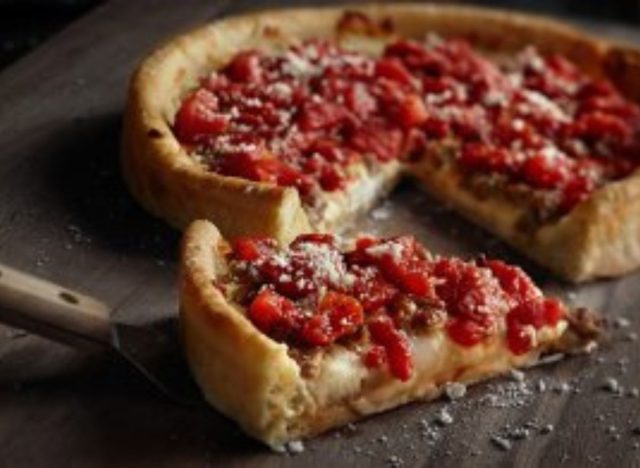 Per slice
: 360 calories, 26 g fat (8 g saturated fat), 710 mg sodium, 19 g carbs (1 g fiber, 1 g sugar), 15 g protein
At first glance, you may think that the nutritional information of Uno's Deep Dish Pizza doesn't seem all that bad, but these numbers are per slice. And when you consider that most of us will eat between two to three slices in one sitting (sometimes more), these numbers start to feel a bit heavier.
"This pizza is loaded with high-calorie ingredients, such as sausage, pepperoni, and cheese, and the deep dish crust is also very calorie-dense," says Mary Sabat MS, RDN, LD. To keep your calories and fat on the lower side, try one of their thin crust options instead.
Outback Steakhouse's Herb Roasted Prime Rib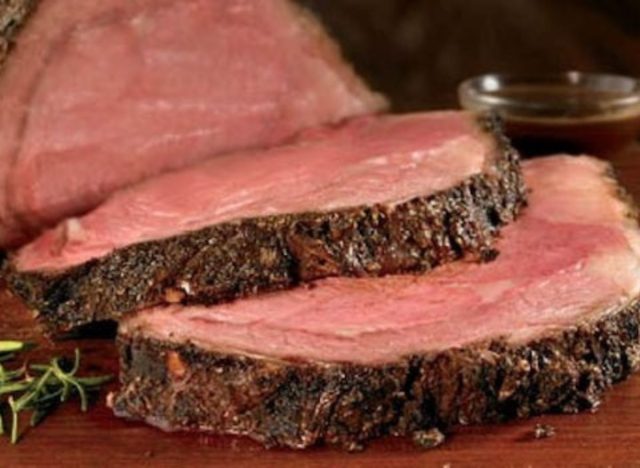 Per 16-ounce meal
: 1,770 calories, 145 g fat (66 g saturated fat), 1,510 mg sodium, 0 g carbs (0 g fiber, 2 g sugar), 116 g protein
A deliciously cooked prime rib is a special treat on any occasion. Unfortunately, this particular cut of meat contains lots of calories, total fat, and saturated fat. That is why Outback Steakhouse's giant 16-ounce option is exceptionally unhealthy, especially when "this prime rib is also served with a loaded baked potato and a side of creamy horseradish sauce," says Sabat.
For a healthier steak option, try something like its Victoria's Filet Mignon or Center-Cut Sirloin.
Cheesecake Factory Breakfast Burrito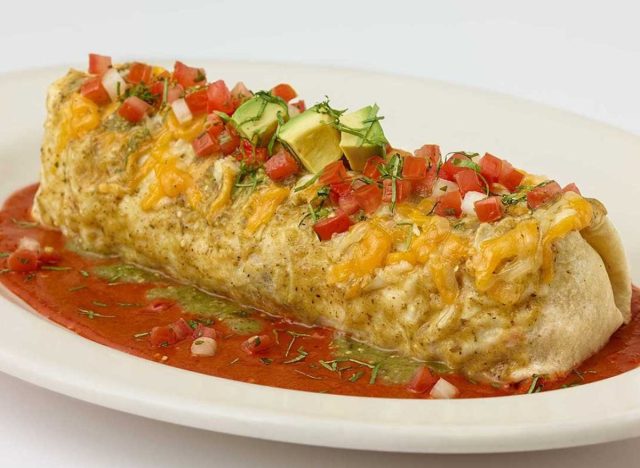 Per meal
: 2,260 calories, 151 g fat (72 g saturated fat, 4 g trans fat), 4,260 mg sodium, 138 g carbs (21g fiber, 20 g sugar), 89 g protein
Many people may not associate breakfast with the Cheesecake Factory, but this chain restaurant offers a few morning meal options in its gigantic textbook-sized menu. Unfortunately, though, one of their breakfast items—a classic breakfast burrito—actually weighs in as one of their most calorie-dense dishes.
"This breakfast burrito consists of eggs, bacon, chicken chorizo, cheese, crispy potatoes, avocado, peppers, and onions. It is served with a side of sour cream and black beans," says Lisa Young, PhD, RDN, author of Finally Full, Finally Slim and member of our Medical Expert Board. "It's an extremely unhealthy dish as it is highly caloric, estimating about the average amount of calories for an entire day."
Red Lobster's Admiral's Feast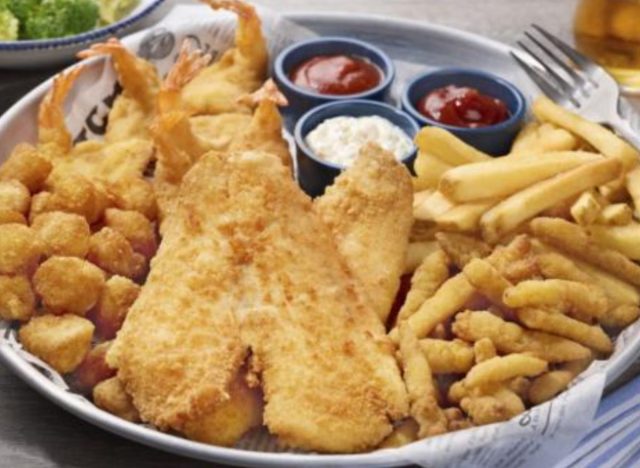 Per meal
: 4,980 calories, 302 g fat (33 g saturated fat, 4 g trans fat), 1,580 mg sodium, 393 g carbs (23 g fiber, 61 g sugar), 171 g protein
The Admiral's Feast from Red Lobster isn't meant for just one person, but it's easy to go overboard on these fried foods and consume more than what would be considered a serving. This is why Sabat suggests avoiding it next time you're out at this chain.6254a4d1642c605c54bf1cab17d50f1e
"This seafood platter includes fried shrimp, bay scallops, clam strips, and a seafood-stuffed flounder, all served with fries and coleslaw," says Sabat. "And the high levels of fried and processed foods make this a particularly unhealthy choice." 
As mentioned earlier, the WHO recommends limiting your daily consumption of trans fat to 2.2 grams, with a goal of keeping it as close to zero as possible. This meal comes in at 4 grams of trans fat, which is dangerously high. According to the Mayo Clinic, a diet higher in trans fat can lead to heart disease by way of higher cholesterol.
Applebee's Riblet Platter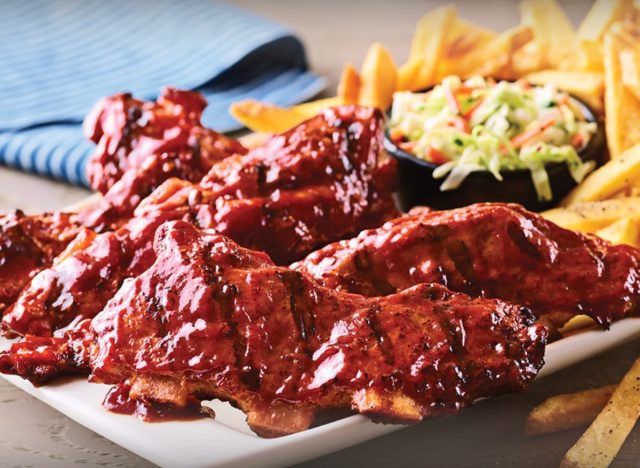 Per meal
: 1,660 calories, 79 g fat (24 g saturated fat), 3,160 mg sodium, 149 g carbs (12 g fiber, 80 g sugar), 91 g protein
Applebee's is known for having some of the unhealthiest chain restaurant meals, but their BBQ Riblets Platter is among some of the worst.
"This platter of BBQ riblets, comes with fries and coleslaw, and contains 1,660 calories, 79 grams of fat, and 3,160 milligrams of sodium," says Sabat. "And the BBQ sauce is also loaded with sugar, which over time can contribute to weight gain and other health problems."
Olive Garden's Tour of Italy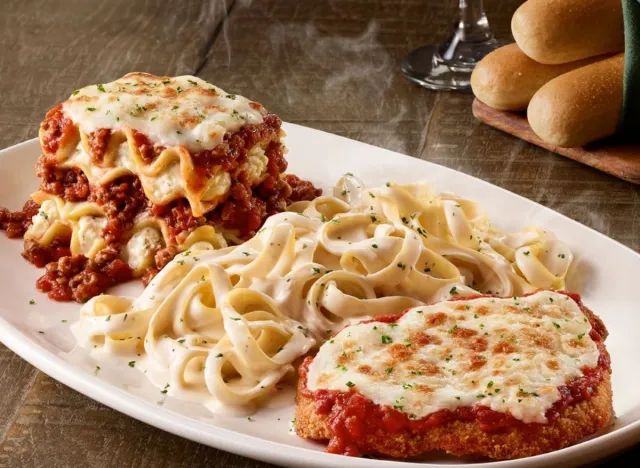 Per meal
: 1,550 calories, 97 g fat (50 g saturated fat, 1.5 g trans fat), 3,220 mg sodium, 99 g carbs (7 g fiber, 12 g sugar), 72 g protein
Going on a literal "tour of Italy" might be tempting, but try to resist the urge to sample the flavors of Italia via this unhealthy dinner order from Olive Garden. At over 1,500 calories, 1.5 grams of trans fat, and well over your daily recommended sodium limit, Sabat suggests skipping over this famous trio dish.
"Olive Garden's Tour of Italy dish includes three Italian classics—chicken parmigiana, lasagna classico, and fettuccine Alfredo," says Sabat.
If you're really craving this meal, you may want to split it with a friend to lighten it up.
Red Robin's Monster Burger
Per meal
: 1,220 calories, 77 g fat (31 g saturated fat, 3 g trans fat), 2,840 mg sodium, 60 g carbs (4 g fiber, 20 g sugar), 73 g protein
With a name like Monster Burger, it should come as no surprise that this Red Robin menu item is high in calories, total fat, saturated fat, trans fat, and sodium. Because of this, Sabat says to skip it altogether.
"This burger comes with two beef patties, bacon, cheese, onion rings, lettuce, tomato, and mayo," says Sabat. "It also comes with bottomless steak fries on the side."
For a healthier option at Red Robin, try its Keep It Simple Beef Burger or Veggie Burger.
Panera's Pepperoni Mozzarella Melt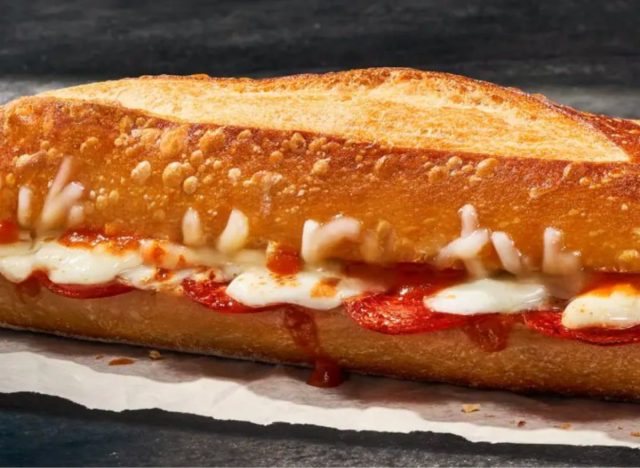 Per meal
: 1,020 calories, 41 g fat (22 g saturated fat, 1 g trans fat), 2,610 mg sodium, 115 g carbs (4 g fiber, 5 g sugar), 48 g protein
"If you are dining at Panera, the Pepperoni Mozzarella Melt is definitely an option to steer clear of," says Young.
You may assume that most of the options at Panera are on the healthier side, but this isn't true. In fact, the Mozzarella Melt has over 1,000 calories. "The protein source in this sandwich is loaded with sodium, and consuming too much sodium can raise blood pressure and increase ones' risk for heart disease and stroke," explains Young.
Shake Shack Double SmokeShack Burger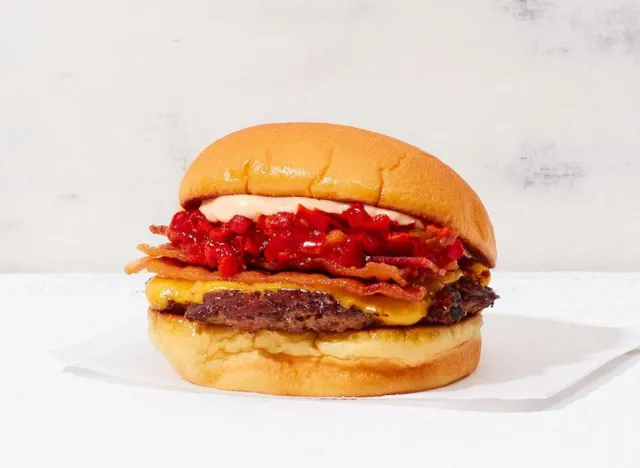 Per burger
: 830 calories, 53 g fat (22 g saturated fat, 2 g trans fat), 3,030 mg sodium, 28 g carbs (0 g fiber, 7 g sugar)
Shake Shack is known for its juicy burgers and creamy milkshakes, but their menu doesn't exactly contain the healthiest items. If you're headed to this chain restaurant, Young suggests avoiding the Double SmokeShack Burger.
"This Shake Shack burger is high in calories and saturated fat, as it is a double cheeseburger that contains bacon, cherry peppers, and Shack Sauce on a potato bun," says Young.
Even opting for the single version of this burger can save you almost 300 calories and 20 grams of fat—so switch to this if you're craving the delicious SmokeShack flavors.
Sources referenced in this article