9 Best Dinner Recipes for Faster Abdominal Fat Loss
These meals are high in protein, fiber, and healthy fats, which can help you lose belly fat faster.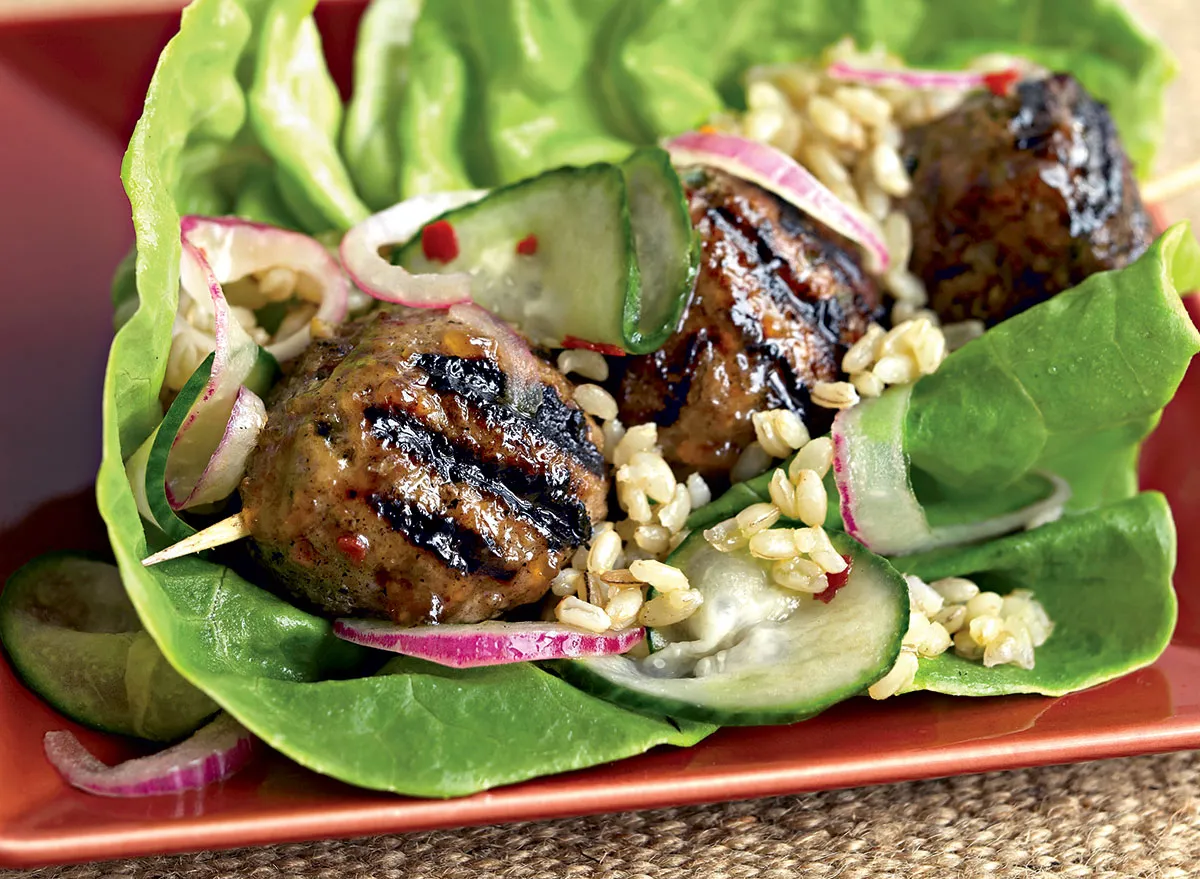 Your body needs fat for many different reasons, but there are some hidden dangers to having extra fat around your stomach area. This type of fat, also known as visceral fat, sits around your internal organs and has been linked to increasing your risk of things like heart disease, stroke, and diabetes.
Thankfully, there are ways you can reduce abdominal fat through incorporating healthier foods and more regular movement into your daily life.
Research shows that you can help shrink abdominal fat by eating meals high in protein and fiber while reducing your intake of added sugar, refined carbs, and trans fats.
To help you find some creative ways of cooking that can also be helpful for your goals of losing weight, we rounded up some easy, healthy dinner recipes for you to try. Then, for even more healthy recipes ideas, check out our list of 22 Meals to Melt Belly Fat in 2022.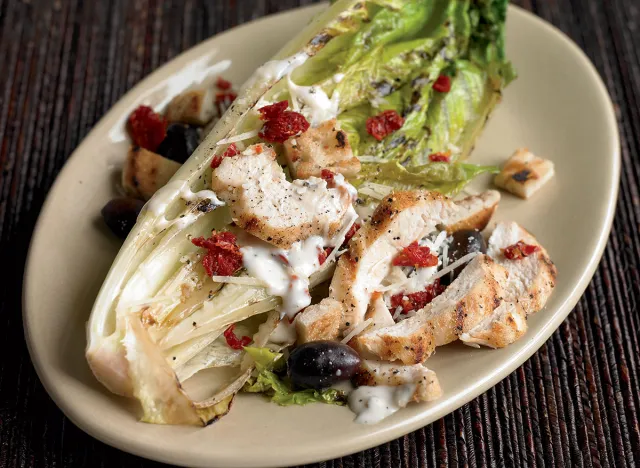 Not only is this salad quick and easy to make, but the grilled chicken gives you a great source of lean protein. The homemade dressing is also lower in calories than many store-bought Caesar dressings. To make this even more weight-loss-friendly, find a mayo made with olive or avocado oil.
Get our recipe for Grilled Caesar Salad.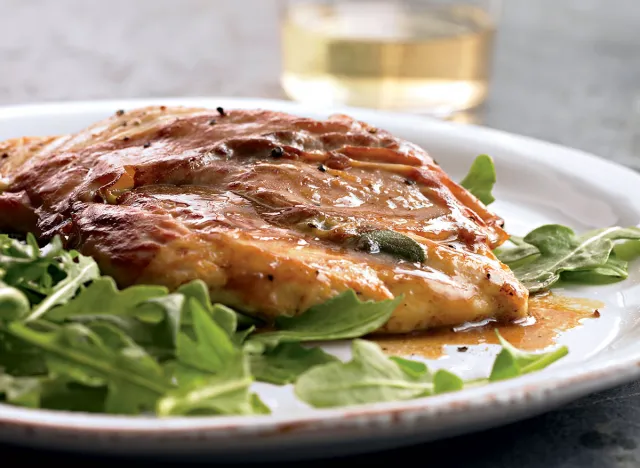 Chicken is one of the best proteins you can eat when you're trying to lose belly fat. Not only is it one of the leaner proteins, but it has some of the highest levels of protein relative to other meat products. This classic recipe is a crowd-favorite and has under 300 calories per serving!
Get our recipe for Chicken Scaloppine.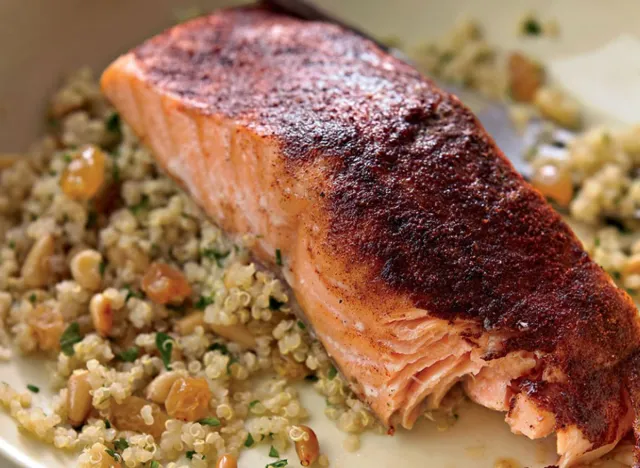 Salmon is high in omega-3 fatty acids, which have been linked to helping you lose weight and reduce inflammation. Quinoa is a great fat-burning food because it's high in fiber and serves as a healthy replacement for refined carbohydrates like pasta.
Get our recipe for Quinoa Pilaf and Salmon.
Asian-Inspired Chicken Meatballs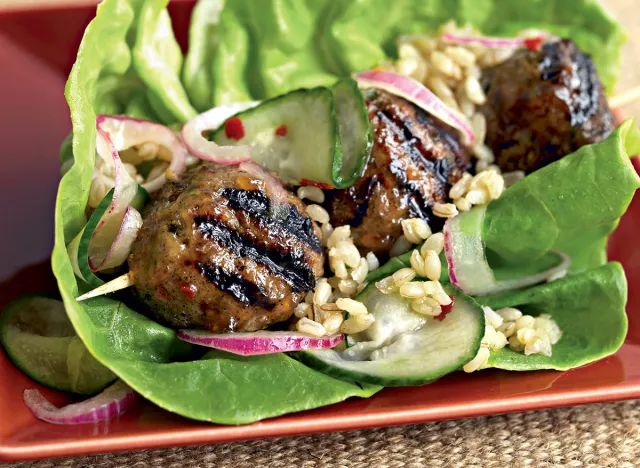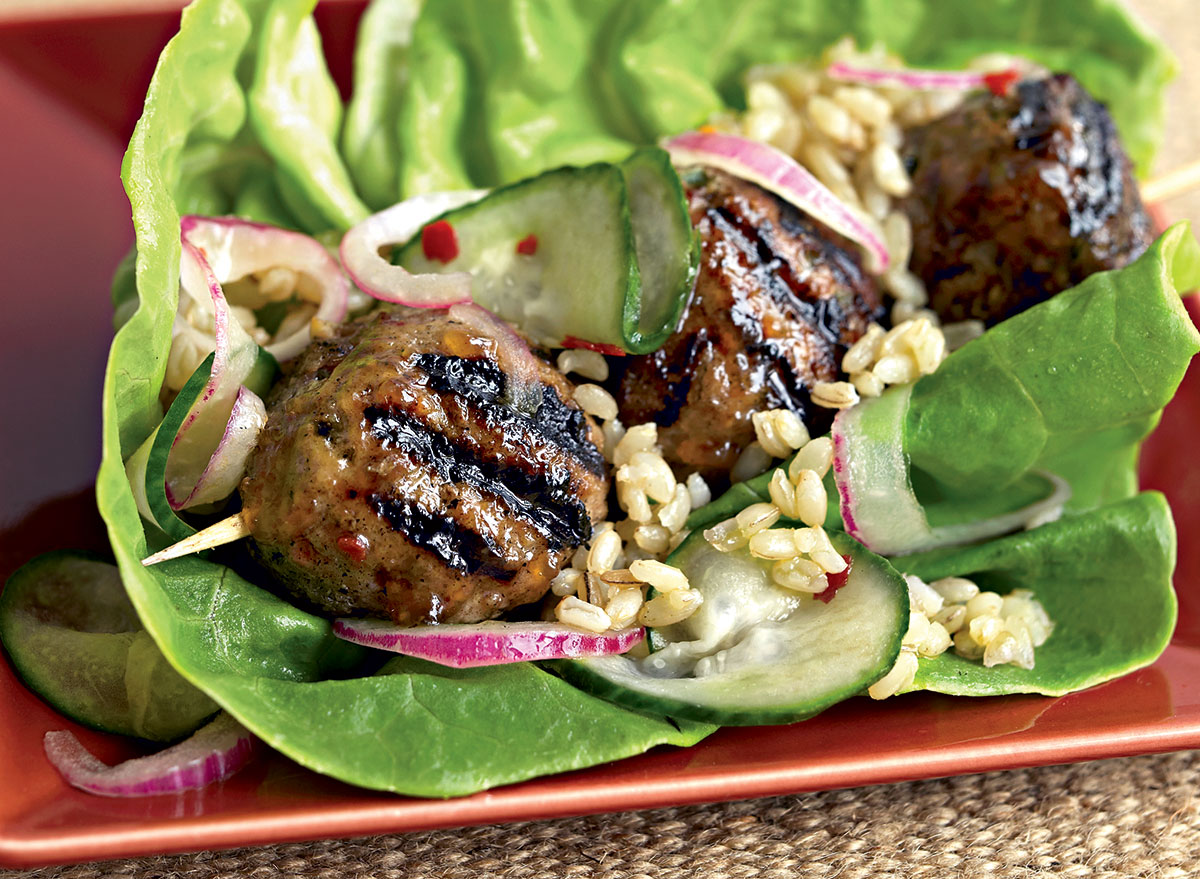 These chicken meatballs are a great alternative to a meatball made with beef because it gives you a boost of protein with less fat. You can add some steamed brown rice for extra fiber, and if you want to make this meal even better for losing abdominal fat, you can use spinach instead of lettuce. Spinach has been linked to reducing inflammation and belly fat because of its interaction with your gut bacteria.
Get our recipe for Chicken Meatballs.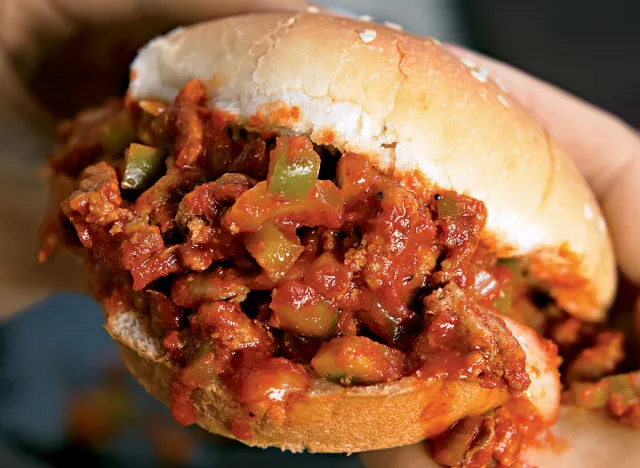 In addition to chicken, turkey is another excellent source of lean protein to include at dinnertime. And this healthy twist on a classic Sloppy Joe recipe will give you all the nostalgia of the original with only 340 calories per serving.6254a4d1642c605c54bf1cab17d50f1e
Get our recipe for Turkey Sloppy Joe.
Chicken Burger with Sun-dried Tomato Aioli
To help keep your protein on the leaner side, you can try these delicious chicken burgers with a homemade sun-dried tomato aioli. To serve you can put them on a bed of lettuce or spinach, or you can find a whole grain bun for added fiber as well.
Get our recipe for Chicken Burger.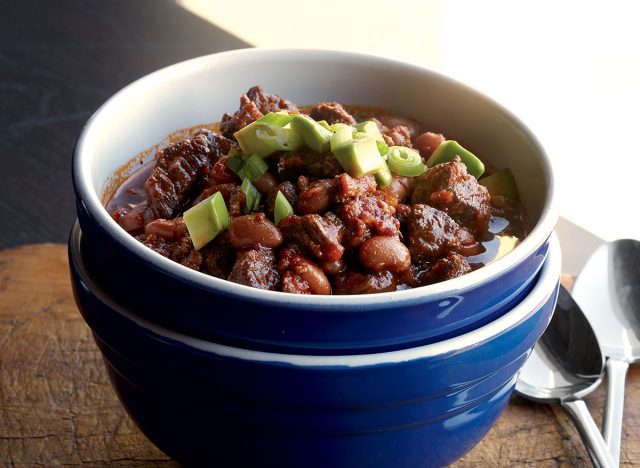 This chili is the perfect recipe if you know you won't have much time to cook dinner during a week. The pinto beans, cinnamon, jalapeños, and avocados are all known to help burn belly fat, making this a great choice when you need a weight loss recipe.
Get our recipe for Crockpot Chili.
Grilled Chicken and Avocado Salad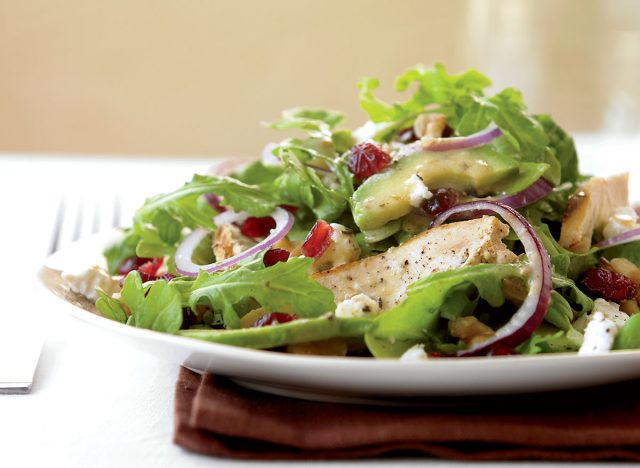 Avocados are delicious sources of soluble fiber, which is known to help reduce abdominal fat. This salad also includes chicken, which is high in protein, and walnuts, which are high in omega-3 fatty acids, making this salad perfect for those wanting to shed visceral fat.
Get our recipe for Chicken and Avocado Salad.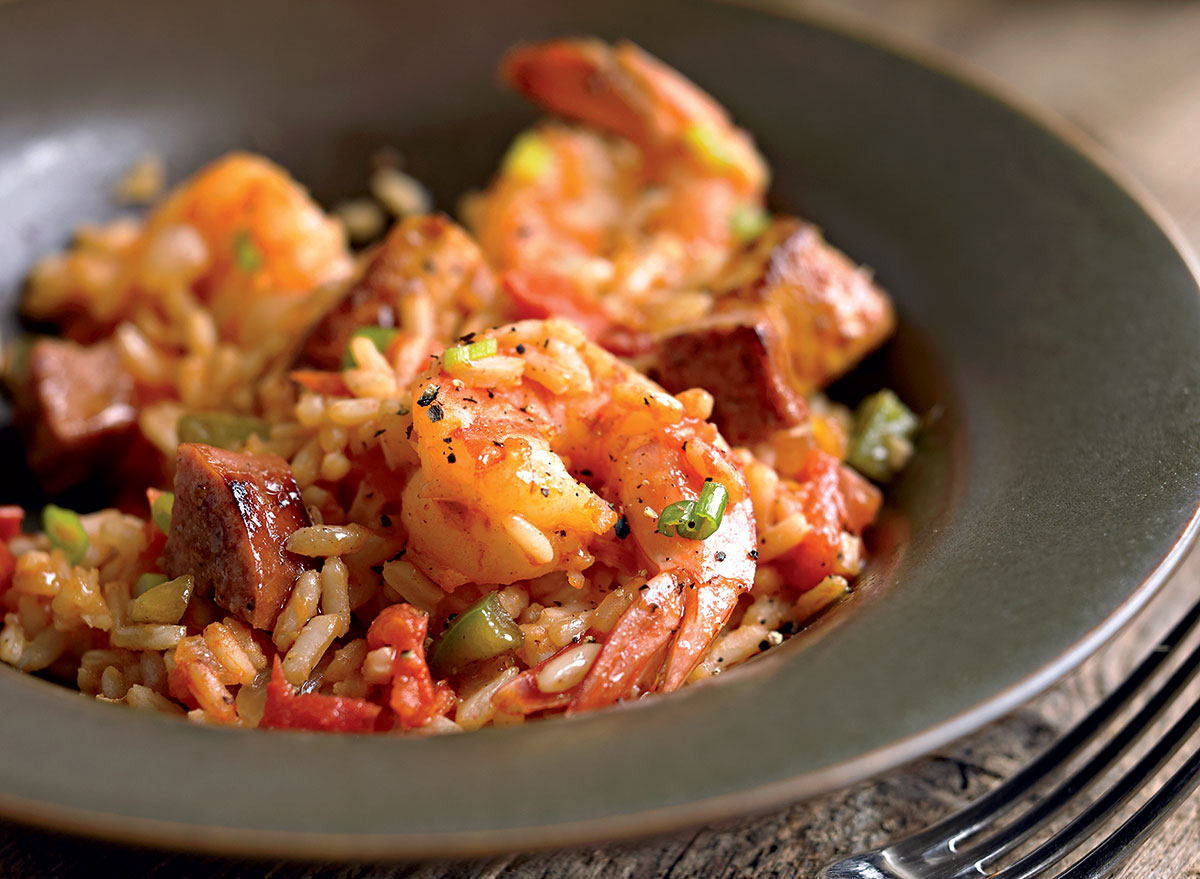 Typical jambalaya recipes come loaded with fat and refined carbs, but this low-carb, low-calorie version is healthier and equally delicious. The combination of turkey, chicken, and shrimp will give you plenty of protein, and ingredients like cayenne will help promote belly fat loss.
Get our recipe for Jambalaya.