9 Discontinued Canned Foods You'll Never See Again
How many of these have you tried?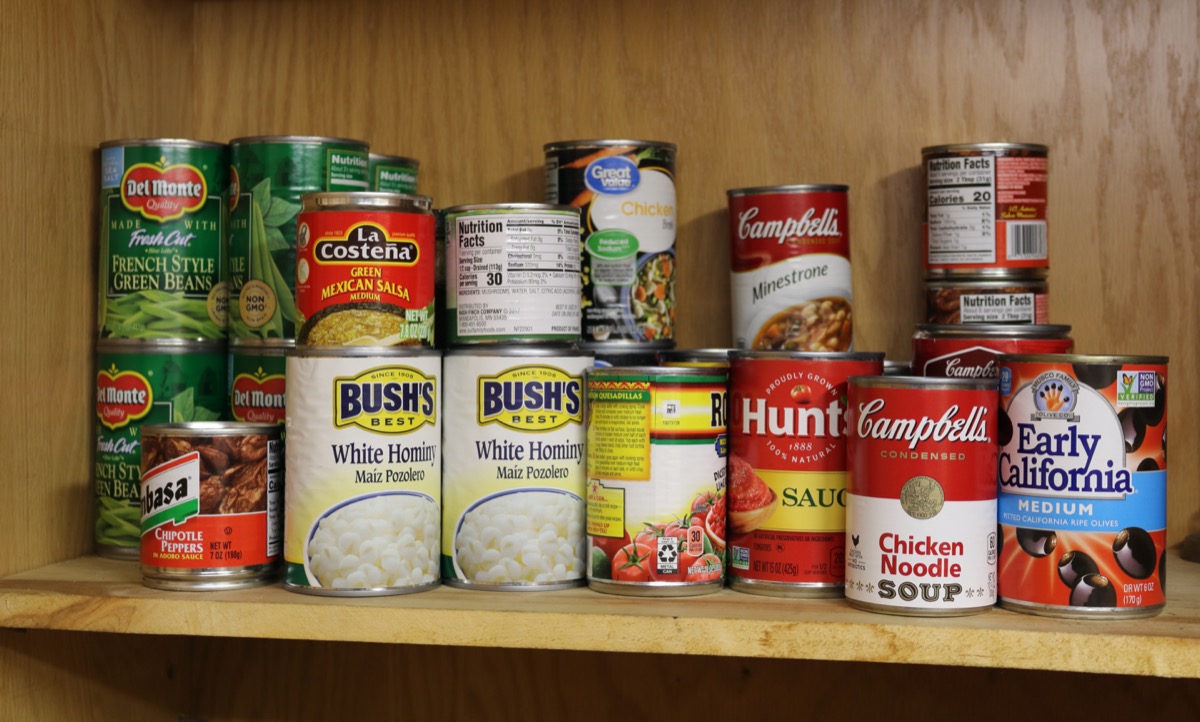 Whether you're stocking up on shelf-stable foods during the pandemic or you just want to have something on hand for the days you don't feel like cooking, canned food is a pantry staple. Some canned options, like tuna or beans, can be included in healthy recipes. Others, like canned soup, are often loaded with sodium and preservatives.
And while it's hard to imagine a grocery store without the canned-food aisle, not everything that comes in a tin has stood the test of time. Here are some of the most outrageous discontinued canned foods that have ever existed.
And for more, don't miss these 15 Discontinued McDonald's Menu Items You Wish Still Existed.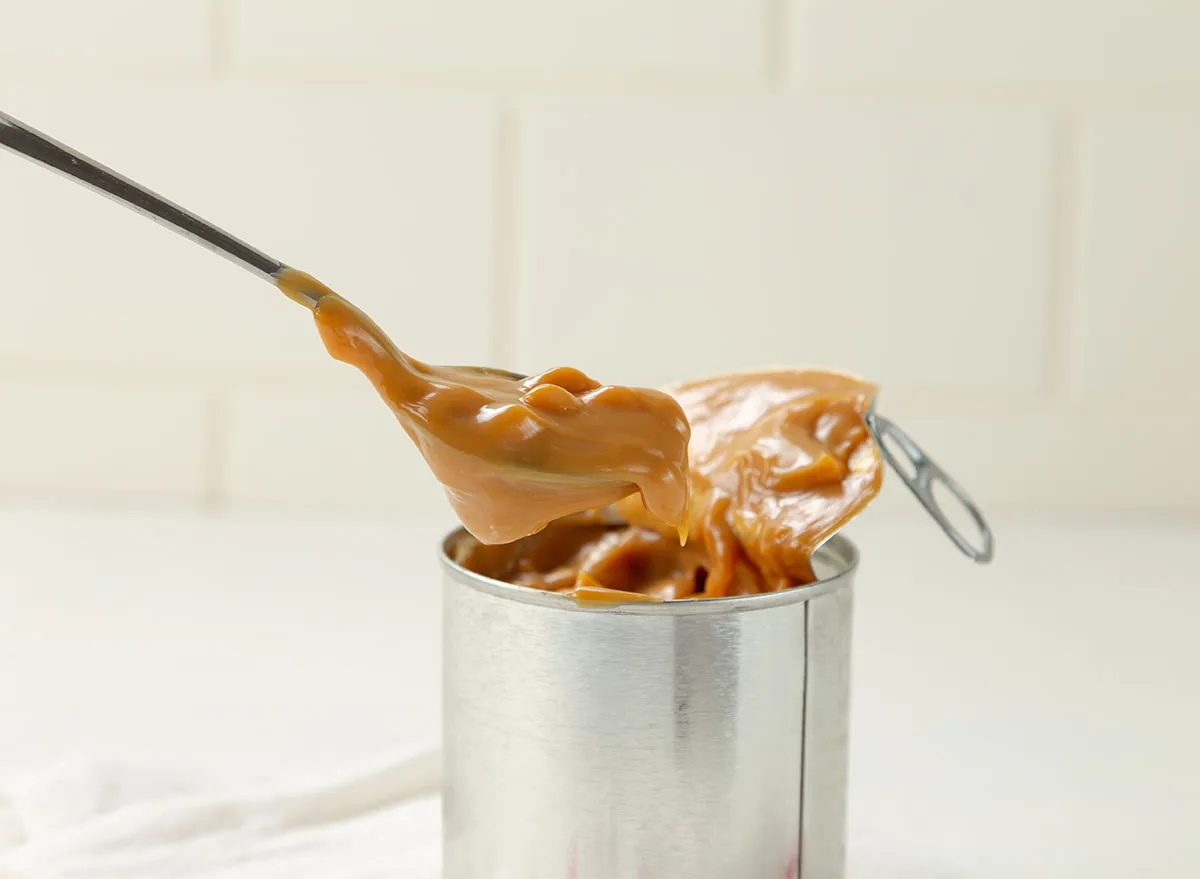 Before Snack Packs came in plastic cups, lunchbox pudding cups were served in cans in the 1970s.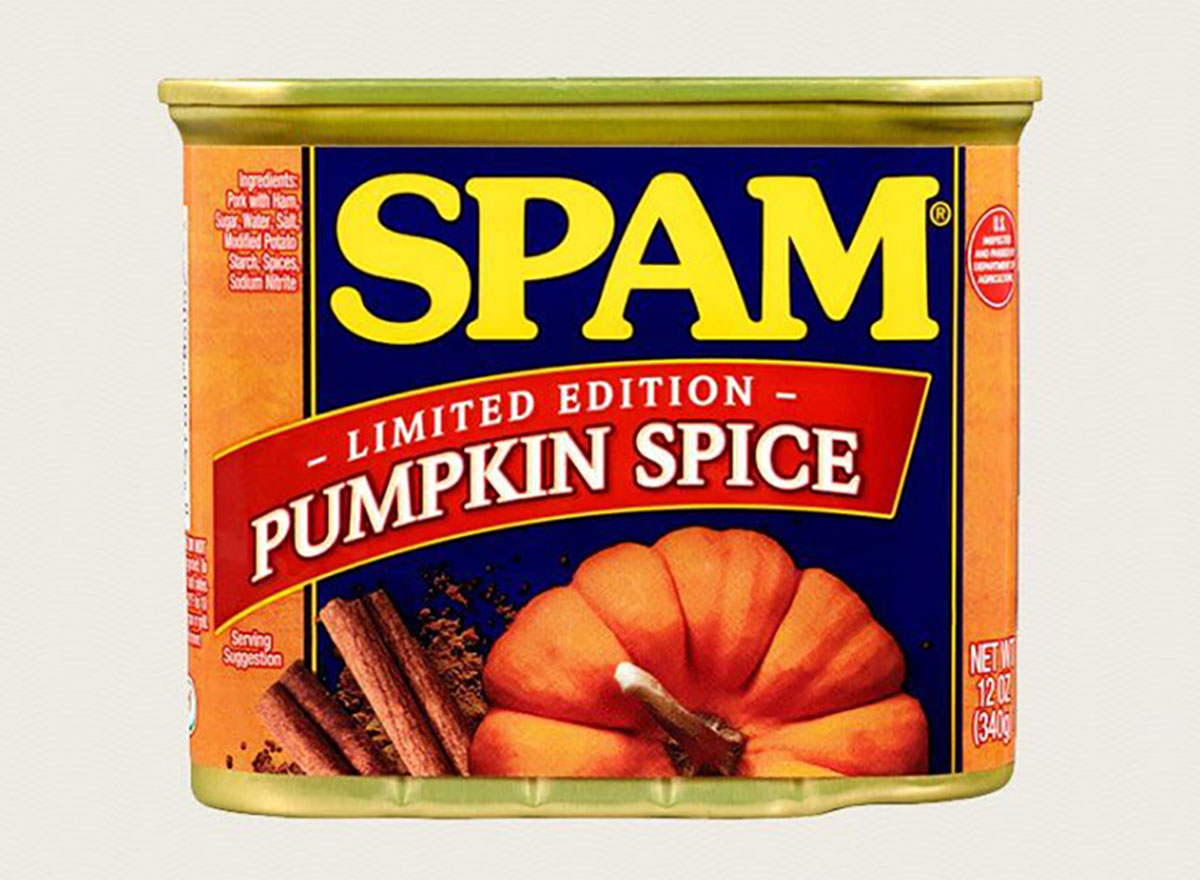 6254a4d1642c605c54bf1cab17d50f1e
This was a limited-edition flavor that came out in 2019. And while Pumpkin Spice Spam sounds pretty horrifying, it apparently sold out in a matter of hours! Maybe the people at Hormel were before their time. Check out the most popular pumpkin spice foods on the shelves now.
To be clear, you'll still see Progresso's canned soups at the store—there just won't be as many options as there were before the pandemic. In July, Bloomberg reported that Progresso has cut 40 types of soup from its offerings. And while the full list of discontinued flavors isn't available, it might include one of your favorites.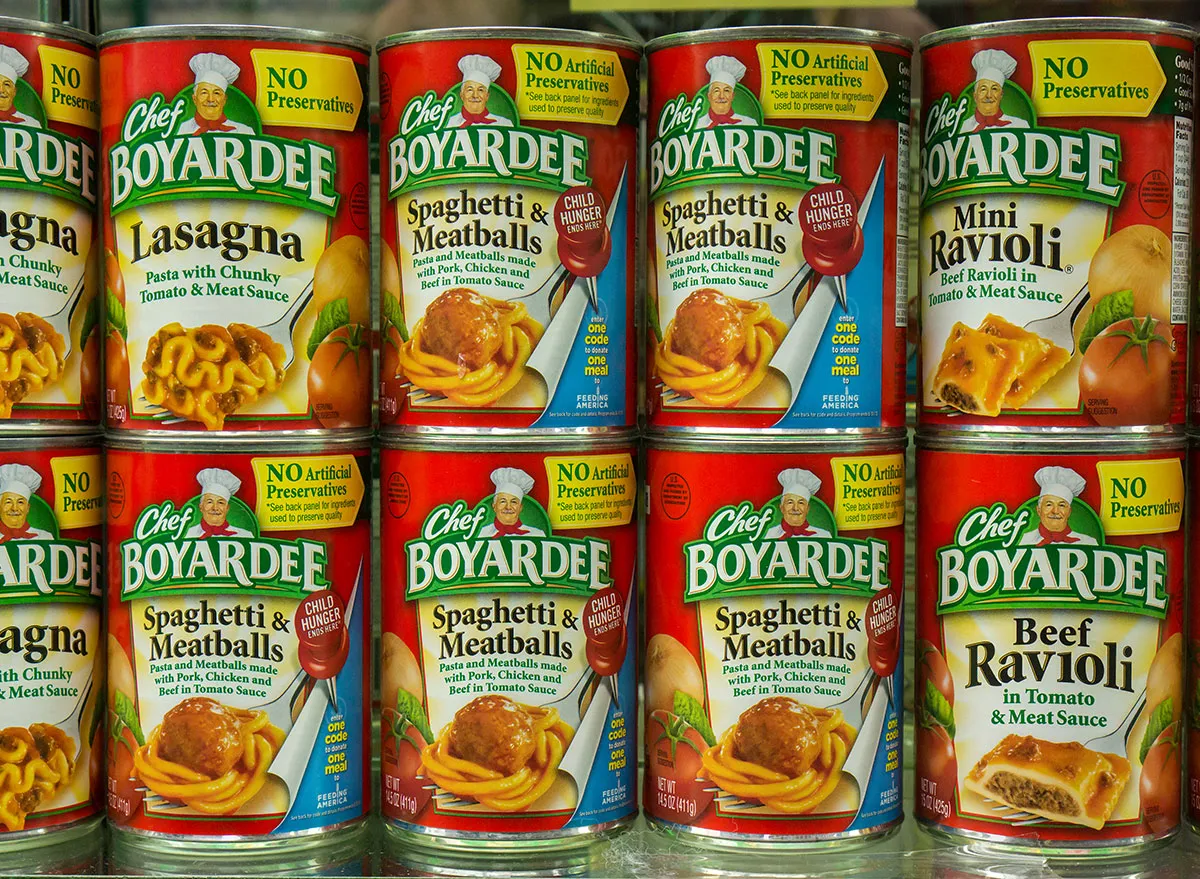 Chef Boyardee is still on store shelves, but the Smurfs version is a thing of the past.
Campbell's Pepper Pot Soup
Campbell's discontinued this soup years ago, but you can still find plenty of recipes for Philadelphia pepper pot soup on food blogs. We love this pepper pot soup recipe from The Spruce Eats.
Franco American Macaroni and Cheese
Canned mac and cheese may not sound appetizing to you. But in some circles, there's serious nostalgia for this canned delicacy. If you're looking for the best boxed mac-and-cheese, we tried a few of them and this was our shocking favorite.
Trader Joe's Vegetable Chili
We have it on good authority that Trader Joe's has discontinued several of its chili offerings, including the fan-favorite veggie chili. Fortunately, you can still get vegan chili cans from Amy's Organic.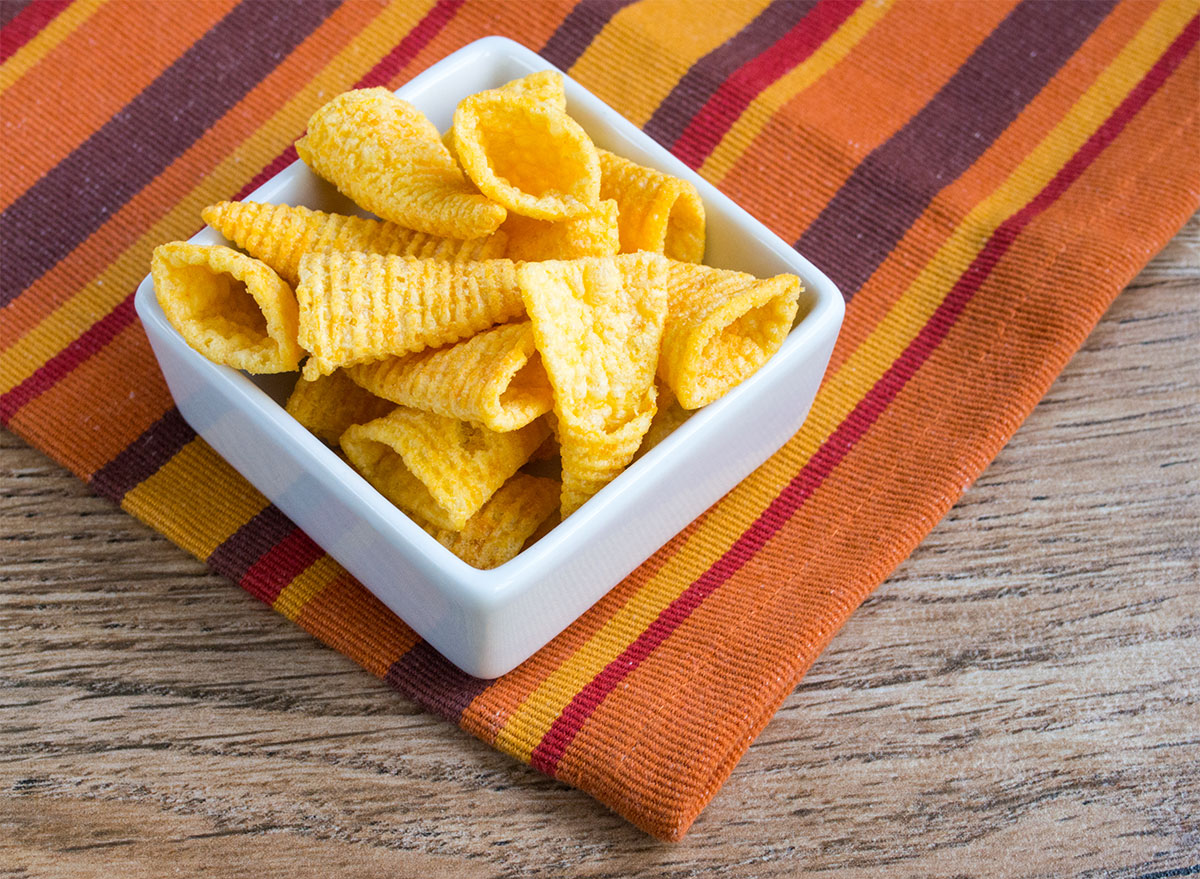 These snack crackers, released at the same time as Bugles in the 1960s, came in cans as well as in boxes (and yes, they were spelled Daisys and not Daisies). Shaped like flowers and train-conductor whistles, they didn't stand the test of time, although Bugles are still around today.
Dinty Moore Meatball Stew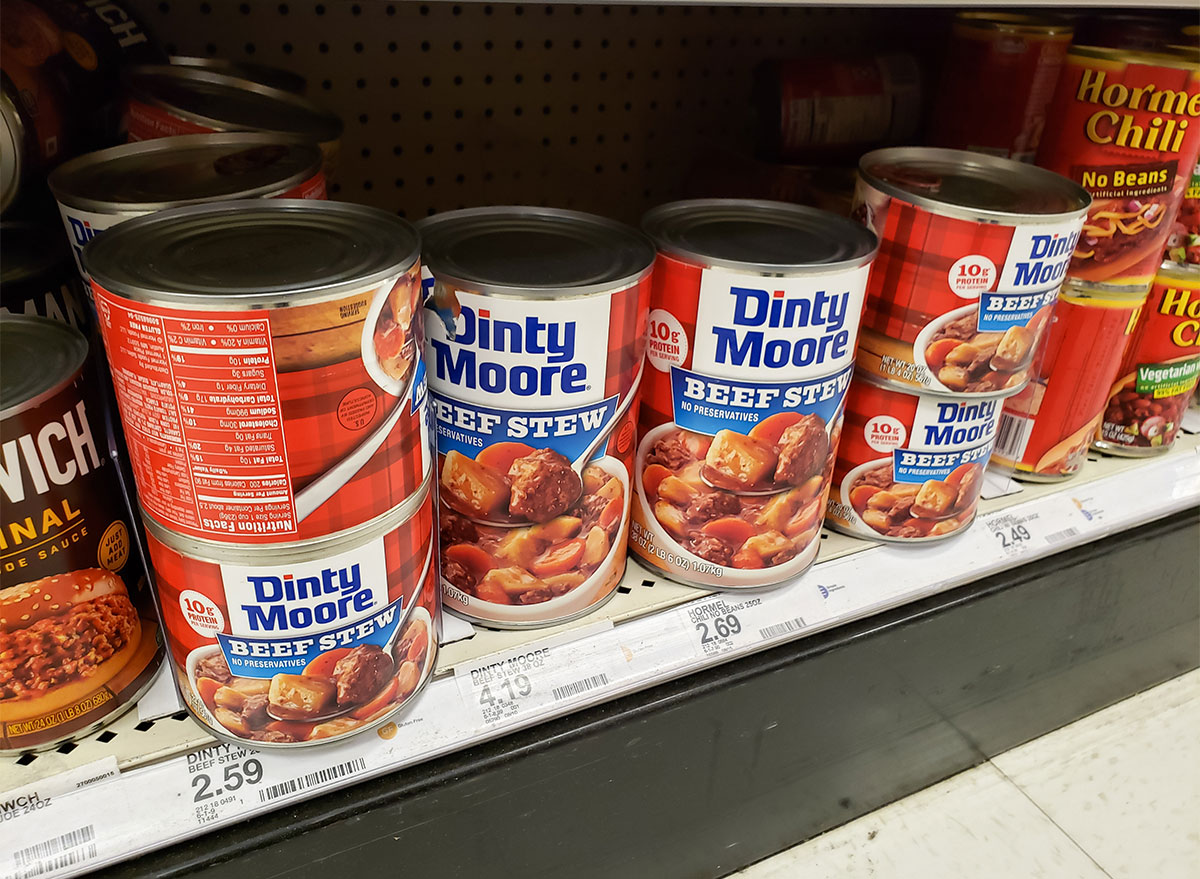 You can still find Dinty Moore beef stew, but you'd be hard-pressed to find the meatball version of this canned Hormel classic. For another dose of nostalgia, check out these 25 Classic Snacks From the 80s.
Read more:
25 Classic Snack Foods From the 70s
7 Classic Fridge Foods Everyone Had in the '70s
7 Classic Childhood Snacks You Can Make Yourself
Eat This, Not That!
Inspired by The New York Times best-selling book series, Eat This, Not That! is a brand that's comprised of an award-winning team of journalists and board-certified experts, doctors, nutritionists, chefs, personal trainers, and dietitians who work together to bring you accurate, timely, informative, and actionable content on food, nutrition, dieting, weight loss, health, wellness, and more.
Read more about Eat This
More content from
Groceries