5 Discontinued Taco Bell Items Customers Are Still Drooling Over
Remember the menu from the early 2000s? Get ready for some nostalgia.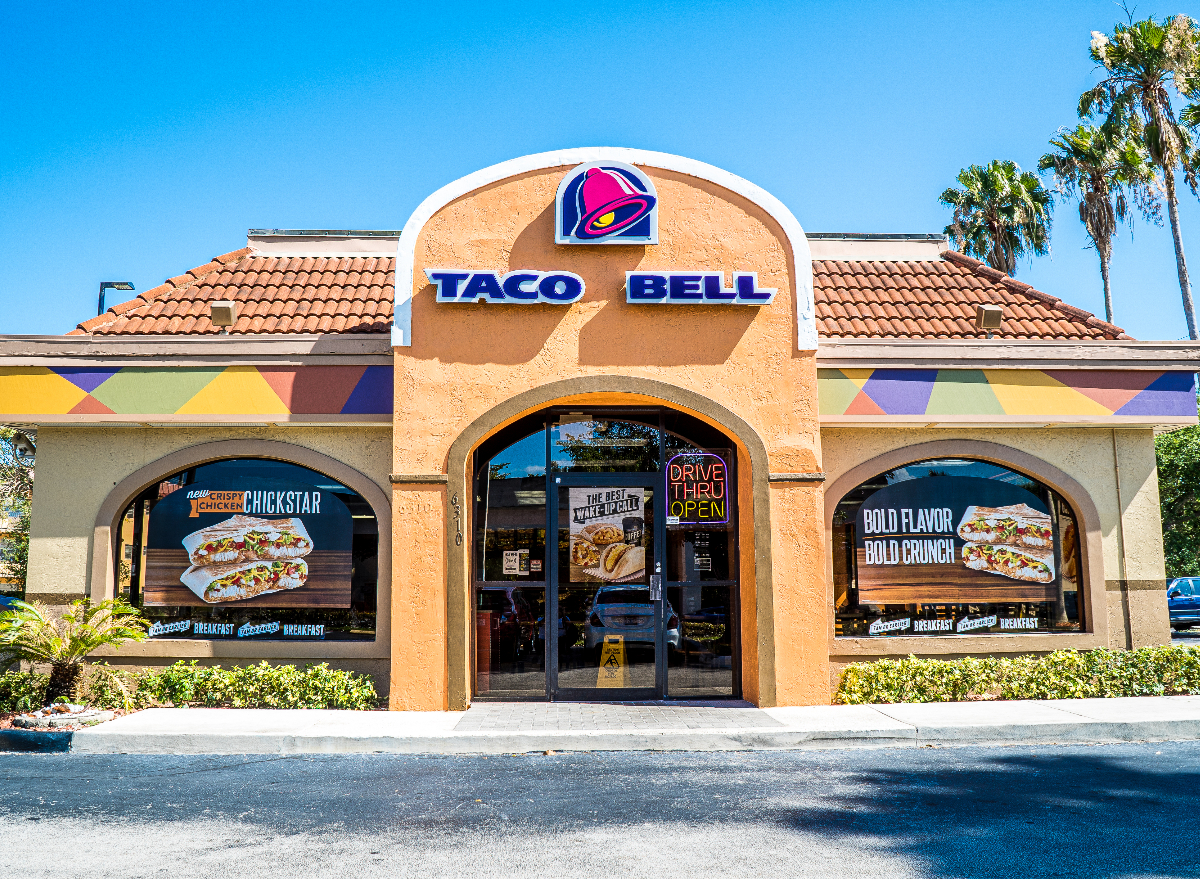 "Out with the old, in with the new" is a mindset that remains steadfast in the fast-food world. We see the discontinuation of menu items all the time only for new ones to be released shortly after.
However, just because fast-food chains get rid of certain menu offerings doesn't necessarily mean that customers didn't like them. In fact, a Reddit user recently posted a photo of a Taco Bell menu circa 2003, attracting 160 comments, with many users waxing poetic about the old menu items.
One Reddit user said, "I loved this spread! So descriptive and peak Taco Bell," while another one wrote, "How come you never realize it's the good old days until they're gone?"
So, for old-time's sake, let's take a trip down memory lane to see which obsolete Taco Bell menu items still hold a special place in people's hearts.
Taco Salad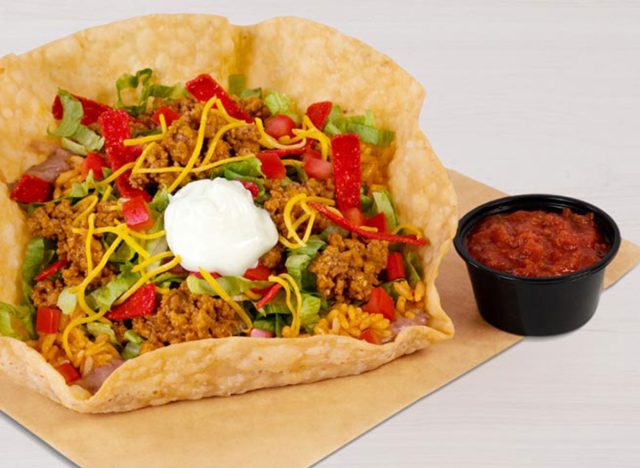 Gracing the menu for 36 years, Taco Bell's Fiesta Taco Salad, commonly referred to as the "Taco Salad" got eighty-sixed in 2020. The beloved menu item featured a crispy taco shell bowl filled with ground beef, rice, refried beans, lettuce, tomatoes, shredded cheese, crunchy red tortilla strips, and sour cream.
According to The Cold Wire, the Mexican chain got rid of the bowl due to the "difficulty of maintaining the taco shell bowls," as well as low demand. However, it's fair to say that there's still some demand—a fan even started a petition for the salad's return.
One user commented on the Reddit thread, "Gimme back my taco salad!!!!," while another one added, "Ugh, I miss the taco salad so much. The shell was perfect. I've tried getting them other places, including at authentic Mexican restaurants, and they just aren't the same."
Zesty Chicken Bowl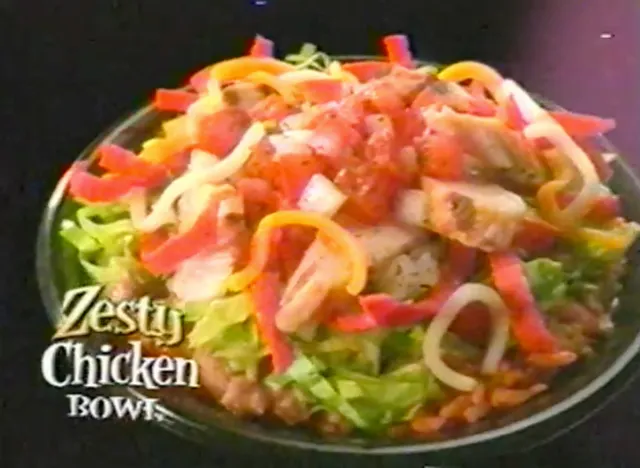 The Fiesta Taco Salad wasn't the only bowl to get axed from the menu. Launched in 2003 only to be nixed around eight years later, Taco Bell's Zesty Chicken Bowl consisted of slices of grilled chicken, seasoned rice, three cheeses, lettuce, and the chain's Fiesta Salsa. But the element that took the menu item to the next level for one Reddit user was the Zesty dressing, which they described as being "so good that it was the first time [they] actually tried to find a way to buy boxes of the stuff to use with other things at home…"
Another Redditor said,  "That zesty chicken bowl was underrated. It was like 37 million calories, but no one cared in 2003. I was working at a Taco Bell/Back Yard Burger at the time and that bowl and the zesty steak bowl were always go to items for a free meal."
Grilled Stuft Burrito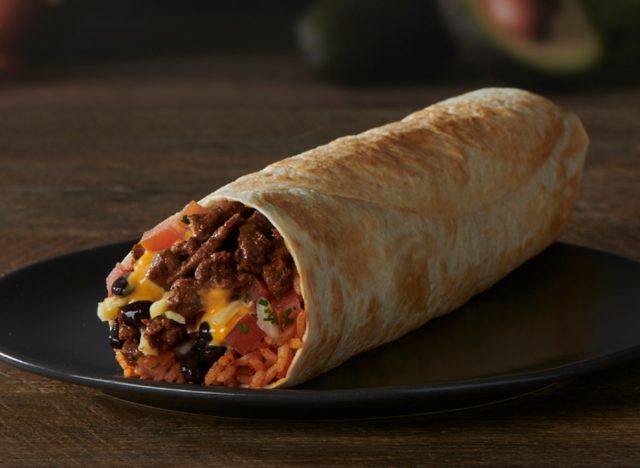 This burrito made its first appearance in 2001. Although it was discontinued, it eventually evolved into the XXL Grilled Stuft Burrito, which, after a 10-year stint on the menu, left Taco Bell in 2019.
The original Grilled Stuft Burrito, which was made with a grill press, featured a flour tortilla packed with ground beef, beans, rice, cheddar, Pepper Jack, mozzarella, creamy Pepper Jack sauce, and Fiesta Salsa. Additionally, since its initial debut, the Grilled Stuft Burrito expanded into several other limited-time varieties, including the Chipotle Grilled Stuft Burrito, Chicken Enchilada Grilled Stuft Burrito, Fajita Grilled Stuft Burrito, Chicken Caesar Grilled Stuft Burrito, and Nacho Crunch Grilled Stuft Burrito.
"Grilled stuft for $1.99. Unreal," one Reddit user said. "Wow what I would give to have a $2 grilled stuft burrito again," someone else commented.
1/2-Pound Beef & Potato Burrito
While Taco Bell still has potato items on the menu—thanks to many vocal customers who asked for their return after they were given the boot in 2020— the 1/2 -Pound Beef & Potato Burrito is very much a thing of the past. Made with a double portion of beef, the burrito was stuffed with potatoes, nacho cheese, and sour cream—and it certainly left an impression on customers, with one writing, "The beef and potato burrito is the best item to have existed." 6254a4d1642c605c54bf1cab17d50f1e
Another Redditor echoed a similar sentiment: "What I wouldn't give to have that 1/2 pound beef and potato burrito back. Especially at that price. That was pretty much all I ordered for years."
Caramel Apple Empanada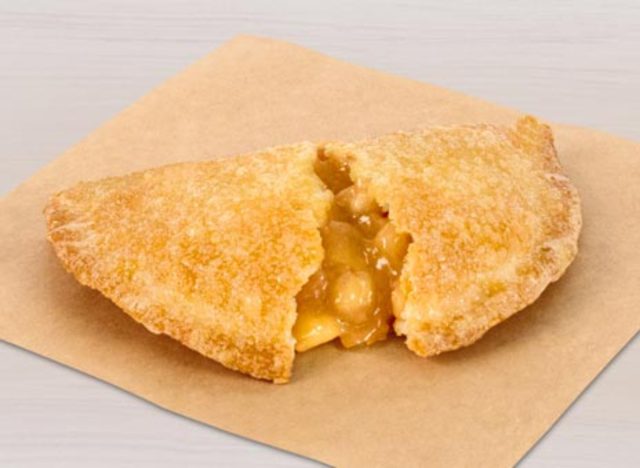 Now just a sweet memory, Taco Bell's Caramel Apple Empanada was quietly pulled from the chain's menu in 2019. Initially introduced in 2004 (which leads us to believe the original Reddit poster's photo was actually from 2004), the beloved one-dollar dessert consisted of a deep-fried crispy shell filled with diced apples and caramel sauce. Taco Bell fans didn't take this discontinuation lightly, resulting in yet another change.org petition.
And the sentiment still stands three years later, with Reddit users continuing to mourn the loss of the iconic treat.
"Seeing the empanada just hurts," one user commented. "PLEASE I JUST WANT THE APPLE EMPANADA BACK," another one added.
Brianna Ruback
Brianna is a staff writer at Eat This, Not That! She attended Ithaca College, where she graduated with a degree in Journalism and a minor in Communication Studies.
Read more about Brianna