Taco Bell's Enchirito Is Finally Coming Back—Here's What We Know
A Taco Bell executive personally confirmed the return on Reddit recently.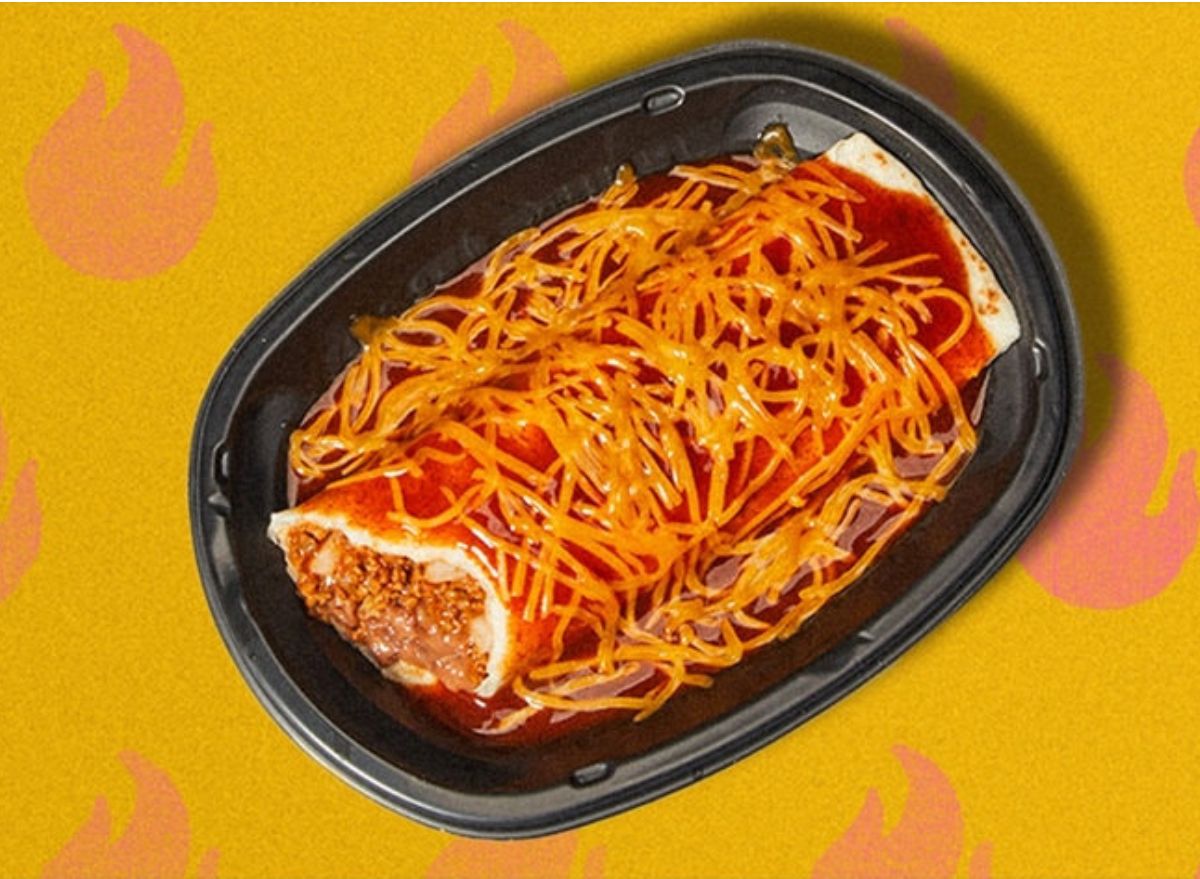 If you were to ask Taco Bell fans which of the chain's discontinued items they miss the most, the Enchirito would surely make many lists (alongside other gems like the Caramel Apple Empanadas and 7-Layer Burritos). This vintage Taco Bell item dates all the way back to the 1970s, and customers have been requesting the return of the beloved burrito-enchilada hybrid ever since it was discontinued in 2013.
Thankfully, Taco Bell finally seems to be hearing all of these Enchirito pleas. The chain brought the item back for a few fleeting days in November 2022 and is planning to encore the Enchirito yet again for a limited time in the near future. Taco Bell Chief Marketing Officer Taylor Montgomery personally confirmed the return when he recently took part in a Reddit AMA (Ask Me Anything) thread where one fan brought up the retired menu item, which features a soft flour tortilla that's filled with seasoned beef, beans, and diced onions and then rolled up and topped with red sauce and shredded cheddar cheese.
RELATED: I Tried Taco Bell's New Enchirito & These Were Its Biggest Flaws6254a4d1642c605c54bf1cab17d50f1e
"The Enchirito was amazing. I'd order it if it was still available. Does anyone else remember this gem?" the fan wrote in the thread.
Montgomery responded directly to the fan, saying that he "can confirm publicly for the first time that it will be back very soon for a limited time."
You have questions, I have answers. I'm Taylor Montgomery, CMO of Taco Bell US. Ask me anything.
by u/RealTacoBell in u/RealTacoBell
For any fans wondering why Taco Bell decides to bring back certain retired items like the Enchirito but won't bring back others, Montgomery did provide a little insight on what factors play into Taco Bell's decisions. He wrote that it's about what's right "for the brand, the business, the team members—all reflective of fan feedback, wrapped in cultural relevancy and, of course, what's uniquely Taco Bell."
Montgomery did not provide any additional details on when the Enchirito is returning or how long it will remain on menus. Still, his comment indicates that customers won't have to wait too long before they can once again get their hands on the popular item. A Taco Bell representative did not immediately respond to our inquiries for more details on the Enchirito rerelease.
Though the Enchirito relaunch is good news for Taco Bell fans, some were displeased that the return won't be permanent.
"If the Enchirito is so great and beloved, and IT IS, then why bring it back on a limited basis? Don't get me wrong; I'm glad it's coming back, but why not permanently?" one customer asked Montgomery.
"Can it just like…stay?" another said.
Fans can hope that the upcoming return is successful enough to inspire Taco Bell to give the Enchirito a permanent spot on the menu.
Taco Bell customers can also expect to see several other nostalgic, retired favorites return this year in addition to the Enchirito. The fiery Volcano Menu—including the Volcano Burrito, Volcano Taco, and beloved Lava Sauce—is coming back starting on June 29, but rewards members with get early access on June 27. Though the Volcano Menu's return will only be for a limited time, Montgomery encouraged customers during the Reddit AMA to "go buy a lot of it so we can make it permanent."
The popular Beefy Crunch Burrito is also coming back in early August after beating the Cool Ranch Doritos Locos Taco in a customer vote earlier this year.
Zoe Strozewski
Zoe Strozewski is a News Writer for Eat This, Not That! A Chicago native who now lives in New Jersey, she graduated from Kean University in 2020 with a bachelor's degree in journalism.
Read more about Zoe