6 Last-Chance Trader Joe's Items Leaving Stores Soon
A new batch of TJ's products are being discontinued, so hurry up and grab these while you can!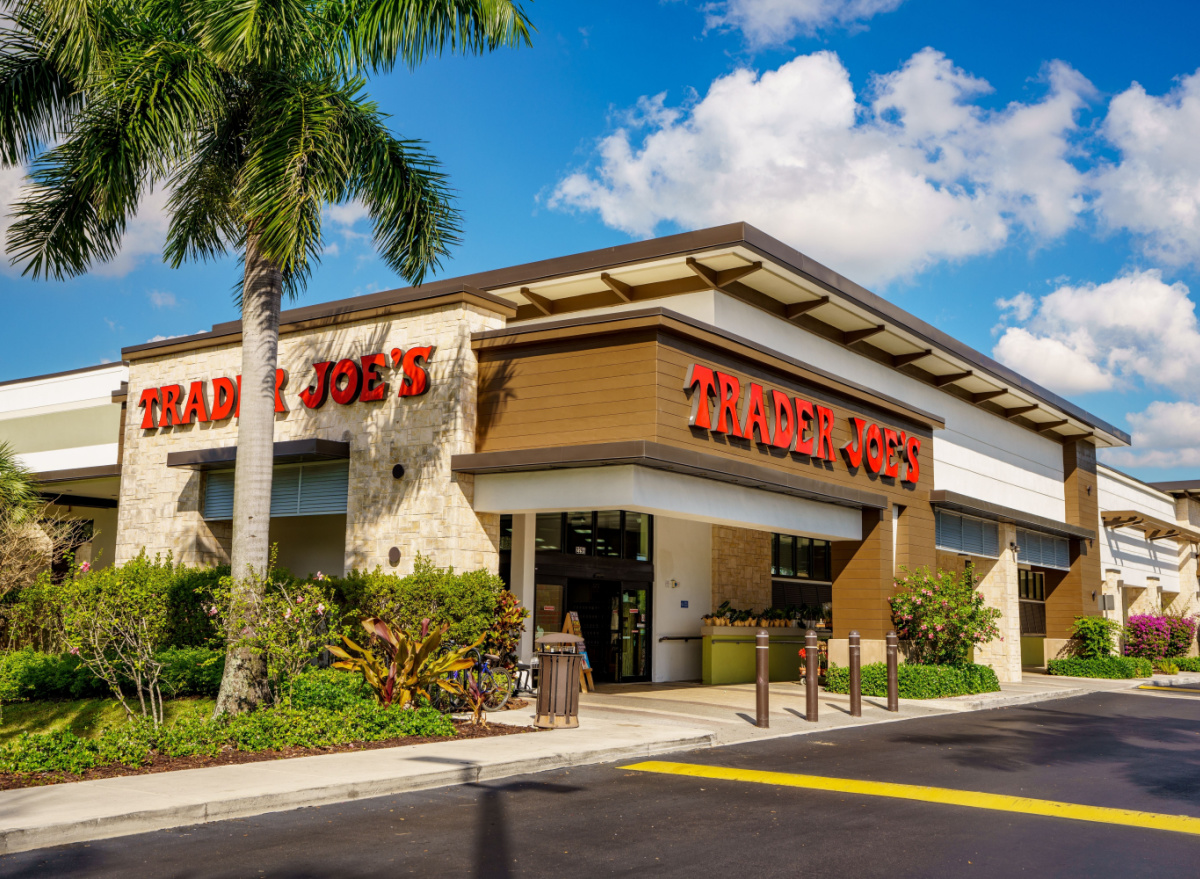 Shopping at Trader Joe's can often feel like a treasure hunt. No matter the aisle you're in, you're likely to discover a new product you haven't previously seen. Unfortunately, these items don't necessarily live on the shelves forever, as the specialty grocery store frequently discontinues products.
According to the company's website, in order for Trader Joe's to bring customers the best products at the best prices, the grocery chain must manage its store space well. TJ's may discontinue an item if it's seasonal, the production cost increases, or most often, if it's not selling strongly enough to earn a spot on the shelf. Matt Sloan, Trader Joe's vice president of marketing, referred to this reason as "slow sales," during a September 2022 episode of the "Inside Trader Joe's" podcast. "If you don't have high volume or growing volume, the costs of producing and handling a slow selling product are such that it doesn't make business sense for us," Sloan explained.
Thanks to Trader Joe's fans regularly providing the internet with product updates, we rounded up six items that are no longer living on store shelves, all of which were confirmed by a TJ's rep.
Chunky Chocolate Chip Cookie Dough
Pre-made cookie dough can spare you time and effort, but unfortunately, Trader Joe's shoppers will now have to look elsewhere for the baking staple. Last month, one Reddit user announced the discontinuation of TJ's Chunky Chocolate Chip Cookie Dough, calling it the "best retail cookie dough in America." Soon after sharing the news, the post garnered 120 comments. Among the fans mourning the loss, one user wrote, "This is the saddest news I've heard all month."
However, others didn't find the cookie dough's departure from stores to be unexpected. "I'm so shocked so many people love this dough. I thought it was the worst cookies ever lol," one user commented. "22 year crew member here. These have been a slow seller, so I'm not surprised," another one added.
Chocolate Chip Cookie Dunkers
Sorry (again), chocolate chip cookie lovers. Trader Joe's Chocolate Chip Cookie Dunkers recently got the ax. One Reddit user broke the news last month, which resulted in a couple of people expressing their disappointment. "Oh, this one hurts," one user lamented. Someone else said their daughter is "devastated." Another Redditor noted that the Chocolatey Coated Chocolate Chip Cookie Dunkers "are better anyway"—and, luckily, those are still available in stores.
Vanilla Rice Drink
From almond to oat to hemp, Trader Joe's offers a variety of non-dairy milk alternatives. But one kind has bid goodbye to the refrigerated aisle—the Vanilla Rice Drink. At the beginning of June, one shopper informed Reddit about the discontinuation, writing, "I can't have dairy and it's the only alternative I like." A few Reddit users were quick to offer up alternatives, such as Rice Dream's Vanilla Classic Rice Milk and Ripple's Vanilla Plant-Based Milk, which is made with pea protein.
Ibericos Tapas Style Premium Quality Grilled Artichoke Halves
TJ's launched these grilled artichokes back in 2019, as reported by Instagram user @traderjoesobsessed. But after four years on the shelves, the item is exiting stores. Three weeks ago, one shopper alerted the Reddit community, sharing, "These artichokes are what motivated me to make weekly excursions to Trader Joe's. They were so delicious just served with charcuterie, on a slice of crispy Italian bread, on pizza, or mixed in salad or pasta."
To provide alternate product recommendations, a few users suggested TJ's Marinated Grilled Artichoke, which one Redditor highlighted as a cheaper and more convenient option than the discontinued item.
Creamy Cauliflower Jalapeño Dip
Although Trader Joe's offers a selection of dips, its Creamy Cauliflower Jalapeño variety is no longer one of them. Using cauliflower as the base, this dip featured cream cheese, light cream, ricotta, and parmesan, which according to TJ's website, gave it a "truly creamy feel."6254a4d1642c605c54bf1cab17d50f1e
After a Reddit user started a thread about the dip's discontinuation, one commenter said it was "easily [their] favorite dip from any store." Another shared that they think putting the word "cheese" or "cheesy" in the product's name instead of cauliflower would have made it more popular.
Honey Wheat Pretzels
News of this product's recent discontinuation prompted customers to express sadness and outrage on Reddit. Luckily, fans can take comfort in knowing that a similar product is in stores with new packaging. One user commented that they inquired about the product with a store manager, who said the product was listed as having a "New Supplier." The Redditor added, "So he reasoned they will return but from a new maker."
The new pretzels, which have a slightly different recipe than the Honey Wheat Pretzel Sticks, are labeled as "Pretzel Sticks" with a "Delicate flavor of baked-in honey."
Brianna Ruback
Brianna is a staff writer at Eat This, Not That! She attended Ithaca College, where she graduated with a degree in Journalism and a minor in Communication Studies.
Read more about Brianna