13 Best Trader Joe's Desserts Of All Time
The popular specialty grocer is stocked with delectable treats—some have attained legendary status.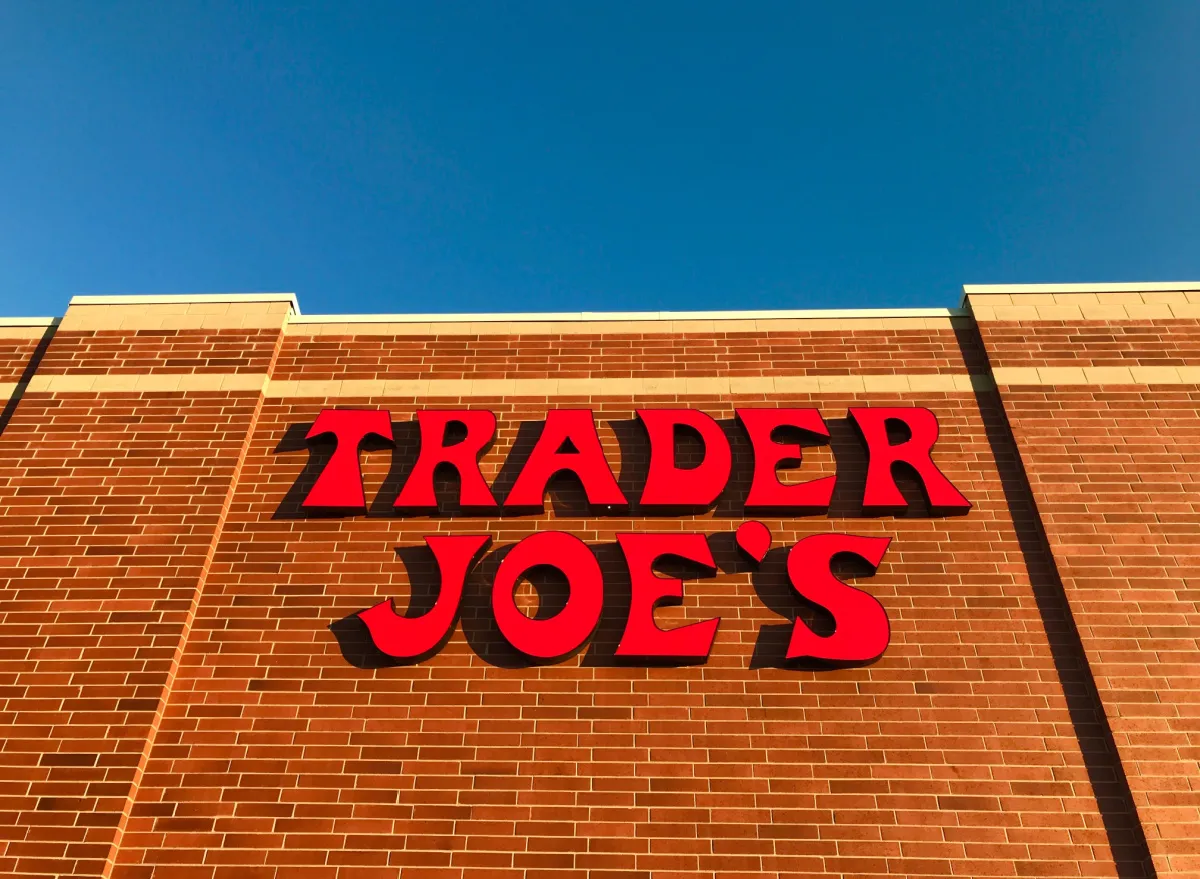 The product recommendations in this post are recommendations by the writer and/or expert(s) interviewed and do not contain affiliate links. Meaning: If you use these links to buy something, we will not earn a commission.
Shopping at Trader Joe's is much more than just your average trip to the grocery store. It's an entire curated experience filled with eye-grabbing displays and graphics, a neighborhood-like ambiance, and some of the friendliest employees you'll ever meet. But, what keeps customers coming back to the quirky California-based chain is the top-notch products it offers.
You'll find binge-worthy products across every category at Trader Joe's, but one of the biggest fan obsessions has to be the sugary and delicious desserts. The market is stocked with frozen treats, candies, cookies, cakes, pastries–you name it. And, a few of these delectable options have become absolute icons at the store.
Read on to discover which Trader Joe's desserts people simply cannot get enough of and have become some of the greatest of all time.
Sublime Ice Cream Sandwiches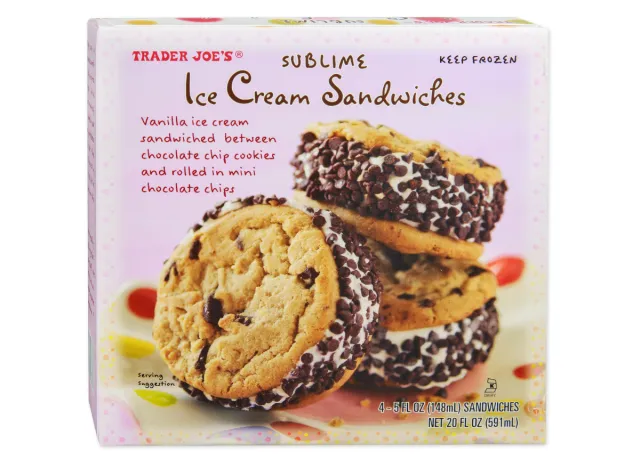 Per Serving (1 sandwich)
: 370 cal, 19 g fat (10 g saturated fat), 40 mg cholesterol, 150 mg sodium, 51 g carbs, 34 g sugar (32 g added sugar), 5 g protein
Trader Joe's got tired of waiting around for the sweet sounds of the ice cream truck a long time ago, and decided to slap together its own craveable ice cream sandwich. The frozen dessert is made up of two soft and gooey chocolate chip cookies with vanilla ice cream smothered in between and then rolled in even more mini chocolate chips. The sandwiches quickly turned into a Trader Joe's staple and many customers agree that they live up to their name.
After discovering the product for the first time a couple of years ago, one fan on Reddit shared, "Omg, they were so good! The right level of crunch from the mini chips, perfectly sweet almost a touch salty cookie and perfect vanilla ice cream. That is all. They totally fixed my ice cream craving."
Dark Chocolate Peanut Butter Cups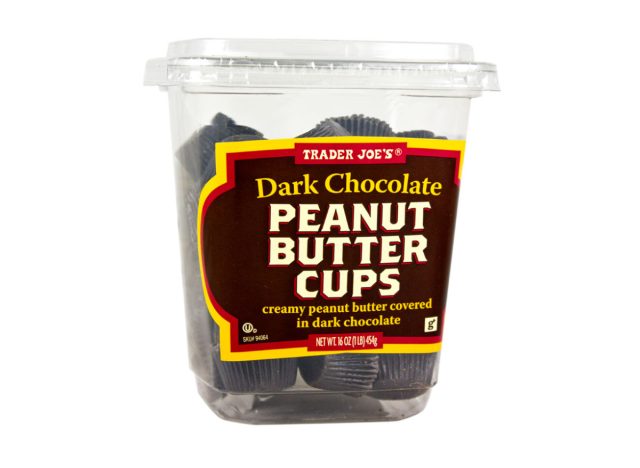 Per Serving (2 pieces)
: 140 cal, 9 g fat (5 g saturated fat), 0 mg cholesterol, 75 mg sodium, 14 g carbs, 11 g sugar (11 g added sugar), 2 g protein
You can't possibly talk about Trader Joe's all-time best desserts without mentioning the Dark Chocolate Peanut Butter Cups. These bite-sized pieces of heaven arrived in 2010 and just this year earned a spot in the retailer's Product Hall of Fame. This honor is only bestowed onto items which have dominated their respective categories for at least five years as part of the yearly Trader Joe's Customer Choice Awards. The cups are the perfect mix of sweet with a little bit of salty from the peanut butter, and fans say they put mainstream Reese's Cups to shame.
Gone Bananas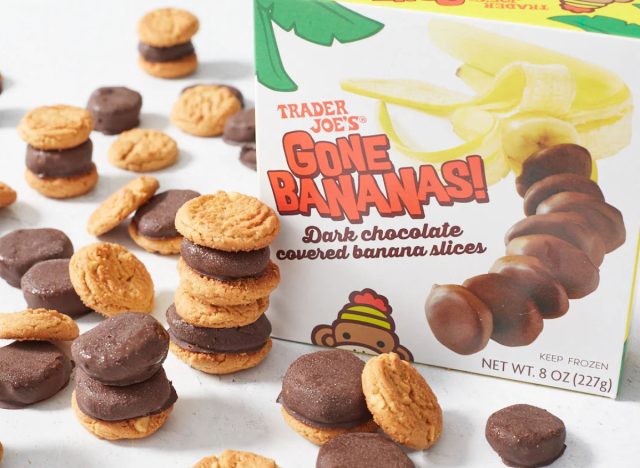 Per Serving (4 pieces)
: 100 cal, 3.5 g fat (2.5 g saturated fat), 0 mg cholesterol, 20 mg sodium, 16 g carbs, 12 g sugar (6 g added sugar), <1 g protein
Trader Joe's was not monkeying around when it came to creating these Gone Bananas frozen treats. They are such a simple idea, consisting of just Thailand-grown bananas covered in Belgian chocolate. But, they hit the spot every time. Back in early 2021, Instagrammer @mrs_traderjoescart thought so too and gave the product a perfect score of 10 out of 10, noting that the bananas never get slimy or mushy like other similar items. The price is also right for this treat at just $2.79 per box.
Speculoos Cookie Butter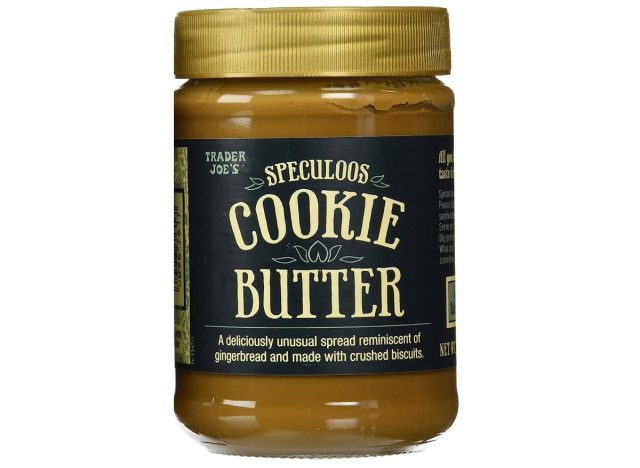 Per Serving (2 tbsp)
: 170 cal, 11 g fat (2.5 g saturated fat), 0 mg cholesterol, 55 mg sodium, 16 g carbs, 11 g sugar (11 g added sugar), 1 g protein
Even if you're not a frequent Trader Joe's shopper, you've likely heard people incessantly gabbing about this spread. Speculoos Cookie Butter has the consistency of peanut butter, yet transports you right back to Christmas Day with its unique and delicious notes of cinnamon and nutmeg. The taste is reminiscent of gingerbread, and, at the same time, a Biscoff brand cookie.
But, one of the best things about the cookie butter–and what helped it to become Trader Joe's most popular product in 2016–is its versatility. You can spread it on toast or pancakes, add a dollop to your ice cream, blend it into a smoothie or milkshake, dip fruits in it, or shamelessly scoop it out with a spoon. The options truly are endless–and all equally delicious.
Hold the Cone Mini Ice Cream Cones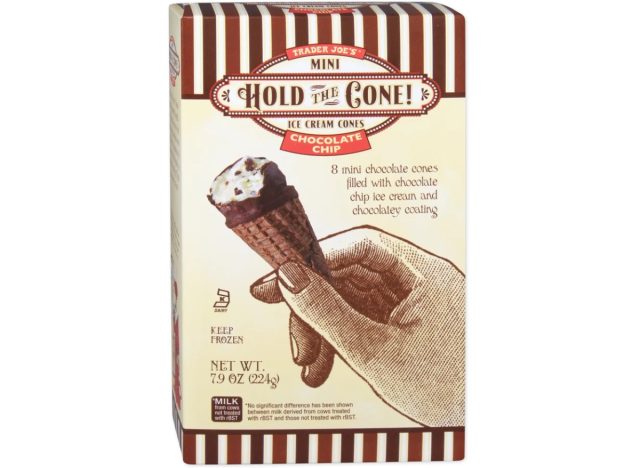 Per Serving (3 cones)
: 280 cal, 13 g fat (8 g saturated fat), 25 mg cholesterol, 100 mg sodium, 35 g carbs, 22 g sugar (20 g added sugar), 4 g protein
Hold the Cone Mini Ice Cream Cones are legendary and highly sought-after Trader Joe's desserts. But, in 2017, they received a facelift that elevated them even further with crispier cones, richer chocolate coating, and creamier ice cream. This recipe change was clearly well-received, as the frozen treats have since been one of the store's most popular products for multiple years. They've also attracted the attention of celebrity chef and host of Food Network's "Chopped" Ted Allen, according to The Kitchn.
Find them in flavors of Chocolate Chip, Vanilla Chocolate, and more seasonal flavors such as Coffee Bean, Peppermint, and Pumpkin Ginger.
Sea Salt & Turbinado Sugar Dark Chocolate Almonds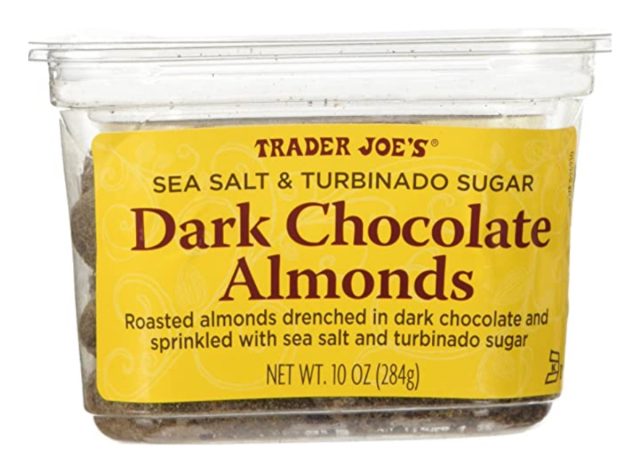 Per Serving (13 pieces)
: 210 cal, 16 g fat (5 g saturated fat), 0 mg cholesterol, 95 mg sodium, 18 g carbs, 12 g sugar, 4 g protein
The Sea Salt & Turbinado Sugar Dark Chocolate Almonds are an oldie but a goodie, and have attracted a similar fandom as that of Trader Joe's beloved Peanut Butter Cups. What makes these nuts truly special is the turbinado sugar–a type of raw sugar made from sugar cane that also retains some molasses and keeps its crystallization even when cooked.
Through their Sweet on Trader Joe's blog, mom and dad bloggers Bridget and Mark gave the chocolate almonds "a very enthusiastic 5 of 5 stars" in their review in 2021. Bridget notes that the chocolate-covered almonds were even able to crack their way into her top 5 Trader Joe's treats. And, Mark adds that they are "not only drenched in dark chocolate but drenched with flavor."
Pumpkin Joe-Joe's Sandwich Cookies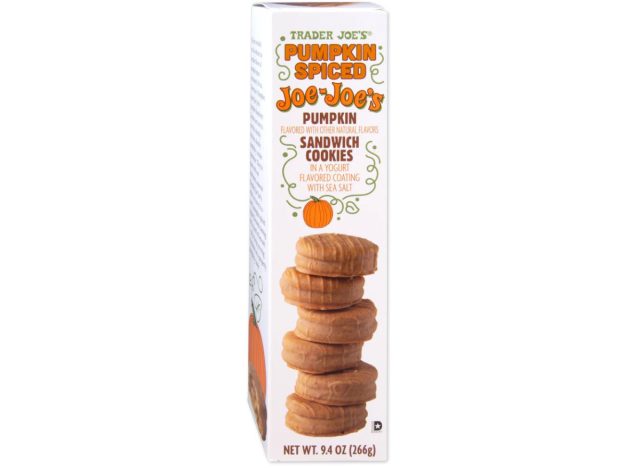 Per Serving (1 cookie)
: 120 cal, 6 g fat (4 g saturated fat), 0 mg cholesterol, 125 mg sodium, 16 g carbs, 12 g sugar (11 g added sugar), <1 g protein
When the weather starts to turn a little cooler, Trader Joe's is the place to be. That's because each fall a host of pumpkin-flavored treats spookily appear on the store's shelves, each one more delicious than the last. But, one of the chain's most highly-anticipated autumn treats has to be the Pumpkin Spiced Joe-Joe's. The recently revamped sandwich cookies are pumped with pumpkin cream filling and now doused in a pumpkin yogurt coating and topped with sea salt. Who else is counting down the days until fall?6254a4d1642c605c54bf1cab17d50f1e
Wildberry Cheesecake Ice Cream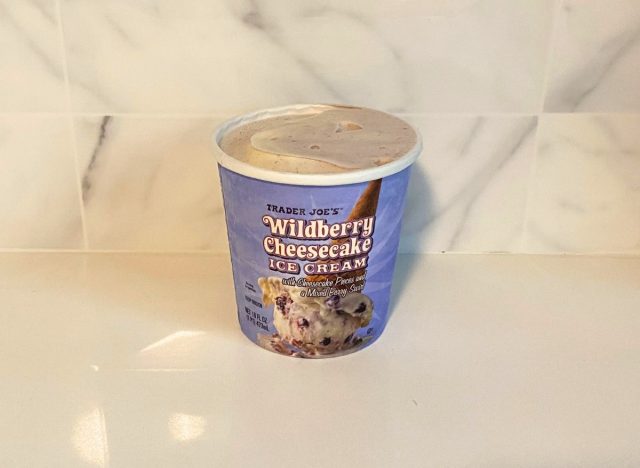 Per Serving (2/3 cup)
: 320 cal, 19 g fat (11 g saturated fat), 115 mg cholesterol, 140 mg sodium, 34 g carbs, 30 g sugar (26 g added sugar), 4 g protein
This wild dessert is a more recent Trader Joe's obsession, first making its debut in summer 2021. But, it's destined to go down in history as one of the best treats to grace the store's freezers. Each pint is crammed with swirls of blueberry, elderberry juice concentrate, a mix of raspberry, strawberry, and blackberry purees, and chunks of classic cheesecake, according to the retailer's website.
Love letters to the ice cream can be found all across social media. On Reddit, one fan proclaims, "This is Trader Joe's best flavor and I'll die on this hill!!!" And, over on Instagram, a commenter on @traderjoeslist's post on the product begs, "@traderjoes please never stop making this everrrr!!! This is the best is the most delicious icecream ever 😍."
Macaron Variés
Per Serving (3 macarons)
: 110 cal, 4 g fat (0.5 g saturated fat), 0 mg cholesterol, 10 mg sodium, 15 g carbs, 15 g sugar (13 g added sugar), 2 g protein
Warning: these macarons are highly addictive and may have you going out of your way just to snatch up another box. The decadent French desserts are crisp yet airy–just how you would expect them to be when they're served fresh from a high-end bakery.
But, the kicker is that they are sold frozen and come in at an extremely reasonable price of just $5.99 for a dozen. They also come in six intriguing flavors of Fig, Lemon, Apricot, Coconut, Pistachio, and Salted Caramel.
Scandinavian Swimmers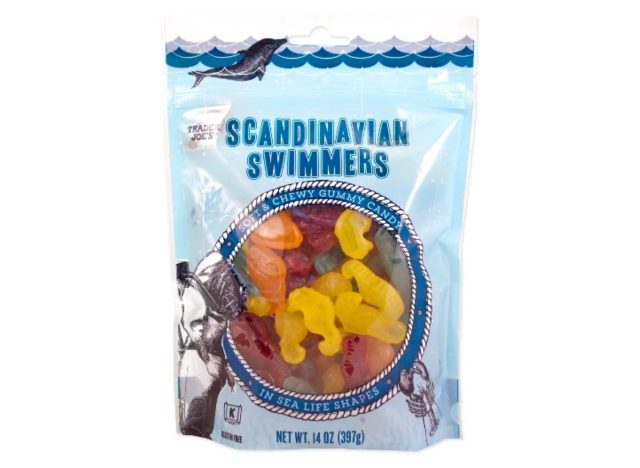 Per Serving (6 pieces)
: 100 cal, 0 g fat, 0 mg cholesterol, 20 mg sodium, 26 g carbs, 19 g sugar (19 g added sugar), 0 g protein
At Trader Joe's, these Scandinavian Swimmers are small fish in a big pond. The gummies are essentially the store's take on Swedish Fish. But, if you ask avid Trader Joe's fans, they would say they are far superior to the classic candy because of their variety and nutrition.
Five Swimmers contain only about 83 calories and 16 grams of added sugars compared to 110 calories and 23 grams of added sugars for the same amount of Swedish Fish. Plus, at Trader Joe's, not only do you get orange-flavored fish, you also get huckleberry dolphins, red berry starfish, and strawberry clamshells.
In 2019, the grocery chain even announced the arrival of Sour Scandinavian Swimmers on its Instagram page after the rollout of its original underwater treats went so swimmingly.
Chocolate Lava Cakes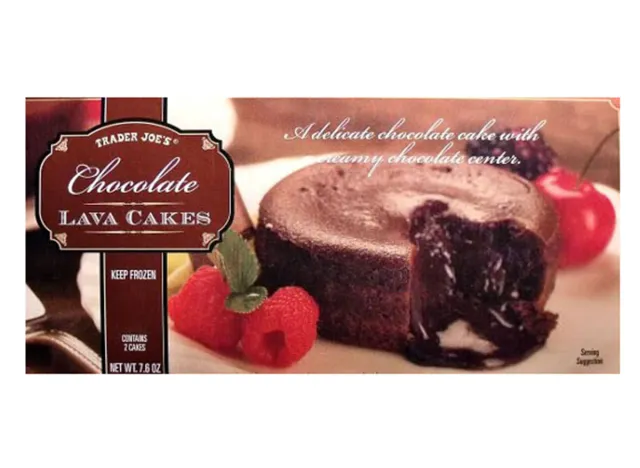 Per Serving (1 cake)
: 370 cal, 22 g fat (13 g saturated fat), 115 mg cholesterol, 370 mg sodium, 42 g carbs, 26 g sugar (25 g added sugar), 6 g protein
Treating yourself has never tasted so good. These individually sized Chocolate Lava Cakes are each pumped with a puddle of rich chocolate ganache that oozes out from its core at every bite. They also come with some of the easiest preparation instructions we've ever seen–simply microwave for 45 to 55 seconds and ta-da! You have yourself a near Michelin-starred dessert.
With these credentials, the chocolate cakes have earned themselves a runner-up spot in Trader Joe's Customer Choice Awards in the category of favorite desserts several times, including just last year in 2022.
​​Brookie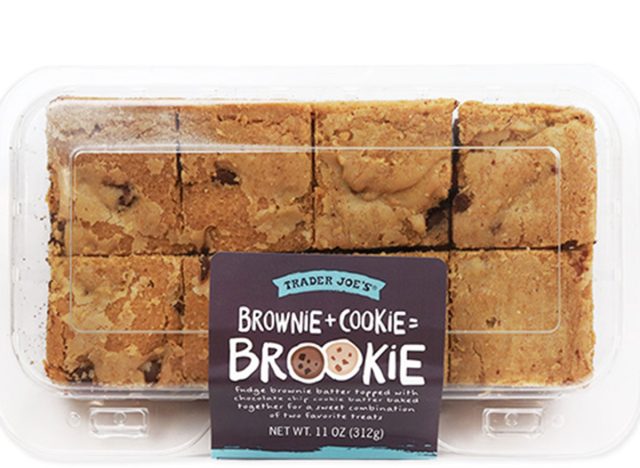 Per Serving (1 piece)
: 160 cal, 8 g fat (3 g saturated fat), 20 mg cholesterol, 125 mg sodium, 22 g carbs, 14 g sugar (14 g added sugar), 2 g protein
If you're unfamiliar with what a Brookie is, let us break it down for you. It is a flawless and genius mash up of two of America's most cherished desserts. It starts with a gooey and fudgy brownie at the bottom and ends with a golden chocolate chip cookie on top, perfectly speckled with sweet morsels.
The hybrid confection was unleashed in 2018, and it's been delighting customers ever since. In a Reddit post from five years ago, one fan shared a picture of his own Brookie discovery and announced, "TJs, these are sublime. I picked them up today and am hoping they last the night."
O & H Danish Kringle
Per Serving (1/8 danish)
: 230 cal, 15 g fat (8 g saturated fat), 60 mg cholesterol, 100 mg sodium, 20 g carbs, 15 g sugar, 4 g protein
The O & H Danish Kringle flies under the radar at Trader Joe's compared to other attention-grabbing desserts. But, that's not to say its consistency and deliciousness go unnoticed. The authentic pastry–which consists of a circular flaky exterior stuffed with sweet filling and topped with icing–has been voted as a runner-up in the Trader Joe's Customer Choice Awards nearly every year since the survey's inception in both categories of favorite dessert and bakery item. And, it even had its shining moment in the sun during 2017 and 2018.
The only problem with the Danish Kringle is that it's more of a seasonal dessert, so it's a tad flighty. But, each season also offers a new flavor ranging from almond and apple to birthday and cream cheesecake.