Dunkin' Brings Back Girl Scout Cookie Coffee Drinks
American runs on Dunkin' (and on Girl Scout cookies).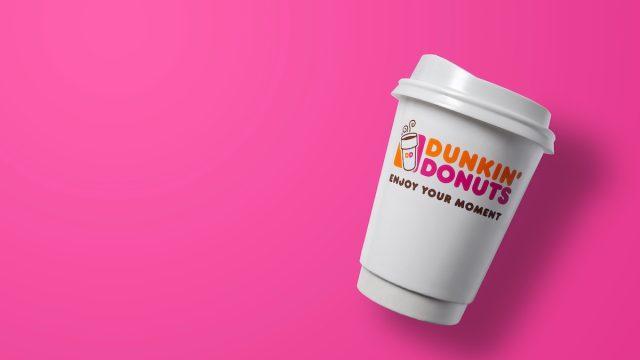 Is there anything better than a fresh box of Girl Scout cookies? How about a fresh cup of coffee that's flavored like a Girl Scout cookie?
Well, if you love the idea of both, we have some good news for you: Dunkin' will be bringing back its Coconut Caramel- and Thin Mints-flavored coffee drinks on New Year's Day.
The donut company debuted the two Girl Scout cookie coffee flavors—coconut caramel, which is inspired by the Samoa, and thin mint, inspired by, you guessed it, the Thin Mint—in 2018, and they were such a hit that the company decided to bring them back. In tandem with the timeline of the Girl Scout cookie season, both flavors will be available starting January 1st, 2020, and they'll stick around until an unspecified date at the beginning of spring.
Under a licensing agreement with the Girl Scouts of the USA, Dunkin' will be offering a coconut caramel and Thin Mints-flavored coffee served hot, cold, frozen, or in cold brew form. The two flavors will also be available in Dunkin's staple frozen chocolate drinks. As avid Girl Scout cookie fans, we are just a few of many consumers who are happy to hear about the coffee flavors' return. The only bummer is that the Trefoil shortbread latte will not be on the menu this time around, which just means you'll have to stock up on a few extra boxes this year!
RELATED: 10 Girl Scout Cookies That No Longer Exist
"Girl Scout Cookie season is as welcomed and anticipated as the ball dropping on New Year's Eve, and we're thrilled to celebrate by bringing two smile-eliciting Girl Scout Cookie inspired flavors back to guests' coffees in 2020," said Patty Healy, Dunkin's senior director of integrated marketing, in a press release.
Another perk of this sweet partnership? At select locations, Dunkin' will allow Girl Scouts to sell their signature cookies inside stores. In 2018, more than 12,000 Girl Scouts sold their cookies at Dunkin' locations all across the United States. Here's hoping the cookies are just as readily available! And for more fun insight into the coffee chain, here are 30 Things You Didn't Know About Dunkin'.
Cheyenne Buckingham is the news editor of
Read more