13 Easy Recipes To Make Use of Your Leftover Halloween Pumpkin
Why waste your holiday pumpkins when you could whip them up into delicious fall-flavored treats?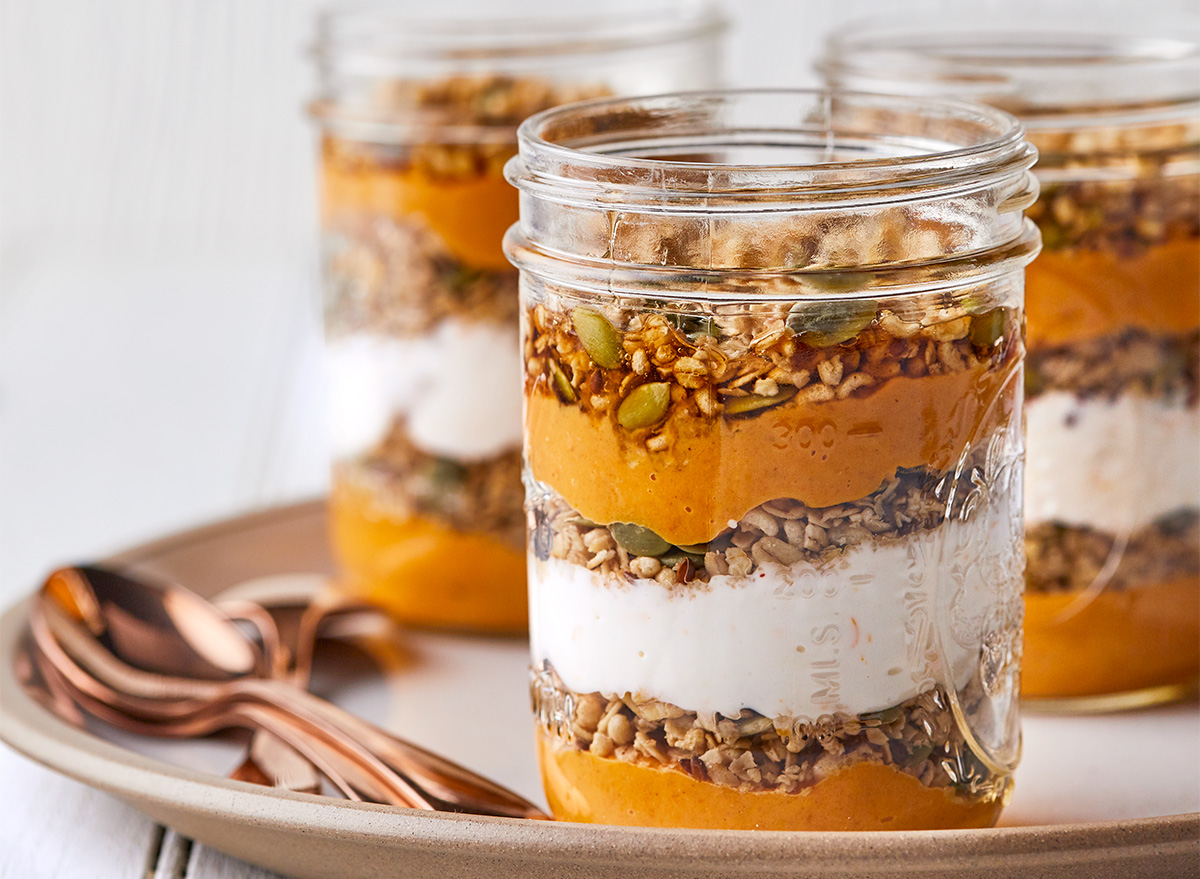 During autumn, it's likely that you will see pumpkins and gourds incorporated into everyone's decorating schemes, and pumpkin-flavored foods are a quintessential part of the fall experience. Whether you enjoy carving up a jack-o'-lantern into a spooky design for Halloween or prefer leveraging your pumpkin's natural, uncarved beauty in your seasonal decor, as a perishable item, you know it's not going to stick around forever. However, your pumpkin's inevitable decline does not make this purchase a decadent waste—in fact, you can take advantage of your pumpkin's nutritious deliciousness by using any leftover pumpkin to whip up something yummy in your kitchen.
Pumpkins are more versatile than most give them credit for. You can roast the flesh for a pumpkin puree that can be blended into smoothies and pies, or roast pumpkin seeds in the oven and sprinkle them on top of yogurt for added crunch. And because no one likes to clean up a rotting pumpkin, you can beat Mother Nature to the punch by cooking up one of the pumpkins used to decorate your home. So to help you get into the season (and avoid wasting food), try these recipes using your leftover pumpkins. Also, you can learn more about the benefits of eating pumpkin by checking out One Major Effect of Eating Pumpkin, Says Dietitian.
Fudgy Pumpkin Brownie Bites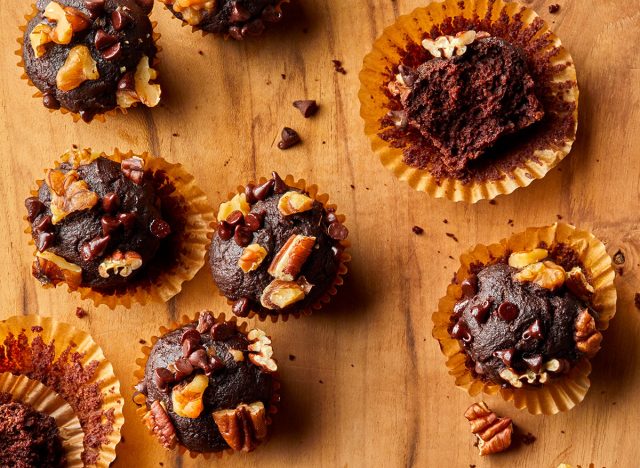 It may be hard to imagine making ooey-gooey, chocolatey brownies with leftover pumpkin, but it's totally possible with this recipe. These brownie bites—which perfectly encapsulate fall flavors and, of course, lots of chocolate—call for one cup of pumpkin puree or canned pumpkin. However, you can skip the trip to the grocery store and make pumpkin puree yourself with your leftovers.
Get our recipe for Fudgy Pumpkin Brownie Bites.
Paleo and Vegan Pumpkin Pie Smoothie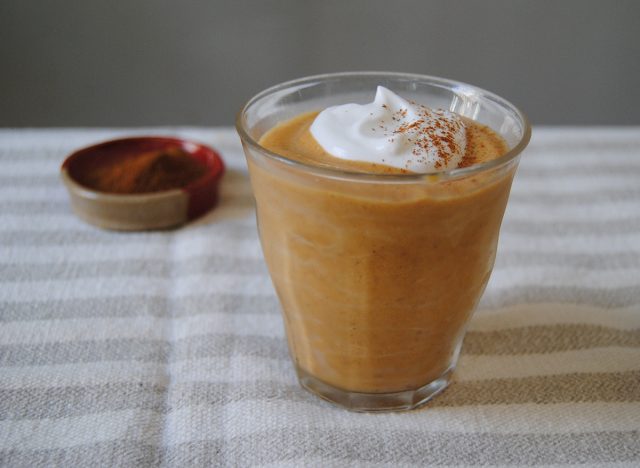 Sure, pumpkin-spice lattes dominate the conversation in the fall, but there's room for more than one pumpkin-flavored drink—especially when it's as good as this smoothie. This recipe calls for canned pumpkin, but feel free to make your own homemade pumpkin puree from your leftover jack-o'-lantern. Sound complicated? Well, trust me when I say it's not! Just scoop out the seeds and roast the inside of the pumpkin. When you're done, run the flesh through a food processor or blender until it's smooth.
Get our recipe for Paleo and Vegan Pumpkin Pie Smoothie.
Instant Pot Two-Layered Creamy Pumpkin Yogurt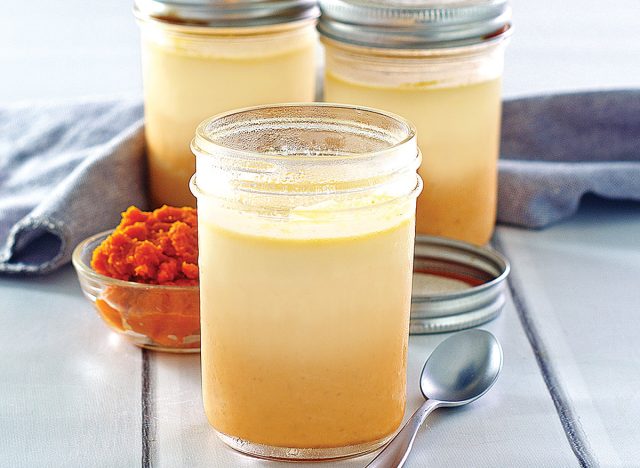 Ah, instant pots—what can't they do? Making homemade yogurt used to be a time-consuming, complicated process. However, with this recipe for two-layered pumpkin yogurt, all you have to do is mix the seven ingredients together and let the Instant Pot do the rest. The final result is a creamy, delicious yogurt that you don't have to travel to the store to get. This recipe requires pumpkin puree, which is easy to make at home after roasting your old pumpkin.6254a4d1642c605c54bf1cab17d50f1e
Get our recipe for Instant Pot Two-Layered Creamy Pumpkin Yogurt.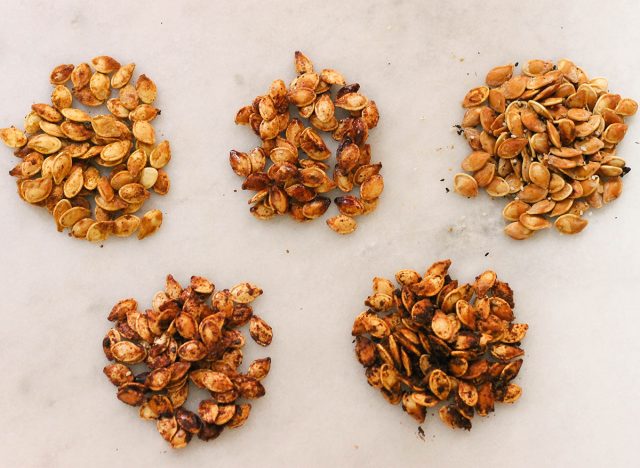 Why buy pumpkin seeds at the store when it's so simple and so fun to make them at home? There are only a few steps to this recipe, and you can customize the seeds to your own flavor preferences. Do you want salty pumpkin seeds? Or maybe spicy? Why not sweet? Or go crazy and try them all together!
Get our recipe for Roasted Pumpkin Seeds.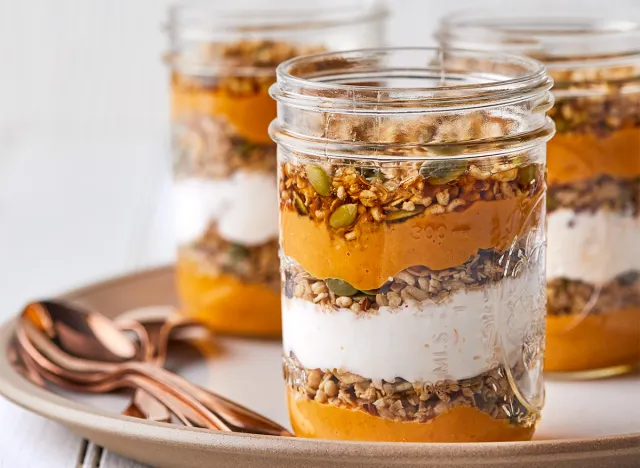 If you want to eat pumpkin pie every day this season, but at the same time don't want to deal with the health repercussions of eating pumpkin pie every day, try this recipe on for size. The pumpkin parfait captures all the flavors of fall using pumpkin puree layered with Greek yogurt, as well as some cayenne pepper to add a kick of spice. This recipe also uses pumpkin seeds, helping you to recycle even more of your leftover pumpkin into a tasty dish.
Get our recipe for Spicy Pumpkin Parfait.
Copycat Starbucks Pumpkin Loaf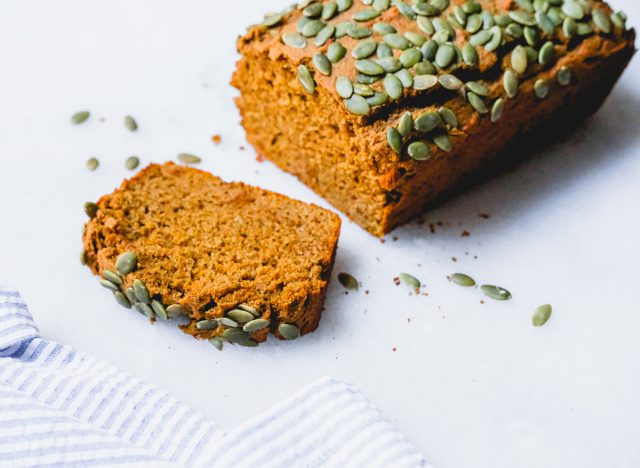 This fall, you don't have to drive all the way to Starbucks to get a taste of the coffee chain's beloved pumpkin loaf. Make your own at home with this copycat recipe, which uses one cup of pumpkin puree, easily made by roasting your leftover pumpkin and pureeing the flesh inside. Don't forget to top the loaf with pepitas—the raw, shelled pumpkin seeds that always sit on top of the loaves at Starbucks—are yet another way to make use of your leftover pumpkin.
Get our recipe for Copycat Starbucks Pumpkin Loaf.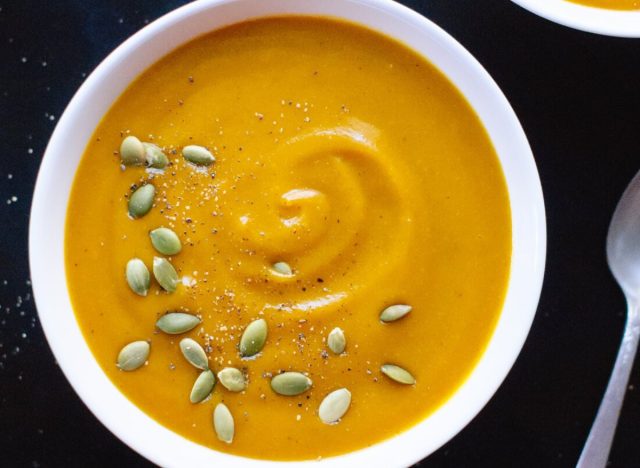 Once the seasons change from summer to autumn, it is officially soup season—and what better way is there to get a taste of fall flavors than a nice bowl of pumpkin soup? This recipe uses the flesh of a full four-pound sugar pie pumpkin as its star ingredient, which is also seasoned with other fall flavors like cinnamon, nutmeg, and cloves.
Get the recipe from Cookie and Kate.
Two-Ingredient Pumpkin Pasta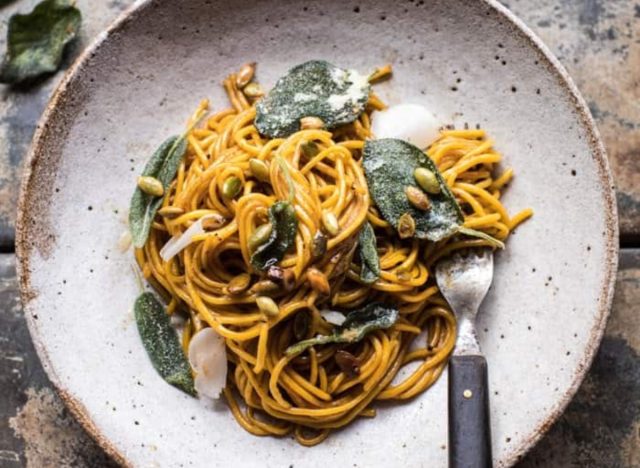 Can a pasta recipe get more simple than this? All these noodles require are flour and pumpkin puree—which you can buy canned or conveniently made from a leftover pumpkin. This pasta dish is perfectly accompanied by a balsamic sage brown butter sauce, which requires a bit more effort, but the meal is worth it!
Get the recipe from Half Baked Harvest.
Savory Pumpkin Parmesan Dip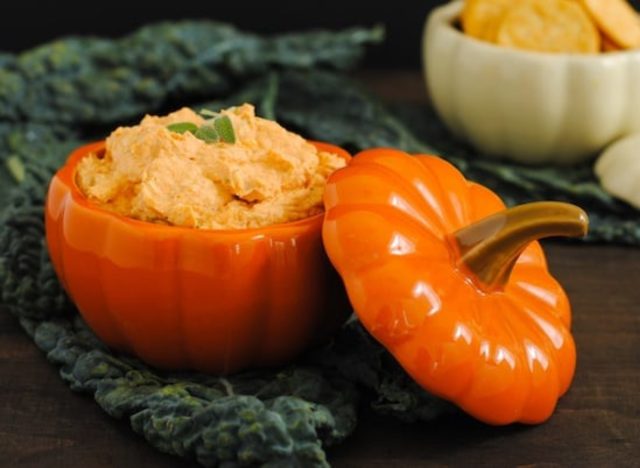 Normally pumpkin puree is put into sweet dishes, but it also goes great in this savory dip paired up with parmesan cheese. This creamy dip only requires seven ingredients, including cream cheese and some fall-friendly spices like sage.
Get the recipe from Foxes Love Lemons.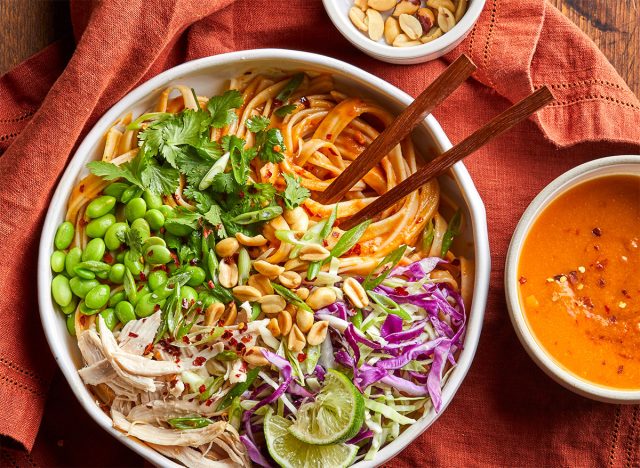 One of the best parts of eating pad Thai is how packed with flavor it is, from the nutty flavors of peanuts to the bright bursts of citrus found in the dish. Now, it's time to add yet another flavor profile to the beloved dish by including pumpkin puree in the sauce that mixes in with the pad Thai.
Get our recipe for Pumpkin Pad Thai.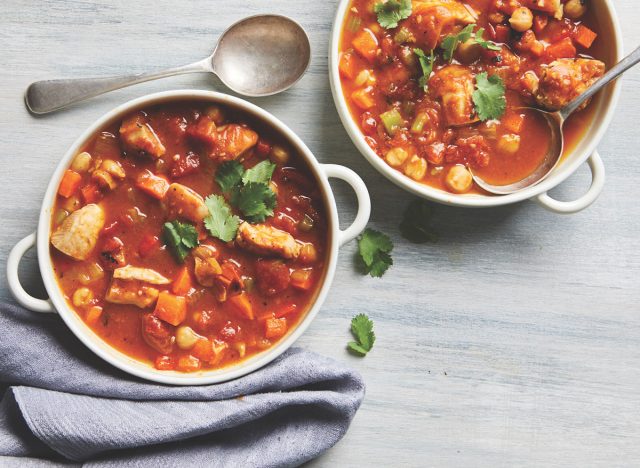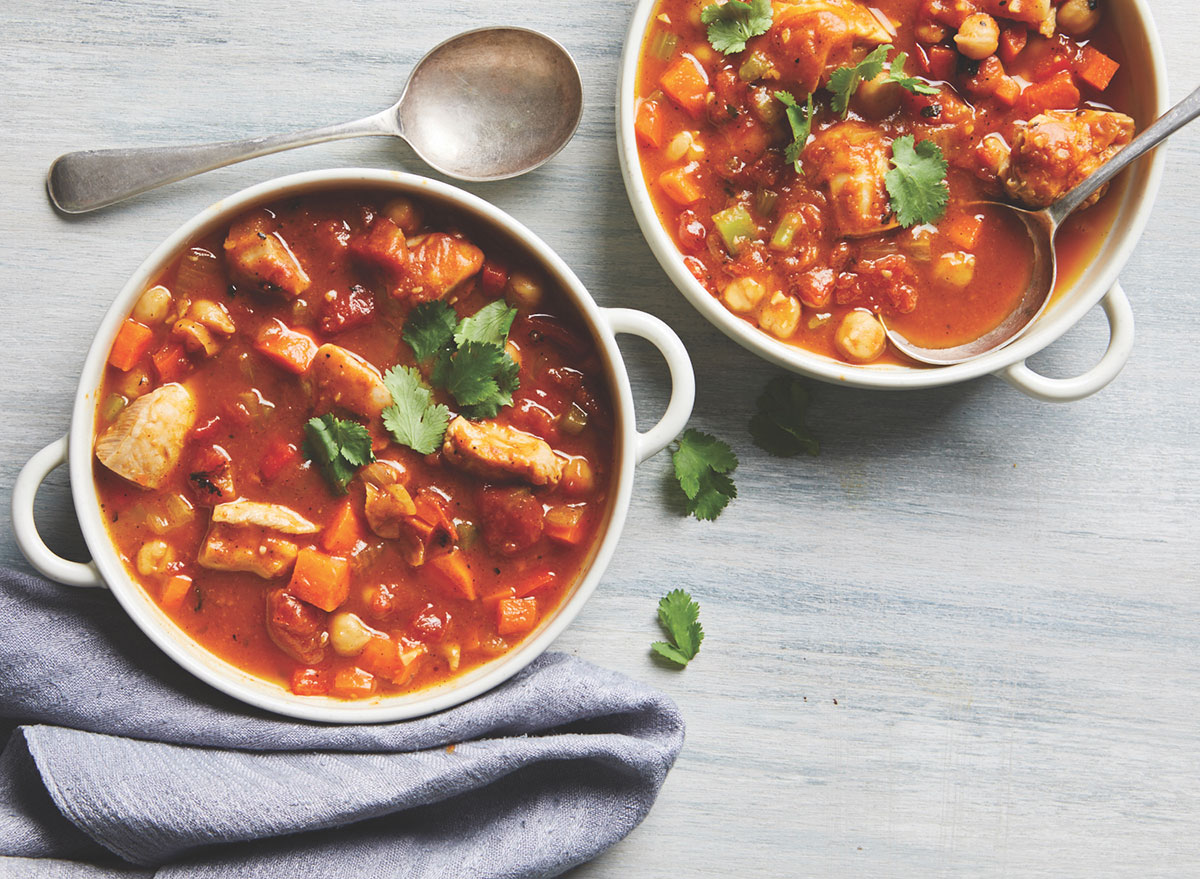 As the days turn colder, there's nothing better than coming home to a chili that's been simmering in a slow cooker all day. Add some pumpkin puree to the mix—like in this recipe that pairs the leftover gourd with chunks of chicken and chickpeas—and you've found yourself a perfect fall meal.
Get our recipe for Pumpkin Chicken Chili.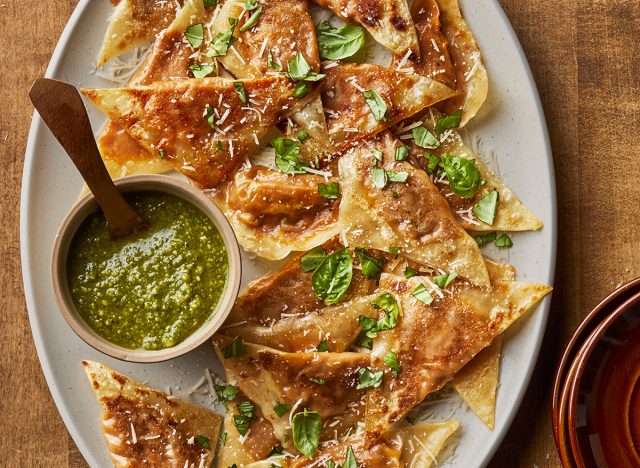 Skip the trip to Trader Joe's, and make this delicious pasta on your own this fall. For a truly unique take on ravioli, this dish isn't made with traditional pasta dough. Instead, the pumpkin filling—made with pumpkin puree—is cooked in wonton wrappers. Pair the pasta with pesto sauce for an easy and delicious meal.
Get our recipe for Pumpkin Ravioli.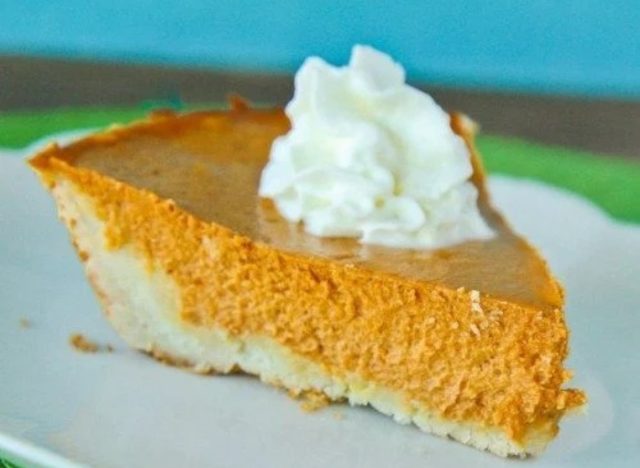 Could a list of pumpkin foods ever be complete without including pumpkin pie? It's the ultimate in fall desserts, a Thanksgiving staple, and a great use of a leftover pumpkin if you make your own puree with the used gourd. Best of all, this is a gluten-free recipe. Therefore, any Thanksgiving guests with gluten intolerance issues can enjoy the pie, as well.
Get the recipe from Love From The Oven.