Eating at This Time of Day Lowers Your Risk of Type 2 Diabetes, Study Says
Rise and dine to control your blood sugar, lose weight, avoid metabolic syndrome.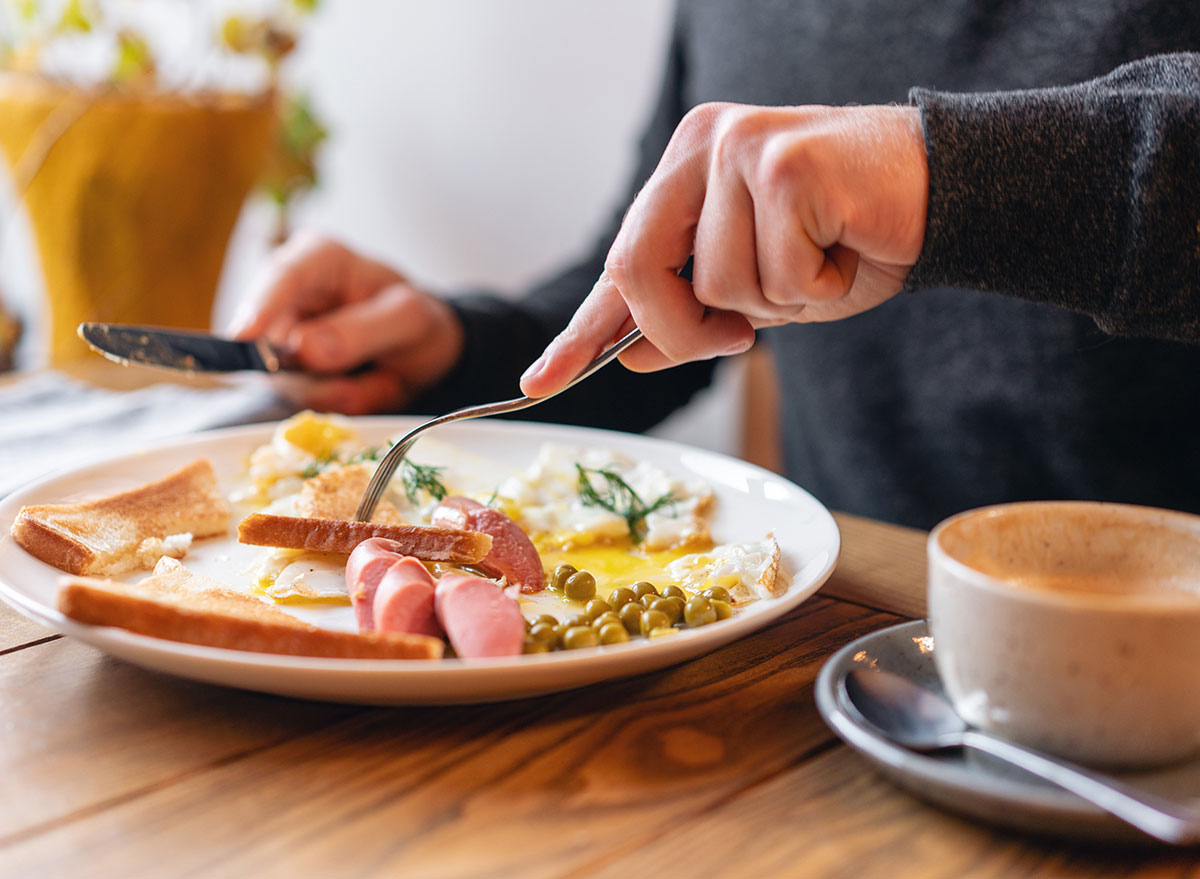 If you're a late riser or you regularly eat your first meal of the day in the late morning (or skip it altogether), you may want to reconsider your breakfast-eating habits. A new study suggests that eating breakfast on the early side may reduce your risk for developing type 2 diabetes and other disorders of metabolism. The practice could even help you avoid a related diabetes risk factor: being overweight.
Study results show that people who eat earlier breakfasts have lower blood sugar and less insulin resistance
The study presented recently at the Endocrine Society's annual meeting analyzed dietary data and fasting glucose and insulin from a nationally representative survey and tests of 10,575 adults.
The researchers from Northwestern University and the University of Illinois, Chicago, found that people who ate breakfast earlier than 8:30 a.m. had lower blood sugar levels and less insulin resistance than people who ate their first meal later in the day.
Elevated blood glucose and resistance to the hormone insulin, which helps regulate blood sugar, are two markers of prediabetes and type 2 diabetes. (Related: Warning Signs You May be Developing Diabetes.)
The Centers for Disease Control and Prevention estimates that 34 million Americans have type 2 diabetes and 88 million have prediabetes. Of the latter, 84% don't know they have the syndrome that puts you at increased risk of developing type 2 diabetes, heart disease, and stroke.
Meal timing, not duration, is key
Other studies have suggested that a popular dieting strategy called time-restricted eating, which allows a person to eat as much as they want but during a shorter "eating window" or duration, improves metabolic health. This study, however, found that insulin resistance actually increased with shorter eating intervals while blood glucose numbers didn't swing significantly no matter the length of the eating window.6254a4d1642c605c54bf1cab17d50f1e
In other words, you may be better off taking your time eating your meals rather than trying to cram them all into a short timeframe. And certainly, eat early! The study found that eating the first meal after 8:30 a.m. was associated with both high blood sugar and greater insulin resistance.
So, put the eggs and bacon on early, or set your alarm for 6 a.m. and try one of these delicious High-Protein Breakfasts That Aren't Eggs.
For more healthy eating news, make sure to sign up for our newsletter!
Read this next:
The #1 Cause of Diabetes, According to Doctors

Sure Signs You May Be Getting Diabetes, According to Doctors
Jeff Csatari
Jeff Csatari, a contributing writer for Eat This, Not That!, is responsible for editing Galvanized Media books and magazines and for advising journalism students through the Zinczenko New Media Center at Moravian University in Bethlehem, PA.
Read more about Jeff