16 Best High-Protein Breakfasts That Aren't Eggs
If you're sick of omelets and scrambles, check out these eggless options that'll keep you full past noon.
It's really hard to imagine navigating cooking in the kitchen without the use of eggs. What's even more tricky to get your mind around, though, is the thought of having to pull together a delicious high-protein breakfast without eggs.
However, this fate is becoming a much more plausible reality nowadays in the U.S., as the cost of a carton of eggs continues to climb due to inflation and avian flu-related concerns. Although overall inflation has reportedly eased to 6.5%, the cost of eggs remains high and continues to rise, according to the Wall Street Journal. The price of eggs grew by over 11% in January of this year alone, and this is after escalating by around 60% the previous December. In fact, WSJ reports that the cost of eggs is said to have increased more than any other grocery store item on shelves in 2022, according to Information Resources Inc.
With the exception of seasoned vegan chefs and bakers, adjusting to cooking without being able to depend on this kitchen staple can be challenging, especially when it comes to planning meals for breakfast. Though eggs are versatile enough to be prepared for lunch or dinner, there's no denying that ongoing inaccessibility to affordable eggs will likely take the greatest toll on your plans for the most important meal of the day, breakfast. This is because eggs are often the primary protein featured in many breakfast dishes.
At this point, you're likely wondering if it's even possible to have a tasty, well-balanced, high-protein breakfast without including eggs at all. Well, we're here to tell you that you can, in fact, enjoy your morning meal without having to sacrifice this essential satiating, energy-supporting macronutrient.
For home cooks who are perhaps a bit unsure about how to best match the nutritional value of eggs in their breakfast dishes, the innovative recipe ideas listed below for high-protein breakfast ideas without eggs are a great way to power your mornings with protein—all without an egg in sight. Read on, and for more, don't miss 28 High-Protein Breakfasts That Keep You Full.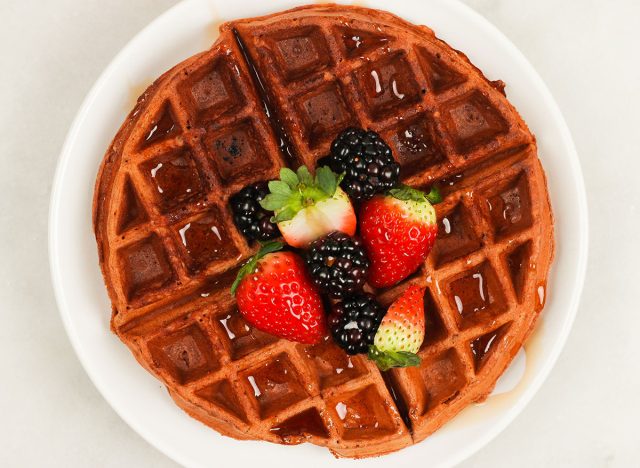 Ingredients:
1 egg
1 scoop protein powder
1/4 cup oats
1/4 cup plain greek yogurt
1/4 cup milk
1/4 tsp baking powder
1/4 tsp salt
1 tablespoon peanut butter (optional)
½ cup berries (optional)
How to Make It: Blend all of the ingredients together. Spray the waffle maker down with non-stick cooking spray, then let the waffle cook until the waffle maker beeps. Spread one tablespoon of peanut butter on top and top it off with berries or a banana.
Protein: 20-24 grams
Get our full recipe for Protein Waffles.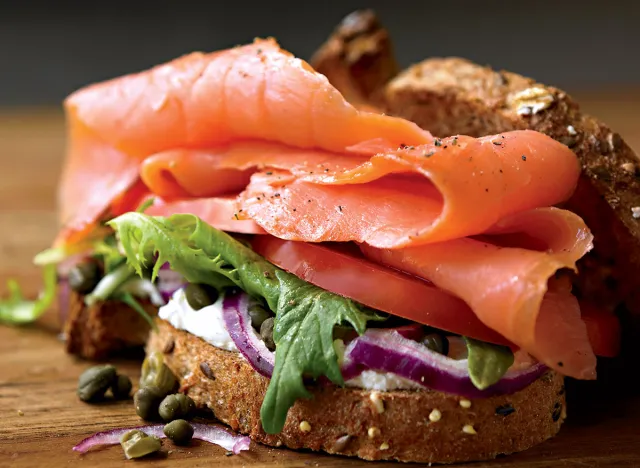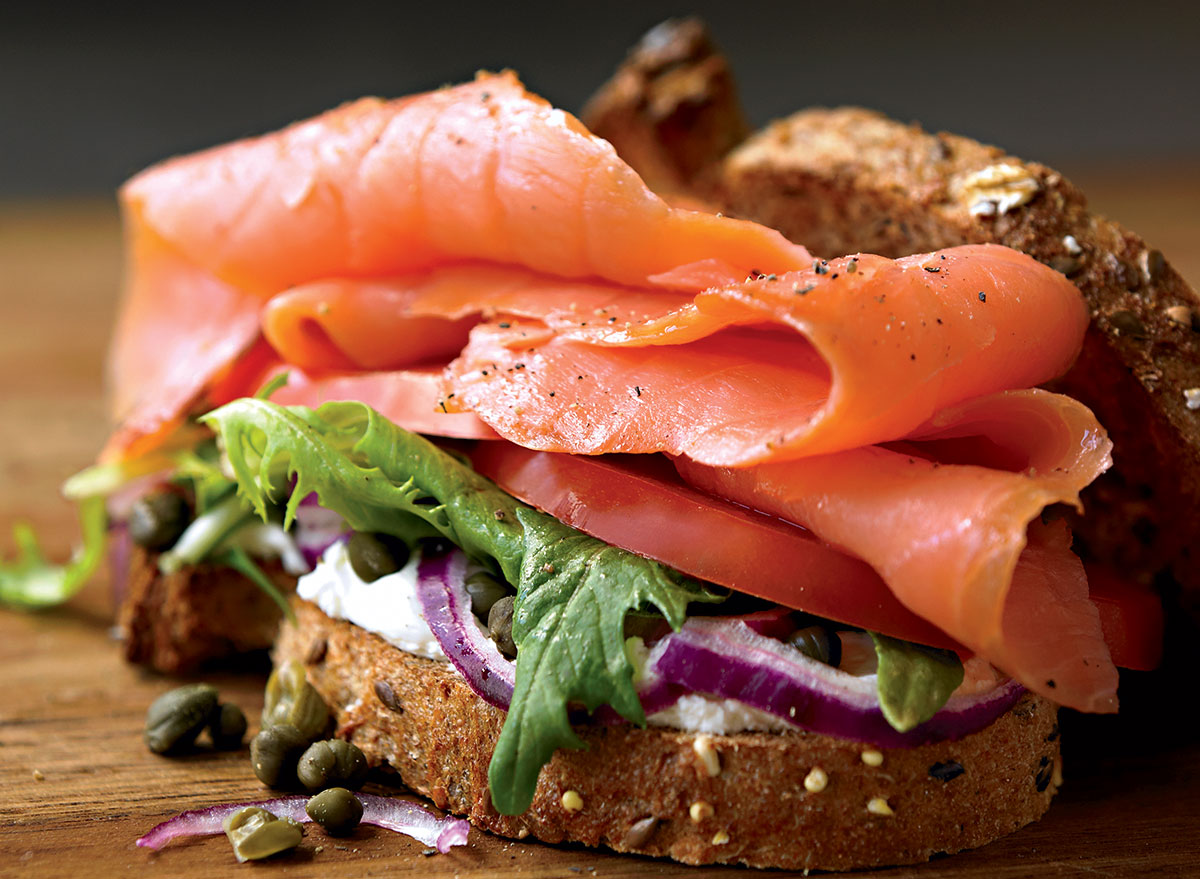 Ingredients:
How to Make It: Salmon is a powerful superfood, so why not start your day off with it? Toast two slices of Food For Life Ezekiel 4:9 Sprouted Whole Grain Bread and spread 2 tablespoons of Organic Valley Cream Cheese before topping it off with 2 ounces of Echo Falls Wild Alaskan Sockeye Smoked Sliced Salmon. The combination of healthy fats, fiber, and protein is sure to keep you satiated all morning long.
Protein: 21 grams
Get our full recipe for Smoked Salmon Sandwich.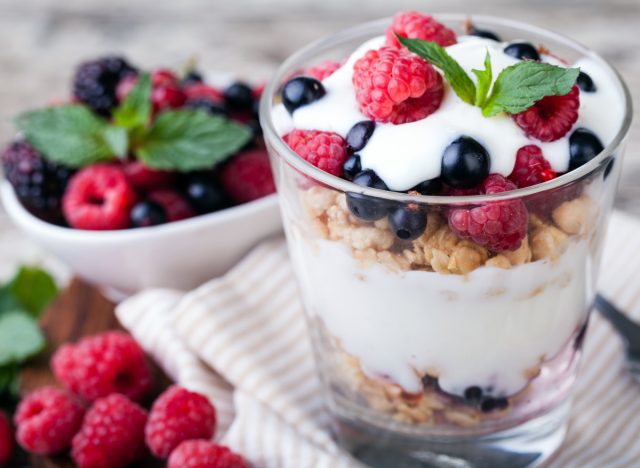 Ingredients:
How to Make It: Yogurt parfaits are a breakfast staple, but many have too much sugar and too little protein to keep you feeling full for a long time. Opting for plain Greek yogurt like the 2% version from Fage will serve as a healthier base for your breakfast bowl. Add one-half cup of antioxidant-rich blueberries and a half cup of KIND Peanut Butter Whole Grain Clusters, which comes with 10 grams of protein per serving, for a more balanced parfait option.
In addition to protein, Greek yogurt is loaded with probiotics. To learn more about these healthy bacteria and how to fit them into your diet, take a peek at our list of probiotic foods for a healthy gut.
Protein: 24 grams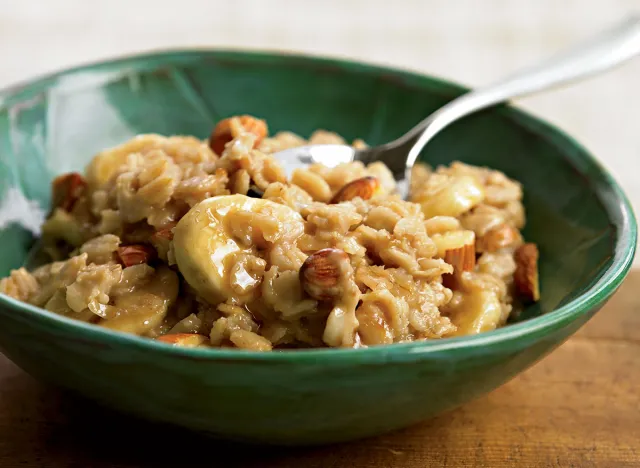 With two tablespoons of peanut butter, 1/4 of chopped almonds, and 2 cups of rolled oats, this recipe delivers protein in spades. The recipe is written with 4 servings in mind, totaling nearly 130 grams of satiating protein.
Ingredients:
4 1/2 cups water
2 cups rolled oats
Pinch of salt
2 bananas, sliced
2 Tbsp peanut butter
1/4 cup chopped almonds
2 Tbsp agave syrup
How to Make It: In a medium saucepan, bring the water to a boil. Turn the heat down to low and add the oatmeal and salt. Cook, stirring occasionally, for about 5 minutes, until the oats are tender and have absorbed most of the liquid. Add the bananas, peanut butter, almonds, and agave syrup and stir to incorporate evenly. If the oatmeal is too thick, add a splash of milk.
Protein: 14 grams
6254a4d1642c605c54bf1cab17d50f1e
Think you need to forgo pancakes if you're trying to eat healthily? Make these high-protein pancakes or try a protein-rich mix from Birch Benders to have your (pan)cake and eat it too. After preparing them, drizzle one tablespoon of maple syrup and sprinkle ¼ cup of sliced almonds on top for some extra vitamin E and protein.
Ingredients:

1 egg
1 scoop protein powder
1/2 cup oats
1/4 cup plain greek yogurt
1/3 cup milk
1 tsp baking powder
1 tsp cinnamon
1 tsp vanilla extract

How to Make It:
Blend up all the ingredients in a high-powdered blender.
Heat up a griddle over medium heat. If you don't have a griddle, use a flat pan on the stove. Spray down the hot griddle (or pan) with cooking spray, or melt a small amount of butter.
For perfect sized pancakes, pour 1/4 cup of the mixture on the griddle.
When the pancakes start to bubble on the top, it's time to flip!
Nutrition: 21 grams
Get the full recipe for our Protein Pancakes.
Ingredients:
How to Make It: Even the most devoted carnivore can benefit from the occasional vegan meal, and breakfast is a great place to start. Saute ½ cup of firm tofu and 1 cup of spinach and mix in a sprinkle of turmeric and ¼ cup of Bob's Red Mill Large Flake Nutritional Yeast for flavor and protein. Add a slice of toasted Ezekiel Sprouted Whole Grain Bread for some high-quality carbohydrates and fiber.
If you're on the fence about trying out a vegan menu, know that veganism is the best diet for weight loss.
Nutrition: 27 grams
Ingredients:
How to Make It: Sausage is a solid option when it comes to upping the protein content of your breakfast, assuming you pick a link that is lean. Applegate's Peppered Turkey Breakfast Sausage has just 5 grams of fat and plenty of flavor thanks to its ample seasoning. Slice up three links and enjoy it alongside a slice of Ezekiel Sprouted Whole Grain Bread that has been covered in one-quarter of a mashed avocado for a savory morning treat.
Protein: 16 grams
Ingredients:
How to Make It: If you think ricotta is only good for filling lasagna and white pizza, think again. This super creamy dairy product is packed with protein and light on calories, especially if you opt for a lower fat version like Polly's Part Skim Ricotta Cheese. Spread a ½ cup on top of two slices of toasted Ezekiel Sprouted Whole Grain Bread and drizzle with 1 teaspoon of honey for a touch of sweetness. Add a ½ cup of blackberries to up your antioxidant intake for the day.
Nutrition: 25 grams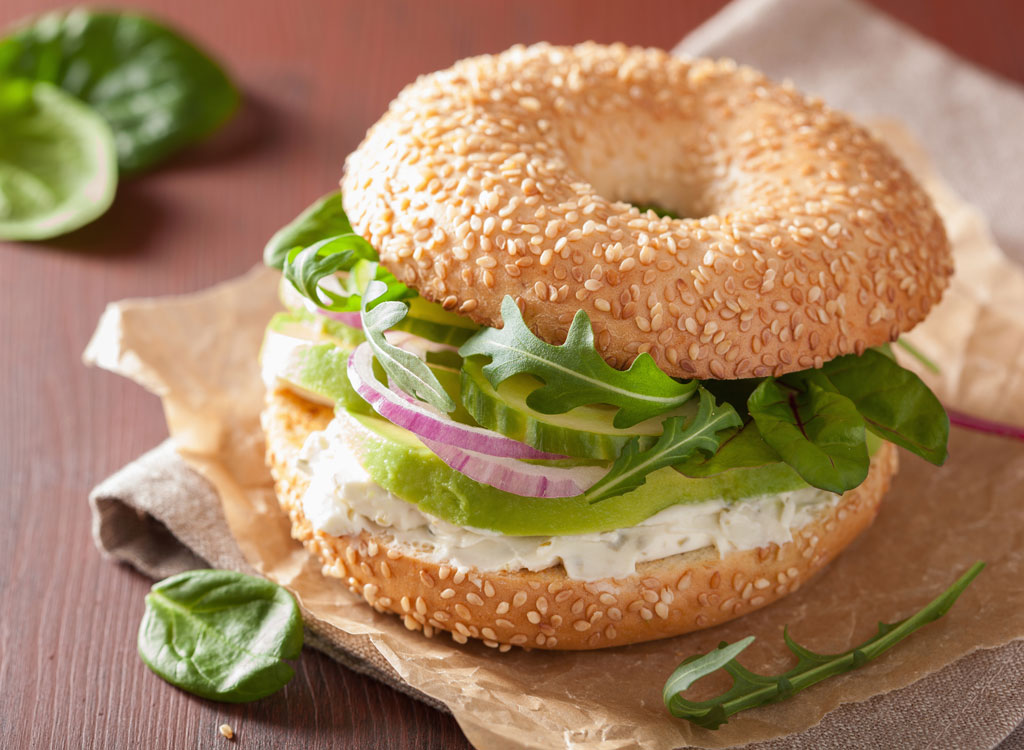 Ingredients:
How to Make It: While grabbing an everything bagel with cream cheese from your local bagel shop may not be the most diet-friendly choice, making your own version at home can be. Start off with an Epic Everything Bagel from Dave's Killer Bread for a lower calorie, higher protein alternative to your standard circle of refined carbs. Spread 1 ounce of goat cheese across your sliced, toasted bagel and top with ½ of a sliced tomato, ½ cup raw spinach, ¼ cup shredded carrots, and ¼ cup cucumber slices. Talk about a veggie-packed breakfast!
Nutrition: 20 grams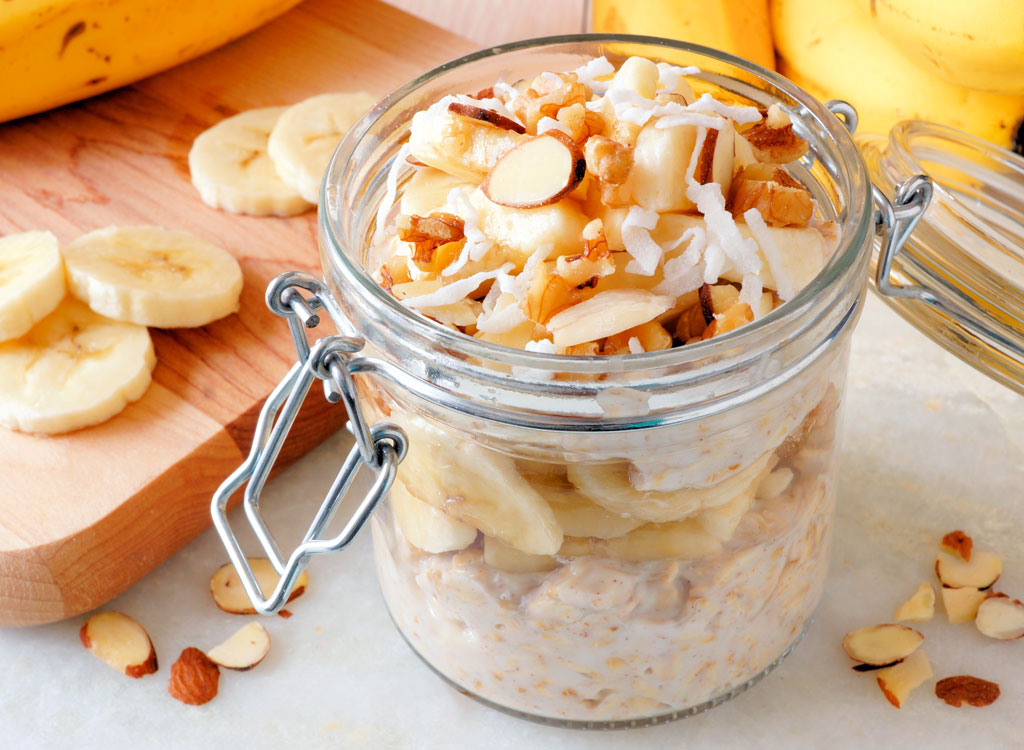 Ingredients:
½ cup
Fage 0% Fat-Free Yogurt
½ cup unsweetened almond milk
½ cup rolled oats
1 ounce chopped pecans
1 tablespoon honey
Cinnamon (to taste)
How to Make It: If you think you don't have time to make breakfast on a weekday morning, overnight oats might be a solid option for you since you can do all the prep work the night before. Combine ½ cup each of Fage 0% Fat-Free Yogurt, rolled oats, and unsweetened almond milk, stir until smooth, and refrigerate overnight. In the morning, add in 1 ounce of chopped pecans, a generous sprinkling of cinnamon, and a tablespoon of honey for slightly sweet, nutritionally- dense breakfast.
Nutrition: 21 grams
Apple and Peanut Butter Smoothie
Ingredients:
How to Make It: Turn your favorite healthy snack into an equally nutritious smoothie with this recipe. Throw 1 scoop of Sun Warrior Blend Raw Plant-Based Complete Protein Powder Vanilla, 1 sliced apple, 1 cup of unsweetened almond milk, 1 tablespoon of Smucker's Natural Peanut Butter, and a sprinkle of both nutmeg and cinnamon into your blender. Once all of the ingredients are thoroughly blended, pour into your favorite glass or to-go container and enjoy your super high protein breakfast creation.
Nutrition: 20 grams
Peanut Butter and Chocolate Smoothie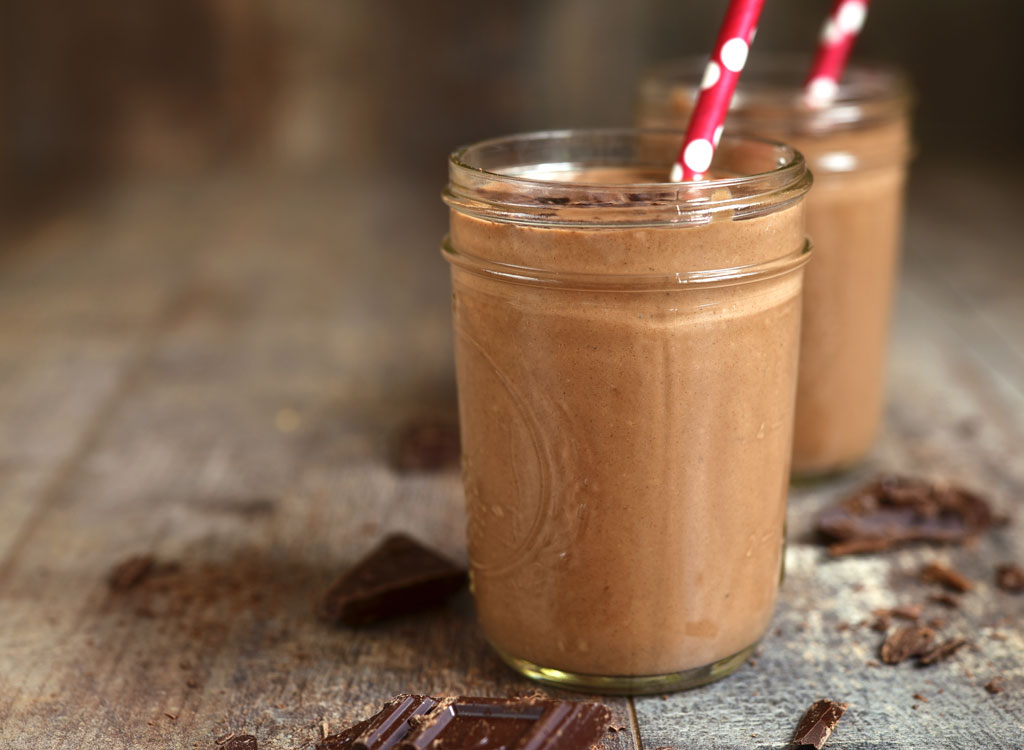 Ingredients:

1 cup unsweetened almond milk
1 medium banana
1 tablespoon Smucker's Natural Peanut Butter
1 cup steamed and cooled cauliflower
¼ cup soft tofu
1 teaspoon cocoa powder

How to Make It: If you crave chocolate first thing in the morning, you're not alone. Instead of going for a donut or muffin, try this cocoa-centric smoothie recipe. Toss 1 cup of unsweetened almond milk, 1 medium banana, 1 tablespoon Smucker's Natural Peanut Butter, 1 cup steamed and cooled cauliflower, ¼ cup cubed soft tofu, and 1 teaspoon cocoa powder into your blender. Make sure all of the ingredients are thoroughly blended before enjoying your healthier version of a chocolate milkshake.
Nutrition: 18 grams
Peanut Butter & Fruit Toast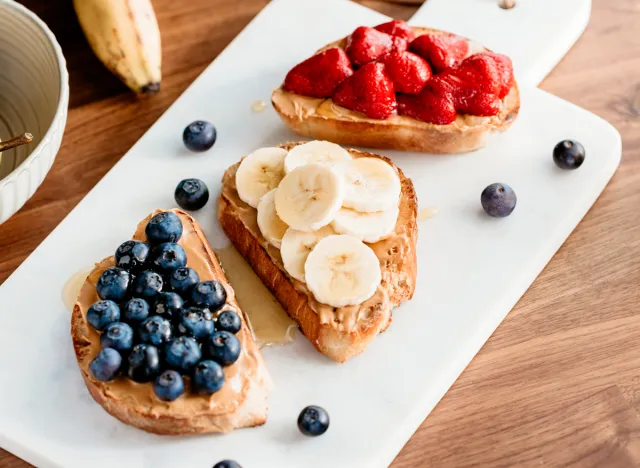 Ingredients:
How to Make It: To make a solid high-protein, no-egg breakfast option, start by toasting two pieces of Dave's Killer Bread Powerseed Thin Sliced for some high fiber carbohydrates. Top your toast with 2 tablespoons of Smucker's Natural Peanut Butter and 1 small sliced banana.
Protein: 15 grams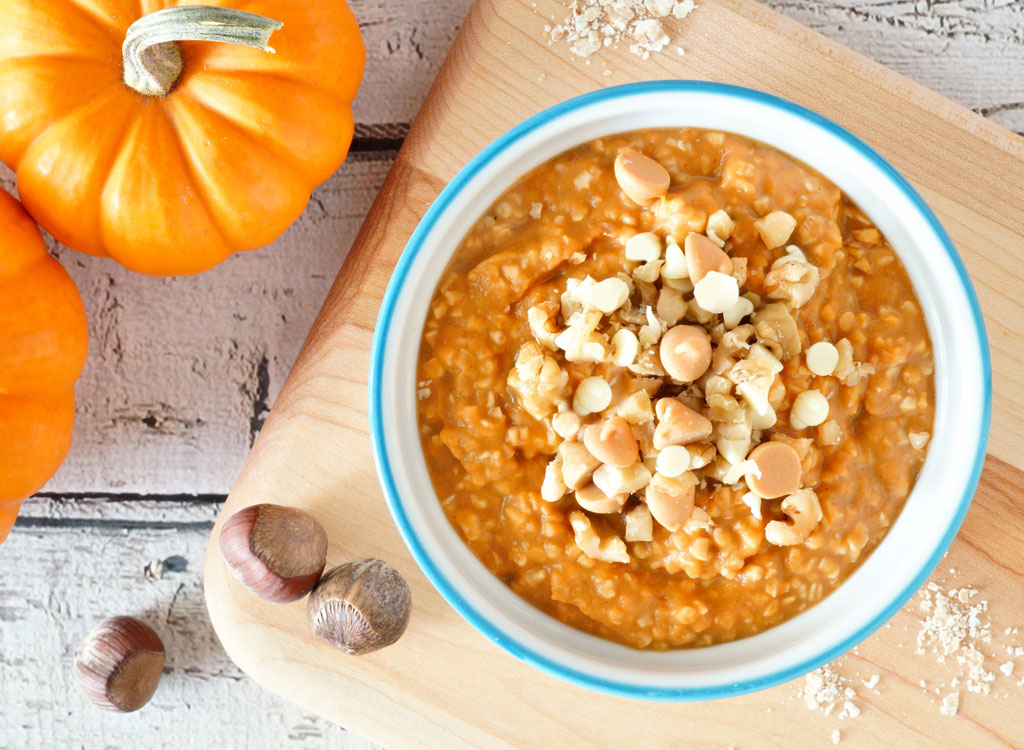 Ingredients:
½ cup rolled oats
1 scoop
Mikuna Chocho Superfood Protein
½ cup pureed pumpkin
2 tablespoons brown sugar
1 ounce chopped walnuts
Sprinkle of nutmeg and cinnamon
How to Make It: You don't need to save pureed pumpkin for Thanksgiving pies; you can also use it in this healthy oatmeal recipe. Start by preparing the oatmeal with water and mixing in one scoop of protein powder. Finish it off by stirring in one-half cup of pureed pumpkin, 2 tablespoons of brown sugar, 1 ounce of chopped walnuts, and a sprinkle of nutmeg and cinnamon.
Protein: 27 grams
This spicy, savory dish is classic breakfast fare, especially in the Deep South. Best of all, the hefty portions of shrimp and turkey kielbasa that champion the flavorful components enabling this dish to shine at all occasions means that you're getting quality, lean protein in a pot: Around 106 grams of protein from the pound of shrimp used in this recipe, plus about 5–6 grams of additional protein from the turkey sausage.
Ingredients:

1 Tbsp canola oil
1 cup diced cooked turkey kielbasa
4 scallions, whites, and greens separated, chopped
1 clove garlic, minced
8 oz fresh mushrooms (button, cremini, or shiitake), stems removed, sliced
1 pound shrimp, peeled and deveined
1⁄2 cup low-sodium chicken broth
Salt and black pepper to taste
1⁄2 tsp cayenne pepper
1⁄2 cup quick-cooking grits
1⁄4 cup shredded Cheddar cheese

How to Make It:
Heat the oil in a large cast-iron skillet or sauté pan over medium-high heat until lightly smoking. Add the kielbasa; cook for a few minutes, until lightly browned. Add the scallion whites, garlic, and mushrooms. Cook until the mushrooms are lightly browned, 3 to 4 minutes.
Add the shrimp and continue cooking until the shrimp are just pink and firm to the touch. Stir in the broth and cook for another 3 minutes, until the liquid has reduced by half and the shrimp are cooked all the way through. Season with salt, pepper, and cayenne.
While the shrimp are cooking, cook the grits according to the package instructions. When they're thick and creamy, add the cheese and season with salt and pepper.
Divide the grits and shrimp among 4 bowls and garnish with the scallion greens.
Protein: 15 grams
Get our recipe for Shrimp & Grits.

Though this recipe for banana pancakes uses three eggs, there are ingredient swaps that can compensate for the binding power of eggs without compromising overall taste while also upping the ante on the dish's protein content. If you're unable to get your hands on any eggs, around 2–3 tablespoons of peanut butter per egg you need should do the trick! Additionally, you can use warm water and flaxseeds in a 3:1 ratio for a similar effect; for every 3 tablespoons of water, use 1 tablespoon of ground flaxseeds for the equivalent of 1 egg. Using ground flaxseed will also give your short stack a protein boost of about 3 extra grams.  If you feel more comfortable stay by the book when it comes to following a recipe, 1/4 cup of Greek yogurt can also be used in lieu of one large egg. Because this pancake recipe iteration already uses Greek yogurt, adding in a little extra sans eggs might be the way to go—and combined with the protein-rich cottage cheese ingredient the recipe already calls for, you can prepare for an energy-fueled day.
Ingredients:

1 cup plain 2% Greek yogurt
1 cup low-fat cottage cheese or ricotta cheese
3 eggs
Juice of 1 lemon
1 cup white whole wheat flour (We like King Arthur's)
1⁄2 tsp baking soda
Pinch of salt
2 bananas, sliced
Warm maple syrup for serving

How to Make It:
Whisk together the yogurt, cottage cheese, eggs, and lemon juice in a bowl. Mix the flour, baking soda, and salt in another bowl.
Add the flour mixture to the yogurt mixture, and stir just until blended.
Heat a large skillet or sauté pan over medium-low heat. Coat with nonstick cooking spray, and add batter in large spoonfuls (about 2 tablespoons each).
As soon as the batter hits the pan, add three or four banana slices directly to each pancake, gently pressing them into the batter.
Cook for 3 to 5 minutes, until the tops begin to bubble. Flip the pancakes and cook on the second sides for 3 minutes longer, until browned.
It will take a few batches to get through the batter, depending on the size of your skillet. You can keep the pancakes warm in a 200°F oven while you work through the batches.
Serve with more sliced bananas and a drizzle of syrup.
Protein: 10 grams per 1/4 recipe
Get our recipe for Banana Pancakes.
Sources referenced in this article