The #1 Reason Why Ed Sheeran Does "Heavy, Heavy Exercise" on Tour
The 31-year-old singer works on his health as much as he does his music.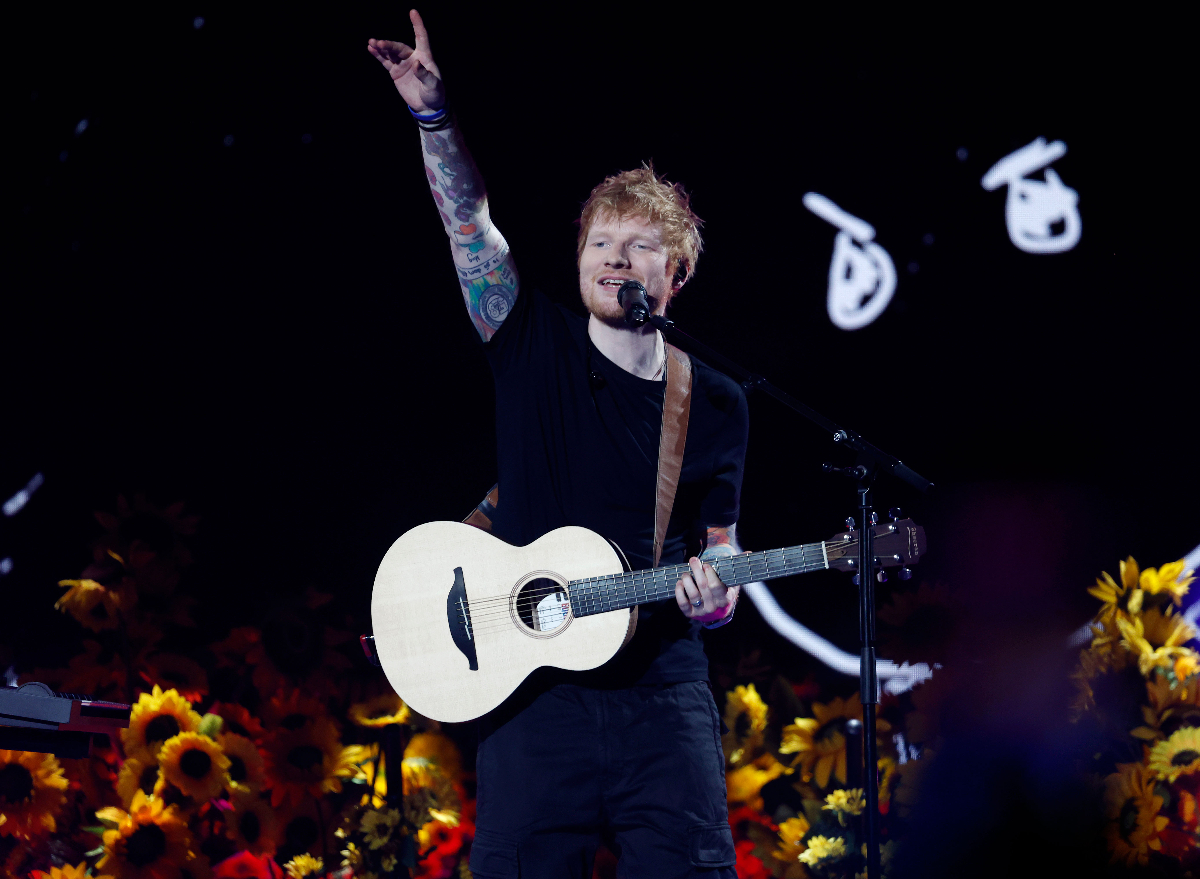 Just when you thought Ed Sheeran's music was one of the most impressive things you love so much about the star, get ready to be impressed even further. The 31-year-old musician, husband, and father works on his health as much as he does his music. This fan of "heavy exercise" carves out time for a healthy fitness/diet balance for his mental health to prevent burning out while touring. Keep reading to learn more about some of the healthy habits Ed Sheeran swears by, and next up, don't miss Mark Wahlberg, 51, Lives by These Fitness Habits.
Everyone has to start somewhere, and after some guilty pleasures he wasn't happy with—specifically enjoying "chicken wings and two bottles of wine every night"—Ed Sheeran was motivated to make some changes. "I've been really healthy, like kind of stopped all the bad habits stuff in my life. You know, started exercising every day," he explains. "I was eating like a takeaway every single day, and now I don't need to take away every single day and it's been good" (via E! Online).
The 31-year-old artist revealed to James Corden last year after he and his wife had their first child, Lyra, "Well, I became a dad and I feel like my lifestyle shift has changed. Instead of going to bed at six [a.m.], I'm getting up at four." When speaking of fatherhood, he continued to explain, "It just feels like what life was meant to be. It's great. My days are structured" (via PEOPLE). Sheeran also revealed he's healthier than ever before and keeps up with his fitness on a regular basis, adding, "Yeah, I feel like a human being. It's good."6254a4d1642c605c54bf1cab17d50f1e
This celeb's self-care game is well-rounded, too. The four-time Grammy recipient tells Ryan Sampson, host of "The Morning Mash Up" on SiriusXM, "I feel like your mental well-being is the most important thing. Being burnt out is like a really real thing. I hope I don't burn out" (via PEOPLE). With the hectic schedule of a superstar, staying on task with self-care is essential. "When I was doing arena tours, you're playing like four shows in a row, one show off. Four shows in a row, one show off," he adds. Fortunately, Sheeran now limits performances to weekends only, keeping his life much more balanced.
Ed Sheeran does "heavy, heavy exercise" each day on tour to benefit his mental health.
In addition to planning a more laidback and maintainable work schedule, Sheeran works out regularly for his mental health, with what he refers to as "heavy, heavy exercise" each day while touring, according to PEOPLE. The other thing he makes sure to do is to savor the comfort foods he enjoys most. Combined with exercising, this balance works for the star.
Sheeran shares, "If you're eating food that you really wanna eat, but then also exercising and looking the way that you kind of wanna look. I feel like that's a good, good balance," adding, "So I eat, I love fast food. I love curry. I love drinking nice wine. I love all the things that would be bad for you if you didn't exercise. But I feel like I'd go crazy if it was just no carbohydrates the whole time."
He admits that the purpose for working out so intensely is so that so he can consume what he wants, when he wants it. "And that's a really healthy way of being," he adds. "It's all about balance. Like you can have a filthy burger once a week if you want, and you can have ice cream every day if you wanna have it, it's just about balance."
Sheeran previously dropped almost 50 pounds by running and quitting smoking.
This singing icon previously divulged in a podcast called "Behind the Medal" a few years ago that he started running 45 minutes each morning, performed sit-ups and swam some days, and quit smoking. By doing these things, he was able to drop almost 50 pounds. "I started doing it because when I stopped smoking, I was very aware that my lungs were so full of s— that I needed to clear them out," he recalls about running, adding, "Gyms are good but there's nothing like fresh air to really give you a cleanout. That's, for me, the main reason why I started doing it."
The star has become a passionate cycler, too. "I've gotten really into cycling as well, and there's no way you can, like, check emails or watch TV shows," Sheeran says. "You're either with someone talking, or you're thinking. And it's a really good thing."
Alexa Mellardo
Alexa is the Mind + Body Deputy Editor of Eat This, Not That!, overseeing the M+B channel and delivering compelling fitness, wellness, and self-care topics to readers.
Read more about Alexa