These Are the EPA-Approved Wipes to Take with You to the Grocery Store
You don't want to go shopping without these!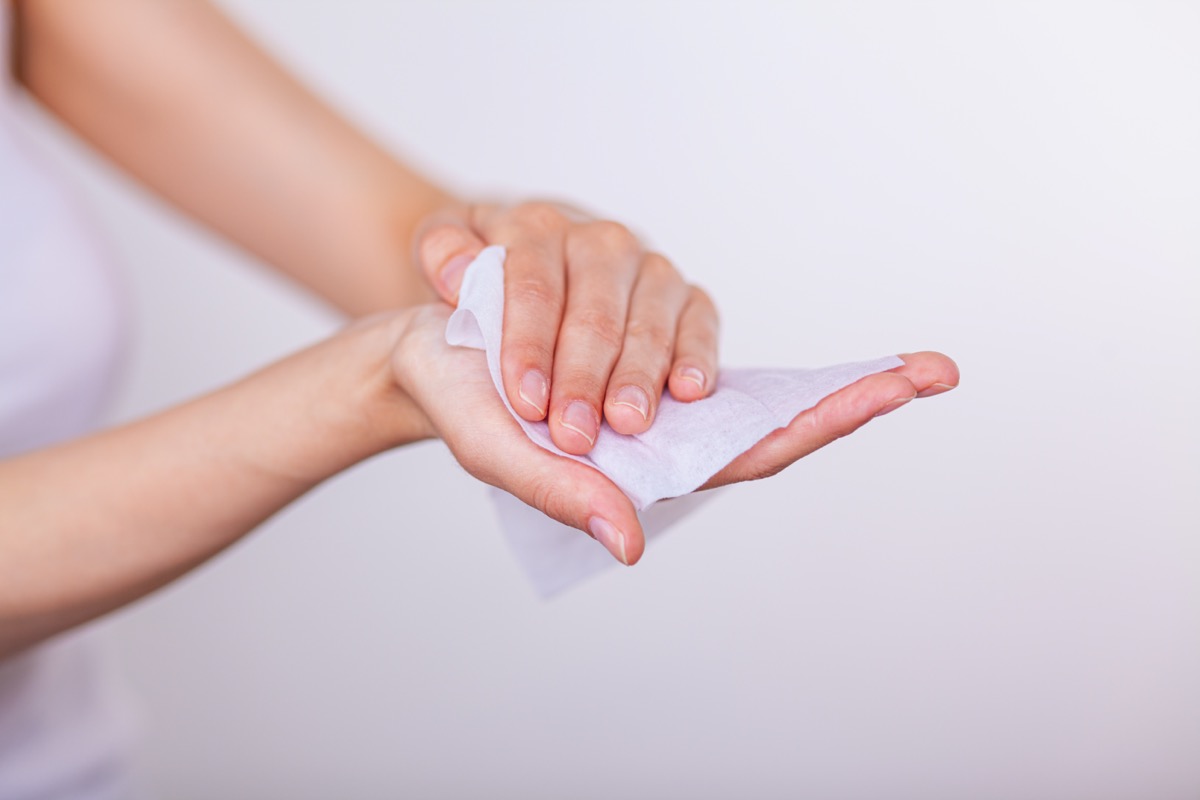 There are lots of measures you can take to protect yourself—and others—from catching the novel coronavirus, including washing your hands thoroughly and often, wearing a mask or face-covering in public settings, and of course, regularly disinfecting frequently touched surfaces. Not all disinfectant products are created equal, however—you'll want to look for wipes that have been approved by the U.S. Environmental Protection Agency.
So, which wipes made the cut? Here's what you need to know about EPA-approved disinfectant products.
Why disinfectant wipes are useful/important
The EPA-approved wipes that made the list can come in handy for many scenarios—not just in public places like grocery stores and pharmacies, but also for wiping down surfaces in your own home. You can even use them to clean off your phone, which can be a hotbed for bacteria since you touch it so often (and may absentmindedly put it down on a counter, cart, or basket while you're shopping).
The best reason why it's worth investing in these products? Coronaviruses are considered "enveloped viruses," which means that they're among the easiest types of viruses to kill off with the right disinfectant product.
STAY INFORMED: Sign up for our newsletter to get the latest coronavirus foods news delivered straight to your inbox.
Which wipes to buy
The products on EPA's list of registered disinfectants have all been tested through the agency's Emerging Viral Pathogen program, and have been determined to be effective against even harder-to-kill viruses than SARS-CoV-2
Here are the disinfectant wipes that meet EPA's criteria for use against SARS-CoV-2, the virus that causes COVID-19. You can find the full list of approved disinfectant products here.
Nugen NR Disinfectant Wipes
Nugen 2m Disinfectant Wipes
Arm & Hammer Essentials™ Disinfecting Wipes
Oxivir™ HC Wipes
Lonza Disinfectant Wipes Plus
Avert Sporicidal Disinfectant Cleaner Wipes
Wexford Disinfectant Wipes
CleanCide Wipes
Opti-Cide 3® Wipes
Opti-Cide Max Wipes
Super Sani-Cloth Germicidal Disposable Wipe
Sani-Cloth Bleach Germicidal Disposable Wipe
AF3 Germicidal Disposable Wipe
Micro-kill Bleach Germicidal Bleach Wipes
Accel TB Wipes
Lysol® Disinfecting Wipes (All Scents)
Clorox Disinfecting Wipes
Clorox Healthcare® Bleach Germicidal Wipes
Clorox Healthcare® Bleach Germicidal Wipes
Clorox Commercial Solutions® Clorox® Disinfecting Wipes
Clorox Healthcare® VersaSure® Wipes
Lonza Disinfectant Wipes
Lonza Disinfectant Wipes Plus 2
Oxivir™ 1 Wipes
PURELL Professional Surface Disinfectant Wipes
Sani-Cloth Prime Germicidal Disposable Wipe
Wedge Disinfectant Wipes
DisCide Ultra Disinfecting Towelettes
Nugen Low Streak Disinfectant Wipes
PeridoxRTU™ (Brand) One-step Germicidal Wipes
Sporicidin (Brand) Disinfectant Towelettes
Sani-cloth Germicidal Disposable Cloth
To see if a specific product has been approved by the EPA, enter the first two sets of its EPA registration number into the search bar here. (The EPA Reg. No. can be found on the product label.)
Some tips to keep in mind
If you can't find a product on the above list in stock, the EPA recommends making sure your replacement option has two things on the label: an EPA registration number, and the human coronavirus listed as a target pathogen.
Remember, when using an EPA-registered disinfectant, it's crucial to follow the label directions for maximum effectiveness. In particular, make sure to check the contact time (the amount of time the surface should be visibly wet after wiping it down before it's safe to touch again).6254a4d1642c605c54bf1cab17d50f1e
It's also worth noting that these disinfectant wipes are for surfaces only, not on humans. So, when it comes to disinfecting your skin, you'll need to use hand sanitizer or antibacterial soap.
According to the Centers for Disease Control and Prevention, handwashing with soap and water is still the best way to avoid transmitting the coronavirus. This is because thus far, experts believe the virus is primarily spread person-to-person via respiratory droplets (like sneezes and coughs), rather than by touching surfaces or objects that have been contaminated.
That said, disinfecting all your frequently used surfaces—especially where food is prepared, consumed, or stored—is another crucial strategy for staying healthy. Keep in mind that there is a difference between cleaning and disinfecting. While cleaning the surfaces in your home may reduce germs, it doesn't kill them off entirely—that's a job for disinfecting products, like the aforementioned wipes.
Rebecca Strong
Rebecca Strong is a Boston-based freelance health/wellness, lifestyle, and travel writer.
Read more about Rebecca