20 Fat-Burning Pasta Recipes
Yes, you can eat pasta and lose weight! These recipes are packed with flab-frying ingredients.
Pasta's got a bad rep, but this wasn't always the case. Ever heard the saying, "You are the company you keep?" The minute pasta starting hanging around with sauce, it all went downhill. From Alfredo to Bolognese, those indulgent pasta recipes are bad news.
The truth is, pasta alone doesn't make you fat. If you've ever been to Italy, you may have marveled at how Italians maintain their slim figures when they consume carb-laden dishes on a daily basis. Here's the deal: They use simple, wholesome, and fresh ingredients—and they keep things small. We've rounded up 20 portion-controlled pasta recipes full of flavorful, fat-burning ingredients that will fill you up without filling you out.
BUTTERNUT SQUASH & SAGE PASTA
'Tis the season of butternut squash, a fall superfood that's brimming in flavor, potassium, fiber and vitamin A. The latter underrated nutrient is essential for proper immune-system function, tissue growth and repair and bone strength. Luckily for you, this dish provides nearly 4 days' worth of A. And if that's not enough, butternut squash is rich in carotenoids that fight heart disease, asthma and arthritis, and promote healthy vision and skin.
WHAT YOU NEED
3 cups butternut squash puree
½ onion, diced
1 tbsp olive oil
3 cloves garlic
2/3 cup dry white wine
1 cup vegetable stock
1 big tsp dried sage
Sea salt and pepper
16 oz pasta cooked whole wheat penne
HOW TO MAKE IT
In a medium pot on the stove, heat up olive oil over medium heat. Add in onion and sauté for 3 minutes, stirring every occasionally. Add in garlic and sauté for another 2 minutes, stirring often to make sure garlic doesn't burn.
Now you need to puree garlic/onions with the butternut squash. You can do this a number of ways: puree onions/garlic/squash with an immersion hand blender, or throw them into a blender or food processor.
Once onions and squash are thoroughly pureed together, place back in the pot with white wine, vegetable stock, sage, and freshly ground sea salt and black pepper. Let butternut squash sauce simmer on the stove for 15 minutes or so, to let it thicken up.
Toss pasta with butternut squash sauce and top with fresh Parmesan cheese, a bit of arugula or thinly cut sage if you'd like.
NUTRITION PER SERVING: 438 calories, 5.2 g fat, <1 g saturated, 25 mg sodium, 84 g carbs, 13 g fiber, 5 g sugars, 15.6 g protein
Recipe and photo by Vegu Kate.
BROWNED BUTTER PASTA WITH ROASTED ROOT VEGGIES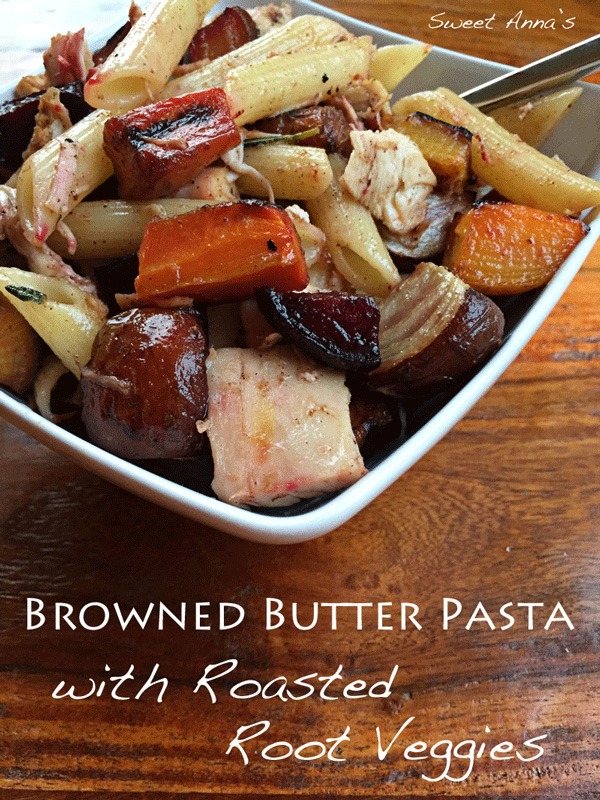 We could learn a thing or two from our ancestors' athletic physiques, lifestyles, and eating habits. Namely, their food consumption aligned with the seasons. Consuming root vegetables throughout the fall and winter stokes our bodies with nutrients. And what's better than a hearty meal for less than 500 calories, just 6 grams of fat and 129 milligrams of sodium? Plus, this pasta recipe has 15 grams of belly-slimming fiber, which will keep you fuller longer and prevent overeating.
WHAT YOU NEED
5 lbs, or so, root veggies, variety (carrots, beets, potatoes, parsnips…)
1 large onion
2-3 cloves garlic, smashed or whole
2-3 tablespoons extra virgin olive or melted coconut oil oil
salt & pepper
2 tablespoons chopped fresh rosemary
1/2 teaspoon crushed red pepper flakes, optional
freshly shaved parmesan cheese
1 lb pasta
HOW TO MAKE IT
Preheat the oven to 400ºF.
Cut all the veggies and onion into similar bite-sized pieces. Place all the veggies and garlic on a large rimmed baking sheet.
Drizzle with oil and salt & pepper to taste. Toss well with your hands to make sure everything is coated.
Place in the oven and roast for 30-45 minutes, until all the veggies are tender and golden. Remove from the oven and set aside.
While the veggies are roasting, boil a large pot of salted water and cook the noodles according to package directions.
While the water is boiling, melt a stick of butter in a large skillet (preferably light colored interior, but not necessary!) over medium heat.
Continue to cook, swirling occasionally until the butter starts to foam and then turn golden. Watch closely at this point, as it can burn easily. As soon as the butter looks nice and golden (here's where the light-colored skillet helps!) and smells very toasty and fragrant, pull it off the heat & stir in the rosemary.
Toss everything together in a large bowl or in the now drained pot and serve with freshly shaved parmesan cheese if desired!
NUTRITION PER 1.5 CUP SERVING: 458 calories, 5.7 g fat (<1 g saturated), 129 mg sodium, 93 g carbs, 15.2 g fiber, 15.5 g sugars, 11.3 g protein (calculated with 2 tbs of olive oil, 1 lb of organic whole wheat rigatoni and no parmesan cheese)
Recipe and photo by Sweet Anna's
ROASTED EGGPLANT TOMATO ORZO PASTA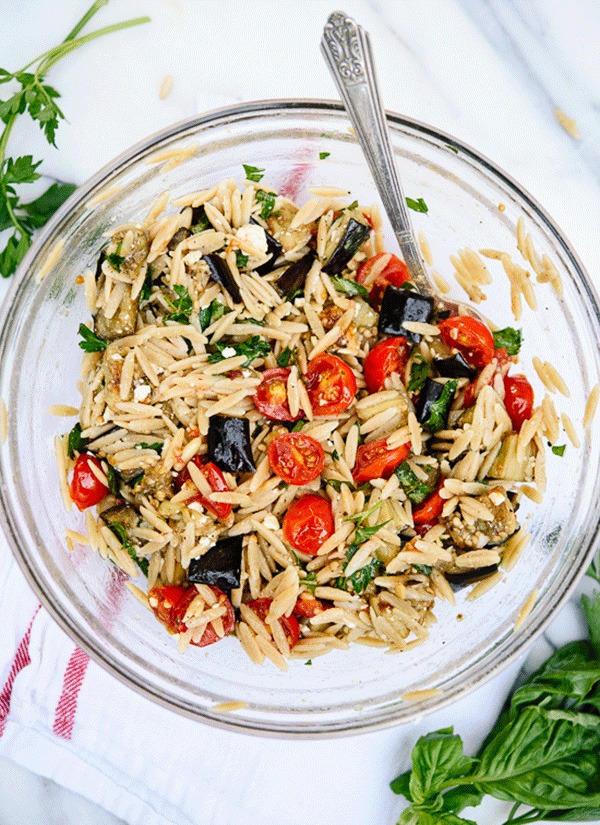 Fight cancer and slim down with this delicious eggplant-based pasta dish. The purple veggie contains chlorogenic acid, a powerful antioxidant that scavenges disease-causing free radicals. Here, eggplant is paired with fiber-rich whole-wheat orzo pasta, crumbled feta, appetite suppressing pine nuts and fresh herbs, making it the perfect addition to any meal.
NUTRITION PER SERVING: 448 calories, 22 g fat (3.8 g saturated), 385 mg sodium, 54 g carbs, 11 g fiber, 8.5 g sugars, 12 g protein
Get the recipe from Cookie and Kate.
BLACKENED BROCCOLI PASTA WITH CHARRED LEMON & GOAT CHEESE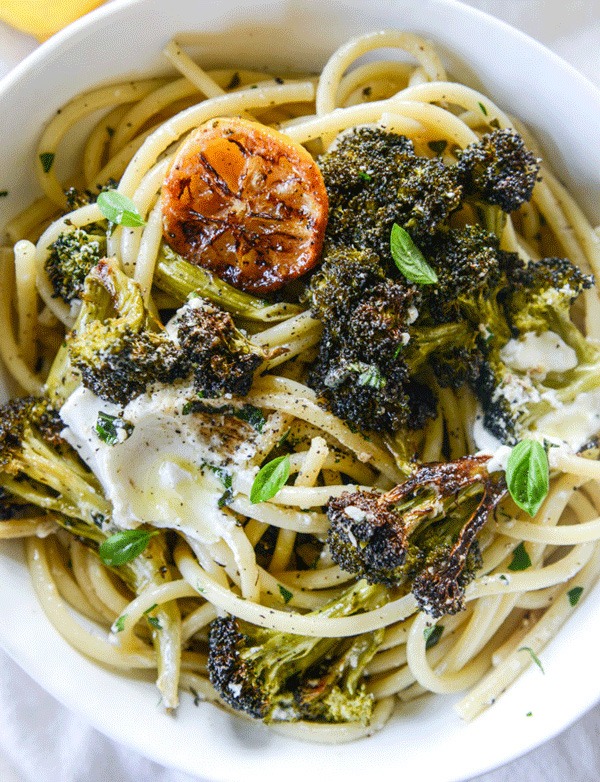 Heat things up with this fat-fighting cajun broccoli pasta. Cajun seasoning contains one of the most powerful waist-shrinking spices on the planet—cayenne. Fiery capsaicin, the compound that gives chiles their signature kick, has been shown to increase body heat, boost metabolic rate and decrease appetite. Researchers at Purdue University found that just 1 gram of red pepper (about 1/2 a teaspoon) helps to manage appetite and increase post-meal calorie burn. (And this recipe calls for six teaspoons!) Looking to slim down this dish further? Cut goat cheese and butter by half to save 163 calories, 15 g fat, and 127 g sodium.
NUTRITION PER 1 CUP SERVING: 544 calories, 33 g fat (12.4 g saturated), 171 mg sodium, 46 g carbs, 5 g fiber, 5 g sugars, 16 g protein (calculated with 4 oz goat cheese and 3 tbsp unsalted butter)
Get the recipe from How Sweet Eats.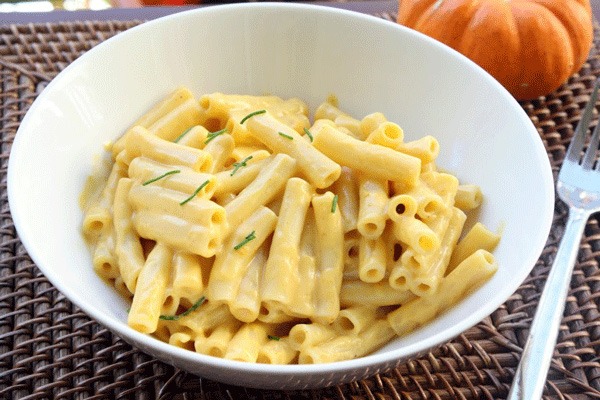 You had us at pumpkin and mac n' cheese. If you too have fallen victim to the pumpkin trend, you've struck gold. For just 330 calories, 208 milligrams of sodium and 3 grams of sugar, you can savor a guilt-free bowl of comfort food. Plus, each serving dishes up two days' worth of vitamin A. To lower the fat content, opt for plain Greek yogurt instead of heavy cream, and swap in an organic, grass-fed cheese. We still aren't over how heavenly this dish is.
WHAT YOU NEED
8 oz. pasta, about half a box
1/2 cup heavy cream
1/2 cup milk
4 Kraft Singles Cheddar Cheese
1/4 stick butter
1 cup organic pumpkin puree
Fresh cracked pepper
Fresh chives
HOW TO MAKE IT
Boil pot of water for pasta. While pasta is cooking in boiling water (boils for about 15 minutes), melt butter in a separate saucepan on medium heat. When mostly melted add your cream and milk.
Bring milk, cream and butter sauce to a slight boil, then add your cheese singles one at a time, tearing them in small pieces and adding more as they melt, stirring constantly. A thick cheese sauce will form. When all your cheese has been added and a thick sauce has formed, add your canned pumpkin puree.
Whisk until combined.
Strain cooked pasta and return to pot. Pour pumpkin cheese sauce over pasta. Top with fresh cracked pepper and chives. Serve immediately.
NUTRITION PER SERVING: 330 calories, 14.8 g fat (8 g saturated), 208 mg sodium, 37.5 g carbs, 2 g fiber, 3.4 g sugars, 13.2 g protein (calculated with whole wheat ziti, organic cheddar cheese and plain Greek yogurt for heavy cream)6254a4d1642c605c54bf1cab17d50f1e
Recipe and photo by That's So Michelle.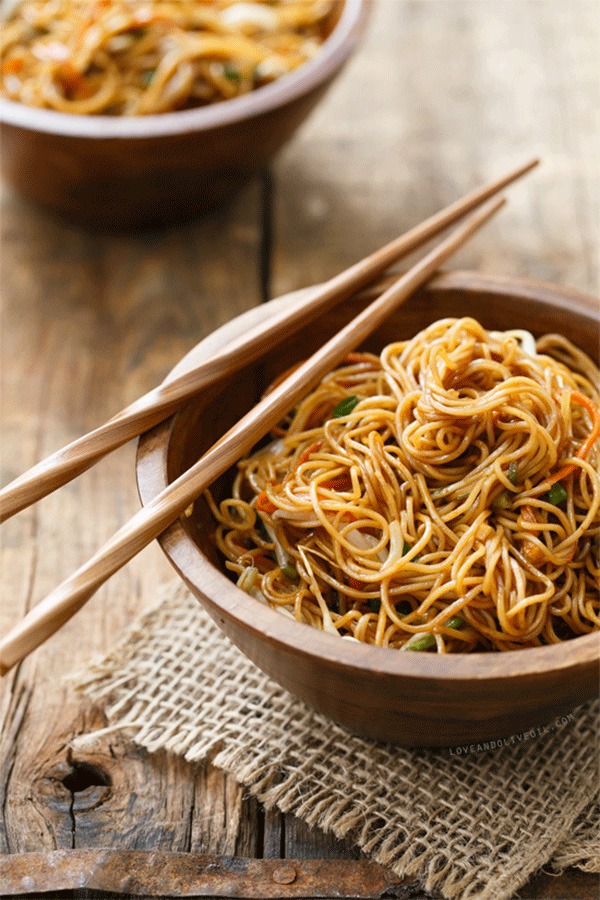 If Friday night means ordering Chinese takeout, you might want to hit the grocery store on the way home from work instead. This dish has less than 300 calories a serving, contains a day's worth of vitamin A and is ready in just 30 minutes (about the time you would have waited for your order). And this dish contains just 353 milligrams of sodium, compared the 2,990 milligrams in an order of PF Chang's garlic noodles!
NUTRITION PER SERVING: 278 calories, 19.3 g fat (3.5 g saturated), 353 mg sodium, 22.4 g carbs, 1.7 g fiber, 6 g sugars, 5 g protein (calculated with low sodium soy sauce).
Get the recipe from Love and Olive Oil.
CREAMY CAULIFLOWER VEGAN ALFREDO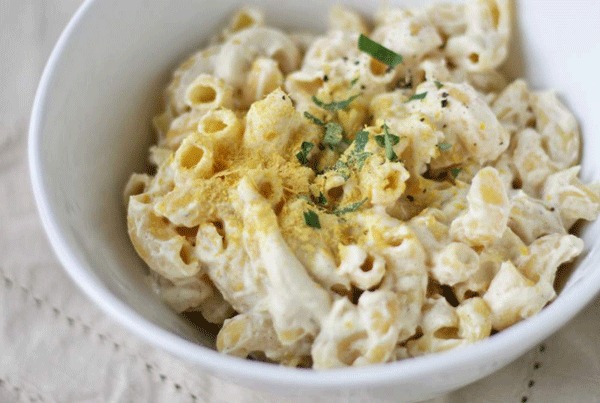 Cauliflower is an incredibly versatile swap for pasta, and its high fiber content helps shed pounds. When you consume fibrous foods, you're satiated longer and take in fewer calories. According to Alexandra Miller, RDN, LDN, the corporate dietitian at Medifast, "Cruciferous vegetables like cauliflower have shown to possibly help reduce the risk of certain cancers, namely prostate cancer, because of their high antioxidant activity." Bonus: when you whip up this pasta recipe, you'll have sauce left over for tomorrow's lunch!
WHAT YOU NEED
½ cup raw cashews, soaked at least 1 hour
½ cup brazil nuts, soaked at least 1 hour
A small head of cauliflower, chopped into florets – about 3 cups or so
2 small shallots, chopped
3 cloves of garlic, chopped
1 tablespoon olive oil
3 tablespoons lemon juice
1 tablespoon tahini
½ cup filtered water
¼ cup nutritional yeast
Sea salt and fresh ground pepper
A handful of parsley (to garnish)
Elbow noodles
HOW TO MAKE IT
Begin by steaming your cauliflower florets for 5-7 minutes, or until fork tender. While cauliflower is steaming, bring a salted pot of water to a boil and cook pasta according to package directions.
As cauliflower is steaming, sauté your garlic and shallots. Heat 1 tablespoon of olive oil over medium-low heat in a small skillet. Add in garlic and shallots and sauté for 5 or so minutes, until garlic is fragrant and golden.
While garlic/shallots are being sautéed and the cauliflower is steaming, drain and rinse your soaked nuts. Add them to the base of a high-speed speed blender, along with ½ cup filter water and blend on high until nuts are creamy and broken down. Add in steamed cauliflower, garlic/shallots, tahini, lemon juice, nutritional yeast, and salt and pepper. Blend on high speed until alfredo sauce is completely creamy – about a minute or two.
Once pasta is boiled, drain and add back into pot. Pour about a ½ cup or so alfredo sauce over pasta and stir to combine. Add in more Alfredo until you've reached the sauciness you'd like! Gently warm noodles in pot if needed.
Divide pasta into bowls and garnish with a bit of black pepper, nutritional yeast, and chopped parsley. I also like to add in steamed broccoli florets or peas to boost the veg content even more. Enjoy warm and devour!
NUTRITION PER SERVING: 502 calories, 23.3 g fat (4.5 g saturated), 40 mg sodium, 64.6 g carbs, 11 g fiber, 3.6 g sugars, 18 g protein ( calculated with 14 oz elbow pasta and divided into 6 servings).
Recipe and photo by Vegu Kate.
BEET "PASTA" WITH LEMON-CREME SAUCE AND BROILED SALMON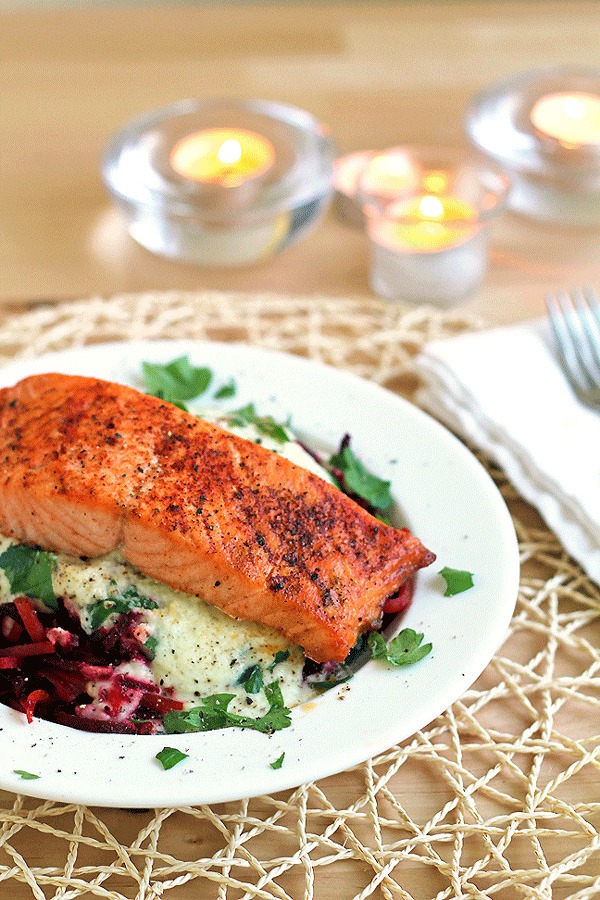 Whether you're in need a low-carb noodle alternative, gluten wreaks havoc on your digestive system, or you just feel plain daring, this beet "pasta" recipe has you covered. If you're on an athlete's eating plan, you want to pay close attention: A study published in the Journal of the Academy of Nutrition and Dietetics found that runners who ate baked beets before a 5k ran five percent faster. Just make sure to consume potassium to counteract the sodium count.
WHAT YOU NEED
Beet pasta:
1 pound whole beets
Lemon-creme sauce:
1 tablespoon coconut oil
1 medium onion, chopped
3 garlic cloves, minced
3 heaping cups cauliflower florets
¼ cup lemon juice lemon juice
1 tablespoon lemon zest
1 cup full-fat canned coconut milk
1⁄2 teaspoon sea salt
1⁄4 teaspoon freshly-ground black pepper
1 teaspoon dried ground cumin
Broiled salmon:
1 teaspoon cumin
½ teaspoon smoked paprika
½ teaspoon mustard powder
½ teaspoon garlic powder
1⁄4 teaspoon salt
2 (6-ounce) wild salmon fillets
Fresh parsley (for garnish, optional)
HOW TO MAKE IT
Beet pasta:
Chop off the beet greens (if they are still attached). Place the beets in a medium saucepan, add enough water to cover, and bring to a boil.
Simmer beets on medium heat for 45 – 60 minutes, or until the skins can be rubbed off with your fingers.
To test one, fish one of the beets out of the pot with a pair of tongs and run it under cold water until it's cool enough to handle. Remove the skins (they should rub off easily using your fingers).
Once beet is cooked and skinned, use a spiralizer to create beet pasta. Set aside.
Lemon-creme sauce:
Add coconut oil to a medium saucepan over low-medium heat. Add the onion and sauté for 5 minutes. Add the garlic cloves and sauté for an additional minute.
While onion is cooking, steam the cauliflower florets for 5 minutes or until tender. Once cauliflower is tender, add the onions, garlic, cauliflower, lemon juice, zest, coconut milk, sea salt, black pepper, and cumin to a blender and process until smooth. Set aside.
Broiled salmon:
Preheat the broiler. Line a sheet pan with foil.
Mix cumin, paprika, mustard powder, garlic powder and salt together. Sprinkle spice mixture over salmon. Lay flat on sheet pan.
Broil the salmon for 7 minutes, or until the salmon is flaky and cooked through and the internal temperature has reached at least 135 degrees F.
Assembling the dish:
Divide beet pasta between two plates.
Add the blended sauce back to the saucepan. Simmer for 1 minute, then serve hot over beet pasta. Top with broiled salmon and garnish with fresh herbs, if desired.
NUTRITION PER SERVING: 417 calories, 18.2 g fat (9.5 g saturated), 953 mg sodium, 41.6 g carbs, 11 g fiber, 25 g sugars, 26.7 g protein (calculated with unsweetened coconut milk and a 3 oz salmon serving, per USDA standard)
Recipe and picture by Sonnet's Kitchen.
QUINOA PASTA SALAD WITH CHICKEN SAUSAGE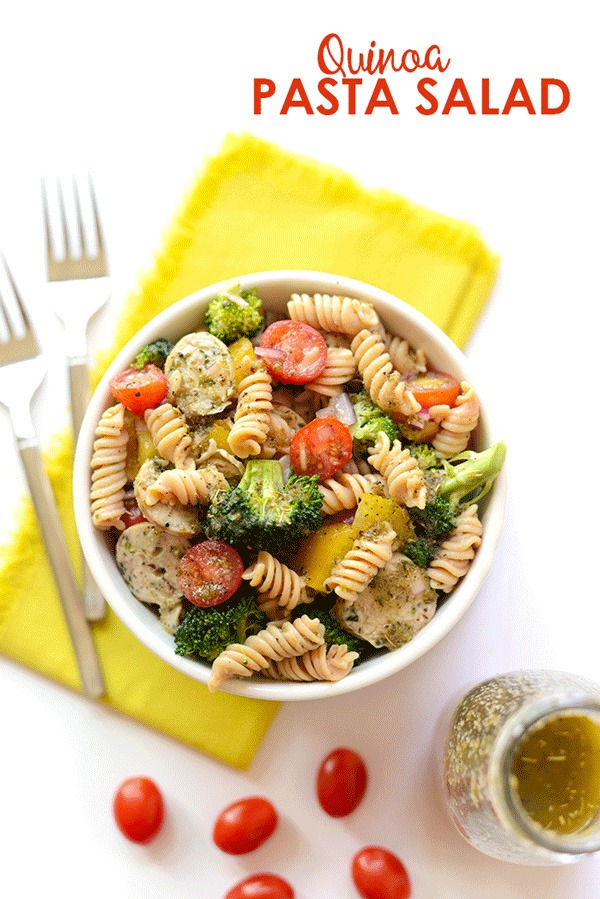 If you suffer from gluten intolerance or sensitivity, traditional pasta dishes might be limits, but this one is far from traditional. Gluten-free lentil-and-quinoa pasta fills in for the often nutrient-devoid white stuff. Quinoa's protein, essential amino acids and fiber, and lentils' potassium content aid in muscle recover. Those belly-slimming ingredients are combined with veggies and chicken sausage and drizzled in an Italian dressing for a satisfying wholesome meal.
PER SERVING: 427 calories, 15.4 g fat (2.3 g saturated), 448 mg sodium, 60 g carbs, 6.5 g fiber, 7 g sugars, 15 g protein
Get this recipe from Fit Foodie Finds.
CREAMY CAJUN CHICKEN PASTA
It's not very often that a pasta dish offers a hefty 38 grams of protein per serving, and when it comes to weight loss, this amino acid is a key player. Protein increases satiety, revs metabolic activity and helps the body retain muscle while burning fat. This recipe serves up 87% of your daily vitamin C needs, and it's sky-high in vitamin B6, which helps balance hormone levels and fight stress, two helpful factors when it comes to slimming down.
WHAT YOU NEED
1 lb boneless skinless chicken breasts (shrimp can be substituted)
2 Tbsp olive oil, divided
6 tsp cajun seasoning, divided
12 oz dry linguine or fettuccine pasta
2 Tbsp butter
1 clove garlic, minced
3 Tbsp flour
1 ½ cups milk
1/2 cup heavy cream or half and half
1/3 cup shredded parmesan cheese
1 medium red bell pepper, sliced into thin strips then strips halved (about 1 1/2 cups)
1 medium yellow bell pepper, sliced into thin strips then strips halved (about 1 1/2 cups)
1/2 large red onion, sliced into thin strips
2 cups sliced button mushrooms (about 8)
Fresh parsley, for garnish
NUTRITION PER SERVING: 540 calories, 19 g fat, 7 g saturated, 312 mg sodium, 55 g carbs, 3.7 g fiber, 8 g sugars, 38 g protein (calculated with linguine and non-fat plain greek yogurt in place of heavy cream).
Get the full recipe from Cooking Classy.
SWEET POTATO RAVIOLI WITH KALE PESTO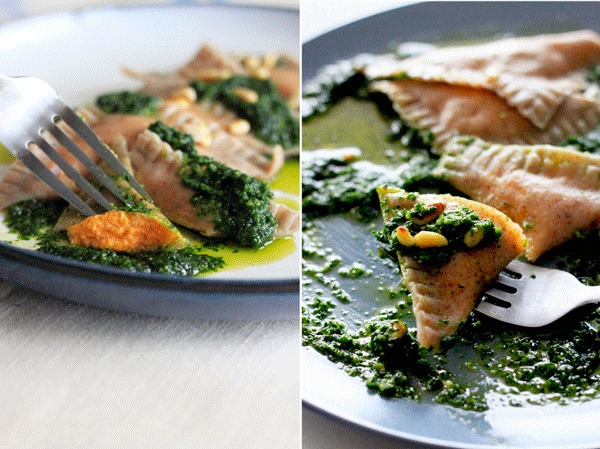 Dropping temparatures and shortening days are a natural match for savory dishes like these homemade sweet potato raviolis. And with a day's worth of both vitamins A and C and just 3 grams of sugar, they're a healthy indulgence. The kale pesto is rich in pine nut oil, which has been linked to appetite suppression, aiding in weight loss.
NUTRITION PER SERVING: 579 calories, 42.6 g fat (4.3 g saturated), 264 mg sodium, 43.3 g carbs, 7.5 g fiber, 3.3 g sugars, 12.3 g protein (calculated with 1/4 cup olive oil)
Get the recipe from The First Mess.
VEGETARIAN PASTA CARBONARA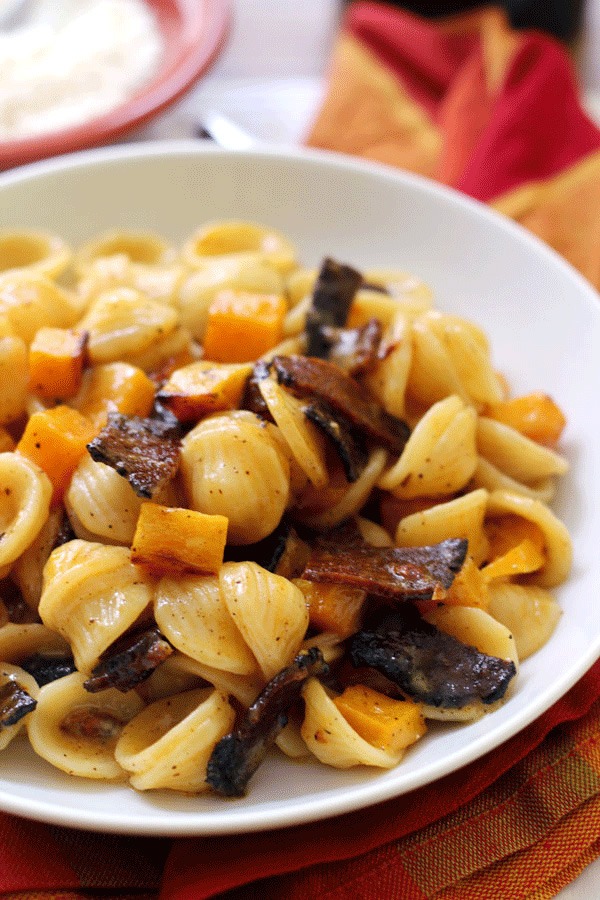 Knock out three days' worth of your vitamin A needs and 43% of your daily calcium quota with this hearty vegetarian dish. Sweet roasted butternut squash contrasts smokey bacon and parmesan flavors. And with 31 grams of protein, you'll be truly satisfied.
NUTRITION PER SERVING: 637 calories, 23.9 g fat (8 g saturated), 620 mg sodium, 77 g carbs, 9 g fiber, 7 g sugars, 31.4 g protein (calculated with 2 servings of Lightlife Fakin' Bacon Tempeh Strips)
Get the recipe from Oh My Veggies.
Tacos and pasta may sound like a diet disaster, but if you're looking for a comfort meal that won't undo your weight loss goals, try this Taco Pasta Salad. Looking to cut carbs but maintain volume? Reduce the rigatoni count and double up on the zucchini. Opting for 12 ounces of pasta saves you 10 grams of carbs per serving. Add 1/4 cup plain Greek yogurt instead of sour cream for just 30 calories and no added fat!
WHAT YOU NEED
2 cups rigatoni pasta
1 lb 90% lean ground beef
1 (1.25oz.) taco seasoning
1/2 cup corn
1/2 cup zucchini, chopped
1 cup chunky salsa (your preferred brand)
1 cup Mexican Cheese
Garnishings:
sour cream
sharp cheddar cheese
cilantro
lime
HOW TO MAKE IT
Cook pasta according to instructions; drain and set aside.
Brown ground beef until no longer pink in a skillet over medium-high heat, about 8-10 minutes.
Drain and stir in taco seasoning, corn, zucchini, salsa and Mexican cheese. Serve over pasta and garnish to your preference.
Notes: You can use fresh or frozen corn. Alternately, you can also use roasted corn to kick up the flavor even more. Alternately, make this a casserole by tossing the taco mixture in with the pasta and sprinkling more Mexican cheese on top (enough to cover the surface) and bake it until the cheese melts and slightly browns, about 10-15 minutes.
PER SERVING: 570 calories, 25 g fat (13 g saturated), 805 mg sodium, 46 g carbs, 5 g fiber, 6 g sugars, 40 g protein (calculated with 12 oz of rigatoni and 1 cup of zucchini to lower carb count by 10 g per serving) Add 1/4 cup plain greek yogurt for just 30 calories and no fat!
Recipe and picture from Real Food by Dad.
SPIRALIZED ZUCCHINI PESTO PASTA WITH PEAS AND PANCETTA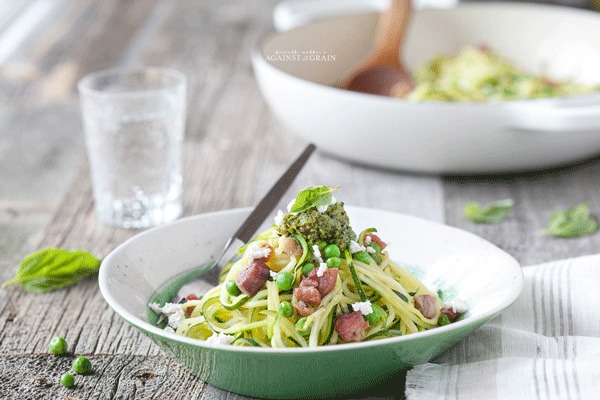 Zoodles, or noodles made from zucchini, have taken the healthy-foodie world by storm. Once you substitute this versatile squash into your pasta dishes, you'll be liable to ditch the carby, floury stuff. Zucchinis contain riboflavin, a B vitamin essential for red blood cell production and carb burning. This dish is straight from Italy with its pesto sauce, diced pancetta and ricotta cheese, but it contains less than 20 grams of carbs! If you're concerned about sodium count, skip the pancetta and opt for a fresh piece of fish or chicken instead.
WHAT YOU NEED
1/4 pound pancetta, diced
4 large zucchini, spiralized
1/4 cup Dairy-Free Pesto Sauce
1/4 teaspoon sea salt
pinch of fresh cracked pepper
1/2 cup frozen peas, thawed
1/4 cup dairy-free Ricotta Cheese (Kite Hill from Whole Foods is great, or use the homemade version from page 304 of Against All Grain Cookbook.
HOW TO MAKE IT
Heat a large skillet over medium-high heat. Add the pancetta and cook for 5 to 7 minutes, until crisp.
Add the zucchini noodles and sauté for 5 minutes, until crisp-tender. Stir in the pesto sauce and season with salt and pepper. Remove from heat and stir in the thawed peas.
Divide between serving dishes and top with crumbled cheese and a sprig of fresh basil.
NUTRITION PER SERVING: 382 calories, 21.9 g fat (4.9 g saturated), 922 mg sodium, 15.6 g carbs, 5 g fiber, 6.6 g sugars, 17.5 g protein (calculated with Kite Hill Dairy-Free Ricotta)
Recipe and photo by Against All Grain.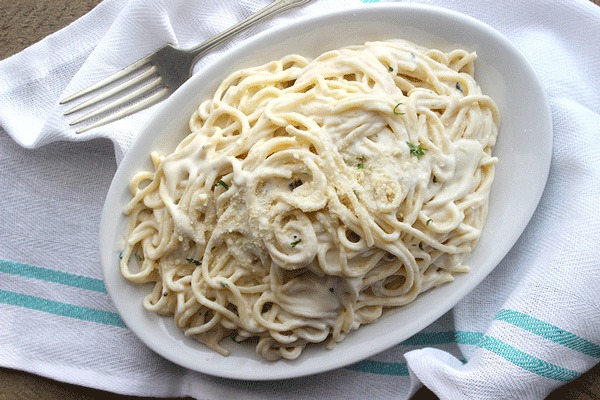 Blame the saturated fat and sodium of heavy cream, milk and cheese — alfredo sauce has a reputation for being the opposite of low-fat. But all it takes is a few substitutions, 20 minutes of your time and less than 10 ingredients, and you've made a flavorful sauce so creamy, you'll think you're sinning. For less than 450 calories, 12 grams of fat and just 241 milligrams of sodium, being bad never felt so good.
NUTRITION PER SERVING: 426 calories, 12.3 g fat (7.3 g saturated), 241 mg sodium, 60 g carbs, 7 g fiber, 4 g sugars, 18 g protein (calculated with gluten-free linguine).
Get the recipe from Simple Green Moms.
4-INGREDIENT CREAMY VODKA STEAK PASTA
Mouthwatering steak, creamy vodka sauce, butter and zoodles — with just four ingredients, you can create a restaurant-quality dish for less than 500 calories and just 22 grams of carbs, and you'll pack in 29 grams of fat-burning protein. Make sure to use grass-fed beef. According to a study published in Nutrition Journal, it contains higher levels of omega-3 fatty acids, which have been shown to reduce the risk of heart disease, than the regular variety. Bonus: this meal covers 105% of your daily vitamin C needs.
WHAT YOU NEED
2 tablespoons butter
1 pound sirloin steak
35-40 ounces DeLallo Vodka Sauce (it's about 1½ jars)
2-3 large zucchini
HOW TO MAKE IT
Heat the butter in a large heavy-duty skillet over medium low heat until lightly browned but not black (this just adds flavor to the steak).
Cut the steak into bite-sized pieces.Turn the heat up (higher heat is good!) and add the steak to the butter in the skillet.
3Let the steak sit in the pan for about a minute without stirring – this helps it get a nice sear on one side, like you see in the picture.
Flip the steak pieces and cook for another minute or two, until both sides are well-seared. This should only take 2-3 minutes – because of the size of the steak pieces, you really only need to sear the outside and the insides will continue to cook just enough once you remove from the pan.
Remove the skillet from heat, transfer the steak to a bowl, and wipe the skillet with a paper towel to remove excess grease. Add the sauce to the pan. Stir in the steak and simmer for 5-10 minutes while you prepare the zucchini noodles or pasta.
Spiralize or cut the zucchini into noodles, or cook the pasta, depending on what you're using. Top with the sauce and sprinkle with Parmesan and parsley. Serve immediately.
NUTRITION PER SERVING: 403 calories, 23.6 g fat (10.5 g saturated), 1421.8 mg sodium, 22.6 g carbs, 6.7 g fiber, 16.2 g sugars, 29 g protein (calculated with organic vodka sauce).
Recipe and photo by Pinch of Yum.
FIRE-ROASTED TOMATO PASTA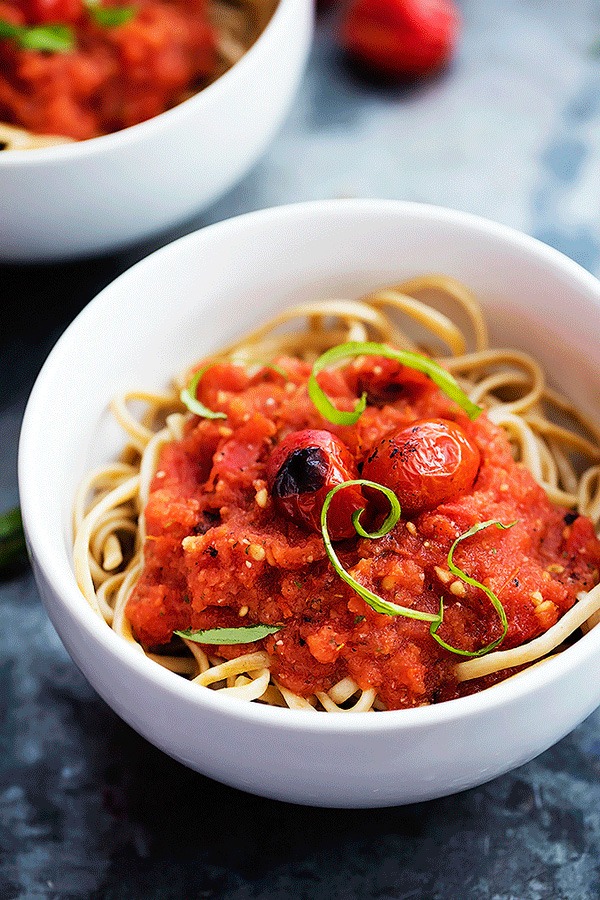 Whip up a flavorful homemade pasta sauce with less than five ingredients and serve it over whole-wheat spaghetti for a fat-burning dinner that's ready in just 30 minutes. Always opt for whole-wheat pasta varieties over traditional. Why? They contain three parts of the grain, all nutrient rich and fiber-filling, making them one of the best carbs for weight loss. If you can spare the extra change, go organic — research suggests organic tomatoes may have higher levels of disease-fighting polyphenols and immunity-boosting vitamin C.
NUTRITION PER SERVING: 567 calories, 23.1 g fat (3g saturated), 19 mg sodium, 85.6 g carbs, 9.3 g fiber, 8.7 g sugars, 8.4 g protein (calculated with 12 oz whole wheat spaghetti and divided into 4 servings)
Get the recipe from Creme de la Crumb.
AUTUMN CRUNCH PASTA SALAD
Looking for a refreshing autumn dish whose flavors are complex as the season's foliage? Try this sweet, salty and savory pasta salad packed with belly-slimming ingredients: Apples, heart-healthy pecans, antioxidant-rich cranberries, mandarin oranges and bloat-banishing spinach. A study in the journal Appetite found that snacking on an apple pre-meal can reduce overall calorie consumption by 15%. Pair this with a lean protein for a balanced meal that will leave you satisfied.
PER SERVING: 341 calories, 15.6 g fat (1.8 g saturated), 25 mg sodium, 45.6 g carbs, 7.6 g fiber, 12.5 g sugars, 7 g protein (calculated with whole wheat organic shells).
Get the recipe from Chelsea's Messy Apron.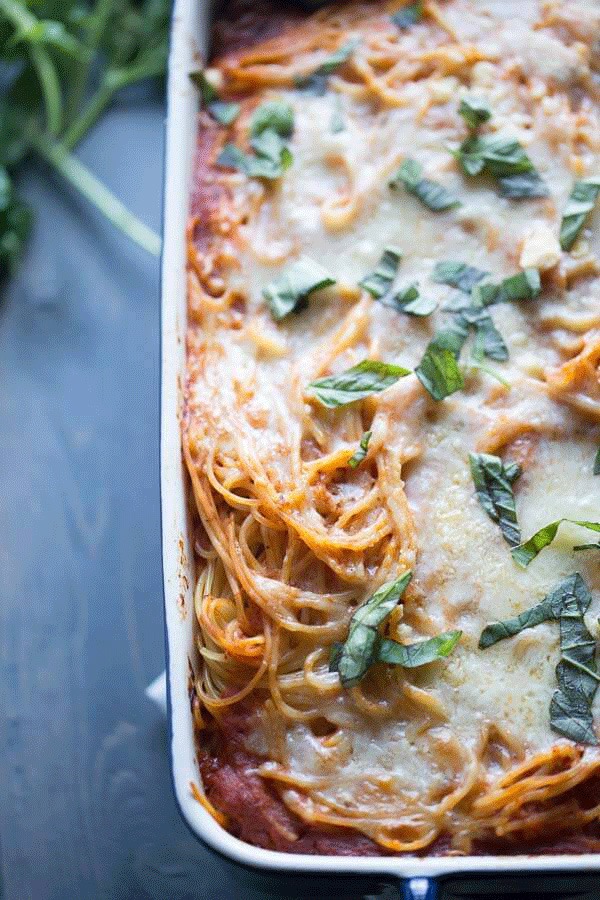 This dish puts a quirky twist on traditional lasagna. Opting for spaghetti over lasagna noodles adds more texture and leaves more room for nutrient-rich veggies and 29 grams of protein. When it comes to weight loss, fat burning, and fitness fuel, few foods are more powerful than Greek yogurt. Here, it enhances the creaminess of mozzarella and Parmesan while cutting the calorie count.
WHAT YOU NEED
24 oz jar marinara sauce
1 cup finely shredded zucchini
½ cup finely shredded carrots
1 lb ground Italian sausage, crumbled
2 cloves garlic, minced
2 eggs
2 ½ cups shredded mozzarella, divided
1 cup grated Parmesan cheese, divided
1 cup plain low-fat Greek yogurt
2 teaspoons dried oregano
½ teaspoon salt
1 lb spaghetti
basil for garnish
HOW TO MAKE IT
Prepare pasta according to package information, drain and set aside.
In a large skillet, brown Italian sausage until fully cooked and no longer pink. Set aside.
In a bowl, combine eggs, garlic, 1½ cups mozzarella cheese, ½ cup Parmesan cheese, yogurt, oregano, and salt. Stir until combined.
Combine pasta sauce with finely shredded zucchini and carrot.
Preheat oven to 350 degrees. Spray a 9×13 in baking pan with nonstick spray. Spoon ⅓ cup of pasta sauce over the bottom of the baking pan. Top sauce with ⅓ of the spaghetti, followed by half of the cheese mixture, half of the meat mixture and another ⅓ of the sauce. Repeat layers ending with the remaining pasta sauce. 6. Top lasagna with 1 cup of mozzarella and ½ cup Parmesan cheese.
Cover lasagna with foil and bake for 30 minutes. Remove foil and bake an additional 20 minutes.
NUTRITION PER SERVING: 442 calories, 15.5 g fat (8.5 g saturated), 1035 mg sodium, 46 g carbs, 2.7 g fiber, 9.3 g sugars, 29 g protein (calculated with part skim mozzarella, non-fat greek yogurt, and no sausage).
Photo and recipe from Lemons for Lulu.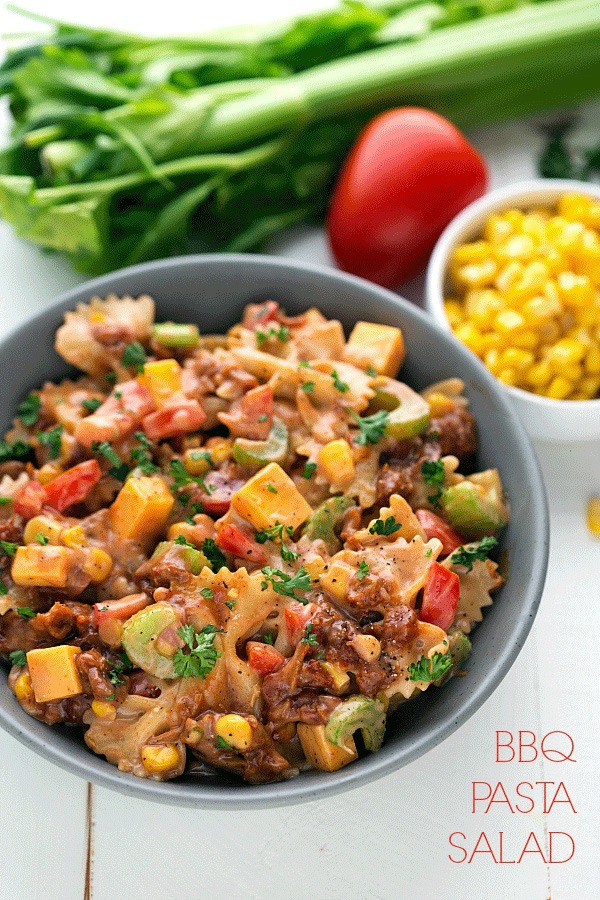 It doesn't have to be summer for you to enjoy a BBQ-inspired pasta recipe. All hail the crock pot! If you love pulled pork, this recipe removes all the work, requiring just 20 minutes. Along with the shredded meat, this flavorful recipe includes Roma tomatoes, celery, cheddar cheese, apple cider vinegar and metabolism-boosting spices like chili, garlic, and cayenne pepper.
PER SERVING: 390 calories, 14 g fat (3.5 g saturated), 449.5 mg sodium, 56 g carbs, 2.7 g fiber, 7.8 g sugars, 12 g protein (calculated with bowtie pasta, low fat mayo and organic BBQ sauce).
Get the recipe from Chelsea's Messy Apron.