The 10-Minute Exercise Ball Workout To Build Your Core Strength
Tone up your abs with six simple exercises.
Having a strong, toned core is important for health, fitness, and aesthetics. Unfortunately, many individuals neglect core training altogether because they "hate situps" or simply "don't have the time." We get it—situps may not be everyone's cup of tea, and realistically, carving out time for yet another workout can be a huge pain, even if you know it's good for you. Here's the thing: You don't need to do hours of situps and other traditional core exercises to get a toned core. Today, we're sharing this 10-minute exercise ball workout to build your core strength.
If you're not a fan of standard core training, a simple piece of workout equipment can be a total game-changer. The exercise ball is a soft, inflatable rubber ball with anywhere from a three to five-foot diameter. You may have heard them referred to as stability balls or yoga balls, as they are frequently used in various yoga forms. Additionally, some people use them when sitting at a desk instead of a chair. Exercise balls offer an incredible array of core workouts you can use to build a strong, firm core that will keep your lower back healthy and catch a few eyes when beach season rolls around.
The following is an excellent 10-minute exercise ball workout to build your core strength. For exercises that require a static hold, perform two sets of 30 seconds, with 30 seconds of rest in between. For exercises that involve repetitions, perform two sets of eight to 12 repetitions with 60 seconds of rest between sets. Perform this workout at least twice per week.
Keep reading to learn more, and next, don't miss The 5 Best Core Rotation Exercises for Shredded Abs.
1. Exercise Ball Plank
The exercise ball plank is a variation of the classic plank exercise. The ball adds instability, further activating your core beyond the traditional plank exercise activation. The exercise ball plank isometrically targets your rectus abdominus, transverse abdominus, and obliques.
To perform the exercise ball plank, begin with your forearms on the exercise ball with your elbows directly under your shoulders. Extend your legs straight behind you, plant your toes on the ground, and engage your core muscles. Keep your spine neutral and do not allow your hips to sag. Hold for the target time.
2. Exercise Ball Pass
The ball pass is similar to the V-up core exercise, but is more fun and also varied due to the use of the ball. This version is a bit easier to execute with good control and form while also providing the benefit of increased stabilization. The exercise ball pass hits your rectus abdominis and transverse abdominis.6254a4d1642c605c54bf1cab17d50f1e
To perform an exercise ball pass, begin on your back with your arms extended overhead, holding the exercise ball between your hands. Lift your legs and arms simultaneously while keeping them straight, bringing the ball toward your feet. Grab the ball with your feet, pinching it between the insides of your lower legs. Lower your arms and legs back to the ground while maintaining a slight bend in your knees. Reverse the movement and pass the ball back to your hands.
3. Russian Twist
The Russian twist is a classic rotational core exercise that you can perform using a wide range of implements. It is a bit easier to use a smaller diameter exercise ball for this variation, but larger ones work as well. The exercise ball Russian twist hits your obliques and rectus abdominis.
To perform an exercise ball Russian twist, begin seated on the ground with your knees bent and your feet flat on the floor. Place the exercise ball between your hands and hold it out at chest height. Lean back slightly and lift your feet off the ground, balancing on your glutes. Rotate your arms and torso to the right to tap the ball gently on the ground beside your right hip. Reverse the movement and rotate toward the left side, tapping the ball on the ground. Repeat on both sides for target repetitions (16 to 24 total repetitions, eight to 12 on each side).
4. Exercise Ball Knee Tucks
The exercise ball knee tuck is a challenging exercise that hits your rectus abdominis and hip flexors. A medium size ball works best for this, but any size ball is doable.
Start in a high plank position with your hands on the floor, shoulder-width apart, and your shins resting on the exercise ball. Engage your core, and slowly draw your knees toward your chest, rolling the ball toward your hands. Pause briefly, then slowly extend your legs back to the starting position. Repeat for the target repetitions.
5. Exercise Ball Superman
A well-rounded workout to build your core strength hits the muscles on both your anterior and posterior chain core muscles. The exercise ball Superman is a great posterior core exercise that hits your glutes and spinal erectors, key muscles for postural and lower back health.
To perform an exercise ball Superman, begin with your stomach on the exercise ball and your feet hip-width distance apart on the ground. Extend your arms straight in front of you with your thumbs pointing up. Alternatively, place them behind your head. Engage your posterior core by pinching your shoulder blades together, raising your arms and chest, and squeezing your glutes. The range of motion may only be six to 10 inches but focus heavily on the mind-muscle connection as you activate. Pause briefly at the top, then lower your body back down. Repeat for the target repetitions.
6. Exercise Ball Bridge and Curl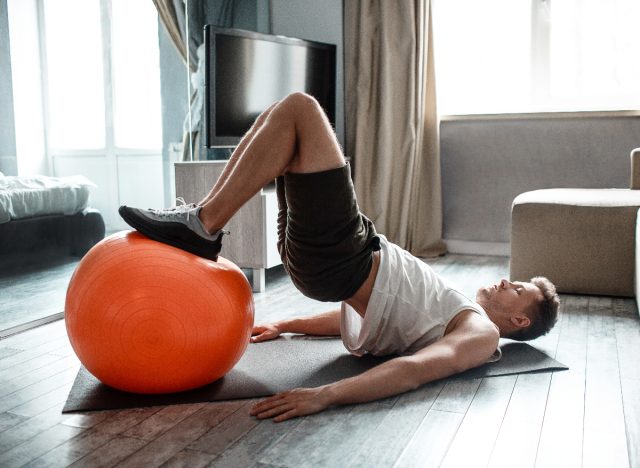 The final exercise in our 10-minute exercise ball workout to build your core strength is another posterior chain exercise for the glutes and hamstrings. The exercise ball bridge is the ball variation of the traditional glute bridge. However, it also combines a hamstring curl with the bridge due to the mechanics of the exercise overall. The main muscles targeted are your glutes and hamstrings. When performing the exercise, aim for a flat angle between your legs and your torso when you're at the top of the movement.
To perform exercise ball bridges, lie on your back with your feet flat on the exercise ball, knees bent at a 90-degree angle. Place your arms by your sides with your palms facing down for stability. Engage your core, and lift your hips toward the ceiling, raising your butt off the ground and creating a straight line from your knees to your shoulders. Once your hips are elevated, curl your feet toward your butt, slightly rolling the ball toward you. Reverse the movement with control. Do not flop. Repeat for the target repetitions.
Tyler Read
Tyler Read is a personal trainer and has been involved in health and fitness for the past 15 years.
Read more about Tyler