17 Failed Fast-Food Chains From the '80s You Have to See
There's no denying that warm, fuzzy feeling that comes from biting into the burger you've been enjoying since you were a kid. And thanks to the boom of fast-food chains in the 1970s and 1980s, we've been able to sip the same shakes and munch on the same fries for decades. (Well, not quite the same fries.) But, much like Mall Madness and acid-washed jeans, not all of the chains from your youth have survived, and there are plenty of failed fast-food restaurants that have come and gone.
The stronghold of McDonald's, Pizza Hut, Burger King, and other giants of the '80s made the competition stiff. And some fan favorites—like Burger Chef, G.D. Ritzy's, and Howard Johnson's—fell by the wayside.
We won't fault you for getting misty-eyed over these failed fast-food chain restaurants from the 1980s. And for another trip down memory lane, check out these 15 Classic American Desserts That Deserve a Comeback.
Burger Chef
At its pinnacle in the 1970s, Burger Chef had 1,200 locations and was a thriving competitor of McDonald's. And for kids, in particular, Burger Chef was the top choice: It was the first fast-food chain to include toys with its kids' meals. The Fun Meal, as they called it, launched in the early '70s and also included stories about Burger Chef lore, including the chain's mascot Jeff, the Burgerini (a magician), Count Fangburger (a vampire), Burgerilla (a gorilla), and Cackleburger (a witch).
In 1979, McDonald's launched its Happy Meal. Sadly, to the dismay of fans across the country, Burger Chef failed to keep up and was ultimately sold to the owner of Hardee's in the early '80s.
But all hope wasn't lost. "The love affair with Burger Chef remains strong," a Hardee's marketing executive said in 2007 when Hardee's brought back Burger Chef's iconic Big Shef.
Missing those iconic kids' meals? Here are 19 Old Happy Meal Toys That'll Bring You Back to Your Childhood.
Howard Johnson's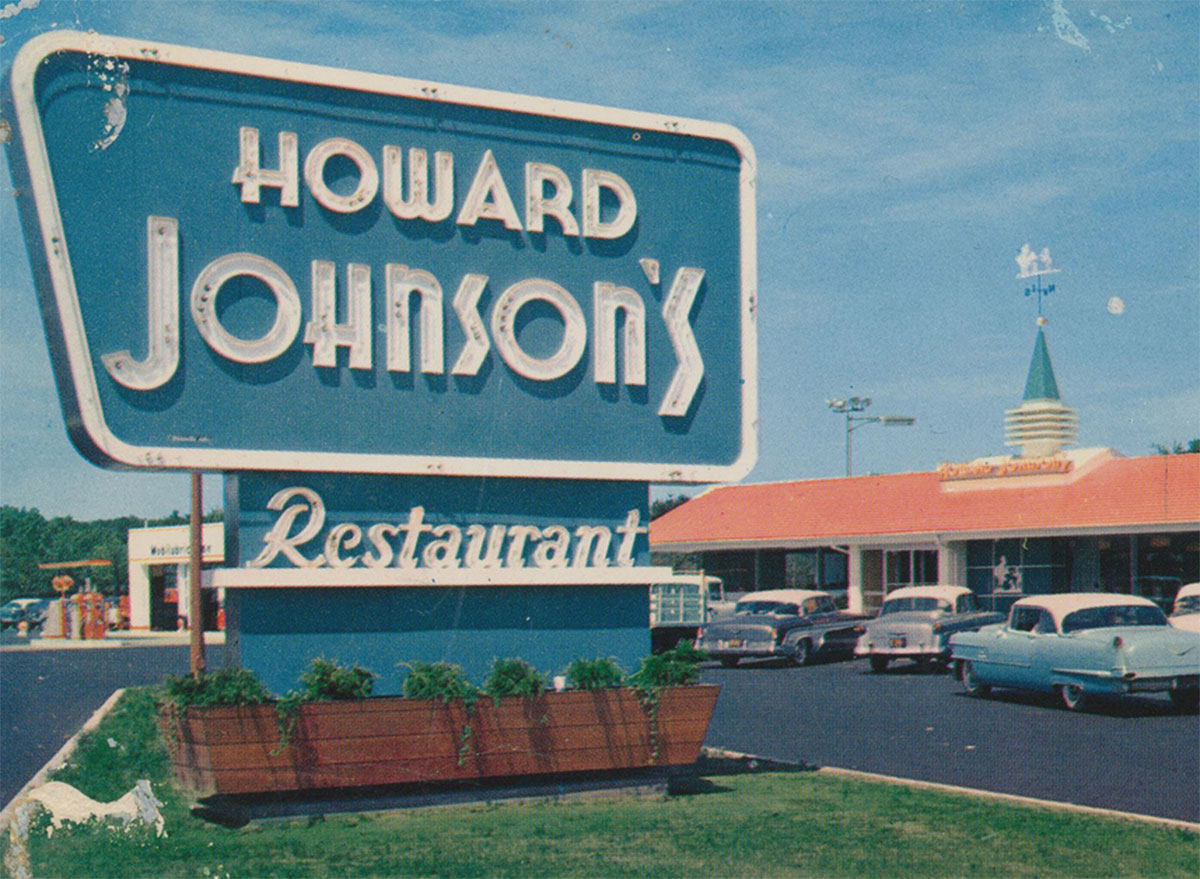 Boy, do we miss those fried clam strips, frankfurts, and that signature HoJo ice cream. Howard Johnson's might just hold the title for most sorely-missed failed restaurant chain of not just the '80s, but any era. According to Eater, during the height of its popularity in the 1960s, Howard Johnson's served "more meals outside of the home than any entity in America, except for the U.S. Army."
"Howard Johnson's was the king of the road," one former franchise owner told Eater. "You could make money anywhere." But that was only true for so long. The chain was sold for $630 million in 1979, and heading into the '80s, HoJo's became a victim of its own success. Similar restaurants that were more adaptable to changing tastes became fierce competitors. Children of the 1980s certainly remember savoring their last spoonful of HoJos ice cream. By the turn of the century, there were fewer than a dozen Howard Johnson's left standing.
Pup 'N' Taco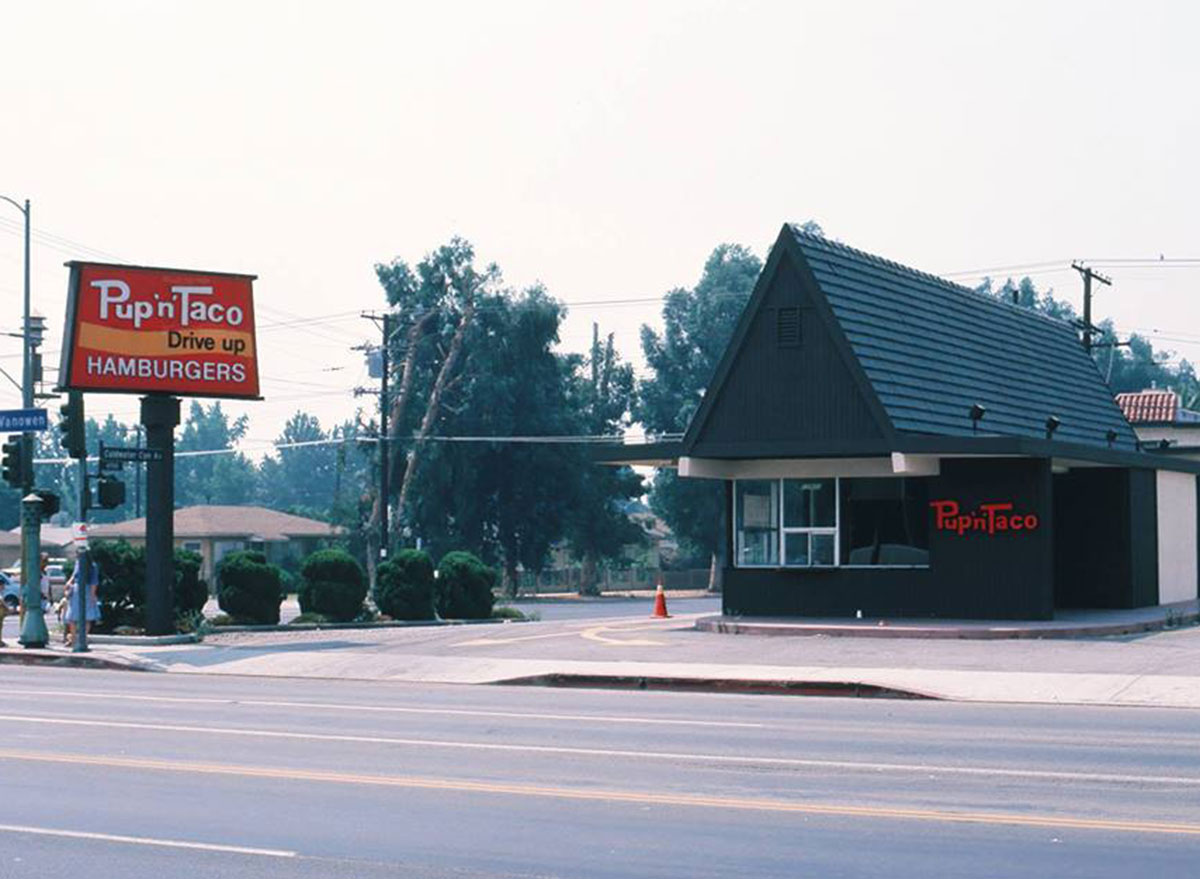 In 1956, Pup 'N' Taco began gracing roadsides in Southern California. Founder Russ Wendell's vision was, at the time, fairly unique: hot dogs served alongside a less common quick-service option for the era—tacos.
At its height in 1984, there were 102 Pup 'N' Taco locations across California and New Mexico. But that very year, 99 of those were sold to Taco Bell, all but erasing the brand.
Still, if you were lucky enough to experience Pup 'N' Taco, then you probably can't get the jingle out of your head. "Come on into Pup 'n' Taco and give your tummy a treat"—we wish we could!
And for more nostalgia, don't miss these 17 Failed Chain Restaurants From the 1990s.
G.D. Ritzy's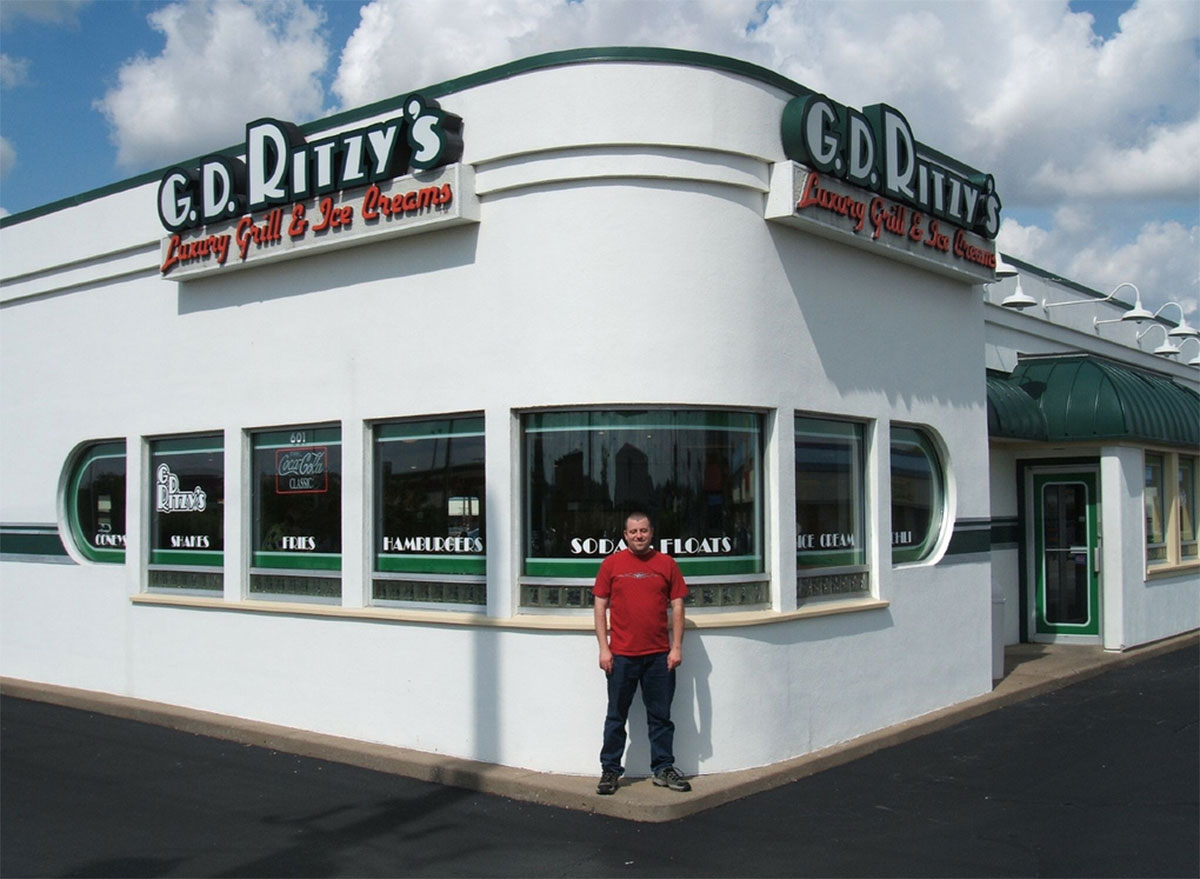 G.D. Ritzy's first opened in 1980, but when you walked into one, you were instantly transported back to the classic diner vibe of the 1950s. At its height, there were nearly 100 restaurants nationally, which was quite the coup for founder Graydon D. Webb.
The menu at G.D. Ritzy's stood out for all the ways that you could customize your burgers, drinks, and ice cream. In 1984, G.D. Ritzy's was taking in about $5.2 million just from ice cream sales.
Unfortunately, Webb could only put on the ritz for so long. "They just let Ritzy's somewhat atrophy over the next eight or 10 years, and it dwindled down to seven locations," Webb said to The Dallas Observer in 2004. Today, only a few restaurants remain. So if you want a scoop of that Chunky Dory Fudge, head to Ohio or Kentucky.
Wag's
Walgreen's has a penchant for branching out beyond your traditional pharmacy goods—some even sell beer and wine these days. But as any child of the '70s or '80s knows, Walgreen's once had full-on restaurants, too. Its chain, Wag's, had 91 restaurants, all open 24 hours, serving your standard Denny's-esque fare.
In 1988, they sold all but a few of their locations to Marriott. The sale put Walgreen's "completely out of the food business," The New York Times reported. Sadly, the opposite of the Wag's jingle is true today: It's no longer "a great day for Wag's," which is nowhere to be found in the world.
Gino's Hamburgers
Two Baltimore Colts professional football players helped to create Gino's Hamburgers back in 1957. By the 1980s, there were more than 350 Gino's locations throughout the East Coast. You could get the famous "Gino Giant," a massively stacked hamburger aptly nicknamed "a banquet on a bun," all over the place.
But '80s kids probably didn't get to experience much of it. At the beginning of the decade, Gino's discontinued that trademark burger and other fan favorites in an effort to revamp the restaurant.
Sadly, that was the beginning of the end for Gino's. In 1982, they sold the bulk of their restaurants to Marriott. More than half of the locations were eventually converted to Roy Rogers, and the rest were closed. But there is a sliver of good news: Today, two rebranded Gino's Burgers and Chicken remain in Maryland—and yes, they do serve the Gino Giant.
Bennigan's
Bennigan's got its start in Atlanta in 1976, but by the early '80s, they were everywhere. Bennigan's was fast becoming one of the most successful mid-range casual dining chains in America. Whether you were into their delicious cheesy potato skins or the iconic Irish Tower O'Rings, Bennigan's was a hit in the 1980s.
But then, things took a turn. In the early 1990s, Bennigan's was sold to Metromedia Restaurant Group. With increased competition and not enough to distinguish Bennigan's from the likes of Chili's and T.G.I. Friday's, the chain fell behind. Many weren't surprised when Metromedia filed for bankruptcy in 2008. "Bennigan's was the weakest of the major players," one analyst told the Associated Press at the time.
Bennigan's 200 nationwide locations shuttered their doors a decade ago, but the new owners now run a much smaller-scale operation out of Dallas, Texas, and the menu does include the Irish pub-inspired items you loved in the 1980s.
Lum's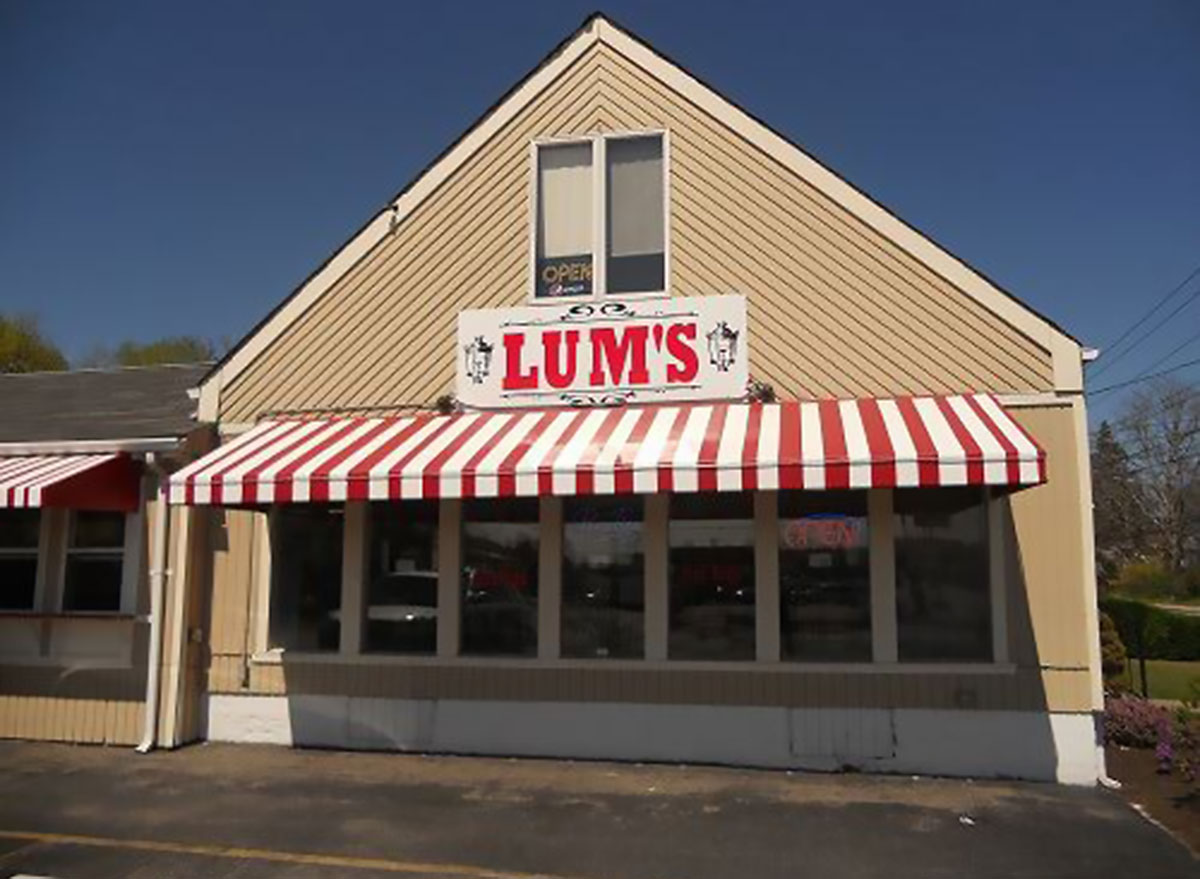 If you were around in the early '80s, you might remember Lum's for its signature beer-steamed hot dogs, and if you weren't a hot dog person, there was always the beloved Ollieburger.
The chain began in the mid-1950s in Miami but grew to be a nationwide phenomenon, with more than 400 restaurants in the 1970s at the height of its success.
In 1982, a few years after being bought by a Swiss holding company, the chain overextended in its franchising efforts and filed for bankruptcy. The original Lum's storefront closed its doors in 1983. And though there was a sole storefront holding on for dear life in Nebraska, it too closed in 2017. But if you'd kill for an Ollieburger, check out this copycat recipe to satisfy your craving.
Naugles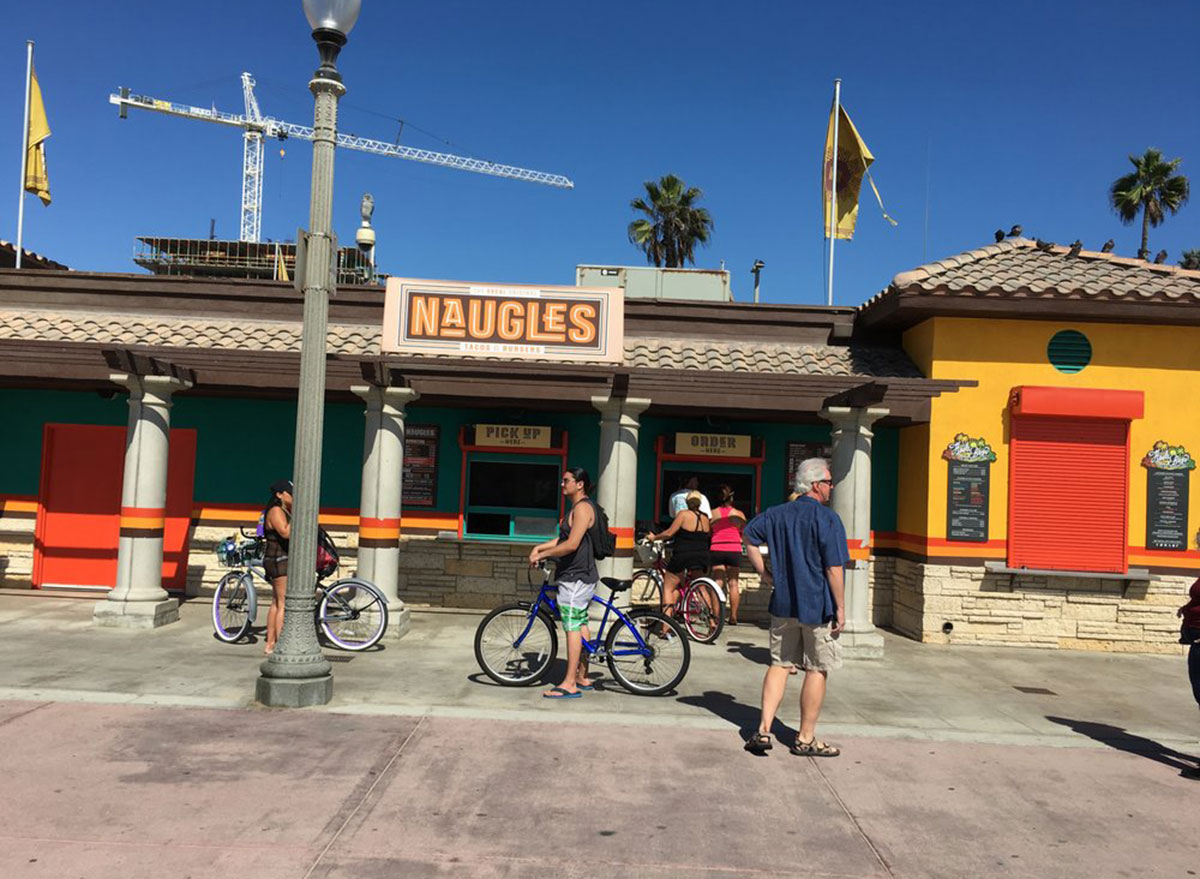 Dick Naugle had a history of helping build successful restaurant chains. Most notably, he was a founding partner of Del Taco. But in 1970, he left that company to build his own Mexican-style chain: Naugles in Southern California.
Nine years in, Naugle sold his modest three-location chain to a businessman named Harold Butler, who took the concept and ran with it. He rapidly expanded to 225 outlets by 1986. A couple of years later, things came full-circle when Butler sold to Collins Food International, who decided to merge Naugles with none other than Del Taco in 1988.
Many Naugles became Del Tacos, and eventually, Naugles disappeared. In 2006, however, food blogger Christian Ziebarth posted about Naugles, and the response was through the roof. Eventually—with a lot of enthusiasm and tons of help—Ziebarth was able to open a new Naugles location in 2017. Now that's what you call living out your childhood dream.
And for more restaurants that didn't stand the test of time, Only 1990s Kids Will Remember These Restaurants.
All-American Burger
This California burger restaurant became all the rage, thanks to an appearance in the 1982 film Fast Times at Ridgemont High. (As any '80s pop culture expert knows, it's where Brad, played by Judge Reinhold, works in the movie.)
After the movie came out, All-American Burger, which was only in the Los Angeles area, experienced a brief boom. Though there's an unrelated restaurant of the same name in New York, the last real All-American Burger on Sunset Boulevard has since closed. According to Yelp reviewers, it was going downhill. But plenty of people are still nostalgic for this restaurant chain. "I used to eat here as a kid at lunchtime with my father," one Yelper wrote. "Man, I miss this place. I wish it was still here."
Beefsteak Charlie's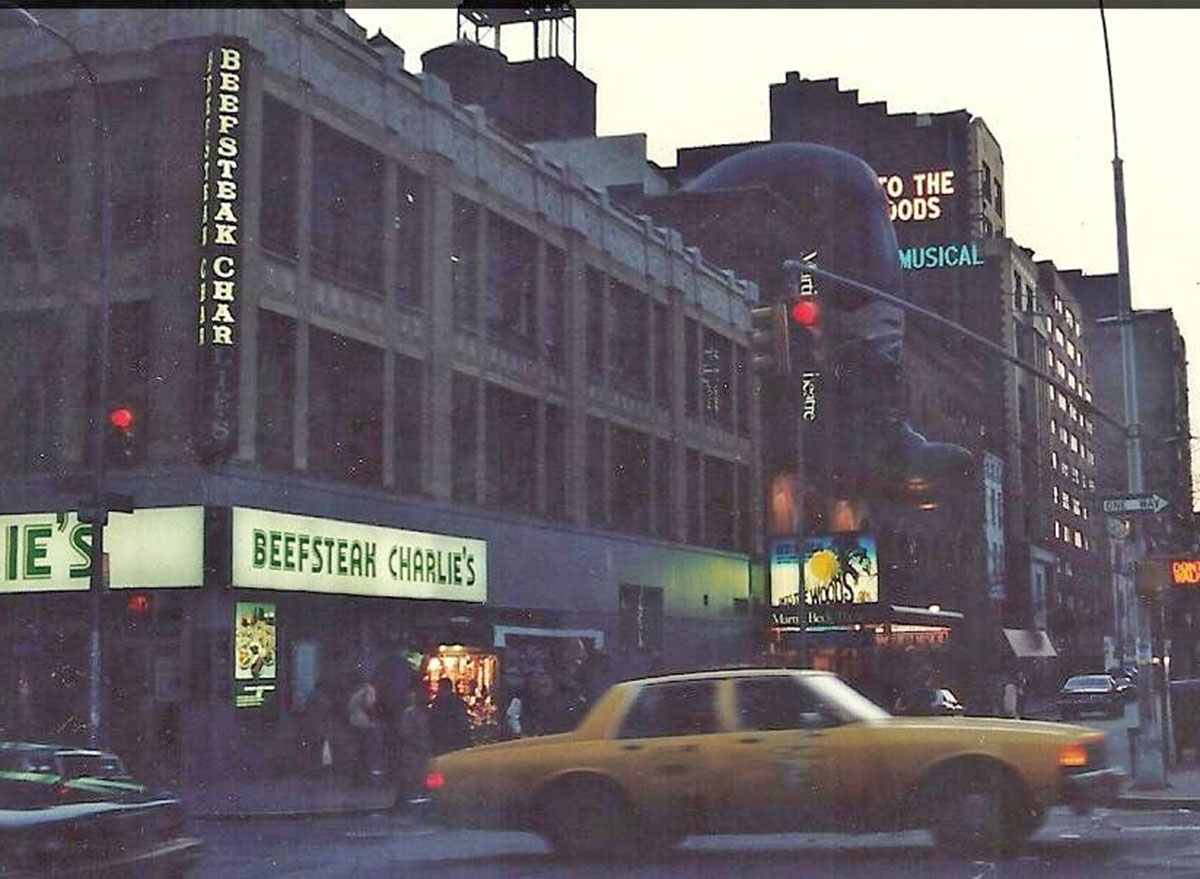 Beefsteak Charlie's has been a part of New York pop culture since it became a chain in the mid-1970s. Every TV show based in the city, from Friends to Saturday Night Live, has joked about it for the last few decades. And any New York kid in the 1980s grew up loving this chain, thanks to its unlimited portions. You could eat as much shrimp, salad, beer, and ribs as you ever could have wanted—all for under $20, according to Bklyner.6254a4d1642c605c54bf1cab17d50f1e
There were 60 locations in the New York metropolitan area by 1984. But in 1987, Beefsteak Charlie's was sold to Bombay Palace Restaurants and went out of business soon thereafter. Though Beefsteak Charlie's slogan was, "I'll feed you like there's no tomorrow," sadly, tomorrow came for this chain restaurant by the end of the 1980s.
Sambo's
The name Sambo's comes from a combination of the founders' names: Sam Battistone and Newell F. Bohnett. However, it's also a derogatory term used to refer to Black Americans, which was part of the reason this chain restaurant eventually failed.
Sambo's began in 1957 in Santa Barbara, California, reaching peak popularity in the late 1970s with more than 1,100 restaurants in 47 states. But with more customers came more scrutiny, and it wasn't long before anti-discrimination protests against Sambo's began. Eventually, they renamed several locations to No Place Like Sam's or Jolly Tiger instead.
But it was already too late. Sambo's shut down by the middle of the decade.
Chicken George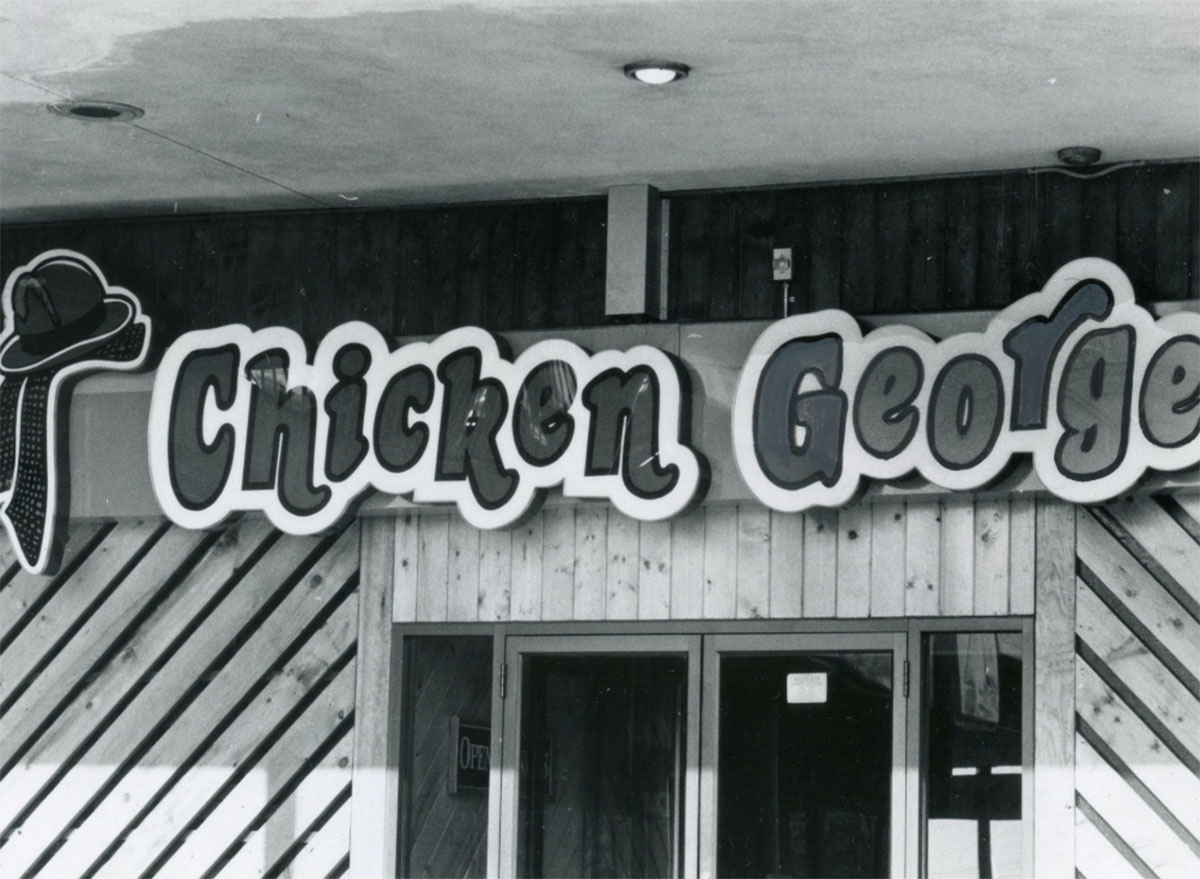 Ted N. Holmes founded Chicken George in 1979. His fried chicken joint quickly became one of the country's largest minority-owned chains. A 1980 commercial famously featured many happy customers saying Chicken George was better than their wife's or mom's chicken. And controversy makes for good business!
But according to The Washington Post, Holmes "knew little about cash flow," despite the restaurant's great marketing. That pitfall sadly brought Chicken George down in 1986, when Holmes filed for liquidation after falling into over $1.4 million in debt to private creditors and the IRS. Unfortunately, it didn't matter how good the chicken tasted—the business met its untimely end to the dismay of fans everywhere.
One food that is better left in the past? The One '80s Snack You Should Never Eat Again, Says Science.
VIP's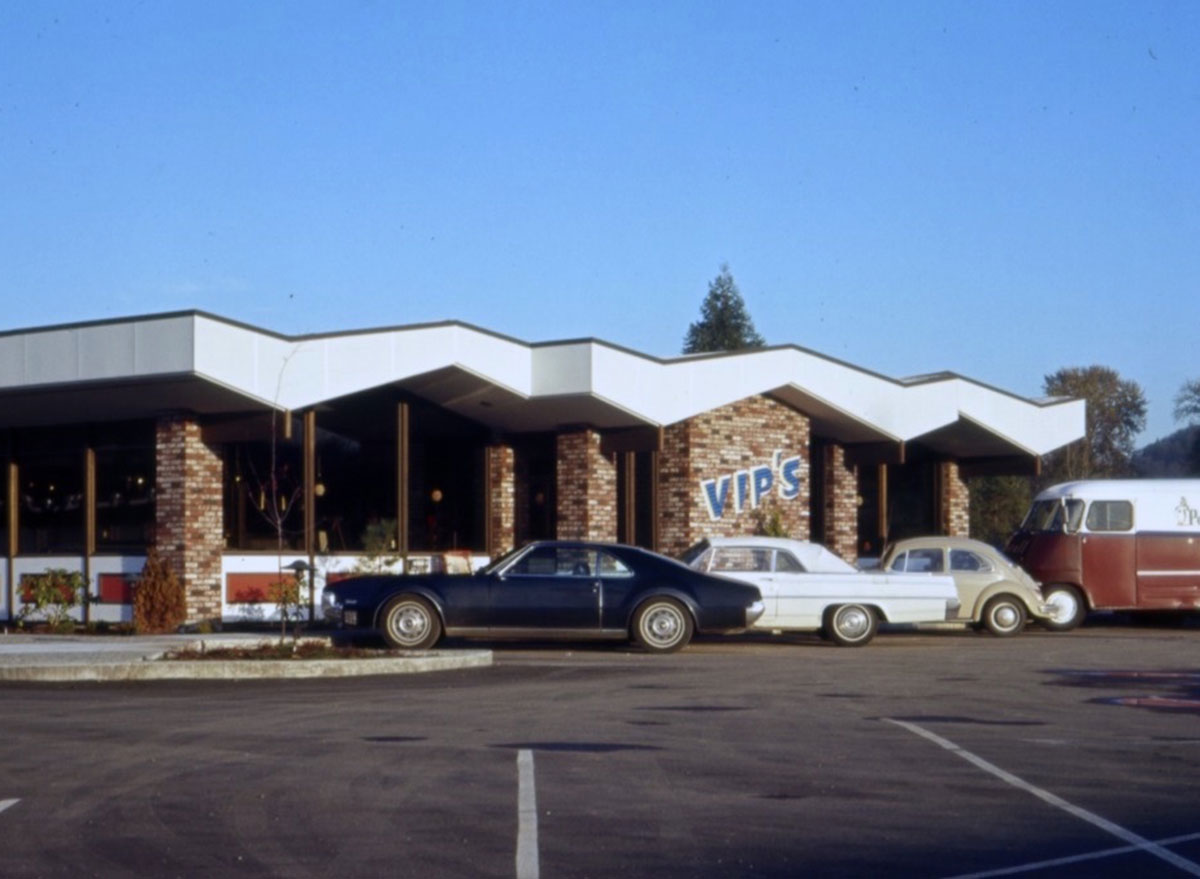 VIP's was a 24-hour West Coast casual dining chain that got its start in Oregon in 1968. By 1981, more than 50 VIP's locations had sprung up along freeways throughout Washington, California, Idaho, and Nevada, in addition to the Oregon locations.
In 1982, Denny's offered the company about $12 million to buy out 35 VIP's locations. It was the kind of offer they couldn't refuse, but it was also the beginning of the end for VIP's. The final restaurant closed in 1989. RIP VIP's.
Doggie Diner
Doggie Diner was a staple in Northern California's Bay Area in its heyday. If you're from that neck of the woods, then you probably remember the chain's seven-foot-tall, rotating dachshunds in chef's hats and bowties that stood outside each of the restaurants.
At its peak popularity, Doggie Diner had 30 locations in the Golden State, but unfortunately, competing with larger chains like McDonald's lead to this chain's unraveling. By the mid-'80s, all the Doggie Diners had shut down. Today, one of the dachshunds still rotates near the San Francisco Zoo. In 2010, it became recognized as an official city landmark. You can almost taste the burgers, hot dogs, and fries just looking at it.
And for more failed eateries, Only 1970s Kids Will Remember These Restaurants.
Pioneer Chicken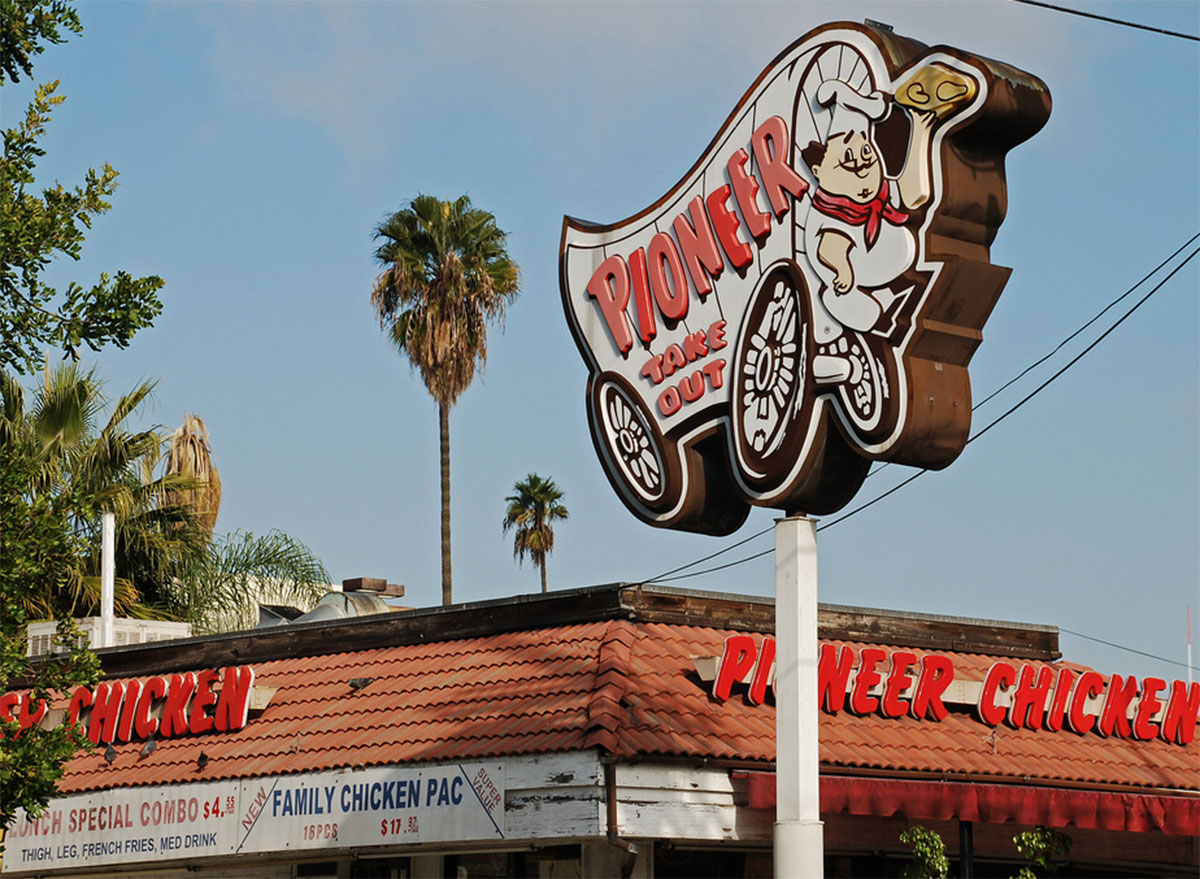 The original Pioneer Chicken opened in 1961 next to a Pioneer Market, a grocery store chain in Los Angeles. It continued to grow throughout the '60s and '70s.
But the chain got an extra boost in the 1980s, thanks to its spokesperson, O.J. Simpson. At the start of the decade, you could get the "Chicken in the Basket" special for just 59 cents.
By the time the chain filed for bankruptcy in 1988, there were 300 Pioneer Chickens all over the country. Without that bright orange chicken, Monday Night Football was never the same.
Red Barn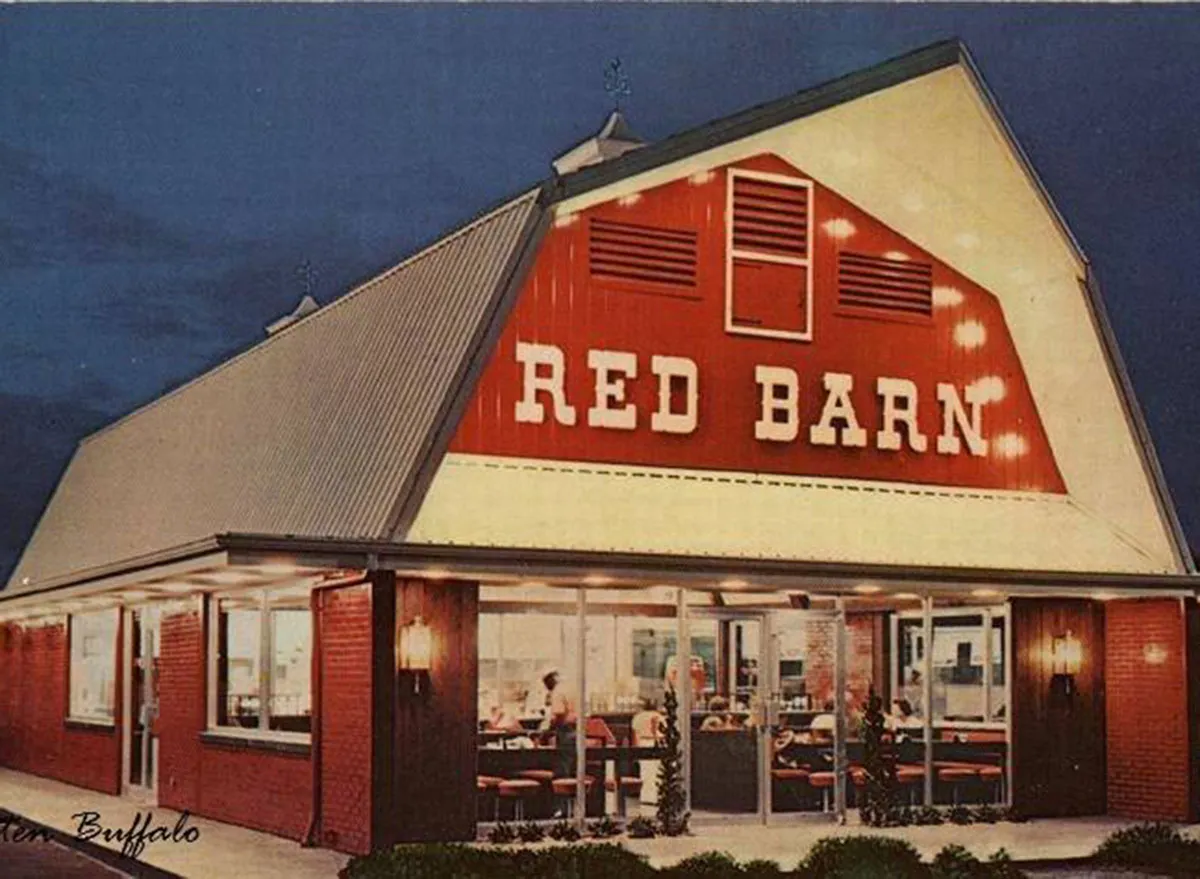 Red Barn had small-town beginnings in 1960s Ohio, but it was destined for greater things. Over the course of its first 20 years of business, the chain staked its claim on 19 states, serving its famous burgers and fried chicken in roughly 400 restaurants.
In 1979, new owners purchased the business for real estate purposes. It took 10 years for the chain to die a slow death, which meant children of the '80s did get to experience the Big Barn and the Barnbuster burgers. But in 1989, Red Barn went out not with a bang, but a whimper.
And for more 1980s trivia, Only 1980s Kids Will Remember These Restaurants.