9 Best Fast-Food Pizzas In America
Here's where to go for the most decadent cheesy slices in America.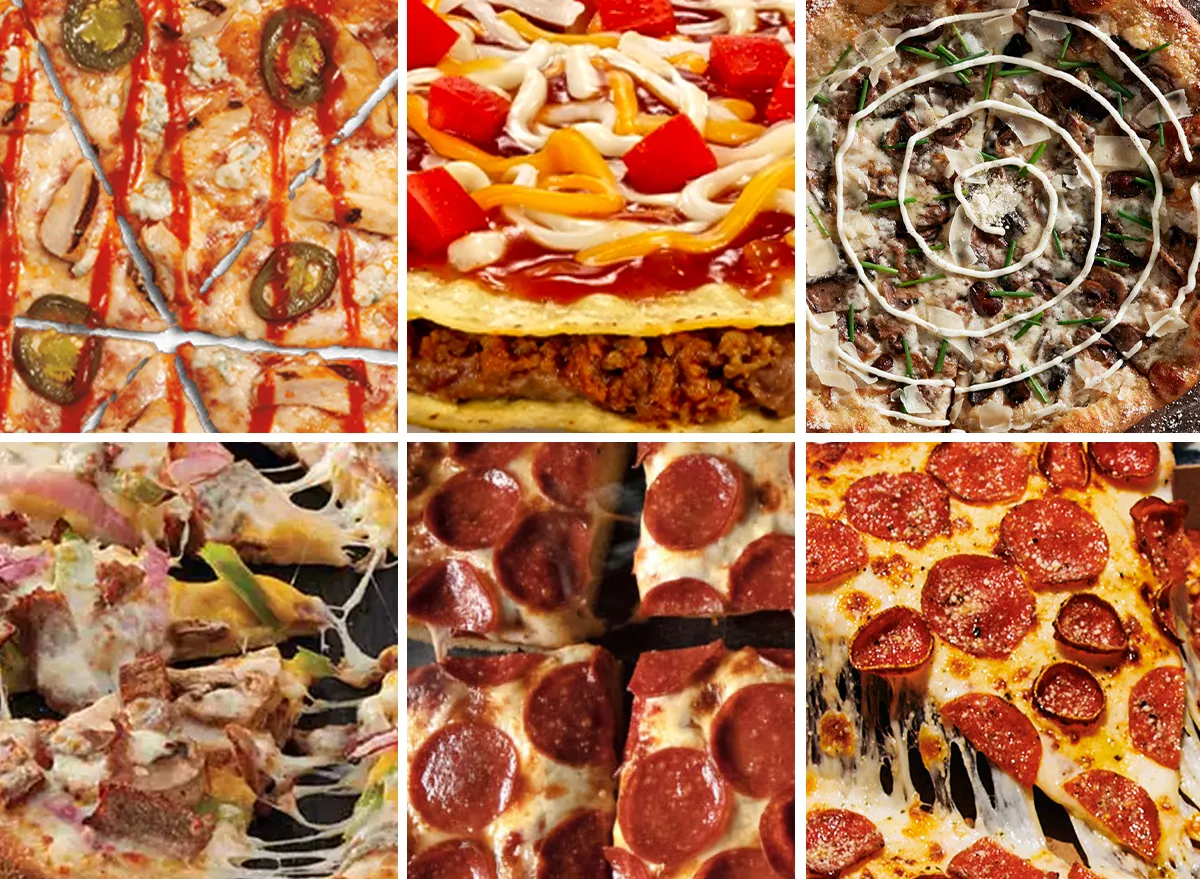 The product recommendations in this post are recommendations by the writer and/or expert(s) interviewed and do not contain affiliate links. Meaning: If you use these links to buy something, we will not earn a commission.
There's something undeniably satisfying about a slice—or several—of fast-food pizza. Even a mediocre pizza scratches that comfort food itch like few other foods can. But as comforting as a guilty pleasure pizza can be, it's even more satisfying when said pizza also happens to be unique, flavorful, and high-quality. Ya know, the kinds of pies you're likely to find at America's best pizza chains, or even just a chain that folks are flocking to in droves.
After all, if enough people rave about a slice heaped in pepperoni, or a pie piled with artisanal ingredients, then you can rest assured it'll be something special.
At the end of the day, just because a pizza is fast-food does not automatically equate to a junky guilty pleasure. Sure, it might not be the pinnacle of health food, but unique offerings that go the extra mile with creativity and ingenuity are something special regardless. Like these 9 fast-food pizzas found across the country, which exemplify the notion of a crowd-pleasing pie.
The Big New Yorker at Pizza Hut
Never underestimate the power of nostalgia. Old-school menu items have the capacity to develop a fierce fan following, even if they've been retired for years. Case in point: The Big New Yorker, a longstanding menu marvel at Pizza Hut that first made its debut in 1999 and has been tugging on nostalgic heartstrings ever since.
While the super-sized slice, so named for its replication of unabashedly floppy and greasy New York-style slices, is not a menu mainstay, it's one of the most beloved fast-food pizzas at a chain that's proven to be a winner in the pizza wars. Clocking in at a whopping 16-inch diameter, each pepperoni-packed pie has six large slices designed to be folded in half like an edible envelope of molten cheese.
Although it earned fast fandom upon its pre-millennium debut, Pizza Hut has toyed with our emotions by putting it back into the vault periodically. Most recently, it returned for a limited time in February 2023, and you never really know when it's going to go away or come back, which frankly adds to the allure of this excellent homage to a fast-food pizza pastime.
Philly Cheese Steak Pizza at Domino's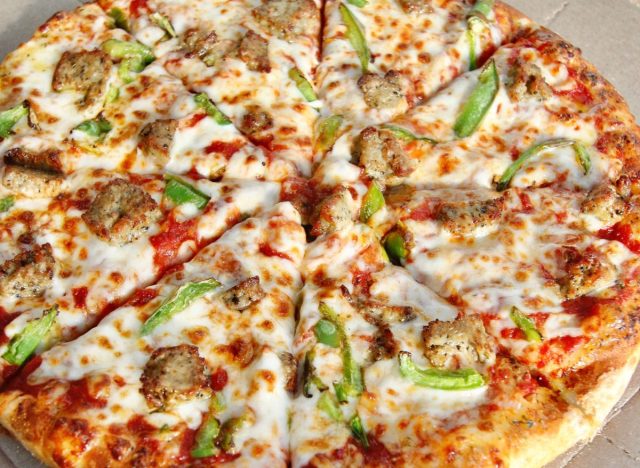 Domino's, bless its heart, seems like it's always on a roller coaster of hits and misses. One day, the mega-chain is losing customers due to price hikes, and the next its launching major discounts. The same can be said of its dynamic menu. A far cry from standard pizza options, Domino's is constantly tinkering with new ideas, flavors, and menu items—some more successful than others.
Despite its occasional misfires, though, one thing is clear: this is one of the time-tested best fast-food restaurants for pizza. After all, Domino's didn't become the largest pizza chain in the country for nothing. That's partly thanks to its surprisingly high quality and craft (e.g. they use fresh, never frozen dough), but also the exciting original flavors and toppings.
One particular favorite is the Philly Cheese Steak variety, which tends to get a lot of love on social media and Reddit. A quick scan of the drool-worthy ingredients—tender slices of steak, fresh onions, fresh green peppers, mushrooms, provolone, and American cheese—reveals why.
Epic Pepperoni Stuffed Crust Pizza at Papa Johns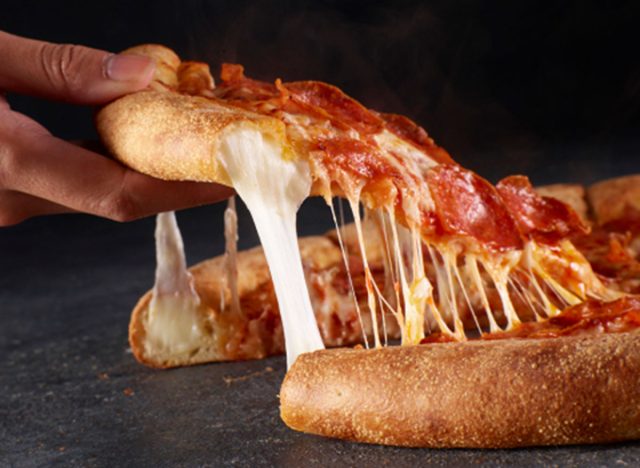 Despite the fact that it's one of the most prolific and famed pizza chains in the world, times have been tough for Papa Johns as of late. For starters, it recently reported its first sales decline in years, it's earned infamy as one of the most overpriced pizza chains, and nutritionists are pretty much appalled by its new menu innovations.
But that's okay, because we still love them! And we're definitely not alone. Aside from some recent downturns, the chain has long exhibited a penchant for interesting ingenuity in the menu department, as evidenced by a particular pepperoni wunderkind that reigns as one of the best fast-food pizzas in the country.
We're talking about none other than the Goliath known as the Epic Pepperoni Stuffed Crust Pizza. While this is certainly not winning any fans from nutritionists, this beast of a pizza is undeniably delicious and decadent. Launched last year, it's a spin-off of the original Epic Stuffed Crust Pizza, itself a marvel of doughy innovation.
For this one, though, they doubled down by adding pepperoni to the party, using the original dough and stuffing it with gooey cheese and pepperoni slices. This way, you can have pepperoni both atop and inside your pizza, and that deserves a round of applause.
Green Stripe Pizza at Blaze Pizza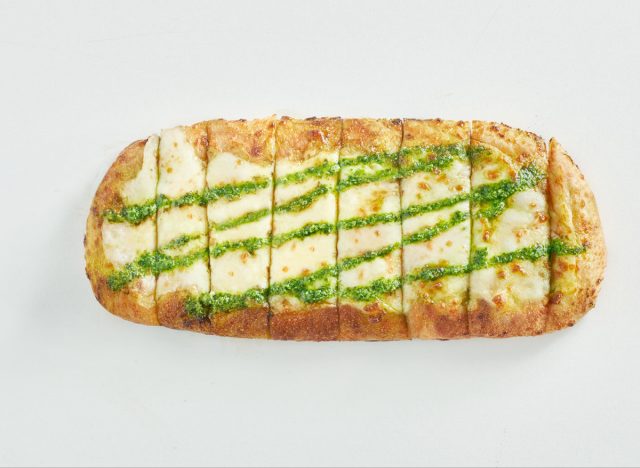 There's a lot to love about Blaze Pizza, a "fast-fired" chain whose popularity is spreading across the country. Heralded as one of the best fast-food pizza chains in the nation, the brand has a reputation for using high-quality ingredients and some of the most unique toppings on the market.
In fact, customizing the seemingly infinite topping options has become a veritable online sport for pizza-lovers, according to this hilarious Reddit thread. But while customers are free to DIY their pizza to their heart's desire, the signature pies are signature for good reason.
Chief among these saucy beauties is the Green Stripe Pizza, a particularly striking piece of culinary art that mysteriously employs the "chef's signature recipe." Apparently, Blaze has a chef, and they have an affinity for pesto. One of the prettiest pizzas on the fast-fired menu, the Green Stripe contains fresh ingredients that are as wholesome as they are delicious, making this a slice of comfort food sans guilt. Toppings include a pesto drizzle over grilled chicken, roasted red peppers, chopped garlic, mozzarella, and arugula.
Detroit-Style Deep Dish at Jet's Pizza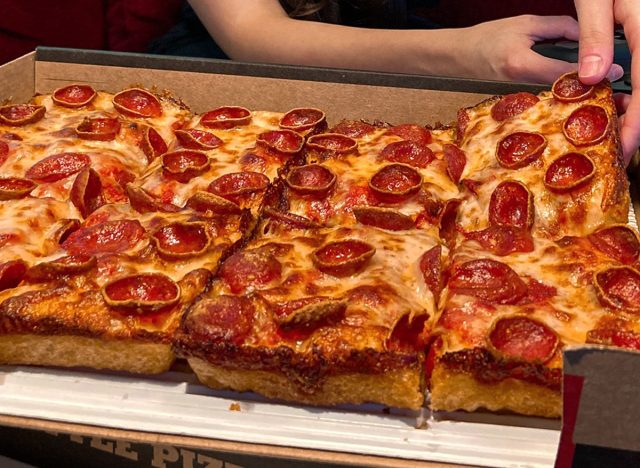 The past few years have been good to Jet's Pizza, a once-small Michigan mini-chain that now boasts locations across the country, along with some of the most loyal customers, some of the freshest dough in the game, and some of the most unique toppings. As one of the most recent pizza chain success stories, with rapid growth and expansion bringing that doughy goodness to customers near and far, it's clear that this chain is doing something right.
A forebear of the recent Detroit-style pizza boom that's swept the nation, Jet's is known for its decadent Detroit-style deep dish, employing a recipe that dates back to the late '70s. While some of the toppings can indeed be quite unique, and while the chain has some of the tastiest cheese pizza out there, it's the O.G. Detroit-style deep-dish that still wins the most hearts. That's thanks to that tried-and-true recipe using dough made by hand on the daily, topped with vine-ripened tomatoes, Italian herbs and spices, and hand-grated premium mozzarella.
Calexico Pizza at MOD Pizza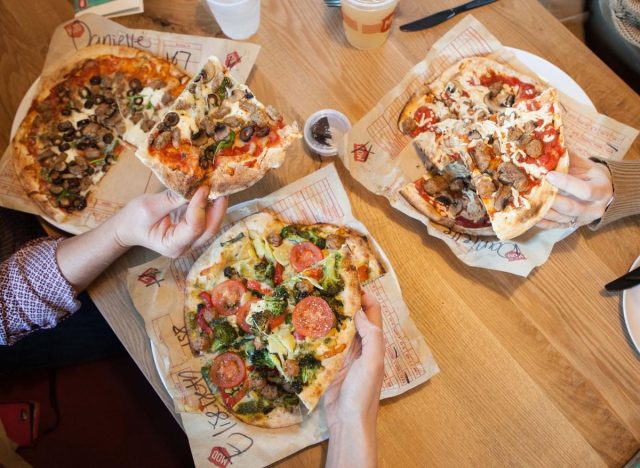 Sure, the made-from-scratch fast-casual pies being served at MOD Pizza are on the pricer side, but that's just because quality doesn't come cheap. Plus, this is a good example of a chain where the pros far outweigh the cons, like the fact that MOD has some of the healthiest fast-food pizza, some of the best chain pizza in general, and some of the most interesting toppings. Some of the said toppings comprise a little beauty called the Calexico Pizza.
Widely considered one of the best pizzas on the MOD menu, the Calexico is a distinct medley of toppings and flavors you won't find elsewhere. These include mozzarella, gorgonzola, chicken, jalapeño, hot buffalo sausage, and red sauce. The whole thing tastes like a gourmet chicken wing in pizza form.
Montague's All Meat Marvel at Round Table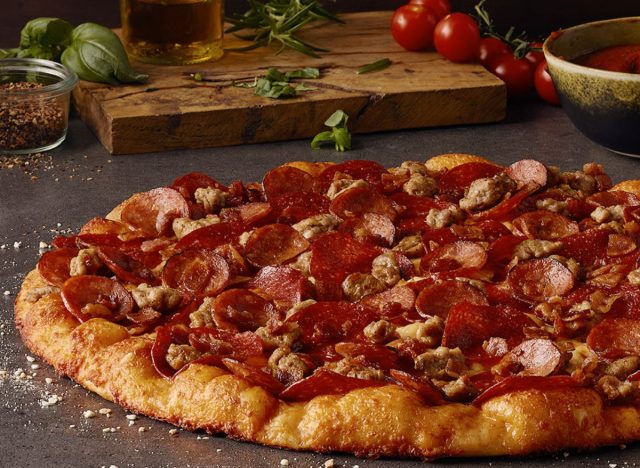 At Round Table, a comparatively underrated pizza chain, the slogan is "pizza royalty," and you'll feel like a pizza king when you tuck into one of their overloaded gourmet-style pies. The bill of fare here is pizzas that seem traditional, like a Hawaiian-style pizza and a veggie-loaded garden pie, but the toppings and recipes are anything but.6254a4d1642c605c54bf1cab17d50f1e
Of all the novelty options on the menu, Montague's All Meat Marvel is a thing of beauty. Like a meat-lovers pizza that got a glow-up, this behemoth reads like a globe-trotting combination of cultures and carnivorous cuisines, mixing Italian sausage with pepperoni, salami, and most unique of all, a Portuguese pork sausage called linguica. Strewn on a delightfully rich, doughy, and buttery crust, along with a generous splash of zesty red sauce, this is one meaty feast that needs to be tasted to be believed.
Holy Shiitake Pie at Mellow Mushroom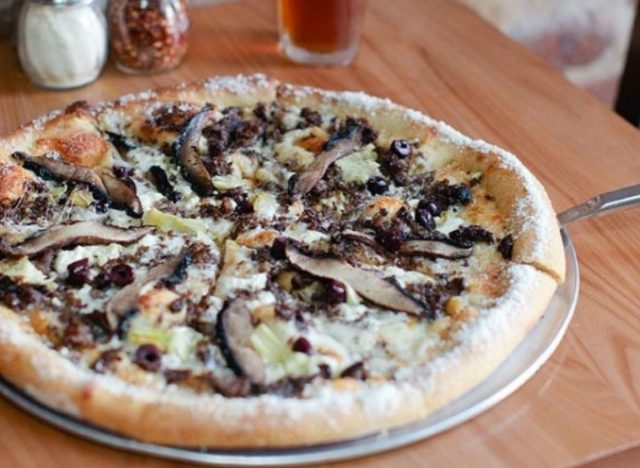 When in Rome, do as the Romans do. When at Mellow Mushroom, order the pizza overloaded with fungi. While not quite as prolific as some of the other chains on this list, Mellow Mushroom has its fair share of loyal fans, especially in the South—and for good reason. Unique toppings play a pivotal role in that fandom, as does the hand-crafted dough, stone-baked to order using the original recipes from 1974.
Among the unique specialty pies, the Holy Shiitake Pie stands out as a must-try. Especially for any mushroom lovers out there, there's really no better place to feast on fungi than Mellow Mushroom, and the chain does its namesake ingredient proud with a white pie that's big on flavor and fragrance.
It all starts with an olive oil and garlic base, followed by a smattering of shiitake, button, and portobello mushrooms (the more the merrier!). For cheese, it's mozzarella and Wisconsin-aged white cheddar, and it's all finished with a garlic aïoli swirl, black truffle oil (tres chic!), fresh chives, and shaved Parmesan.
Mexican Pizza at Taco Bell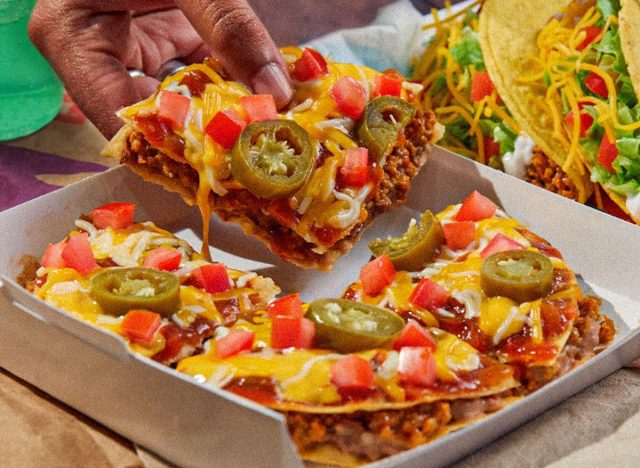 It should come as no surprise that most of the best fast-food pizzas on this list come from… pizza chains. But if ever there was a non-pizza chain that merited an honorary mention, it's the one and only Mexican Pizza at Taco Bell. The kind of menu item that exemplifies a cult following, the Mexican Pizza is kind of a big deal. For instance, this once-retired "pizza" garnered a petition when it was initially pulled from menus. It was subsequently met with a tidal wave of excitement and emotion when Taco Bell mercifully brought it back permanently.
When the menu item was initially brought back, it was so popular that storefronts sold out and couldn't keep up with demand for this highly non-traditional pizza, which is really more like a quesadilla in that it contains seasoned beef and refried beans sandwiched between two tortillas with Mexican "pizza sauce," a three-cheese blend, and tomatoes.
And boy what a time to be alive, as Taco Bell has not only brought this beauty back, but it's also tinkered with menu riffs, including limited-time specials like a Triple Crunch Mexican Pizza and a Cheesy Jalapeño Mexican Pizza. While those items were only available in select markets for select periods of time, it's clear that we're truly living in the golden age of fast-food pizza.
Matt Kirouac
Matt Kirouac is a travel and food writer and culinary school graduate, with a passion for national parks, all things Disney, and road trip restaurants.
Read more about Matt