8 Fast-Food Chains That Serve the Best Eggs
From freshly cracked whole eggs, to breakfast sandwiches that lead the pack.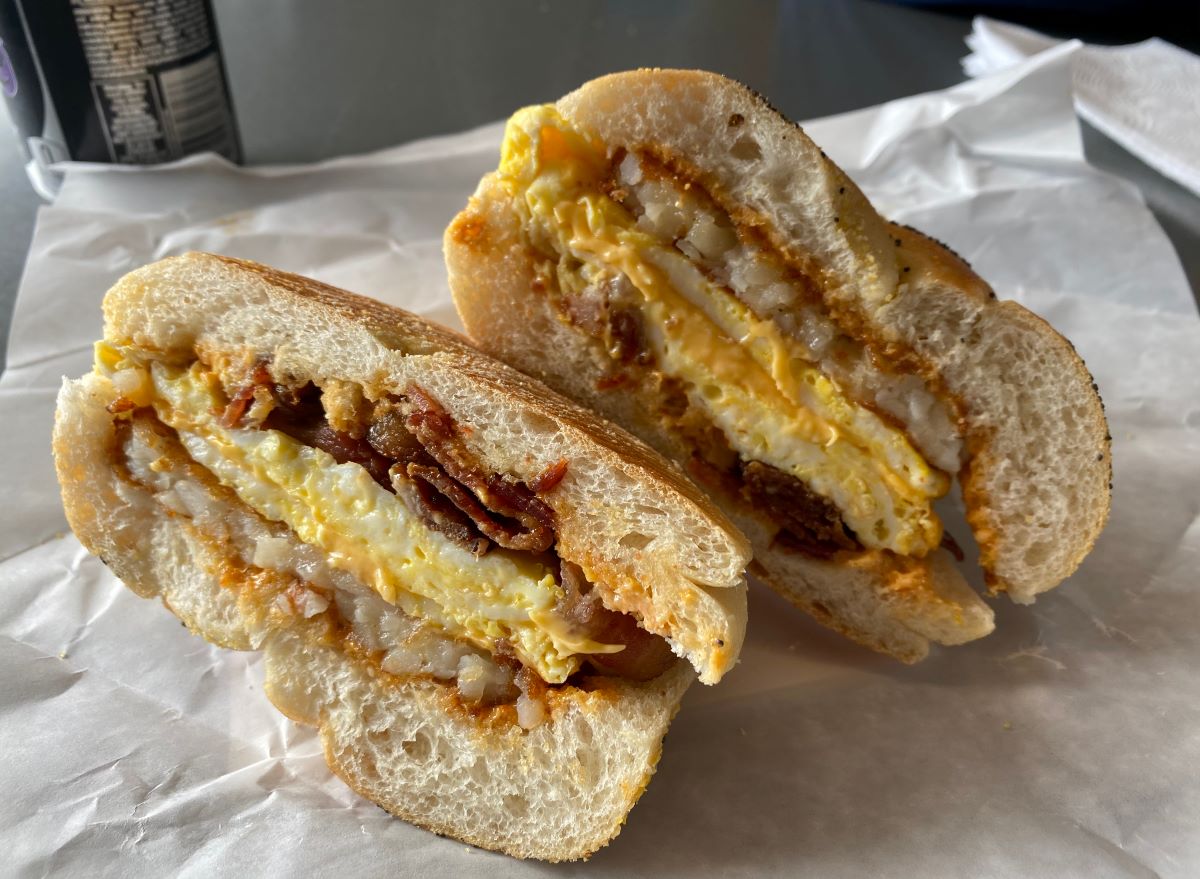 Eggs are the best! Whether you like yours scrambled or in an omelet filled with tasty add-ons like ham, cheese, or spinach, eggs not only taste great but are also packed with protein, which can help fuel you right into lunchtime. What's not to love?
Now, if you don't have time to make them at home, there are plenty of breakfast options out there, including fast-food chains that serve eggs in many iterations: breakfast platters, breakfast bowls, or breakfast sandwiches and burritos. Some not only serve freshly-cracked eggs cooked from scratch but also boast premium ingredients that go with them, like gruyere cheese, feta, super crispy bacon, and yummy hash browns.
From a popular taco chain that makes Crunchwraps with eggs to a famous spot incorporating its incredibly famous chicken nuggets into breakfast, here are the fast-food chains that serve the best eggs.
If you thought that Chick-fil-A only excels at making tasty chicken, think again. The famous chain is just as popular for its breakfast options. There's the Hash Brown Scramble Bowl, which is prepared with crispy hash browns, sliced chicken nuggets (yes, you can get Chick-Fil-A's famous chicken in this breakfast bowl), eggs, and jack and cheddar cheeses. If bowls aren't your thing, then there's also the Hash Brown Scramble Burrito which is a great substitute for an egg sandwich if you want something a bit lighter.
Besides being oh-so-tasty, the chain's egg dishes are also highly customizable. For instance, if you're not in the mood to have chicken in your egg bowl, you can always replace it with bacon, a grilled filet, or sausage. They also have a grilled chicken and egg sandwich on an English muffin if you need a quick bite.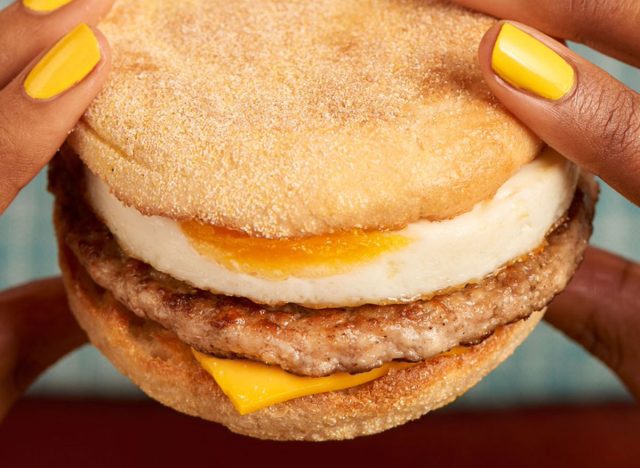 McDonald's is considered the king of fast-food breakfasts, and for good reason—they are convenient and delicious. Beyond the chain's famous egg sandwiches (Egg McMuffin, Bacon, Egg, & Cheese Biscuit, Sausage Biscuit with Egg—we could keep going), the restaurant also serves egg platters with mouth-watering breakfast items like warm pancakes, hearty sausage, and flaky biscuits.
Breakfast burritos are also prepared with fresh, fluffy scrambled eggs and cheese if you'd like something a bit more unexpected. No matter what your taste tends to skew to, make sure you come to the Golden Arches hungry—you'll want to try everything.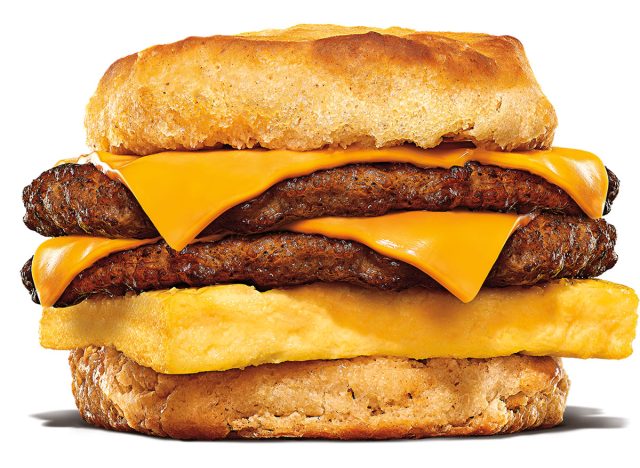 Burger King may have the word "burger" in its name, but it also has an impressive menu of egg dish options. For starters, they have incredible egg sandwiches that incorporate lip-smackingly good ingredients such as pillowy-soft croissants and buttery biscuits. A few standouts include the Ham, Egg, & Cheese Croissan'wich, which can be ordered with hash browns and a drink on the side, and the Fully Loaded Biscuit, which comes stuffed with bacon, ham, sausage, eggs, and cheese.6254a4d1642c605c54bf1cab17d50f1e
For those with a hearty appetite, there's the Egg-Normous Breakfast Burrito, that's packed with yummy scrambled eggs, sausage, thick-cut bacon, hash browns, shredded cheddar cheese, and plenty of spicy sauce, all enveloped in a soft flour tortilla. Our mouths are watering just thinking about it.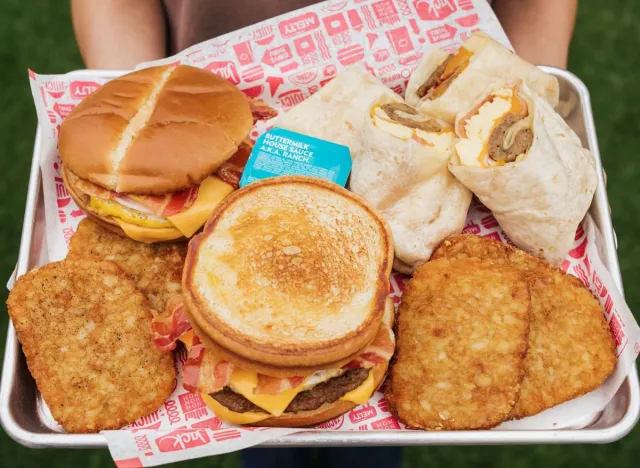 Jack in the Box touts an all-day breakfast menu packed with so many great egg options. There's the Breakfast Jack, a hearty sandwich filled with grilled ham, a freshly cracked egg, and melted American cheese, all stacked on a melt-in-your-mouth bakery bun. There's also the Bacon Cheddar Biscuit Breakfast Sandwich, which is made with freshly cracked eggs and boasts a delicious baked cheddar bun.
If you're looking to really load up or want to share a meal with a friend, the Jumbo Breakfast Platter is the way to go. This massive dish features fluffy scrambled eggs, crispy hash browns, eight (yes, eight) mini pancakes, grilled sausage, and a few slices of hickory smoked bacon. You can also customize it by adding ham, shredded cheese, or jalapeno slices.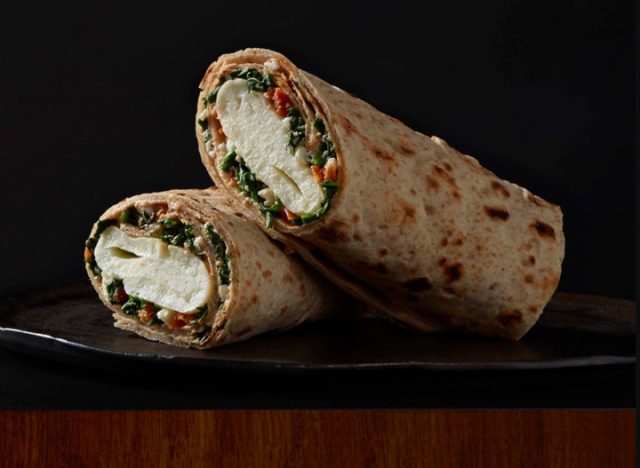 Be sure to try out one of Starbucks' egg dishes the next time you hit up the chain for your favorite iced coffee. Known for using high-quality ingredients, the famous brand has a breakfast menu filled with different egg dishes that will satisfy you all the way to lunch. For example, there are plenty of high-protein egg wrap options packed with scrambled eggs, sausage, and a touch of cheese. This option alone has 28 grams of protein in it. Then there's the vegetarian egg wraps, like the spinach, egg, and feta option, that's teeming with flavor.
You also can't forget to give the chain's egg bites a try—they're really something else. Boasting 19 grams of protein each, these handheld snacks feature delicious ingredients like bacon, gruyere, mushrooms, and roasted red peppers.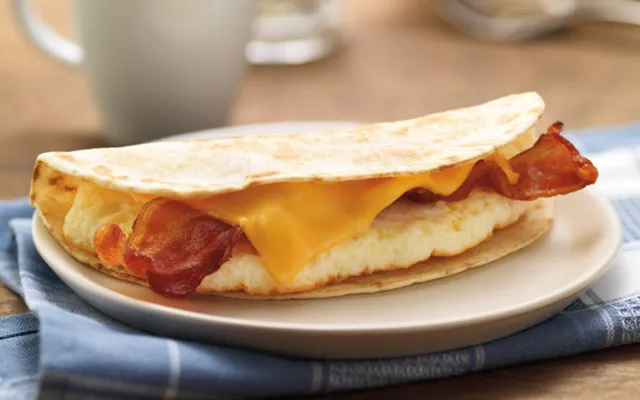 Leave it to Dunkin' to offer a whole range of delicious breakfast egg sandwiches that always hit the spot. Whether you like your sandwich made with slices of sourdough bread, an English muffin, or a wrap, you name it; Dunkin' has it. Some menu highlights include the Wake-Up Wrap, which is made-to-order and filled with egg, cheese, and your choice of protein (choose from bacon, sausage, or turkey sausage). There's also the Bacon, Egg, and Cheese on a Bagel, which combines tasty cherrywood smoked bacon with eggs and cheese for a delectable dish.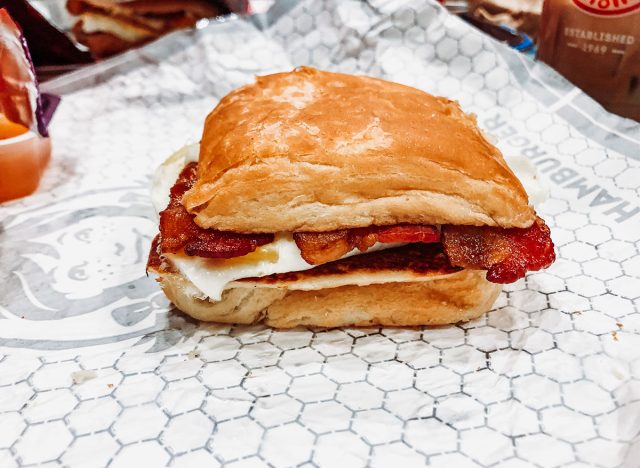 Wendy's, the famous fast-food chain founded over 50 years ago, uses Grade A eggs that are freshly cracked for each one of its egg dishes—no wonder they're so good. The fun franchise has tons of burgers and sides on its menu, but its egg offerings are ones not to miss. For instance, they carry a range of breakfast sandwiches with flavorful ingredients like Applewood smoked bacon, maple butter, grilled chicken, creamy Swiss cheese, and sausage.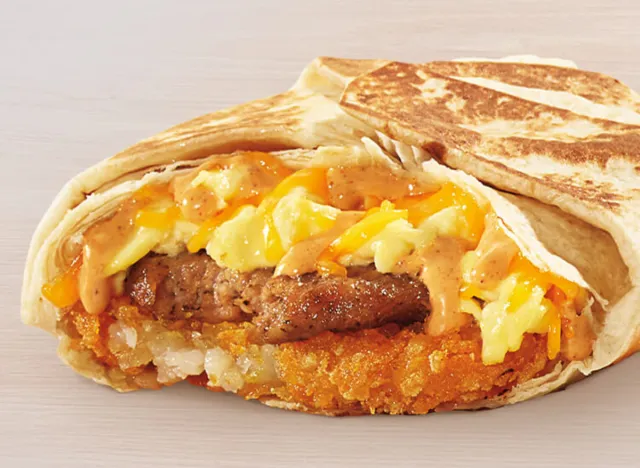 Yes, Taco Bell has pretty good egg dishes, too. Known as the place to pick up some fast-food tacos, Taco Bell makes wonderfully innovative egg dishes that will have you coming back for more. For example, there's the Cheesy Toasted Breakfast Burrito with Bacon, a soft flour tortilla rolled up with bacon, fluffy scrambled eggs, and tons of cheese. You can also add exciting upgrades to it, such as creamy jalapeno sauce, guacamole, nacho cheese, and potatoes.
For those who are big Crunchwrap fans, the chain also offers a special breakfast version of the popular menu item: The Breakfast Crunchwrap California is a delectable combination of eggs, crispy bacon, fresh tomatoes, creamy guacamole, shredded cheese, hash browns all wrapped up in a soft flour tortilla.