9 Fast-Food Restaurants With the Most Unique Breakfast Sandwiches
Because sausage and egg is just so passé.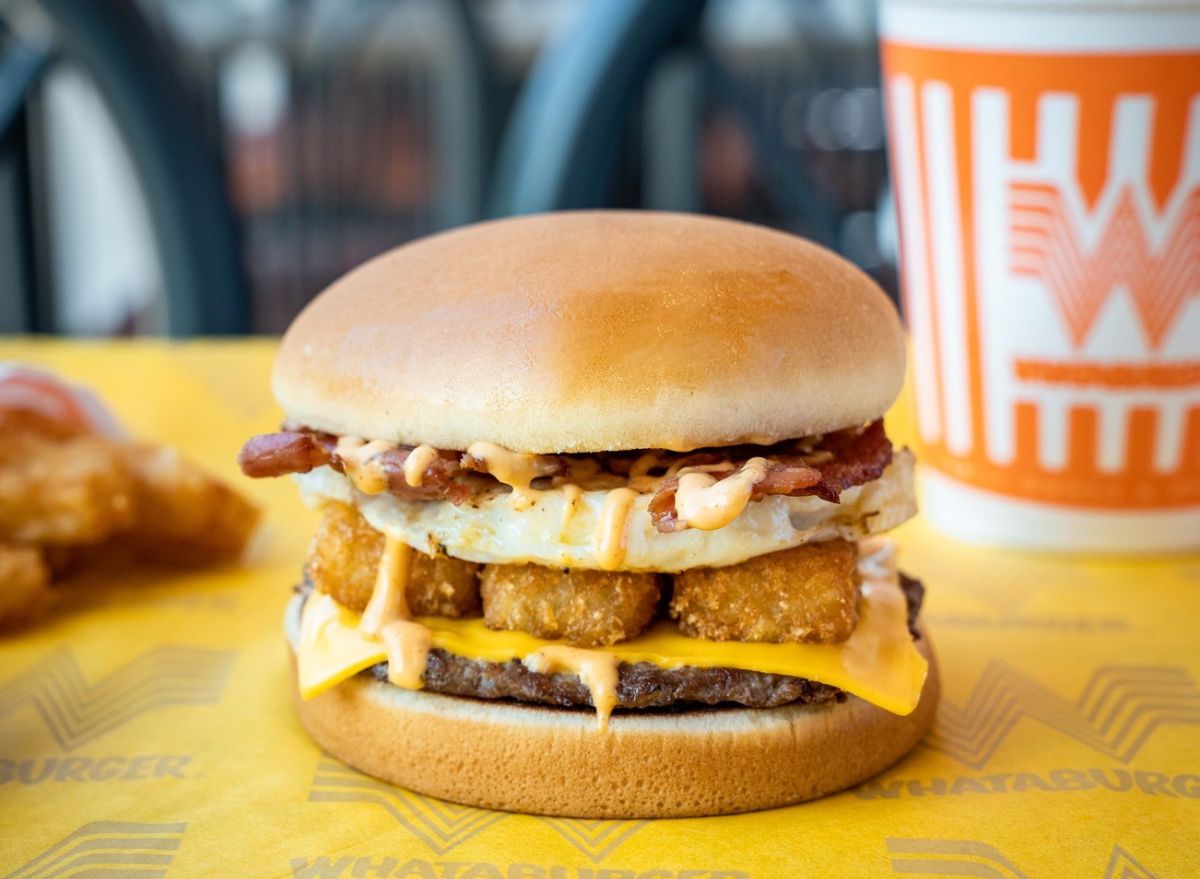 Fast-food chains might get the most hype for burgers, tacos, and, in recent years, chicken sandwiches, but it's that fast-food breakfast that gets many people in the door. McDonald's does 25% of its total sales via breakfast, according to The Motley Fool, making this daypart, as they say in the restaurant business, hugely profitable. Breakfast is big business in the fast-food world, and customers have a lot of choices so chains have to find a way to innovate and offer unique options, especially during breakfast.
In trying to attract even more new customers, and to keep existing clientele coming back, morning after morning, fast-food chains have taken their breakfast menus up a level or two in recent years. McDonald's rolled out McCafé in 2009 and started testing Krispy Kreme donuts at restaurants in 2022, Subway added breakfast options in 2010, and Wendy's relaunched its breakfast menu and saw huge gains from its premium French Toast Sticks. Still, other chains revamped their breakfast options to include unique sandwiches. At Chick-fil-A and Wendy's, you can get chicken for breakfast. Some spots even have a breakfast burger or two.
See what other wild breakfast sandwich fast-food chains are dishing out these days, just watch the calories and sodium!
White Castle – French Toast Sliders and More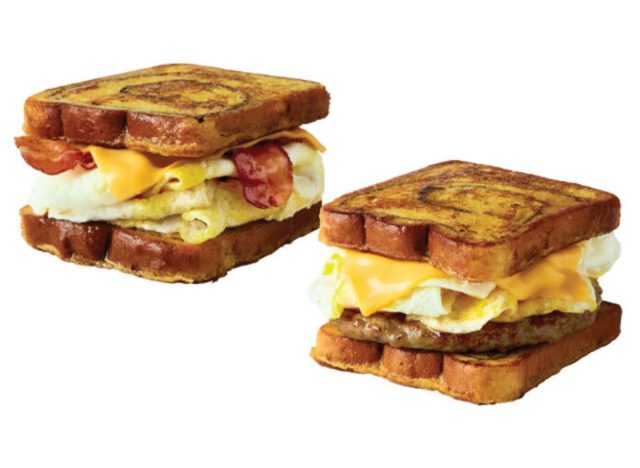 White Castle sure packs a lot of flavor in these little breakfast sandwiches that are newly being tested in the Cincinnati area. Between those two diminutive slices of cinnamon swirl French toast, you'll find a freshly-cooked egg, a slice of cheese, and bacon or a sausage patty. Those ingredients are pretty standard, to be sure, but French toast as the bun is worth trying.
Not in Ohio? No worries, there's another White Castle breakfast sandwich featured later and the chain also offers Belgian Waffle Sliders, with chicken if you so desire.
Wendy's – Maple Bacon Chicken Croissant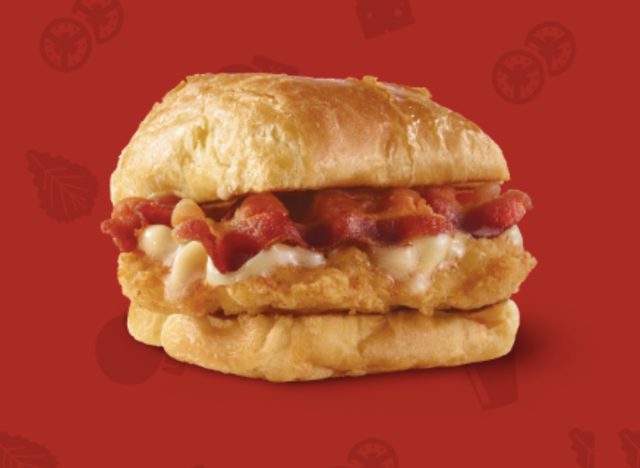 Sweet, tangy, buttery, all-around delicious, but sadly quite unhealthy, the Maple Bacon Chicken Croissant from Wendy's is best enjoyed as an occasional treat. It consists of a breaded and fried chicken fillet, slices of applewood smoked bacon and a slather of maple honey butter on a croissant. It also packs 570 calories, 26 grams of fat, 1,010 milligrams of sodium, and 13 grams of sugar into you.6254a4d1642c605c54bf1cab17d50f1e
Burger King – Fully Loaded Buttermilk Biscuit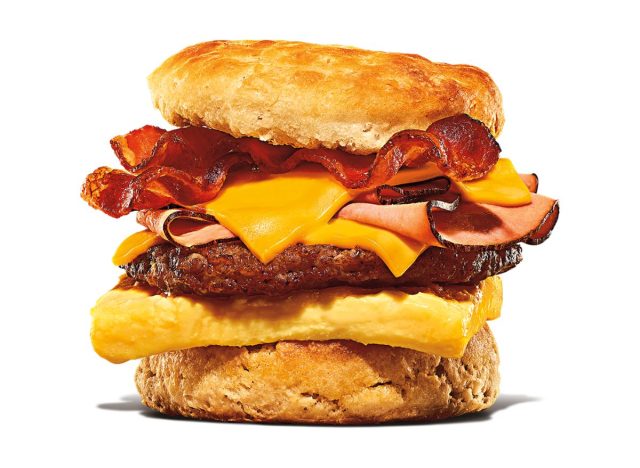 This behemoth breakfast sandwich is fully loaded with a sausage patty, a serving of ham, slices of bacon, two pieces of American cheese, an egg patty, and the eponymous buttermilk biscuit itself. You will be full until lunch, and maybe beyond because it has a hefty 648 calories as well.
Chick-fil-A – Chicken, Egg, and Cheese Biscuit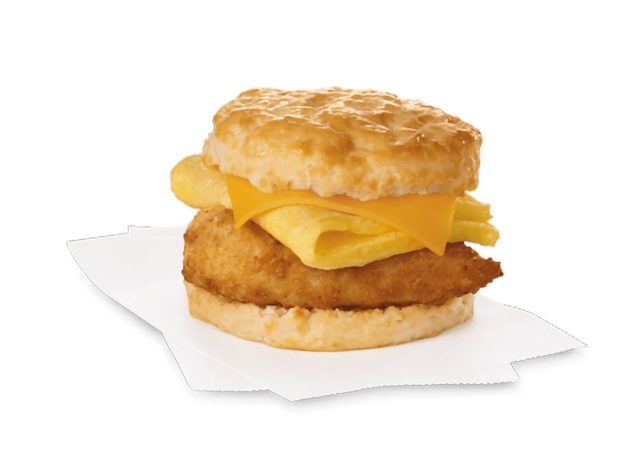 Coming from chicken-centric Chick-fil-A, a chicken breakfast sandwich doesn't seem that unusual, but if you look around, not many chains have chicken sandwiches on the morning menu. This chicken sandwich, the Chicken, Egg, and Cheese Biscuit, is exactly what its name implies: it's the chain's signature fried chicken, egg, and cheese served on a biscuit. And it's a beloved morning meal.
Whataburger – Breakfast Burger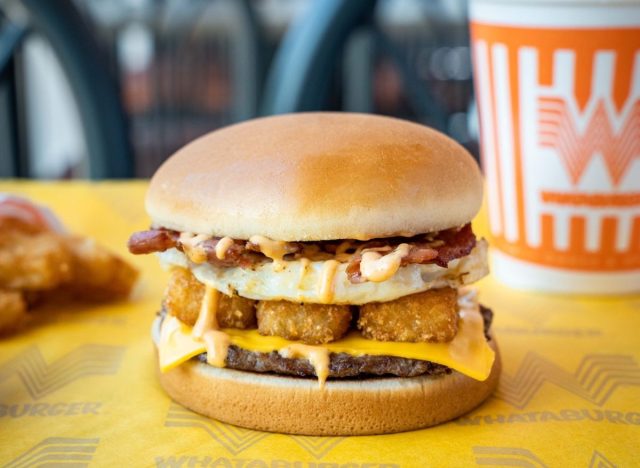 Whataburger went full-on Texas-sized with this breakfast sandwich. As the name suggests, the Breakfast Burger is indeed a burger, as in a beef patty served on a bun. But also sandwiched between those halves of the bun are an egg, a slice of American cheese, rashers of bacon, and hash brown sticks. The sandwich alone amounts to 670 calories, and if you make it a meal with a soda and additional hash brown sticks, you're looking at 865 calories.
White Castle – Original Slider with Egg & Cheese
Whataburger's Breakfast Burger may be bigger than White Castle's Original Slider with Egg & Cheese, but small has always been the way of things with White Castle, which is why you simply order several sliders at a time. This is indeed that classic little burger, steam cooked on a bed of onions, with an egg and cheese added. Your choice of said cheese is American, smoked cheddar, or jalapeño. Fun fact: White Castle uses a whole cracked egg for all its breakfast items.
McDonald's – Sausage, Egg & Cheese McGriddle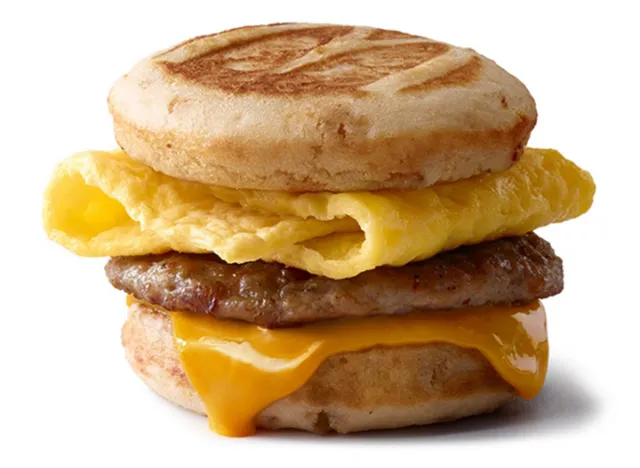 McDonald's is such a venerable behemoth in the fast-food industry it can be easy to write the chain off in terms of menu innovation, but when the chain added the McGriddle 20 years ago this year, it was a pretty unique addition. Today, we take it for granted that we can get a breakfast sandwich that's essentially served between a pair of pancakes, but try to imagine a world without the McGriddle and melancholy will settle in.
Carl's Jr. – Monster Biscuit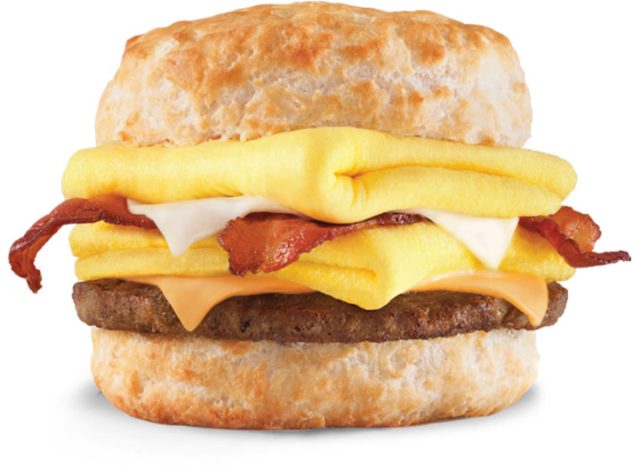 Carl's Jr. is not playing around with language when they call this morning menu item a monster. The Monster Biscuit clocks in at 850 calories, making it by far the most calorie-heavy item featured here today. It "achieves" that dubious distinction thanks to bacon, a sausage patty, two egg patties, Swiss and American cheese, and a buttermilk biscuit that holds it all together.
Wendy's Breakfast Baconator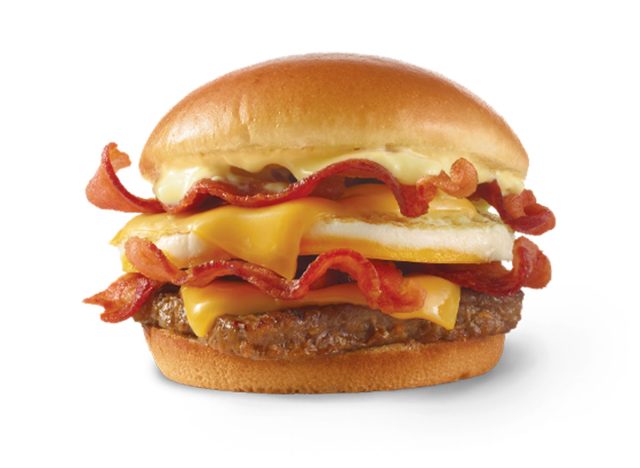 If chicken isn't your game at breakfast, Wendy's has another big, filling sandwich, that comes close to the Carl's Jr. Monster Biscuit with 710 calories. The Breakfast Baconator has just about everything sandwiched between two buns: sausage, lots of American cheese, piles of bacon, and an egg, all covered in swiss cheese sauce.
Steven John
Steven John is a freelancer writer for
Eat This, Not That!
based just outside New York City.
Read more about Steven