8 Fast-Food Chains With the Best Breakfast Burritos
Start the morning off right with one of these quick and tasty wraps.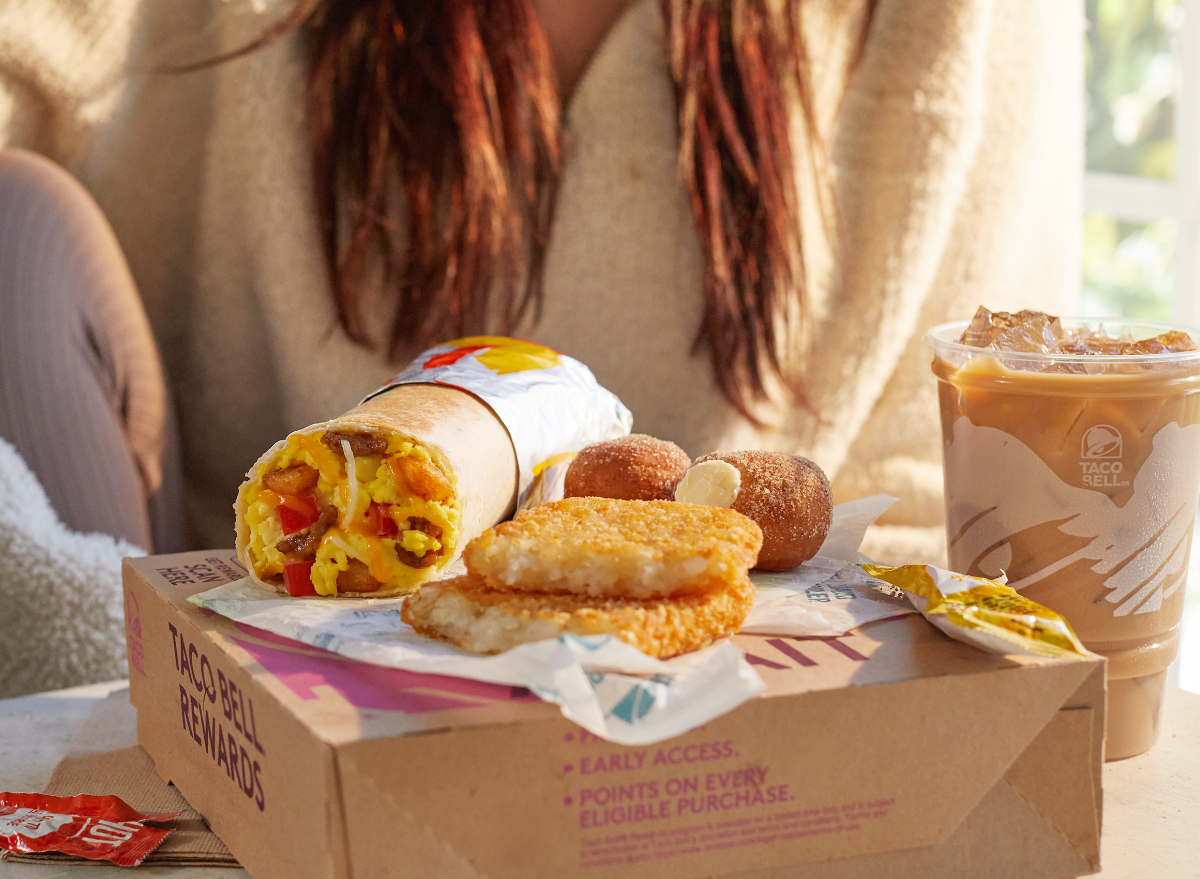 When hunger strikes first thing in the morning, it can be hard to fit in a satisfying breakfast. Those early hours can be filled with getting the kids ready for school or just getting yourself ready for work. Rushing out with just a coffee in hand, many commuters turn to their favorite fast-food restaurants for nourishment.
Breakfast means big business for fast-food restaurants; it accounts for the most profitable area of fast-food sales, according to Motley Fool. While breakfast sandwiches are plentiful across the industry, it takes a special kind of restaurant to serve up a tasty breakfast burrito. It's tasty, sure, but perhaps the best thing about breakfast burritos is how driver-friendly they are, with many easily held in one hand.
However, not all breakfast burritos are created equal, and some are better than others. On the other hand, some fast-food restaurants offer serious value with their breakfast menus, selling you an entire meal for just a few dollars. The next time you find yourself in the mood for a breakfast burrito, keep these fast-food chains in mind. Also, keep in mind that all prices are subject to change based on the fast-food chain and location.
Taco Bell may be the first fast food chain you might think of when considering where to pick up a breakfast burrito, and you would be right in doing so. Its Grande Toasted Breakfast Burrito may not pack the biggest punch in flavor, but it delivers on value at just $3.69, though prices at locations may vary. You will find eggs, sausage, a three-cheese blend, potato bites, and tomatoes inside a grilled flour tortilla. Taco Bell serves a variety of different burritos, including its Cheesy Toasted Breakfast Burrito. If a breakfast burrito is what you are craving and you want options, Taco Bell will be one of your best bets.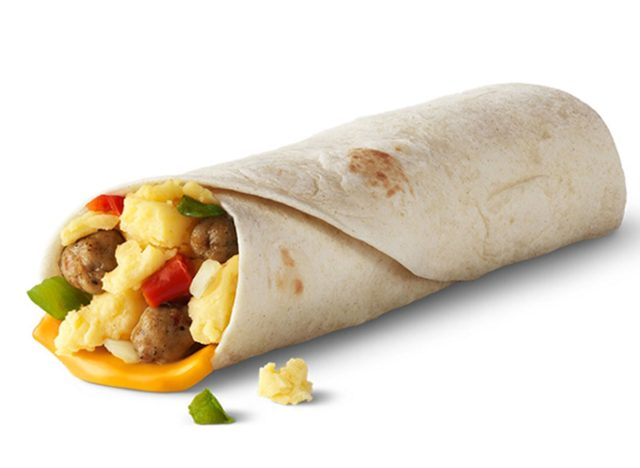 The McDonald's breakfast menu is perhaps one of the most popular in the fast food industry, accounting for roughly a quarter of its annual sales, per Motley Fool. Included on its menu is the Sausage Burrito, which comes with scrambled egg, sausage, cheese, and veggies. The fact that you can buy two of these burritos for just $2.39 is a steal (per Fast Food Menu Prices), especially considering it's delicious. The burrito may be on the smaller side, but if you need something that is easy to eat while you are in the car on the way to work, the Sausage Burrito fits perfectly into your hand.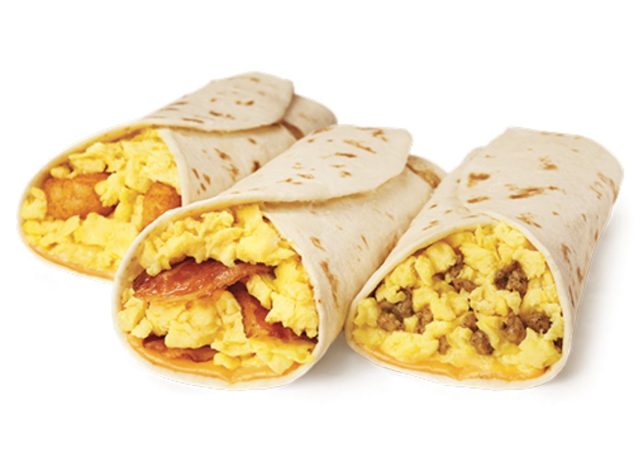 The Texas burger chain Whataburger also serves breakfast, which includes eye-popping sandwiches like its Breakfast Burger. But if a burrito is what you are craving, you will want to order the Taquito with Cheese. Do not let the name throw off your scent; it is actually a burrito. It comes with sausage and cheese, though you can substitute the meat for bacon, potato, or chorizo—something you do not find on every fast food breakfast menu. The taquito by itself is $3.49, or you can make it a meal with hash brown sticks and coffee for $5.39.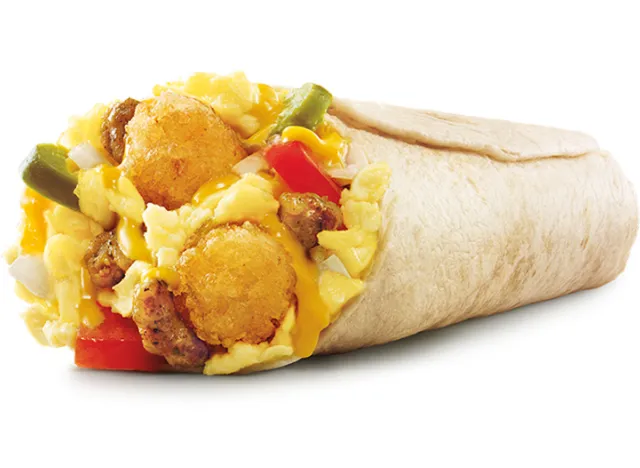 Sonic Drive-In is worth the visit for the experience alone, thanks to the novelty of having your food brought to your car by a server on rollerblades. But it is also helpful that its menu is full of fan favorites, including its breakfast items like the SuperSonic Breakfast Burrito. It is filled with many ingredients, including the usual suspects, like sausage, eggs, and cheddar cheese. But unlike other fast food restaurants, it also comes with tomato, diced onion, jalapeño, and tater tots.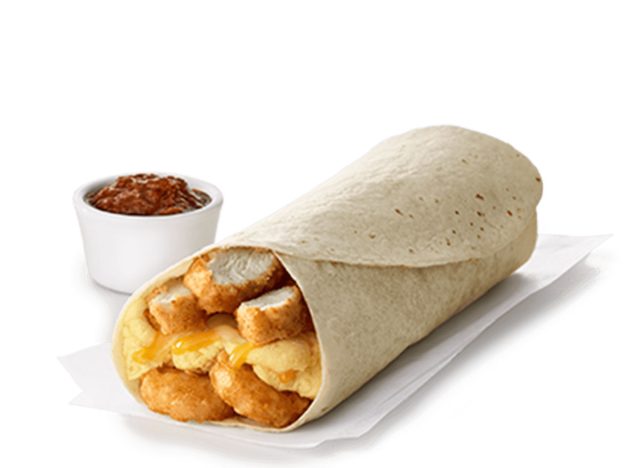 Chick-fil-A's breakfast menu can be hit or miss, with its array of Chicken Biscuits having the equal potential to start your day off on the right or wrong foot. A solid win, however, is its Hash Brown Scramble Burrito standing out as a top choice for early risers. Is it healthy by any means? Not by a long shot. But it sure is tasty, with hash browns, scrambled eggs, a Monterey Jack and Cheddar cheese blend, and jalapeño salsa. It comes with Chick-fil-A's signature chicken nuggets, making it one of the rare fast-food breakfast burritos that come with chicken. You can also substitute it with sausage or spicy chicken.
If you live on the West Coast, you probably drive by a Del Taco on a near-daily basis. For the rest of America, the fast-food taco chain may seem totally unheard of. The chain is actually growing fast with a menu full of tasty tacos made with fresh ingredients. During the morning hours, customers can find everything from savory breakfast tacos to sweet cinnamon donut bites. But the aptly named Breakfast Burrito stands out with your choice of egg and cheese, bacon, or unique meat options like carnitas or carne asada steak. It also comes with scrambled eggs, house-grated cheddar cheese, and red sauce. Prices range from $3.99 to $4.69, depending on which option you choose.6254a4d1642c605c54bf1cab17d50f1e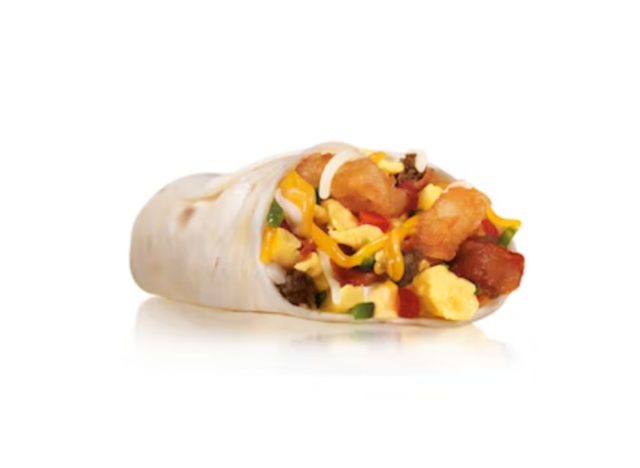 You have no shortage of options when ordering breakfast at Carl's Jr. The fast-food chain offers multiple burrito options, including the Steak and Egg Burrito, the Loaded Breakfast Burrito, and the Bacon, Egg, and Cheese Breakfast Burrito. It is probably not the restaurant you have in mind when seeking out healthy breakfast options, but it is always there for you when you want a filling, satisfying early-morning meal. Prices range from $4.99 to $6.69, making them among the pricier burrito options on this list.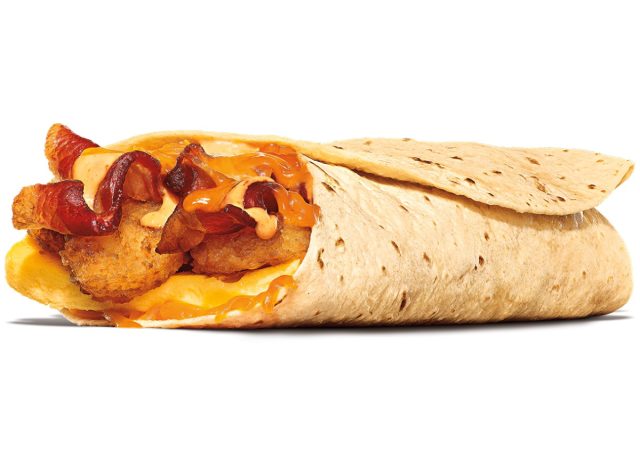 Despite recent news that Burger King is set to close hundreds of its locations in 2023, there are still just shy of 7,000 restaurants in operation in the United States. That means you likely do not have to go far to try its Egg-normous Burrito on its breakfast menu.
The packed burrito fared well in our taste test alongside burritos from McDonald's and Taco Bell, winning major points for flavor. The burrito comes with scrambled eggs, bacon, hash browns, and sauce and rings up for $6.39 when ordering a meal. For a great value offer, and smaller appetites, Burger King also serves a Brekfast Burrito Jr. with scrambled egg, hash browns, sausage, and cheese.
Carly Terzigni
Carly Terzigni is a freelance writer specializing in all things food, travel, Disney, and theme parks.
Read more about Carly