6 Fast-Food Chains That Serve the Most Authentic Steakburgers
These restaurants are serving up an elevated version of your average burger.
The product recommendations in this post are recommendations by the writer and/or expert(s) interviewed and do not contain affiliate links. Meaning: If you use these links to buy something, we will not earn a commission.
What's the difference between a regular hamburger and a steakburger? Hamburgers, named for the large northern German city of Hamburg, are made using ground beef that's sourced from just about any muscle from the cow. A steakburger, on the other hand, is made using ground meat sourced from a specific cut of beef, according to the Chicago Steak Company, a.k.a a steak. While many fast-food chains offer 100% pure ground beef burgers, only a few offer authentic steakburgers. 
The steaks used to make steakburgers vary, but sirloin and ribeye are both commonly used. Because a cut of steak is generally more flavorful than bits of beef sourced from all over the animal, the resulting burger that's made from ground steak is also tastier than a regular burger. Steak 'n Shake is considered the original steak burger chain, but the practice of upgrading the meat used for a quick burger has spread to many fast-food chains.
Steakburgers might cost more than regular hamburgers, but once you try a few you'll likely think they are worth the extra buck or two. And hey, a fast-food steakburger is still a lot cheaper than a steakhouse steak. Or even a steakhouse steak burger, for that matter.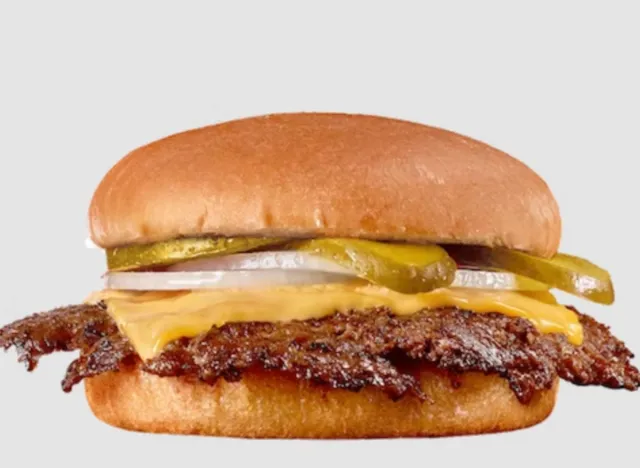 It makes sense that Steak & Shake has steakburgers, right? Ground Beef 'n Shake just wouldn't have the same appeal. And in fact, this chain offers steakburgers topped in a variety of different ways, including options like the Western BBQ n' Bacon Steakburger, with American cheese, bacon, crispy onions, and BBQ sauce, and the unique Garlic Double Steakburger with American Cheese, garlic spread, and garlic salt. There's also a 7×7 Steakburger with seven patties! But we don't recommend that one for calorie reasons.
Along with those fine burgers at Steak n' Shake, you can also, of course, get about a dozen specialty shakes or four classics, those being vanilla, chocolate, strawberry, and banana. But you might not be able to get any of it in some places, as the chain has undergone a major contraction in recent months, closing dozens of locations. According to data from ScrapeHero, there are only 414 Steak 'n Shake restaurants open at the time of this writing.
2
Freddy's Frozen Custard and Steakburgers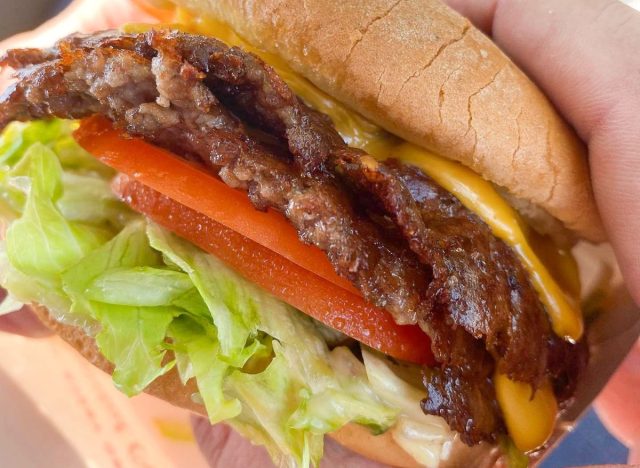 As the full name of this chain is Freddy's Frozen Custard and Steakburgers it's safe to say that you can get some good shakes and steakburgers at the chain. At Freddy's, there are five steakburgers on the menu along with a steakburger patty melt, chicken sandwiches, a veggie burger, a hot dog, and sides. Plus, the shakes and ice cream.
But if you take it from the internet community, the shakes, hot dogs, chicken sandwiches are fine, but go for those steakburgers first. On Reddit, one user posted a picture of his Freddy's steak burger and wrote in part: "First time and I can't think of a better fast food burger, incredible," a post that was met with an outpouring of love for Freddy's with comments like: "My favorite I've ever had fast food wise" and "I love Freddy's!!! I stop every time I pass it, I can never turn that magic down."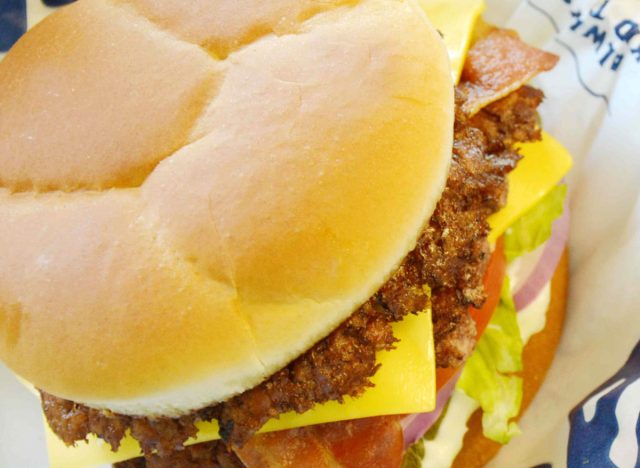 There's a lot going on at Culver's. like battered shrimp and cod, chicken sandwiches and tenders, pork loin, beef pot roast, Reuben sandwiches, soups, sides including cheese curds and pretzel bites, and lots of freshly-made custard and shakes. And then there are the incredible burgers.6254a4d1642c605c54bf1cab17d50f1e
Culver's beloved "Butterburgers" aren't made from single steak cuts like many steakburgers are, but they're hardly ground beef that may well have come from dozens of different cows. Instead, at Culver's the burgers are made with a blend of sirloin, chuck, and plate steak cuts that are always fresh, never frozen prior to being ground, blended, and cooked.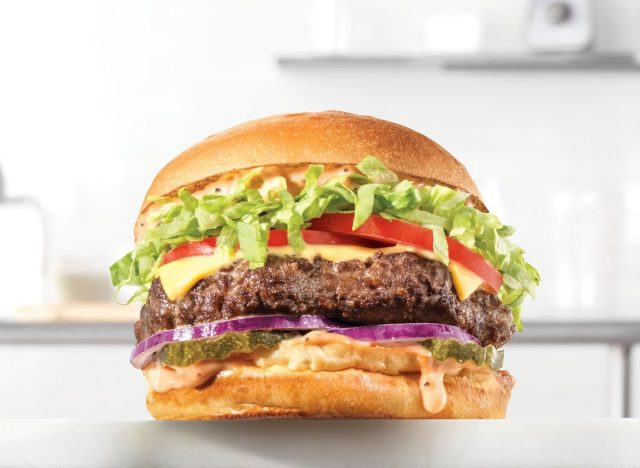 The Deluxe Wagyu Steakhouse Burger from Arby's is superb. It's thick, juicy, filling, and really does have the taste, texture, and commanding presence of a burger you'd get at a steakhouse. However, there are two big caveats about this meaty burger.
First, this burger is only 51% American Wagyu, the rest is 49% regular ground beef. The second caveat is that it's a limited-time menu item, but since selling out during its first run, it seems to come back every few months. All those asterisks aside, it's definitely worth trying.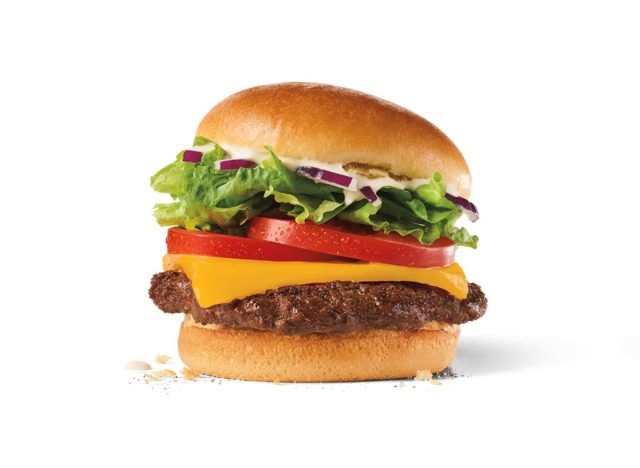 The new steakhouse burgers at Jack in the Box are only available for a limited time, but they sound well worth the trip. Both the All American Ribeye Steakhouse Burger and the Bacon All American Ribeye Steakhouse Burger are made with 100% ribeye. Both also include cheddar cheese, aioli, red onion, lettuce, and tomato piled high on a potato bun. The Bacon All American Ribeye Steakhouse Burger, of course, comes with bacon. This burger is similar to one the chain released in 2017, but that ribeye-based burger was topped with provolone cheese instead of cheddar.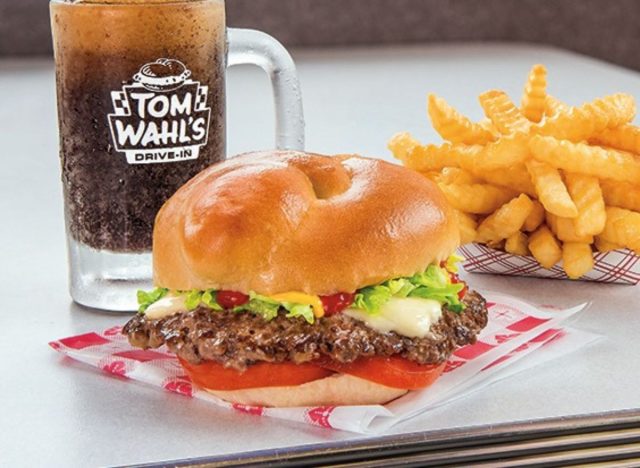 Tom Wahl's is a fast-food chain with nine locations in upstate New York that is famous for its burgers which it calls ground steak sandwiches. These are, in reality, steakburgers. The chain is also known for its handcrafted root beer which its been making the same since 1955. While the root beer is amazing, the burgers are the star. They are made from ground steak that is pressed on the grill and they are wider than the toasted buns. The famous Wahlburger has ham, swiss cheese, lettuce, and Wahl sauce served on a five-inch roll, but there are plenty of single and double patty combos to choose from on the menu.
Steven John
Steven John is a freelancer writer for
Eat This, Not That!
based just outside New York City.
Read more about Steven