I Tried 5 Fast-Food Hot Dogs & This One Was the Absolute Best
Here's the all-beef hot dog that will satisfy your craving on a warm day.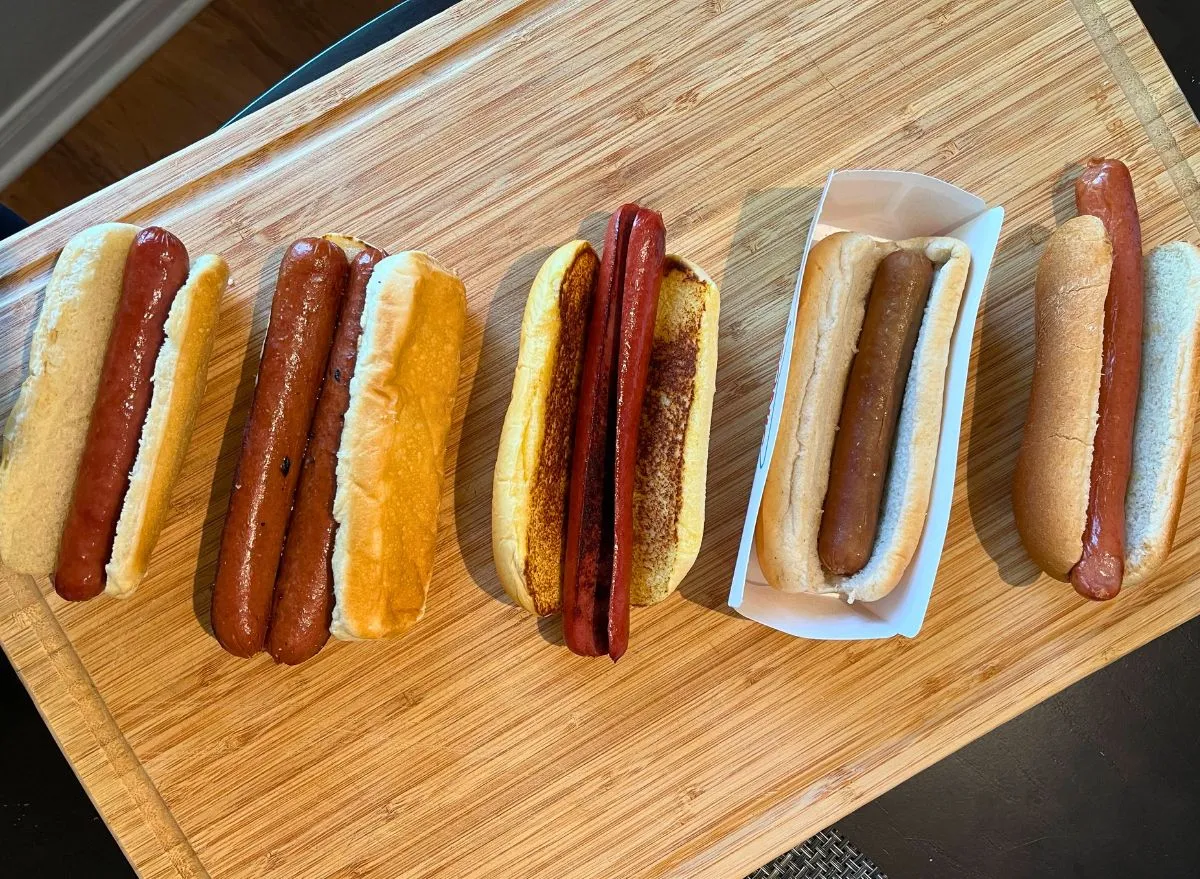 Hot dogs are an essential good-time food. From summer barbecues and baseball games to chilly tailgating gatherings, these little tubes of processed meat inside warm buns signal a party. And while a fast-food joint might not be your first thought when thinking about a hot dog, you could be missing out. Some famous chains serve killer hot dogs, and it's no surprise since a few started out as hot dog carts. I set out to try a handful from some of the most famous brands to see which tasted the best.
There are several chains that specialize in making a great dog. Nathan's Famous, for example, began in 1916 in Coney Island as a hot dog cart and is still widely regarded as one of the best hot dogs of all time. Shake Shack began as a simple hot dog cart in Madison Square Park in New York City in 2001, where the original restaurant still stands today. More people know about the chain's iconic burgers, but it sells some slamming hot dogs too.
If you think about it, while we aren't necessarily headed out to Burger King for a hot dog, we don't bat an eye getting one from the street carts in our favorite cities. In many ways, hot dogs were one of the first fast foods, served on the side of the road and eaten while walking somewhere fun.
So whether you're just feeling the sting of nostalgia or you're just a little bit hungry, here are the spots to try.
Sonic's All-American Dog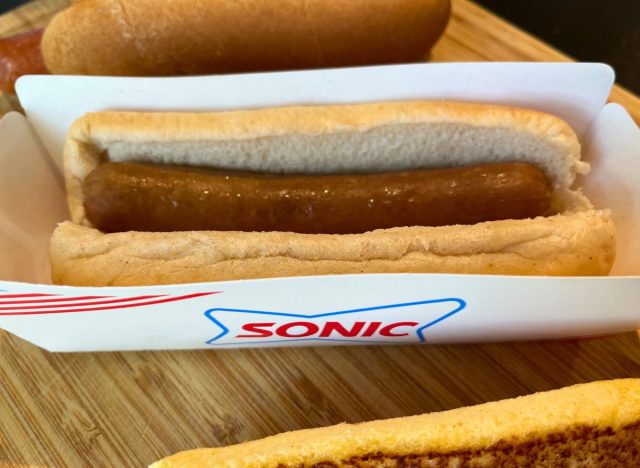 I ordered a naked Sonic dog to keep in line with the others, but Sonic was the only one of the bunch that included a set topping for its base dog. Though of course, you could customize it from there or get it plain.
The look: Sonic, we have a problem. Without the toppings that came with this hot dog– ketchup, yellow mustard, relish, diced onions—the dog itself looks unappetizingly grey. I ordered the full-dressed dog to try for comparison and it looked just fine with its multicolored toppings. While the sausage looked sad, the bun was soft and it came in a nice cardboard sleeve that kept everything in place and uncrushed.
The taste: Overall, this was the worst tasting hot dog of the five I tried. It wasn't bad, it just wasn't as flavorful as the other options. The texture was also very soft with no snap or caramelization on the outside. This hot dog might be good for a kid who doesn't want a lot of garlic flavor, or one who just douses a hot dog in ketchup.
The fully dressed dog, on the other hand, was a delicious combination with the dog really just serving as a vehicle for the tangy, crunchy, cold toppings. The bun held in all the veggies and condiments admirably. Just get this hot dog fully dressed if you're in the mood for one and Sonic is the only option.
A&W's Hot Dog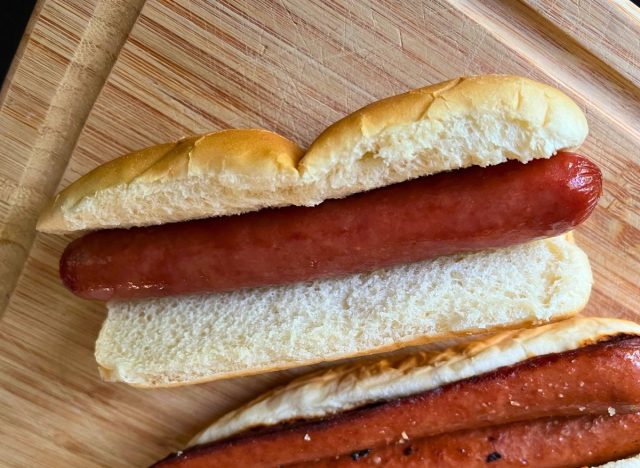 A&W, named for its founders, Roy Allen and Frank Wright, is one of the oldest fast-food restaurants in America. It began as a roadside stand in 1919 selling root beer to returning World War I soldiers. It now sells burgers, fries, chicken, and unique sides like Fried Cheese curds. It also has all-beef hot dogs without or without chili, onions, and cheese.
The look: The A&W hot dog was simple but looked delicious. The glistening, reddish sausage was juicy and the bun was soft.
The taste: If you're looking for the perfect beach hot dog, this one won't disappoint. Even without condiments, it was soft and juicy. While the bun was a little dry, that didn't detract from the flavor of the meat. It even had a slightly sweet aftertaste. Bonus points for the price: two of these dogs cost a little over $4. Let's face it, hot dogs shouldn't cost an arm and a leg.
Nathan's Famous Hot Dog
In 1916, Nathan Handwerker opened up a hot dog stand in Coney Island that would become the world-famous company it is today. While the restaurant isn't as visited as it used to be, there are still locations slinging the all-beef hot dogs, unique burgers, and those iconic crinkle-cut fries.
The look: The hot dog was substantial and poked out of the bun on each side. The bun, unfortunately, looked very dry and was flaking in spots.
The taste: If you love Nathan's hot dogs you owe it to yourself to go to the restaurant because these are way different than the ones that are sold in supermarkets. The dog had an irresistible snappy crunch that gave way to a soft, meaty interior that was full of juice and tasted like real beef. The spices, while substantial, played second fiddle to the meatiness of the dog.
Nathan's store dogs won our hot dog taste test, but they didn't have the crunch of this sausage. The sad part was the flaky, dry bun that should have been tossed away. If the bun hadn't been a total fail, this would have won the taste test. Maybe it was just a bad bun day at the restaurant I visited.
Five Guys' Hot Dog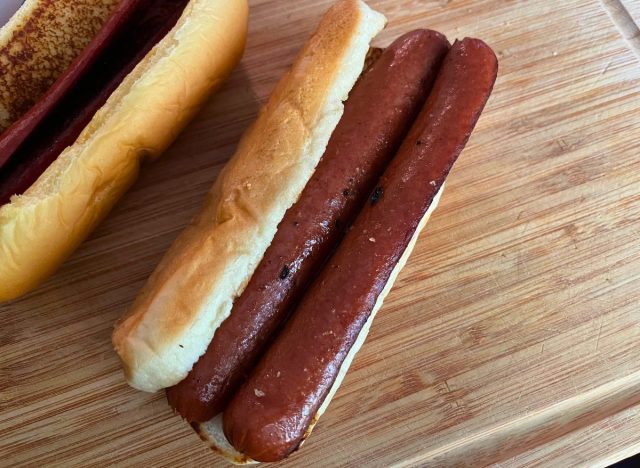 Five Guys, while known for its burgers, also makes delicious hot dogs, which you can adorn with a plethora of free toppings, just like the burgers. Five Guys splits the all-beef dogs and grills them on the flat top for a caramelized exterior.6254a4d1642c605c54bf1cab17d50f1e
The look: Five Guys and Shake Shacks dogs looked very similar, they were both split and grilled to a dark color. The bun of the Five Guys dog was a bit squished and looked a touch on the drier side.
The taste: If you don't care if your hot dog is split cleanly in two you're going to love the way Five Guys does a dog. This sausage checked off all the boxes for flavor and texture. It was juicy and sweet with a firm bite and it tasted like real beef. If anything, it lacked a little spice and instead focused on the quality of beef.
Word is that Five Guys gets its hot dogs from Hebrew National, a brand that scored very high in our taste test. But keep in mind that the complaints about the prices at Five Guys loom large. A single hot dog at Five Guys costs over $6, depending on location. For a couple extra bucks, you can get a fully-loaded cheeseburger.
Shake Shack's Hot Dog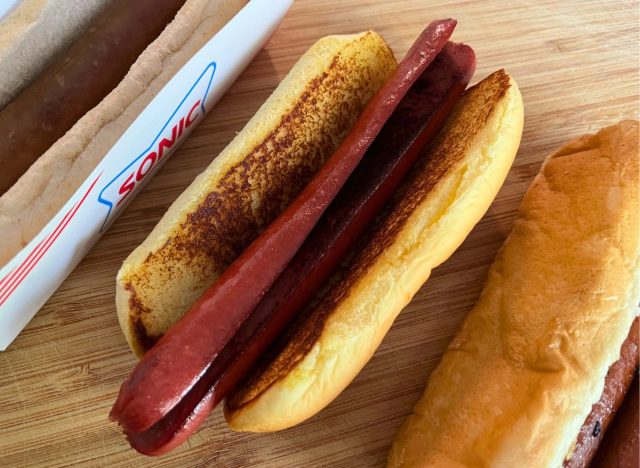 Shake Shack started out as a hot dog stand in Madison Square Park, so sausages in a bun are in its DNA. In 2004, Celebrity chef Danny Meyer won the bid to turn the location into a kiosk-style restaurant with gourmet burgers, shakes, and fries joining the menu.
The look: Like the Five Guys dog, the Shake Shack dog was split, but it held together better. It also showed lots of strong caramelization. The bun was golden and familiar because Shake Shack uses Martin's Potato Rolls.
The taste: If you want full-on flavor that doesn't stop after you take a bite, Shake Shack is the dog for you. This robust hot dog was juicy and beefy with a bit of crunch and a hint of sweetness from the caramelization. The potato roll offered its own sweetness that melded with the meaty dog.
Also, if you're looking for a Chicago dog experience in other areas of the country, Shake Shack is the place to go because it sources its dogs from Vienna Beef in Chicago, which explains the pleasing snap, a hallmark of the company's hot dogs. Shack's dogs were slightly more affordable than Five Guys' at $4.39 a pop.