21 Healthy Romantic Recipes That Take 20 Minutes (or Less!)
Spice things up in the kitchen by cooking a healthy romantic meal at home for two.
It's the most romantic time of the year: roses and chocolates fly off of the shelf, restaurants become impossible to reserve, and while your love may have no bounds, you still need a way to show it. In a poll conducted by OnePoll on behalf of meal kit company, HelloFresh, 2,000 Americans in a relationship were asked how cooking plays into their relationships. 79% believe good food is the most surefire way to someone's heart and cooking together is a great way to spend more time together.
​​"Cooking can be an intimate activity that creates bonds and brings people together, so we encourage couples to get in the kitchen to spend some quality time together preparing a meal," said Kristin Bryan, Director of Culinary Innovation at HelloFresh.
So skip the long wait times for reservations this year and show off your kitchen skills with these fast and healthy romantic recipes. The best part? They only take 20 minutes.
Plus, don't miss 22 Meals to Melt Belly Fat in 2022.
Classic Linguine With Clams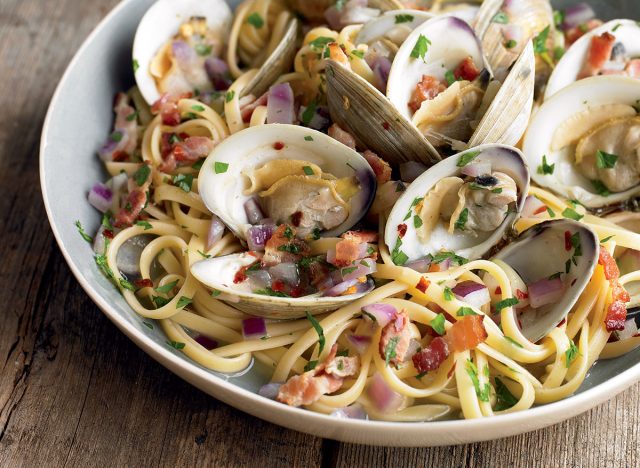 If you need something simple and quick, but also want to impress your guest, try this recipe for linguine with clams. Clams are known for their tender juiciness, collagen, and iron boosts, and are also known to help with male fertility. Serve with crusty bread and glass of your favorite white wine for the perfect, quick dinner.
Get our recipe for Classic Linguine With Clams.
Quick Chicken Burger With Sun-Dried Tomato Aioli
While the term 'chicken-burger' isn't the most romantic, there's a lot more to it than just the name. Our chicken burger is packed with magnesium and protein from sun-dried tomatoes, anti-inflammatory benefits from freshly picked rosemary, and baby spinach. Lemon, salt & pepper, and olive-oil mayonnaise add the extra kick of flavor needed to help kick off your romantic night.
Get our recipe for Quick Chicken Burger With Sun-Dried Tomato Aioli.
Steak In a Red Wine Pan Sauce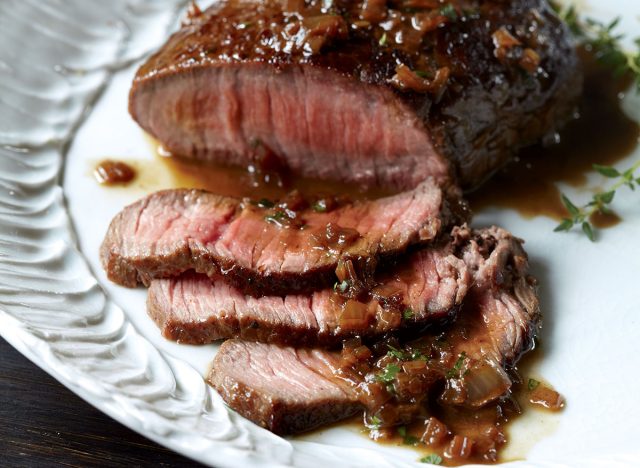 This simple steak recipe will look like it's straight out of restaurant kitchen. Be sure to reduce the wine enough so you get a syrupy red sauce. Serve this easy dish with roasted asparagus and mashed potatoes, and don't forget the red wine to drink with it!
Get our recipe for Steak In a Red Wine Pan Sauce.
Shrimp Scampi With Linguine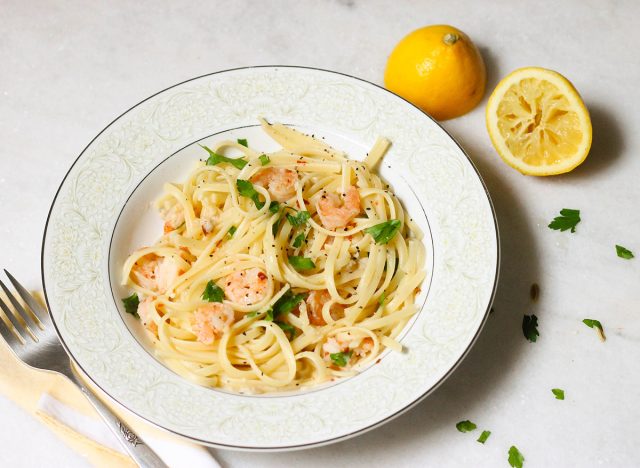 Nothing says love like a big bowl of healthy shrimp scampi. This recipe comes together in minutes and is light on the butter so that you won't feel weighed down after your meal. Feel free to substitute your favorite white wine for the chicken broth for a more luxurious bite.6254a4d1642c605c54bf1cab17d50f1e
Get our recipe for Shrimp Scampi with Linguine.
Baked Crab Cakes With Mango-Avocado Salsa
Forget splurging for a fried restaurant version when you can make this one right at home. While carb is expensive, it would be much more expensive at a restaurant. Splurge for the good stuff and then serve with this healthy and delicious mango-avocado salsa.
Get our recipe for Baked Crab Cakes With Mango-Avocado Salsa.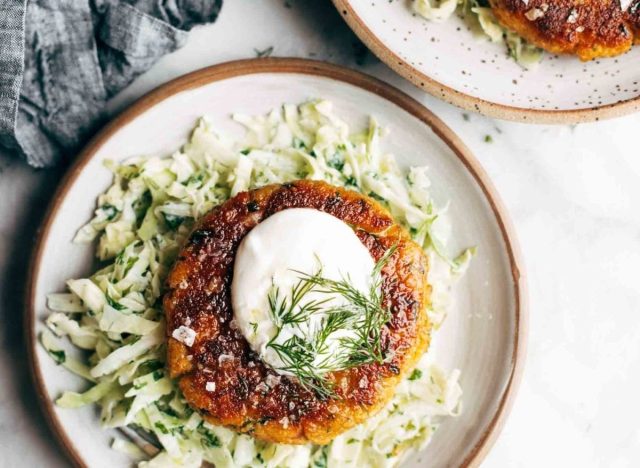 Indulge your tastebuds with flavors of the sea with this healthy salmon burger with slaw recipe. A crispy, golden outside, with an herb-seasoned inside, complemented with a healthy serving of vitamin K from green cabbage for the slaw is the perfect way to woo your date (or their tastebuds, at least).
Get the recipe from Pinch of Yum.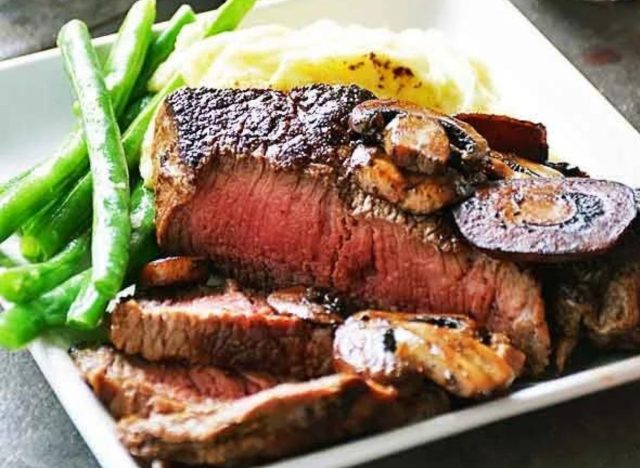 This steak recipe for two is ideal to impress your partner, and even better if you're on a time crunch. This steak is seared to perfection with healthy ghee (butter), fresh springs of thyme, and kosher salt. Complete the dinner with a choice of healthy mashed potatoes or green beans for a meal that you'll both love.
Get the recipe from Our Life Tastes Good.
RELATED: The Best & Worst Cuts of Steak—Ranked by Nutritional Benefits!
Sous Vide Lobster Tails with Lemon Butter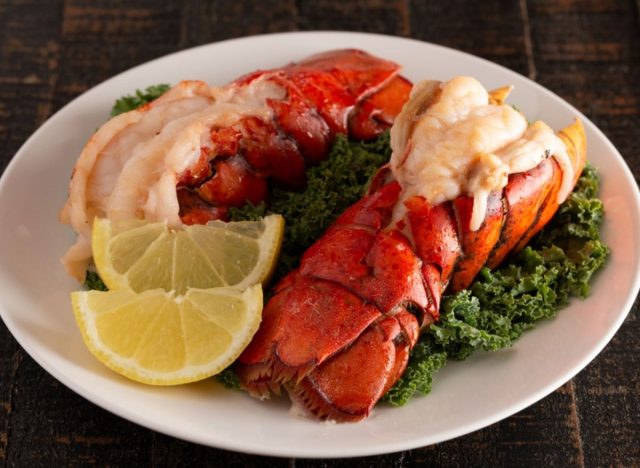 Unlock your inner-chef in under 20 minutes with this recipe for sous vide lobster tails with lemon butter. These tender tails are an enchanting way to someone's heart – include fresh vegetables and seasonings such as thyme and freshly squeezed lemon for an extra flare.
Get the recipe from Izzy Cooking.
Honey-Mustard Glazed Salmon With Roasted Asparagus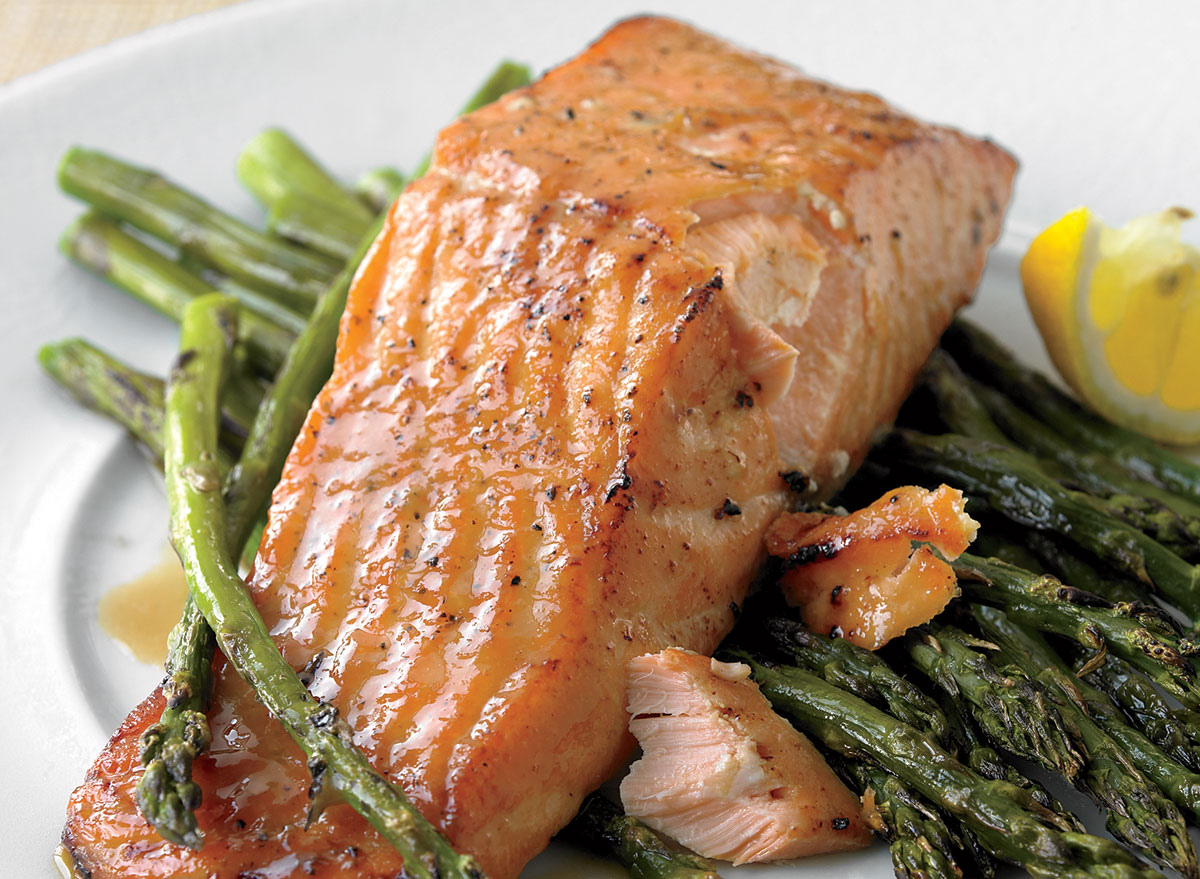 Salmon will help you solidify any romance with your date! High in omega-3, vitamin B, and potassium, this complete meal can be on the table in just 20 minutes! You won't believe that four pantry ingredients can create such a flavorful sauce
Get our recipe for Honey-Mustard Glazed Salmon With Roasted Asparagus.
Butter-Baked Salmon and Asparagus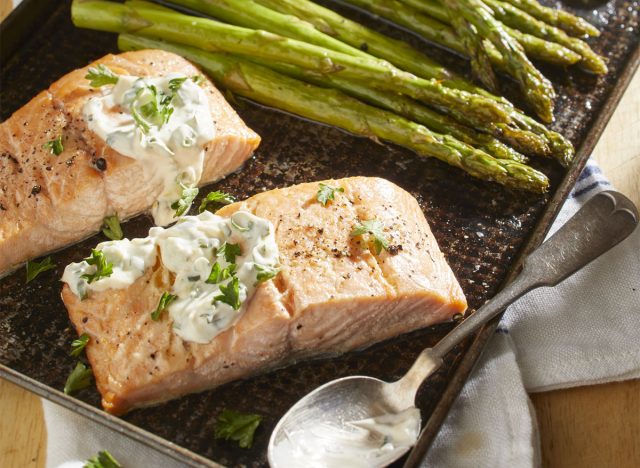 If using a pan isn't your thing, this baked salmon recipe (which is also keto-approved) uses just the oven. Even if you are a novice cook, you cannot mess this one up!
Get our recipe for Butter-Baked Salmon and Asparagus.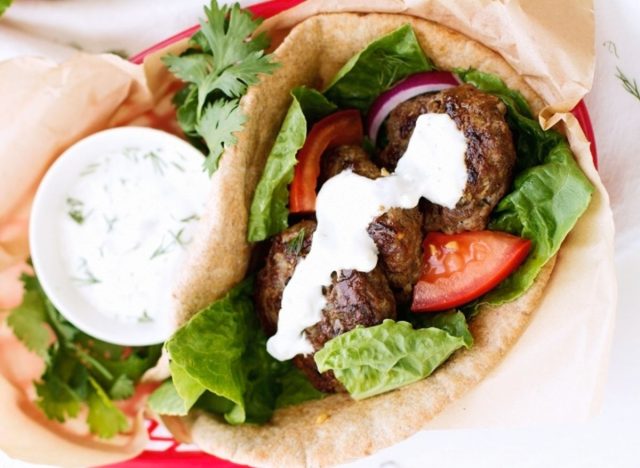 Experience the romance of Greece all from the comfort of your home, and under 20 minutes. A combination of beef and lamb provides a plethora of vitamins of plenty of zinc, while soft pita, crisp lettuce, and tzatziki provide a refreshing, light & airy taste.
Get the recipe from Little Spice Jar.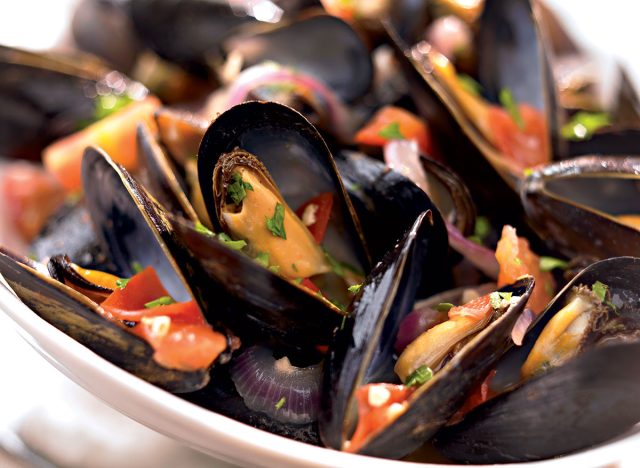 Mussels are so easy and protein, omega-3s, and energy-producing B vitamins. Make sure to get a good loaf of bread to soak up all the briny, white wine sauce leftover.
Get our recipe for Mussels in White Wine.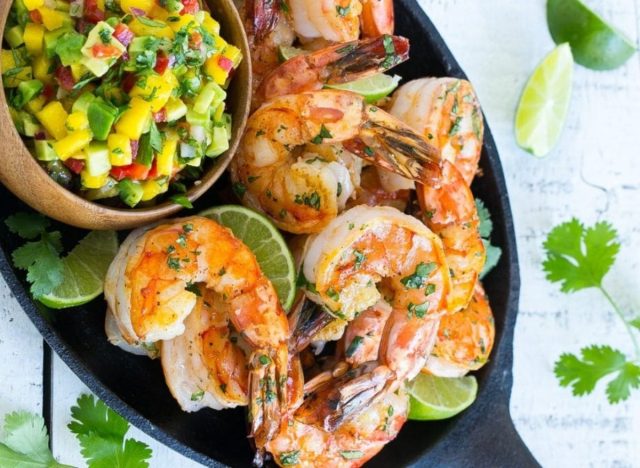 Bring your tongue to the tropics with this cilantro lime shrimp. Olive oil, fresh cilantro, and red pepper add a flare of spice, while the mango salsa provides a sweet and tangy balance.
Get the recipe from Dinner at the Zoo.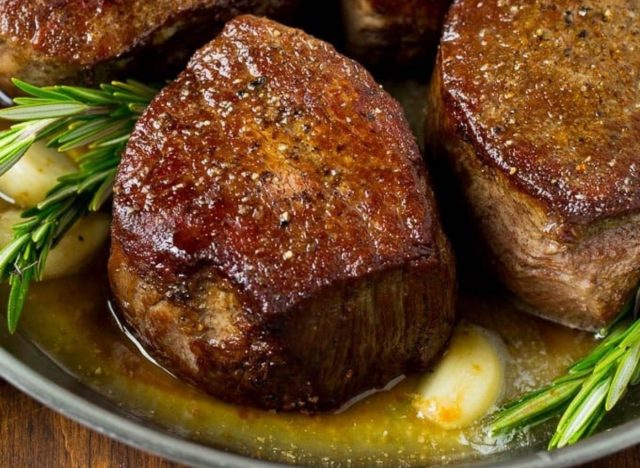 A tender filet mignon is a perfect meal to set the mood for a romantic evening. Healthy herbs such as thyme, sage, and fresh basil ensure plenty of vitamins and antioxidants, all while served on a tender and juicy steak.
Get the recipe from Dinner at the Zoo.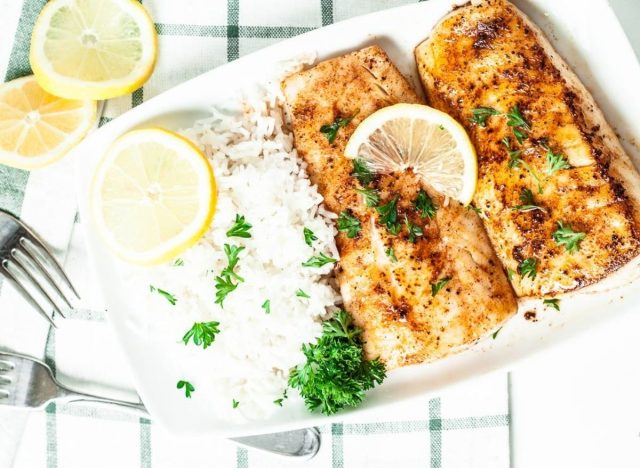 For a dish that is truly reminiscent of a fancy restaurant, try this deceptively simple fish recipe. Butter, lemon juice and zest, and few spices merge together in a luxurious sauce that only tastes decadent. Be sure to serve some veggie to soak up the delicious dregs left behind.
Get the recipe from Chew Out Loud.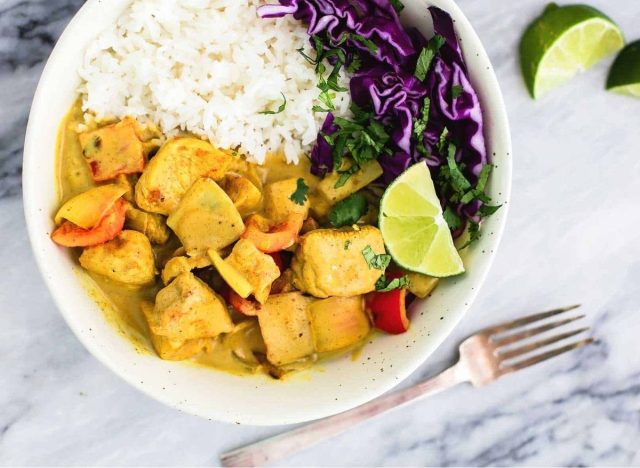 You'll go (coco)nuts for this meal. This coconut curry chicken helps support heart health with coconut milk, while nuts provide tons of protein. Curry and lime spice up the dish, making it the perfect balance of sweet and spicy.
Get the recipe from Creme de la Crumb.
Asian-Inspired Sesame Noodles With Chicken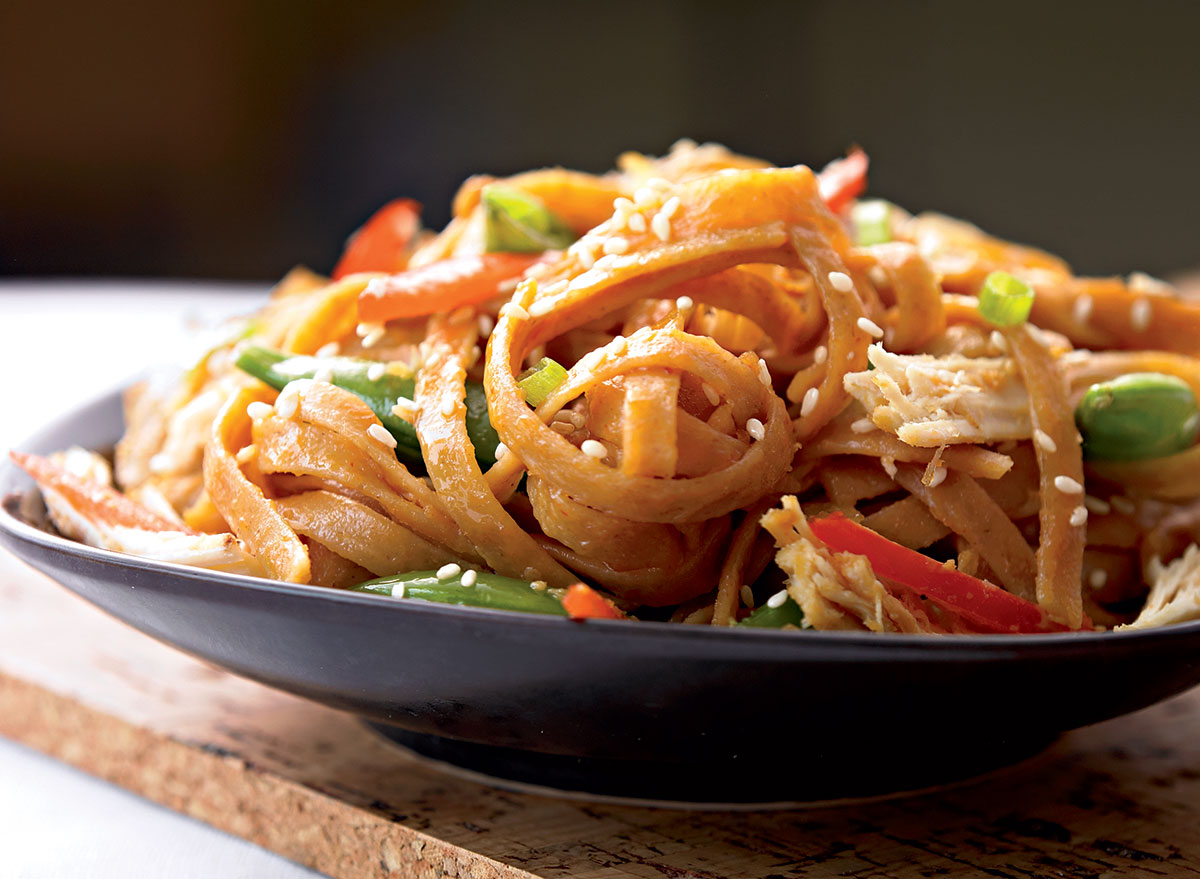 This impressive noodle recipe hits every flavor and texture you and your date desire. It's creamy, salty, spicy, and filled with crunchy vegetables. Plus, it comes together in minutes, leaving time for noodle slurping and conversation.
Get our recipe for Asian-Inspired Sesame Noodles With Chicken.
Healthy Dark Chocolate Figs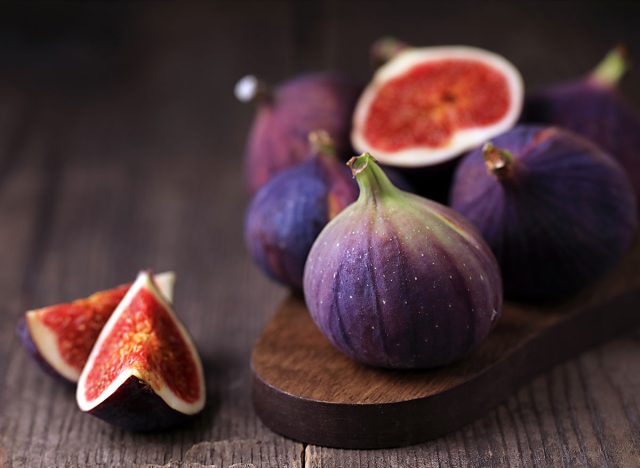 No meal is complete without dessert. Save yourself the worry and guilt of indulging in chocolate and sweets with these dark chocolate figs. Get your boost of antioxidants from dark chocolate, while figs promote digestive health (not to mention, they're also an aphrodisiac).
Get the recipe from This Healthy Table.
Cacio e Pepe Pasta with Scallops & Asparagus
Cacio e pepe is a delicious, elegant dish that couldn't be simpler and it's perfect for Valentine's Day. This fresh spaghetti is tossed in a savory pan sauce of grated Italian cheese and Parmesan butter and topped with pan-seared scallops, asparagus, and sweet peas. Cracked black pepper and fresh arugula are the finishing touches on this satisfying gourmet meal.
Get the recipe from Gobble.
Seared Duck Breast in Cherry Port Wine Sauce with White Cheddar Grits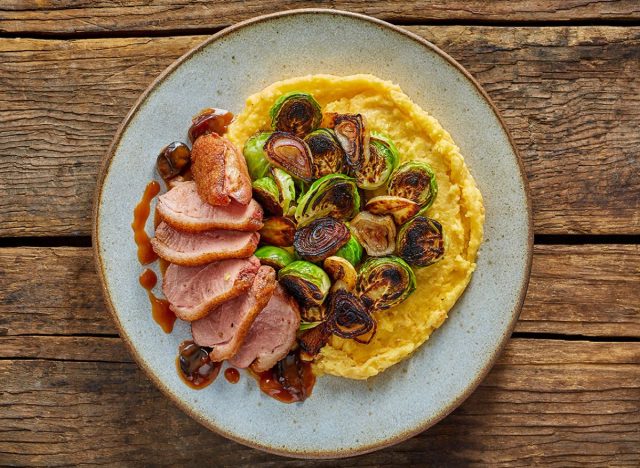 You'll want to eat these creamy, savory grits with everything, but they're especially good with a juicy pan-seared duck breast in a tangy cherry port wine sauce. A sautéed hash of Brussels sprouts and garlic complete this gourmet Southern dish.
Get the recipe from Gobble.
Garlic Pesto Sirloin Steak with Rosemary Mashed Potatoes & Sautéed Spinach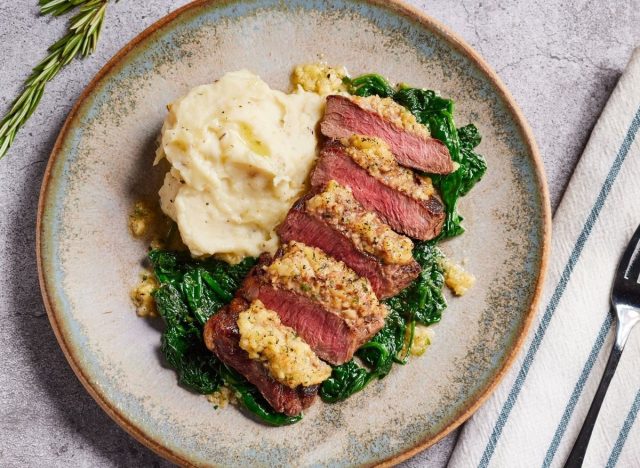 Tender sirloin steaks are seared, crusted with a roasted garlic pesto, and finished in the oven. Serve it alongside creamy rosemary mashed potatoes and butter-sautéed spinach.
Get the recipe from Gobble.
Plus, to live a long healthy life, adopt these Eating Habits to Lose Abdominal Fat As You Age, Say Dietitians.