30+ Healthy Stuffed Chicken Recipes To Make Tonight
These innovative chicken recipes may just become your new favorites.
Chicken, the usual pièce de résistance of lunch and dinner, has proven to us countless times that it can be prepared in an endless number of ways. From baked chicken dishes that incorporate fragrant spices to innovative chicken soups and stews that can warm up even the coolest of evenings, chicken does it all. You may already utilize chicken in your everyday meal recipes, but have you ever tried making stuffed chicken? Hint: it's delicious!
Simple to prepare and full of different flavors and textures, a stuffed chicken recipe is the kind of recipe you make once and then get hooked on forever. From chicken breasts that are filled with apricot preserves and smooth goat cheese to others that embrace popular pizza toppings, here are some of the best healthy stuffed chicken recipes out there. Go ahead and try some out today, they may just become part of your go-to recipe repertoire. Plus, if you're short on time but still want a homemade meal, try one of these 21 Healthy Chicken Recipes You Can Make in 15 Minutes (Or Less!).
Spinach Stuffed Chicken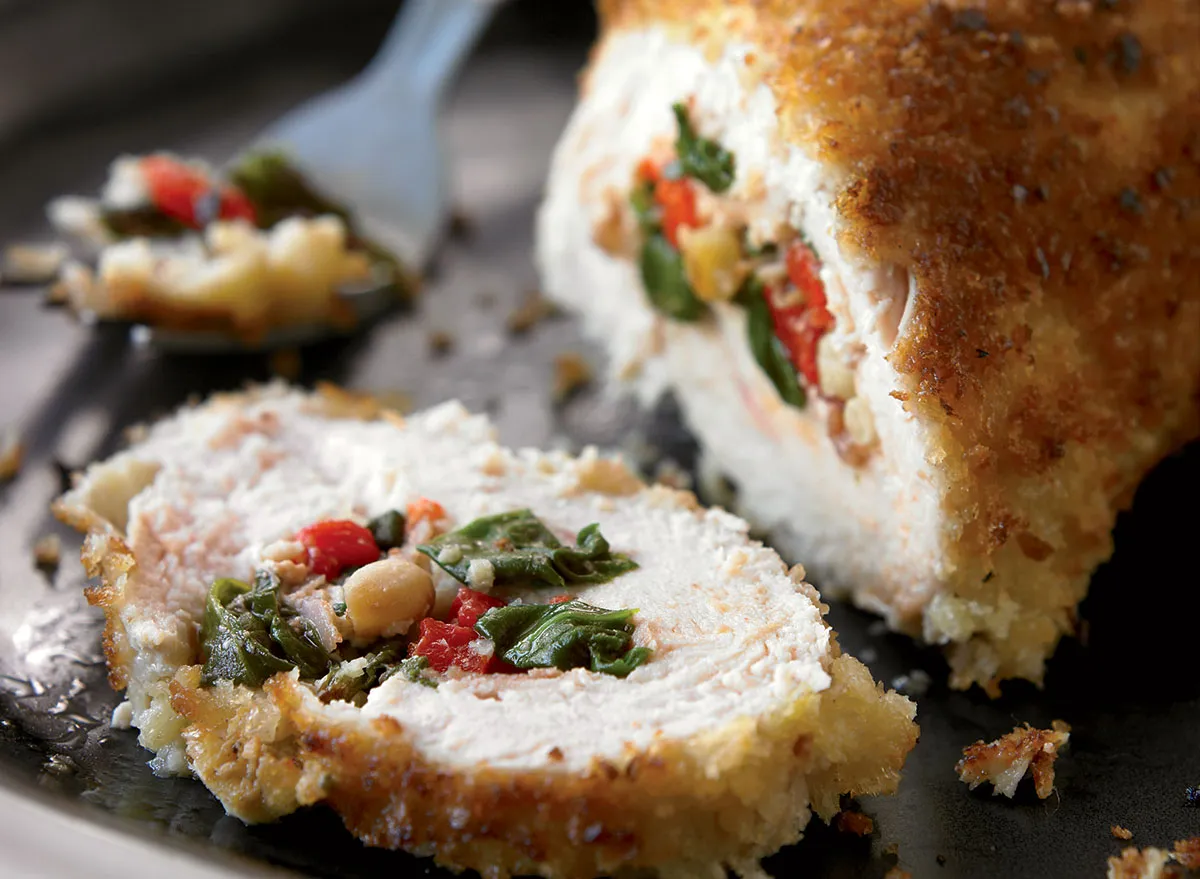 Crispy on the outside and juicy on the inside, this chicken recipe checks off all the boxes. It even comes with a surprise stuffed inside—prosciutto and fontina, which helps add another layer to the flavor profile of this easy-to-make recipe.
Get our recipe for Spinach Stuffed Chicken.
Chicken Cordon Bleu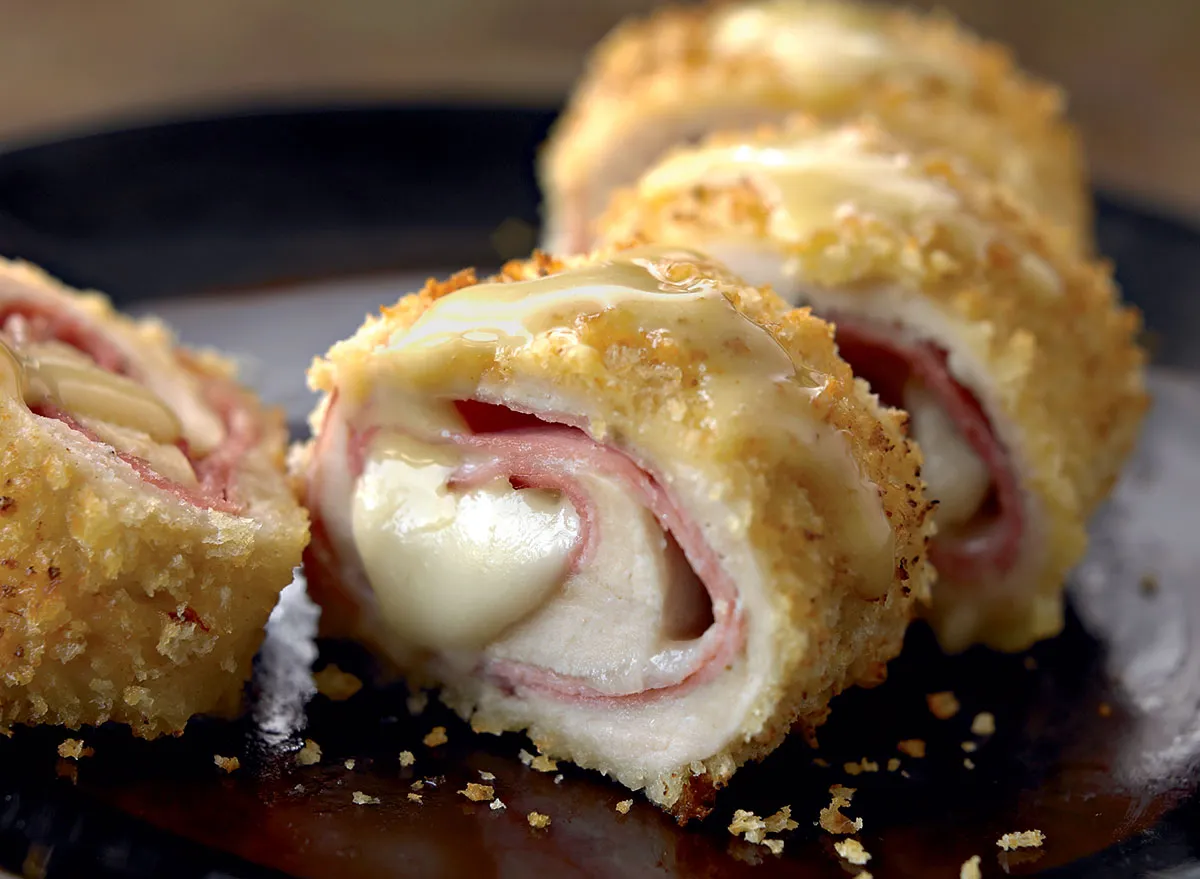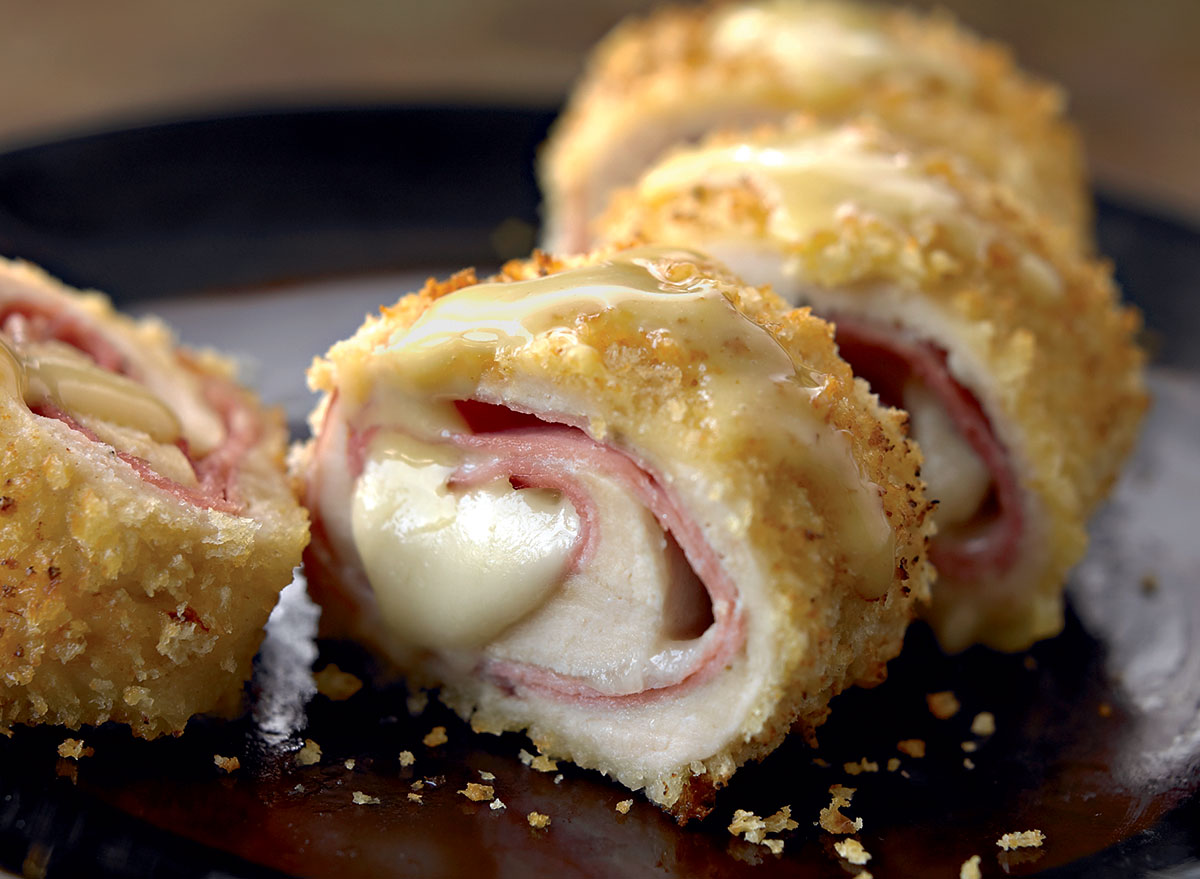 Oozing with cheese and stuffed with salty ham, this timeless chicken cordon bleu recipe makes for the perfect dish to serve at your next dinner party. We imagine it would pair well with a fruity cocktail or a smooth red wine.
Get our recipe for Chicken Cordon Bleu.
Mushroom-Stuffed Chicken Breast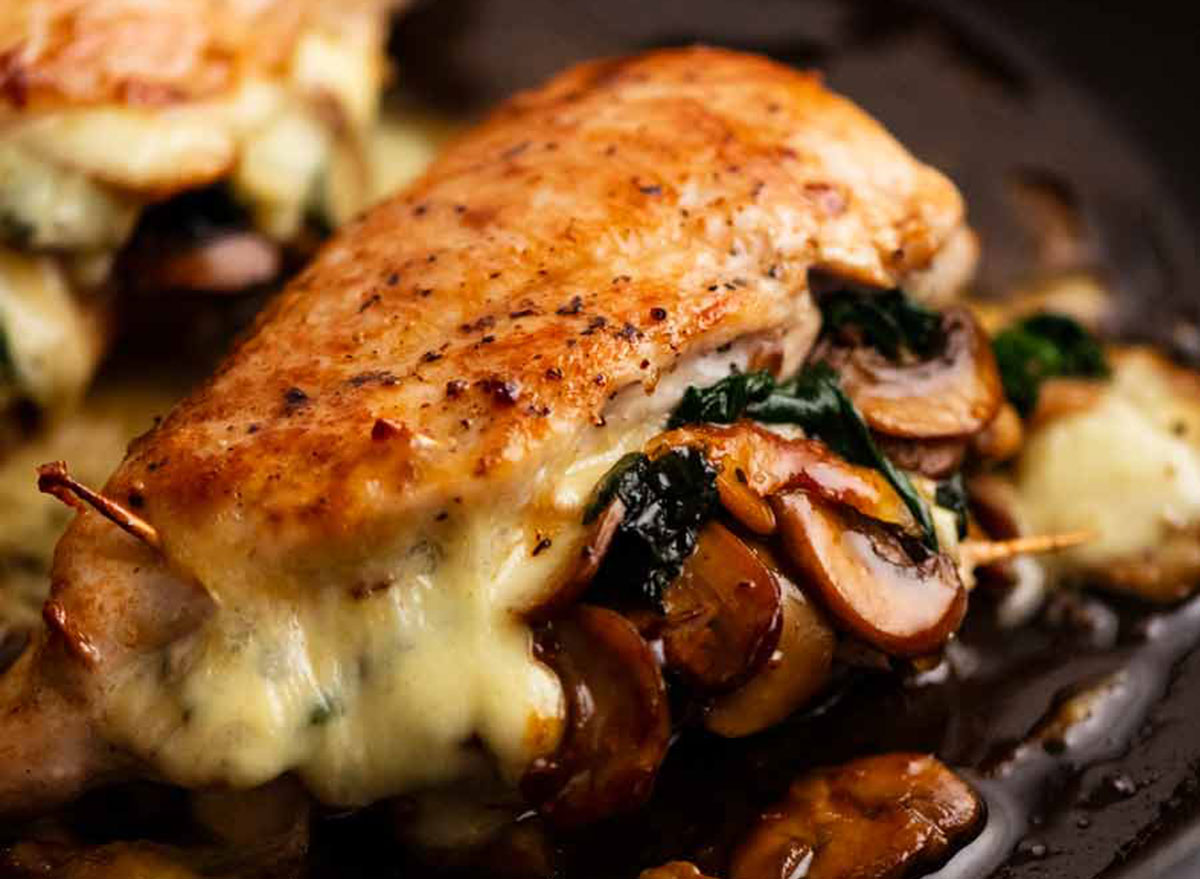 The chicken breasts in this recipe are first seared for 5 minutes, stuffed, and then finally baked for 15 minutes in the oven. That quick initial searing helps give the chicken a slightly roasted flavor which partners wonderfully with its garlicky mushroom stuffing.
Get the recipe from Recipe Tin Eats.
Olive Garden Copycat Stuffed Chicken Marsala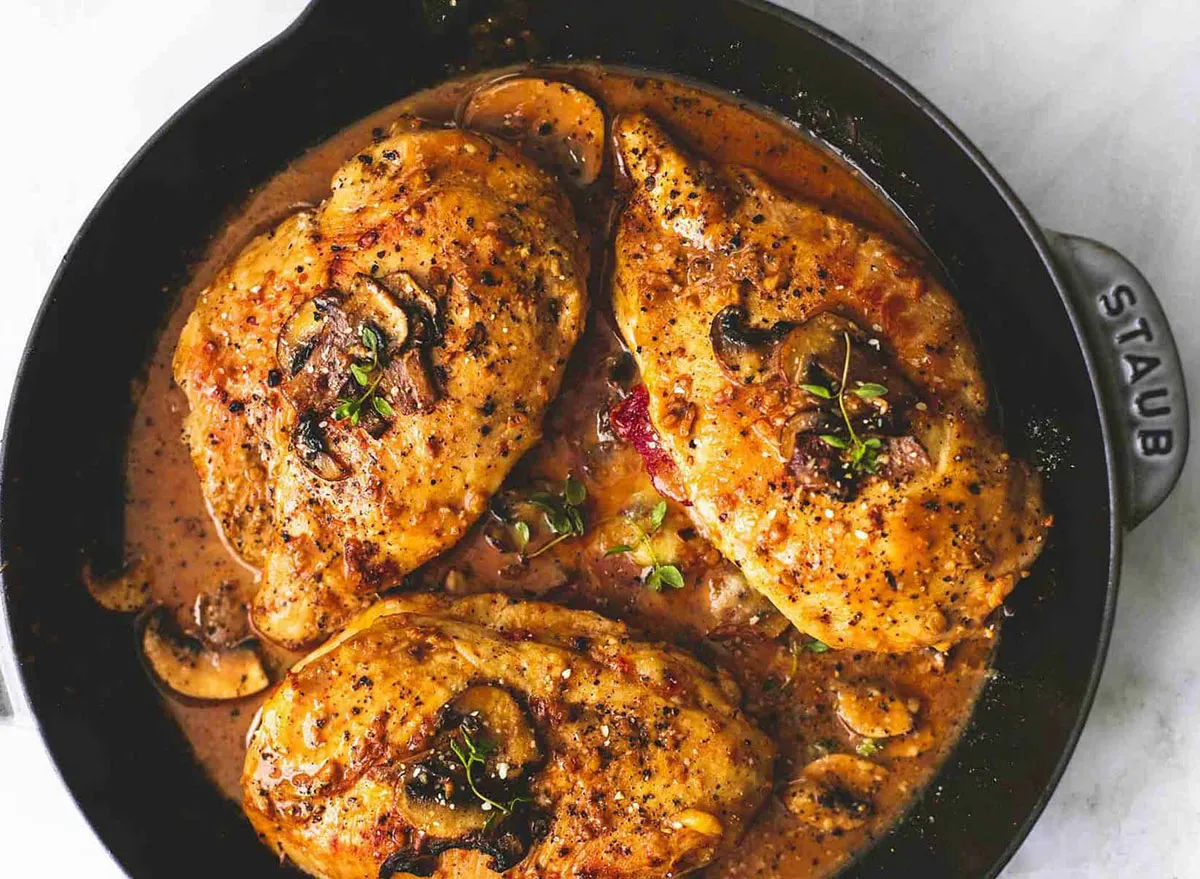 With this stuffed chicken marsala recipe you can finally make a popular Olive Garden dish right in your own kitchen. Made using mozzarella, parmesan, and sundried tomatoes, this flavorful chicken recipe tastes great served over a plate of spaghetti or a bed of greens.
Get the recipe from Le Creme De La Crumb. 
Cheesy Tomato Basil Stuffed Chicken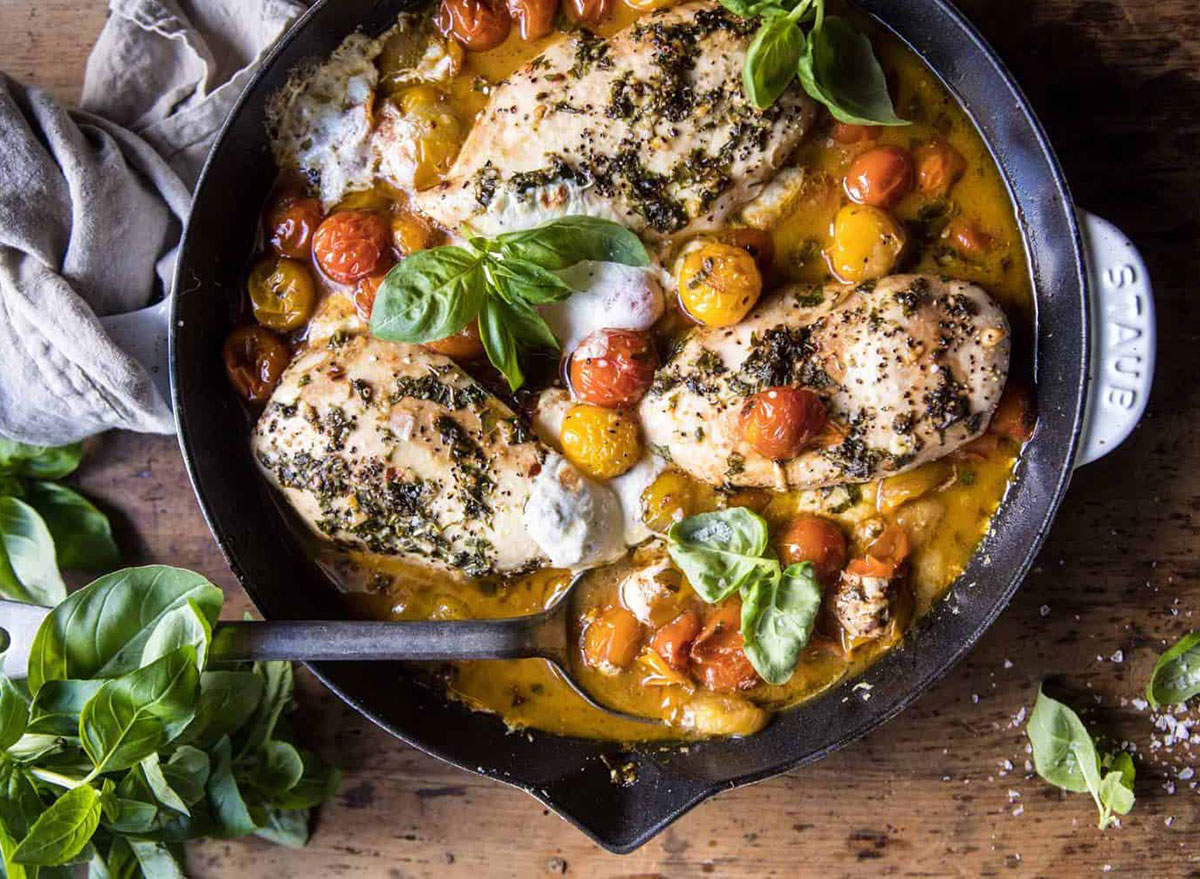 Try this recipe once and you are sure to be craving it for days to come. This dish, which can easily be made using a skillet, features chicken breasts stuffed with a combination of pesto, sun-dried tomatoes, and cheese. If you don't want to make pesto here are The Best & Worst Pasta on the Shelves—Ranked by Nutritional Benefits.
Get the recipe from Half Baked Harvest.
Spinach and Cottage Cheese Stuffed Chicken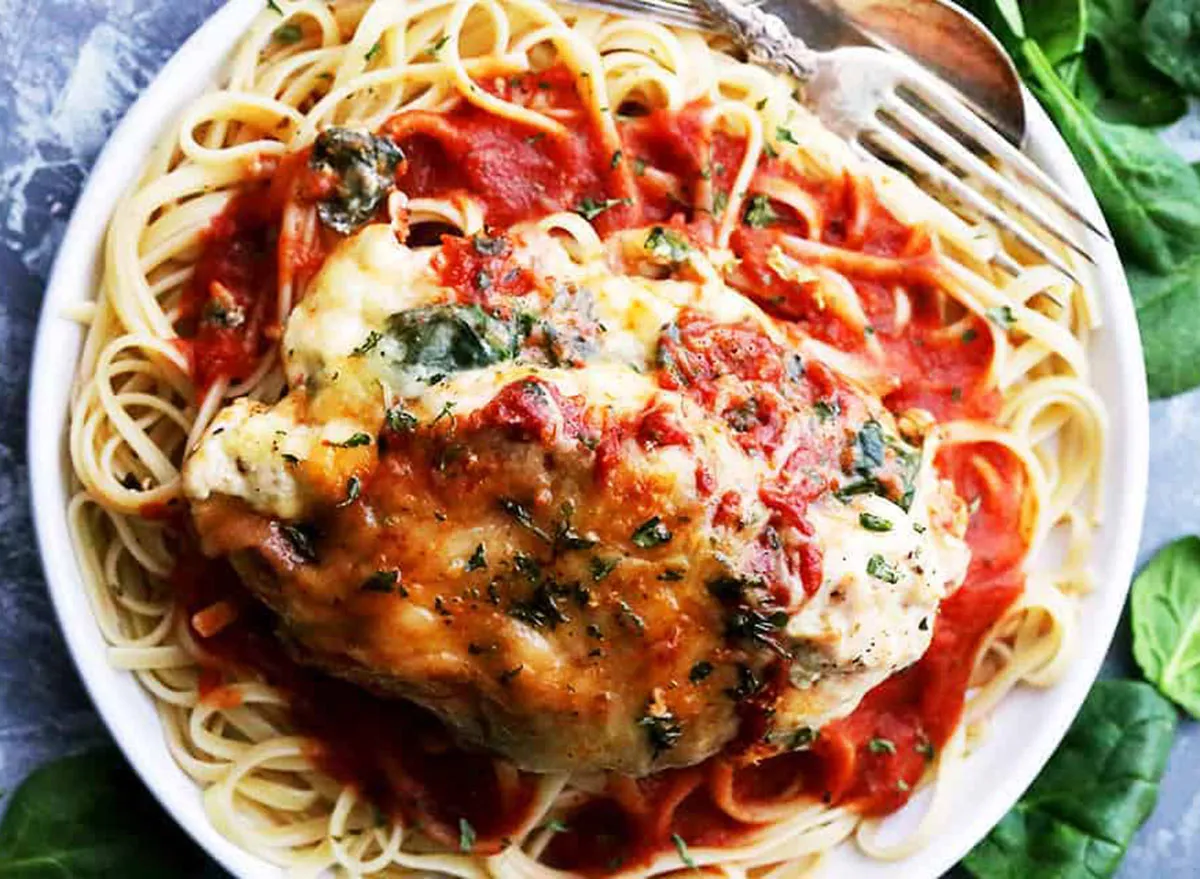 There are so many different ways to use cottage cheese, and we are here for it. In this recipe, tangy cottage cheese is combined with fresh baby spinach, shredded mozzarella, and minced garlic, to create a truly memorable dish. Enjoy it on its own or with a side of pasta.
Get the recipe from Diethood.
Stuffed Chicken Breast with Quinoa and Spinach
Quinoa isn't just for salads, but for stuffing into chicken breasts, too! With this recipe, you can expect a gorgeous plate of oven-roasted chicken breasts full of seasoned quinoa, fresh spinach, and feta cheese.
Get the recipe from Macheesmo.
REALTED: 30 Quinoa Recipes for Weight Loss
Kale and Sundried Tomato Stuffed Chicken
If you can believe it, this delectable recipe only calls for 4 ingredients and 4 ingredients only — chicken, goat cheese, sun-dried tomatoes, and a whole head of kale.
Get the recipe from The Healthy Maven.
Asparagus Stuffed Chicken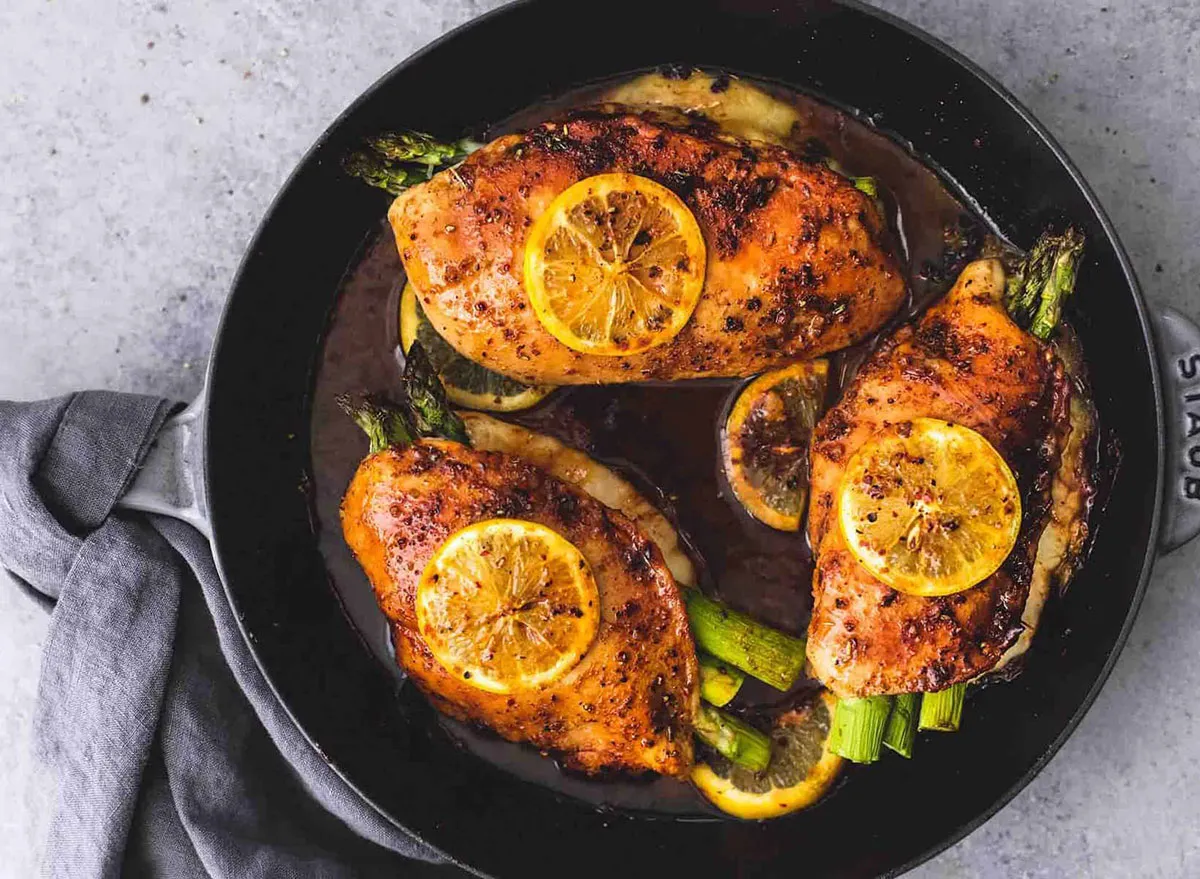 This asparagus chicken recipe doesn't just look beautiful arranged on a platter, but tastes pretty amazing, too. Asparagus, which is a natural diuretic, joins creamy provolone, Parmesan, and vibrant lemon flavors in this dish that takes around just 30 minutes to make.
Get the recipe from Le Creme De La Crumb.
Blueberry Stuffed Chicken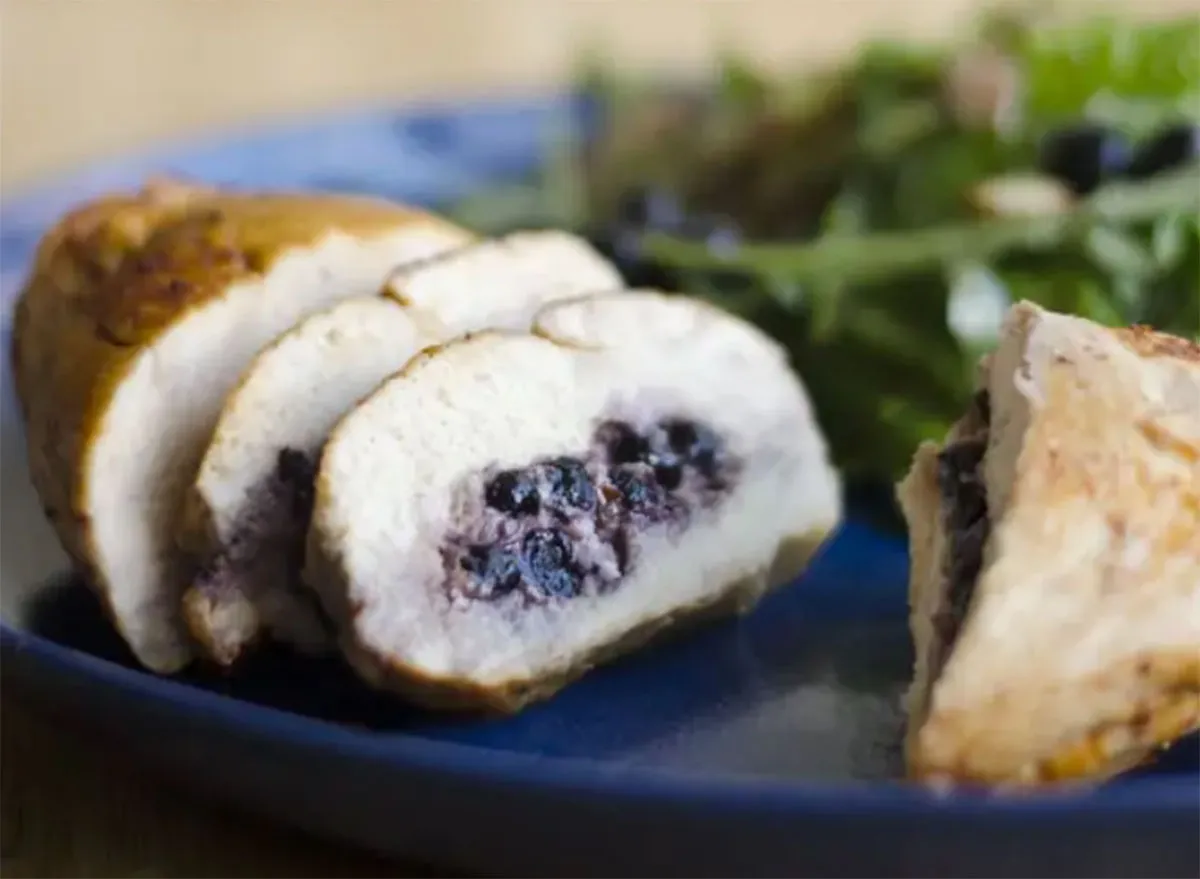 A blueberry's place is not just baked into pies and mixed into parfaits. In fact, blueberries taste wonderful stuffed right into a chicken breast when combined with tangy goat cheese and earthy rosemary.
Get the recipe from Live Eat Learn.
Pesto, Mozzarella, and Tomato Stuffed Chicken Breasts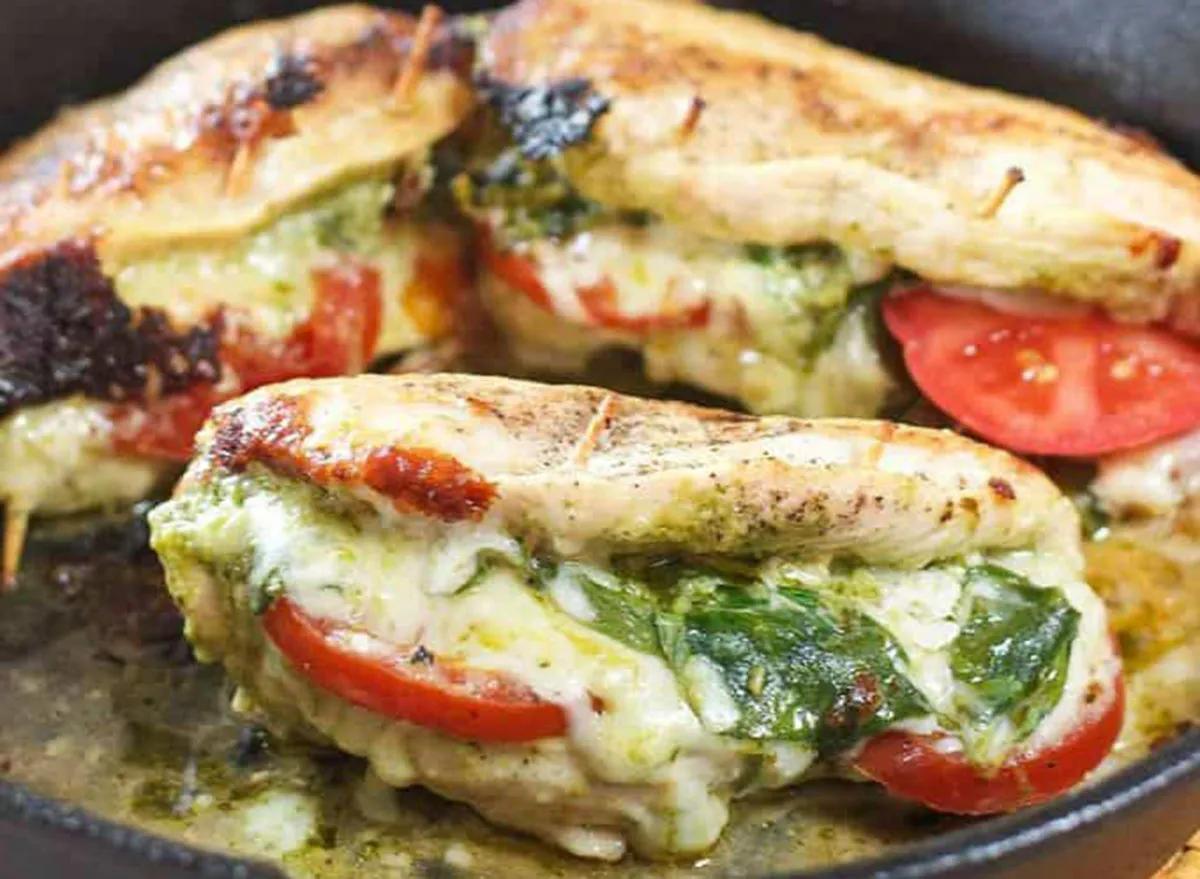 Is it us, or does pesto make everything taste amazing? This recipe uses a store-bought Costco pesto, but feel free to experiment if you would like and make a batch from scratch. Here are Secrets for Making the Best Pesto Ever.
Get the recipe from Laughing Spatula.
Keto Cheesy Spinach Stuffed Chicken
If you follow a keto diet or are looking for a low-carb, gluten-free chicken dish, then this recipe is the one for you. For the breading, use a mixture of almond flour, grated parmesan, and parsley, to get a perfectly crispy outer layer.
Get the recipe from I Breathe I'm Hungry.
Herbed Ricotta Stuffed Chicken
Ricotta, the creamy cheese you love to layer into lasagnas and blend into pasta dishes, has a new role in this tasty recipe. Buttery mashed cauliflower also makes a great side to this already appetizing meal.
Get the recipe from Half Baked Harvest.
Bruschetta Stuffed Balsamic Chicken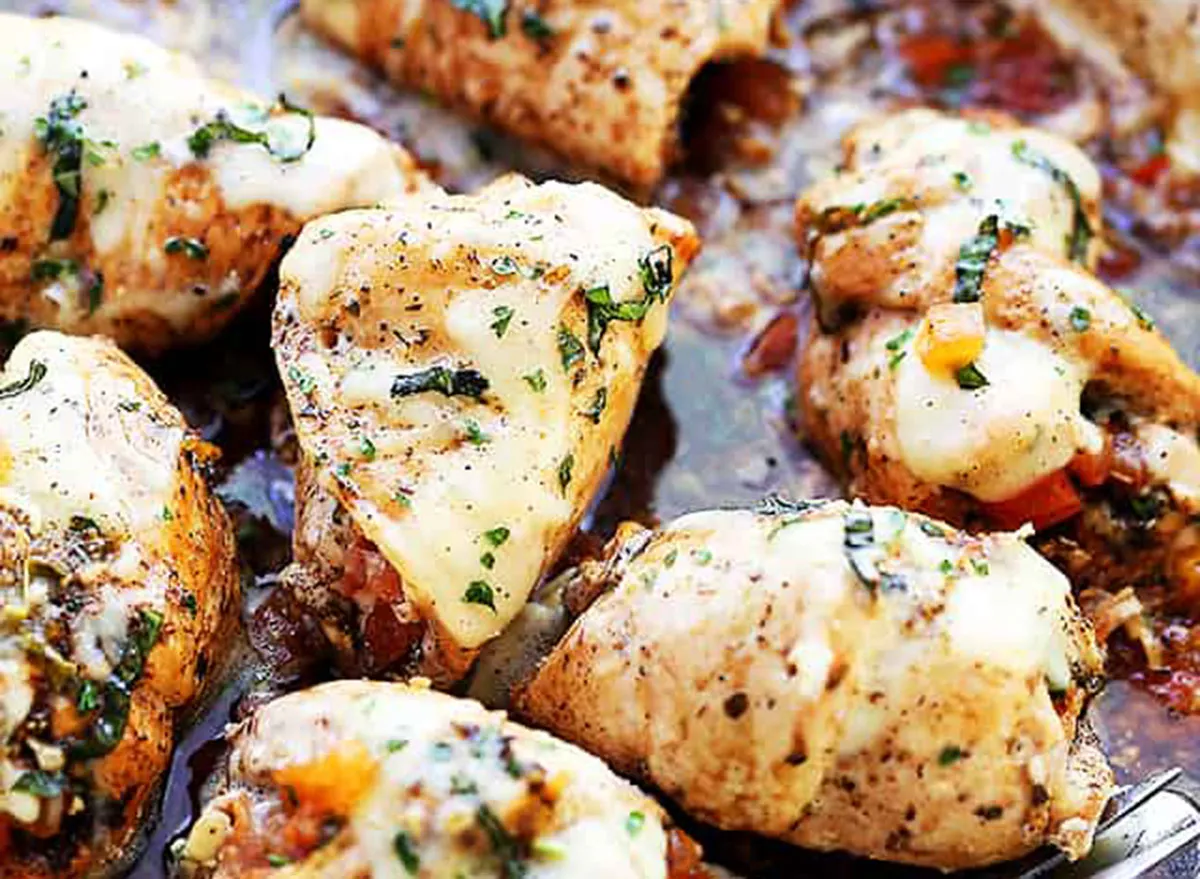 Why enjoy your bruschetta piled onto toasted ciabatta when you can instead have it stuffed into some juicy pieces of balsamic chicken? We imagine that this high-protein dish would taste amazing served over garlicky angel hair pasta.
Get the recipe from Diethood. 
Crockpot Stuffed Chicken Breasts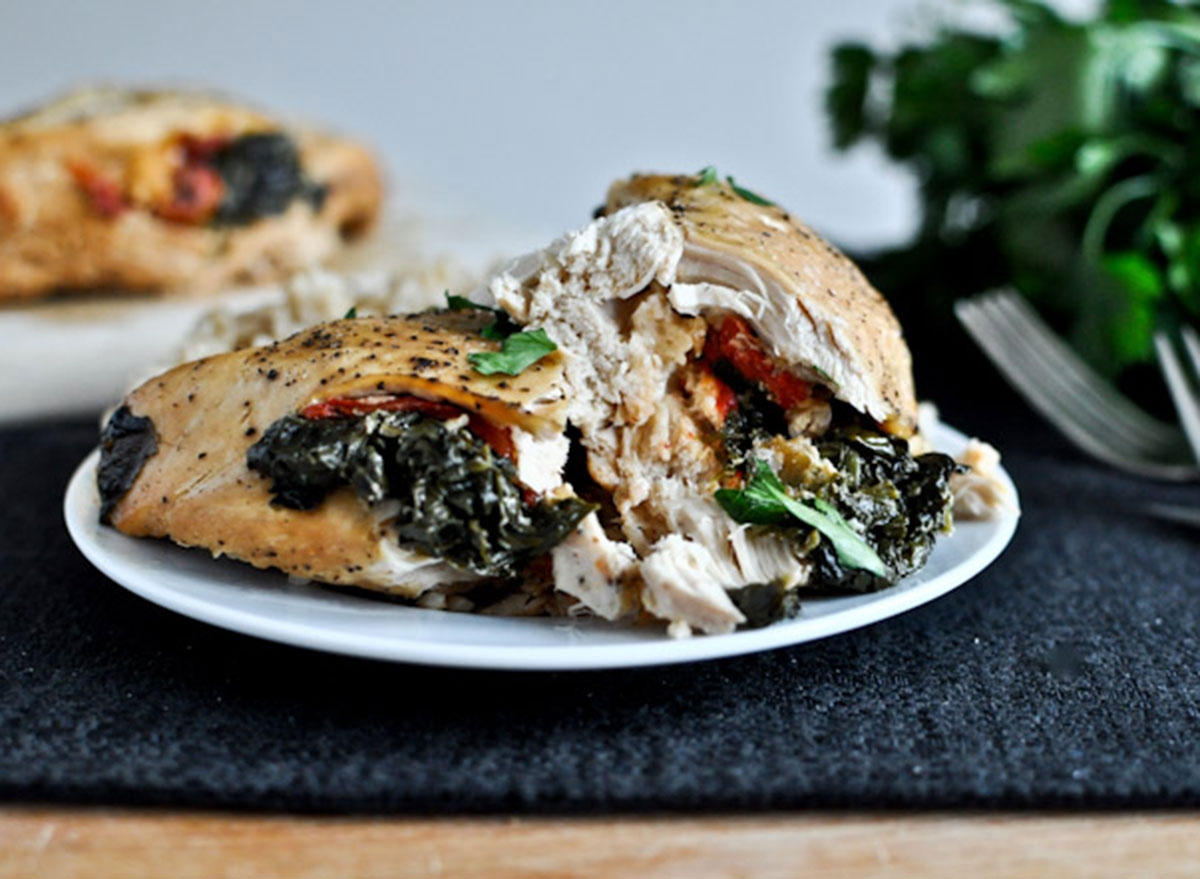 A favorite kitchen utensil, the slow cooker, is used in this recipe to make an exceptional dish of stuffed chicken breasts. All you have to do is stuff roasted red peppers, garlic, spinach, and cheese into pieces of boneless chicken and plop them into the slow cooker. In 6 to 8 hours you will have a delicious, low-effort meal.
Get the recipe from How Sweet Eats.
Baked Stuffed Chicken Parmesan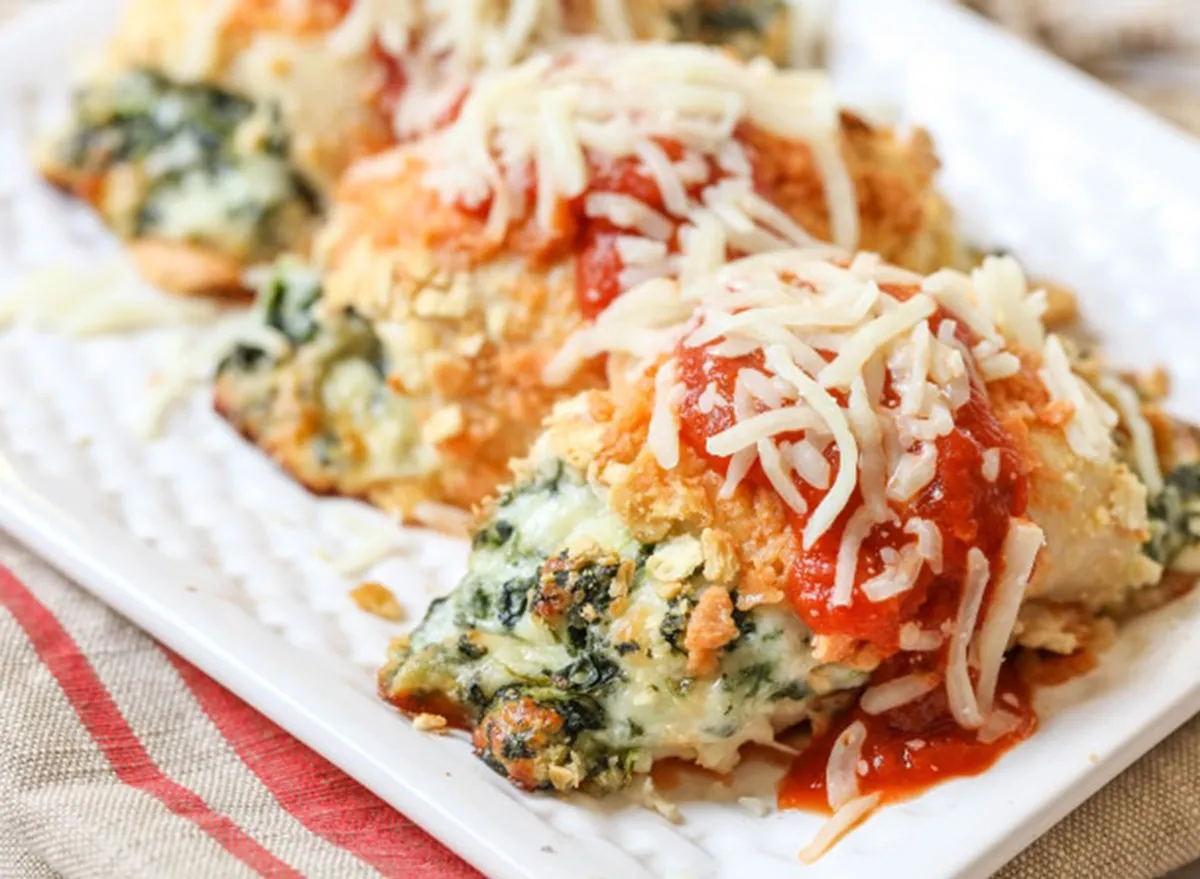 We love how this recipe uses a clever ingredient, crushed Ritz crackers, to create an incredibly buttery breading.6254a4d1642c605c54bf1cab17d50f1e
Get the recipe from Lil Luna.
Low-Carb Caprese Stuffed Chicken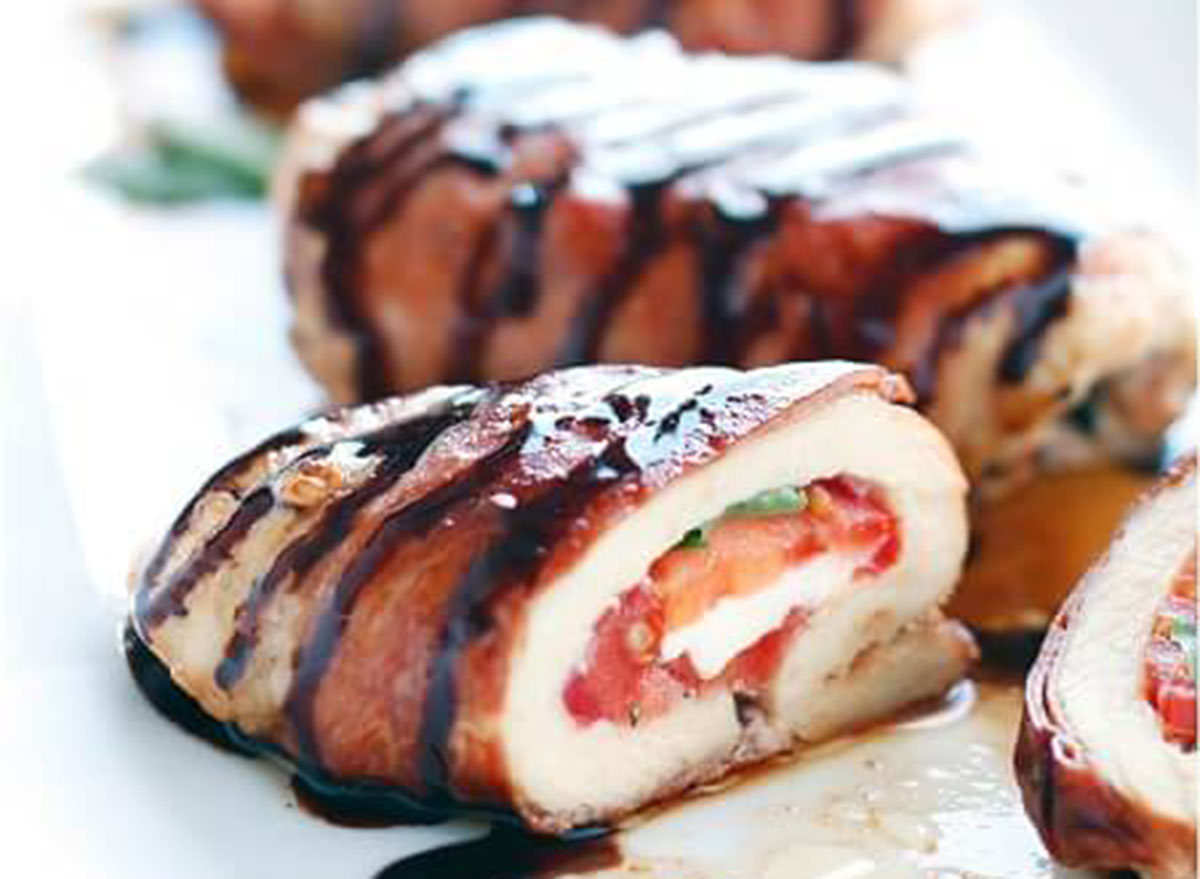 What is better than Caprese stuffed chicken? Low-carb Caprese stuffed chicken. Don't forget to drizzle (or coat) the chicken with a sugar-free balsamic reduction before serving for an extra added pop of flavor.
Get the recipe from I Breathe I'm Hungry.
Broccoli Goat Cheese Stuffed Chicken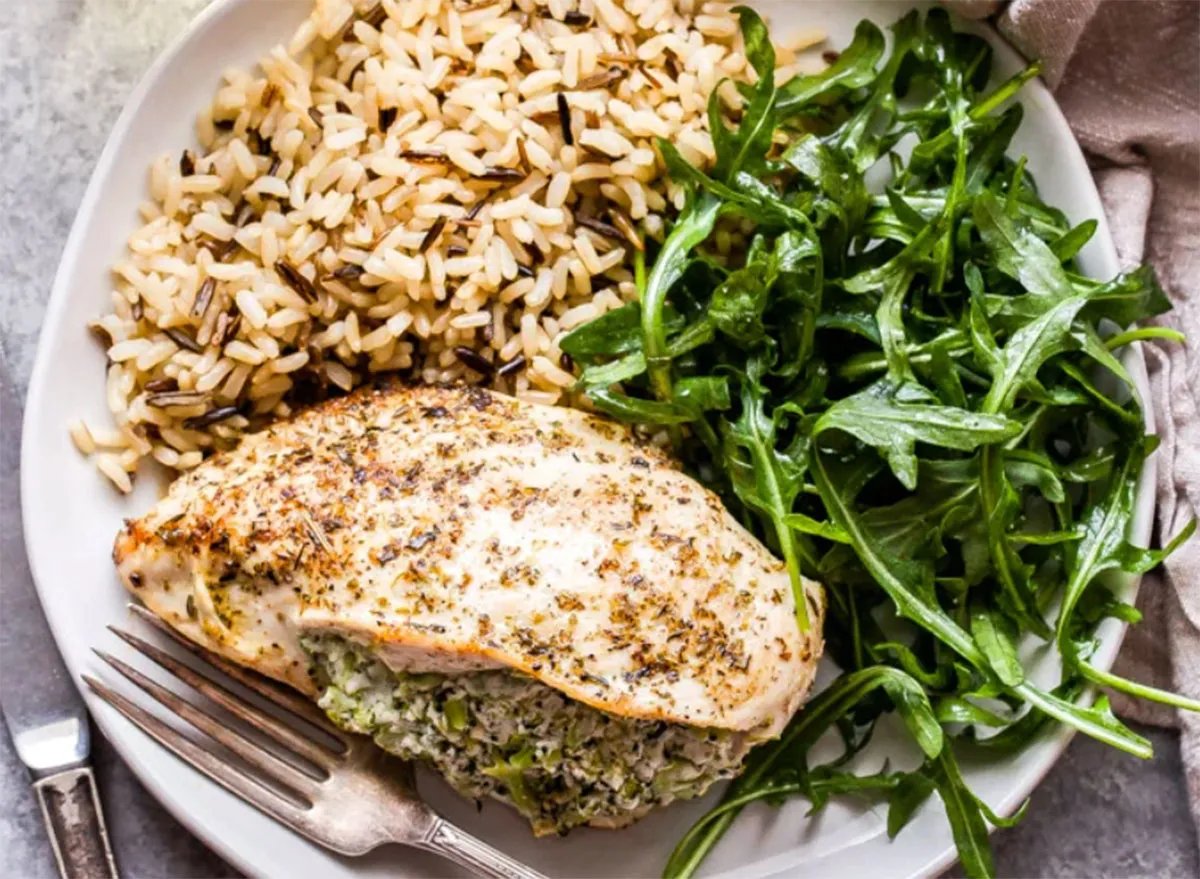 Take a popular vegetable side dish, mix it with goat cheese, and stuff it inside your chicken breasts for a healthy, flavorful meal.
Get the recipe from Recipe Runner. 
Roast Chicken Stuffed with Garlic and Rosemary Cream Cheese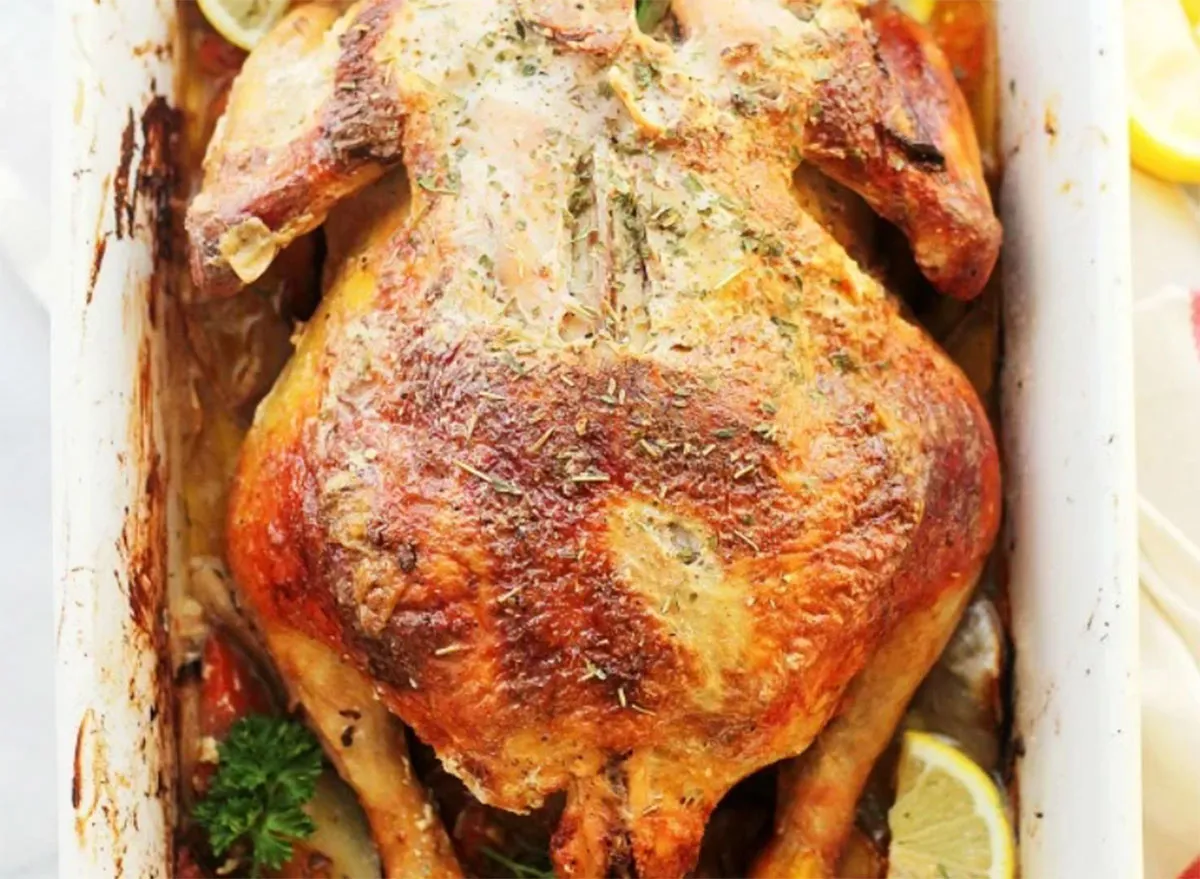 This recipe doesn't just stuff a part of the chicken, such as the breast or thigh, but instead puts delicious ingredients inside a whole roasted chicken. If you are feeling ambitious (and need to feed a lot of people fast) try out this recipe, which is made using cream cheese, red potatoes, carrots, onions, and lemon.
Get the recipe from Diethood. 
Easy Baked Stuffed Rolled Chicken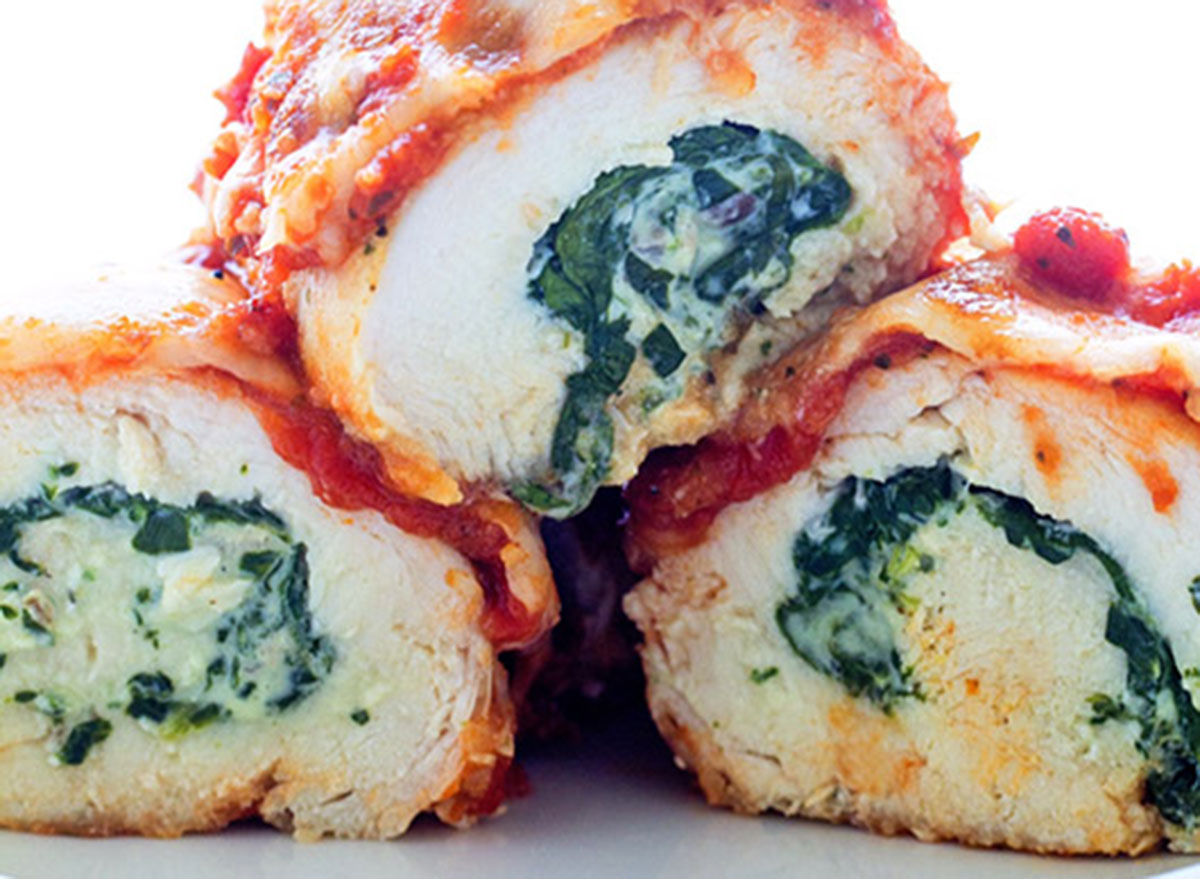 This stuffed and rolled chicken recipe, which is packed with bacon, spinach, and cream cheese, can be put together in under an hour.
Get the recipe from Real Food by Dad. 
Italian Stuffed Chicken Rollups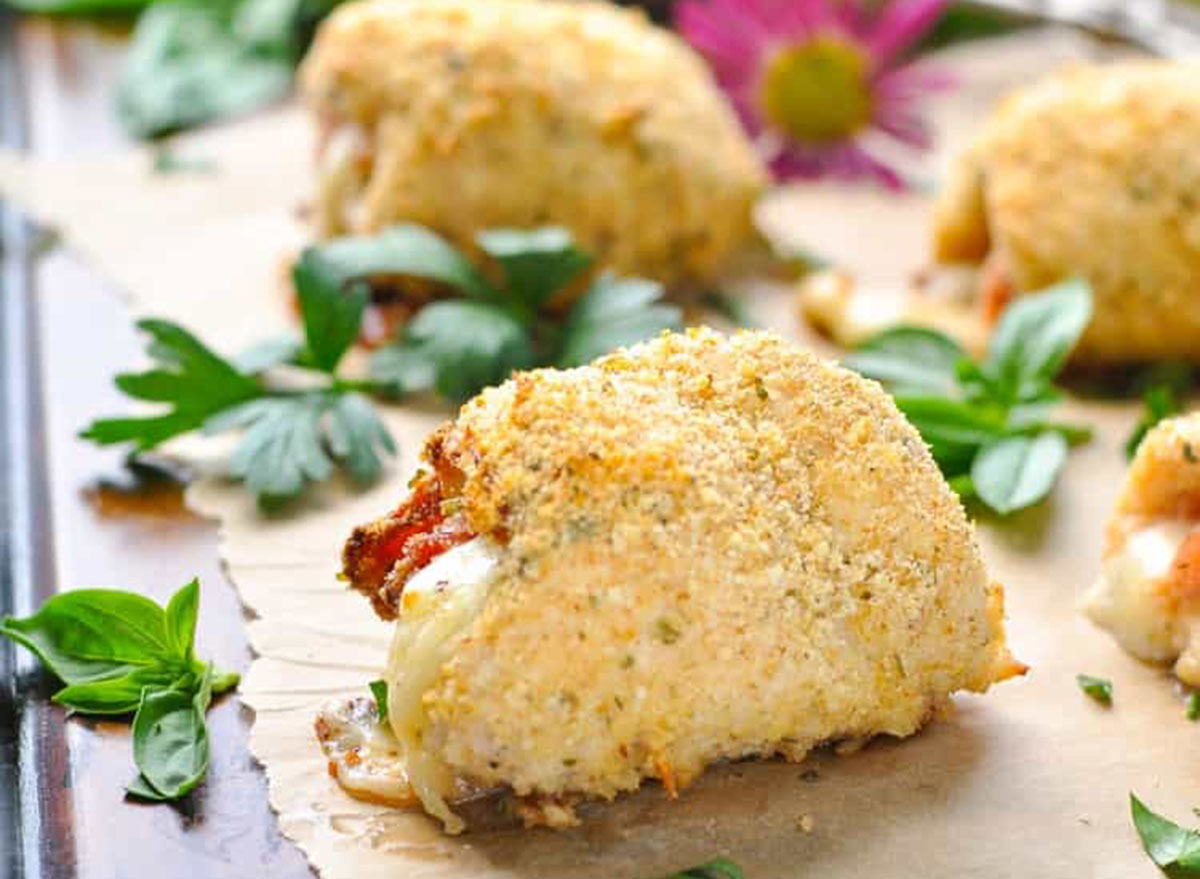 This recipe uses some of our favorite antipasto meats and cheeses, such as prosciutto, provolone, and parmesan, to create an Italian-style chicken cordon bleu.
Get the recipe from The Seasoned Mom.
Apricot, Walnut, and Brie Stuffed Chicken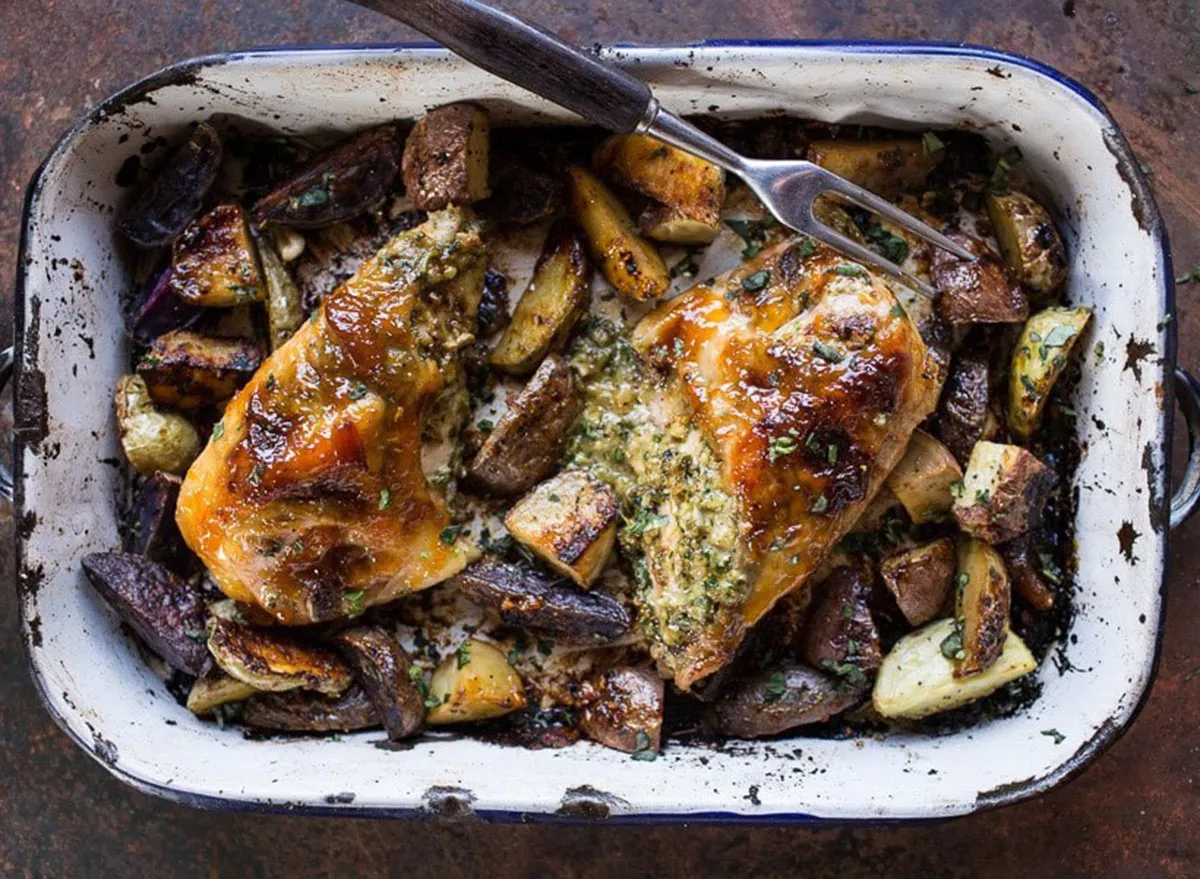 Large pieces of chicken breast are stuffed with cubed brie, tangy cream cheese, crunchy walnuts, and sweet apricot preserves, and served with roasted potatoes, in this simple one-pan recipe.
Get the recipe from Half Baked Harvest.
Pizza Stuffed Chicken Quinoa Bake
With this recipe, your favorite pizza toppings can be enjoyed in a stuffed chicken casserole version. We especially love how this dish can easily be tweaked to make it your own.
Get the recipe from The Creative Bite.
Ham and Cheese Stuffed Chicken Breasts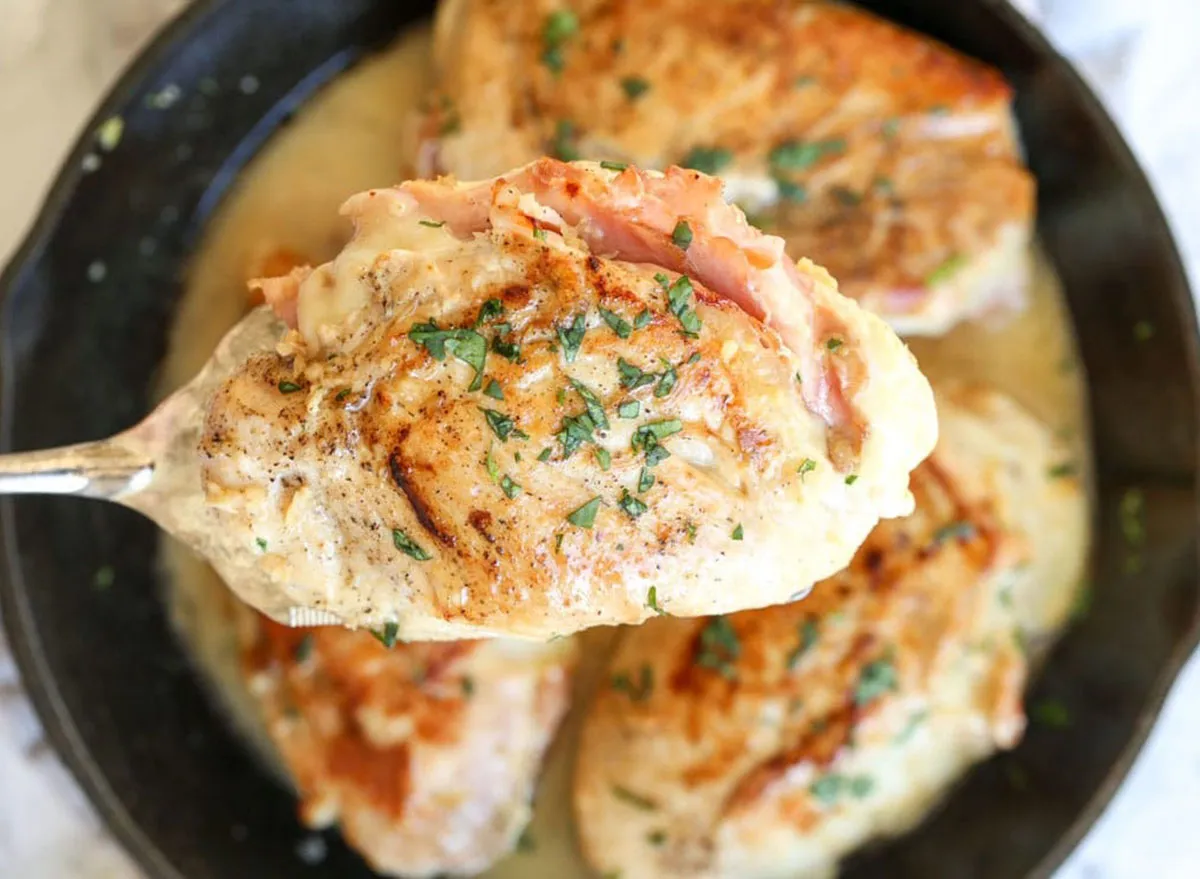 Stuffed with salty ham and bursting with bright, citrus flavor, this stuffed chicken recipe may just become your next weeknight dinner go-to.
Get the recipe from Julie's Eats and Treats. 
Easy Baked Chicken Kiev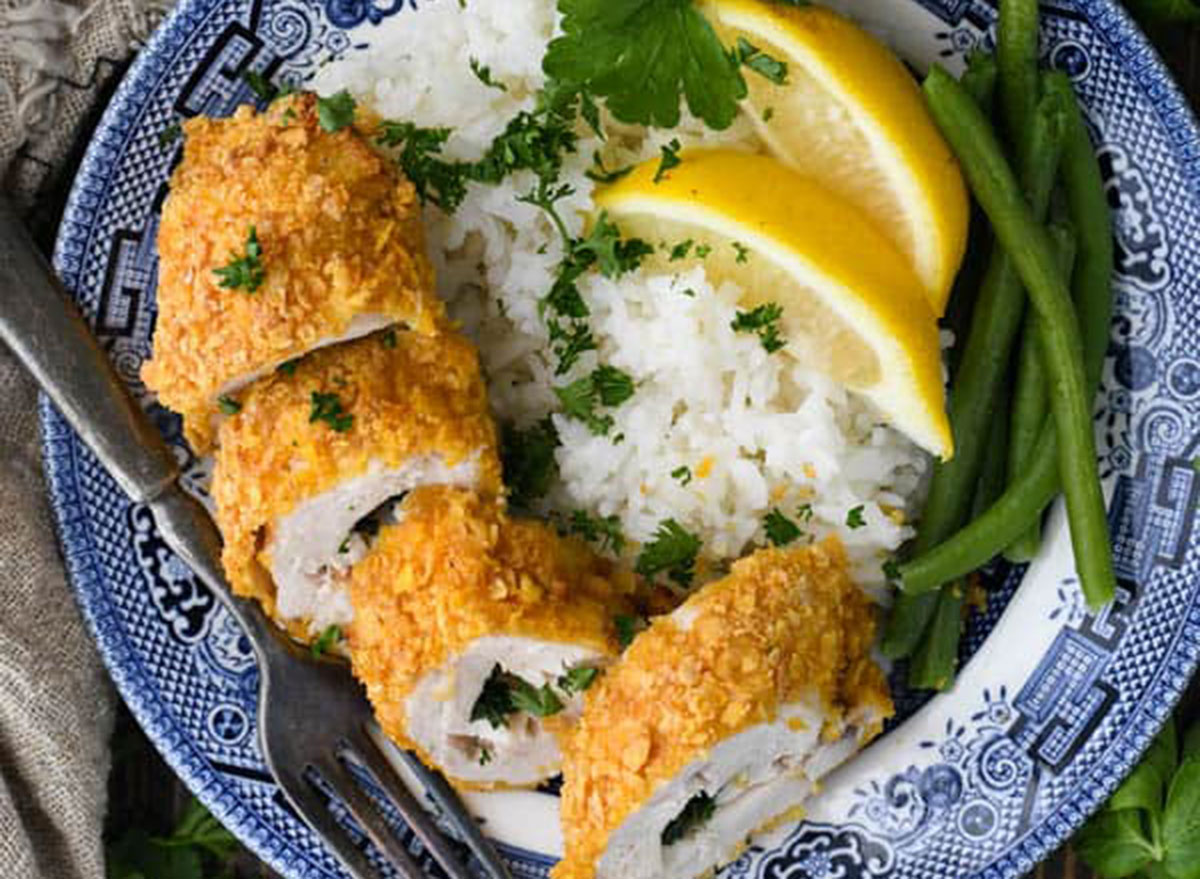 This old-school stuffed chicken recipe omits the pan-frying process to help save on time and effort. Enjoy this classic dish with some seasoned rice and sauteed vegetables.
Get the recipe from The Seasoned Mom.
Keto Pesto Stuffed Chicken Thighs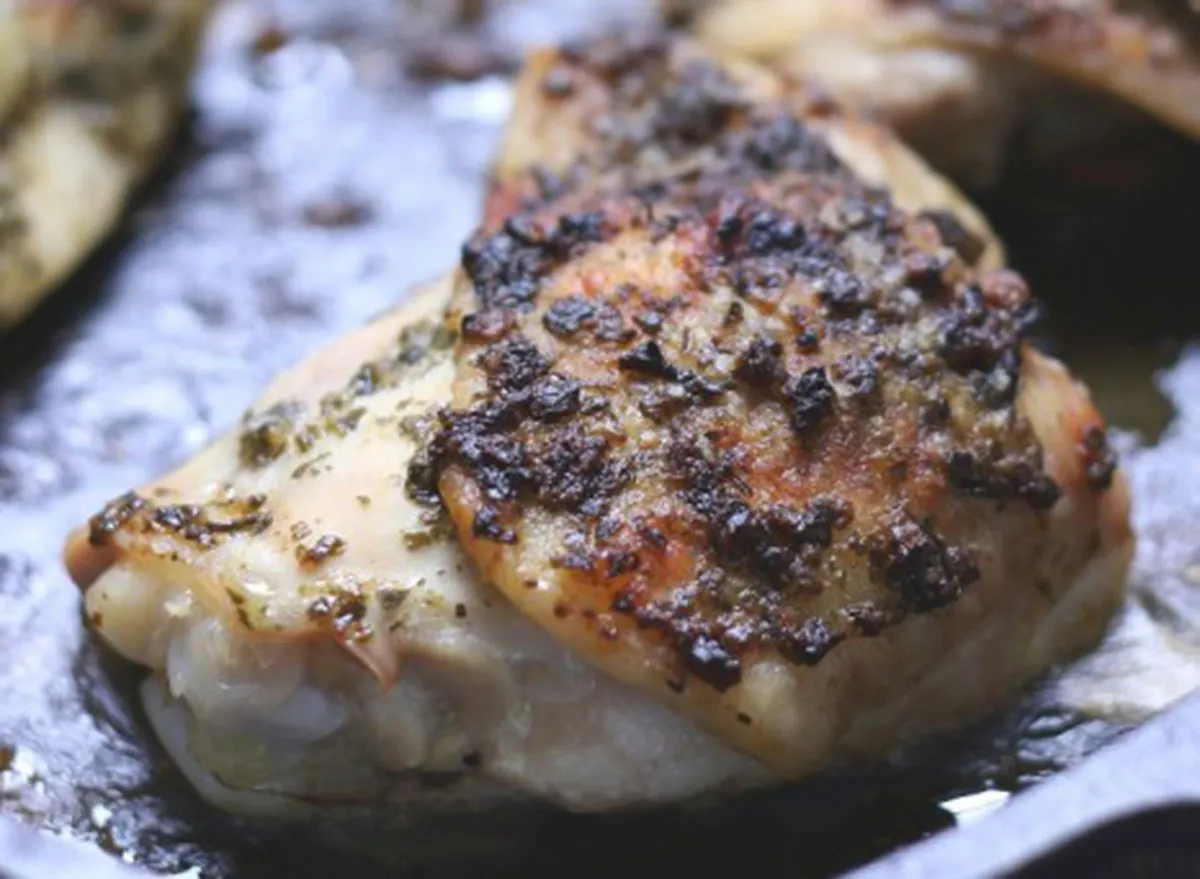 Each serving of this low-carb stuffed chicken recipe is packed with 37 grams of protein, making it a good option for those trying to incorporate more protein into their diet.
Get the recipe from I Breathe I'm Hungry.
Crispy Baked Basil Chicken Cordon Bleu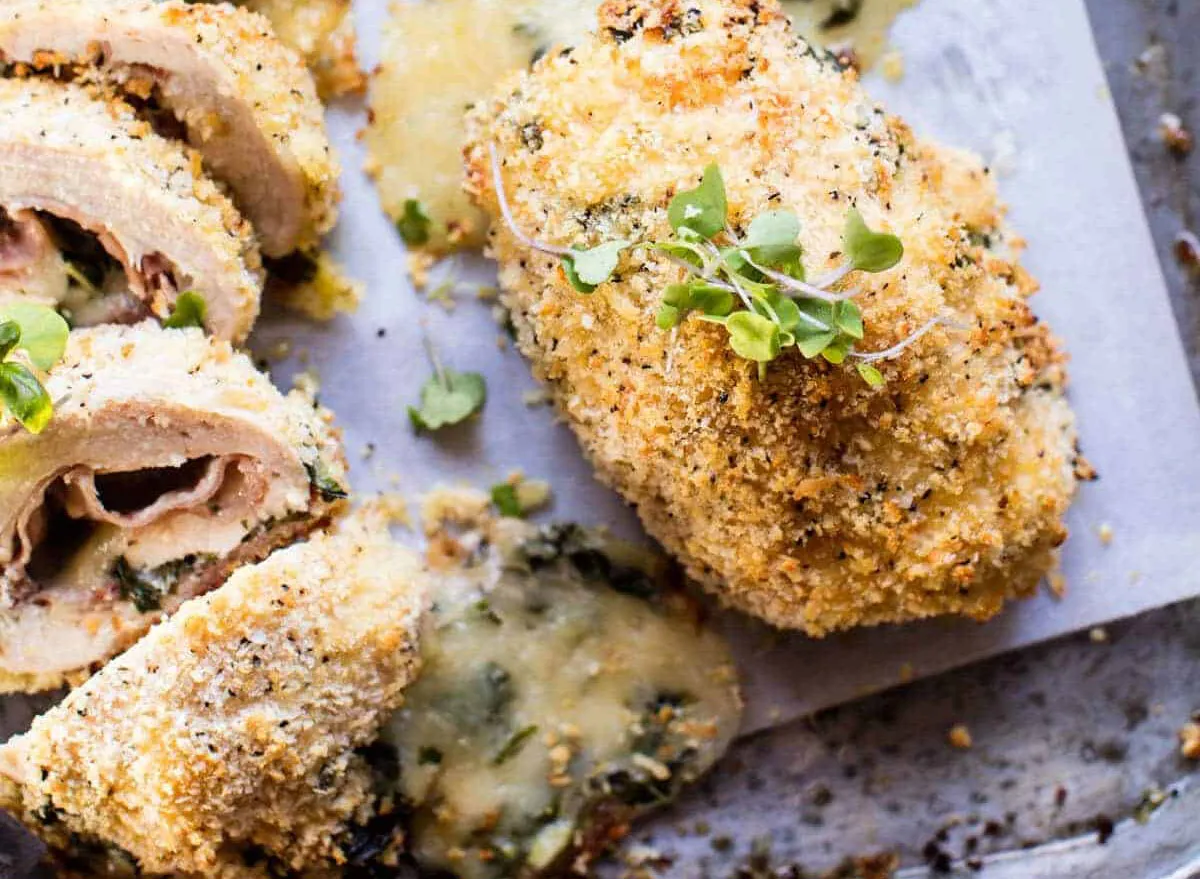 This traditional French chicken dish gets a bit of an update when panko crumbs and heaps of fresh chopped basil are used in it.
Get the recipe from Half Baked Harvest.
Three Cheese Stuffed Balsamic Chicken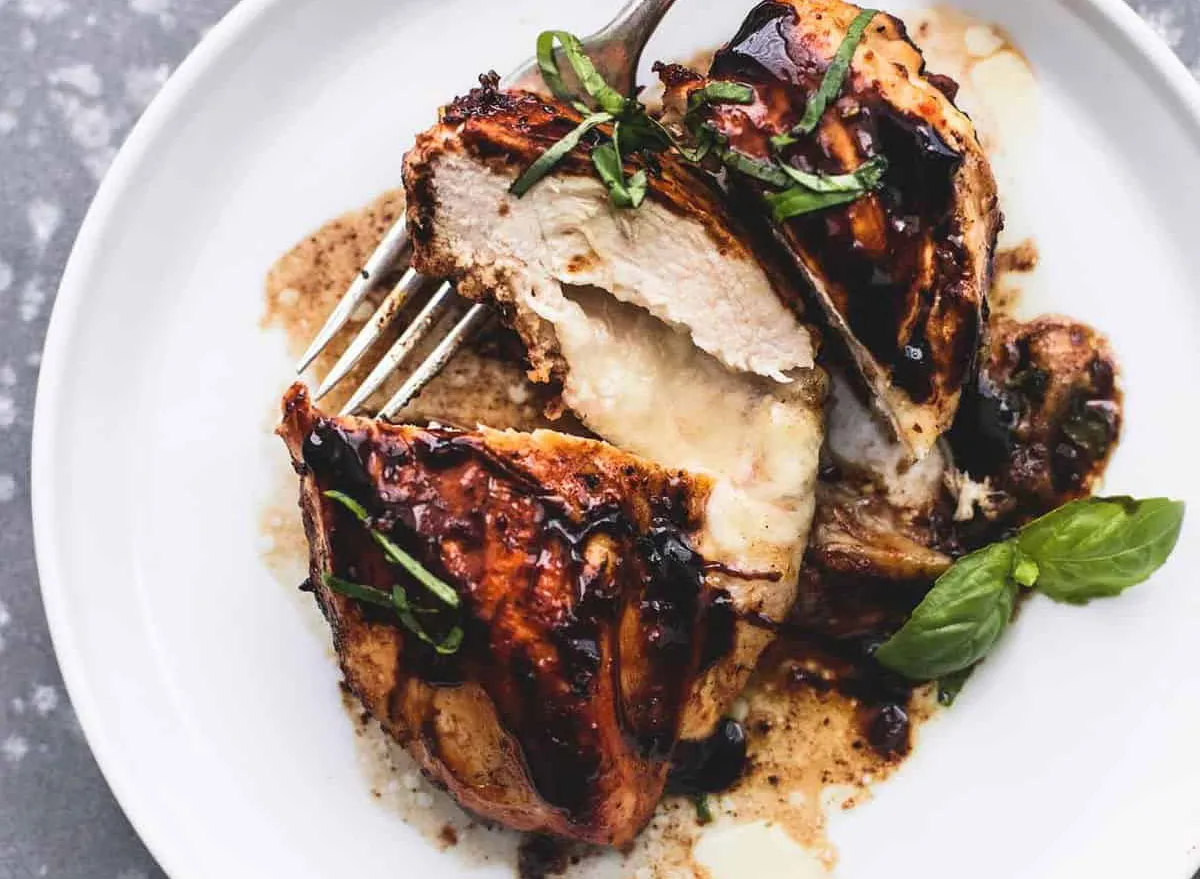 Made using a medley of cheese and baked in an aromatic balsamic glaze, this recipe is a sure winner.
Get the recipe from Le Creme De La Crumb.
Goat Cheese, Bacon, and Raisin Stuffed Chicken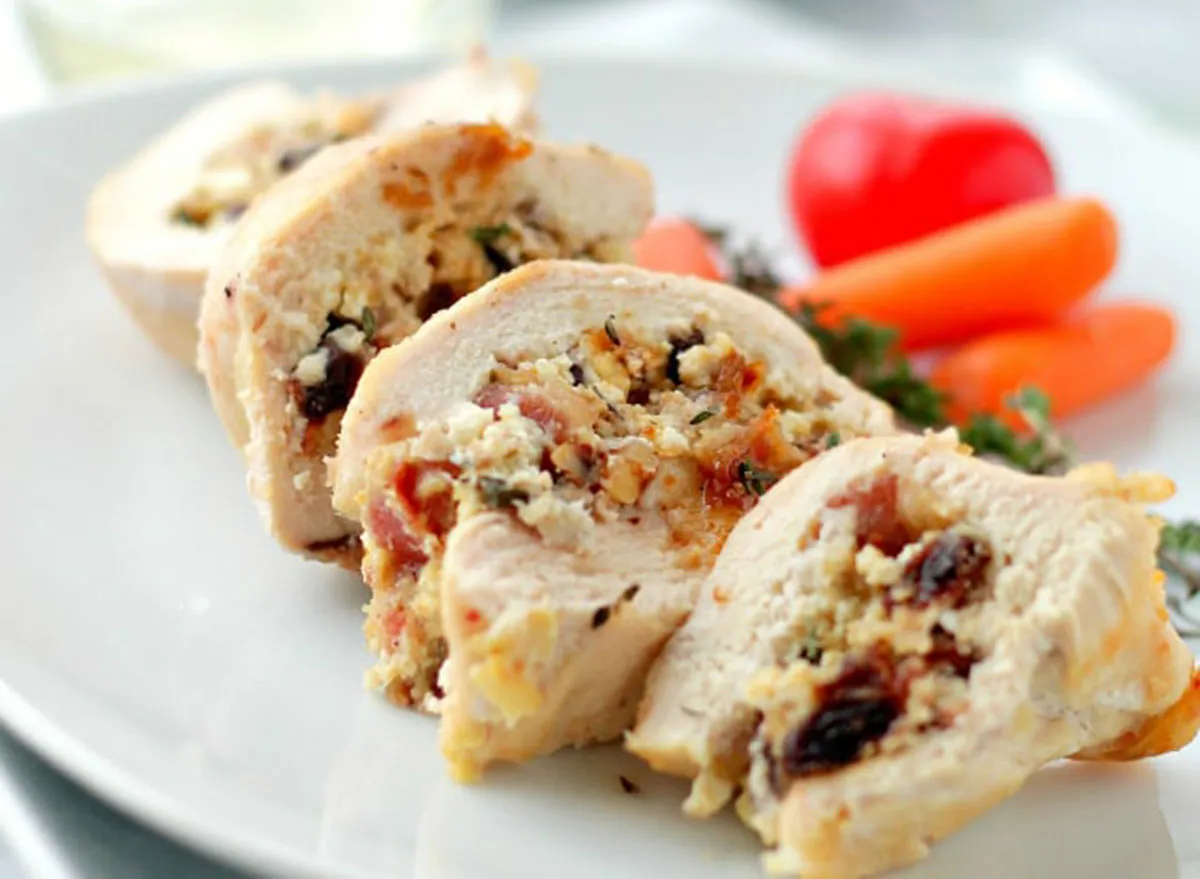 Trust us on this one, this picture-perfect stuffed chicken recipe is one not to miss. Combining a variety of mouthwatering flavors — creamy goat cheese, salty bacon, and sweet raisins — this dish is a must-have.
Get the recipe from Diethood. 
Stuffed Chicken Thighs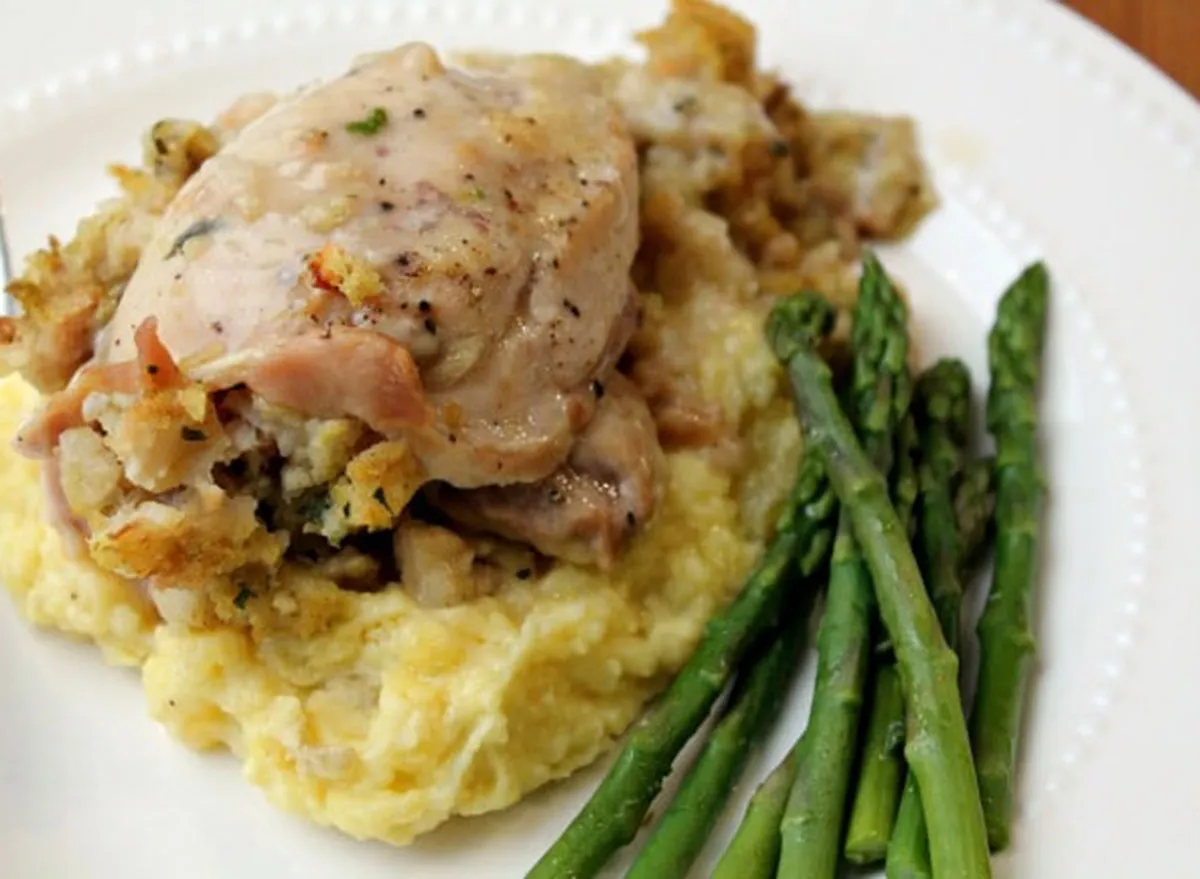 This pared-down chicken recipe, which is made using boxed stuffing and chicken gravy, is an ideal recipe to bust out during those busy holiday months. With a low cooking time, which clocks in at way under an hour, this recipe practically makes itself.
Get the recipe from Foody Schmoody Blog.
Fajita Stuffed Chicken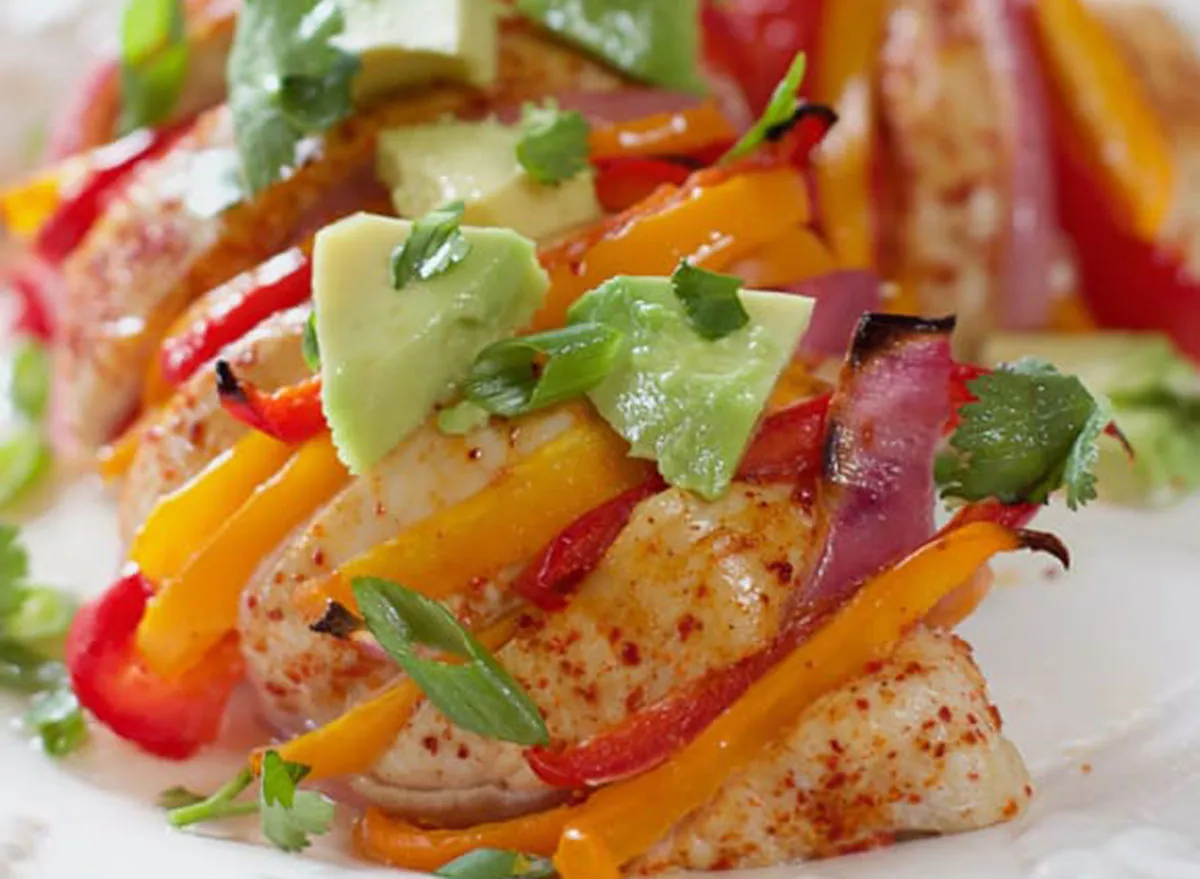 This fajita stuffed chicken recipe achieves its super addictive, incredibly bold flavors by using Trader Joe's Chile & Lime seasoning. This dish takes just 35 minutes to prepare and bake, making it a great option to put together during those super busy weekdays.
Get the recipe from Laughing Spatula.
Roasted Chicken Breast With Boursin
Yes, stuffing creamy Boursin cheese under the skin of chicken breast qualifies as a stuffed chicken recipe. Leaving the skin on chicken breast adds so much flavor and texture that you'll wonder why you haven't been doing it all your life. Mix things up by using different varieties of the cheese. In this recipe, the blogger uses garlic and herb.
Get the recipe from Our Happy Mess.
Now that you have a few tried-and-true stuffed chicken recipe, don't be afraid to try more. Mix up the cheeses and experiment with any vegetable that is in season.
A previous version of this article was originally published on May 20, 2022.