5 Fastest Growing Steakhouse Chains In America
If you're headed out for a steak dinner, here are five spots you will likely consider.
Plant-based has never been more popular. The COVID-19 pandemic and subsequent lockdowns saw sales of plant-based meat brands absolutely explode, and up to a quarter of young Americans (ages 25-34 years old) consider themselves either vegetarian or vegan nowadays. Another nationally representative poll reports over 10% of American adults (18+) now forgo meat entirely. But that leaves 90% that still eat some kind of meat and many who are still seeking out the paragons of red meat: steakhouses.
Despite this clear cultural and culinary shift toward greener eating habits, it would be foolish to totally dismiss America's love of red meat. Beef is still a big part of the average U.S. diet, with three in five adults admitting in a recent survey that while they are open to trying a plant-based diet in theory, they just can't get past the taste come dinnertime. Another poll found close to two in three people (64%) would even choose steak as their final meal!
Indeed, Americans have always had a special relationship with steak, and of course, the steakhouse. The very beginnings of steakhouses can be traced back to the working-class "chophouses" of London, but the Americanized version of the steakhouse came to be in the mid-19th century.
A testament to the concept's longevity, some of the very first modern steakhouses, such as Old Homestead (est. 1868) and Keens (est. 1885) in NYC, remain open today. Combining high-quality cuts with a classy ambiance, visiting a steakhouse for a special occasion is a tradition shared by millions of Americans. While many wondered if the concept of the steakhouse had finally become outdated in recent years, a number of steakhouse chains appear primed for a strong 2023. Here are five of the fastest-growing steakhouse chains in America.
Texas Roadhouse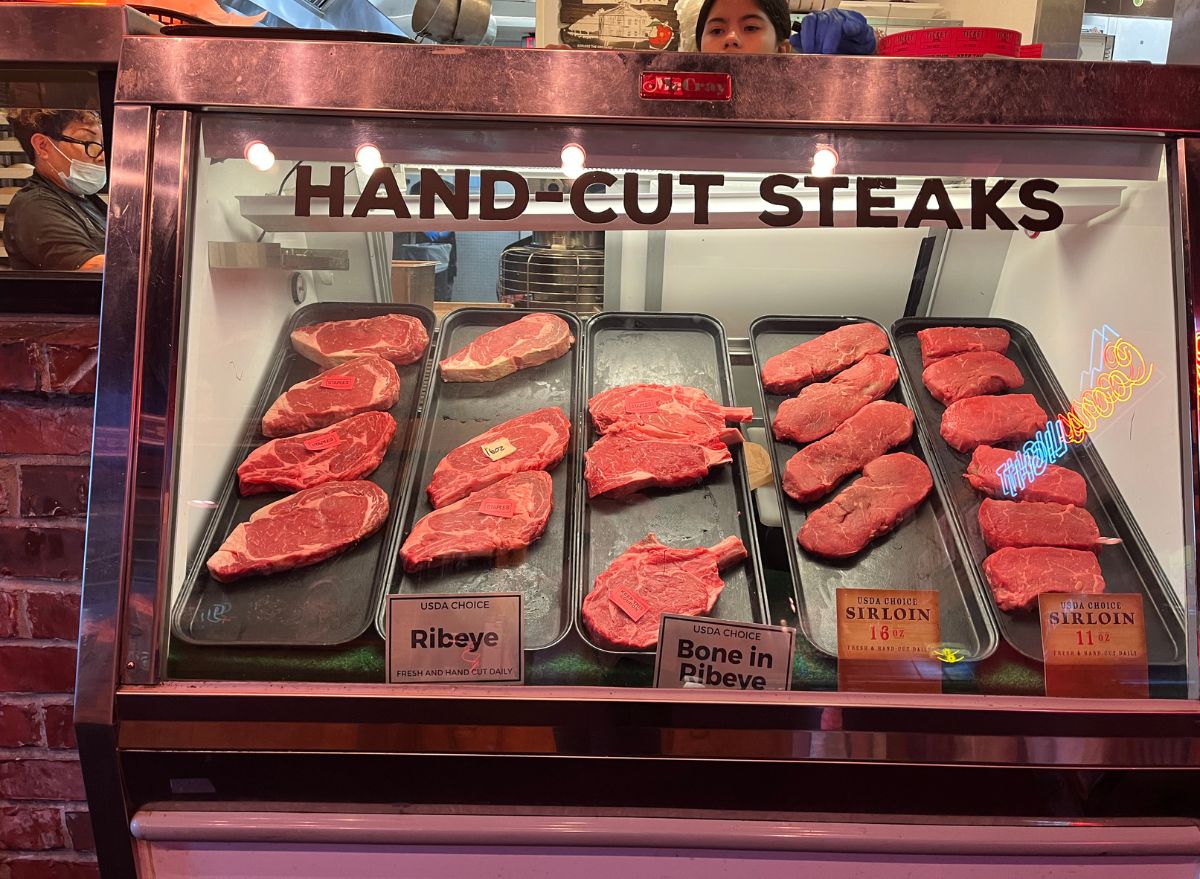 If there's one steakhouse chain synonymous with success right now, it's undeniably Texas Roadhouse. Known for delicious honey cinnamon butter rolls, line-dancing servers, and affordable yet still high-quality steak, the chain averaged more customers over the first two months or so of this year than in any other period of its 30-year history. Last year, the chain generated $4 billion in sales for the first time ever.
"It was only five years ago when we exceeded $2 billion in revenue. We see the potential to double our revenue again over the next decade," CEO Jerry Morgan commented in February. "Despite inflationary pressures, our strong topline results helped us achieve significant growth."
Even more recently, during its Q1 2023 earnings call, Texas Roadhouse reported a 7.6% increase in traffic compared to last year. Total quarter revenue came in at $1.174 million, putting the chain on track to exceed its record 2022 revenues.
While the chain already has around 700 restaurants, Texas Roadhouse is aiming for as many as 900 units in the not-so-distant future. Q4 alone saw 10 new company restaurants open, around 25-30 new units are set to open this year, and the brand has ambitious plans to cross over into more urban areas.
"We do have a restaurant in New York City and New Rochelle (New York) that we've looked at and … have had some success in lower-populated, smaller areas," interim CFO Keith Humpich explained recently. "So, we are expanding a little bit. For a company our size and what we want to accomplish, we have to try some new things. We have opened the scope of what we will try so we can expand and have success and that may look a little different than what we've done in the past."
Fogo de Chão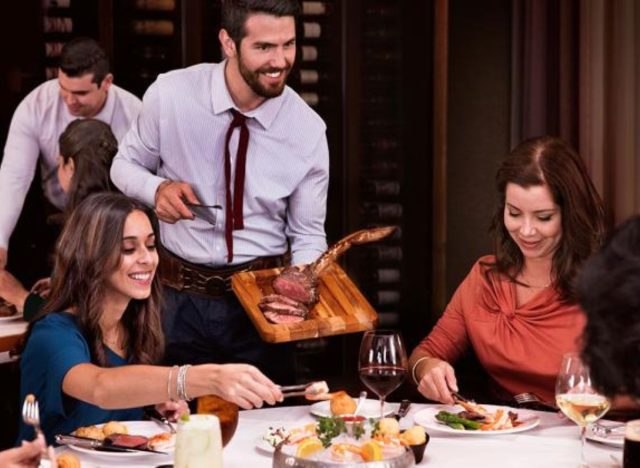 Founded by Brazilian brothers and farmers Arri and Jair Coser, Fogo de Chao is as authentic as it gets when it comes to churrasco, the Brazilian approach to cooking beef on skewers over an open flame. That being said, the up-and-coming steakhouse chain doesn't want to be boxed in or defined by any label, including steakhouse; the chain has decided to drop "steakhouse" from its name and branding entirely.6254a4d1642c605c54bf1cab17d50f1e
Fogo de Chao has enjoyed massive success lately, reporting revenues north of $500 million for the 12-month period ending Q3 2022. Fogo de Chao's average store sales were also an impressive $10.1 million last year, indicating each location is very profitable for the brand.
"We're just Fogo de Chão. We're not a churrascaria. We're not a steakhouse. We don't have to be prototypical," Barry McGowan, CEO of Fogo de Chão, said "Our demographic is 87% Millennial and Gen Z. We are a whole different occasion than a fine-dining steakhouse. We're just unique in the space."
Today, the chain boasts 74 locations globally (58 domestic), with at least 10 new restaurants planned to open this year in the US alone. "We know long term we can have 600 restaurants in America," McGowan added.
Internationally, the chain just announced plans to enter both Ecuador and Turkey for the first time ever.
Outback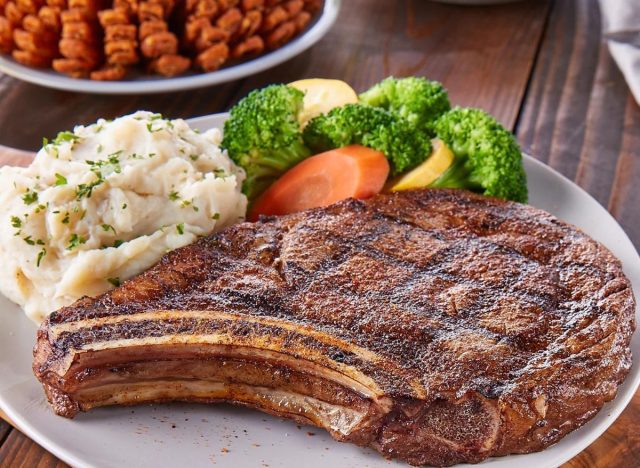 Already a heavy hitter in the steakhouse game, Outback has been an iconic chain restaurant for decades. Whether guests are in the mood for a Bloomin' Onion, Shrimp on the Barbie, or a Bone-in Ribeye, Outback has always offered a tasty take on Americanized-Australian fare.
More recently, a partnership formed with DoorDash in 2019 proved "very fortunate during the pandemic," Outback President Brett Patterson told CNN last year. The success of off-premises business during the pandemic convinced Outback's decision-makers that delivery isn't going anywhere. "The consumer isn't going back to how they behaved a few years ago," Patterson added.
So, last year Outback announced it will be reducing the size of new-build restaurants by roughly 17%. These "next generation" Outback locations will feature slimmed-down dining areas, smaller kitchens, and larger pickup areas for both takeout and delivery. Notably, the usual centerpiece horseshoe-shaped bar that is near universal across Outback locations will be no more, replaced with a more space-efficient bar set up against the wall.
Redesigned units have already opened in multiple states (Texas, Ohio, North Carolina), and the steakhouse chain is planning on opening between 75 to 100 of these new restaurants in the years to come. There are already just under 700 domestic Outback locations currently open for business.
"In the next few years, you'll see significantly more growth than in 2022," Patterson said.
Ruth's Chris
Founded in 1965 by single mom Ruth Fertel, Ruth's Chris Steakhouse has grown into a global restaurant brand featuring over 150 locations (80 of which are company owned or operated). Known for high-quality chops and extravagant side dishes like lobster mac & cheese and sizzling crab cakes, Ruth's Chris is a unique rarity in the dining scene: A chain that's truly classy.
Business at Ruth's Chris had been trending in a positive direction, with total restaurant sales increasing 9.6% in Q4 2022 in comparison to the same period in 2021. All in all, 2022 saw over $860 million in systemwide sales.
Now, however, Ruth's Chris is set to have a new owner. News broke in early May that Darden Restaurants, the owner of numerous other chains such as Olive Garden and LongHorn, is buying Ruth's Hospitality Group (Ruth's Chris Steak House). The deal is valued at $715 million.
"We are excited about the opportunity to join the Darden family," commented Ruth's CEO and President Cheryl Henry. "Our strategy and operating philosophy aligns well with Darden, and we have a strong cultural fit that should ensure a smooth transition. This transaction will also provide more opportunities for our team members to develop in their careers as we continue to grow our 57-year-old iconic brand."
Prior to the announcement of the acquisition, Ruth's Chris had been continuing to prioritize expansion. The chain just opened its third location in Virginia and is exploring adding to its presence in Asia.
STK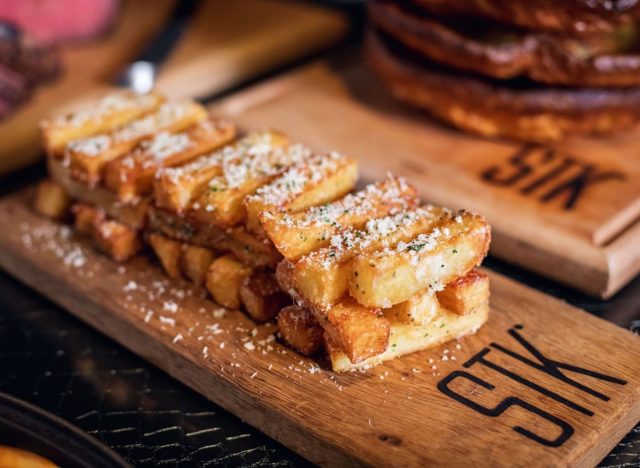 A distinctly modern take on the steakhouse concept, STK is all about "vibe dining." Every STK location features its own DJ intended to foster "an infectious, high-energy atmosphere," while the sleek environment at each restaurant "is designed to encourage guests to interact and mingle."
STK has seen its sales surge since 2019 (an over 45% increase), and currently boasts 18 domestic restaurants and 10 international locations in places like London, Milan, Ibiza, and Dubai. The chain recently opened a rooftop restaurant in Scottsdale, Arizona and rumors are swirling that new units will open soon in both Boston and Washington, D.C.
"At STK, we're always looking to create the best experience for our guest," commented Emanuel "Manny" Hilario, president and CEO of The ONE Group, owners of STK Steakhouse. "The new rooftop space at STK Scottsdale offers guests a new way to enjoy our signature drinks and delicious bites in a playful environment that maintains the elevated experience they have come to know and love from STK."
John Anderer
John Anderer is a writer who specializes in science, health, and lifestyle topics.
Read more about John